The Best Sneaker Bots That Dominate 2021
Looking for a shoe bot? Here are some great options.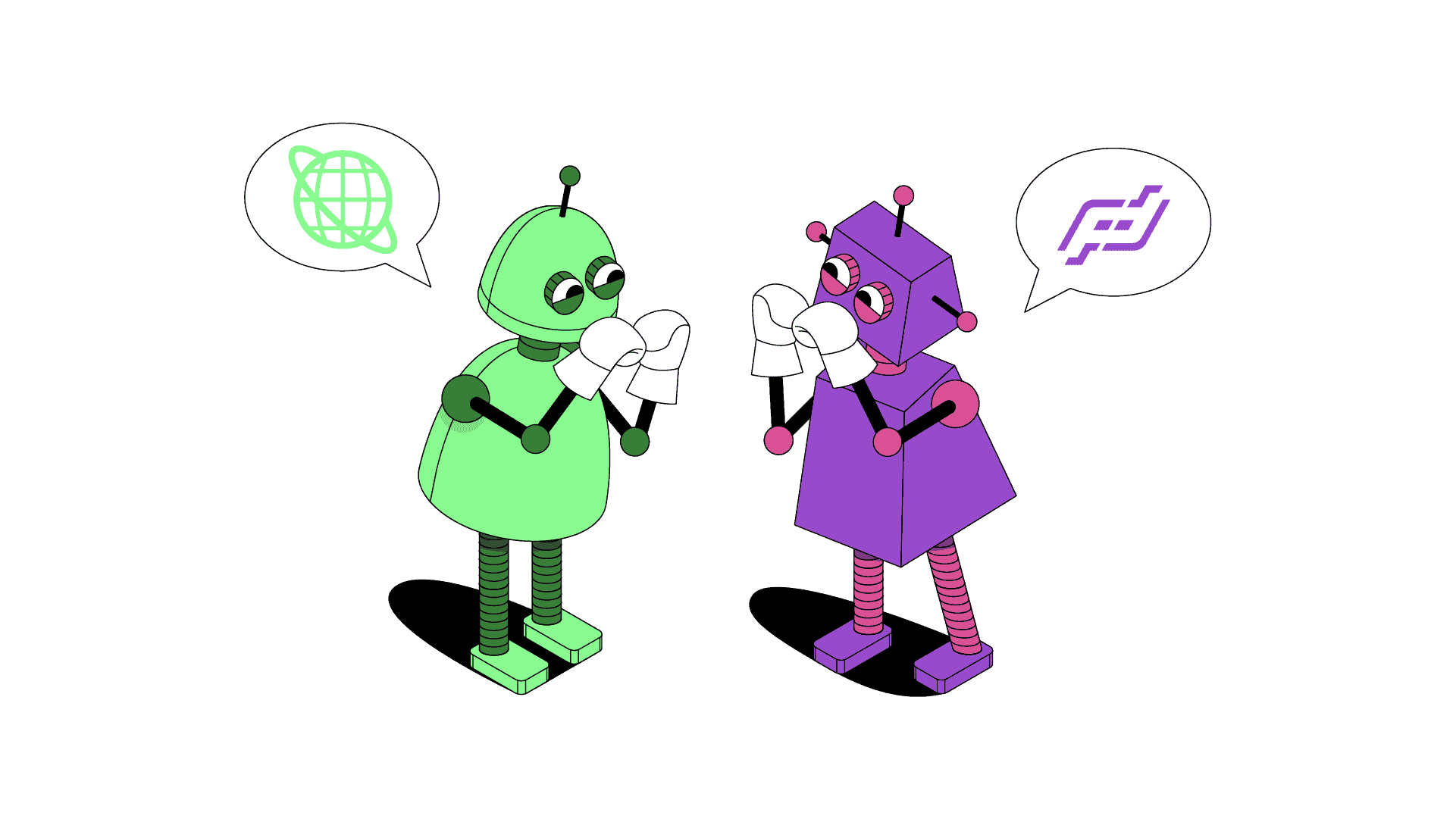 So, you've read about copping shoes and found yourself looking for a sneaker bot. You've probably googled 'best sneaker bots' and stumbled upon some article from 2019 which pretends to be relevant. You've then asked around Reddit and received dozens of contradicting opinions. And now you're here. 
I won't pretend my word is law, or that an indisputably best sneaker bot even exists. In fact, with so many of them around, that's hardly possible. (The industry is changing too fast!) But I do know a thing or two about botting, and I always keep a pulse on the market. What you'll find here are some great shoe bots – with a strong reputation and consistent success cooking the hottest drops. 
Let's get started!
By the way, if you're not a fan of Windows, here are the best sneaker bots for Mac.
The Best Sneaker Bots of 2021
1. Cybersole (CyberAIO)
One of the best Shopify, Footsites, and Supreme bots.
Cybersole is a highly valued and very exclusive all-in-one bot. It supports most shoe websites – including Mesh, which isn't easy to find. CyberAIO is renowned for its speed and consistent dominance during releases, which continues in 2021. If you manage to get your hands on it, you'll have good chances at copping even the most hyped kicks. 
Cybersole's features include unlimited tasks, multi-tab CAPTCHA solver, proxy support, release monitors, restock mode, account import, preloading shipping rates, and more. You can hook it up to a Discord server to log events and automatically launch your tasks once the release starts. Cybersole is also one of the rare bots to have a dedicated mobile app for controlling the bot on the go. 
CyberAIO costs £300 with a £100 renewal fee every six months. That doesn't sound too much, but: Cybersole is almost never in stock, and it doesn't do group buys. So, you'll probably have to get it from a reseller. This will cost you up to $6,000 – ouch. 
Supported sites: Footsites, Shopify, Supreme, Mesh
Operating systems: Windows
Proxy support: Yes
Price: £300 + £100 every six months
Read our full Cybersole review to learn more about the bot.
---
2. Splashforce
One of the best Demandware bots (that supports more sites as well).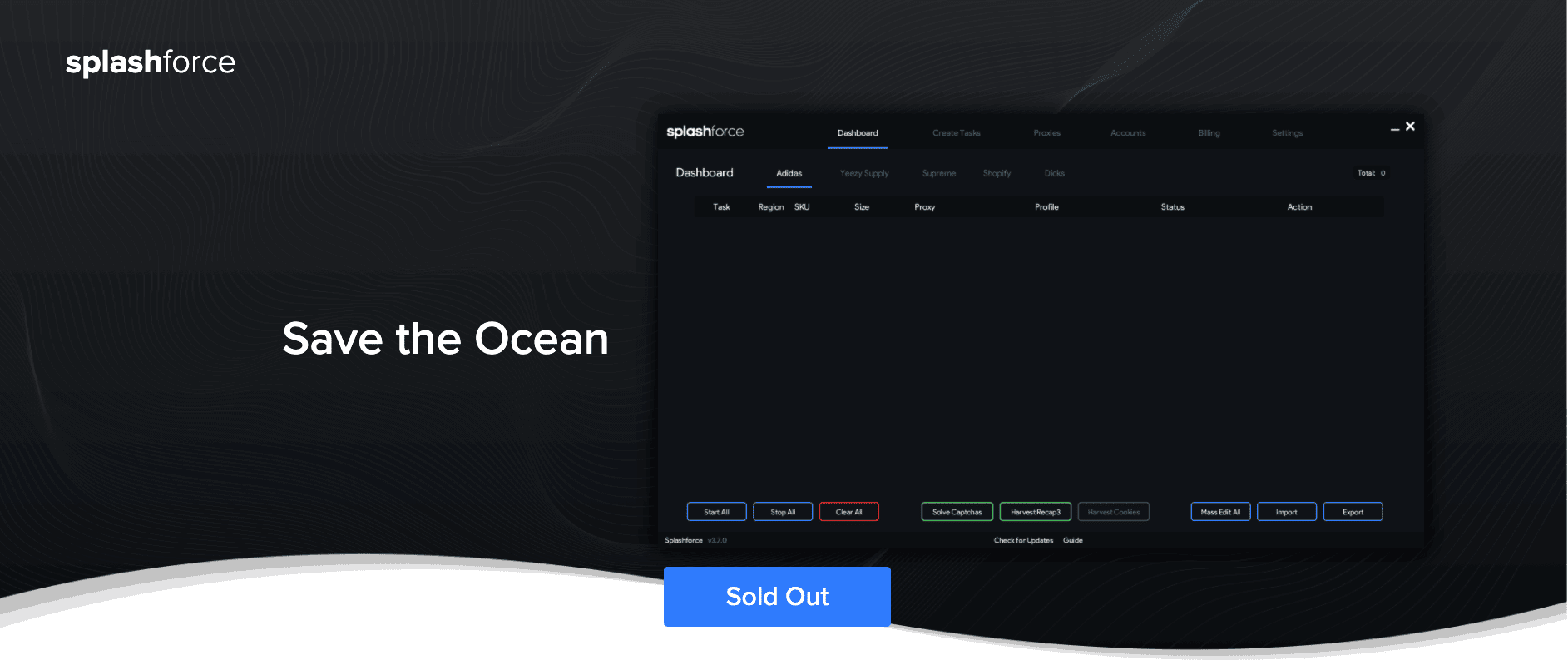 As its name suggests (Splash? Splash page? Adidas? Eh, nevermind), Splashforce is primarily a Demandware bot. It supports Shopify, Supreme, and a few other sneaker retailers as well, but Adidas was what got this bot famous. And for good reasons – it works great there.
Splashforce has all the main features you could expect from any self-respecting bot: multiple tasks, Discord notifications, CAPTCHA solving, proxies, and so on. Nothing out of the ordinary. What is extraordinary, however, is how user-friendly Splashforce is. It's very straightforward to set up and even generates cookies for you automatically. It has localized Discord support, too. So, Splashforce makes a great bot for beginners. 
Splashforce's licence costs $300 if you manage to get it from the official website. The renewal fee is $60 every six months. On BotBroker (the only reseller Splashforce endorses), the bot will leave your wallet around $1,500 lighter. 
Supported sites: Demandware (Adidas & YeezySupply) Shopify, Supreme, individual sites
Operating systems: Windows, macOS
Proxy support: Yes
Price: $300 + $60 every six months
---
3. Project Destroyer
One of the most versatile AIO bots for experienced users. 
While Project Destroyer has had its ups and downs, it's regarded as one of the better bots in the market. Project Destroyer supports hundreds of Shopify sites, Footsites, Supreme, Mesh, Demandware, and a bunch of individual shoe retailers. Maintaining such a variety of sites is hard, but the bot's creators assure they are constantly working to keep up with the times. 
Project Destroyer is also known for its customizability. Aside from the usual features, it includes custom functionality, such as waterfall monitoring (to save your proxies), custom shipping rates, Shopify queue bypass, and mass task editing. So, you can min-max the bot to achieve the best performance – if you know how. If you don't, there are plenty of guides in the knowledge base. Still, ProjectDestroyer is not an easy bot to use. 
Project Destroyer doesn't cost much upfront ($200), but it has a monthly renewal fee ($35). So, the bot's maintenance for half a year will drain you $210. Have it for a year and you're looking at $420. Like most coveted bots, Project Destroyer is often out of stock; it's around $1,300 in the aftermarket. 
Supported sites: Demandware, Shopify, Supreme, individual sites
Operating systems: Windows, macOS
Proxy support: Yes
Price: $200 + $35 every month
---
4. AIO Bot
One of the best all-in-one bots that's always in stock.

Another Nike Bot's AIO Bot calls itself the original all-in-one bot – and it might as well be so. But we're not looking for relics; we want to cop now. The good thing is that AIO Bot has held up surprisingly well. It's still probably one of the most popular sneaker bots in the market. AIO Bot will let you cop over 200 websites, including Shopify, Footsites, and Demandware. No Supreme or Nike though – the creators have separate bots for that. 
AIO Bot's features include multiple tasks and billing profiles, proxy support, notifications, CAPTCHA harvester, site monitor, queue bypass, and more. It also supports auto-checkout retries in case the website crashes during a release. The bot has a user-friendly interface and is pretty straightforward to use. 
AIO Bot costs $325 with six months of free updates; afterwards, it's $30-80 to extend the licence. (Note that you can't use the bot without updating it!). Perhaps the most amazing thing about this bot is that it's very frequently in stock and still manages to maintain decent success rates. So, it's a pretty safe bet if you don't want to pay resale.
Supported sites: Demandware, Shopify, Footsites, individual sites
Operating systems: Windows
Proxy support: Yes
Price: $325 + $30-80 every six months
Read our full AIO Bot review to learn more.
---
5. Nike Shoe Bot
A respectable all-in-one bot for (almost) all the main shoe sites.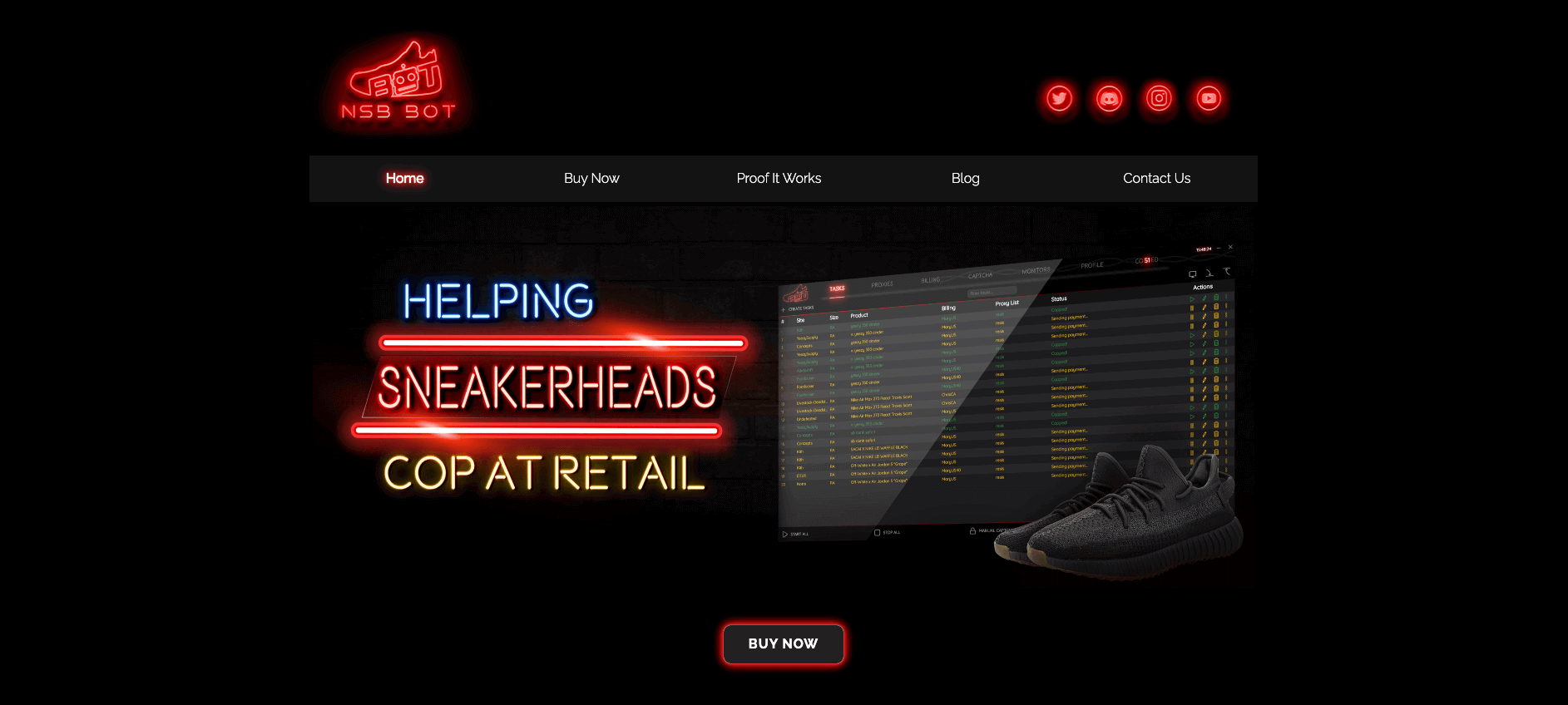 Nike Shoe Bot is another oldie – in fact, it might be the oldest sneaker bot still in business. But that didn't stop NSB Bot from being able to consistently win in 2020. Hopefully, the streak will carry on throughout 2021. It supports Shopify, Footsites, Demandware, and Supreme.
Nike Shoe Bot's distinguishing features revolve around Shopify, which is why it's so sought after for the platform. They include the ability to add custom Shopify stores, queue-bypass, and even measures against the infamous bot protection. Otherwise, it's a stellar bot with proxy support, multiple monitors and tasks, CAPTCHA solver, cookie generator, and so on. NikeShoeBot is pretty easy to use thanks to its approachable user interface.
Price-wise, Nike Shoe Bot is pretty expensive: it's $499 upfront and then after every year of use. On the bright side, it's always available, so you don't need to pay exorbitant amounts to resellers. So, the bot can work well for beginners, if they're willing to invest.
Supported sites: Demandware, Shopify, Footsites, Supreme
Operating systems: Windows, macOS
Proxy support: Yes
Price: $499 every year
Read our full Nike Shoe Bot review to learn more.
---
6. The Shit Bot
Perhaps the best Nike SNKRS bot that still works. 

With Nike being so ruthless against botting, there aren't many bots that can still cook its releases. I can think of AIO's Nike SNKRS Bot, BetterNikeBot (though not really), Ghost (wait, it's dead) and… TheShitBot? As it turns out, TheShitBot might not be so shit after all. On the opposite: it's probably the hottest Nike SNKRS bot right now. 
TheShitBot supports Nike only: you can choose from dozens of regions, but not other platforms or brands. It includes proxy support, mass creation and editing of tasks, cookie harvesting, and more. There are also features to work specifically with Nike accounts, such as an account checker, exclusive access checker, and ability to import multiple accounts at once. Oh, and an in-built address jigger. The bot's interface is simple to use, even though the copping process isn't. 
TheShitBot's retail price is $299. Technically, it's often available, but at an exorbitant price of $9,999, making the bot effectively out of stock. You can get it from group buys or the aftermarket for much cheaper.
Supported sites: Nike
Operating systems: Windows
Proxy support: Yes
Price: $299
---
7. Dashe
One of the best cheap sneaker bots for Mac (and Windows) to cook Shopify.

If you don't have much money – and want to cop from Shopify or Supreme – consider Dashe. It's an okay bot with no-nonsense features and native support for multiple operating systems. Some say that Dashe is hit-or-miss, but quite a few sneakerheads have found success with it. So, it's not the best bot, but also far from the worst. 
Dashe allows creating multiple tasks and profiles, hooking up a Discord group, adding proxies, and solving CAPTCHAs through Gmail accounts. It has an approachable interface and well-written documentation to help you set things up. 
Dashe's most attractive aspect is price: the bot costs $50/month. That's quite a bit less compared to other sneaker bots, bot mostly in the short run. Long-term the price adds up. Dashe is often out of stock (sigh) and may cost around $150 for resale. Overall, it's a good bot to try your hand at sneaker copping without going all in.
Supported sites: Shopify, Supreme
Operating systems: Windows, macOS
Proxy support: Yes
Price: $50/month
---
That was our list. It's not exhaustive, meaning there are some other great sneaker bots we fail to mention. For example, it doesn't include Kodai and Balko – both very powerful bots that have been trending lately; or a host of Supreme bots. There simply isn't enough space, and giving you more options would actually make your choice harder. The best sneaker bots that did make the list are well-balanced, and you should find a tool for any sneaker release. 
What's next? Pick a bot. Read our articles about sneaker servers, cook groups, and sneaker proxies. Then go cop those kicks!