Help us sustain ourselves by purchasing proxy services through our affiliate links (we earn a small commission).
Recommended for: Anyone considering a premium proxy provider for serious proxy use.
Quick Facts about Oxylabs
Proxy types:

Residential, datacenter

Protocols:

HTTP, HTTPS, SOCKS5

Locations:

Global

Targeting:

Country and city level

Dashboard:

Yes

Support:

24/7 customer support, dedicated account manager

Pricing:

Residential proxies start from $600/month for 50GB

Payment options:

Credit/debit card, wire transfers, AliPay

Free trial: 7 days for companies, 3-day money-back guarantee for individuals
General Overview
Everything about Oxylabs screams business. 
From a prim and tidy website, to a list certifications on the homepage, to a dedicated account manager. Heck, their products even have insurance! – that's a first for a proxy company. 
Here you'll be hard pressed to find any of the usual proxy targets like sneakers, Instagram, or Twitter. I'm sure that the company would be happy to cater to these use cases (if your needs are big enough) but they simply don't seem to be the focus. 
Instead, you'll be reading about things like ad verification, brand protection, market research, and business intelligence – like I said, business.  
In short, Oxylabs positions themselves as a proxy service with a tie. 
Well, is that bad? Considering that the company is the second largest player in the proxy market – and still growing – I'd argue the opposite. Having a clear focus really helps to offer the right features to the right customers. 
If you're not convinced, simply look at Smartproxy – they've been using the same approach for small & medium businesses with great success. 
I suppose it's all about expectations: If you fall within the target audience, you can rest assured you'll get the service you need. Reliable proxies, SLAs, enterprise-level support? You got it. Or perhaps a tool that does all the scraping for you? That's also available. Sure, you might need to pay a little more, but good service comes at a price, and Oxylabs delivers.
There's something beautiful about this simplicity – or I might just be getting old.
Using Oxylabs
Account Creation
You can start using Oxylabs in two ways.
First, there's the usual route: fill in a registration form, confirm your email, and you're in. 
The second one is aimed at businesses: instead of simply creating an account, you can choose to Contact sales. This will require entering your full name, business email, phone number, and industry. Afterwards, a salesman will get in touch and discuss the options with you. 
Oxylabs Dashboard
My first thought when I opened the dashboard was: really?
It turns out you have to contact someone first and activate your plan before you can start using the dashboard. Thankfully, my account manager (everyone gets one here) responded really quickly and was very helpful in setting the whole thing up.
Once I managed to open it, the dashboard left me pleasantly surprised. 
At first sight it looks deceptively simple: there are barely four sections in the navigation bar and an option to contact the account manager. 
However, once I started playing around, I saw that there is more to the dashboard than it had seemed. Each of the sections expands into smaller sub-sections, which include more options for managing your proxies.
I find this approach elegant and saving some valuable brain power. If the dashboard isn't stuffed with options you'll never use, you can just focus on those you do need. Some of Oxylabs' competitors could learn a thing or two from this.
For instance, the Residential proxies section lets you see your usage stats, manage subusers, whitelisted IPs, and has a few handy links to the helpdesk and API. Simple.
If there's one thing I'd like improved here, it's proxy server setup. To create CURL requests, you'll have to go to the Oxylabs docs, read through them, and add everything manually.
I'm sure that it's not an issue in reality, but these little touches really make for a pleasant experience.
Here are the options for Real-Time Crawler. There's only two, but those are enough to see your usage statistics and data sources. 
Otherwise, most of the work with Real-Time Crawler is done via the command line. It's really easier than it sounds, thanks to Oxylabs' well-written documentation. 
The dashboard also has a Billing tab where you can find and download your invoices. Note that you can't manage and renew your plans here – you'll have to get in touch with your account manager.
Overall, I found the Oxylabs dashboard pleasant to use. It's really one of the better implementations around.
| | |
| --- | --- |
| Usage statistics | Yes |
| Credentials/Whitelist IP change | Yes |
| Support tickets | No |
| Renew plans | Not available |
| Live chat | No |

Oxylabs Pricing Plans
Just like love don't come easy, Oxylabs' proxies don't come cheap. You'll be looking at paying above the industry average. The entry threshold is also not the lowest.
That said, considering how much you get for the cost, I really think the prices are reasonable. Sure, it might be a little too much for a regular small-time scraper; but it's another matter for businesses. 
If you're not convinced, simply look at what the competition has to offer. You'll find either fewer features, worse service, or otherwise the price will be similar, perhaps even higher. It all boils down to your needs.
Datacenter proxies plans
Residential proxies plans
Real-Time Crawler plans
Oxylabs Residential Proxies
Oxylabs has an impressive network of residential proxies. I believe it might be the second largest out of all the proxy providers I've reviewed. 
Looking at the use cases on the website, residential IPs don't seem to be the company's only focus. It means Oxylabs has a balanced range of products. 
Features
Traffic – all pricing plans come with limited bandwidth.
Pool size – Oxylabs has over 30M residential IPs. That's a lot, and only a few other proxy providers can complete with Oxylabs in this regard.
Locations – any country and city in the world. You can find a list on their website and check how many IPs they have different countries and cities worldwide.
Authorization method – both credentials (username: password) and whitelisted IPs are available.
Sub-users – yes. You can create as many users as you want. Traffic will be counted separately for every user.
Session control – yes. You can use special parameters with a random IDid added to your username to create a session and reuse the same IP address. You can even choose how many minutes a session will hold the same IP.

Filters

Location – yes, by country or city.

Proxy type – not available.

ASN/Provider/Carrier – yes, by ASN.

Protocols – Oxylabs supports HTTP and HTTPS protocols.
Performance
Let's see how Oxylabs' proxies perform. We'll be running several tests for measurement: 
Proxy speed

– slow proxies are not only an annoyance – speed can be crucial for many time-sensitive tasks, such as sneaker copping.

Concurrent connections

– the more connections you can make at once, the faster your job will be completed. 

Performance with major websites

– a good way to check proxy quality, especially if you're planning to scrape any of those sites. 

Blocked requests

– the main error codes showing why the proxies failed. 

Response time

– another metric for speed, only with a wider variety of targets. 
Proxy Speed
First, I checked the proxy speed using the free FOGLDN Proxy Tester.
The test showed us that Oxylabs residential proxies are quite fast. The average response time is 3-4 seconds. 
Would I recommend using Oxylabs residential proxies for sneaker copping? Yes, they are definitely a good choice.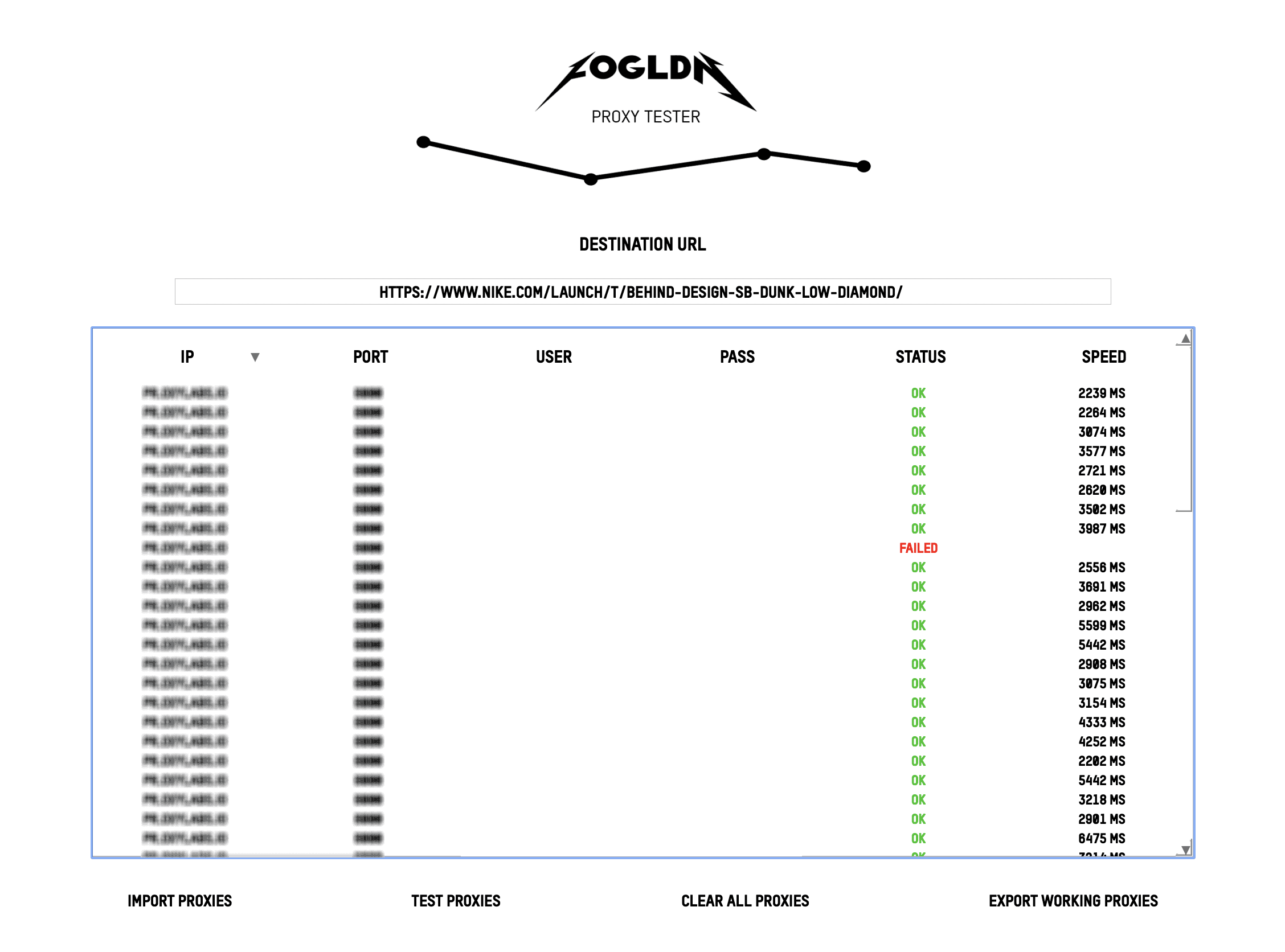 Concurrent Connections
Afterwards, I tested the overall performance of Oxylabs residential proxies by using our own testing script. During this test, I gradually increased the number of concurrent connections and put the proxies on a huge load. 
The graph below shows what happened when I did that:
Oxylabs' residential proxies performed really well with an average success rate of 84%. 
As you can see, no matter how much I increased concurrent connections, the error rate stayed very low. There were only a few timeouts and blocks.
Performance with Major Websites
---
Oxylabs no longer allows using residential proxies with search engines. You'll have to choose its datacenter IPs or Real-Time Crawler instead. 
---
In the graph below, you can see a detailed breakdown of the performance test results. I used a 300 concurrent connections benchmark.
Overall, the proxies had a very low connection error rate. There were some timeouts, but not too many. Only with Google and Wayfair did we get some blocks. The most frequent issue with Google was the 503 (recaptcha) error, while Wayfair blocks mostly returned the 403 error.
When it comes to extracting data from complex websites such as Amazon, Oxylabs residential proxies perform very well.
Response Time
In terms of average response time, Oxylabs' residential proxies perform pretty well, especially compared to other residential proxy providers. That means the proxies are fast. 
Both the average and median response times were impressive for residential proxies. There was only a small difference between the two, but it's completely normal for this type of IPs.
We've mentioned this in other reviews, but the best way to test how proxies perform is to check the average response time on Amazon. This site is a difficult target because requests to it contain a lot of data. If the proxies are slow with Amazon, they will be slow with other targets, too. In this case, the average time on Amazon was only 5.4 sec.
Oxylabs Dedicated Proxies
Dedicated proxies is an area where Oxylabs really manages to impress. With the most datacenter IPs among all proxy providers, the company is ready even for largest-scale data extraction tasks. 
This makes sense, since they are primarily a B2B provider. Having a deep pool is a tremendous competitive advantage when dealing with large enterprises as, I suppose, they do.
The company doesn't offer any shared proxies. 
Dedicated Proxy Features
Traffic – unlimited bandwidth. Instead, you'll be paying per IP address.
Pool size – over 2 million datacenter IP addresses.
Locations – 82 locations around the world.
Concurrent connections  – unlimited. It means you'll be able to do some hardcore scraping – or simply save time with multiple tasks running at the same time.
Subnets – 7850 subnets.
Authorization method – both user:pass and whitelisted IP authorization are supported. There is no limit on the number of IPs you can whitelist, simply do it via the dashboard.
Sessions – you can automatically make the IPs rotating using the company's Proxy Rotator.

Filters

Location – yes, by country and city.

Proxy type – not available.

ASN/Provider/Carrier – yes, by ASN.

Protocols – HTTP, HTTPS and SOCKS5 protocols.
Proxy Performance
Once again, I'll run the proxies through multiple performance tests.
Concurrent Connections
Oxylabs dedicated proxies perform extremely well. I tested the overall performance by increasing concurrent connections to target websites from 50 to 500 instances. 
Here are the results:
As you can see from the chart, you'll get an outstanding result with running 50 instances.
Afterwards, the success rate starts to drop, but this is to be expected. to the lowest point of 76.63%, at 500 instances. This is still an impressive achievement. 
As expected, there were virtually no time outs, connection, or unexpected errors, which means the provider's infrastructure is in excellent condition.
In addition to just doing the tests, this time I asked support if it's possible to get proxies optimized for a specific source. I received an answer that they do indeed issue sets of proxies optimized for targets and that they often share tips with clients on how to increase success rates while scraping different websites. 
I have to say, this is some great additional value and something that is often overlooked by most other proxy reviewers.
Performance with Major Websites
Now let's take a look at the specific targets of 300 concurrent connections.
Our standard 300 concurrent connections test revealed no surprises. At this number of threads, it is normal that the success rate with Yandex, Google and Amazon begins to drop. Since these are dedicated proxies we're talking about – they are easy to spot and block, especially at larger scales.
Once again, note that this is an overall performance test. Most often you'll get a much better result with either dedicated proxies optimized for specific targets, such as search engines, or by using residential IPs which are the best solution for websites with advanced protections against scraping (like Google and Amazon).
As you can see, the speed largely varies by target. The average connection speed to all targets is 2.69 seconds – not amazing, but well within the norm.
It should also be noted that the speed stays about the same when changing the number of instances. This is an indication that Oxylabs has their infrastructure stable and well maintained.
Real-Time Crawler
Just like all other proxy providers, Oxylabs sells IP addresses. You can do with them whatever you like, using any tools you have – in other words, it's simply infrastructure.
However, unlike any other proxy provider (except perhaps Luminati), Oxylabs has decided to go a step further and turn their proxy network into a service. This is how Real-Time Crawler was born.
Simply put, Real-Time Crawler is a data extraction tool. So, like a bot? Kind of. 
The difference is that with Real-Time Crawler you don't have to worry about IP addresses, software configuration, blacklisting, or anything like that. Instead, you simply:
buy a plan,

enter the website or e-commerce store you want to scrape, and

receive your data.
To me, this is big. Turning proxies into a service really lowers the bar of entry and reduces the headache of data collection for many businesses. I'd imagine the accounting department would also be happy to have fewer things to wrack their brains about. 
The only real showstopper I can think of is costs. It falls to businesses to weigh the pros and cons, and if the added convenience is worth paying more. Perhaps the ideal option would be to combine regular proxies with Real-Time Crawler – but once again, it's a matter of circumstances.
Oxylabs themselves seem to put great emphasis on their new tool, and it is often mentioned throughout their use case pages. It'll be interesting to see the direction it takes and if the proxy market will follow. 
Customer Support
Oxylabs gives each client a dedicated support manager who answers all of your questions via email or call. That's why their dashboard lacks the usual features, such as support tickets or live chat. (There is live chat on their webpage, though.)  
To be honest, when I first learned that Oxylabs doesn't use support tickets, I was ready to lower their rating. However, after trying out how Oxylabs support works in real life, I was pleasantly surprised. 
Since you always speak with the same person, they know which problems you had in the past, so you don't have to explain everything from the beginning. Communication is smooth and professional. Even when we asked technical questions, we got fast and well-explained answers.
I also tested how fast their support is and asked a question via email. The reply came in about 20 minutes and, from my experience, this is as good as it gets.
Conclusion
Like I said: expectations. If you fall into Oxylabs' target audience, you can be sure you won't be disappointed.
It's not the kind of service where you put something into a cart, pay for it, walk through the door with some flimsy instruction manual, and that's that. 
We're talking business here: subtle, polished, and no-nonsense. You'll be making relationships with real people who will remember your name, needs, and proactively try to keep you content. You'll receive good service, and even more importantly – one that's reliable. The proxies really are top-notch, and so is the crawler. 
In a nutshell, you'll be in good hands. 
In return, you will be paying more. The entry threshold is also quite high – for Oxylabs, 50GB of residential proxies means "basic". The pricing becomes much more attractive with advanced plans, but at that point we're dealing with 1TB of data or 5,000 IPs. 
It all boils down to two questions: do you need the best proxy service available and will you make full use of it? If yes, then you might have just found yourself a proxy provider.
Oxylabs Alternatives
Before committing to a proxy provider, it's a good idea to look around and see how it compares to other proxy services.  
Check out our lists of best residential proxy providers and best private proxies. 
You may also want to learn how Oxylabs fares against its top competitors: https://proxyway.com/comparisons