Oxylabs is a Lithuanian proxy provider running since 2012. Everything about it screams business. From a prim and tidy website, to a list of certifications on the homepage, to a dedicated account manager. Heck, its products even have insurance! – that's a first for a proxy company.
Here you'll be hard pressed to find any of the usual proxy targets like sneakers, Instagram, or Twitter. I'm sure that the company would be happy to cater to these use cases (if your needs are big enough) but they simply don't seem to be the focus.
Instead, you'll be reading about things like ad verification, brand protection, market research, and business intelligence – like I said, business. In short, Oxylabs positions itself as a proxy service with a tie.
Well, is that bad? Considering that the company is the second-largest player in the proxy market – and still growing – I'd argue the opposite. Having a clear focus really helps to offer the right features to the right customers.
I suppose it's all about expectations: If you fall within the target audience, you can rest assured you'll get the service you need. Reliable proxies, SLAs, enterprise-level support? You got it. Or perhaps a tool that does all the scraping for you? There's Real-Time Crawler for that. Sure, you might need to pay a little more, but good service comes at a price, and Oxylabs delivers.
This review is long, so if you're short on time, you can find the provider's key features straight below. Otherwise, it's divided into the following structural parts: Oxylabs' services, pricing plans, proxy performance, user experience, and customer support.
Let's get started!
Pros
Best overall performance
Flexible proxy controls
Global locations
Premium customer service
Key Features
Proxy types: Datacenter (dedicated), residential (static, rotating)
Protocols: HTTP, HTTPS, SOCKS5
Locations: Global
Targeting: Country, city, ASN
Authentication: Whitelisted IP, user:pass
Sub-users: Yes
Dashboard: Yes
Extras: API, scraping tools
Support: 24/7, account manager
Pricing: From $300/20GB ($15/GB) for residential proxies
Payment options: Credit card, wire transfer, AliPay, PayPal, Stripe
Trial: 7 days (businesses), 3-day refund
Oxylabs Services
Oxylabs offers dedicated datacenter proxies, rotating and static residential proxies, and a specialized tool for data retrieval. 
Residential Proxies
Both static and rotating, but no SOCKS5.
Oxylabs has an impressive network of over 100M residential proxies. I believe it might be the second largest out of all the proxy providers I've reviewed. Aside from Luminati, few other companies come close.
The proxies cover all countries in the world. Oxylabs claims that they extend to every city as well. Such claims are often exaggerated, but the list of supported cities is indeed impressive. In addition to country and city targeting, you'll also be able to filter the residential proxies by ASN.
These are P2P residential IPs, so they are shared and inevitably rotate. Oxylabs gives you flexible rotation options: you can choose to rotate the IPs anywhere from every request to 30 mins. The default is 10 mins for sticky sessions.
Oxylabs also offers around 100,000 static residential proxies that come straight from ISPs. They don't have to rotate, so such IPs are preferable for tasks that require a consistent identity. Some examples would be social media account management and even sneaker copping. As far as I know, these proxies come mostly from the US. 
Unfortunately, Oxylabs residential proxies don't support the SOCKS5 protocol; you'll have to make do with HTTP & HTTPS only. This rules out a few use cases like gaming or torrents; but you can try using the company's datacenter IPs for those.
Both user:pass and whitelisted IP authorization are available. You can create as many users as you like, and the traffic will be counted separately for each – a small but convenient touch.
Next-Gen Residential Proxies
Proxies meet machine learning.
Oxylabs has been teasing this product for a while, and it looks like it'll be finally launching soon. We're not sure what to expect yet, but it looks like Oxylabs has given its residential IPs some high tech treatment. 
We're already aware that the Next-Gen Residential Proxies will have AI-powered dynamic fingerprinting, ability to render JS heavy websites at scale, and most intriguingly, Oxylabs will try to introduce adaptive parsing using ML algorithms. 
That's a first in the proxy market, and we're eager to see how the proxies will perform. 
Datacenter Proxies
Everything covered.
Datacenter proxies is an area where Oxylabs really manages to impress. With the most datacenter IPs among all proxy providers and unlimited concurrent connections, the company is ready even for largest-scale data extraction tasks. This makes sense, since Oxylabs is primarily a B2B provider. Having a deep pool is a tremendous competitive advantage when dealing with large enterprises.
To give you hard numbers, Oxylabs has over 2 million datacenter IPs. They come from 7,850 subnets. What's especially nice is that you can choose how many subnets you need: For 1,000 IPs you can get from 1 to as many as 1,000 subnets. The proxies aren't shared, meaning they're dedicated for your exclusive use.
The datacenter proxies cover 82 locations around the world. This is a lot. The targeting options are also generous. This makes the datacenter proxies an attractive choice for scraping tasks in various locales – as long as the target isn't trying very hard to block you.
Unlike the provider's residential proxies, these IPs support all three main protocols, including SOCKS5. The proxies come in a simple list. There's no in-built proxy rotation, but you can set it up using a special tool called Proxy Rotator.
Both user:pass and whitelisted IP authorization methods are supported. There is no limit on the number of IPs you can whitelist, simply do it via the dashboard.
Scraping Tools
When you don't want to do web scraping yourself.
In recent years, Oxylabs has released a specialized tool for web scraping called Real-Time Crawler. The idea behind it is to simplify data collection tasks by turning proxies into a service. Put simply, all you have to do is enter your crawling or scraping target, and Oxylabs will return the data for you in HTML or JSON format. If something fails – you don't pay.
The Real-Time Crawler was specifically made to scrape challenging searching engines and e-commerce websites. It has anti-captcha mechanisms, ensures 100% delivery, and seems to do everything for you except your laundry.
Such tools keep much of the work in-house – which makes sense when you consider that Oxylabs lives and breathes proxies, so it can make the best use of them. It also gives a way for the provider to differentiate itself. Proxies by themselves are hardly exciting. Real-Time Crawler, on the other hand? Now we're talking!
For businesses, this addresses the need for proxy management. Simplifying the process to input-output should also reduce accounting headaches and labor costs. Plug in the API, get data, pay. Simple. I'm not sure Real-Time Crawler can replace proxies altogether, but it should work well alongside them. Just mind your expenses.
Oxylabs Pricing
Just like love don't come easy, Oxylabs' proxies don't come cheap. You'll be looking at paying above the industry average. The entry threshold is also not the lowest: $300/20 GB for the residential proxies, $180/100 addresses for the datacenter IPs.
That said, considering how much you get for the cost, I really think the prices are reasonable. Sure, it might be a little too much for a regular small-time scraper; but it's another matter for businesses.
Things change as you buy up. The pricing scales well into thousands of IPs and even becomes relatively affordable. At this point, more factors come into play, such as long-term contracts and domains, so you might get it down even lower than advertised.
If you're not convinced, simply look at what the competition has to offer. You'll find either fewer features, worse service, or otherwise, the price will be similar, perhaps even higher. It all boils down to your needs.
Note that you won't be able to buy special plans for particular use cases. But if you need proxies that are guaranteed to work for, say, Amazon, don't be afraid to inform your account manager. With a huge proxy network, Oxylabs is very flexible about this.
Up until recently, buying any plan required going through a salesperson. In an effort to simplify onboarding, Oxylabs has introduced self-service for its two cheapest residential proxy plans. So, subscribing to the service has become quicker and requires fewer hoops.
Oxylabs Performance Tests
The results of this year's Proxy Market Research echo what we found back in 2019: Oxylabs still has one of the best residential proxies in the market. They excelled both in our general tests and for particular use cases. The proxies are especially suitable for data scraping and SEO tasks.
We checked the IPs in multiple online databases: none of them leaked headers, none were identified as proxies, or appeared in IP any blacklists. In short, you can be sure that Oxylabs' residential proxies will do their job anonymously and impeccably.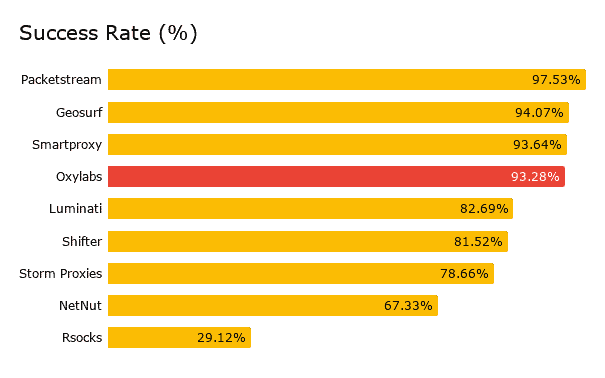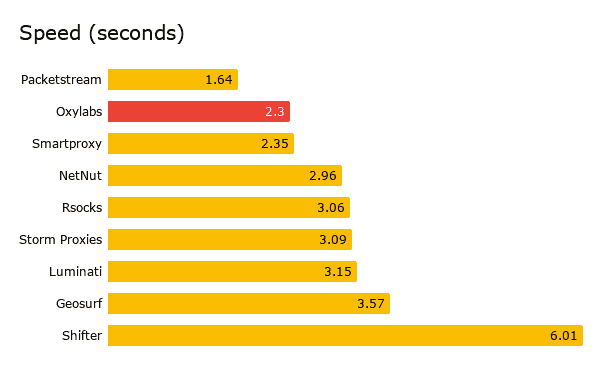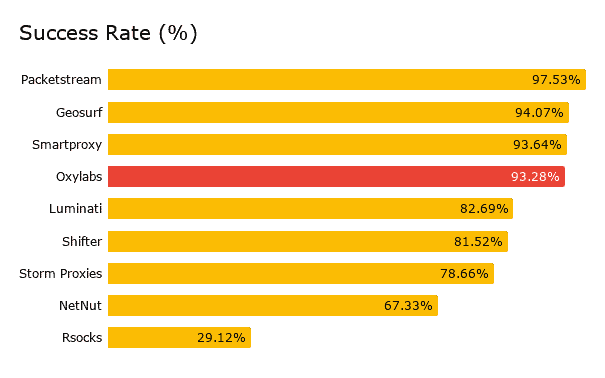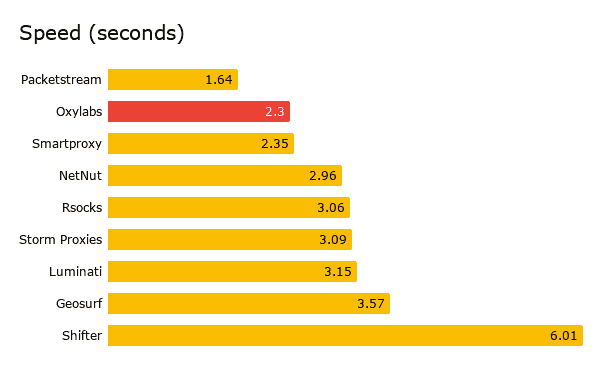 How to Use Oxylabs
Limited self-service, comfortable dashboard, and an API.
You can start using Oxylabs in two ways. First, there's the usual route: fill in a registration form, confirm your email, and you're done. However, you won't be able to do much unless you get one of the two cheapest residential proxy plans – they're the only ones that allow self-service. If you need something else, you'll have to talk with your account manager first.
The second one is aimed at businesses: instead of simply creating an account, you can choose to contact sales. This will require entering your full name, business email, phone number, and industry. Afterwards, a salesman will get in touch and discuss the options with you. Note that you might have to go through a KYC check.
When you log in, you'll find the Oxylabs dashboard. It has four main sections that expand into smaller sub-sections with more options. You can track your proxy usage, create sub-users and whitelist IPs, and see your billing information. There are also links to the knowledge base and API documentation. You're going to need the latter because there's no way to set up the proxies in the dashboard.
If you need help, there's a button to contact your account manager. It'll go in handy when you'll be renewing your plan – once again, you can't do it by yourself. Overall, I found the Oxylabs dashboard pleasant to use. It's really one of the better implementations around.
The proxy setup depends on the proxy type. For the datacenter IPs, it's very simple: authenticate your proxies in the dashboard (either with credentials or your IP) and download the proxy list. 
The residential IPs use backconnect gateway servers. They come in the form of hostname:port, which you can modify according to the provider documentation to specify locations and proxy rotation. Rotating sessions use one port, and sticky sessions need a range of ports. If you're using user:pass authentication, you'll need to add those credentials as well. For example, this is the configuration for rotating proxies in the US: us-pr.oxylabs.io:10000
You can simply put in the above address into your scraping/automation software. Or you can create cURL requests. They enable more granular controls, such as state, city, and ASN. This way, our example would transform to: curl -x us-pr.oxylabs.io:10000 -U "customer-USERNAME:PASSWORD" https://ipinfo.io
If you want to access the IPs programmatically, Oxylabs has an API. For the moment, it works only with the residential proxies. The API lets you create and delete sub-users, assign and manage their traffic limits. 
All in all, the proxies aren't the easiest to work with, but Oxylabs has prepared extensive user docs to help you make the process as painless as possible.
Customer Support
Oxylabs gives each client a dedicated account manager who answers all of your questions via email or call. That's why the dashboard lacks the usual features, such as support tickets or live chat. (There is live chat on the webpage, though.)
To be honest, when I first learned that Oxylabs doesn't use tickets, I was ready to lower the rating. However, after trying out how the support works in real life, I was pleasantly surprised.
Since you always speak with the same person, they know which problems you had in the past, so you don't have to explain everything from the beginning. Communication is smooth and professional. Even when we asked technical questions, we got fast and well-explained answers.
I also tested how fast their support is and asked a question via email. The reply came in about 20 minutes and, from my experience, this is as good as it gets.
Conclusion
Like I said: expectations. If you fall into Oxylabs' target audience, you can be sure you won't be disappointed.
It's not the kind of service where you put something into a cart, pay for it, walk through the door with some flimsy instruction manual, and that's that.
We're talking business here: subtle, polished, and no-nonsense. You'll be making relationships with real people who will remember your name, needs, and proactively try to keep you content. You'll receive good service, and even more importantly – one that's reliable. The proxies really are top-notch, and so is the scraping tool.
In a nutshell, you'll be in good hands.
In return, you will be paying more. The entry threshold is also quite high – for Oxylabs, 50GB of residential proxies means "basic". The pricing becomes much more attractive with advanced plans, but at that point we're dealing with 1TB of data or 5,000 IPs.
It all boils down to two questions: do you need the best proxy service available and will you make full use of it? If yes, then you might have just found yourself a proxy provider.