Oxylabs is a Lithuanian proxy provider running since 2015. It's one of the biggest companies in the field, offering all kinds of proxy services and several specialized tools for data collection. 
Oxylabs primarily targets business clients. This reflects everywhere: from a prim and tidy website, to a list of certifications on the homepage, to a dedicated account manager. Heck, its products even have insurance! – that's a first for a proxy company.
Here you'll be hard pressed to find any of the usual freelancer use cases like sneakers, Instagram, or Twitter. I'm sure that the company would be happy to cater to them (if your needs are big enough) but they simply don't seem to be the focus.
Instead, you'll be reading about things like ad verification, brand protection, market research, and business intelligence – like I said, business. In short, Oxylabs positions itself as a proxy service with a tie.
Well, is that bad? Considering that the company is the second-largest player in the proxy market – and still growing – I'd argue the opposite. Having a clear focus really helps to offer the right features to the right customers.
I suppose it's all about expectations: If you fall within the target audience, you can rest assured you'll get the service you need. Reliable proxies, SLAs, enterprise-level support? You got it. Or perhaps a tool that does all the scraping for you? Done. Sure, you might need to pay a little more, but good service comes at a price, and Oxylabs delivers.
This review is long, so feel free to jump around its structural parts. If you're short on time (or simply like YouTube more), we also have a video version below.
Let's get started!
Pros
Best overall performance
Flexible proxy controls
Global locations
Premium customer service
Key Features
Proxy types: Datacenter (dedicated), residential, ISP, mobile
Locations: Global
Audience: Mid to large companies
Reselling: Yes
Extras: API, scraping tools
Support: 24/7, account manager
Payment options: Credit card, wire transfer, AliPay, PayPal
Trial: 7 days for companies, 3-day refund
Oxylabs Services
Oxylabs covers a wide range of services for web scraping and automation. You can get every type of proxy network available: datacenter, residential, ISP, or mobile IPs. If you're looking to simplify your web scraping infrastructure, there's a further choice of three web scraping APIs. I cover each product in more detail below. 
Oxylabs Datacenter Proxies
Oxylabs' datacenter proxy network consists of fast and stable IP addresses from cloud hosting providers dedicated to your exclusive use. With 2 million IPs, it's currently the largest pool in the market.
This brings a big competitive advantage when dealing with enterprises, as they can quickly scale without needing to juggle between multiple suppliers. A proxy pool this size also allows Oxylabs to customize the IPs according to each client's needs. 
Features
These dedicated proxies are pretty much unlimited. They have no target, connection, or traffic limits. You can choose from 82 countries, which is a lot, and ask for specific cities. Another neat thing is that Oxylabs can get you any number of subnets you need. Naturally, there's no rotation, but it can be enabled by getting a paid add-on called Proxy Rotator.

Pricing
The usual: monthly or yearly plans that charge per IP address. There's no self-service here or instant automatic delivery – the IPs are chosen based on your requests. The plans require committing at least $180 but aren't actually that expensive per IP as long as you stick to the US. Other locations cost more.

Oxylabs Residential Proxies
The largest proxy pool on the market.
Residential proxies are Oxylabs' main product. These IPs come from devices of real people that sell traffic directly or via partner apps. With 102M monthly addresses, it's by far the largest network on the market. You won't find it lacking in features, and it demonstrated top-notch performance in all of our tests.
Features
Compared to the datacenter IPs, the residential proxies are shared and necessarily rotate. This gives you less control but easier proxy management, as they use backconnect servers instead of IP lists. The rotation settings aren't very flexible, but they should be enough for most use cases. What's impressive is the number of locations you can choose; and with a pool this big, you should actually find IPs in any of them.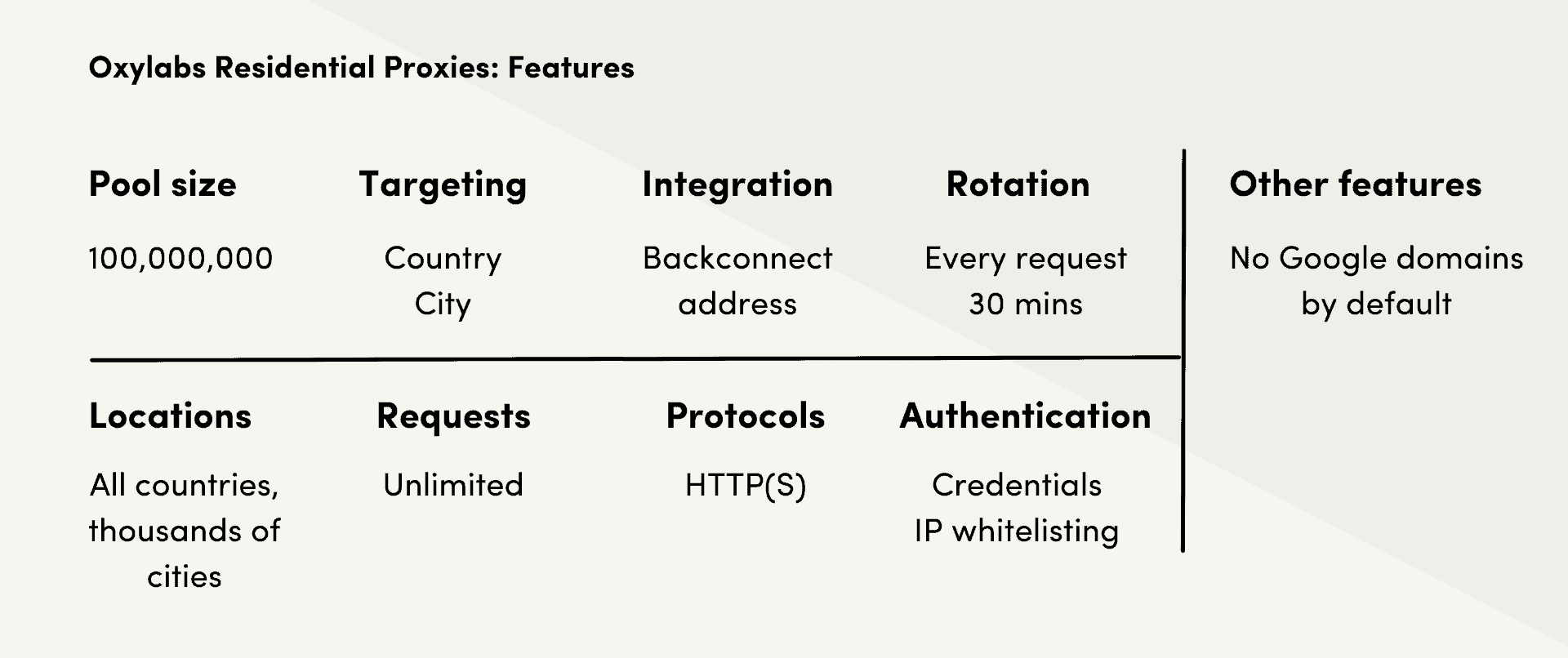 Pricing
Oxylabs' residential proxies follow the standard model where you buy traffic for a set period of time. The plans start from $300, so if you're a freelancer or small business, they might be out of your budget range. The actual price per GB is above the industry average, but it scales well and you get a top-notch service. Oxylabs' main competitor Bright Data costs more, especially if you need advanced features (such as city targeting).

Performance
We tested Oxylabs' rotating residential proxies for this year's Proxy Market Research. This involved making more than 2 million connection requests over a period of three weeks. Our main target was a Cloudflare server in the US, but we also ran several thousand requests with popular targets.
Having done the tests, we found the proxies to be a powerhouse. Requests succeeded over 99% of the time, so the only thing holding you back will be your automation setup. The response time was amazing as well, reaching less than 1 second on average to a server in the US. Only Smartproxy and Bright Data can compare with these results.
Overall, these are among the best peer-to-peer residential proxies on the market. Whatever your use case is, they should power you through it.
Oxylabs ISP Proxies
Dedicated residential proxies that don't need to rotate.
Oxylabs also offers around 100,000 static residential proxies that come straight from ISPs. The service targets users of datacenter IPs that are encountering too many blocks with their current setup. 
They are always online and don't have to rotate, so such IPs are preferable for tasks that require a consistent identity. Some examples would be account management or buying sneakers. 
As far as I know, these proxies come mostly from the US. Other than that, there's little information about them, meaning that Oxylabs hasn't fully developed the service.
Oxylabs Next-Gen Residential Proxies
Residential IPs that retrieve and parse data for you.
Next-Gen Residential Proxies are basically a web scraping API that uses the regular proxy IP format. It's built on the infrastructure of Oxylabs' residential IPs and outfits the addresses with additional capabilities. The only basic difference is that you lose city-level targeting.
In return, you get the benefits of AI & machine learning. Next-Gen Residential Proxies automatically retry failed requests, overcome CAPTCHAs and browser fingerprinting. If that isn't enough, they can render JavaScript and even intelligently parse websites with different layouts. As a result, you receive processed data with a 100% success rate.
This service is slightly more expensive than regular residential IPs, but it offloads a big part of the web scraping process from you. It makes sense if you don't have a web scraping infrastructure set up, or if you don't want to maintain it.
Price-wise, the next-gen solution costs several dollars more compared to the regular residential IPs. This is expected considering the extra features you get.
Web Scraping Tools
Aside from proxy networks, Oxylabs also offers three web scraping APIs tailored for different targets:
SERP Scraper API for search engines.
E-commerce Scraper API for e-commerce websites.
Web Scraper API for other websites.
All three APIs build upon Next-Gen Residential Proxies. The working principle here is simple: all you have to do is enter your crawling or scraping target, and Oxylabs will return the data in HTML, JSON, or CSV, depending on the scraper. If something fails – you don't pay.
The web scrapers were specifically made to scrape challenging websites at scale. They include anti-CAPTCHA mechanisms, run JavaScript, ensure 100% delivery, and seem to do everything except your laundry. Your only task is to integrate one and then mind your expenses.
There are several integration methods to speak of. You can get data over an open connection or retrieve it with a job ID once the task is completed. Oxylabs also offers to deliver it straight to your AWS or GCS account if needed.
The APIs charge by successful requests, which makes the costs very predictable. Coupled with adaptive parsing, they can really save a lot of money on development and maintenance of your web scraping infrastructure once you get past the integration hurdles.
How to Use Oxylabs
This part runs through what it's like to use Oxylabs. It showcases the registration procedure, dashboard, proxy setup, API, and Oxylabs' newly-released browser extension.
Registration
You can start using Oxylabs in two ways. First, there's the usual route: fill in a registration form, confirm your email, and you're done. However, you won't be able to do much unless you get one of the two cheapest residential proxy plans – they're the only ones that allow self-service. If you need something else, you'll have to talk with your account manager first.
The second one is aimed at businesses: instead of simply creating an account, you can choose to contact sales. This will require entering your full name, business email, phone number, and industry. Afterwards, a salesman will get in touch and discuss the options with you. 
In any case, you'll have to go through a KYC procedure before you can start using the services. It's a standard practice with premium proxy providers.
Dashboard
When you log in, you'll find the Oxylabs dashboard. It has five sections: one for the overview, three for proxy services, and one for your account. 
The sections expand into smaller sub-sections with more options. For instance, Residential Proxies lets you track proxy usage, manage authorization settings, access the public API and relevant documentation. My Account shows your active products and invoices. You can also track your usage statistics: filter them by day or user. 
If you need help, there's a button to contact your account manager. The button leads to an email, so it's not very useful in emergencies. For that, there's another button on the right that connects you to a support agent over live chat.
Overall, the dashboard covers almost everything. The only thing missing is a widget for setting up the residential proxies; more on that in a moment.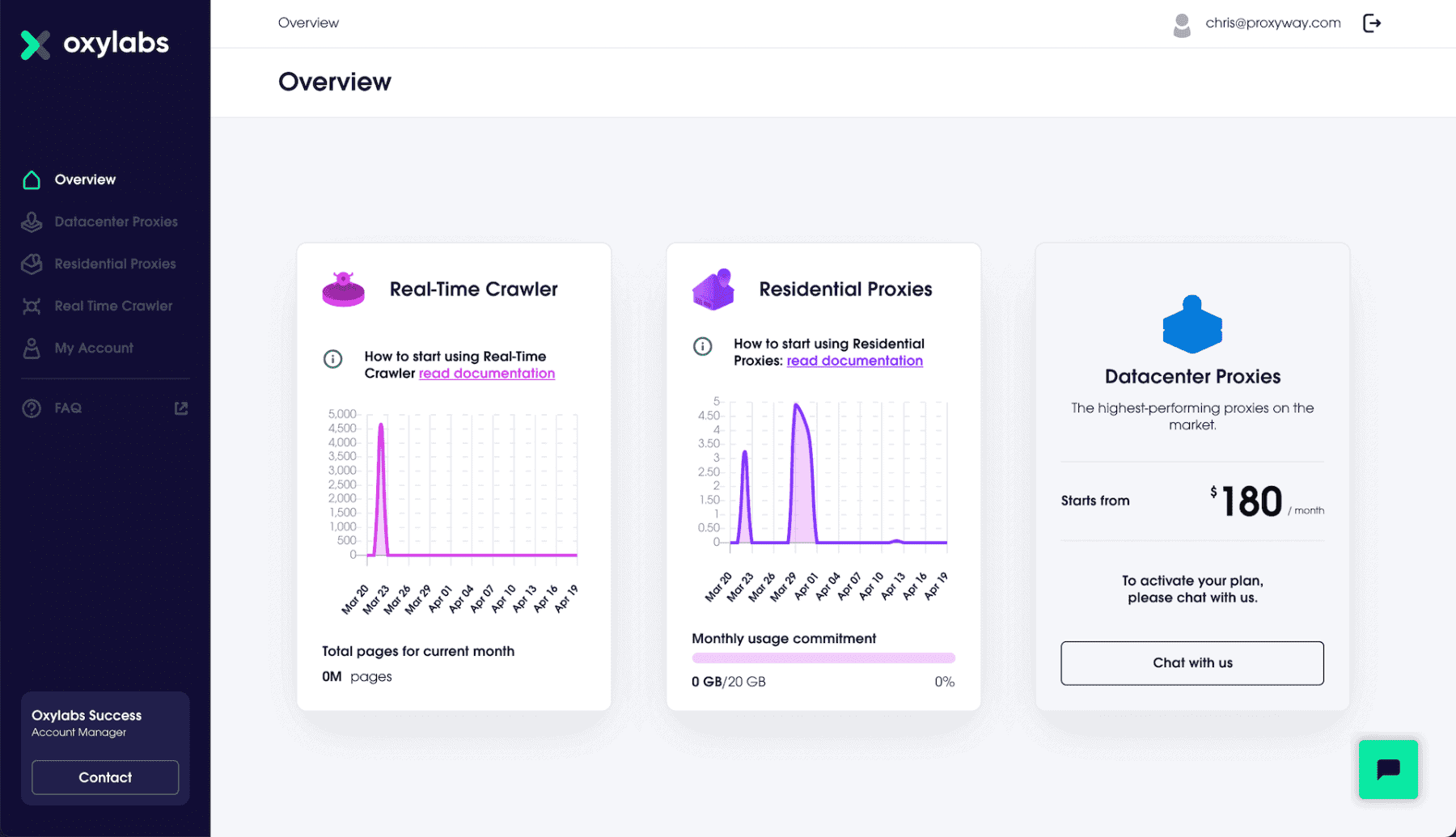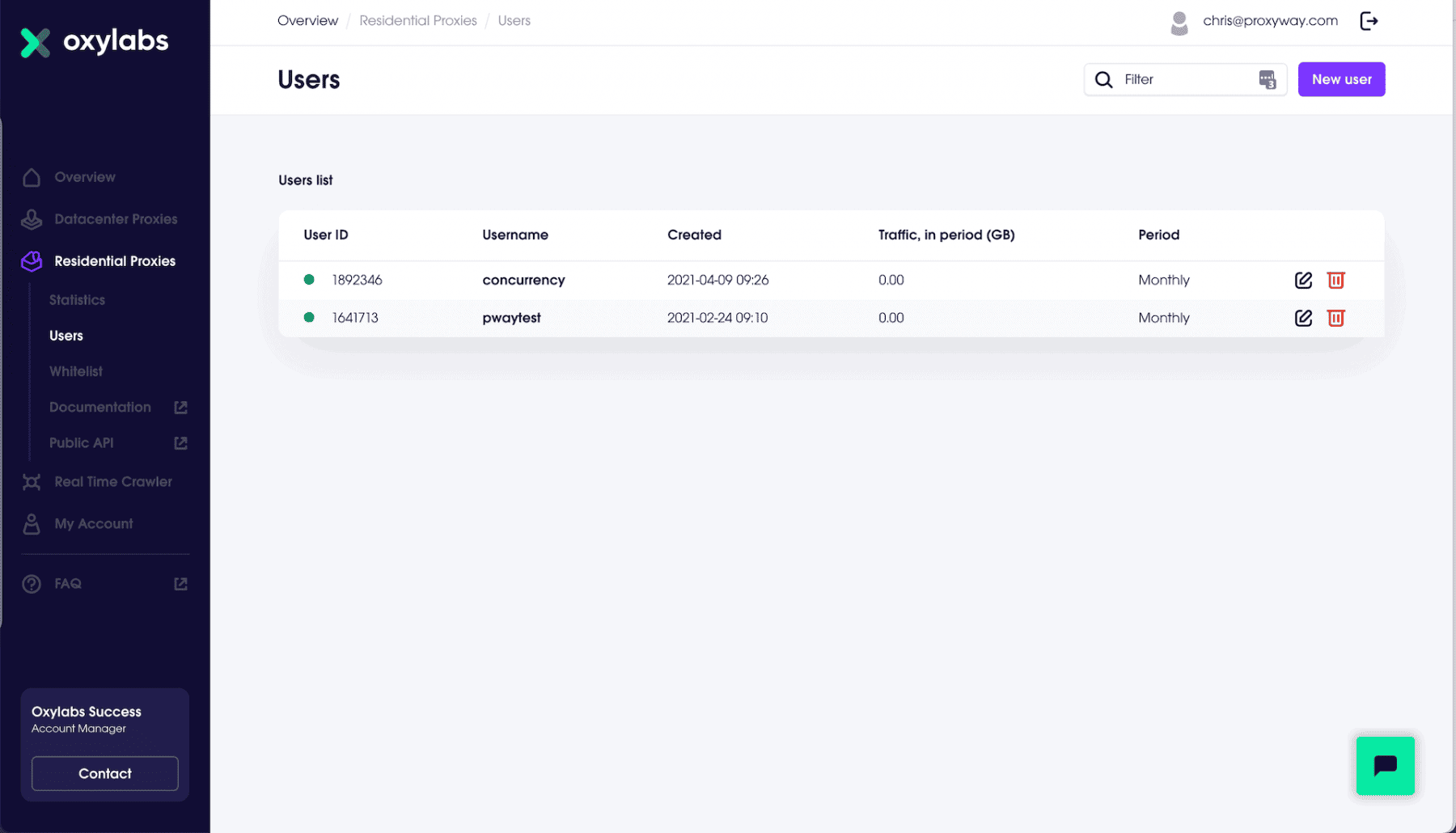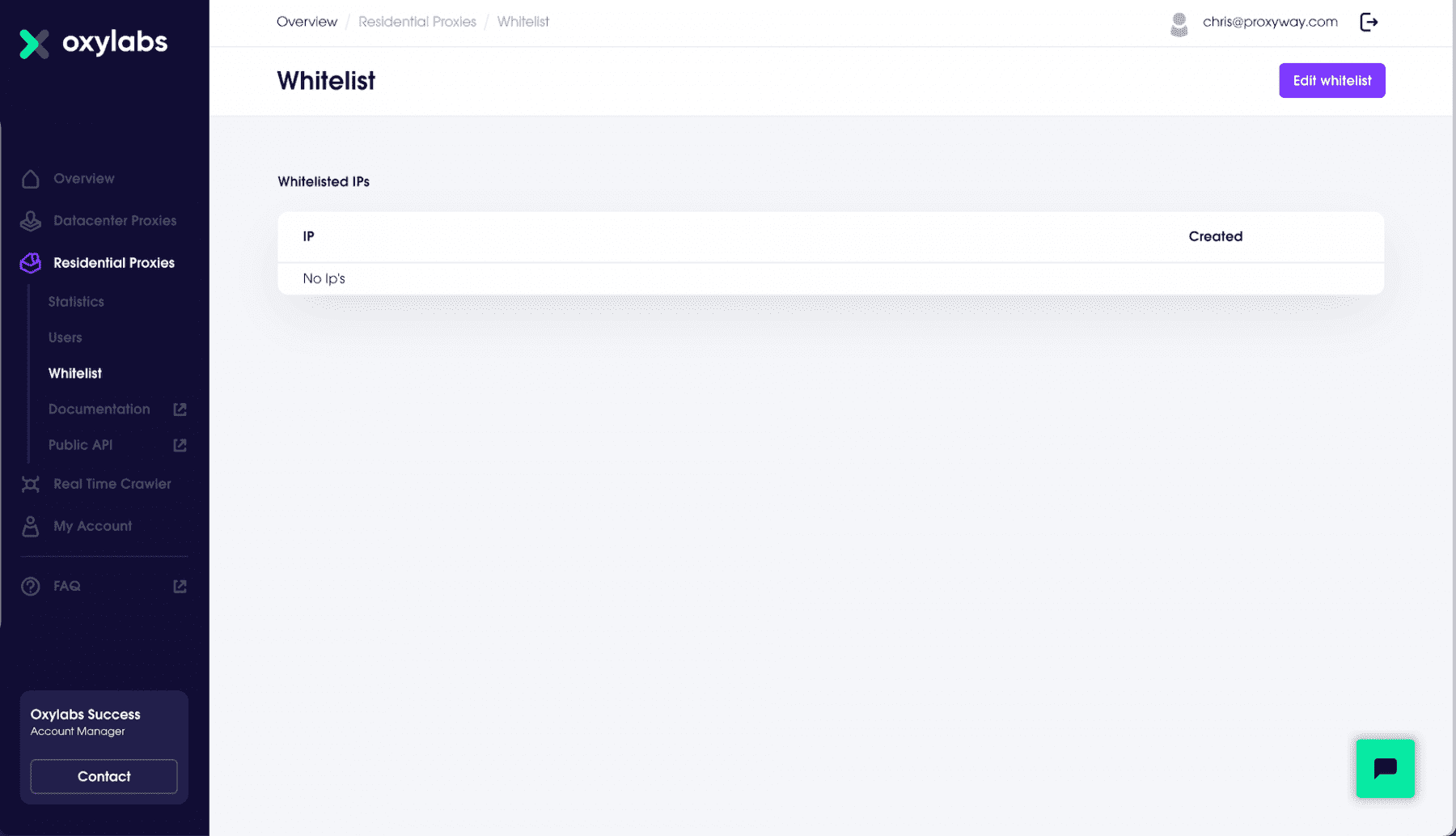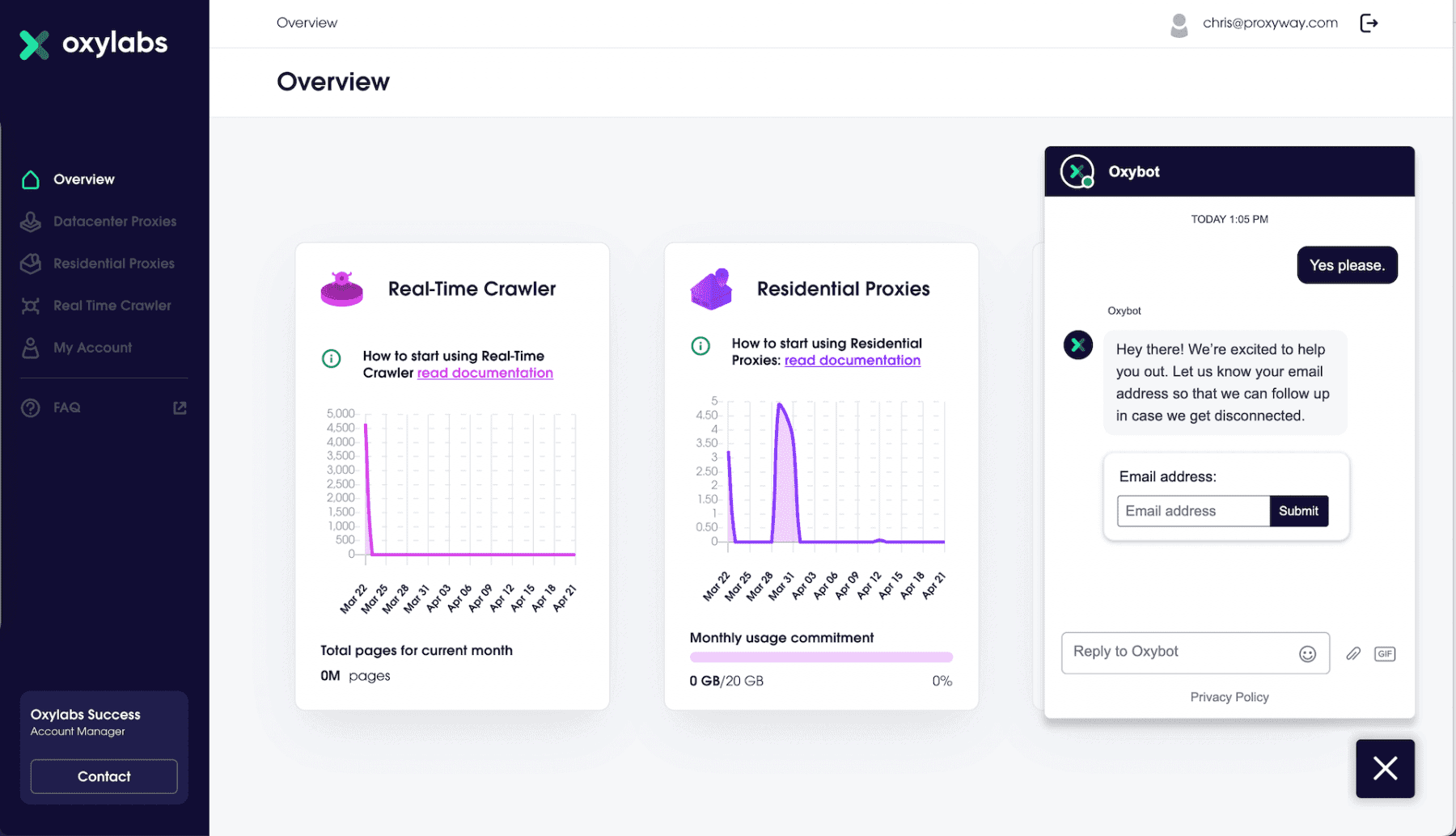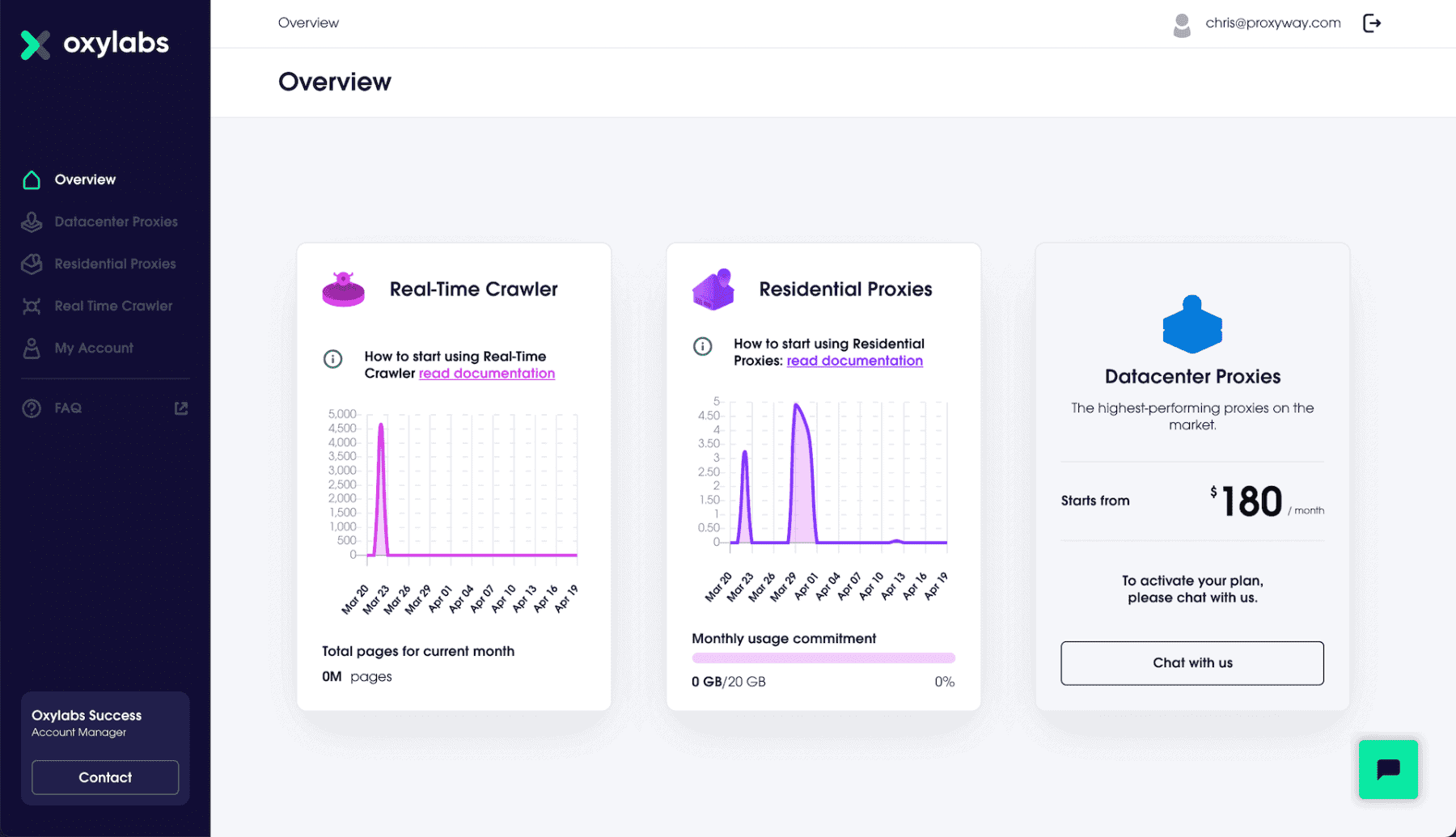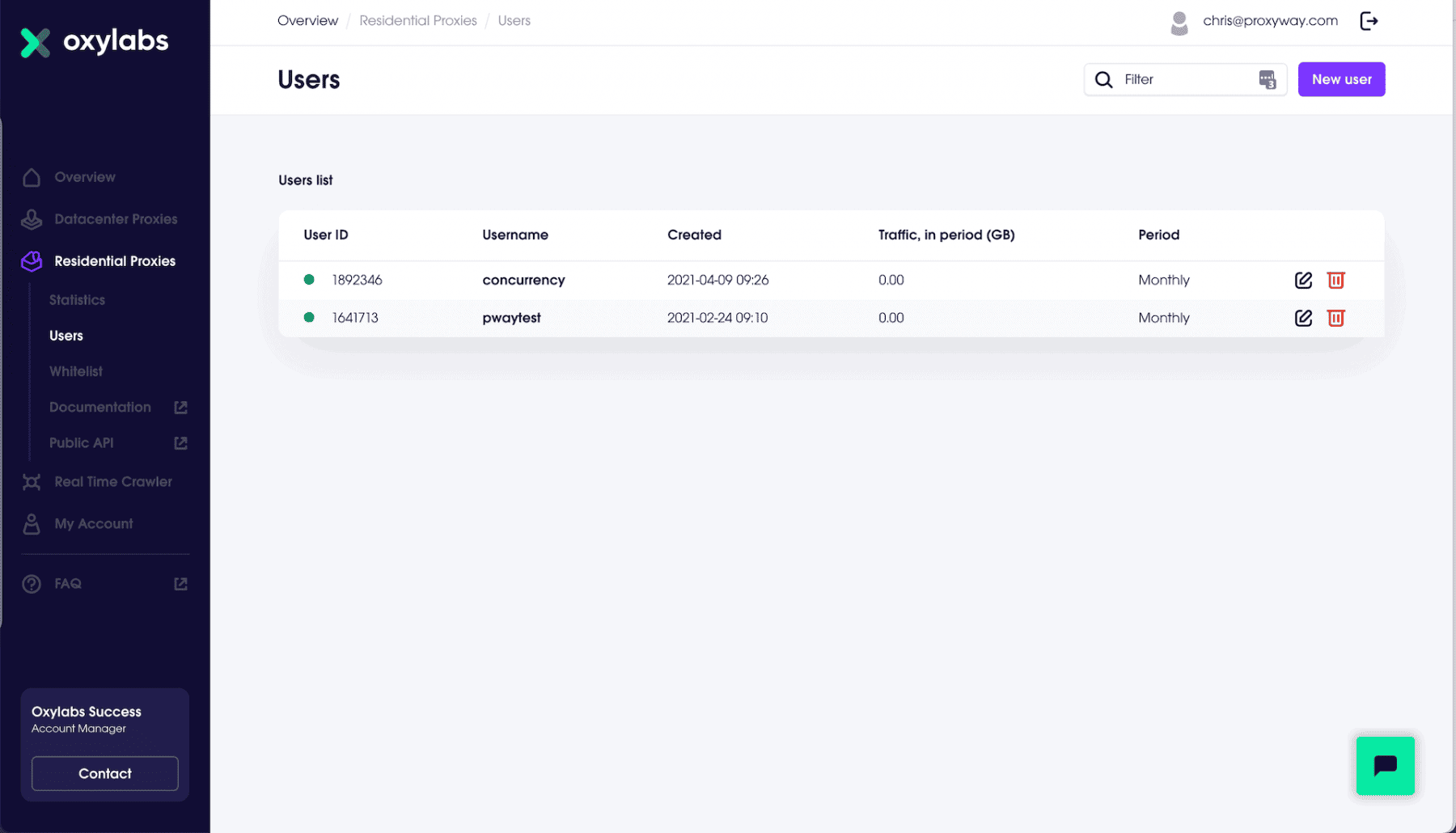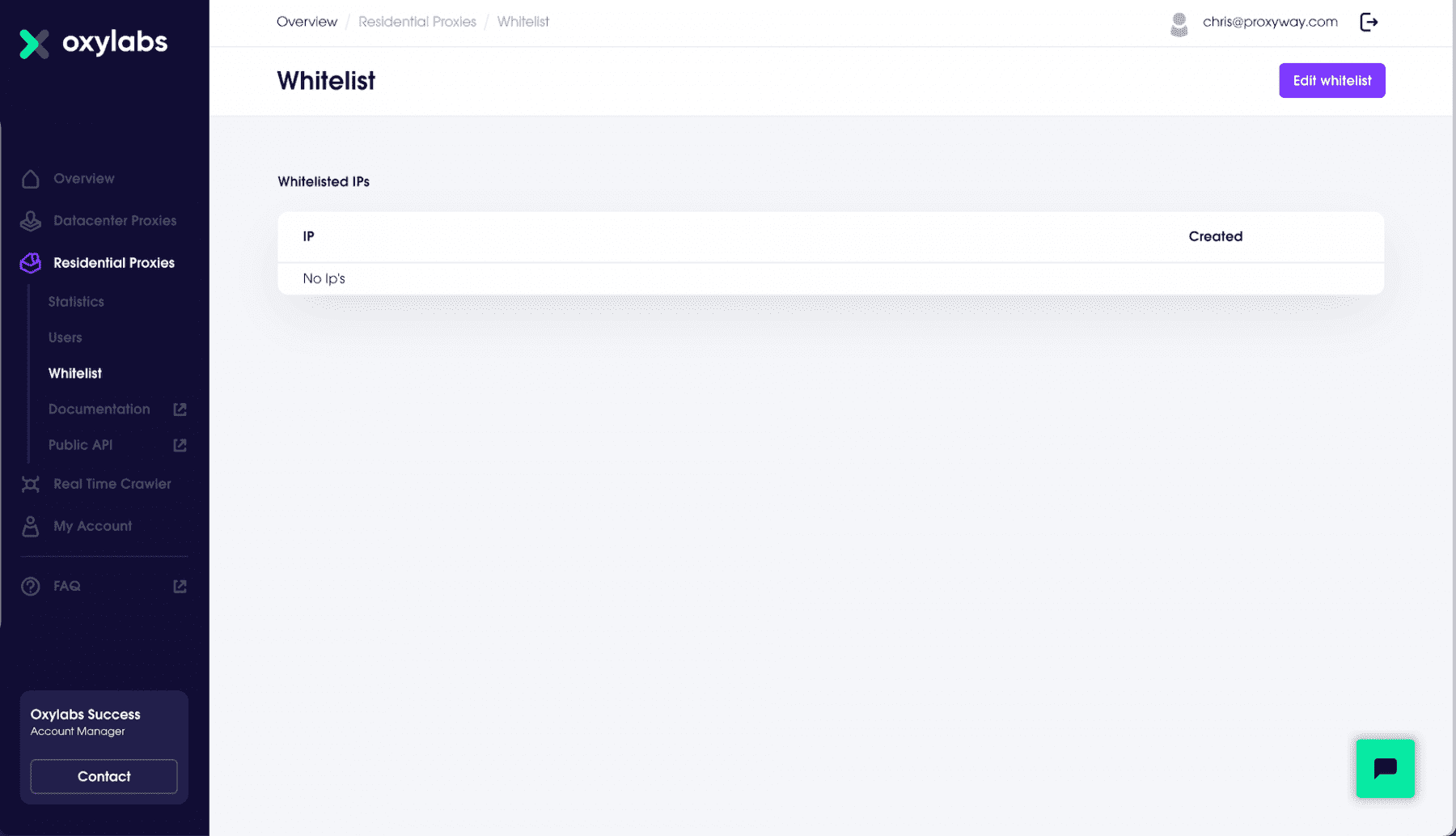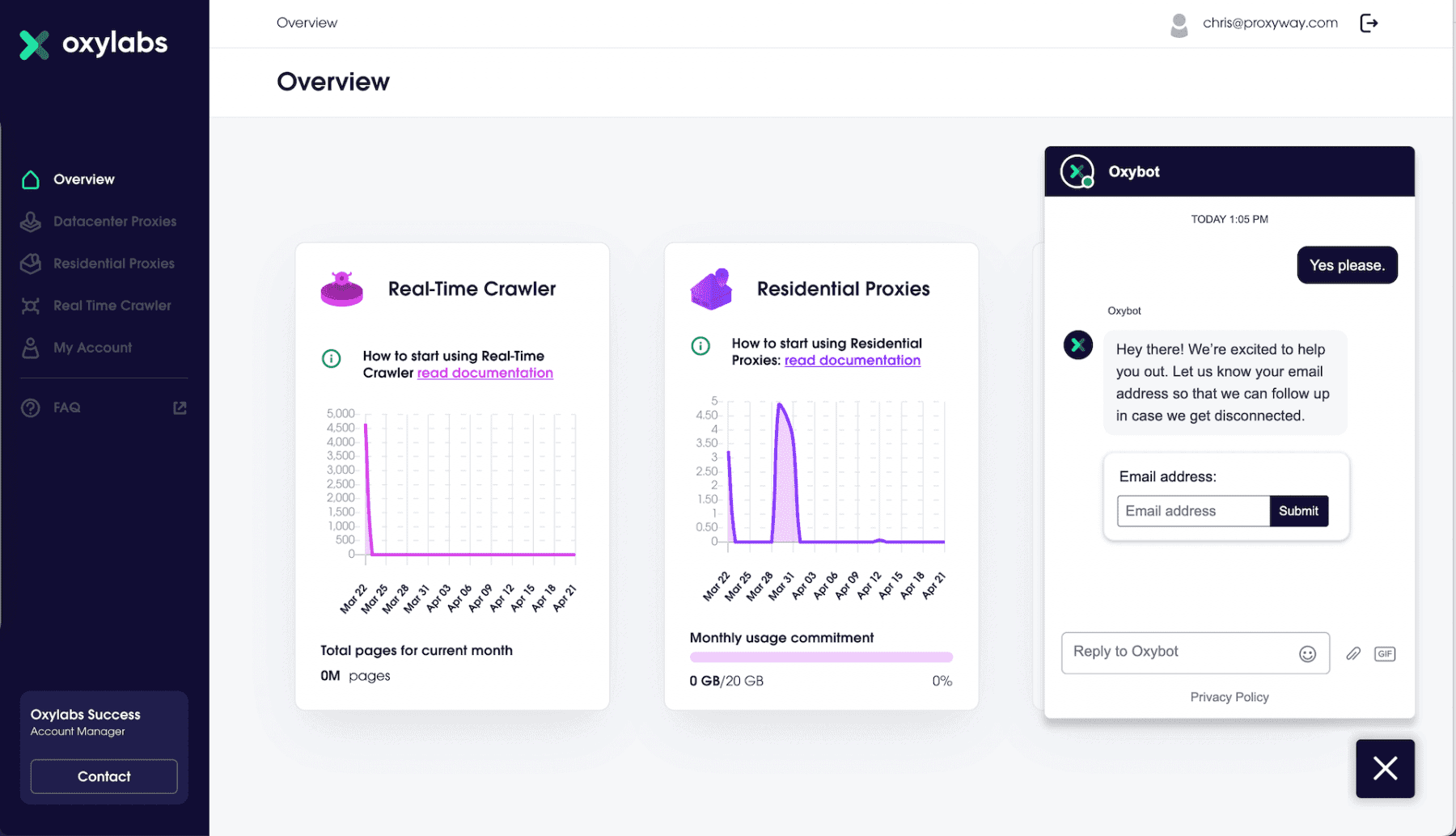 Proxy Setup
Thesetup procedure depends on the proxy type. For the datacenter IPs, it's very simple: authenticate your proxies in the dashboard (either with credentials or your IP) and download the proxy list. The residential IPs use backconnect gateway servers. They come in the form of hostname:port, which you can adjust to specify location and rotation options. For example, this is the configuration for rotating proxies in the US: us-pr.oxylabs.io:10000
Unlike other providers, Oxylabs has no widget to aid with proxy setup. Instead, you'll have to go to its documentation page and follow the instructions there. Thankfully, it's rich with information and includes handy examples. Each product has a separate documentation hub. 
Public API
If you want to access the IPs programmatically, Oxylabs has a public API. For the moment, the API works only with the residential proxies. It supports creating and deleting sub-users, assigning and managing their traffic limits. 
Chrome Extension
There's also an extension for Chrome-based web browsers. It allows easily setting up and switching proxy servers on a web browser. The extension works with all proxy servers, not only those of Oxylabs, which is a nice gesture.
Customer Support
There are several ways how you can receive help, all of them excellent.
Documentation
First, the no-contact way – documentation. For non-technical questions, Oxylabs provides an FAQ called Learning Hub. It answers the most frequently encountered queries and is aimed at prospective or new users.
We've somewhat covered the technical documentation part under proxy setup. To reiterate, it provides comprehensive usage instructions for each of Oxylabs' products. The instructions have examples in multiple programming languages, and you can find integration guides with third party software.
Hands-On Support
Oxylabs gives each client a dedicated account manager who answers all of your questions via email or chat. Outside of working hours, or if you need technical help, you can request instant help from the customer support team. The support speaks in English, Russian, Chinese, and Lithuanian.
In any case, communication is smooth and professional. Even when we asked technical questions, we got fast and well-explained answers.
We also tested how fast the customer support is and asked a question via live chat. The reply came in about 2 minutes, which is hard to beat.
Conclusion
Like I said: expectations. If you fall into Oxylabs' target audience, you can be sure you won't be disappointed.
It's not the kind of service where you put something into a cart, pay for it, walk through the door with some flimsy instruction manual, and that's that.
We're talking business here: subtle, polished, and no-nonsense. You'll be making relationships with real people who will remember your name, needs, and proactively try to keep you content. You'll receive good service, and even more importantly – one that's reliable. The proxies really are top-notch, and so is the scraping tool.
In a nutshell, you'll be in good hands.
In return, you will be paying more. The entry threshold is also quite high – for Oxylabs, 50GB of residential proxies means "basic". The pricing becomes much more attractive with advanced plans, but at that point we're dealing with 1TB of data or 5,000 IPs.
It all boils down to two questions: do you need the best proxy service available and will you make full use of it? If yes, then you might have just found yourself a proxy provider.
Oxylabs Alternatives

Smartproxy is the first place to go if Oxylabs is out of your budget range. It offers similar performance, great user experience, and proxy-based tools. However, fewer features.

Bright Data is Oxylabs' biggest competitor in the premium space. It offers even more features, some powerful proxy management tools, and complete pre-scraped data sets.

SOAX is another alternative for SMBs eyeing a reliable service. It has a smaller but stable pool of residential & mobile IPs with very flexible filtering options out of the box.
Want more? View the full list of the Oxylabs alternatives.