Oxylabs
Oxylabs provides business intelligence data, offers premium-level proxies and enterprise-level support. Their team has decades of personal experience in web data harvesting and extraction industry, so they know what works best.
Pricing starts from $600/month, 50GB included
30M residential IPs
195 locations
24/7 customer support

Oxylabs is a leading tech company specializing in large-scale web data extraction and has helped numerous industry leaders. They own a pool of more than 1.5M data center IPs and a residential proxy network with more than 30M residential IPs from all 195 countries around the world.
Oxylabs also offers worldwide city level targeting with 24/7/365 uptime and have 24/7 enterprise-level support.
Oxylabs Residential Proxies
General Review
Traffic
All pricing plans come with limited bandwidth.
Pricing
You can choose from five different pricing plans starting from $600/month with 50GB included. Check them out here. As you can see, Oxylabs clients pay per GB.

Pool size
As their website suggests, Oxylabs has 30M residential IPs.
Locations
Oxylabs claims that they have residential proxies from any country and city in the world. You can find an interactive map on their website and check how many IPs they have in each country.
Setup
After you buy a proxy package, you get a username, password and the main entry point (gateway). You can take this entry point, add special parameters to your username and filter IPs by country, city or ASN. You can also create a session and maintain that session for a custom time.
Also, with your proxy package, you get other entry points which are already filtered by country.
Authorization method
Both credentials (username: password) and whitelisted IPs are available. Keep in mind that if you're using whitelisted IPs, you won't be able to add parameters to your username and then filter proxies. But you can use entry points that are already filtered by country.
Sub-users
Yes. You can create as many users as you want. Traffic will be counted separately for every user.
Session control
Yes. You can use special parameters with a random id added to your username to create a session and reuse the same IP address. You can even choose how many minutes a session will hold the same IP.
Filters
Location. Yes. You can filter by country or city.
Proxy type. Not available.
ASN/Provider/Carrier. Yes. You can filter by ASN.
Protocols
Oxylabs supports HTTP and HTTPS protocols.
Dashboard
Usage statistics. Yes.
Credentials/Whitelist IP change. Yes.
Support tickets. No.
Renew plans. Not available.
Live chat. No.
Customer Support
When you buy a proxy package from Oxylabs, a customer support representative is assigned to you. So, in case you have any issues or questions, you communicate with your account manager, that's why you won't find the usual features such as support tickets or live chat on the Oxylabs dashboard.
To be honest, when we first learned that Oxylabs doesn't use support tickets, we were ready to lower their rating. However, after trying out how Oxylabs support works in real life, we were pleasantly surprised. Since you always speak with the same person, he or she knows which problems you had in the past, so you don't have to explain them from the beginning. Communication is smooth and professional. Even when we asked technical questions, we got fast and well-explained answers.
Performance
We checked the proxy speed using the free FOGLDN Proxy Tester.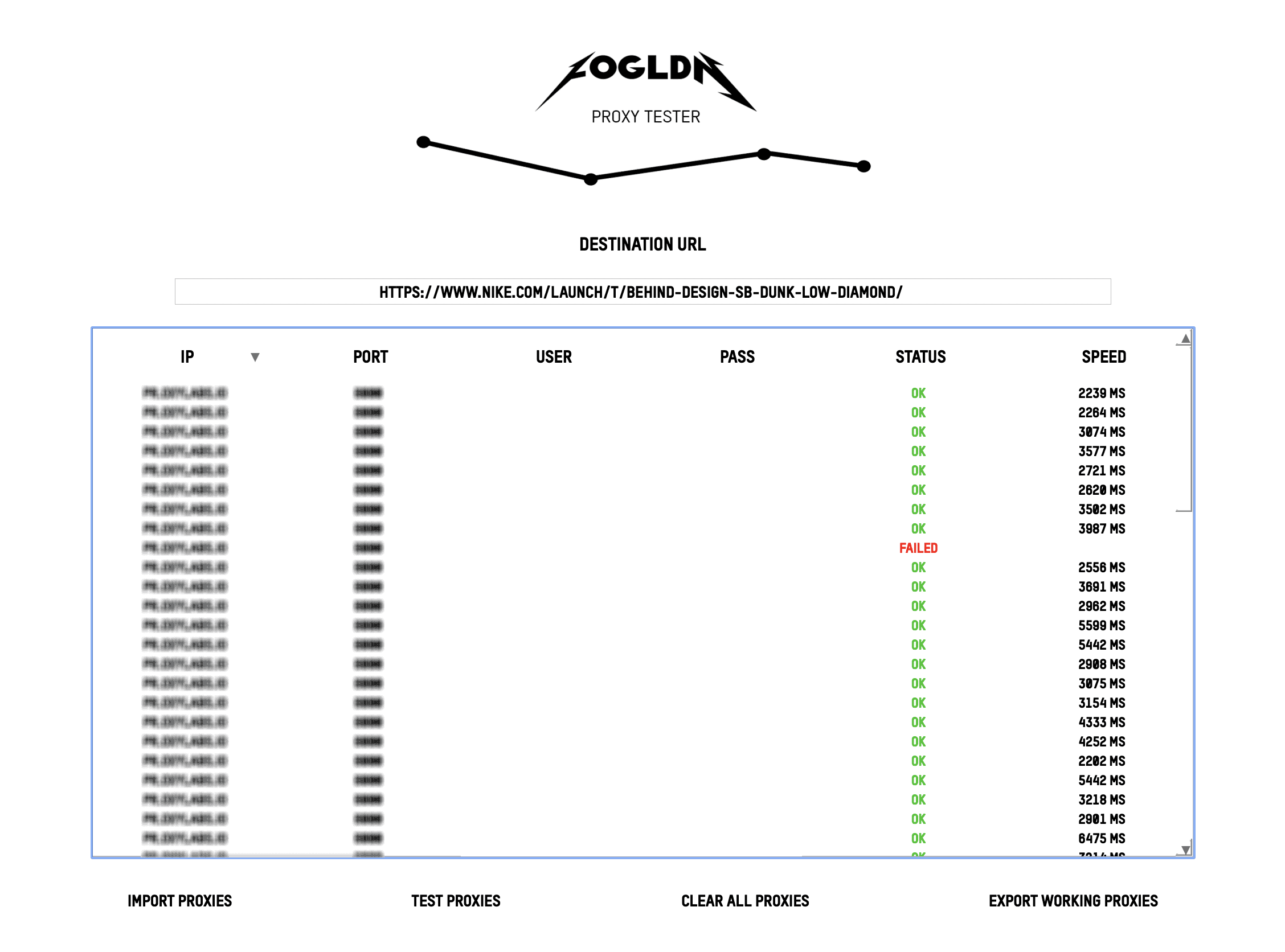 The test showed us that Oxylabs residential proxies are quite fast. The average response time is 3-4 seconds. Would we recommend using Oxylabs residential proxies for sneaker copping? Yes, they are definitely a good choice.
Afterward, we tested the overall performance of Oxylabs residential proxies by using our own testing script. During this test, we gradually increased the number of concurrent connections and put the proxies on a huge load. The graph below shows what happened when we do that:
Oxylabs residential proxies performed really well with an average success rate of 84%. As you can see, no matter how much we increased the concurrent connections, the connection error rate stayed very low. There were only a few timeouts and blocks.
In the graph below, you can see a detailed breakdown of the performance test results. We used a 300 concurrent connections' benchmark.
Overall, Oxylabs residential proxies had a very low connection error rate. There were some timeouts, but not too many. Only with Google and Wayfair, we got some blocks.
When it comes to extracting data from complex websites such as Amazon, Oxylabs residential proxies perform very well.
As you can see from the table below, with Google, the 503 (recaptcha) error was the most frequent. With Wayfair, we got almost only the 403 error.
| | | | | | | | |
| --- | --- | --- | --- | --- | --- | --- | --- |
| Blocked requests statistic |   |   |   |   |   |   |   |
| Target/status | 403 | 429 | 503 (recaptcha) | 200 (<15KB) | 504 | 200 (captcha) | 500 |
| www.aliexpress.com | 2 | 0 | 0 | 1 | 1 | 0 | 0 |
| www.amazon.com | 0 | 0 | 0 | 1 | 0 | 3 | 0 |
| www.booking.com | 0 | 0 | 0 | 0 | 0 | 0 | 4 |
| www.facebook.com | 3 | 0 | 0 | 35 | 0 | 0 | 0 |
| www.google.com | 0 | 0 | 2860 | 2 | 0 | 0 | 0 |
| www.instagram.com | 1 | 0 | 0 | 0 | 0 | 0 | 0 |
| www.wayfair.com | 975 | 2 | 0 | 0 | 0 | 0 | 0 |
| yandex.com | 1 | 0 | 0 | 30 | 0 | 43 | 0 |
As for the average response time, compared with other proxy providers, Oxylabs residential proxies perform pretty well. See the graph below.
As you can see, the average response time and median are impressive for residential proxies. There is only a small difference between the two, but it's completely normal for this type of IPs.
We've mentioned this in other reviews, but the best way to test how proxies will perform is to check the average response time on Amazon. This site is a difficult target because requests to it contain a lot of data and if proxies are slow with Amazon, they will be slow with other targets too. As you can see, the average time on Amazon was only 5.4 sec.
Conclusion
When it comes to customer support, Oxylabs exceeded all of our expectations. Having a dedicated account manager proved to be very useful and made our communication with them smooth and easy.
Overall, it is obvious that Oxylabs offers professional and high-quality proxy services. They offer the full premium package and go above and beyond for their client.
Oxylabs are also notable for their great country/city coverage. You can create as many sub-users as you want, they offer the session control feature and authorization with both credentials and whitelisted IPs. Also, their dashboard is simple and stylish.
Oxylabs residential proxies have a very high success rate and impressive response times. So, with 4 different pricing plans (starting from $600/month with 50 GB included) and a price dependent on the amount of bandwidth you require, this is a really good deal.
Rating: 9.3
See the full list of the top residential proxy providers.
Oxylabs Dedicated Proxies
UPDATE: May 21, 2019
By Adam Dubois
When it comes to proxies, Oxylabs is widely known as a market leader with a specific focus on large-scale web data extraction. With over 2 million proxies in over 100 locations, they are known to be among the most prominent players in the game. But how do they hold up in terms of features, speed, and performance? With this review, I'll answer all of these questions and more, so let's get cracking!
General Review
In addition to having 2 million proxies all over the world, Oxylabs also offer worldwide city-level targeting with 24/7/365 uptime and 24/7 enterprise-level support.
Features also include:
Unlimited bandwidth with each pricing plan

Unlimited concurrent sessions

Unlimited number of targets

99% uptime

80+ data centers

Multiple subnets
The feature list makes it immediately apparent that Oxylabs is a premium proxy provider. And this is to be expected since they are primarily geared towards business clients.
Pricing
The price of Oxylabs dedicated proxies depends on location. United States proxies are nearly two times cheaper than those located elsewhere. They come at $1.80 per proxy with a minimum purchase of 100 proxies (Entry plan), which will cost you $180/month. Proxies in other locations are more expensive. The cheapest plan when choosing other locations is $4 per proxy, $400/month.
Pool Size
According to their support, Oxylabs currently have 2 million dedicated proxies. This is the largest dedicated proxy pool among all proxy providers, which makes sense, since they are primarily a B2B provider and having a large pool is a tremendous competitive advantage when dealing with big companies as, I suppose, they do.
Locations
Oxylabs offer proxies in over 100 locations around the world.
Authorization Method
After purchasing a plan, you get a link to your proxy list in a .txt format. If you don't fancy rotating your proxies manually, there's an option to order a rotation machine (VM) for an additional price. In this case, you get a single proxy in the format of username.oxylabs.io:port, and through this entry node, all of your purchased IPs will be rotated automatically.
You can authorize using two standard methods:
Username/password

Whitelisted IPs
There is no limit on the number of IPs you can whitelist, simply do it via the dashboard.
Filtering
When you log in to your proxy list, the default setting is the IP:Port format. However, here's a handy trick. If you add a ?showCountry parameter, you can easily filter proxies by country.
Supported Protocols
Oxylabs support HTTP and SOCKS5 protocols.
Dashboard
Usage statistics. Yes.
Whitelist IP change. Yes.
Credentials change. Not available.
Renew plans. Not available.
Live chat. Not available.
Customer Support
Each client gets assigned a dedicated support manager who answers all of your questions via email or call. Also, I tested how fast their support is and asked a question via email. The reply came in about 20 minutes and, from my experience, this is as good as it gets.
Performance
Oxylabs dedicated proxies perform extremely well. I've tested the overall performance after getting a trial of 500 random dedicated proxies by increasing concurrent connections to target websites from 50 to 500 instances, and here are the results.
As you can see from the chart, you'll get an outstanding result with running 50 instances, after which the success rate, as is typical, starts to drop to the lowest point of 76.63%, at 500 instances. However, this is still a good achievement, and even at 500 instances, it's marginally better than, say, Storm Proxies dedicated proxies which I last tested (76.63% vs. 74.91%). As expected, there were virtually no time outs, connection, or unexpected errors, which means that their infrastructure is in excellent condition.
In addition to just doing the tests, this time I asked support if it's possible to get proxies optimized for a specific source. I received an answer that they do indeed issue sets of proxies optimized for targets and that they often share tips with clients on how to increase success rates while scraping different websites. I have to say, this is some great additional value and something that is often overlooked by most other proxy reviewers.
Now let's take a look at specific targets at 300 concurrent connections.
Our standard 300 concurrent connections test revealed nothing surprising. At this number of threads, it is normal that the success rate to Yandex, Google and Amazon begins to drop since these are dedicated proxies that we're talking about – they are easy to spot and block, especially at larger instance rates.
Once again, it should be noted that this is an overall performance test and most often you'll get a much better result with either dedicated proxies optimized for specific targets, such as search engines, or by using residential IPs which are the best solution for websites with advanced protections against scraping (like Google and Amazon).
Now, let's take a look at how Oxylabs dedicated proxies perform in terms of speed.
As you can see, the speed of their dedicated proxies varies by target. The average connection speed to all targets is 2.69 seconds which is not amazing, but well within the norm.
It should also be noted that the speed stays about the same when changing the number of instances and this also indicates that their infrastructure is stable and well maintained.
Overview
As I expected before testing Oxylabs dedicated proxies, they do, in fact, offer an exceptional quality service. They have the biggest data center proxy pool among all providers with more than enough locations to choose from.
Their proxies are also fast and stable, but this is to be expected from a premium provider. When paying a steeper price, you should also get additional perks. And in this regard Oxylabs truly excel. Not only is their support super responsive, they are also eager to share their know-how and help you set up your proxies for your specific purpose. This makes all the difference and is one of the main reasons why I'd recommend Oxylabs if you're serious about your scraping.