We use affiliate links. They let us sustain ourselves at no cost to you.
Best Proxy Providers for SEO Agencies and Tools of 2023
Whether you need more power for search engine optimization software, or you're building a tool of your own, SEO proxies can help. They'll let you scrape search engines, audit websites, and get keyword data without interruptions. But Google can be relentless, and it's not easy to find a reliable SEO proxy service. That's why we made this list of providers we've tried and trusted over the years. Take a look.
The Best SEO Proxies of 2023 – Quick Summary: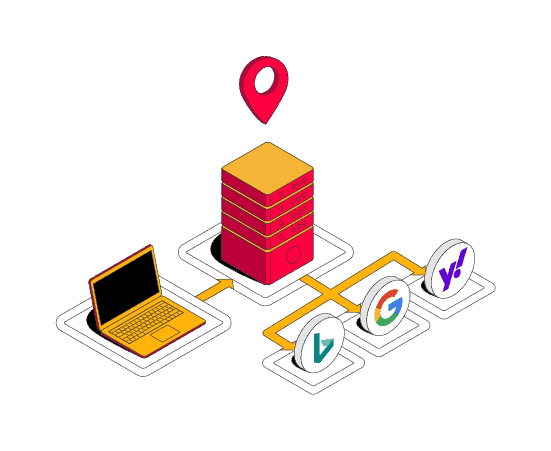 Key Points about SEO Proxies
SEO proxy servers are remote computers that let you use their location and IP address, while hiding your own. 

SEO proxies help to get local search data and avoid access restrictions when using SEO tools or scripts. 

They're usually residential IP addresses that have a (relatively) clean history with search engines. 

Search engine proxies are used for various tasks, ranging from SEO monitoring and keyword research to link building and CPA manipulation.
Learn more: What Are SEO Proxies?
Which Proxy Type to Choose
There are multiple proxy types you can try. In general, the choice depends on your web scraping experience, budget, target, and traffic needs.
If you're running site audits or accessing Bing-level search engines, datacenter proxies can be the most cost-efficient option. Dedicated addresses with unlimited traffic cost around $2 apiece. However, you'll have to deal with a finite list of non-rotating addresses, which complicates proxy management.
For protected websites and search engines like Google, or local SEO, residential proxies will be a better choice. They're much harder to detect, with more location support. In addition, they're simpler to manage: you get access to the whole proxy pool (usually hundreds of thousands of IPs), automatic rotation, and unlimited parallel connection requests. But, you'll be paying for traffic, which can get costly.
If you don't mind managing proxies by yourself and want something more effective than datacenter IPs, you can try ISP proxies. They inherit the qualities of datacenter proxies but are significantly harder to detect. For this privilege, you'll be paying several times more per IP address. Getting ISP proxies with traffic-based plans makes less sense, unless you need long sessions with complete control over the IP address.
More about the differences between datacenter and residential proxies.
How to Choose the Best SEO Proxy Provider
Consider the following aspects:
Proxy pool size

– more IPs equal a cleaner pool, as usage gets spread out throughout the addresses. It's mostly relevant with residential and datacenter proxies. 

Features

– make sure that the provider supports locations you need and that you can select them (for example, city targeting is important for local SEO). Automatic rotation is helpful as well; some providers will offer more convenient rotation settings. 

Performance

– success rate and connection speed metrics can vary wildly based on IP quality, provider's infrastructure and load. You can find in-depth performance tests in our individual provider reviews and

Proxy Market Research

. 

Customer support

– for a side project, four-hour email replies on weekdays will probably suffice. But if the proxies will be powering mission-critical functionality, you'll want 24/7 technical support, preferably via live chat.
Where to Get the Best SEO Proxies
Smartproxy is a great choice for a small to medium business looking for rotating SEO proxies. The residential IP pool is fully-featured, performant, and the proxies are one of the fastest in the market. You can target any country, state, or city and hold sticky sessions for 1, 10, and 30-minute thresholds. 
Alongside the proxies, Smartproxy provides a great service: it's simple to pick up, affordable and has some of the best customer support we've seen. You can do most things yourself, and there's a dashboard to monitor traffic use.
What might make you reconsider is that the rotating plans are traffic based and that Smartproxy limits how much traffic you can send to Google (something like 150 GB/month for the residential IPs). If you want more, you'll have to get the SERP API that can integrate like a proxy server.
Features:
Proxy pool:

40 million 

Protocols:

HTTP(S), SOCKS5 

Locations:

195 with country, state, and city targeting

Rotation:

every request, 10, 30 minutes 

Support:

award-winning 24/7 support via chat or email 

Extras:

API, browser extension, anti-detect browser, extensive documentation
Pricing: 
Starts from $8.5 for 1 GB. 3-day refund available.
---
SOAX is another strong option for small businesses. Its pool of rotating residential proxies is large enough to remain clean and cover most locations worldwide. The infrastructure is well-maintained, and the proxies are quite fast. This provider is also one of the few to offer highly customizable targeting and rotation options out of the box. You can specify cities and ASNs, and choose rotation from 90 s to 600 s. 
SOAX's user experience is pretty well thought out, and it has responsive customer support that works all hours of the day. The usage statistics are pretty basic, but they do the job.
As for the downsides, you won't be able to use the service without committing to a monthly plan. This makes the starting price steep compared to other providers on this list. And, once again, you'll need to mind your traffic use.
Features:
Proxy pool:

5 million monthly IPs 

Protocols:

  HTTP(S) over SOCKS5 

Locations:

150+ with country, city, ASN targeting 

Rotation:

from 90s to 600s (with custom options) 

Support:

24/7 via live chat and tickets 

Extras:

limited API, node access (connect to an IP directly), customer success manager
Pricing:
Starts from $99 for 15 GB ($6.6/GB) and 300 ports. 3-day trial for $1.99 available.
---
Infatica is better suited for larger SEO use cases. It has a relatively large proxy pool and covers most countries that you can filter up to the ASN level. There's an option to select several countries at once. According to our tests, Infatica's proxies are among the quickest in the US  and Europe (in other locations, not that much), and it handled Google well. 
The provider has a steep entry price, but it drops significantly at 1 TB, outscaling some of the cheaper options in the market. Infatica's dashboard has all the necessities to manage your proxies.
One problem we experienced was that some of Infatica's IPs were non-residential. So, this might cause issues with Google, such as more CAPTCHA challenges. 
Features:
Proxy pool:

10 million monthly IPs  

Protocols:

HTTP(S), SOCKS5  

Locations:

150+ locations with country, city, region and ASN targeting 

Rotation:

every request, or between 5 and 60 minutes 

Support:

24/7 support via tickets, chat or email  

Extras:

extensive documentation
Pricing:
Starts from $96 for 8 GB ($12/GB). 3-day trial for $1.99 available.
Read the Infatica review for more information and performance tests. 
---
Rayobyte is a mid-range provider with a competent set of features. It has 150 locations, and you can target individual cities. The proxies did relatively well when targeting Google.
Rayobyte is one of a few providers offering non-expiring traffic, and its pricing scales well after 50 GBs. The service is pretty easy to use, and has an arsenal of guides in both text and video formats. 
The main flaw comes down to inflexible IP rotation (you can keep the IP until it goes offline) and slow proxies. In addition, Raybyte has a small proxy pool outside major locations
Features:
Proxy pool:

unknown 

Protocols:

HTTP(S) 

Locations:

150+ with country & city targeting 

Rotation:

every request, as long as available 

Support:

24/7 support via email, ticketing system, or live chat 

Extras:

extensive documentation
Pricing:
Starts from $15 for 1 GB. 2-day free trial with 50 MB.
---
NetNut controls one of the bigger proxy pools and mainly targets large businesses. It covers most countries in the world and you can further specify a city. The entry plans are pretty basic, but once you scale, you can get more features, better rates, and better use of the very detailed traffic statistics.
For now, NetNut isn't the easiest provider to use. The performance of its residential proxies is okay and has no trouble handling load, but we experienced more connection errors than with other providers. And the average response time could be improved as well. 
Features: 
Proxy pool:

52 million 

Protocols:

HTTP(S), SOCKS5  

Locations:

150+ countries with country and city targeting 

Rotation:

every request or as long as the IP is available 

Support:

24/7 via email, live chat, Skype (larger plans) 

Extras:

API (for resellers), basic documentation
Pricing:
Starts from $100 for 5 GBs ($20/GB) . 7-day free trial for companies.
Read the NetNut review for more information and performance tests.
---
Other Tools for SEO Monitoring
One more option that builds upon proxies but can't really be considered a proxy server is a SERP API. It lets you enter a few lines of code, after which the API scrapes the target, cleans the data, and returns it to you. This way, you don't need to worry about managing proxies or dealing with CAPTCHAs. In addition, you get results 100% of the time and only pay for successful requests. This helps to keep costs predictable.
The downsides are that SERP APIs only work for scraping search engines; you can't just plug one into SEO software like Screaming Frog or Scrapebox; and they might cost more in direct expenses, depending on your setup. So, it really boils down to what you're targeting and whether you find it cheaper to maintain the infrastructure by yourself.
More about SERP APIs.