We use affiliate links. They let us sustain ourselves at no cost to you.
Best Proxy Providers for SEO Agencies and Tools of 2023
Whether you need more power for search engine optimization software, or you're building a tool of your own, SEO proxies can help. They'll let you scrape search engines, audit websites, and get keyword data without interruptions. But Google can be relentless, and it's not easy to find a reliable SEO proxy service. That's why, we made this list of providers we've tried and trusted over the years. Take a look.
The Best SEO Proxies of 2023 – Quick Summary: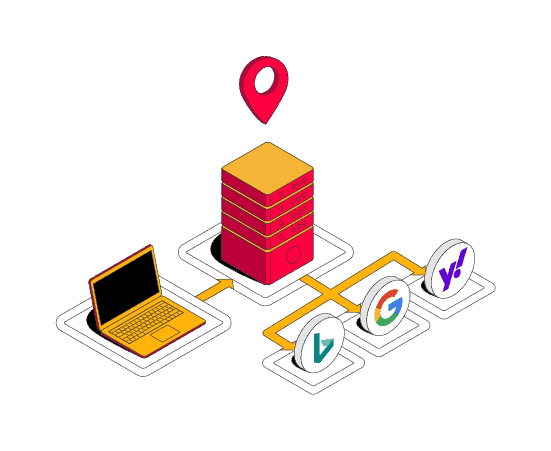 Key Points about SEO Proxies
SEO proxy servers are remote computers that let you use their location and IP address, while hiding your own.
SEO proxies help to get local search data and avoid access restrictions when using SEO tools or scripts.
They're usually dedicated datacenter or residential IP addresses that have a (relatively) clean history with search engines.
Search engine proxies are used for various tasks, ranging from SEO monitoring and keyword research to link building and CPA manipulation.
Learn more: What Are SEO Proxies?
Which Proxy Type to Choose
There are multiple proxy types you can try. It general, the choice depends on your web scraping experience, budget, target, and traffic needs.
If you're running site audits or accessing Bing-level search engines, datacenter proxies can be the most cost-efficient option. Dedicated addresses with unlimited traffic cost around $2 apiece. However, you'll have to deal with a finite list of non-rotating addresses, which complicates proxy management.
For protected websites and search engines like Google, or local SEO, residential proxies will be a better choice. They're much harder to detect, with more location support. In addition, they're simpler to manage: you get access to the whole proxy pool (usually hundreds of thousands of IPs), automatic rotation, and unlimited parallel connection requests. But, you'll be paying for traffic, which can get costly.
If you don't mind managing proxies by yourself and want something more effective than datacenter IPs, you can try ISP proxies. They inherit the qualities of datacenter proxies but are significantly harder to detect. For this privilege, you'll be paying several times more per IP address. Getting ISP proxies with traffic-based plans makes less sense, unless you need long sessions with complete control over the IP address.
More about the differences between datacenter and residential proxies.
How to Choose an SEO Proxy Provider
Consider the following aspects:
Proxy pool size – more IPs equal a cleaner pool, as usage gets spread out throughout the addresses. It's less relevant with datacenter proxies, as long as the provider can handpick IPs that work with your target.
Features – make sure that the provider supports locations you need and that you can select them (for example, city targeting is important for local SEO). Automatic rotation is helpful as well; some providers will offer more convenient rotation settings.
Performance – success rate and connection speed metrics can vary wildly based on IP quality, provider's infrastructure and load. You can find in-depth performance tests in our individual provider reviews.
Customer support – for a side project, four-hour email replies on weekdays will probably suffice. But if the proxies will be powering mission-critical functionality, you'll want 24/7 technical support, preferably via live chat.
Where to Get the Best SEO Proxies
Smartproxy is a great choice if you're a small to medium business looking for rotating SEO proxies. Its residential IP pool is fully-featured and peformant, while the rotating datacenter IPs can crawl many US websites on a tight budget.
Alongside the proxies, Smartproxy provides a great service: it's simple to pick up, pretty affordable, and has some of the best customer support we've seen. You can do most things by yourself, and there's a dashboard to monitor traffic use.
What might make you reconsider is that the rotating plans are traffic based, and that Smartproxy limits how much traffic you can send to Google (something like 150 GB/month for the residential IPs). If you want more, you'll have to get its Search Engine Proxies instead, which is basically a SERP API that can integrate like a proxy server.
Pool size: 40M residential proxies
Locations: All countries with country & city targeting
Rotation: Every request, 10, 30 mins
Support: 24/7 via live chat or email
Price: Starts from $12.5 for 1 GB. 3-day refund available.
---
SOAX is another strong option for small businesses. Its pool of rotating residential proxies is large enough to remain clean and cover most locations worldwide. The infastructure performs well, even if the response time is somewhat slow. This provider is also one of the few to offer highly customizable targeting and rotation options out of the box: you can specify not only cities but also ASNs.
SOAX's user experience is pretty well though out, and it has responsive customer support that works all hours of the day. The usage statistics are pretty basic, but they do the job.
As for the downsides: despite its size, the IP pool might not be able to populate all city locations. And, once again, you'll need to mind your traffic use.
Proxy pool size: 8.5M residential proxies
Locations: 100+ with country, city & ASN targeting
Rotation: 90s to as long as available (with custom options)
Support: 24/7 via live chat and tickets
Price: Starts from $99 for 8GB ($12.38/GB) and 300 ports. 100 MB trial for $1.99 available.
---
Zyte's Smart Proxy Manager stands somewhere in-between a proxy server and SERP API. In other words, these proxies are outfitted with a web scraping layer that covers ban avoidance, auto retries, and other goodies. So, it's a highly managed approach that aims both to make your life easier and return data 100% of the time while doing so. If something fails – you don't pay.
It's been a while since we tried Zyte, but at the time the results really were impressive. It achieved a high success rate with generally fast response times. Only sometimes did it take a while to return data while the scraping logic did its job. You can track all metrics in the dashboard.
Smart Proxy Manager runs on datacenter proxies by default; so, despite robust scraping performance, it may have issues with Google these days. To overcome them, you'll need to get a residential proxy plan that inflates the price and charges by traffic. The customer support could also favor entry plans more, as now it works only during weekdays.
Proxy pool size: Scalable as needed
Locations: 12 countries with more on demand
Rotation: automatic
Support: 24/5 until the Enterprise plan
Price: Starts from $29/5,000 requests. 14-day free trial available.
Read the Smart Proxy Manager review for more information and performance tests. 
---
While NetNut now offers multiple proxy pools, its headliner remains ISP proxies. The provider controls more than a million of such IPs. They can rotate with every connection request or stay available indefinitely, and NetNut has a special IP pool for Google. For less demanding targets, it can offer rotating datacenter proxies.
NetNut has entry plans starting from 1 GB, but the whole service is geared toward scale. You get more features that way, better rates (the starting ones are expensive), and better use of the very detailed traffic statistics.
For now, NetNut isn't the easiest provider to use. The performance of its ISP proxies is okay and has no trouble handling load, but we experienced some connection errors to the server itself.
Pool size: 1M ISP proxies
Locations: 30 countries
Rotation: Every request, as long as available
Support: 24/7 via email or Skype
Price: Starts from $25 for 1 GB. 7-day trial available
Read the NetNut review for more information and performance tests.
---
Rayobyte controls a sizable network of dedicated datacenter proxies, together with an expanding pool of ISP addresses. Both are affordable compared to the competition, don't ask for a large commitment, but can scale well if needed. The provider has also launched a residential proxy service, but we haven't had the chance to try it yet.
The datacenter proxies are pretty abused on Google; but they can access other search engines just fine. They've no thread or traffic limits. The ISP proxies managed to scrape all targets without issues the last time we tried them. So, we suggest you use the former with simpler domains – especially knowing that Rayobyte's system assigns IPs randomly to optimize for diversity.
Rayobyte is pretty easy to use and gives you a lot of power to change things via the dashboard: upgrade or downgrade plans, refresh the IPs (once a month), or use the provided API. The customer service is email-only for now and takes some time to respond (~2 hours).
Locations: 30 countries
Rotation: Static (can be automated with a free add-on)
Support: 24/7 via tickets
Price: ISP proxies start from $25 for 5 IPs ($5/IP). 2-day trial available.
---
Other Tools for SEO Monitoring
One more option that builds upon proxies but can't really be considered a proxy server is a SERP API. It lets you enter a few lines of code, after which the API scrapes the target, cleans the data, and returns it to you. This way, you don't need to worry about managing proxies or dealing with CAPTCHAs. In addition, you get results 100% of the time and only pay for successful requests. This helps to keep costs predictable.
The downsides are that SERP APIs only work for scraping search engines; you can't just plug one into SEO software like Screaming Frog or Scrapebox; and they might cost more in direct expenses, depending on your setup. So, it really boils down to what you're targeting and whether you find it cheaper to maintain the infrastructure by yourself.
More about SERP APIs.