We use affiliate links. They let us sustain ourselves at no cost to you.
The Best Antidetect Browsers for 2023
Whether you're looking to improve your privacy, or you're in the business of managing multiple social media, e-commerce, or ad accounts, antidetect browsers can help. However, choosing one is no easy task: many options exist, and they don't always look trustworthy. We've done the research; here are the top picks.
The Best Antidetect Browsers – Quick Summary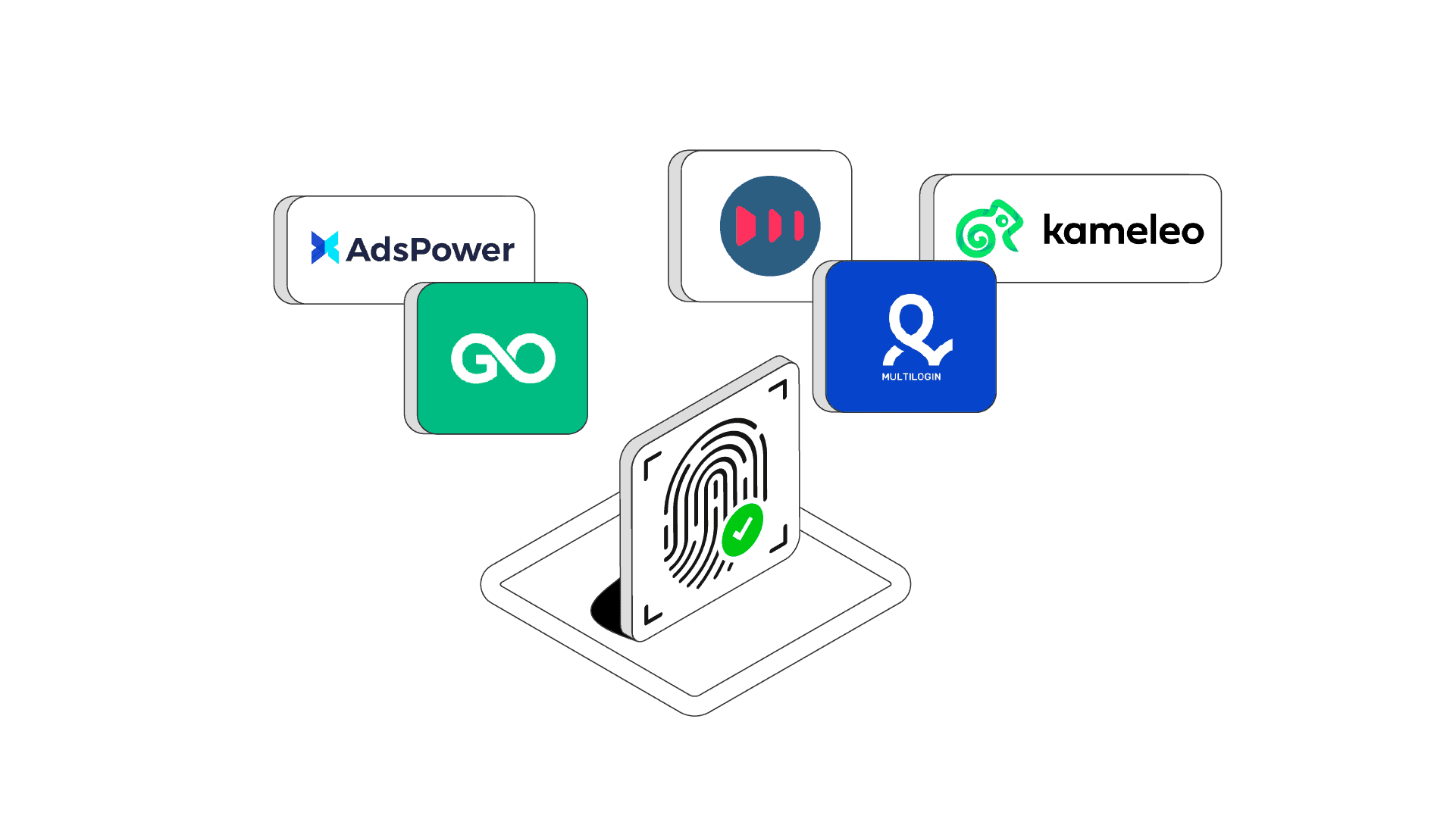 What Are Antidetect Browsers?
An anti detect browser is an app based on popular web browsers, usually Chrome or Firefox. It lets you create separate browsing environments with their own digital fingerprint: different browser headers and other identifying information. As a result, websites can't link to those environments to one another. Antidetect browsers are often used to manage multiple accounts on social media, control merchant profiles on e-commerce platforms like Amazon, or run Google Adwords.
Learn more: A Guide to Antidetect Browsers.
How to Pick One
If you've started researching antidetect browsers, you know they're not exactly hard to come by. In fact, we can count at least ten. That's quite a variety! Many of the options differentiate by price and features, so there are several questions you should answer first:
How much am I willing to spend? Quality costs money, so the best antidetect browsers are pricey (think $60-120 to start). Still, there are some newcomers like GoLogin that offer access for less. There are also proxy providers like Smartproxy with antidetect browsers as free add-ons to their main service. You'll need proxies anyway, so this way you can save some money. Just be aware that such browsers might have fewer features than their full-fledged competitors.
How many profiles do I need? Some antidetect browsers offer free tiers that allow creating up to 10 profiles. Otherwise, it's one of the main criteria to influence the price.
Will I be using the browser alone? If you're working at a marketing agency, you'll probably want to collaborate with other colleagues. In this scenario, you should look for browser profile sync and cloud storage – they'll make your work much simpler.
Will I want to automate the browser? If so, consider an antidetect browser that supports API integration with headless libraries. The industry standard remains Selenium, but you'll also find Puppeteer and even Pyppeteer.
How to Check Its Effectiveness
Antidetect browsers live and die by their ability to successfully spoof a browser fingerprint. They have to:
create a fingerprint that's consistent (no leaks or mismatches),
differs from your device,
and most importantly, isn't unique.
Considering that a fingerprint draws from dozens of data points, some of which provide duplicate information (more room for inconsistencies), it's a pretty hard task to achieve. One popular way to test anonymous browser's quality is using Canvas fingerprinting. It's not perfect, but if the test shows that your fingerprint is 100% unique – some strict websites may be able to detect you. So, don't be afraid to ask for a free trial, create a profile, and give it a run.
The Best Antidetect Browsers for 2023
If you're serious about managing multiple accounts, Multilogin is the golden standard. This Estonian company is among the first in the field, and one that's still to beat. It's also branded as Indigo Browser in the Russian market.
Multilogin is one of the few options that tries to spoof a fingerprint completely instead of disabling important parameters like Canvas or WebGL. This makes it more reliable in the eyes of websites.
The app lets you access multiple internet browsers – modified Chrome or Firefox – with different browser fingerprints. You can create quick browser profiles or manually change every parameter you want. The tool stores data encrypted on the cloud and allows up to 10 people to control the accounts, depending on the plan. Developers can automate Multilogin using Selenium or Puppeteer to create thousands of profiles per day.
The downside: Multilogin is probably the most expensive antidetect browser out there. The cheapest plan starts from $115/month for 100 profiles and doesn't include collaboration features. If you need fewer profiles or have less money to spend, you might have to look elsewhere.
Operating systems: Windows, macOS
Price: From $115/month
Trial: Contact support
Multilogin Coupon
Use the code PWML50 to get a 50% cashback on your first purchase.
Grab the Offer
Read the Multilogin review for more information & performance tests.
---
AdsPower is a Chinese antidetect browser aimed at managing e-commerce and social media accounts. It wasn't very popular outside China until recently, when its founders translated the app to English. Since then, many marketers have found it to be a competent Multilogin alternative.
Like any other antidetect browser, AdsPower allows creating and managing multiple browser profiles. The interface is relatively simple to use, and you can import accounts in batches. The browser also offers powerful automation features that require no programming knowledge. For example, its RPA recorder can learn and replicate your workflows as you click on things, whether that's posting, adding items to cart, etc.
AdsPower has a very limited free plan with two profiles. Otherwise, the pricing starts from $10/month for 10 profiles. More expensive plans bring more seats for teams. There's also an automation service for work with Business Manager that costs extra.
Operating systems: Windows, macOS
Price: From $10/month
Trial: Available
Visit AdsPower
---
X-Browser takes a different approach. Instead of asking to you to pay, it comes for free with Smartproxy's residential proxies. So, you'll still have to spend money, but only for the proxy service which is necessary anyway.
X-Browser is based on Chrome and mostly geared towards individual marketers. There's no profile sync, cloud data storage, headless browser integration, and you won't be able to import cookies. Still, the tool provides all you need to change the browser fingerprint in a very simple interface. You can create as many profiles as you like.
Overall, there's little reason to use X-Browser if you need to collaborate or don't plan on getting Smartproxy's proxies. But if you do – and these residential IPs are some of the best on the market – it's definitely worth a shot.
Operating systems: Windows, macOS
Price: Free
Trial: 3-day refund (residential proxies)
Smartproxy Coupon
Use the code UPTO50OFFPROXY to get a 50% discount on residential proxies.
Grab the Offer
---
GoLogin is a relative newcomer with good communication, very active development team, and cut-throat pricing. It's one of the main places where people that find Multilogin too expensive go, and there's plenty of positive feedback on TrustPilot about its efffectiveness.
GoLogin uses its own web browser based on Google Chrome. It spoofs the browser fingerprint by replacing most parameters and adding noise to others. Some users have found that this method leads to more CAPTCHAs and verifications but the results may differ depending on your configuration.
The browser is simple to use: it generates fingerprint configurations at a click of a button. Unlike others, GoLogin also includes proxies out of the box. They won't work well with sophisticated websites but should do their job for general browsing. There's an Android app too, and you can even access the tool from via cloud interface.
GoLogin offers a free plan, though it's very limited – only 3 profiles. Its paid plans increase the number of profiles as well as collaboration options: team members and how many times you can share a profile with them.
Operating systems: Windows, Linux, macOS, cloud, Android
Price: From $49/month (or $24 if paid yearly)
Trial: 7 days
Visit GoLogin
Read the GoLogin review for more information & performance tests.
---
Kameleo is another popular option. It stands somewhere in-between Multilogin and GoLogin as one of the top tier antidetect tools.
Kameleo supports all the main web browsers: Firefox, Chrome, Safari, and Edge. It uses something called base profiles which take popular fingerprint configurations and make minor adjustments to them. You can create an unlimited number of profiles with any plan and automate the process with Selenium. Kameleo also offers an Android app to change your mobile fingerprint.
Some of the downsides include slow customer support and inconvenient collaboration options: your data is stored locally and the plans only have one seat. Kameleo is also in the process of releasing a new method to spoof Canvas fingerprinting, but it's yet to see the light of day.
Operating systems: Windows, Android
Price: From €59/month
Trial: 7 days
---
Incogniton is one of the new generation Chromium anti detect browsers, similar to GoLogin and AdsPower. Accordingly, it shares most of the features you'd expect: creating and syncinc multiple browser profiles (including bulk creation), importing cookies, and automating things via a headless library or API. One interesting feature is paste as human typing which allows to quickly fill in forms.
Perhaps the biggest draw here is Incogniton's generous free plan. It allows saving up to 10 browser profiles – several times more compared to the competition. If you try it and get hooked, the bigger plan include automation features, more profiles, and team seats.
Operating systems: Windows, macOS
Price: From $29.99/month
Trial: Free plan available
---
Linken Sphere is Chromium-based anti detection browser software developed by Russian group Tenebris. It used to be among the best tools to overcome anti fraud systems, so you've probably seen it mentioned more than once. But we can't really recommend it today.
One of the reasons is very practical – sporadic updates. The app hasn't been updated for a while, and it's fallen behind. Another reason is ideological – Linken Sphere has often been used for hacking, fraud, and other illegal activities. Bitcoin-only payments and the famous off-the-record mode (the data is stored in RAM only) are testament to its sketchiness.
If you don't find it important, the tool costs $100 per month. There's also a donation-supported version called Sphere. It's completely free of charge but offers fewer features.
Where to Get Proxies for Your Antidetect Browser
For an antidetect browser to work properly, you'll need to outfit your profiles with proxies. A proxy server gives your device a different IP address; it's like a post code for the internet. If you're new to them, you can learn more here.
The best kind of proxy is residential or mobile. These IPs come from the devices of real users, letting you blend in well. Datacenter proxies and VPNs look artificial, so they're much more likely to encounter verification prompts and blocks. If you're not quite sure where to get proxies, feel free to check our lists of the best residential and mobile proxy providers.
The Best Antidetect Browsers