Nike Shoe Bot Review
Our take on the oldest and among the best sneaker bots.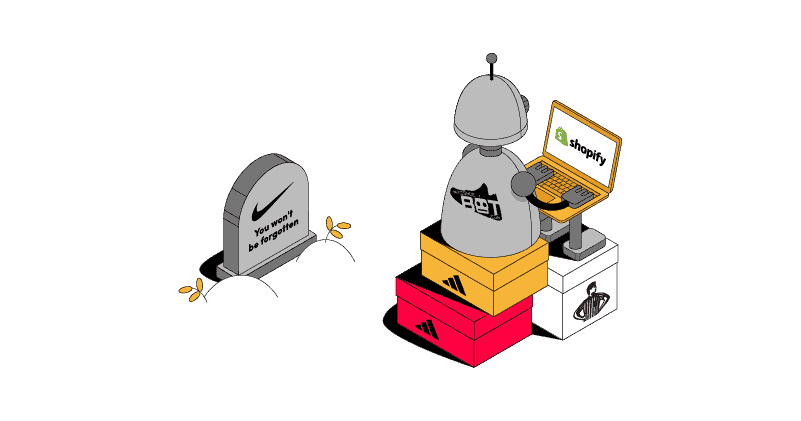 Nike Shoe Bot is a robust sneaker bot for Windows and macOS. It works with most major shoe stores, including Adidas, Yeezys, Footlocker, and over 100 Shopify sites. With a user-friendly interface, multiple task support, release monitor, and Captcha solver, Nike Shoe Bot has everything you need to dominate limited shoe releases.  Let's take a closer look at NSB and see if it's worth your hard-earned cash.
About Nike Shoe Bot
Nike Shoe Bot claims to be the "oldest sneaker bot". It was originally built to cop Nike. Despite tough competition, NSB has managed to hold strong and remains a top choice in the sneakerhead community. The bot's developers still actively update the app, and its Twitter profile is packed with pictures of successful drops.
Over time, the Nike Shoe Bot's creators have managed to expand the list of supported websites, turning it into an all in one bot. Ironically, nowadays Nike is the only website NSB doesn't support. However, it does seem to work very well with Shopify.
Nike Shoe Bot Features
Nike Shoe Bot includes all the major features that make automated shoe copping possible:
Tasks
Just like any other modern sneaker bot, NSB allows creating and running multiple simultaneous tasks. This is crucial if you want to cop several sneaker pairs at once. Even if it's one pair you're after, more tasks will give you a better chance to succeed. A nice touch is that you can select and edit tasks in bulk. You can also assign different proxy lists and billing profiles for your chosen websites.  There are four modes to choose from:
Fast – for times when speed is all that matters. It's the most reckless mode, and it will receive the most blocks. You should use it with shoe sites that have the least security.
Safe – slower but surer. The bot navigates the website and tries other ways to throw off its security instead of going straight to checkout.
Cyborg – the bot tries to mimic a real person. This mode is also slow and focuses on safety.
Checkout link – fast but manual. It's built for websites like EasySupply and Adidas where you have to wait in a queue and cop manually.
Tip: Unless you're experienced, don't try to set the mode by yourself. Your cook group should give you the instructions. Not in a cook group? Find one!
Monitor
Nike Shoe Bot lets you monitor sneaker websites before releases. This works by assigning a proxy list, selecting your keywords or early links, and letting the bot continuously crawl the site with a small delay. If the monitor detects that a release has started, it can automatically trigger your tasks. So in theory, you can cop without doing anything yourself. Sadly, that rarely works in practice.
The latest version of Nike Shoe Bot also has integrated Discord support, so you can hook up the monitor of your cook group.
Tip: If you have spare proxies, try to leave the monitor on even after the drop. Retailers sometimes restock, and this will give you another chance to get the grail.
Billing
With the NSB bot, you can create multiple billing profiles. They consist of buyer's information, shipping information, and credit card details. You can select a checkout limit for each profile to avoid spending too much and revealing your accounts as bots. The limit can be set to be once per site or once per a site's item.
Tip: Shoe sites don't check your billing information that diligently. You can jig it by writing st. instead of street or slightly changing other details for more accounts.
Captcha Solver
Captchas are unavoidable when sneaker copping. NSB has built a manual Captcha solver to make your job less painful.
The solver allows you to watch Youtube videos or use an established Gmail account to generate Captcha tokens before the drop. Having these tokens ensures that you'll be getting one-click captchas instead of pictures with stoplights, busses, or similar nonsense. This is a huge time saver.
Tip: Don't overdo it with the tasks. Otherwise, you might not be able to solve all the Captchas and your copping will fail.
Proxies
The NSB bot supports multiple proxy lists that you can name. It's simply a text input field, where you enter IPs.
If you're not sure where to get the right proxies for sneaker copping, have a look at our list of best sneaker proxies. Choosing the right proxies can make or break your success.
Tip: Try not to use the same proxies for multiple tasks. It only increases your chances of getting blocked.
Which Proxies to Choose for NSB
If you buy Nike Shoe Bot and want to start cooking sneakers with reliable proxies, we recommend using residential IP addresses from trusted proxy providers. All of the providers we review on Proxyway have robust networks that can handle hyped sneaker releases.
As a rule of thumb, only choose residential proxies that have geographic targeting, so you can use IP addresses close to the server of your target site. Rotating proxies work very well for monitoring links with Nike Shoe Bot.
Using Nike Shoe Bot
Nike Shoe Bot is pretty straightforward to use: set up your billing accounts, load up your proxies, fire up monitoring (not obligatory), and create tasks for the release you're after. When the drop is underway, complete the Captchas that pop up, and if you're lucky, you'll get your dream kicks! It also has one-click Captcha support and you can set tasks to force captchas as you prepare for a hyped release.
The setup and copping process is made simple by Nike Shoe Bot's user interface. The dark colours are easy on the eyes, and everything is laid out in a way that makes sense. User experience is really one of NSB's strong points.
Nike Shoe Bot Pricing
Nike Shoe Bot doesn't come cheap – a year's subscription will cost you $499. For comparison, AIOBot asks $325 for a lifetime license; Cybersole goes for £300 and has a £100 renewal fee every six months. But it still beats some hyped bots that cost up to $4,500 on the bot resale market.
For the price, you'll get a download link to the bot paired with an extensive user manual. You'll also have access to the NSB Discord community. There you can receive help and notifications about new sneaker drops a few hours before the release.
Tip: If you buy a sneaker bot from a reseller, make sure to get the Discord account. Some work only through and are tied to your Discord account.
Verdict
To wrap this up, Nike Shoe Bot is a powerful sneaker bot that has all the features you might need to compete – and win. If anything does hold you back, it will most likely be the pricing. Should you pay half a grand every year? If you're serious about sneaker copping, I'd strongly consider it.