We use affiliate links. They let us sustain ourselves at no cost to you.
The Best SOCKS5 Proxies of 2023
SOCKS5 is the newest proxy protocol. Versatile, fast, and anonymous, SOCKS5 proxies enable many tasks that wouldn't be possible with HTTP(S) IPs. You can use them for gaming, video streaming, torrents, web scraping… Just about anything. They can be both residential addresses and come from data centers.
But finding a good proxy service isn't easy – and getting reliable SOCKS proxies is even harder. This article will help you choose the best SOCKS5 proxy provider for your needs.
The Best SOCKS5 Proxy Providers of 2023 – Quick Summary: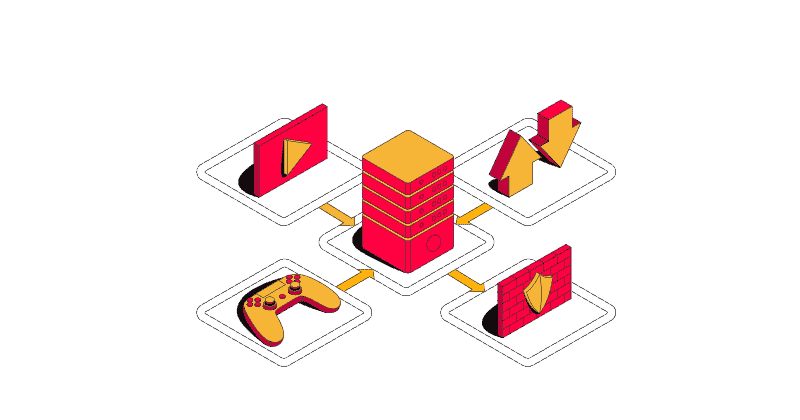 What Is a SOCKS5 Proxy?
SOCKS stands for "socket secure". It's an internet protocol that allows one device to send data to another via a third device. In this case, the third device would be called a SOCKS server, or simply a SOCKS proxy. SOCKS proxies were created to be an all-purpose proxy solution: they can handle almost any protocol, program, or type of traffic, whether it's webpages, email, torrents, video streaming, or games.
Comparing SOCKS4 and SOCKS5 Proxies
SOCKS5 is a newer version of the protocol. It introduced several important features, such as more authentication options, support for IPv6 IP addresses, remote DNS queries, and compatibility with the UDP protocol, not only TCP.
Are these features relevant for you? The UDP protocol is used in many video streaming services and video games – where you need to transfer data in real-time. So if that's what you're going to be doing, choose SOCKS5 proxies. They also allow the regular user:pass authentication, making the setup process much simpler.
SOCKS Proxies vs HTTP Proxies
HTTP proxies work with the >HTTP(S) protocol – in other words, websites. They often have only ports 80 and 443 open, which rules out different kinds of traffic. 
SOCKS proxies are much more versatile – you can use them to unblock content and work with all kinds of data. Just make sure that your provider actually has the ports you need open. Some close off everything that's not 80 or 443, making their SOCKS proxies effectively the same as HTTP IPs.
Main Uses of SOCKS5 Proxies
Hide your IP address

– the classic use case. SOCKS5 proxies are actually very good at it because of the way they work.

Chat and make video calls

– for example, you can use these proxies with Skype, Telegram, or similar apps.

Use streaming websites

– the first example that comes to mind is Twitch, but it applies to any streaming site.

Download torrents

– they are compatible with qBitorrent, uTorrent, and similar peer-to-peer communication software.

Play games

– we haven't tried it personally, but we've often heard about using it with popular online games.

Access forbidden content

– a common use case is going around firewalls or entering places where

TCP connection

is prohibited. Or simply avoiding geographical restrictions.

Perform illegal activities

– people also use SOCKS5 proxies for carding, to hide their IP address and emulate the card holder's location. Note that this activity is highly illegal, and we do not condone it.
Advantages and Drawbacks of SOCKS5 Proxies
Advantages
Drawbacks

You can use SOCKS5 proxies with

all kinds of data

, not only webpages.

They ensure a

high level of anonymity

. When you route information through such a proxy server, it assigns a new IP for you. Instead of accessing the website on your behalf, the server connects to it directly. This way, you disclose no information about your original IP address.

They work great for

traffic-intensive tasks

.

Data goes through them

unencrypted

. So, you shouldn't use them for online payments or anything involving personal information.

They are

not supported

by some applications.

They are usually

more expensive

compared to HTTP(S) IPs.
Why You Shouldn't Get a Free SOCKS5 Proxy List
The idea of free SOCKS5 proxies sounds tempting – especially if your needs are small or you just want to try the proxies out. It's a better option than free HTTP proxies (I'd never use those due to all the security risks), but still not something I'd ever recommend.
You'll always have to share free SOCKS5 proxies with dozens of other people. This will make the proxies slow and unreliable. Also, the provider likely won't be interested in maintaining the service, so on top of that, you can expect a lot of downtime and general instability. Not ideal, is it?
Instead, why not have a look at one of the proxy providers in our list? I'm sure you'll be able to find both premium and cheap SOCKS5 proxies there. Many of the services offer a free trial or money-back guarantee to give you a taste of what using good proxies feels like. Believe me: it'll cost you nothing and will be a much better experience than struggling with IP addresses that barely work.
The Best SOCKS5 Proxy Providers
Oxylabs is the best choice if you're looking for premium SOCKS5 proxies. Its network of dedicated datacenter and ISP IPs is the largest in the market: with over 2 million proxies, you won't have any issues scaling your project. You can choose from thousands of subnets in over 80 locations around the world. The proxy pool is well maintained by an experienced team that can offer you advice and 24/7 enterprise-grade support. It doesn't rotate by default, but you can set up rotation using Oxylabs' proprietary tool.
That said, Oxylabs targets business customers. Its plans might be too pricey if you're only looking for a few IPs. Also, there's no self-service.
Features:
Proxy types: dedicated datacenter, ISP
Locations: 82 countries
Rotation: With an optional add-on
Extras: API for proxy management, browser extension
Support: 24/7 by chat or email, dedicated account manager
Pricing:
Starts from $180 for 100 IPs in the US ($1.8/IP) or 60 IPs everywhere else ($3/IP). 7-day free trial for businesses, 3-day refund for individuals.

---
Bright Data is another premium SOCKS5 proxy provider. It can offer you all three types of SOCKS IPs: datacenter, residential, and mobile. Bright Data is known for its variety of features, customization options, and proxy management tools, such as the open source Proxy Manager. If you need something that other proxy sellers lack, you'll most likely find it here.
Bright Data's pricing is no less flexible: you can commit to monthly plans or pay as you go, and min-max the package. In any case, you'll be charged above the market rate for the privilege, and the monthly plans start pretty high. There's also a strict KYC procedure you should be aware of.
Features:
Proxy types: Datacenter, residential, ISP & mobile IPs
Locations: Every country, thousands of cities, ASN and carrier targeting
Rotation: Optional, highly customizable
Extras: API, software for proxy management, browser extension
Support: 24/7 customer service
Pricing:
Flexible, depending on your requirements. You can pay as you go (residential proxies cost $15/GB) or get a plan that starts from $300/month.

---
Rayobyte sells multiple proxy types that support the SOCKS5 protocol. Its go-to service is dedicated datacenter proxies. These IPs cover 27 countries, come with unlimited bandwidth and connection requests. A big plus: the provider has all the hardware in-house, with full control over it. The pricing is affordable, and you can buy from as few as 5 IPs through self service.
On the negative side, the choice of datacenter locations is pretty limited, while Rayobyte's pool of residential addresses is very small compared to most alternatives.
Features:
Proxy types: Datacenter, ISP, residential
Locations: 150 (or 27 for datacenter IPs)
Rotation: Available
Extras: proxy management API
Support: 24/7 customer service
Pricing:
Dedicated datacenter proxy plans start from $10 for 5 US IPs ($2/IP). The price varies by location (non-US countries are more expensive) and length of commitment. There's a 2-day free trial available.

---
Smartproxy offers a pretty good deal if you're looking for SOCKS5 datacenter IPs. The proxies are pretty much unlimited (within the usage terms), you can get non-sequential addresses and replace them once per month without charge. The pricing plans don't require much commitment but can scale very well if needed.
That said, with only datacenter proxies to choose from – and only in the US – the service may not be for everyone.
Features:
Proxy types: Dedicated datacenter
Locations: US
Rotation: Unavailable
Support: Awarded 24/7 support by live chat or email
Pricing:
Starts from $7.5 for 3 IPs ($2.5/IP). 3-day refund available.
Visit Smartproxy
Read the Smartproxy review for more information and performance tests.
---
Webshare offers both ISP and datacenter (shared among many users, shared with 0-2 users, and dedicated) proxies that support the SOCKS5 protocol. These IPs cover over 20 countries worldwide and come in lists of static addresses, but there's an option to rotate proxies with every connection request.
Webshare has highly flexible plans with a customizable self-service. The users can choose the number of proxies they want to purchase, set a bandwidth limit ranging from 250GBs/month to unlimited, and customize threads. There's also a feature where you can choose the location of datacenter proxies (by default, the proxies will be assigned to random locations) and refresh the proxy list between five minutes and a month. 
Features:
Proxy types:

datacenter & ISP

Locations:

Over 20 countries

Rotation:

No rotation or rotation with every request.

Support:

24/7 customer service via email
Pricing:
With the standard plan, datacenter proxies cost from $2.99/100 IPs (shared among many users), $13.89/25 IPs (shared with 0-2 users), or $33.25/20 IPs if you go with dedicated proxies. ISP plans start from $46.31/25 IPs. You can also use 1 GB of free data every month, running up to 50 threads at once.