We use affiliate links. They let us sustain ourselves at no cost to you.
What's an Instagram Proxy and Where to Get Them?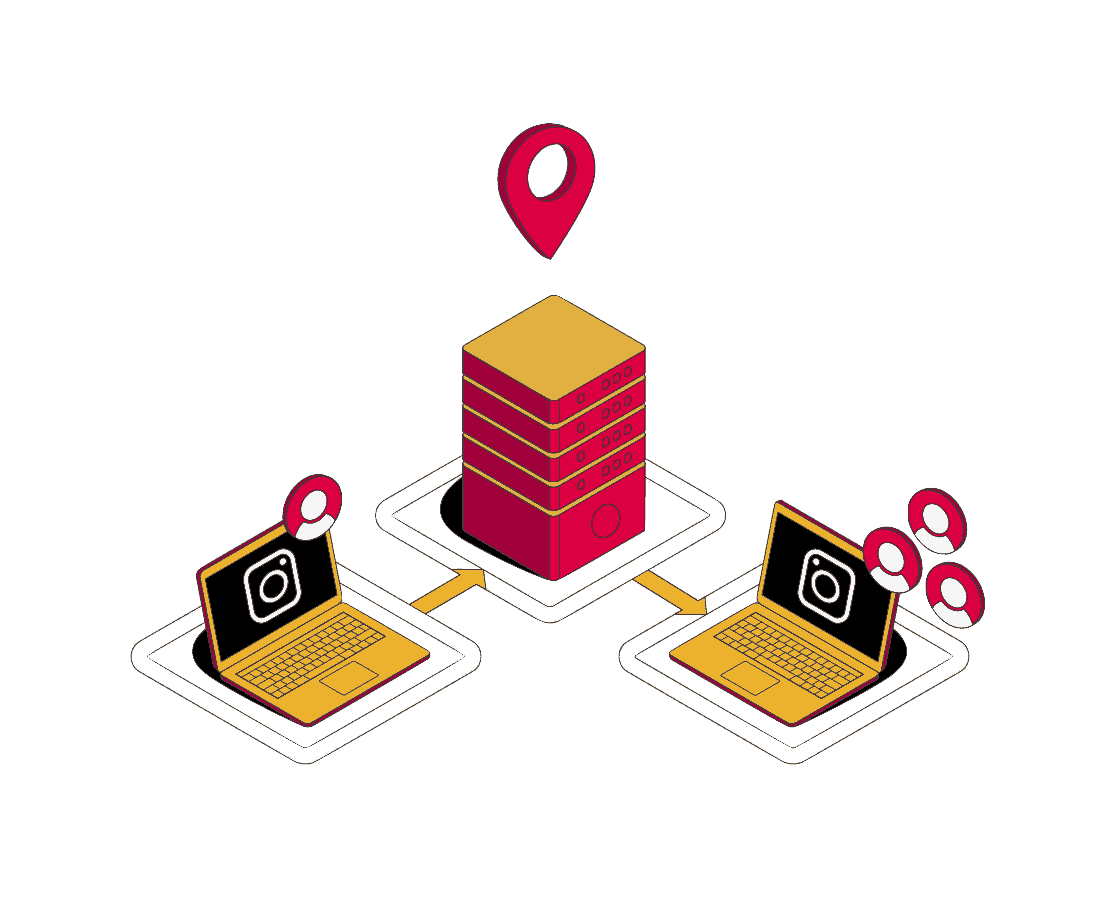 Instagram bots and scrapers let you quickly create and grow multiple accounts, automatically engage with your followers, and scrape valuable data, such as hashtags or user profiles. Coupled with Instagram proxies, they provide a powerful – and profitable – way to expand your social media reach and make some money off the platform.
Nowadays, Instagram is very strict about bots and scrapers. But automation is still possible. What is certain is that you'll need a good Instagram proxy server to avoid your IP address getting blocked. This page will teach you more about Instagram proxies and help you choose the best proxy provider for your Instagram bot. If you prefer video, we have one as well:
The Best Instagram Proxy Providers – Quick Summary:
What Is an Instagram Proxy?
An Instagram proxy is a proxy server optimized specifically for Instagram. Nowadays, that means two things:
The IPs are mobile or at least residential. Datacenter Instagram proxies are long past their glory days, and you won't accomplish much with them.
The IPs won't be banned when you start using them. This part is much harder to ensure with peer-to-peer residential proxies, where all users share the same pool. Still, with networks spanning millions of residential IP addresses, the odds are pretty good for you.
Otherwise, Instagram proxies are the same as your regular proxy IPs. You can find them on most sites of proxy providers that offer proxies for sneaker copping, Youtube, Craigslist, and so on.
Why Use Proxies for Instagram
Manage multiple Instagram accounts – if you or your business needs more than a few Instagram accounts, proxies are a must. Otherwise, Instagram will quickly flag your IP address, and you won't be able to do much.
Build a following – this will still include managing multiple Instagram accounts, though you won't have to put in so much work. Honestly, it isn't the fairest way to get famous or get some sweet brand deals, but you do you, right?
Scrape Instagram – Instagram contains a lot of valuable information. You can scrape Instagram hashtags, photos, followers, or even whole profiles. Just keep in mind that Instagram is very against this practice and will go out of its way to stop you.
Unblock Instagram – If your school, workplace, or country are not big fans of Instagram use, you have an easily accessible solution. While there are other options, like VPNs, Instagram proxies do a great job, too.
Which Types of Proxies for Instagram Work Best
From best to worst:
Mobile proxies (4G proxies) – Instagram trusts these IP addresses the most: first, because it's a mobile app; and second, because hundreds of mobile devices share the same IP address. However, mobile proxies are very expensive and hardly sustainable if you need many accounts.
Residential proxies – both rotating and static residential IPs will do. Rotating proxies will be better for Instagram account creation; static residential IP addresses work well for account management.
Dedicated proxies – private datacenter proxies dedicated specifically for social media. Cheaper than both mobile or residential, more expensive than shared ones. Not the best choice for Instagram bots, but still useful for running scraper Instagram accounts.
Shared proxies – don't use these IP addresses for Instagram. You'll never be sure if the proxies haven't been blocked already, and these are still datacenter IPs.
Free proxies – never use a free proxy for Instagram if you like your data to stay private and secure.
Tips and Tricks to Becoming an Instagram Proxy Master
Consider your needs. If you only want to run two or three Instagram accounts with your Instagram bot, then maybe you don't need proxies at all. The same goes for a VPS – they can help you run hundreds of accounts, but you don't always need one.
Choose your automation tool. There are many different Instagram bots out there. Jarvee is always a popular pick, but you can also get Followliker, Storyvoter, Ninjagram, or Instagram Story Viewer, to name a few. Instagram automation software is as important, or even more important, than proxies.
Start slow. If you're growing Instagram accounts, let them "warm up" for a while before you do anything with them. Then, gradually start increasing the number of follows; you won't be able to get 400-1000/day anymore, but one to two hundreds is perfectly possible.
Mind your actions. Don't run your fake Instagram account round the clock. Instead, use it within a certain timeframe, like 12 hours, because that's what humans do. Run your accounts in shifts. In the same way, don't follow, unfollow, or comment at the same time every day – it's a sure way to get shut down.
Try things out. Check if your Instagram proxies work with trial Instagram accounts, play around with the settings of your Instagram bot. Get used to the process.
Don't stop learning. If you've been running multiple Instagram accounts with no issues until now, it doesn't mean things won't change. The platform constantly updates its algorithms, and the game starts all over again. You can read forums like MPSocial and BHW to stay up to date with Instagram automation and Instagram bots.
And as always, never settle for bad service.
The Best Instagram Proxy Providers
1. Smartproxy
Affordable residential proxies for Instagram automation.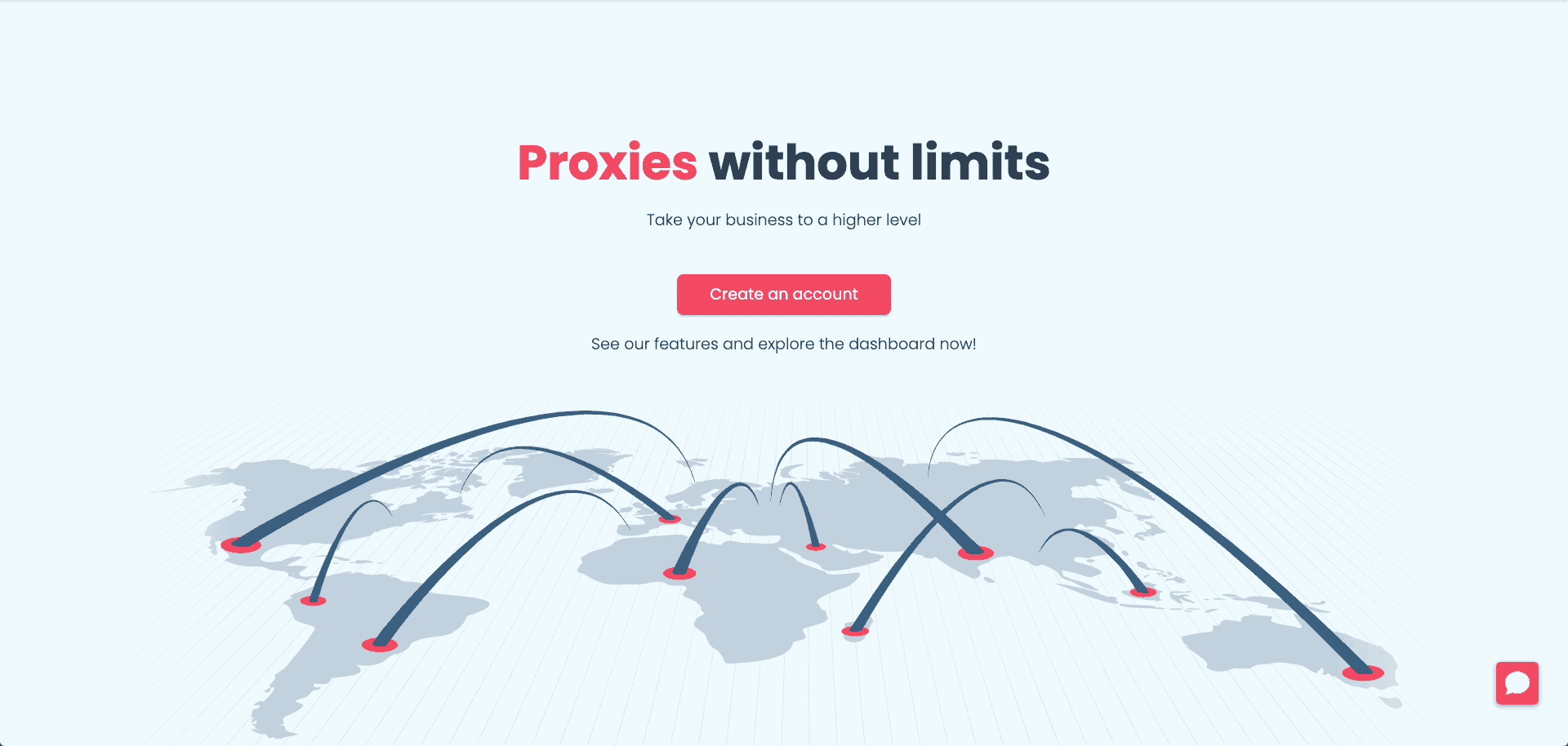 Smartproxy is our editor's choice, and for good reasons. It has a large rotating residential proxy network that allows targeting 195 locations and doesn't share subnets. The IPs come from both desktop and mobile devices. Smartproxy offers great customer support and plenty of content on Instagram automation. The proxy provider is simple to use and doesn't cost much for what you get. All in all, it's no wonder why Smartproxy is such a popular choice for social media automation and sneaker copping.
But Smartproxy isn't perfect for everything. These are still peer-to-peer residential IPs: you can create sticky sessions up to 30 mins, but they will rotate. You also can't target the IPs by carrier or ASN, but that's not a must.
Features:
40 million peer-to-peer residential IPs 

195 locations (+8 cities) 

Rotation every request, sticky sessions up to 30 mins 

Unlimited connections 

Whitelisted IP & user:pass authentication 

Sub-users 

API & browser extension 

Self-service for smaller plans

Rich documentation 

Award-winning customer service
Pricing: From $75/5 GB ($15/GB). 3-day refund available.
Read the Smartproxy review for more information and performance tests.
---
2. Bright Data
4G and static residential proxies with the most features.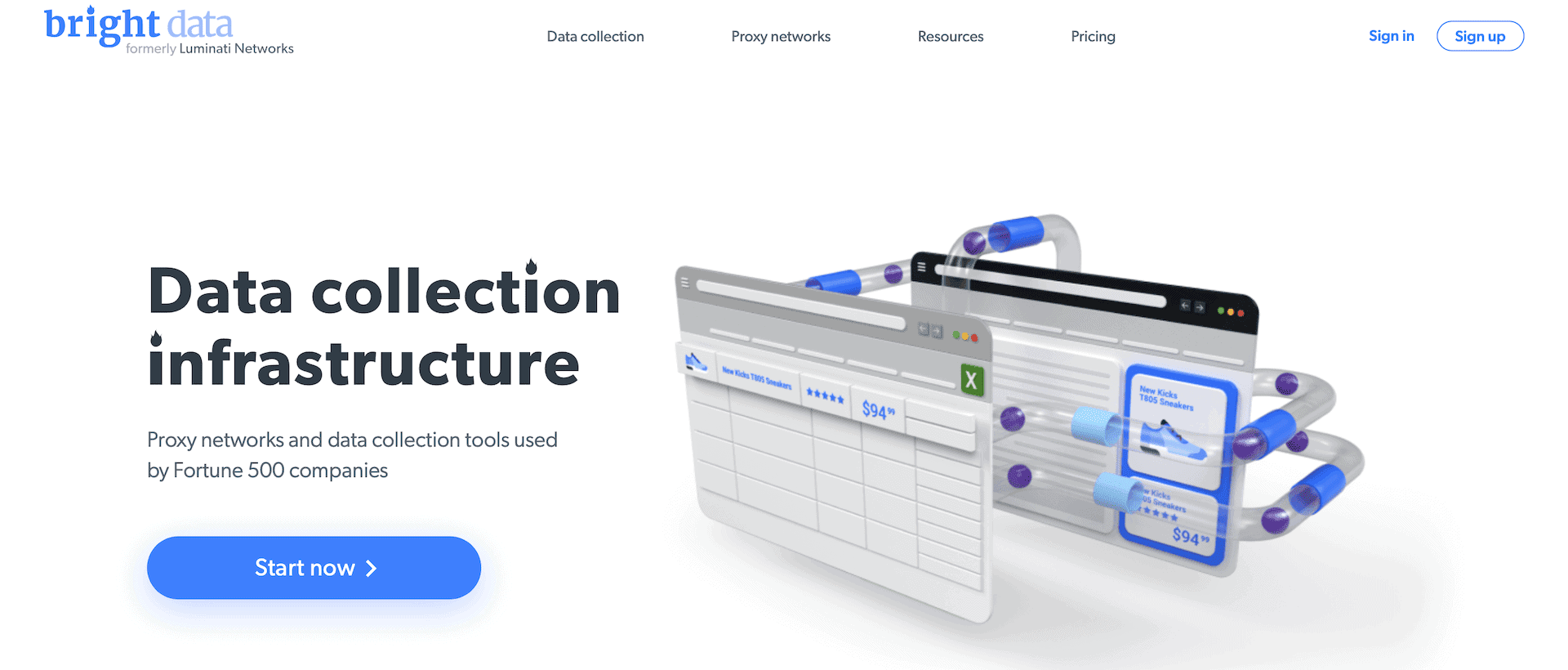 No discussion about Instagram proxies can go without mentioning Bright Data, the largest proxy provider today. It offers every kind of proxy there is – in our case, we're interested in Bright Data's static and mobile IPs. Both come with country and city targeting, and the mobile proxies even let you choose the ASN & carrier. Overall, you can use Bright Data both for account creation and management – and if you get P2P residential IPs, scraping as well. A good thing is that you can pay as you go; it's more expensive per GB but doesn't tie you up in monthly plans.
The drawbacks? Well, Bright Data costs a lot, and choosing useful features like ASN targeting adds to the price. The whole user experience can be confusing at times. And Bright Data is very strict about compliance, so one day it can simply refuse serving your use case. It used to have a landing page for Instagram proxies – that's long gone.
Features:
Peer-to-peer, static residential & mobile IPs
Every country, thousands of cities, ASN and carrier targeting
Flexible rotation settings; static sessions available
Unlimited connections
Whitelisted IP & user:pass authentication
Sub-users
API, browser extension & proxy manager
Great user documentation
Pay-as-you-go option
24/7 support
Pricing: From $20/GB + $0.5/IP for static residential proxies. 7-day trial for businesses and 3-day refund available.
Read the Bright Data review for more information and performance tests.
---
3. GeoSurf
Quality static and rotating residential proxies with thousands of cities.

GeoSurf is a VPN and proxy provider that sells both rotating and static residential proxies for Instagram. Its pool is small but carefully picked and maintained. We confirmed that by running extensive performance tests on the rotating IPs – the results were good, and the proxy servers stable. Sticky sessions up to 30 mins make even the peer-to-peer residential proxies suitable for account management, though you should probably pick the static option for that. GeoSurf allows choosing from over 1,000 of cities for precise location targeting.
But quality proxies come at a price, and GeoSurf is one of the most expensive providers in the market. Its residential IP plans start from $450 – even higher than NetNut. Once again, it boils down to how serious you are about Instagram marketing.
Features:
2.5M peer-to-peer & static residential IPs
Stable and robust proxies
Over 100 countries, thousands of cities
Rotation every request, sticky sessions for 1/10/30 mins
Unlimited connections
Whitelisted IP & user:pass authentication
Sub-users
API, browser extension
Extensive documentation
24/7 support
Pricing: From $450 for 38 GB ($11.85/GB). No free trial, but you can get a demo session.
Visit GeoSurf
Read the GeoSurf review for more information and performance tests.
---
4. SOAX
Residential and mobile proxies with highly adjustable rotation.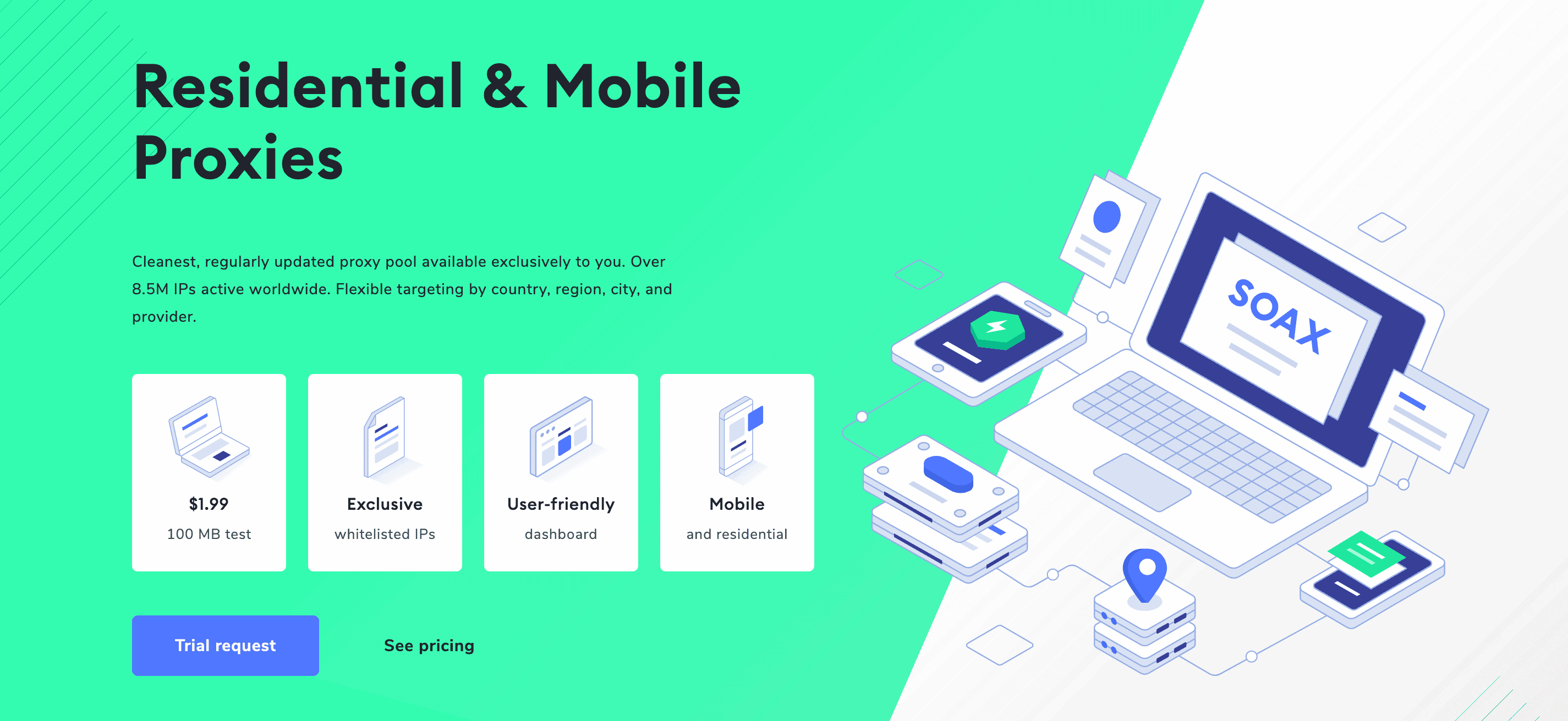 SOAX sells rotating residential and mobile proxies. It has an average-sized pool with an average price. Not bad so far. The defining feature of these IPs is how precisely you can control how they work. SOAX's dashboard allows selecting not only a country, but also region, city, and ASN. And it includes plenty of options for proxy rotation: from 90 seconds, 2, 6, 10 minutes, to as long as the IP is available. There's even an option to keep the same IP address after it loses connection, and wait until it comes back on.
On the downside, the proxies are pretty slow. You necessarily have to whitelist your IP, and some useful features come as paid add-ons. All things considered, SOAX is a fine choice for account creation and management, not as fine for scraping Instagram.
Features:
5M residential, 3.5M mobile IPs
Good performance with social media platforms
Global locations with city & ASN targeting
Rotation from 90 seconds to until available
Connections limited by plan
Whitelisted IP & user:pass authentication
Basic API
Live chat support
Pricing: Residential proxies start from $75 for 5GB ($15/Gb). 3-day trial for $1.99 available.
Read the SOAX review for more information and performance tests.
---
5. NetNut
The largest pool of static residential IPs for account management.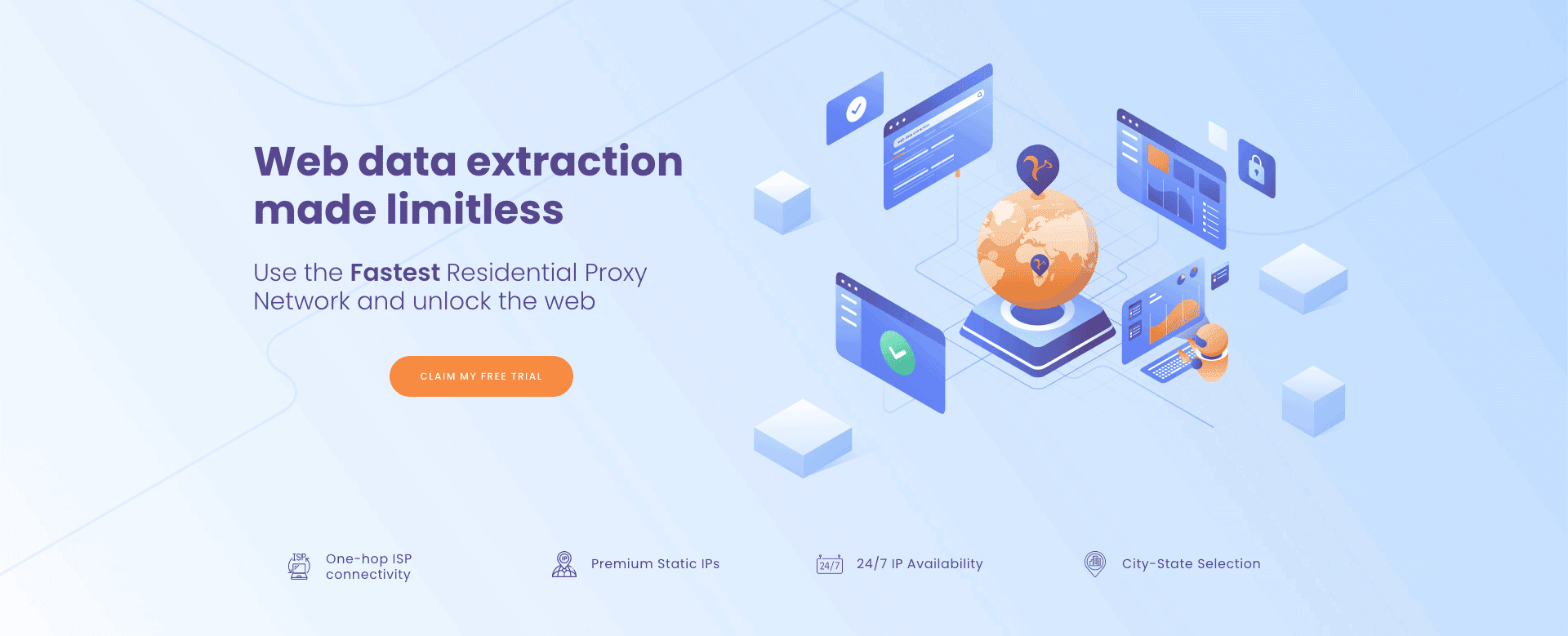 NetNut sells ISP proxies – basically datacenter proxies registered with an internet service provider. They're hard to detect and don't need to rotate, which makes NetNut a good choice for account management. The provider has dedicated pools of proxies for Instagram, so they should work well. They should also address the problem of small subnet variety that plagues many static residential proxy sellers, NetNut included.
Thought it starts at $25 for ISP proxies, NetNut doesn't hide that it targets companies with larger needs. It's also not very beginner friendly. But if you're serious about Instagram marketing – or consider reselling – NetNut is one of the stronger candidates for the task.
Features:
5 million static residential IPs 

50 countries (with city targeting in the US)

Rotation every request or keep the same IP indefinitely

Unlimited connections 

Whitelisted IP & user:pass authentication 

Sub-users (with a reseller account only)

API & browser extension 

24/7 customer service
Pricing: From $300 for 20 GB ($15/GB). 7-day free trial available.
Read the NetNut review for more information and performance tests.
---
6. Zyte's Smart Proxy Manager
Intelligent proxies for headache-free Instagram scraping.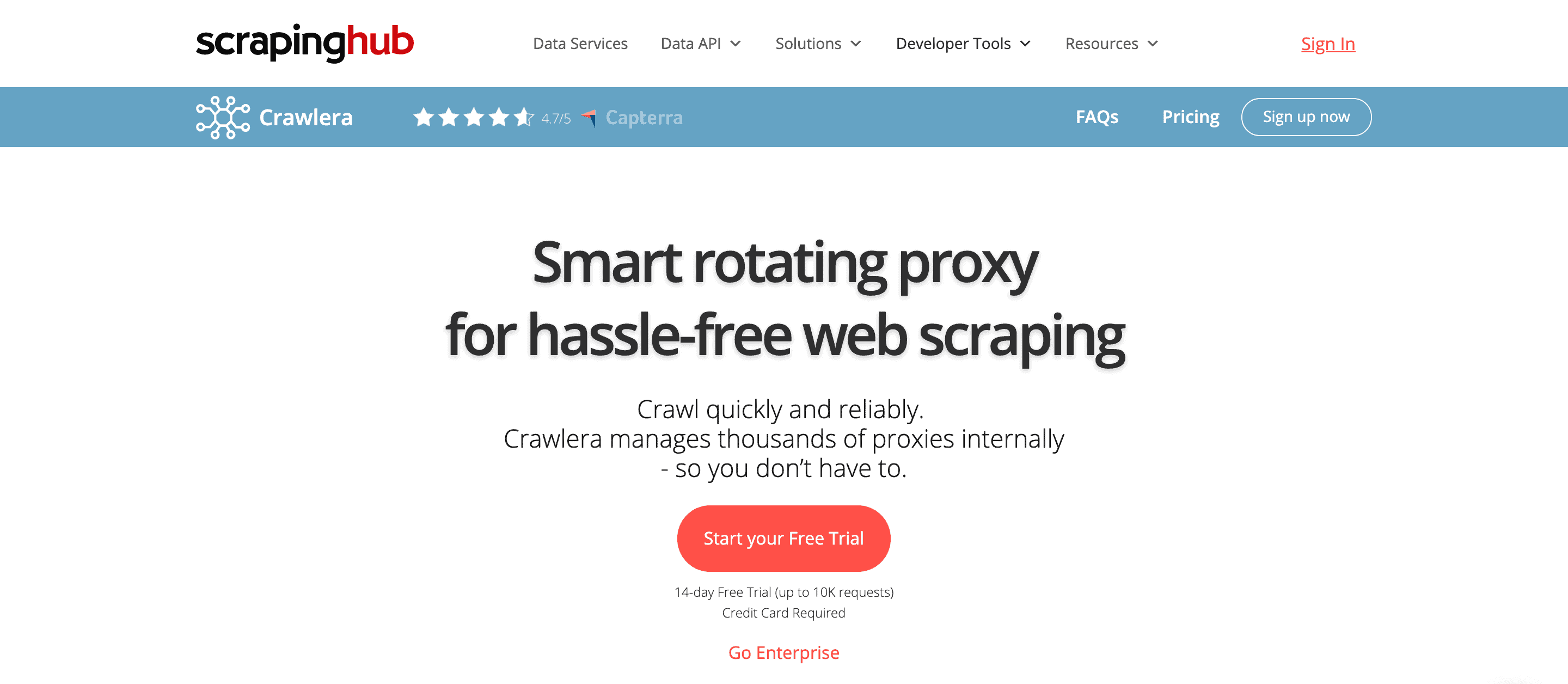 Zyte offers a rotating proxy API for scraping all kinds of websites, including Instagram. These are only datacenter IPs, but don't let that fool you – Smart Proxy Manager includes all kinds of intelligent proxy control features to make them excel. It automatically throttles and retries requests, assigns browser headers, and more. This greatly simplifies work with proxies, and you only have to pay for successful requests.
Of course, Smart Proxy Manager is only good for scraping Instagram – you won't be able to use it for running Instagram bots. To save the proxies from bans, it can sometimes be slow. And cheaper plans limit features, like the number of requests you can make. Otherwise, it's a great option for anyone that wants data from Instagram without worrying about proxy management.
Features:
Rotating datacenter IPs
Integrated throttling, proxy rotation, automatic retries, header and cookie management
API key authorization (can serve as like user:pass)
Extensive documentation & knowledge base
Dashboard
Sub-users
Pay for successful requests
24/5 support (24/ 7 for enterprise customers)
Pricing: From $99 for 200k successful requests. 14-day free trial available.
Read the Zyte review for more information and performance tests.
---
7. High Proxies
A former fave with datacenter proxies for scraper accounts.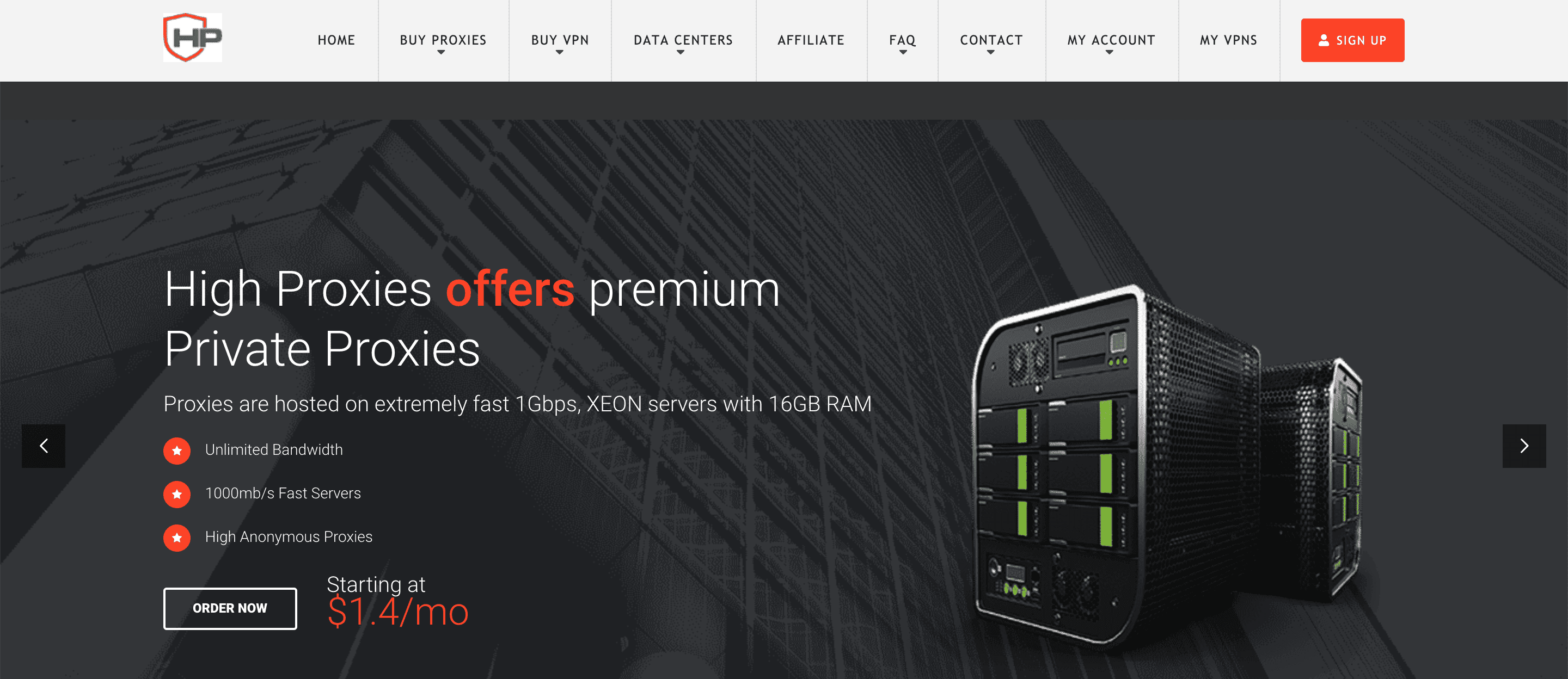 Back in the day, High Proxies used to be a major provider of Instagram proxies. Jarvee even recommended it as the best choice for Instagram bots. But time passed, Instagram got increasingly protective, and today the provider's datacenter IPs have fallen out of favor. We're including High Proxies due to its respectful past, and because it can still be used for scraper accounts. Features:
~86,000 private proxies in 40 data centers.
Multiple subnets.
Unlimited bandwidth.
Monthly randomization.
99% uptime.
Pricing: From $3.20 for 1 IP address. 3-day refund available.
Visit HighProxies
Read the HighProxies review for more information.