We use affiliate links. They let us sustain ourselves at no cost to you.
The Best No-Code Web Scrapers of 2023
No-code web scrapers can be godsent when talking about data extraction. They're the go-to choice for people who have no programming knowledge or time to code and maintain web scrapers themselves. Just with a few clicks, you can easily extract the necessary data. And if you stick with a reliable provider, you won't have to worry about solving CAPTCHAs or IP blocks. 
There're plenty of providers that offer no-code web scraping tools, so the choice can get confusing. You have to consider things like features, price, and scalability, to name a few. To save you the trouble, we'll help you choose the best no-code web scraper providers from a curated list.
The Best No-Code Web Scrapers
–

Quick Summary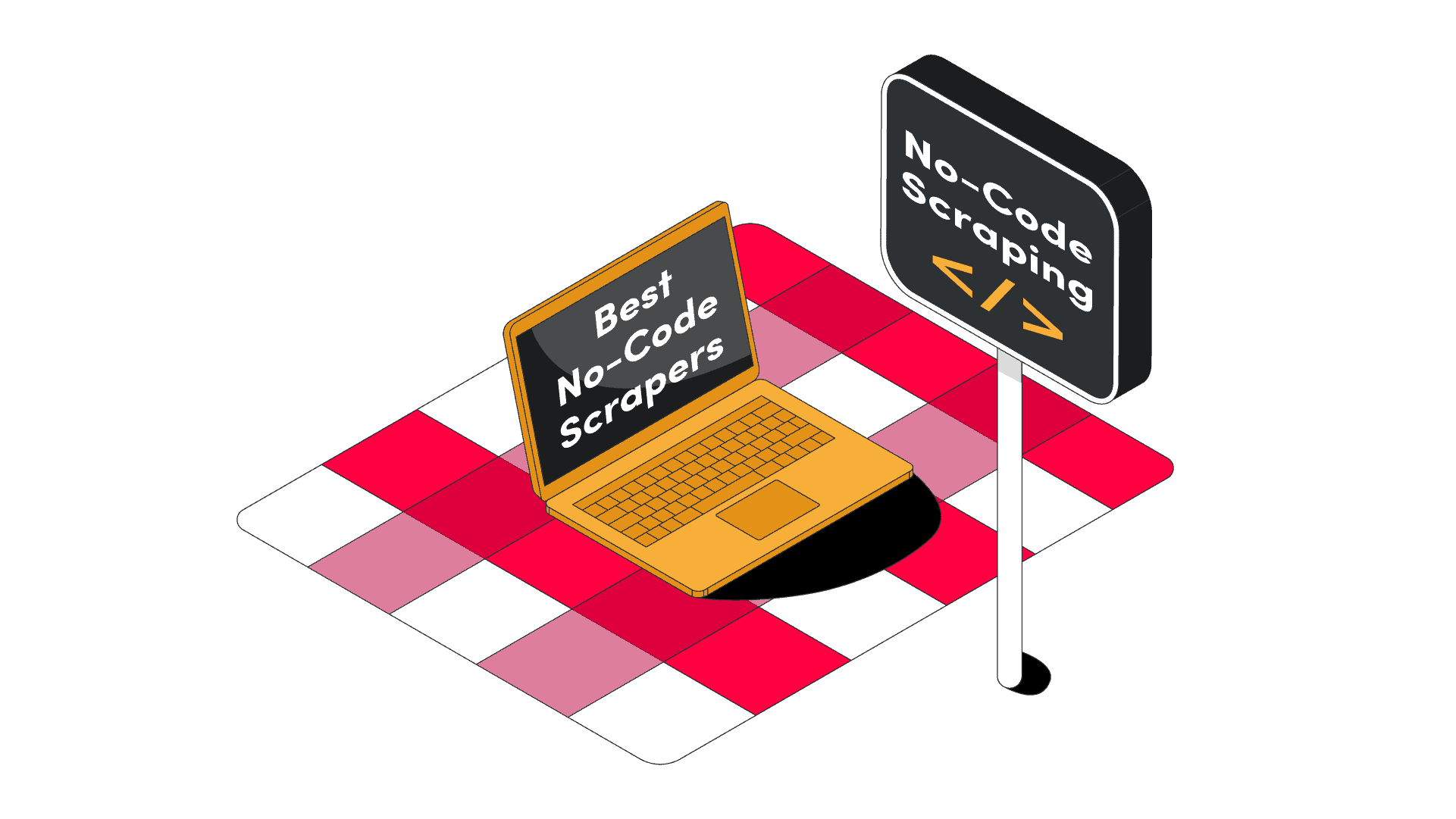 Why Choose No-Code Web Scraping?
First and foremost, compared to other web scraping tools like custom-built scrapers or APIs, no-code scrapers are simple to use. You can visually extract data using pre-made scraping templates and download the results in easy-readable formats like JSON or CSV. Some providers even offer the option to design a template yourself, or to request one.
Another reason for choosing no-code scrapers is that they offer very quick time to value. Depending on the provider and the information you want to gather, it usually takes minutes to set up the tool and start extracting useful data. This contrasts with custom scripts and even web scraping API services, which can take a lot of time to set up. 
Most no-code web scrapers have all the necessary functions for web scraping. Those include task scheduling, IP rotation, and JavaScript support. And the best part is that you won't have to maintain the tool or worry that it will break.
In a nutshell, no-code tools are great for small to medium-sized projects. 
What to Consider When Choosing a No-Code Web Scraper?
Performance.

Quite a few no-code scrapers come with a bouquet of fancy features but lack a quick turnaround and the ability to present consistent results. Some others don't have

proxies

integrated with their default configuration, so you may have to manually set them up or pay a premium.

Features.

It shouldn't surprise that feature-rich services have their price. So, before paying extra cash, discover the features you'll need. Those could include IP rotation, CAPTCHA solving, JavaScript support, scheduling, or delivery to particular tools. For example, if you aim to scrape a travel aggregation website hourly, make sure that the no-code scraper allows scheduling scraping runs.

Price.

As a rule, good tools are expensive. But most providers offer several pricing plans, including free ones. So, if you want to find a quality scraper that matches your budget, explore all the options – maybe it'll be enough to go with a basic pricing plan. However, the cheapest option usually doesn't include features like location targeting, and you'll be limited to the number of requests you can make.

Customer service.

The provider will be responsible for maintaining your scraper. If you'll be relying on the data for mission-critical functions, ensure that you get 24/7 customer support in case the tool crashes during data gathering, or you need assistance. 

Documentation.

Even though no-code web scraping tools are easy to use, you still might find it tricky to set one up. Check out the documentation – it's your main instruction manual for working with the scraper. Extensive tutorials include videos and screenshots to cover every step of the setup. 

Dashboard.

Take a look at the provider's dashboard – it will determine how easy it is to use the service and whether you'll have adequate usage statistics. 
The Best No-Code Web Scrapers
Apify is a major player in the web scraping industry. It comes with over a thousand pre-made templates for popular e-commerce, social media, and other websites. For example, there's a template for extracting data from public Instagram profiles, tweets from any user profile, or data from TikTok videos.
You can use the templates as-is, modify their code, or request a new template. The latter option requires filling out a short form with your use case. You can even publish your own template and let other users try it out.
In terms of features, Apify is very versatile. Aside from providing you full customizability, it supports scheduling and has various data delivery options – for example, you can receive .xlsx data sets every Friday via Google Drive. Data retention varies from 14 to 21 days, depending on the plan.
Apify runs on a cloud-based infrastructure. It uses shared datacenter proxies by default (you can request residential IPs), handles IP rotation, and is able to overcome CAPTCHAs. It can emulate browser interactions, which is ideal for JavaScript-based websites.
The provider offers free, and two paid plans. A free account comes with $5 platform credits and 20 shared datacenter proxies. However, you'll have to subscribe to a monthly plan if you need more features. And there's not much choice here. The price range between the paid options differs ten times. Also, the cheapest one includes only e-mail support, so you won't be able to reach customer support via live chat.
Data Formats: CSV, JSON, XLS, XML
Data Delivery: webhook, cloud storage, Zapier, Make, API
Price: monthly plans starting from $49 with $49 platform credits and 30 shared datacenter proxies
Free trial: offers a free plan with $5 platform credits
---
ParseHub made a mark in the scraping community as a beginner-friendly tool that offers many free web scraping courses and an extensive blog. It's a desktop app that lets you select elements and build scraping workflows in a web browser environment.
ParseHub is rich in features: it includes scheduling functionality, interactive scraping, navigation between different web pages, Dropbox integration, and many more. Beginning with the first paid plan, ParseHub also includes IP rotation and stores data in the cloud for 14 to 30 days. 
ParseHub has strong support for beginners. It offers built-in tutorials that will walk you through the process step-by-step. Also, you can find ParseHub's API docs with an extensive knowledge base and, of course, customer support chat. So, even if you're a first timer, ParseHub's interface is easy to use.
ParseHub offers a free version with limited features, but you can also opt for three other paid plans. The free plan comes with 200 pages of data in 40 minutes (per one run), though you can run only five public projects. So it's pretty limited. The paid versions have a quicker turnaround – depending on the plan, you can get 200 pages in two to 10 minutes and run 20-120 private projects. 
Data format:

JSON, CSV, Excel 

Data delivery:

Google Sheets and Tableau

Price:

the paid plans start from $189 with 20 private projects

Free trial:

offers a free account with 5 public projects
---
Smartproxy's No-Code Scraper is yet another service the proxy provider offers that keeps up the quality at a lower price. I'd say it's one of the easiest-to-use tools in the market. 
You can work with No-Code Scraper in two ways: using templates from the dashboard or the Chrome extension. 
If you decide to go with the templates, there are two pre-made options for Amazon and Google search engines. They let you download data by simply entering a few parameters (like the search query and location). 
The extension lets you create new templates by visually selecting website elements in your web browser. It automatically extracts similar values into columns, letting you preview and name them. If you encounter any errors, you can report URL issues.
Smartproxy also has a free option. It lets you use the No-Code Scraper extension to scrape data instantly with your own IP address. The paid plan enables templates, cloud storage, delivery options, and lets you schedule scrapes to run periodically. 
No-Code Scraper offers few interactive features for page navigation or entering data, so it may not be suitable for more complex scraping tasks.
Data formats:

JSON, CSV

Data delivery:

Email, Webhook, cloud storage, instant download

Price:

$50/month for 13,000 requests ($3.85/1,000 requests)

Free trial:

3 days and 3,000 requests
Visit Smartproxy
Read the Smartproxy review for more information and performance tests.
---
Another no-code browser extension that allows you to select and extract website elements by clicking on them. You can scrape using the Chrome extension or ready-made scraping recipes (templates) for various data points like Google search results or Reddit posts. 
Simplescraper has no concurrency limits, so you can extract data from thousands of pages at once. But if you seek faster navigation through pages, the provider suggests using a crawler (there's an additional button for that). You'll be limited to 5,000 URLs at a time. 
Some handy features include duplicate detection, the ability to run multiple scraping tasks, automatic IP address rotation and request limiting to avoid bans and CAPTCHAs. Also, the provider has a blog post section that might give you some ideas for your project.
Simplescraper offers one free and three paid plans. The free plan gives only 100 credits compared to the cheapest option with 6,000. On paid plans, credits renew each month, and unused ones carry over to the next period. However, you'll lose your credits if the plan is inactive.
All that said, the service raises some ethical questions: its FAQ openly states that you're allowed to scrape data behind a login. This can become problematic knowing Meta's recent actions against web scrapers, and you never know when someone will sue and shut down Simplescraper for legally-questionable activity. 
Data formats:

JSON, CSV

Data delivery:

Google Sheets, Airtable, Zapier, Webhooks

Price:

the cheapest plan starts from $35/6,000 credits.

Free trial:

offers a free account
---
Webautomation is a no-code scraping solution that comes with over 400 pre-made templates and proxy rotation. If that's not enough, you can request one or build your own extractor.
The tool doesn't require installing any extensions – you simply choose a template and provide the target URL(s) in the dashboard. With a single extractor, you can scrape an unlimited number of pages. You can do that by copy-pasting single URLs or uploading the whole list.
The amount of time you can retrieve the data you've scraped depends on the plan – data retention varies from 30 to 120 days. Additionally, there's an option to create charts for statistics and follow any changes to your scraped data.
If you have some experience with the Python programming language and want to modify the extractor results or input, you can do some advanced scripting by writing your own logic.
Even though the provider has one focus – a no-code scraper – its credit system is confusing, so it'll take time to get the hang of it. On the bright side, they do offer a calculator which helps to understand the system. 
Data formats:

CSV, XML, XLSX, JSON

Data delivery:

instant download, API, MySQL, FTP, Amazon S3

Price:

from $99 if you choose a monthly subscription

Free trial:

14-days