We use affiliate links. They let us sustain ourselves at no cost to you.
The Best Nike SNKRS Bots for 2023
Are you looking for ways to get your hands on gems like Air Jordans, Dunks, or Off-White? Then I have some bad news for you. You will have to cook the notorious Nike's SNKRS app. That's right, the most hyped-up and limited-edition items are not on Nike's store. Instead, they all drop through the app.
SNKRS is known to be the hardest target to cook, and only the most experienced sneakerheads try their luck. It takes skill, knowledge, and patience to destroy releases on this app. Honestly, only the best ones win.
Do you think you're cut out for the task? Then go ahead and read the list of the best Nike bots we've gathered for you.
If you decide to go after something easier, check out our list of the best sneaker bots after you pick a new target.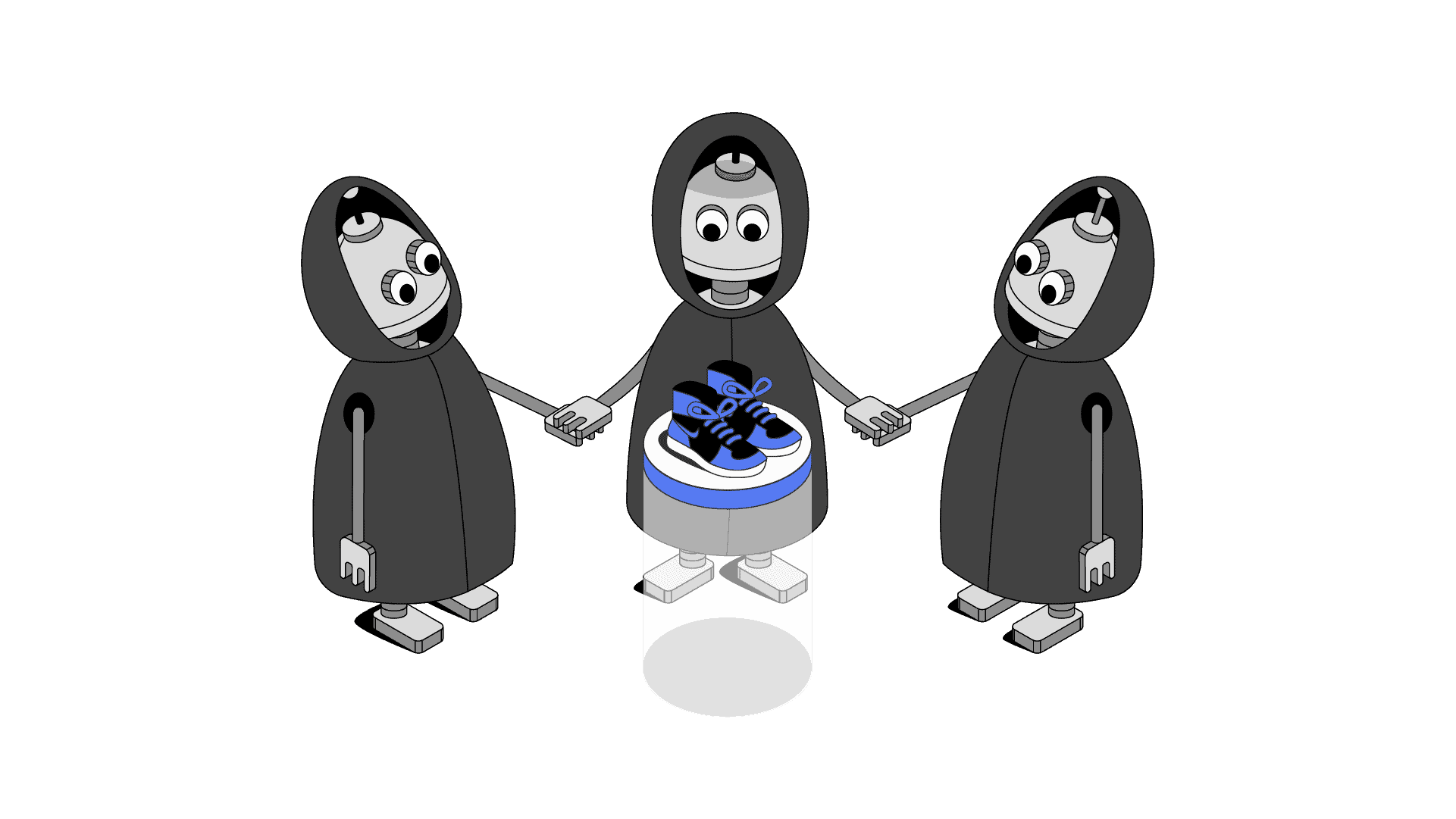 The Best Bots for Nike SNKRS – Quick Overview
What Is the Current Best Bot for Nike?
When this sort of question comes up, I'm always ready to give my "there's no such thing as one best bot" speech just to manage expectations. After all, even if there were the best Nike SNKRS bot, that wouldn't guarantee success. Quite often, inexperienced sneakerheads have no idea how to set up a bot and mess up cooks even if they own the best gear.
However, when it comes to Nike bots, the whole market is full of disappointment – most of the bots are completely useless at copping limited edition sneakers. Yet, there's a handful of the very best Nike bots. So, if you want to cop sneakers on the SNKRS store like a pro, get one of these Nike shoe bots.
The Best Bots for Nike SNKRS
​​Project Enigma bot
The most low-key Nike bot.
If you have a hard time cooking Nike sneakers, that's probably because you haven't tried Project Enigma. Wait, what? Is this seriously the first time you've heard of this Nike bot? Well, I can't blame you. This sneaker bot is a true enigma. It feels like it doesn't want to be discovered. But no matter how low-key Project Enigma is trying to be, its impressive success rate is bringing the Nike bot to the spotlight.
Project Enigma is a web-based sneaker bot that runs on Microsoft Edge and Chrome. Project Enigma's dashboard includes accounts, profiles, payments, proxies, and settings. You know – the usual stuff. It also has an interesting addition – recommendations. Here the sneaker bot will help you calculate how many tasks can you run based on how many computing power and memory you have on your machine.
As expected, this Nike bot is sold out and no one knows when it will be available to buy again. What's worse, there's no opportunity to buy it from others, since reselling is forbidden. The best option you have is to rent the bot from platforms like Whop or Botmart. Another option is to join PE's Discord server and participate in contests. It's worth a shot for a free license key.
Supported sites: Nike SNKRS
Operating systems: Windows
Price: Around $300
Current aftermarket price: Only available to rent, $8 per day
---
Linear AIO Bot
The most powerful Nike bot.
Unlike Project Enigma, Linear AIO bot loves to boast about itself. The bot's most successful month was this October. It scored over 44,000 checkouts. You have to admit, that's a great number.
Linear Bot is all about grouping. You can group everything: tasks, profiles, proxies, accounts – you name it.
The sneaker bot is powered by a Nike monitor, which tracks when an item you're interested in appears in the store. The monitor has to be set up alongside the tasks, so the bot can immediately start copping once the item is located.
What I like the most about Linear Bot is how powerful it is. You can easily run a thousand or even more entries without compromising its performance.
Are you a fan of getting cash back via Rakuten? Linear allows you to add a Rakuten token and collect cash when you're copping sneakers. Pretty neat, isn't it?
Alright, you're probably enjoying everything you're reading about Linear right now. Here's a thing you won't like – it's one of the most expensive sneaker bots on the market. Currently, it is being resold for $10,000. Yes, you've read it right. If that's too much, I suggest renting it.
Supported sites: Nike SNKRS, New balance, Footsites, Dick's sporting goods, Converse, Pacsun
Operating systems: Windows
Price: N/A
Current aftermarket price: 10,000
---
uSNKRS bot
The most easy-to-use Nike bot.
uSNKRS Nike shoe bot likes to win big. So far the bot has secured more than 200,000 pairs of Nike sneakers. I'm not even exaggerating – it's one of the most successful Nike bots on the market.
The best part about uSNKRS Bot is the release calendar. The sneaker bot loads products, stock, prices, and dates in a beautiful layout. uSNKRS makes sure that you're prepared to cop limited-edition sneakers and allows you to quickly set up tasks in the calendar.
Using this Nike bot is easy. To be honest, it's probably the easiest to use Nike bots you can get your hands on. Paired with an elegant color scheme and well-made animations, the uSNKRS bot is winning not only at copping sneakers but at UX and UI too.
This sneaker bot is loaded with features. The developers have pushed 100 updates in the last 9 months and the result is clear: uSNKRS is ultra-fast, allows you to create unlimited tasks, offers both in-app and remote notifications, cross-platform support, has proxy testing, several entry modes, you can use it on two devices with one license… and that's not even everything. It's clear that the developers have been busy, isn't it?
Supported sites: Nike SNKRS
Operating systems: Windows and macOS
Proxy support: Yes
Price: £150 ($199) for 6 months license
Current aftermarket price: N/A
---
Nike SNKRS Bots We Don't Recommend
It's always sad to see previously known best Nike bots losing their edge. Happens to the best of us, right?
Nike bots' success rates vary from drop to drop. Some pick themselves up by the bootstraps and recover during the next sneaker release, others remain dead.
Unfortunately, these Nike bots have not been doing well for quite some time. So, if you really want to be good at copping Nike sneakers, I'd suggest you avoid them:
What Is Needed for Nike Bots?
Did I already say that Nike's SNKRS app is one of the most demanding targets? Well, if you're determined to cook it anyway, you better know what you're doing.
Here's the ammunition you'll need:
Accounts
SNKRS drops work like raffles, so to win at them, you need to perform as many entries to the raffle as you can. For each entry you make, you have to have a different Nike account ready. This means, that if you're running 100 tasks, you'll need 100 accounts.
You have two options here: either create them yourself or buy them.
Nike accounts run for $1 or $2 per account, and UK or the US accounts usually cost more than other regions. That's because they're deemed to be higher quality accounts and both can be used interchangeably for US and UK stores.
Keep in mind that Nike requires each account to be verified by a phone number. To protect itself from ghost accounts, Nike often performs password resets. So if that happens to you, you'll have to buy new accounts, because sellers don't usually give you the emails associated with them.
You can buy verified accounts or verify them yourself. If you have the opportunity, don't hesitate to buy a load of sim cards and verify the accounts yourself.
But if you choose to do it, you might as well create the accounts yourself. In addition to different phone numbers, they must have different addresses and (preferably) different names.
Proxies
If Nike notices a big number of entries (usually more than 5) made with the same IP address, it will either filter the entries out or blacklist the IP. But you can get around it by using proxies. They are basically different IP addresses, and by using them your entries can look like separate people.
I recommend using residential proxies – they come from actual users and are relatively fast. Make sure that your proxy provider offers sticky sessions – it will allow you to hold the same IP for 10 or 30 minutes.
The most important thing you should know is that you should use a different proxy for each of your accounts. So if you're planning on running 100 tasks, you'll need 100 proxies.
Keep in mind that your proxy location must match the Nike store's location. If you're copping Nike EU, there's no way you can use US proxies.
Finally, when it comes to botting Nike remember – it's all about quality. You have to look legit. So, don't cheap out on proxies, they can make or break you.
If you need help picking out the best provider, check out our list of the best proxies for Nike SNKRS.
Billing Details
You need to use virtual cards. And you need lots of them. If you want to maximize your success when copping Nike sneakers, use a different card with each of your accounts. If you're feeling lucky, you can use up to three accounts with the same card. Any more than that and your orders will likely be declined.
Try using Venmo cards, Cashapp cards, Privacy, and Revolut if you're in the EU.
Shipping Details
The rule is simple: each Nike account has to have a different shipping address. Of course, you don't have 100 different shipping addresses, so you'll have to jig yourself out of this situation.
The term jig refers to a process of changing your shipping address just slightly, so the store would think that each of your jigged billing profiles belongs to a unique user.
The best way to jig your address is to add strings of random letters at the beginning. For instance: ABC xx road, xx street or CBA xx road, xx street. Don't forget that you can also change the street to st. and road to rd.