We use affiliate links. They let us sustain ourselves at no cost to you.
The Best Sneaker Bots for Mac Operating Systems of 2023
Some say it's easy, others warn you not to even bother. But you have a clear target in focus – the sneakers of your dreams. Your holy grail. The colorway is perfect, they're ultra-rare and the drop is on its way. Either you get them yourself or pay an extortionist price on the secondary market, but you simply can't justify doing that. So, you're willing to give this tough sneaker copping game a shot. The only thing that's in your way is your computer. That's right: some of the best sneaker bots don't support your shiny aluminum Apple machine.
But don't worry: while they're not lying around, there are plenty of great sneaker bots for Mac, too. Using this list, you'll be sure to find the best sneaker bot to run on your macOS machine.
The Best Sneaker Bots for Mac – Quick Summary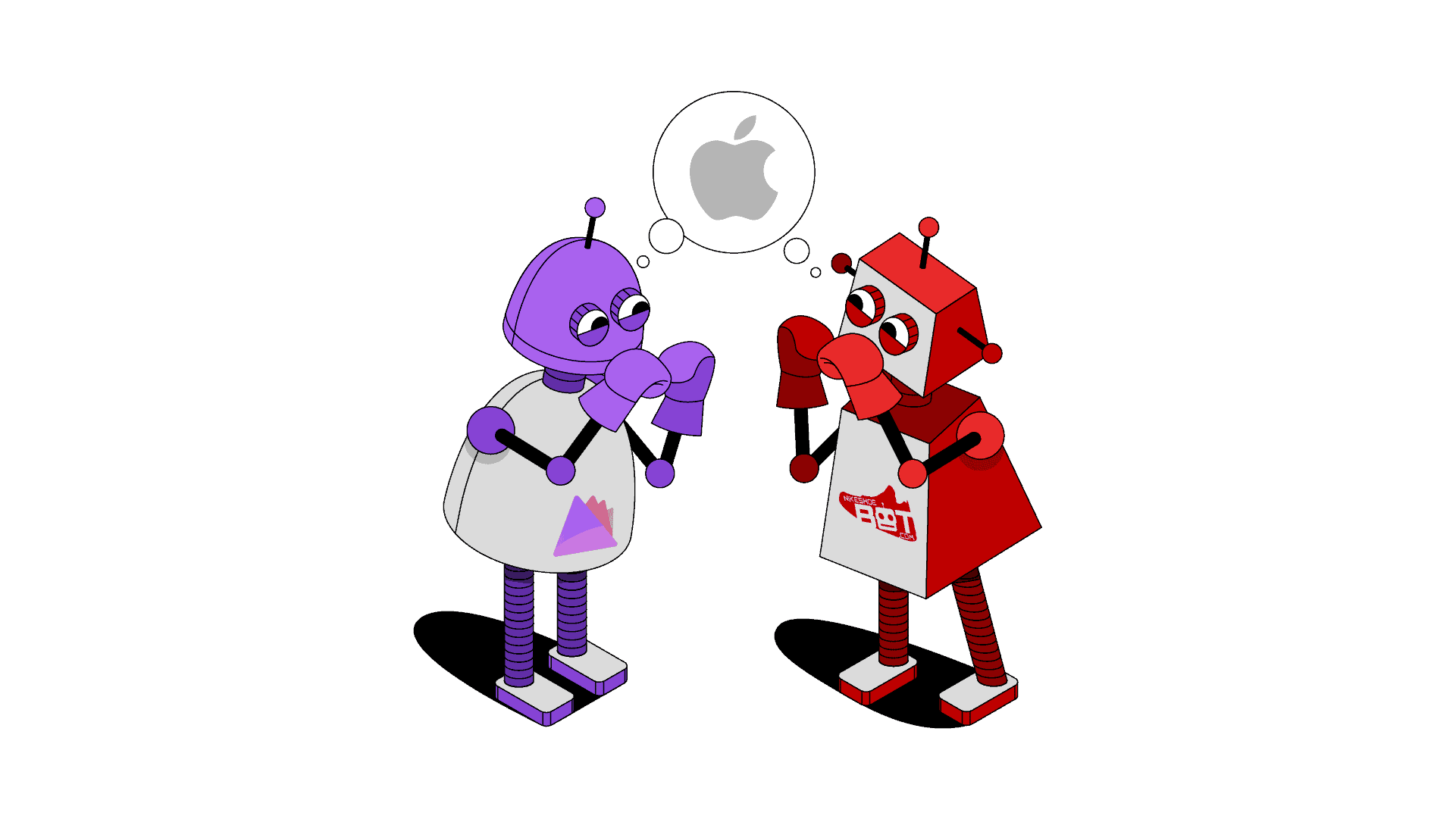 The Best Sneaker Bots for Mac of 2023
1. KodaiAIO
One of the most efficient bots currently on the market.
Do you know how KodaiAIO developers call their precious creation? An untamable cooking machine. Sounds like a lot of expectations to live up to, doesn't it? To answer your question, yes, Kodai really is that good. With its easy-to-use UI, impressive speed, and efficiency, Kodai doesn't just win releases, it slays them!
Currently, Kodai supports Shopify, Supreme, Footlocker EU, US Footsites, Yeezy Supply, Adidas, and even more stores are expected in the future. Its developer team is always busy trying to keep up with the ever-changing security measures and that's what makes this bot so efficient.
When it comes to features, Kodai has a lot to show for. Being a high-tier bot, it has all of the basic functions you'll need. I'm talking about tasks, proxy management, and CAPTCHA solvers. What makes Kodai truly unique is its monthly calendar where you can see the upcoming releases alongside the drop site and time. The best part of it is that you'll be able to see the suggested settings for each of the drops and even retail and predicted resale price. Pretty neat, isn't it? Oh, and if you're data-minded, Kodai has a hub where you allows you to track personal analytics of your purchases.
What I don't like about Kodai is the fact that you can't unbind it from your discord account. This is especially important if you're buying from a reseller or might want to resell it in the future.
Getting this bot for a retail price is tricky, but if you'll get lucky you'll only have to pay $175 for the first two months, then $59.99 each month. Its secondary market prices vary. They can run for up to $6,000.
Supported sites: Shopify, Supreme, Footlocker EU, US Footsites, Yeezy Supply and Adidas.
Proxy support: Yes
Price: $175 for the first two months, then $59.99 each month
---
2. PrismAIO
A regularly updated high-tier bot.
Sometimes, it's best to let the numbers talk: 700,000 successful checkouts which average out to around 250 successful checkouts per user. I don't know how to else to call it if not impressive. Yes, that's true: Prism is delivering some sick performance. And if the developers continue working on the updates as they do now, there's a very bright future ahead of the users of this bot, trust me.
Let's talk about how handy this Prism is. The UI is superb – Prism has managed to look both simple and advanced. It has everything a bot needs: tasks, captcha harvesters, and proxy support are a given. But what makes Prism really worth it? If you ask me, I'd say it's the release calendar. Not only does it provide all of the info you need, but it also you to set up your tasks for the specific release directly in the calendar. Also grouping – that's definitely a Prism thing. You can group pretty much everything: sizing, profiles, site-specific options, you name it. I don't know how about you, but I'm sold on this one. Features like that are just… easy, and it's rare to encounter something easy in this game.
To make matters even more simple, there's a support center with instructions on how to use the bot for copping.
Prism is an all-in-one bot. In other words, it's suitable for copping many different stores instead of a specific one. Prism currently supports Shopify stores, Footsites, Supreme, Finishline, and Yeezy Supply. While its biggest strength seems to be Footsites, it does a decent job on other stores too.
Prism is not cheap. It retails for $500 and to keep using it, you'll be expected to pay a renewal fee of $150 every 3 months. Restocks are random, so make sure you follow Prism's Twitter account! Otherwise, it costs around $3,000 on secondary market.
Supported sites: Shopify, Footsites, Supreme, Finishline and Yeezy Supply.
Proxy support: Yes
Price: $500 + $150 renewal fee every 3 months
---
3. TohruAIO
A relatively new bot with impressive speed and great success rates.
If you haven't heard anything about Tohru bot yet, don't worry, I'll catch you up to speed. After all, this bot is pretty new. Even though Tohru was released last year it quickly started fighting for recognition in a tight and competitive sneaker bot market. Here's a thing I want you to know about Tohru – it works at copping sneakers. Well obviously, but it does it exceptionally well.
There are a few reasons what makes Tohru efficient. The first one is speed. Calling it the fastest on the market isn't just a marketing slogan, and those who used this bot agree. The second one is its modules designed to make Tohru look like a real person by mimicking human behavior. Let's not forget its other features such as quick and easy proxy controls, mass creation and management tools, and of course, multiple captcha solvers with 2captcha integration.
Tohru gained popularity after it absolutely destroyed Supreme drops, soon after being launched. After its initial success, developers decided to make Tohru an AIO bot; however, the choice of stores is still pretty limited. For now, in addition to Supreme, Tohru only supports Shopify stores. Just like many other bots, Tohru rarely restocks, but when it does, it runs for $300 with a monthly renewal fee of $50.
Supported sites: Shopify, Supreme.
Proxy support: Yes
Price: $300 + $50 monthly renewal fee.
---
4. Nike Shoe Bot (NSB Bot)
Easy to use and always in stock.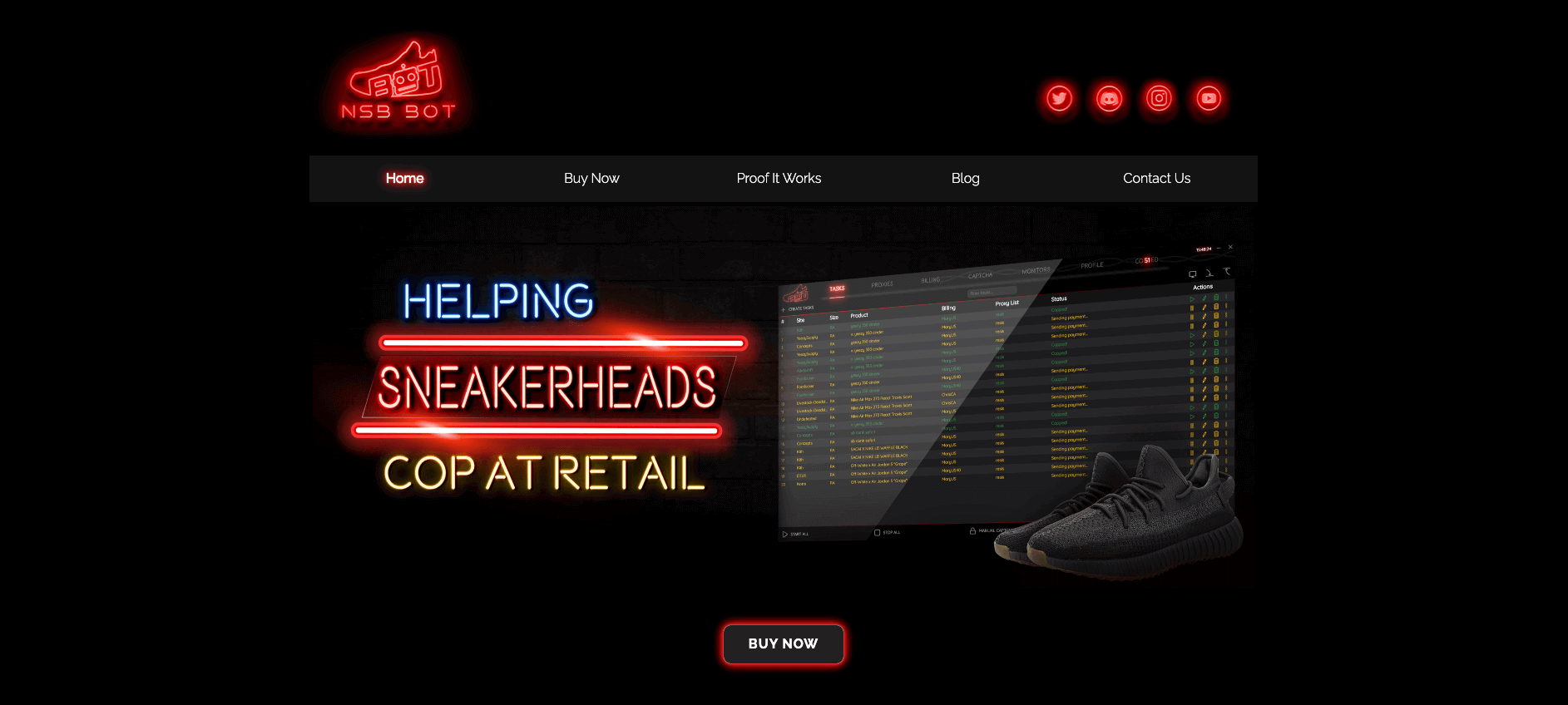 I'm certain you've heard a lot about this bot. Nike shoe bot has been around since the beginning of sneaker botting and has a solid reputation. Sure, there were some inconsistencies, but NSB is an overall solid choice.
It's truly an all-in-one bot, given the huge amount of stores it supports. So, you can easily cop from Shopify, Footsites, Demandware, and Supreme. Ironically, Nike Shoe Bot doesn't support the Nike store, but it compensates with impressive success rates for Shopify. It skillfully mimics human behavior and can quickly bypass queues. You don't even have to ask. Of course, this bot has features like proxy support, tasks, CAPTCHA solver, cookie generator, and many others. For a deeper dive into its features, you can check out our Nike Shoe Bot review.
Nike Shoe Bot doesn't come cheap. You'll be expected to pay $499 for it every year. However, it's always in stock. That's right: you can get it whenever you want, straight for a retailer and don't have to rely on the secondary market. This makes Nike Shoe Bot perfect for beginners!
Supported sites: Shopify, Footsites, Demandware (Yeezy Supply and Adidas), and Supreme.
Proxy support: Yes
Price: $499 anually.
---
5. Dashe
One of the most efficient bots for destroying Shopify.
Unlike some of you, Dashe isn't a newbie. It has been in the game for quite some time and has had its ups and downs. Despite these performance inconsistencies, it's still the number one pick for many sneakerheads, and for a very good reason – it's a great (and affordable) bot.
When it comes to UX, Dashe has it all covered. Its dashboard is user-friendly and simple, so you won't face any struggles while learning how to use it. You'll get an easy task manager, proxy integration, and CAPTCHA harvester. You'll also benefit from a restock monitor that will notify you when the drop you missed gets restocked. Speaking of drops, Dashe makes it simple to track them, too, by allowing you to set up notifications for the releases you simply can't miss.
After each drop, Dashe will present your cop results in an analytics tool, which is particularly useful if you're copping a lot. But there's a thing to be noted here: if you're renting Dashe, the owner will be able to see your checkout information via purchase links.
Dashe is mainly a Shopify bot and works on all regions. It also supports Supreme, and the developers promise more stores to come in the future.
You can get Dashe with a month-to-month subscription running for $50. The price runs pretty cheaply on the secondary market, too. If you're lucky, you can grab this bot for as little as $200.
Supported sites: Shopify, Supreme.
Proxy support: Yes
Price: $50 month-to-month.
---
How about Other Popular Sneaker Bots?
So, you skimmed through this post and now you're sitting with your eyebrows raised up high thinking, "What about the other bots? CybersoleAIO, The Shit Bot, or Wrath?? Wrath has been doing amazing lately!" Wow, you really know your stuff. I'm impressed. But before you kick this whole post to the curb, let me explain something.
Some of these sneaker bots are showing really good success rates lately or had in the past ( looking at you, The Shit bot), but here's the problem: they don't really bite the apple. I mean, they don't work on any of those shiny Macbooks you guys use.
I get it, you want the best bot even if you have to upgrade your computer to use one, but you don't really have to. Despite what it may seem, there is a simple solution to everything. For instance, you can use a sneaker server or something called a virtual machine and voila, you're running any bot – yes, even Wrath – on macOS.
So what even is a sneaker server? To put it simply, it's just a remote computer that you control remotely via your own PC or Mac. They especially help when you have an unstable connection, need that extra speed when copping, or own a bot that's not compatible with your Mac.
Just like you have to pay for a charger separately if you want one with your brand new iPhone, these servers will cost you extra money. Given how expensive sneaker cooking is and Ws are never guaranteed, I'd suggest to make sure you really need one. To help you decide, we wrote an article on sneaker servers, explaining them in more detail. Check it out.