We use affiliate links. They let us sustain ourselves at no cost to you.
What's a Twitter Proxy and Where to Get Them?
With over 300 million users worldwide, Twitter is very popular amongst social media managers. The platform can bring many business growth opportunities like meeting potential clients or simply expanding your target audience. But Twitter is stubborn as a donkey – it doesn't allow you to create more than five accounts from the same IP address. A bit harsh, yeah? 
Social media platforms want to ensure that users play fair and square: no spamming, using hacks to grow your profile like following/unfollowing, or misusing the platform in some other suspicious way. If you violate any of the rules – game over. Twitter will ban your IP.
So, if you want to start the ball rolling on multiple Twitter account management, unblock the platform in your country, or simply scrape tweets for marketing insights, Twitter proxies are here to save the day. Paired with Twitter bots or an antidetect browser, they can boost your client's account.
Here are our top choices: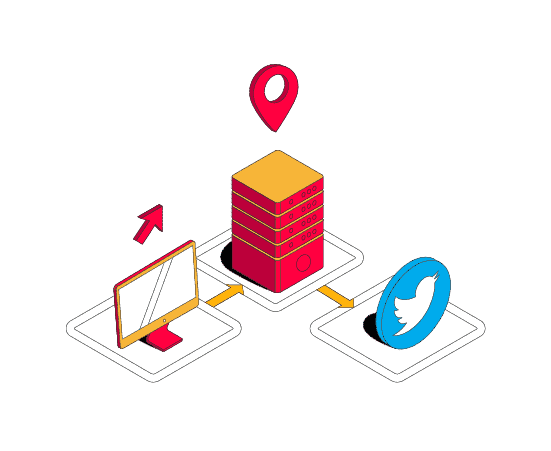 What Are Twitter Proxies
A Twitter proxy server is a middleman computer specially optimized to bypass restrictions imposed by Twitter. Instead of connecting you to the platform directly, it routes your connection through a different IP address, so you look like a different person when accessing the website.
There are few providers out there that sell specialized Twitter proxies. Today it means that the proxies are clean and not blocked on Twitter.
Why Use Proxies for Twitter
Account creation
You can only have up to five accounts linked to a single IP address on Twitter so that you won't spam or misuse the platform. Twitter proxies can help here by changing your IP address, so you can assign a different IP for every account.
Boosting automation
Twitter fans want to see updates and fresh content a few times per day. This can get tricky when you're working alone with hundreds of profiles. And who wants to spend all their time online when there are ways around it? Social media managers use automation software like Jarvee because amongst many things it helps automate retweets and schedule tweets. However, your bot will be worthless after a while without a proxy server because it's easily detectable by the platform.
Multiple account management
Juggling 500 accounts is hard, but imagine telling 500 clients their accounts have been suspended. You can see your money pouring down the drain. So, the best way to run multiple online identities is by using an antidetect browser and a Twitter proxy. Antidetect browsers spoof your digital fingerprint (yes, another way to identify you), and a proxy will change your IP and location.
Flipping NFTs
Twitter is known as the king of NFTs – you can use a non-fungible token as your profile picture and even link your account to a crypto wallet. A Twitter bot can help you promote NFTs and get the best deal possible for your digital art. However, bots are just too fast, which means they look nothing like you. And that's a kill switch for social media platforms – an immediate IP ban. So, if you want to put your best game to get those tokens flipping, you'll need to pair your bot with a Twitter proxy.
Unblocking Twitter
It's not a surprise that some schools or workplaces think that social media is bad for you. Well, unless your job is being a social media guru. Even some countries (China, Iran, North Korea, etc.) aren't fans of the site because you can express your opinion too freely. Proxies help bypass these restrictions but look over your shoulder when accessing the platform. You don't wanna get fired, right?
Scraping Twitter
Like other social media platforms, Twitter has a lot of valuable information. You can scrape tweets, profiles, links, and other data you think is necessary for powering your marketing strategy. Twitter even has its public APIs for bots to use. However, if you need to scrape more data faster and don't want to be restricted by the platform rules, you'll need a rotating Twitter proxy to help you out; otherwise, you'll send too many requests from a single IP and get a ban.
Which Types of Proxies Work Best for Twitter
Residential proxies. Proxy providers offer static (also known as ISP) and rotating residential IPs. Both types are suitable for the job. Rotation is better for automated tasks like scraping data, creating accounts, and collecting followers in bulks. Static proxies are good for multiple account management, tweeting/retweeting, and following/unfollowing.
Mobile proxies. These proxies have the best IP reputation, and websites don't rush to block them. And there's a great reason for that: hundreds of mobile devices share the same IP address. So, if you decide to block one, you just might ban a bunch of users. However, using mobile proxies will just drain your pocket as they're the most expensive.
Datacenter proxies. If you're looking for something cheaper, you can consider private (dedicated) datacenter IPs. They're more prone to being blocked but still okay for account management, small-scale scraping, and unblocking geo-restricted content. And they're much faster than residential IPs. So, if you'd like a clean and fast proxy, go with private IPs.
Tips for Using Twitter Proxy Servers
Consider your needs. Sometimes you don't even need proxies. If you manage only two or three accounts, you'll be just fine without them.
Mind your actions. Before running those Twitter accounts, you should consider warming them up first by posting a few photos on your account, commenting and following some people. Why? They'll look more like real people's profiles. The same goes for logging in activities. Try to keep 12 hours between using the same account. And, of course, the less spamming you'll do, the better.
Choose a reliable provider. With a good provider, you'll get clean proxies and satisfying services. Forget about free lists – most free IPs are blocked on social media accounts.
Pair your proxies with quality software. If you're up for some serious automation, consider getting yourself a bot. Together with proxies, they can do wonders. The most popular bot is Jarvee, though you can also get TweetAttackPro, AccDominator or Socialoomph. Alternatively, you can get an antidetect browser – it requires manual involvement but may be a safer option.
The Best Twitter Proxy Providers of 2023
Smartproxy's famous for its premium quality residential proxies and affordable pricing. It has more than 40 million residential IPs from over 195 locations that don't share subnets. Smartproxy invests a great deal into user experience: the proxy setup is easy, and it offers 24/7 customer service, so you don't have to worry about the time differences worldwide. With a residential proxy subscription, you can get Smartproxy's X-Browser (an antidetect browser) at no cost so you'll be able to change your digital fingerprint attached to each Twitter profile.
However, depending on your needs, Smartproxy offers only peer-to-peer residential IPs. That means your sticky sessions will be limited to up to 30 minutes, and then they'll rotate.
Features:
40M peer-to-peer residential IPs
195 locations
Rotation every request, sticky sessions up to 30 mins
Unlimited connections and threads
24/7 support
Pricing: From $12.5 for 1 GB. 3-day refund available.

---
Oxylabs is a premium residential proxy provider that owns the largest – 100M – residential IP network. It covers all countries worldwide and many cities. The provider focuses on both the quality and performance of proxies. Its residential IPs showed great results in our Proxy Market Research – they reached nearly a 100% success rate while being several times faster than most competitors. The company is very customer-focused, and you even get a dedicated account manager. Oxylabs also offers static residential proxies (ISP) that are hard to block and work well with automation and three web scraping APIs.
With stable and highly scalable proxies, you also get a high price. So, if you're an individual user or just a beginner, Oxylabs may not be the best option for you.
Features:
100M peer-to-peer & static residential IPs
HTTP & HTTPS protocols
Every country, thousands of cities
API, browser extension
Rotation every request, sticky sessions up to 30 mins
24/7 live support, dedicated account manager
Pricing: Starts from $15 for 1 GB. 7-day free trial for businesses, 3-day refund for individuals.

---
Another great premium provider with over 72 million IPs. Bright Data offers its clients excellent proxy response time, stability, and over 99% success rate. In addition, Bright Data provides excellent developer tools like its open-source proxy manager. You'll be able to choose between datacenter, residential, ISP, and mobile proxies in any location, together with premium features like ASN targeting and exclusive access to IPs.
As always, there's a BUT. All those fancy features cost. A lot. Most premium providers focus on the big fish out there, so they're expensive. But in the case of Bright Data, it's also very strict about compliance and can easily refuse to serve you.
Features:
72M peer-to-peer & static residential IPs
HTTP, HTTPS & SOCKS protocols
Every country, thousands of cities, ASN and carrier targeting
Rotation every request, sticky sessions available
Pay-as-you-go option
24/7 support
Pricing: Starts from $15 for 1 GB. 7-day trial for businesses and 3-day refund available.

---
With around 5 million residential and 3.5M mobile proxies, SOAX maintains the balance between quality proxies and prices that don't bite. Its service regularly checks the proxy pool and immediately removes abused IPs, so the pool always stays clean. SOAX stands out with flexible rotation and location targeting good for Twitter account creation and management. The rotation options range from 90 to 600 seconds, and you can even specify a custom duration. You can also specify by country, region, city, and ASN. Our latest Proxy Market Research 2022 showed that SOAX had made the biggest improvement in response time – from 3.69 to 2.34 seconds – over the past year.
However, some technical features might put you off: obligatory IP whitelisting, and a limited number of ports for plans.
Features:
5M rotating residential IPs
HTTP(S) over SOCKS5
Global locations with country, city, ASN targeting
The rotation range from 90 to 600 seconds (with custom options)
Pricing: From $99 for 8GB ($12/GB) and 300 ports. 3-day trial for $1.99 available.

---
Rayobyte is perfect for those seeking good dedicated datacenter proxies. It offers over 300,000 IPs from 27 different countries. With a 99% uptime, Rayobyte's dedicated proxies work well with Twitter account management and scraping at a small scale. The provider is highly flexible – you can ask to change the proxies until they work with your target and afterwards replace individual IPs that get blocked. It offers unlimited bandwidth, mid-level prices, and pretty high (for this proxy type) subnet diversity.
But if you want proxies outside of the US, they're 75% or more expensive (depends on the location).
Features:
Supports HTTP/HTTPS/SOCKS
Unlimited bandwidth & threads
27 countries
Pricing: The price for US proxies starts from $2.50/1 IP. 2-day trial available.
---
Even though IPRoyal offers 250,000 residential IPs, they span over 150 locations worldwide. The provider has flexible rotation control: you can choose sticky sessions between 1 second and 24 hours. From the technical side, it allows both HTTPS and SOCKS connections. IPRoyal is a good choice for Twitter projects on a budget, as its proxies are affordable and allow paying as you go. The provider also offers cheap ISP, mobile and datacenter proxies.
However, IPRoyal's residential IP pool is rather shallow, and the other services include limited features. So, you should mostly consider it for smaller-scale projects.
Features:
Pay-as-you-go option
Over 150 locations
Flexible IP rotation
Supports HTTP/SOCKS
Unlimited bandwidth
Pricing: Residential proxies start from $7/GB.
---
Zyte Smart Proxy Manager will make your scraping experience on Twitter much easier with its rotating proxy API. Even though your connection will run through datacenter IPs, that's not a problem with intelligent proxy control features. Smart Proxy Manager automatically throttles and retries requests, assigns browser headers. Also, you only have to pay for successful requests.
However, the Smart Proxy Manager is only good with scraping because it won't run with Twitter bots.
Features:
Rotating datacenter IPs
Integrated throttling, proxy rotation, automatic retries, header and cookie management
API key authorization (can serve as like user:pass)
Pay for successful requests
24/5 support (24/7 for enterprise customers)
Pricing: The cheapest plan starts from $29 for 50k successful requests. 14-day free trial available.