We use affiliate links. They let us sustain ourselves at no cost to you.
The Best Supreme Bots for 2023
You don't have to tell me. I know that all you want is a pair of Supreme sneakers, a hoodie, or just a plain white t-shirt, and you don't want to pay thousands for it. The sheer frustration with the resell market has brought you here – you're learning to become an expert sneaker botter.
Well, you're at the right place: here at Proxyway, we love Supreme. Almost as much as we love helping sneakerheads like you take the frustration out of Supreme copping. And what's a better way do so that by using a great Supreme bot.
Before we dive into the best Supreme bots, I'd like you to check out our list of the best sneaker bots to see what else there is on the market.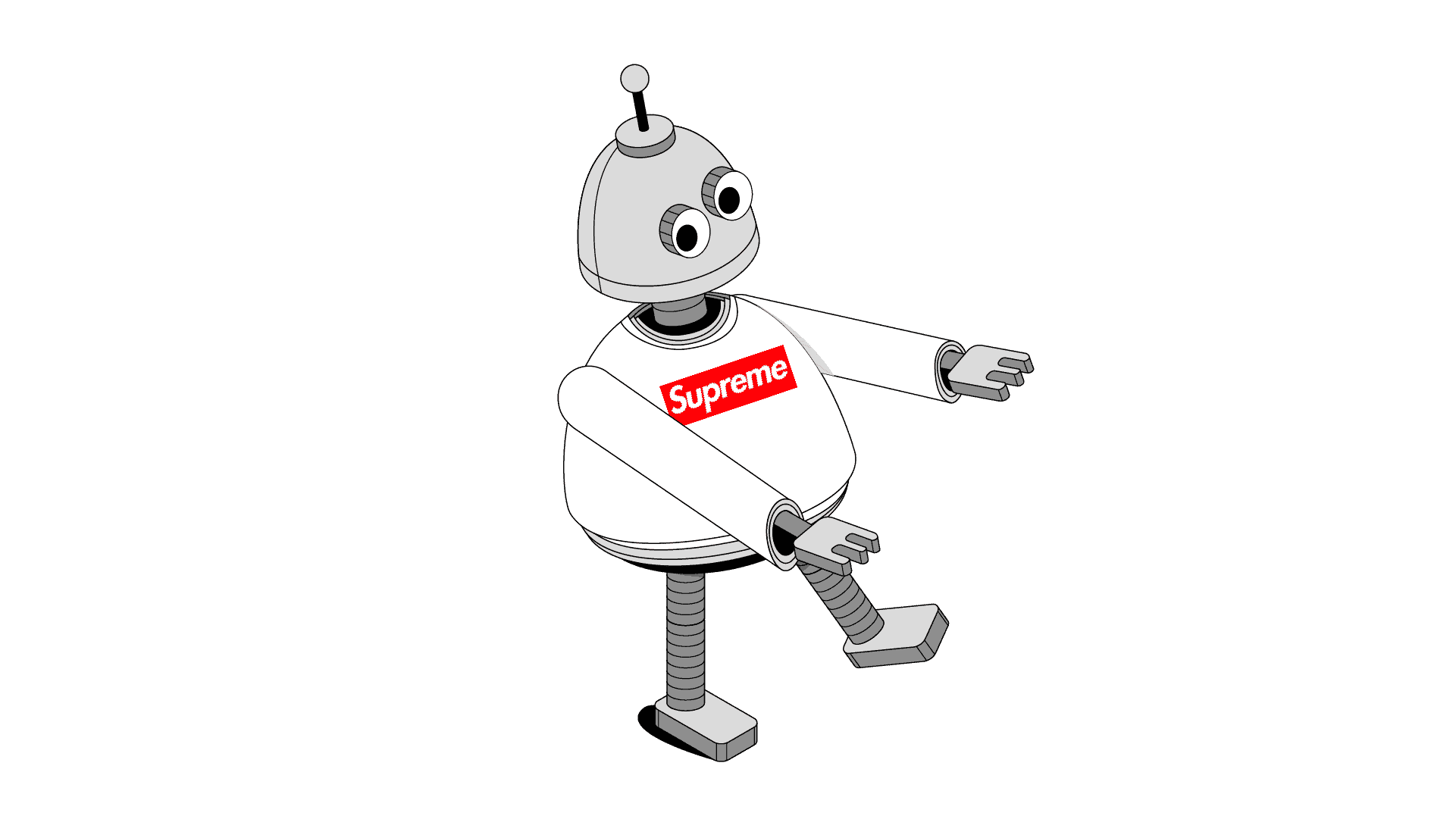 What Is the Best Bot for Supreme?
I'll be honest with you: there's no such thing as the best bot for Supreme. Dozens of Supreme bots on the market claim to be the best ones. However, most of them fail at some point. That's because Supreme is constantly updating its anti-bot security to keep automated software at bay. So, one missed update can render an expensive and previously efficient bot useless.
That's why for this list, we picked a bunch of great Supreme bots that are capable of delivering consistent results.
The Best Supreme Bots – Quick Summary
The Best Bots for Supreme in 2023
1. MEKpreme
The top choice for every Supreme season.
MEKpreme is one of the most efficient sneaker bots for the red box logo brand. Ever since it was introduced, MEKpreme has demonstrated impressive success on Supreme. So, no surprise everyone wants to get their hands on it.
The secret ingredient to MEKpreme's success is its four copping modes. The bot can switch between these modes automatically during the drop. Seriously, once you start your tasks, MEKpreme analyzes and detects what security measures are being taken on the store and evades them by switching to the most efficient mode. Pretty impressive, isn't it?
This bot is fierce. It's not even afraid of CAPCTHAs, because it has an implemented 3rd party tool – AYCD AutoSolve – to solve them.
If you were about to get to MEKpreme website and buy the bot, hold on a second. The Supreme destroyer is sold out. It usually restocks during the Supreme season, but getting it for the retail price of $120 is hardly possible. Hey, don't be disappointed: you can always get it on BotBroker; currently, it costs only $1,000!
Supported sites: Supreme
Operating systems: Windows and macOS
Price: $168 with a renewal fee of $120 every 6 months
Current aftermarket price: $1300 on BotBroker
---
2. Velox
The fastest and easiest setup.
Did you miss the last Supreme drop? Well, that wouldn't have happened if you had used Velox. This bot has earned a spot in the best Supreme bot lineup for a reason. As of yet, it's one of the most consistent Supreme bots.
Velox manages to score thousands of checkouts every week with its one-of-a-kind anti-bot solution. It supports Supreme online and in-store signups in all three regions.
Velox developers have worked hard to create a seamless user experience. Its dashboard has a clean and elegant feel, and it's easy to use. I mean it. The bot was designed to be set up in several minutes.
Too bad that you can't get Velox directly from a retailer until they put it back in stock because that way, you'd only be paying $150. At least it's available on BotBroker. Currently, the price is around $1,000.
Supported sites: Supreme, Yeezy Supply
Operating systems: Windows and macOS
Price: $150
Current aftermarket price: $950 on BotBroker
---
3. Wrath AIO
The best choice for an all-in-one bot.
Wrath is an amazing all-in-one bot, so no surprise it appears on this list too. The bot destroys Supreme every time, barely leaving any stock for other bots.
Wrath tackles Supreme with multiple checkout modes, which allows bypassing its security system smoothly. To maximize success, Wrath allows you to create hundreds of tasks.
In addition to that, the bot comes with a variety of features. One of its finest features is the user interface. The smooth, user-friendly, and easy-to-navigate UI will allow you to set up the bot for any drop in under 5 minutes.
To make this bot even more valuable, developers offer regular and prompt updates. They've also built an excellent CAPTCHA solver and included analytics to help you track your wins.
In case you're looking to recoup your investment by buying from other stores, Wrath is one of the best AIO bots and supports the most important targets.
Supported sites: Supreme, Yeezy Supply, Footsites, and Shopify
Operating systems: Windows
Price: $350 for the first 3 months, then $50 per month.
Current aftermarket price: $5,500
---
4. Kodai AIO
The best bot with cross-platform support.
Kodai is a no-brainer. It's simply one of the best bots to cook Supreme. Those who possess the untamable beast are familiar with the impressive success rate it provides.
When it comes to features, at a glance Kodai may look like any other bot. It offers auto-checkout, tasks, proxy management, and a captcha solver. But don't be fooled – the bot is a lot more than that.
Kodai has one of the most user-friendly and easy-to-set-up user interfaces. Its dashboard only contains 4 tabs that make navigation fast and easy to memorize. If you want extra features, they appear in Kodai Hub. This free addition to a great bot contains a release calendar with suggested coping settings, retail and resell price for each specific drop. It also includes personal analytics to help you track your success.
Of course, Kodai has cross-platform support. And it's actually one of the few bots that support macOS in addition to Windows. So, if you don't part ways with MacBook or be forced to use a virtual sneaker server, this bot is the one for you.
Supported sites: Shopify, Supreme, Footsites, Yeezy Supply, and Adidas
Operating systems: Windows and macOS
Price: first two months $175 with a $59.99 monthly renewal fee
Current aftermarket price: $7 to rent for a day on Whop
---
Do You Need a Bot for Supreme?
In the past, cooking on Supreme was much easier and many sneakerheads could get away with manual copping. However, over the years a lot more sneaker enthusiasts have started relying on bots to increase their chances of winning. Despite the Supreme store's attempts to deter automated software, bots began ruling the store, making hundreds of purchases at once. So, does that mean you need to use Supreme bots too?
Here is the truth: if you're only interested in one or two pairs of Supreme sneakers then go ahead and cop manually. While it all depends on your luck, you might get what you need, but don't count on it.
If you need (nearly) guaranteed success or even if you want a particularly hyped-up item, you need to use a bot. I guess if you can't beat them, join them, right?
How To Get a Bot for Supreme
The best Supreme bots are usually sold out. However, the aftermarket is always open. Sure, the price will be higher, but you don't have any other options.
The most popular marketplaces are Tidal and BotBroker. These are the trustworthy platforms that allow you to buy a Supreme bot from a reseller. If you're looking to rent, try out BotMart or Whop.
If you can't find the bot you want, you can try looking for sellers on Discord, Reddit, or Twitter. But be careful – the aftermarket is ridden with scammers. To keep yourself safe, always use a middleman service.
Another option is to constantly check the bot's social media profile and participate in all contests. Or, if this option doesn't tempt you, a reputable cook group can help you organize a group buy.
Is It Necessary to Use Proxies with a Supreme Bot?
It all depends on what you're trying to achieve. Are you just testing the waters and trying to figure out how this whole sneaker botting thing works? Then proxies aren't necessary. In this case, you can run just a few tasks with your own IP address.
However, if you're serious about competing with thousands of others trying to snatch that extremely limited stock, proxies are a must. Even if you want just one item, proxies will increase your chances by giving you more attempts to get it.
Proxies are especially important if you live in a county with no Supreme stores around. The closer your IP is to the store's server – the more chances you have at copping.
However, you have to choose the right proxy type and a trustworthy provider; otherwise, they won't help you cook. Don't worry: we wrote an article listing the best proxies for Supreme. Check it out!