SOAX is one of the newer residential and mobile proxy providers. It's a UK-based company established in 2019 and run by an international staff. 
The company positions itself somewhere in-between the penny-pinching services with limited features (think Storm Proxies) and enterprise-facing behemoths like Luminati or Oxylabs. In other words, its pricing plans and use cases fish for small to medium businesses, similarly to, say, Smartproxy. But can it bring the same value?
Well, SOAX sure tries. It's amassed a respectable pool of residential and mobile IPs. They're especially rich in targeting options: how many other providers let you target all locations by city and ASN? Or keep the same IP for as long as it's available? Not many at all. 
SOAX also invests a lot into appearances. The website is beautiful, even if unfinished, and you can already find an assortment of favorable evaluations that have even snuck themselves into tech institutions like Techradar. 
Will we join their ranks? Let's find out.
Pros
Stable proxy servers
Precise targeting options
Very flexible rotation
Responsive customer support
Cons
Slow response times
Feature lock
Unpolished user experience
Key Features
Proxy types: Residential (rotating), mobile
Protocols: HTTPS (over SOCKS5)
Locations: Global
Targeting: Country, region, city, ASN
Authentication: IP whitelisting
Sub-users: yes (limited)
Dashboard: Yes
Extras: API, node access
Support: Yes
Pricing: From $75/5GB
Payment options: Credit card, WebMoney, PayPal
Trial: 3 days & 100MB for $1.99
SOAX Services
SOAX offers two kinds of proxies: rotating residential IPs and mobile IPs. It plans to introduce private datacenter proxies as well, as evidenced by the provider's home page. No precise date is specified for when that will happen. 
No matter which service you use, SOAX undertakes to ensure 99% uptime all year round in its Service Level Agreement. 
Residential Proxies
ASN targeting, long rotation time, and node access stand out. 
SOAX's residential proxy pool includes more than 5M monthly IPs, according to the provider. Of course, as with all peer-to-peer proxies, their actual availability fluctuates, depending on how many devices are online at the time. 
The residential proxies cover most countries in the world. You might have trouble reaching some more exotic African locations; and indeed, when we looked at the provided IP checker (more on this later), some were unavailable. The targeting options are very generous: they include not only countries and cities, but also regions for some countries and even ISPs.
The IPs inevitably rotate. You can opt to rotate them organically – that is, keep an IP address for as long as it's online – or force rotation after some time. The default is one hour, but you can choose a different time frame from a dropdown. The rotation options range from 90 to 600 seconds, and you can even specify a custom duration. This level of control you get is pretty amazing. 
If a 90 second rotation is too long for you (and it is pretty long for tasks like web scraping), there's an option to unlock faster rotation times. However, this is considered a premium feature, and enabling it (along with node access) costs extra. 
Speaking of node access, this is a special feature SOAX offers for when you need static IPs. With node access, you can connect to a specific IP address. Even when it goes offline, you can still keep the same IP and wait until it becomes available again. Or, you can manually hop to a different node. This method doesn't sound very useful for mass proxy use, but it's convenient when you need precise control over IP rotation. 
Though advertised as unlimited, the proxies do have some limits, specifically concerning ports. A basic plan gets you 300 ports (IPs you can access at the same time), and you're advised not to go over 30 concurrent connections on each. Advanced packages have more ports available.
SOAX's residential proxies support HTTP(S) and SOCKS5 protocols. However, you can only use them to access website traffic through ports 80 and 443. So there's not much difference between the two out of the box. You can get more ports open if your use case adheres to SOAX's terms of use.  
Both user:pass and whitelisted IP authentication are available. But to enable the former, you still have to whitelist an IP address first. Two IP slots are given for free; additional slots can be bought for an extra fee.
Mobile Proxies
Same but with 3G/4G instead of Wi-Fi.
The SOAX mobile proxy pool consists of over 3.5M IP addresses on 3G and 4G networks. The IPs are spread throughout the world. With a pool this size, there should be a good amount of IPs in major locations and at least a few in remoter regions. 
Functionally, these proxies differ very little from the residential IPs.
SOAX Pricing
Middle-of-the-pack prices eyeing small to medium businesses.
SOAX offers monthly plans and charges by traffic. This applies both to the residential and mobile IPs. Every plan gives you full access to the provider's proxy pool (meaning, all locations). The only other obvious limitation comes in the form of ports.
Up until recently, SOAX was offering weekly and even hourly packages as well, but they're no longer available. 
The residential proxy plans start comfortably low, at $75. For this price, you get 5 GB of data ($15/GB) and 300 ports at your disposal. The plans on display lead up to $700 for 100 GB ($7/GB) and 600 ports. If you want more data, or more ports, you'll be asked to talk with SOAX's staff for a custom quote. Naturally, buying in larger amounts will further reduce the price per gigabyte. 
The mobile proxy plans are very similar: they begin from $70 for 2 GB of data ($35/GB) and 300 ports; the largest advertised plan costs $600 for 20 GB ($30/GB) and 600 ports. 
Aside from the price on display, you can get various small upgrades that are hard to notice until you look. Some we've already mentioned: lower rotation intervals, node access, more whitelisted IPs. I wonder what else we've missed.
To put things into context, SOAX costs less than the big fish like GeoSurf or Luminati, but I wouldn't call these proxies cheap. Perhaps affordable would be a better word, considering what you get.  
You can pay for SOAX's services using a credit card, WebMoney, or PayPal. There's a not-quite-free 3-day trial available, offering 100 MB of data for $1.99. A refund is possible only if SOAX breaks its SLA, which boils down to the service going down for extended periods of time.
SOAX Performance Tests
We gave SOAX's residential and mobile proxies a good test drive. Here are the results.
Residential Proxies
Good except for the speed. 
We first tested SOAX's residential proxies against a website that wouldn't block them. The purpose was to have a closer look at the IP pool, and to see if the infrastructure works.
Requests Made

209965

IP Type

IPv4 (88%)

IPv6 (12%)

IP Protocol

ISP (56.52%)

ISP/Mobile (27.92%)

COM (8.06%)

DCH (3.97%)

MOB (3.07%)

Others (0.46%)

Unique IPs

84457 (40.22%)

Success Rate
98.97%
Average Response Time

2.76 s
The proxies we received consisted largely of residential IP addresses – the database identified only ~4% as coming from a data center. Furthermore, the majority of them belonged to fixed line ISPs, which should in theory make them less unpredictable than mobile devices on Wi-Fi. 
The IPv4 to IPv6 ratio is decent as well; for now, it's still best to use IPv4 proxies for compatibility reasons.
Only around 40% of the IPs were unique. This isn't the best result, but it could've been impacted by the slow rotation time – it might have caused a small number of IPs to be counted twice.
Finally, the proxy server's success rate was very high, meaning that the infrastructure works well. Out of the providers we tested within the last six months, only Crawlera did better. On the other hand, SOAX'x response time was unusually slow. As we'll see, this is going to be a persistent issue.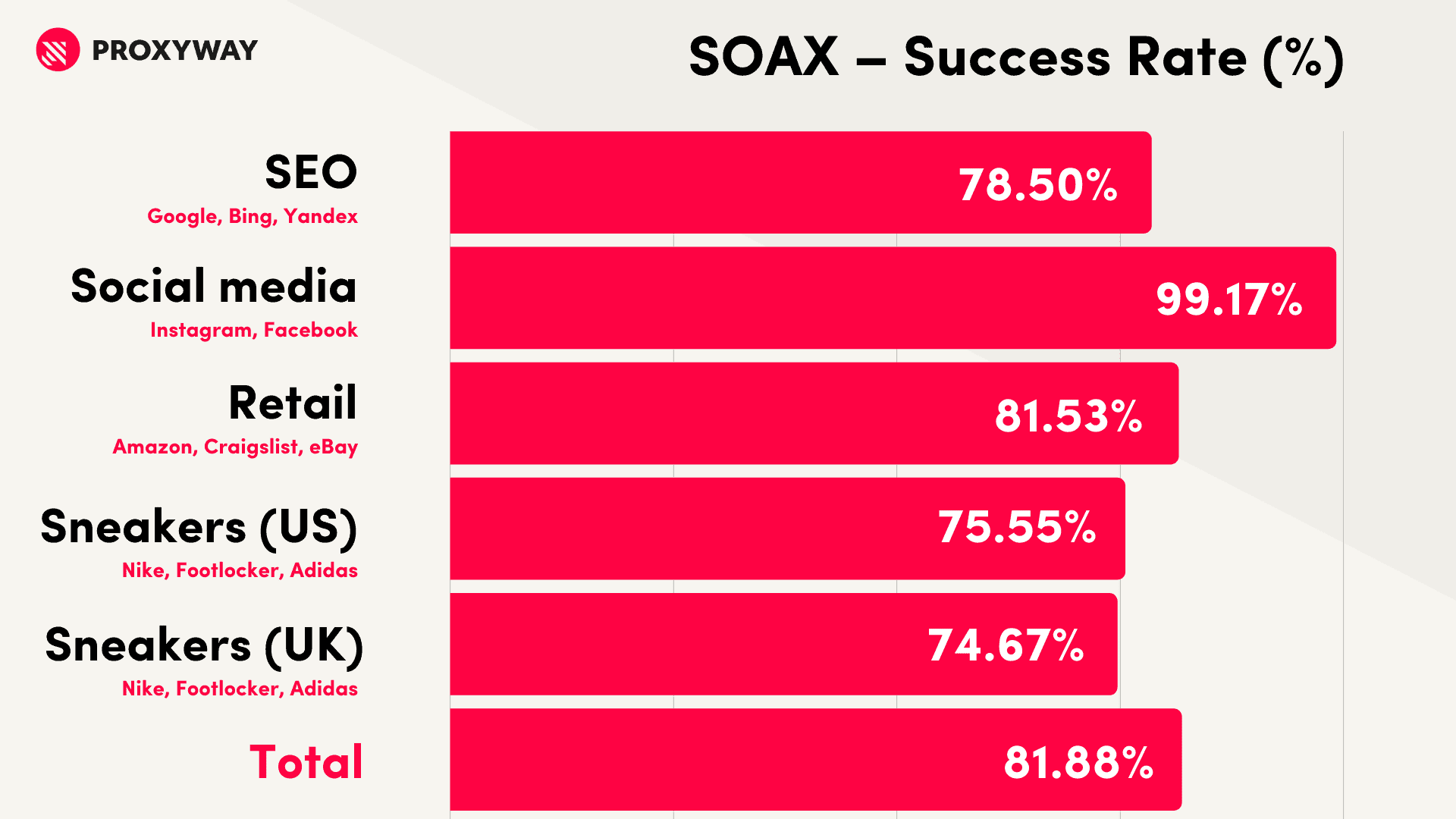 When we ran the residential IPs against real targets, the results we saw were divisive. Looking at the aggregate graph, the percentages have distributed pretty evenly across the board. The only outlier was social media websites, where the IPs really excelled. 
What the graph doesn't show is that each category – save for the social media platforms – had an outlier that brought the whole score down. For example:
In SEO, Yandex and Bing had very good success rates, while Google succeeded only 40% of the time. 

In Retail, the hardest target was eBay with 70%. 

In both Sneaker categories, SOAX was demolished by Adidas.
So, either the IPs we tried had been abused with these websites, or there was something in their configuration that caused the proxies to fail.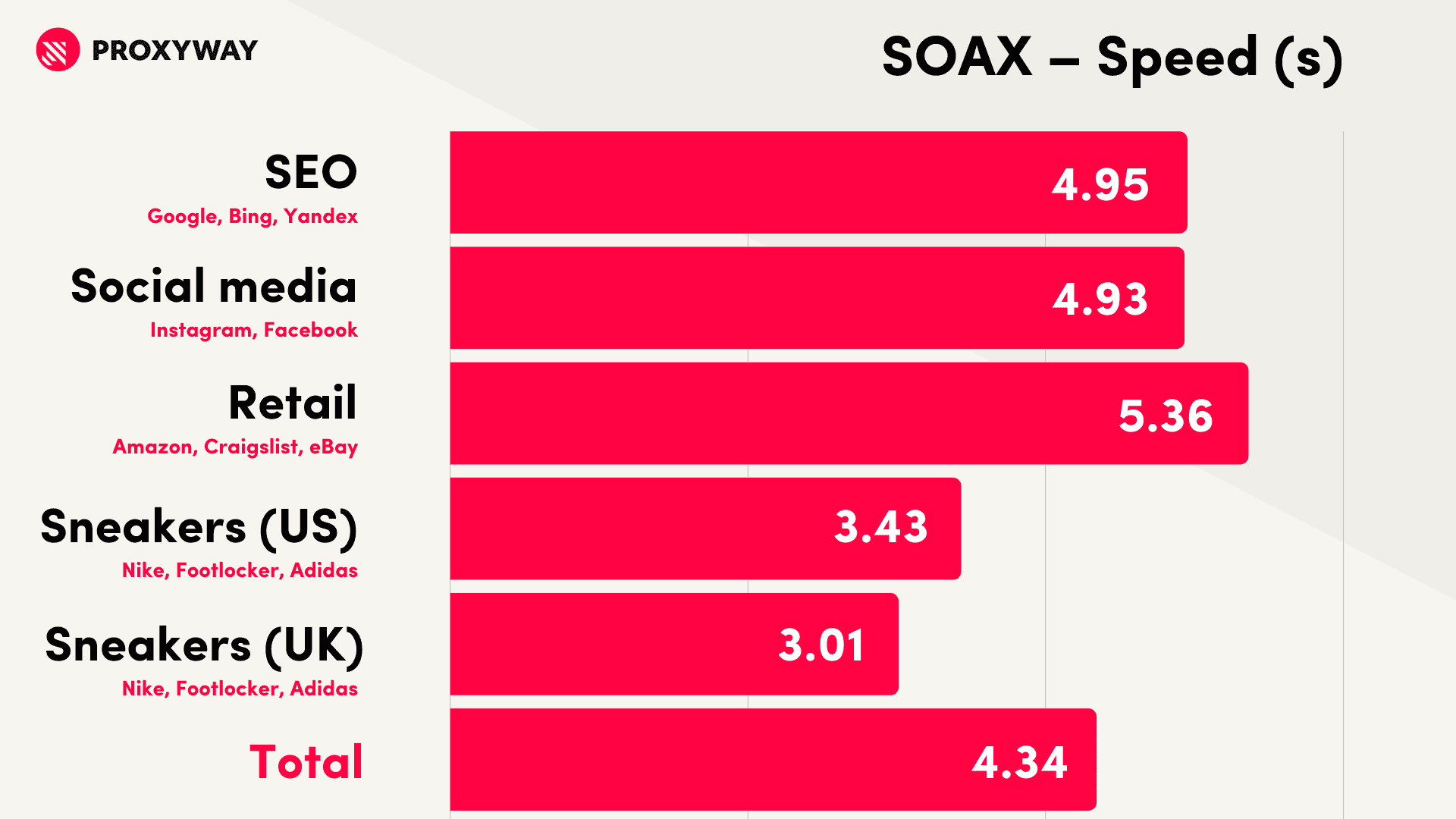 Speed is an area where SOAX's proxies hurt the most. The total score, while high already at 4.34 seconds, is remedied by the sneaker websites, which don't have the best results by themselves. By omitting them, the average would jump to around 5 seconds. 
In other words, these residential proxies are slow. And it applies not only to heavy websites like Amazon, but pretty evenly across the board. If there's one thing I can hand to SOAX, it's consistency. 
| | | |
| --- | --- | --- |
| Concurrency | Total Success Rate | Avg. Response Time |
| 50 req/s | 96.48% | 3.3 s |
| 100 req/s | 94.07% | 3.4 s |
| 335 req/s | 94.11% | 4.1 s |
| 486 req/s | 92.54% | 4.6 s |
| 577 req/s | 91.71% | 4.4 s |
The final test put the SOAX's residential proxies under an increasing load. That didn't seem to have a big impact on the provider's infrastructure: the success rate remained over 90%, even though it dropped slightly with more requests. The biggest drawback was again the response time. 
We wanted to push SOAX even further but couldn't: the 100 ports we had for testing and 90 second rotation times made 577 requests per second the hard limit for our script. 
We then received a plan with 1,000 ports to try again. This time around, the results turned out better, with an exceptional success rate and fewer speed losses. Still, we seemed to reach a cap at ~570 requests per second.
| | | | |
| --- | --- | --- | --- |
| Concurrency | Actual Requests | Total Success Rate | Avg. Response Time |
| 100 req/s | 538 req/s | 99.37% | 3.5 s |
| 1500 req/s | 565 req/s | 98.74% | 3.9 s |
Mobile Proxies
Same story here.
We also had a chance to test SOAX's mobile IPs. Here's what we found.
Requests Made

104153

IP Type

IPv4 (69%)

IPv6 (31%)

IP Protocol

MOB (56.39%)

ISP/Mobile (38.23%)

ISP (4.42%)

DCH (0.73%)

Others (0.23%)

Unique IPs

70435 (67.63%)

Success Rate

98.00%

Average Response Time

4.26 s
The proxies were indeed mobile like advertised, and the 0.73% of datacenter IPs might as well be a database error. 
Most of them were IPv4, though a substantial part used the newer IPv6 protocol. This is a non-issue for websites like Facebook and Instagram, which seem to be major mobile proxy targets. 
Out of the 100k requests we made, 67% returned a new IP address – a pretty good result. The proxy server itself worked very well, as indicated by the 98% success rate. However, mirroring the residential proxy benchmarks, SOAX's mobile proxies were slow.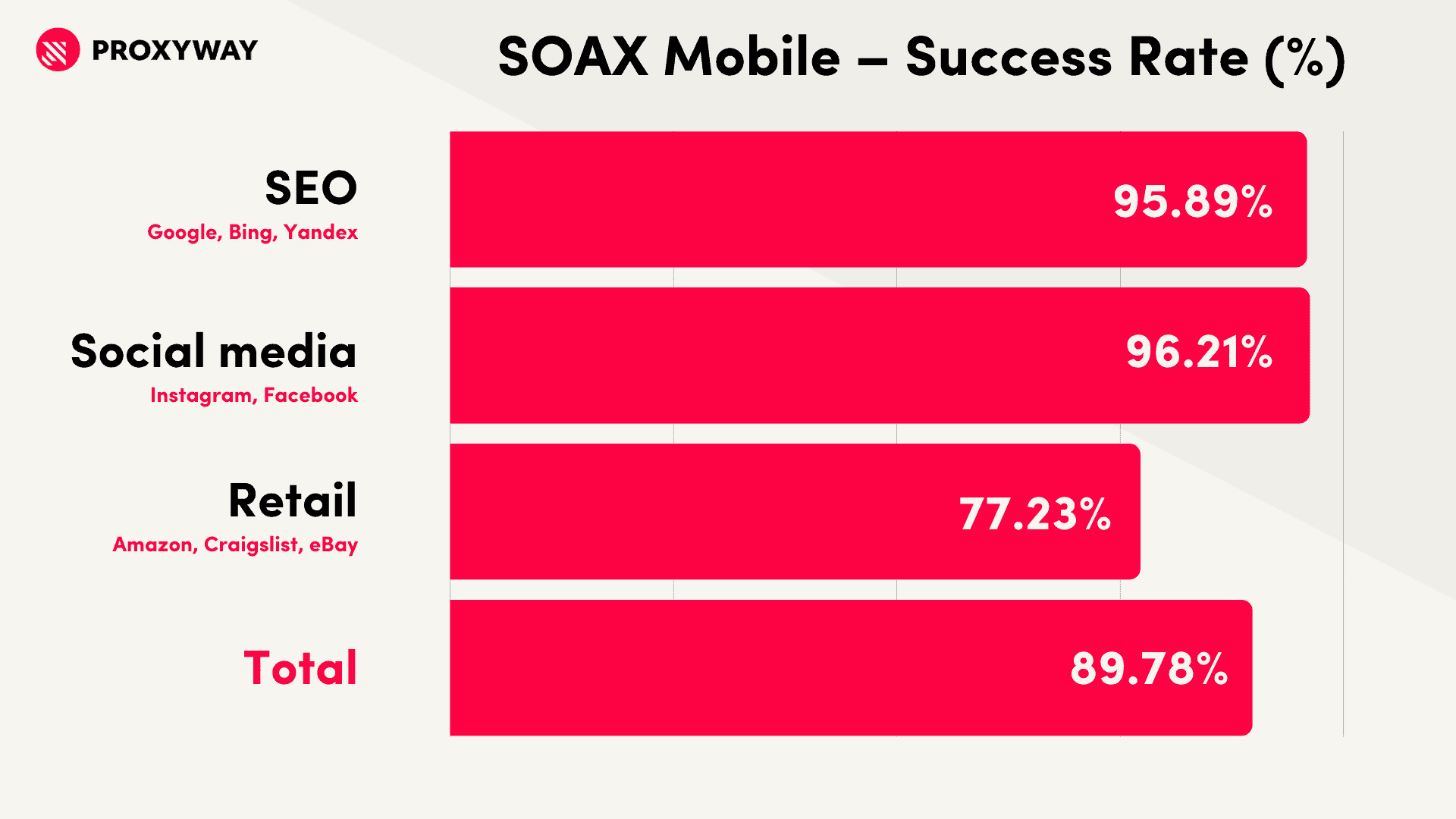 When pitted against real targets, these mobile IPs packed a punch. They had no issues dealing with search engines, nor social media platforms. The only problematic website group turned out to be retail sites – but then again, who uses mobile IPs on them?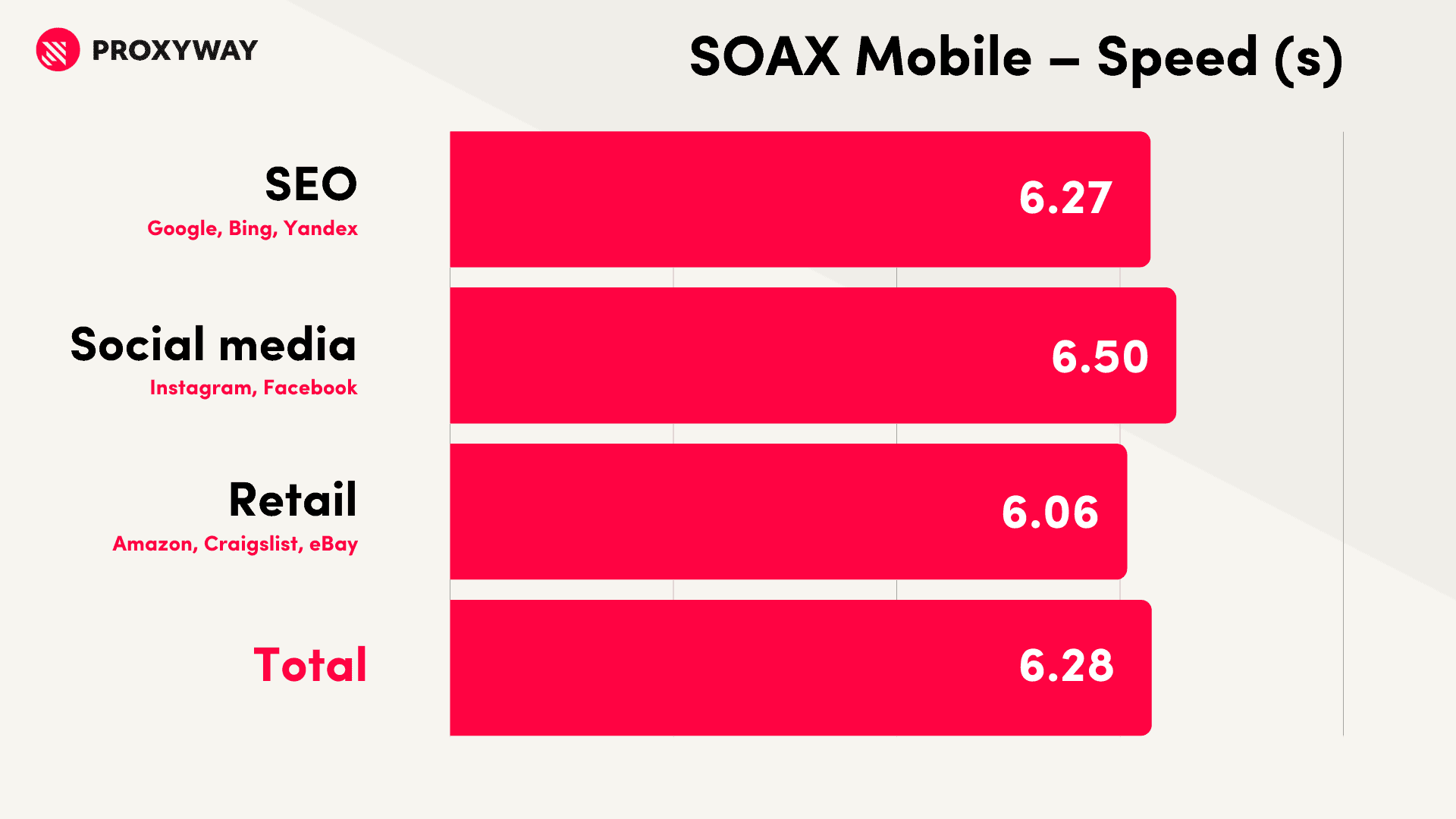 The final test affirmed that speed isn't one of SOAX's strong suits. With an average response time of 6.28 seconds, don't expect to do things very fast. That said, we're talking about mobile proxies here which aren't exactly race track material.
How to Use SOAX
The dashboard delights but the user experience isn't perfect. 
To register with SOAX, you have to fill in a form and confirm the registration via an email. The provider may contact you additionally to verify the account. We assume it's for KYC purposes. To speed up the process, SOAX recommends including your messaging app details in the form that appears after email confirmation. 
After filling in the form, you get to access SOAX's dashboard. It's an elegant control panel that evidently received a lot of love from the creators. The dashboard covers all the basics one could expect: you can whitelist IPs and create sub-users, set up a proxy server, buy a plan, read the help docs, and get support.
We especially liked the Online Check tab. It shows not only now many ASNs are online in each country but also their connection status. That's not something we encounter often.
Another thing we need to emphasize is how attentive SOAX is to new users. Multiple tabs in the dashboard have interactive onboarding wizards that guide you through the hoops of getting accustomed with the service. The Intercom-based chat also attempts to settle you in via a drip message campaign, though we're not sure if we like this part. Flashbacks to misuse from other websites.
One aspect that could be improved is visualization of data use. The provided graph is small and stingy. You can see how much traffic you've expended over a given period, but that's pretty much it. SOAX could learn a thing or two in this regard, even if there's no need to go all out like providers such as NetNut have.
The proxy setup ritual here is pretty elaborate. Even though you can authorize using a username and password, you'll still have to whitelist an IP address first. Team SOAX argue that this is to protect themselves and their users. We argue that they don't like resellers. In any case, keep this in mind, even if SOAX mentions a workaround for people with dynamic IPs.
After whitelisting an IP address, you can set up a proxy server. There are two ways to do so: via the Login & Password flow or the IP Whitelist flow. In any case, you'll have to choose a rotation time, specify the location and/or ISP, and then map them to the ports you have. For example, with an allowance of 100 ports, we assigned ports 10060-10070 to Spain and 10040-10049 to the UK. Note that IP address settings override Login & Password, and the provider advises against using both at once.
You can also create a list of proxies and export it into a text file:
Finally, SOAX offers an API. It's pretty basic and nothing to write home about. Perhaps acknowledging this, the provider has it disabled until you explicitly request access. According to the help docs, the API's functions are limited to fetching lists of locations and ISPs. So, don't expect too much from it.
Customer Support
Limited documentation gets a hand from responsive customer support.
If at any time you get lost, the onboarding pop-ups and help docs will often be enough to put you on the right track. But they're not almighty, and some information is less explicit than it could be. For instance, we couldn't find any integration instructions for the proxies. In those cases, you'll be at the mercy of customer support. 
With some companies (internet services come to mind) such a prospect incites unreasonable terror. In SOAX's case, there's little to worry about.
You can contact the support via live chat or email. The provider also specifies tickets in the SLA but selecting the Support tab in the dashboard simply activates the live chat. 
We contacted the support multiple times using the live chat functionality. The replies came quickly (one exception aside, within five minutes) and managed to answer our questions. All in all, SOAX's support left us with a positive impression, at least during daytime in Europe.
Conclusion
So, that was SOAX. 
In many ways, it resembles another proxy provider – Infatica. Both were founded recently, offer residential IPs with some unusual technical choices, and are businesses in the making.
From the technical side, SOAX's proxy servers work well, and we'd be very happy with them if not for the speed. The targeting options are great. We'd also like the rotation flexibility, if not for the fact that you can't get it below 90 seconds without paying extra. Anything longer than that? Brilliant. The proxy setup leaves things to be desired, and the SOCKS5 protocol is mostly for show. 
The non-technical side of things is okay, albeit unfinished. SOAX recently changed its pricing model to mimic the leading services, which is a plus. The dashboard is very well made, if not for the usage graph. The website is beautiful, and the information that is missing ("About Us?; explanation about the "100% compliance" of the residential proxies; integration instructions) will appear sooner or later. 
Would we recommend SOAX to you? If you need proxies for quick web scraping, want a robust API, or detailed usage statistics, it might not be the best fit for now. On the other hand, if you're looking for reliable and highly flexible residential or mobile proxies – and don't find speed very important – then SOAX is definitely a provider to consider.