We use affiliate links. They let us sustain ourselves at no cost to you.
The Best Datacenter Proxy Providers of 2023
Datacenter proxies offer the cheapest way to change your IP address. They're the go-to choice for many tasks: from avoiding geo-location restrictions to gaming, automating workflows, and scraping content from the web.
Datacenter proxy servers have plenty of variety. You can get IP addresses that are shared or dedicated to your exclusive use; static or rotating; sometimes even completely free! This page will walk you through the main types and help you choose the best datacenter proxy providers from a curated list.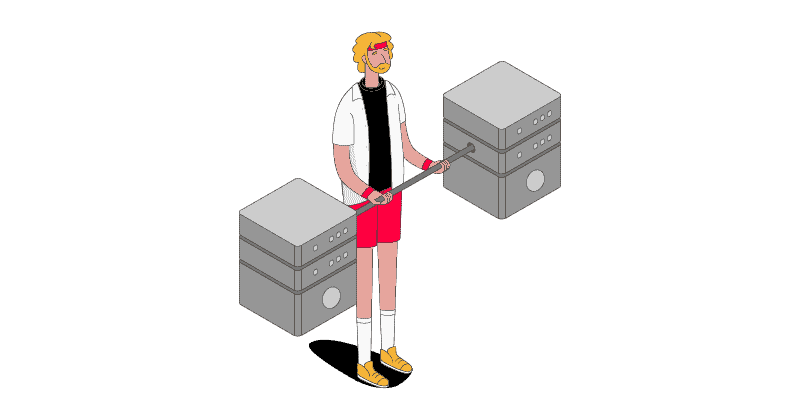 What Are Datacenter Proxies?
Datacenter proxies are remote computers with their own IP address and location. Instead of connecting to websites directly, you go through them first. This lets you hide your own identifying information.
Datacenter IPs are hosted on servers in data centers. As a result, they're very fast and often have unlimited bandwidth; however, they're easier to detect than residential and mobile proxies. You'll have issues accessing protected domains (like shoe stores, social media, or Google), but they're still very effective for plenty of use cases.
Learn more: What Are Datacenter Proxies? The Beginner's Guide.
Shared vs Dedicated Datacenter Proxies
Shared Datacenter Proxies
Shared datacenter proxies are a significant step up from free proxies. They perform much better than public lists and give you more breathing room compared to the freemium options above. You'll usually be sharing these IPs with several other people – not ideal but you might not even notice it with smaller websites. However, search engine scraping, accessing sneaker sites, or managing multiple accounts on social media are a no-go.
Shared proxies are several times cheaper than dedicated addresses. You can opt for a static IP list with unlimited traffic or a pool of rotating addresses that resembles residential proxies. They cost $0.5-1 per IP address or gigabyte of traffic.
Learn more: What Are Shared Proxies and When to Use Them?
Dedicated Datacenter Proxies
Dedicated proxies, also called private proxies, are the high end of datacenter IPs. These addresses are hosted on premium hardware, have the best performance (no sharing!), and carry less risk that someone will blacklist your IPs while you use them. They're the logical choice if shared proxies experience too many blocks, you need more control or consistency.
These proxies are almost always sold by IP address, offering unlimited bandwidth but no IP rotation. Keep that in mind. An address costs between $0.8-2.5, depending on how many you buy and where. Non-US locations sometimes cost extra.
Learn more: Dedicated Proxies: All You Need to Know
The Best Datacenter Proxy Providers for 2023
Oxylabs is arguably the best proxy service provider, at least when it comes to residential IPs. But it also controls an impressive network of shared and dedicated datacenter proxies – in fact, the largest in the world. Its proxies come with unlimited traffic, domains, and connection requests.
Oxylabs controls two million dedicated IPs, ensuring a variety of addresses. That means you're less likely to get subnet and ASN-related bans. You can get IPs in 188 countries and target particular cities.
Its shared proxies come in pools of 2,000-10,000 addresses in six locations: the US and five European countries. You can rotate them with every connection or set up sticky sessions for as long as you need.
Oxylabs offers a premium service. It has a functional dashboard, and you can buy shared IPs using self-service. However, dedicated proxies don't include this functionality. But its experienced team can fine-tune the proxies based on your target and requirements. You get an account manager, and an IP replacement API.
The dedicated plans start from 100 proxies in the US or 60 worldwide, which is an overkill for some tasks. And shared plans pricing is steeper than other options in the market.
Features: Unlimited bandwidth, threads & domains. Rotation every request & sticky sessions with shared IPs
Protocols: HTTP(S), SOCKS5
Locations: 6 countries (shared), 188 countries (dedicated)
Price: Dedicated plans start from $180/100 IPs in the US ($1.8/IP); shared from $50/77GB ($0.65/GB). 7 day trial for businesses.
---
Bright Data is another juggernaut with a huge and highly diverse network of shared, dedicated, and rotating IPs. Without much exaggeration, it can offer anything for anyone. You can buy one or ten thousand IPs, limit them to certain or all domains, and get addresses that have been cooled down for some time.
Bright Data's shared IPs are static and come in a list, or you can get access to a pool of 20,000 addresses. The latter randomly chooses IPs from 80 locations. Dedicated addresses are spread throughout 3,000 subnets. With Bright Data's proxy manager, you can rotate, filter, and otherwise manipulate the proxies.
Every service includes at least 50 locations worldwide, country and city-level targeting. Bright Data offers flexible rotation options: rotate every request or keep the IPs for as long as available. Also, there's an option to immediately replace IP that fails with a new one. So, the provider manages to keep 100% uptime.
However, this same versatility plays into pricing, in the form of upsells. You'll have to pay extra for unlimited traffic, or IPs that haven't been used for some time.
Features: Unlimited threads. Bandwidth & domains are plan-based
Protocols: HTTP(S), SOCKS5
Locations: 95 countries (dedicated), over 80 countries (shared)
Price: $11 for 5 IPs, 1 domain & 50 GBs of data (dedicated), from $1/1GB or $1/IP (shared). 7 day trial for businesses.
---
Rayobyte has a strong infrastructure of shared, dedicated, and rotating datacenter proxies. Its proxies are less likely to get mass banned because they're spread around 20,000 C-class subnets, and the network reaches 300,000 addresses throughout nine ASNs.
The shared and dedicated proxies are static and come in a list. After the billing cycle, you can refresh the list free of charge, or refresh single IPs on demand. With the rotating plan, you get access to a backconnect gateway server with different ports. The number of proxies you get is 20 times the number of ports you buy. The IPs rotate between 10-100 minutes.
You can get dedicated addresses in 27 countries. They're mostly based in the US, but you can also target Western European, Southern American, and Southeast Asian countries. Shared IPs support nine locations (US, Brazil, and Western Europe), and the rotating ones are only three (US, Germany, Brazil).
The service doesn't limit threads, traffic, or domains. The plans are subscription-based, but you can also go for a one-time purchase.
However, longer rotation times make the provider less attractive for scraping tasks. And Rayobyte supports fewer locations than some premium service providers.
Features: Unlimited threads, traffic, and domains, monthly refresh
Protocols: HTTP(S) & SOCKS5
Locations: 30 (dedicated), 9 (shared), and 3 (rotating) countries
Price: Dedicated plans start from $10 for 5 IPs; shared – from $4/5 IPs ($0.8/IP). 2 day free trial available.
---
Smartproxy sells both shared and dedicated datacenter proxies. Its service is very simple to use and has some of the best customer service on the market.
First and foremost, Smartproxy offers 100,000 shared datacenter proxies in the US and Europe (Germany, Romania, Netherlands, and UK). You get full access no matter the plan. There are no target limits, and you can make as many parallel connections as you like. Rotation with every connection request makes the proxies very practical for web scraping, and you can create 30-min sticky sessions for other tasks.
The dedicated plans don't include many features. Smartproxy has a 400,000 proxy pool but only in the US. There's an option to choose between sequential or non-sequential, SOCKS5 or HTTP(s) IPs using Smartproxy's dashboard. Furthermore, you can opt to refresh the full list after renewing subscription, or keep the same IPs.
The shared plans are bandwidth-based, and you get a lot of cheap traffic. If you exceed the quota, there's an option to buy extra gigabytes without upgrading. The dedicated options start small but can scale up to 1,000 proxies if needed.
Features: Unlimited bandwidth, monthly refresh, rotation every request or 30 mins
Protocols: HTTP(S), SOCKS5
Locations: US (dedicated) & US, Europe (shared)
Price: Shared plans start from $30/50 GB ($0.7/GB) or pay per IP $10/100IPs; dedicated – from $7.50/3IPs. 3 day refund available.
Visit Smartproxy
Read the Smartproxy review for more information and performance tests.
---
Webshare has three datacenter proxy options: shared among many users, shared with 0-2 users, and dedicated. Its proxies support HTTP(S) and SOCKS protocols and cover 20 countries worldwide. They are static and come in the form of a list, but there's an option to rotate IPs with every connection request.
What distinguishes Webshare from others is that it has a customizable self-service. You can choose the number of proxies, set a bandwidth limit, and customize threads. You can also select the location of datacenter proxies and refresh the proxy list between five minutes and a month. The dashboard is easy to navigate, so first-time users shouldn't have any problems.
In addition, Webshare offers a free plan with 10 static IPs from four different locations. You can use 1 GB of free data monthly, running up to 50 threads at once. You'll get your free proxy list automatically after registering.
The provider mainly targets entry and mid-level customers, so the prices don't bite. However, it doesn't have a live chat – you can only reach customer service via e-mail.
Features: 500 – 3,000 threads, unlimited bandwidth
Protocols: HTTP(S), SOCKS5
Locations: Over 20 countries
Price: starts from $49.87 for 25 IPs. Offers a free plan with 10 proxies.
Visit Webshare
---
Storm Proxies is a popular proxy service provider among small-time scrapers and social media hustlers. It's probably the cheapest proxy provider out there. The proxy quality isn't the best, but that's probably not your priority at this price point. The provider has two datacenter options: dedicated and a mix of rotating residential and datacenter proxies.
The dedicated proxies are mostly suitable for accessing websites in North America. You get a list of IPs that run up to 100 threads with each IP. You can get a plan for a specific use case like ticketing or social media.
The shared rotating proxies come with a pool of 200,000 IPs and several rotation settings: every request, 3, or 15 minutes. There are no bandwidth limits – you'll be paying for the concurrent threads the proxies can run. However, you can't target a particular country or city, so they won't work with location-sensitive tasks.
Storm Proxies limits the number of threads you can make. The cheapest shared proxies monthly plan includes 10, which is pretty anemic if you're looking to scrape fast. Larger plans increase the limit.
Features: Unlimited bandwidth. Rotation every request & sticky sessions with shared IPs
Protocols: HTTP(S)
Locations: US, EU, US + EU, or worldwide mix
Price: Shared rotating proxies start from $14 for 10 threads; dedicated – from $10/5IPs
Read the Storm Proxies review for more information and performance tests.
---
Razorproxy sells rotating shared and dedicated datacenter proxies, but it tries to attract customers with a free datacenter plan. It's actually a pretty great deal: you get access to a pool with thousands of IPs in the US.
These IPs rotate automatically and have no thread or target limits. You're only limited by traffic, and 500 MBs is still enough to do some web scraping. This is a one-time deal: once you burn through the free traffic, you'll have the option to buy a paid plan.
Dedicated proxies come in US-based lists with static ports, but you can manually manage the rotation. Dedicated plans include unlimited concurrent sessions and bandwidth as you pay per IPs.
Shared rotating proxies are US and EU based. They come with automatic rotation, but you can also manage them manually. Shared plans are customizable – you can choose the number of proxies and threads.
Features: Unlimited bandwidth with dedicated plans; automatic rotation with shared IPs
Protocols: HTTP(S) (shared); HTTP(S) & SOCKS5 (dedicated)
Locations: US & EU (shared); US (dedicated)
Price: Shared proxies start from $2.8/100IPs; dedicated – from $15/10IPs. Offers a free plan with 500MB of proxies.