We use affiliate links. They let us sustain ourselves at no cost to you.
The Best Datacenter Proxy Providers of 2022
Datacenter proxies offer the cheapest way to change your IP address. They're the go-to choice for many tasks: from avoiding geo-location restrictions to gaming, automating workflows, and scraping content from the web.
Datacenter proxy servers have plenty of variety. You can get IP addresses that are shared or dedicated to your exclusive use; static or rotating; sometimes even completely free! This page will walk you through the main types and help you choose the best datacenter proxy providers from a curated list.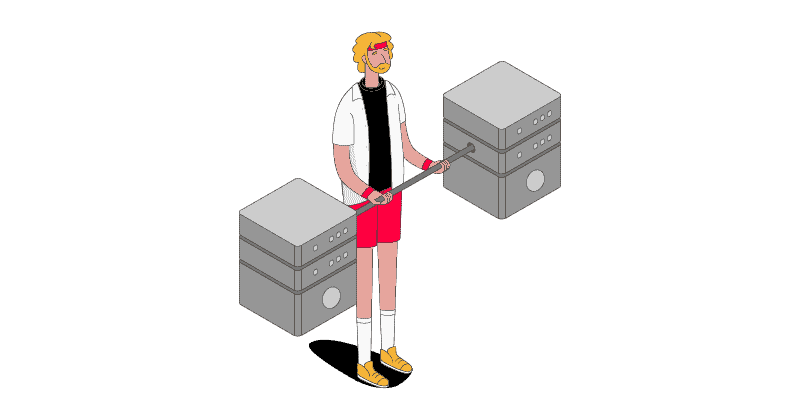 What Are Datacenter Proxies?
Datacenter proxies are remote computers with their own IP address and location. Instead of connecting to websites directly, you go through them first. This lets you hide your own identifying information.
Datacenter IPs are hosted on servers in data centers. As a result, they're very fast and often have unlimited bandwidth; however, they're easier to detect than residential and mobile proxies. You'll have issues accessing protected domains (like shoe stores, social media, or Google), but they're still very effective for plenty of use cases.
Learn more: What Are Datacenter Proxies? The Beginner's Guide.
Best Free Datacenter Proxies
You can often find free datacenter proxies online, in the form of publicly available lists. They're made by constantly scraping the web and collecting open proxies from multiple sources. We don't like them, and for good reasons: such IPs barely work and put your data at risk. Oftentimes, they're more effort than it's worth it.
Still, if you're dead set on not paying for proxies (maybe you're just testing the waters), there are reasonable options to choose from. The proxy service providers below offer free, though limited, access to their IPs. They're much faster than open proxies, have a predictable uptime, and should be enough to accomplish many smaller tasks.
1. Razorproxy
Free rotating proxies that work.
A very new proxy provider, Razorproxy tries to attract customers with a free plan. It's actually a pretty great deal: you get access to a pool with thousands of IPs in the US. They rotate automatically and have no thread or target limits. You're only limited by traffic, and 500 MBs is still enough to do some web scraping. This is a one-time deal: once you burn through the free traffic, you'll have the option to buy a paid plan.
To get the free proxies, you'll need to fill in a form. Razorproxy's support will respond with the credentials.
Format: rotating proxy pool
Protocols: HTTP(S)
Locations: US
Limitations: 500 MBs of traffic
Visit Razorproxy
---
2. Webshare
10 free static proxies from multiple locations.
Unlike Razorproxy, Webshare gives you a list of 10 static IPs from four different locations (we got the US, Brazil, Germany, and Spain). You can use 1 GB of free data every month, running up to 50 threads at once. Webshare offers the option to automatically rotate these IPs, but I'm not sure how effective that would be with merely 10 addresses. Still – it's a nice touch.
You'll get your free proxy list automatically after registering.
Format: IP list
Protocols: HTTP(S), SOCKS5
Locations: four different countries
Limitations: 1 GB of traffic, 50 threads
Visit Webshare
---
Best Shared Datacenter Proxies
Shared data center proxies are a significant step up from free proxies. They perform much better than public lists and give you more breathing room compared to the freemium options above. You'll usually be sharing these IPs with several other people – not ideal but you might not even notice it with smaller websites. However, search engine scraping, accessing sneaker sites, or managing multiple accounts on social media are a no-go.
Shared proxies are several times cheaper than dedicated addresses. You can opt for a static IP list with unlimited traffic or a pool of rotating addresses that resembles residential proxies. They cost $0.5-1 per IP address or gigabyte of traffic.
1. Smartproxy
Hassle-free rotating proxies for web scraping.
Smartproxy offers 100,000 datacenter proxies in the US and Europe. You get full access no matter the plan. There are no target limits, and you can make as many parallel connections as you like. Rotation with every connection request makes the proxies very practical for web scraping, and you can create 30-min sticky sessions for other tasks. Smartproxy is simple to use and has some of the best customer service on the market.
The plans are bandwidth-based, starting from $30 per month. That's not much, and it gives you a lot of cheap traffic. If you exceed the quota, there's an option to buy extra gigabytes without upgrading.
Format: 100,000 rotating proxy pool (every request or 30 mins)
Protocols: HTTP(S)
Locations: US, Europe
Price: From $30/50 GB ($0.7/GB). 3-day refund available.
Visit Smartproxy
Read the Smartproxy review for more information and performance tests.
---
2. Storm Proxies
Rotating datacenter proxy pool with unlimited bandwidth.
Storm Proxies is popular proxy service provider among small-time scrapers. The reason? Cheap rotating IPs without bandwidth limits. As you can imagine, the proxy quality isn't the best, but that's probably not your priority at this price point. You get a big pool of 200,000 proxies with several rotation settings: every request, 3, or 15 minutes. The first setting actually mixes in residential IP proxies along with datacenter addresses.
If not bandwidth or IPs, what are you paying for? Storm Proxies limits the number of threads you can make. The cheapest monthly plan includes 10, which is pretty anemic if you're looking to scrape fast. Larger plans increase the limit.
Format: 200,000 rotating proxy pool (every request, 3, 15 mins)
Protocols: HTTP(S)
Locations: US, EU, US + EU, or worldwide mix
Price: From $14 for 10 threads
Read the Storm Proxies review for more information and performance tests.
---
3. Anonymous-Proxies
Shared proxies that you can hand-pick on an IP level.
Anonymous-proxies is a veteran, in business since 2009. Despite its age, this providers is still very much alive and kicking. It sells traditional IP lists which you can get for yourself or, in this case, share with several other people. What distinguishes anonymous-proxies from others (save for its reputaton) is that you can hand-pick the IPs you want from a huge list. That's right: each address, with its country, subnet, and other information. That's way more flexible than you can get almost anywhere else.
Each IP costs $1, and you get an increasing discount as you buy more. You can start using them in a few minutes once the payment goes through.
Format: IP list
Protocols: HTTP(S), SOCKS5
Locations: 28 countries
Price: From $10 for 10 IPs.
---
Best Dedicated Datacenter Proxies
Dedicated proxies, also called private proxies, are the high end of datacenter IPs. These addresses are hosted on premium hardware, have the best performance (no sharing!), and carry no risk that someone will blacklist your IPs while you use them. They're the logical choice if shared proxies experience too many blocks, you need more control or consistency.
These proxies are almost always sold by IP address, offering unlimited bandwidth but no IP rotation. Keep that in mind. An address costs between $0.8-2.5, depending on how many you buy and where. Non-US locations sometimes cost extra.
1. Oxylabs
Best premium dedicated proxies with professional service.
Oxylabs is arguably the best proxy service provider, at least when it comes to residential IPs. But it also controls an impressive network of datacenter proxies – in fact, the largest in the world. Oxylabs offers a premium service, and despite a functional dashboard, there's little self-service here. On the other hand, its experienced team can fine-tune the proxies based on your target and requirements. You get an account manager, a (paid) add-on to rotate the addresses, and an IP replacement API.
The plans start from 100 proxies, which is an overkill for some tasks. But demanding clients can be sure that Oxylabs will be able to meet their needs.
Features: Unlimited bandwidth, threads & domains
Protocols: HTTP(S), SOCKS5
Locations: 88 countries
Price: From $180/100 IPs in the US ($1.8/IP). 7-day trial for businesses.
Visit Oxylabs
Read the Oxylabs review for more information and performance tests.
---
2. Bright Data
Most versatile provider on the market.
Bright Data is another juggernaut with a huge and highly diverse network of dedicated proxies. Without much exaggeration, it can offer anything for anyone. You can buy one or ten thousand IPs, limit them to certain or all domains, get addresses that have been cooled down for some time, and then control the proxies via an API or Bright Data's powerful proxy manager. Such versatility is very hard to find elsewhere – if you need it.
However, this same versatility plays into pricing, in the form of upsells. Want unlimited traffic (an industry standard)? Pay extra. Want to access more than one domain? Pay extra. Want to get IPs that haven't been used for some time? You get the drill… Stripped down, the service is competitive; otherwise, it quickly balloons in price.
Features: Unlimited threads. Bandwidth & domains are plan-based
Protocols: HTTP(S), SOCKS5
Locations: 95 countries
Price: $11 for 5 IPs, 1 domain & 50 GBs of data. 7-day trial for businesses.
Bright Data Offer
Add $250 in credits, mention Proxyway, and Bright Data will match you with another $250.
Read the Bright Data review for more information and performance tests.
---
3. Rayobyte
Quality dedicated proxies for a wide range of customers.
Rayobyte is another strong choice for dedicated proxies. It's been focusing on this service from the start and has managed to build an impressive number of IPs. Many of them are hosted on own infrastructure throughout Rayobyte's nine ASNs. The provider's system automatically optimizes the IPs for diversity and assigns them within 30 minutes after purchase. The dashboard gives you a lot of control, and there's an API for developers.
Rayobyte's proxies cost between $1.50 and $3.50 per address, depending on the plan and IP location. You can buy as few as 5, or go all out with more than 5,000 addresses – like Bright Data, Rayobyte tries to please everyone.
Features: Unlimited bandwidth, threads & domains
Protocols: HTTP(S), SOCKS5
Locations: 27 countries
Price: From $10/5 IPs in the US ($2/IP). 2-day trial with 5 proxies available.
Rayobyte Offer
Use the code PROXYWAY to get 5% off.
Read the Rayobyte review for more information and performance tests.
---