We use affiliate links. They let us sustain ourselves at no cost to you.
The Best ISP Proxy Providers of 2023
ISP proxies are all the rage these days, and for good reasons. They combine the performance of datacenter IPs with the anonymity of residential proxies. What you get is basically datacenter proxies on steroids.
While there's still a limited number of ISP proxy providers out there, the choice can already get confusing. To save you the trouble, we'll show you where to buy high-quality ISP proxies for various budgets and needs. Here are our top picks.
The Best ISP Proxies of 2023 – Quick Summary: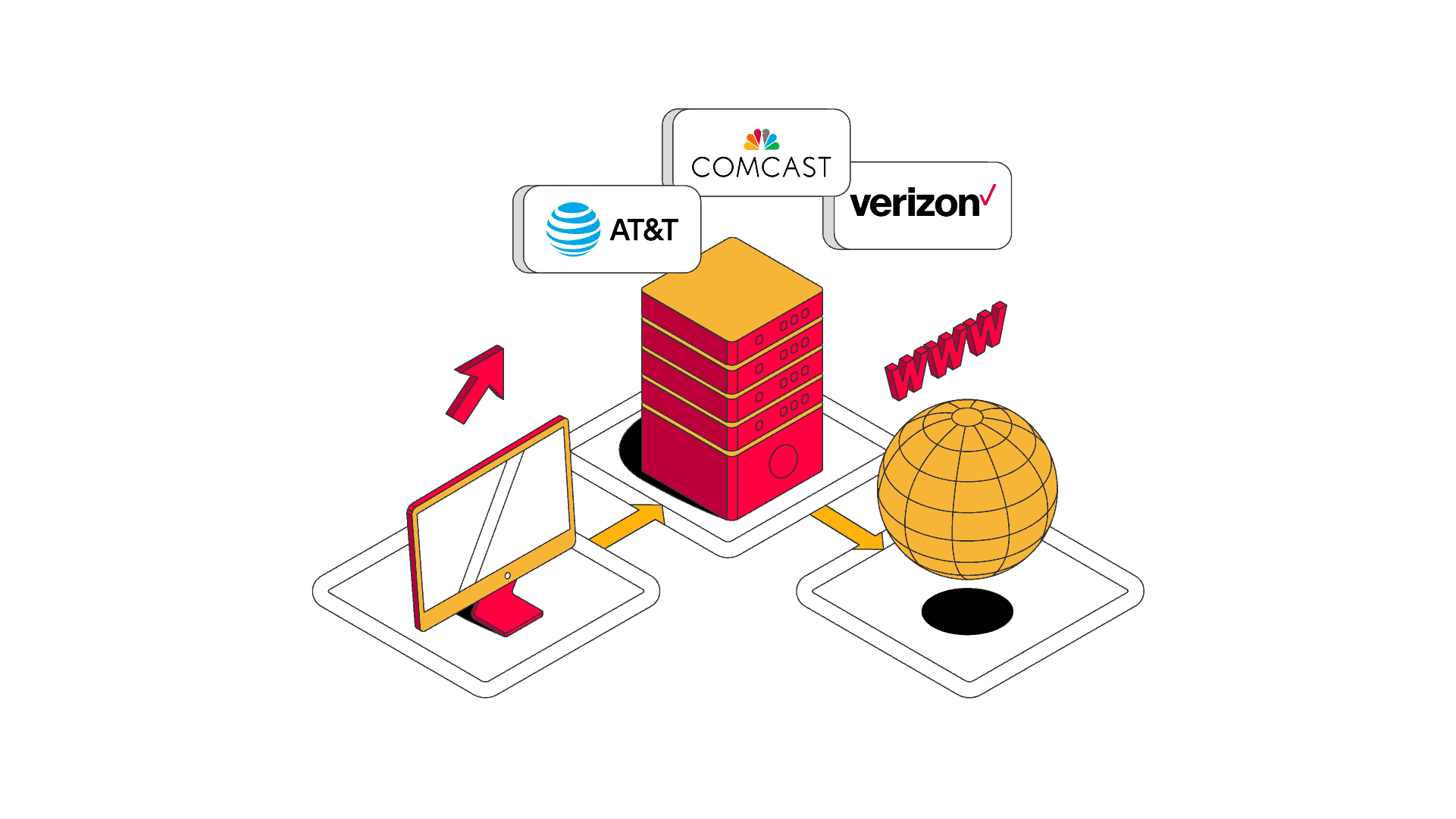 Key Points about ISP Proxy Servers
ISP proxies, also called static residential proxies, are IP addresses registered under internet service providers (ISPs). But unlike residential proxies, they're hosted on servers and not real devices.
Static residential proxies are harder to detect and less prone to IP bans than datacenter proxies.
At the same time, they're as fast and stable as datacenter IPs. You can also buy them for private use.
ISP proxies don't need to rotate, so they're very handy for tasks that require a consistent identity like social media management or running sneaker bots.
They're often more expensive than both residential and datacenter proxies – but still cheaper than mobile proxies.
The plans can be based either on IPs or traffic use, depending on the provider and your use case.
To learn more, you can read our guide on ISP proxies.
Can There Be Dedicated ISP Proxies?
Yes. Just like private datacenter proxies, ISP proxies can be dedicated to certain tasks. That's because providers have full control over them, unlike peer-to-peer residential IPs.
Getting dedicated ISP proxies will ensure a clean history with the websites you want to use them on. It can involve further optimizations in locations or response time. They're especially important for use cases like sneaker copping, where you want to get fast IPs from major consumer ISPs.
That said, if you only want to scrape some websites, these optimizations shouldn't matter much. It will be more important to get rotating proxies with a large proxy pool.
ISP Proxies vs Other Proxy Types
When does it make sense to use ISP proxies over datacenter or residential IPs? There are several good reasons:
You're targeting a protected website that gives datacenter IPs a hard time. Some examples are Google, eBay, as well as most sneaker stores. And:
You need a consistent identity. ISP proxies are static, meaning that you can keep the same IP address for as long as you like. This really helps with use cases like managing multiple social media or e-commerce accounts. Or:
You want unlimited bandwidth. Rotating residential proxies nearly always charge by traffic, which can be inefficient. Here you have more options.
Read more: Residential vs ISP proxies.
The Best ISP Proxy Providers of 2023
NetNut is one of the largest ISP proxy providers on the market. It gives you access to a pool of addresses via a gateway server –  this lets you quickly rotate between IPs or keep the same address for as long as you like. NetNut offers specialized pools for different use cases, so make sure to specify yours. It also claims that the IPs have prior usage history by real people, so they should be harder to block than other static residential proxies. However, we've found that IP databases identify some of the proxies as datacenter addresses, as they come from regional ISPs.
NetNut charges by traffic and has a wide range of plans starting from 1 GB. While the service is okay for hustlers, it primarily targets enterprises and resellers, who will benefit from the API and very detailed usage statistics.
Proxy pool: 1M static residential proxies
Locations: 30+ countries, with a large presence in the US
Targeting: country, state, city (US only)
Rotation: Every request, sticky sessions (no time limit)
Parallel requests: Unlimited
Pricing:
Starts from $25/1GB. 7-day free trial available.
Read the NetNut review for more information and performance tests.
---
Bright Data commands fewer static residential IPs than NetNut. But their network is still large, covers more countries, and supports SOCKS5. You can choose from a static list of addresses or buy access to the full pool via a gateway server. Bright data lets you filter, rotate, and otherwise manipulate the IPs in ways that few others can match. So, the service is technically demanding but can be very powerful in the right hands.
Bright Data charges by IPs and traffic or traffic only, based on your format of choice. The proxies are shared, but there's an option to get private addresses for an extra fee. The provider allows paying as you go or committing to a monthly plan with better rates.
Proxy pool: 600,000 static residential proxies
Locations: 50 countries
Targeting: country, state, city
Rotation: Customizable with Bright Data's Proxy Manager
Parallel requests: Unlimited
Pricing:
Starts from $15/GB + $0.50/IP. 7-day trial for companies and 3-day refund available.

---
Oxylabs is best known as a residential proxy provider, but it sells static residential proxies as well. You can get thousands of ISP proxies in Western Europe and the US. As with Bright Data, two formats are available: either a list of static addresses, or a pool of rotating proxies. The first gives you unlimited bandwidth and SOCKS5 support; the second works well for web scraping, or when you need shorter sessions but more IPs.
Oxylabs is a premium provider, so you can count on the quality of its service. The main downsides are price and that convenience – the plans start from $340, and you won't be able to buy them without contacting sales first. As a result, these proxies are best suited for companies.
Proxy pool: Over 100,000 static residential proxies
Locations: US and Western Europe
Targeting: Country
Rotation: Every request, sessions up to 5 hours (with a rotating plan)
Parallel requests: Unlimited
Pricing:
Rotating plans start from $340 for 20 GB ($17/GB) . 7-day free trial for businesses, 3-day money-back-guarantee available.

---
Webshare offers ISP proxies that support HTTP(S) and SOCKS5 protocols. These IPs come in lists of static addresses, but there's an option to rotate proxies with every connection request. You can choose from 20 countries.
The provider has flexible plans with customizable self-service. You can select the number of proxies, set a bandwidth limit from 250GBs/month to unlimited, and adjust threads. Additionally, you can select the location of your proxies, with the option to refresh the proxy list between 5 minutes to a month (by default, locations are assigned randomly).
Webshare charges by IPs and traffic, based on your choice. You can get ISP proxies shared among many users, shared with 0-2 users, and private. There's also an option to add additional features like unlimited IP authorization, high priority network, and high concurrency in your dashboard. However, these features cost extra.
Proxy pool: Over 100,000 static residential proxies
Locations: US
Rotation: Customizable
Parallel requests: Unlimited
Pricing:
ISP plans (private) start from $84 for 20IPs and 250GB bandwidth. You can also use 1 GB of free data every month, running up to 50 threads at once.
Visit Webshare
---
Rayobyte (former Blazing SEO) is new to ISP proxies, so it still has a small proxy pool and limited locations. But that shouldn't fool you: this datacenter proxy veteran knows what it's doing. Its ISP proxies come from major consumer ISPs and are spread throughout multiple ASNs to avoid carpet bans. We received a batch of Verizon IPs to play around with, and they performed very well. You can choose between HTTP(S) and SOCKS protocols.
Rayobyte's static proxies are expensive, but you don't have to buy much and they come with unlimited bandwidth. There technically is a bandwidth cap, but at 200 GBs per IP, it's pretty high. If you want to save money, you can opt to get shared IPs for half the price (only in the US for now).
Proxy pool: 2,500+ static residential proxies
Locations: US, UK, Germany
Rotation: –
Parallel requests: Unlimited
Pricing:
Dedicated proxies start from $25 for 5 IPs ($5/IP).

---