Smartproxy is the rising star of the proxy world.
Started in 2018, it has already managed to claim a good chunk of the proxy market. Today, Smartproxy may be the third largest proxy provider… And it's very quickly catching up to the two market leaders: Luminati and Oxylabs.
What's the secret behind its success? I believe there are several factors at play.
First, I have to commend Smartproxy's marketing efforts. For some time now, I've been seeing the provider's ads everywhere – or, at least, everywhere that matters.
Another important factor is positioning. It's no secret that Luminati and Oxylabs have their sights set on enterprise. This left a big vacuum in the market open for grabs, with many small proxy providers competing for less profitable but still attractive customers. When Smartproxy appeared, it was laser-focused on exactly this type of client and quickly managed to sweep up many of the sneakerheads, Instagram hustlers, and small-time scrapers.
But all of this would have amounted to nothing if Smartproxy's actual product was bad. Amazingly, it's just the opposite: It somehow manages to compete with the market leaders in both the quality of proxies and the service, while keeping the prices low.
Of course, everything can't be perfect – and it isn't: the proxies lack some features, targeting options, and you can only dream of a dedicated account manager. But as a whole, the value proposition is very strong.
I might be lauding the company a little too much, but I strongly believe my praises are well placed. After all, the market is the best judge, and it seems to be loving Smartproxy. I wouldn't be surprised to hear that even some managers at large enterprises are patting themselves on the backs, happy with their secret new find.
In this review, you'll learn about Smartproxy's services, pricing plans, proxy performance, user experience, and customer support. If you're short on time, the main features are below. Let's get started!
Pros
Fast and reliable proxies
Below average price
Worldwide coverage
24/7 customer service
Key Features
Proxy types: Datacenter (shared), residential (rotating)
Protocols: HTTP, HTTPS
Locations: 195 countries, 8 cities
Targeting: Country, city
Authentication: Whitelisted IP, user:pass
Sub-users: Up to 100 (plan-based)
Dashboard: Yes
Extras: API, Browser extension
Support: 24/7
Pricing: From $75/5GB ($15/GB) for residential proxies
Payment options: PayPal, Credit card, Bitcoin
Trial: 3-day refund
Smartproxy Services
Smartproxy's main product is rotating residential proxies. The provider also sells shared proxy plans aimed at people who need IPs for basic scraping tasks. 
Residential Proxies
Many locations and sticky sessions available.
Over 40 million IPs make Smartproxy one of the larger residential proxy providers. Its peer-to-peer proxy network covers most of the world, so the proxies should work very well for any geo-location sensitive task. A small drawback: there's only 8 major cities to choose from.
The residential proxies include both desktop and mobile IPs; Smartproxy doesn't specify where they come from. A strong selling point is that by buying a proxy plan, you get access to the whole network of 40M IPs. You can use it to your heart's content because there are no connection limits. The only limitation is the traffic you've bought.
The proxies are backconnect, meaning that you get a gateway IP address, and it will automatically change the proxies for you. You can configure the IPs to rotate each connection request or have sticky sessions up to 30 minutes. Being able to keep the same IP enables tasks like social media management and sneaker shopping.
The proxies are all IPv4 and support HTTP & HTTPS protocols. Unfortunately, SOCKS5 is not supported, which makes these IPs less than ideal for traffic-intensive tasks like streaming and uploading videos.
Both whitelisted IPs and user:pass authentication are available, though limited depending on the pricing plan.
Datacenter Proxies
Shared, backconnect, and rotating.
Smartproxy started offering datacenter proxies in the second half of 2019. The service is basic, but at the same time includes some unusual features.
The datacenter proxy network covers 40,000 IP addresses, all in the US. The proxies are shared, so they'll have several users at the same time. Such an arrangement is not ideal, but it lets Smartproxy keep the prices low.
A curious thing about Smartproxy's datacenter proxies is that by buying any plan, you get the whole IP pool at your disposal. Unlike other providers, the company charges by used traffic. You can rotate these addresses – another unconventional feature for datacenter IPs; the options range from each request to every 30 minutes. 
Considering that you can use unlimited threads, these proxies should be amazing for scraping unprotected sides without investing too much money. 
The shared proxies support only user:pass authentication. Sub-users are limited by your payment plan: The cheapest one will give you only 1 sub-user slot.
Smartproxy Pricing
I'd be lying if I said that pricing did not contribute to Smartproxy's success – it did and still does.
Perhaps due to well-placed priorities, the company manages to charge less than all of its bigger competitors, while providing basically the same tools under the hood. This stands especially true for the entry plans which start from $75/5GB and scale up to the Enterprise plan ($3,000/1TB). The datacenter proxies start off at $0.5 per GB and stay that way.
Smartproxy's proxy business model is traffic-based, so you'll have access to the same number of IPs no matter the plan. Going over the limit will cost you a set amount for each additional GB.
Note that the subscription is auto-renewing, so you'll have to disable it manually if you decide to stop using the service. 
Smartproxy Performance Tests
Smartproxy's residential IPs performed admirably no matter what I put them through. They had no large flaws and consistently competed for top spots among the 9 leading providers we tested for the Proxy Market Research.
I can especially recommend these proxies for ad verification, market research, and sneaker copping. We didn't test how well they work for social media this time, but Smartproxy is widely known as the go-to provider for Instagram automation.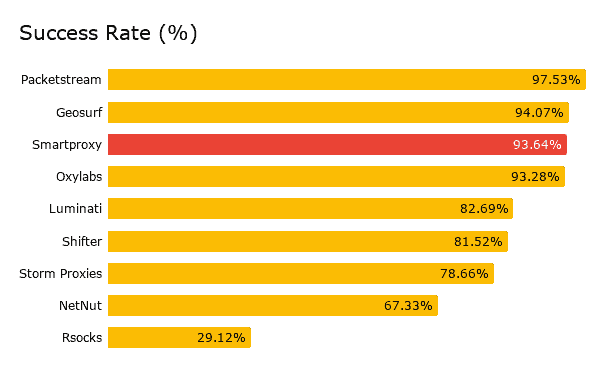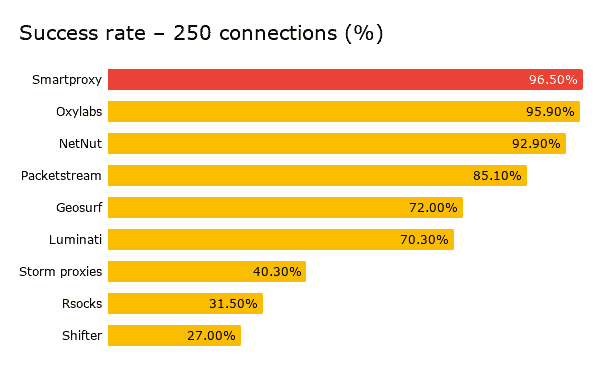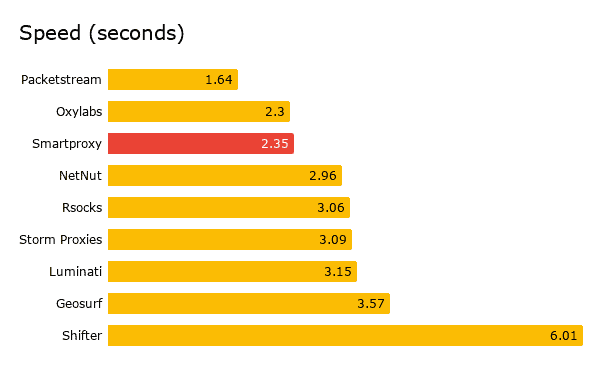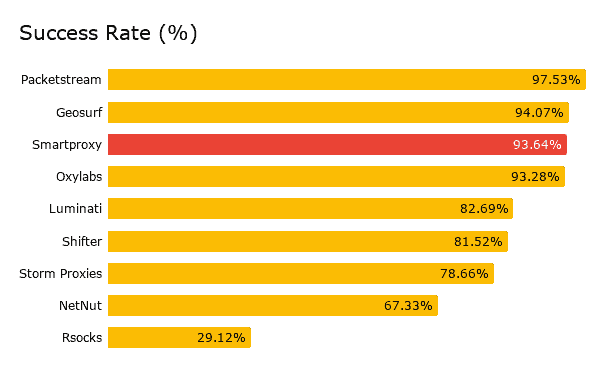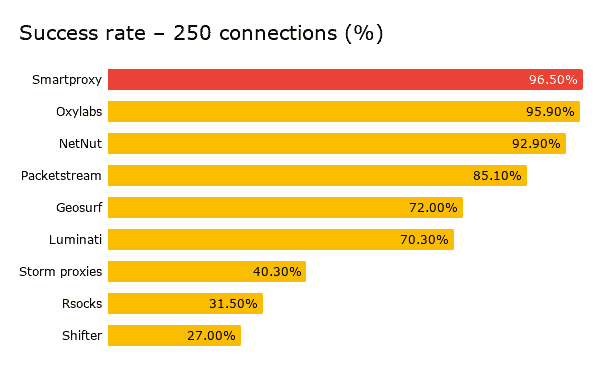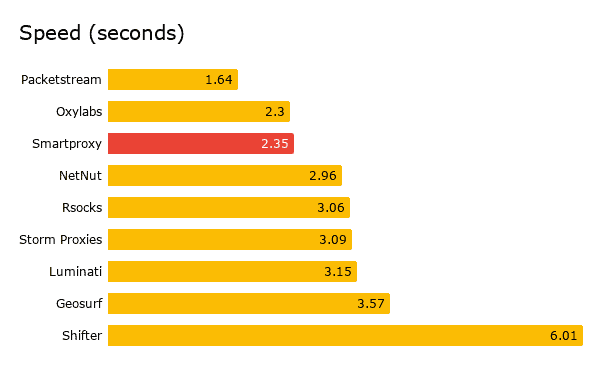 How to Use Smartproxy
To register on Smartproxy, you'll need to enter your use case, email address, and password. Then, simply confirm the account creation by email, and you'll be able to access the dashboard. 
Smartproxy's dashboard has much improved over the past year. It already had all the necessary functionality for convenient proxy management, but now it is supplemented by introductory tutorials and guidance for newbies. There's a lot of handholding, but somehow it doesn't feel overbearing yet. 
In the dashboard, you'll be able to buy and upgrade plans, access lists of backconnect proxy servers, create sub-users, whitelist IPs, and track your traffic usage. I like that you can limit traffic for the subusers, which allows for easier task management (or reselling). There are also options to contact support and access Smartproxy's rich documentation, and an always-visible bar at the top to remind you of your traffic allowance. 
The proxy setup here is straightforward: create a user or whitelist an IP and select from a list of backconnect gateway servers. Smartproxy has made a convenient filter that lets you specify what you need and then spits out the right gateway address for you. There are different gateways for countries and cities. In the end, you'll have a hostname and port configuration that will look something like this: gate.smartproxy.com:7000:user:pass. Sticky connections will have a range of ports. 
If you wish, you can also create cURL requests. This is also simple, as Smartproxy has checklists where you can specify your configuration. Then, it simply generates the cURL command for you.
If you don't want to do things programmatically, that's fine – Smartproxy offers an API. The API is pretty fleshed-out, and it offers the same functionality as the dashboard, just without the user interface. 
On the other end, there's an extension for Chrome and Firefox. It lets you easily work with proxies on the browser. In the settings, you can choose a country, whether you want the proxies to be sticky or rotate, and authorize them either using a whitelisted IP or user:pass credentials. 
If at any point you get lost, Smartproxy has a rich library of help documentation. It can even be divided into several tiers: the blog provides introductory information about the most important concepts and use cases; the integration/configuration guidelines show how to use the proxies with popular software; while the help docs give more technical information and troubleshooting instructions.
Customer Support
Smartproxy offers both live chat and help by email.
I only tried out the live chat functionality because a support agent responded really fast and there was no need to contact the provider through email.
I asked the representative a few technical questions and the answers received were very quick, nice, and helpful.
I can only conclude that Smartproxy really has one of the best customer support departments out there.
Conclusion
Having read this far, I hope you can see where I was coming from in the introduction.
Smartproxy really has struck something great. The company has responsive customer support, performant proxies, and everything set up for convenient self-service.
To be fair, compared to something like Luminati, Oxylabs, or Geosurf, it's nothing special. But this is without considering Smartproxy's final ace – it somehow manages to achieve all this while keeping prices very competitive.
Of course, not everything is perfect. Some corners had to be cut, and here you won't find things like SOCKS proxies, thousands of cities, or ASN filtering.
But that's the whole point of Smartproxy: the company focuses on the functionality that is good enough for the majority of users at the expense of some nice-to-have or niche features. And it is damn good at that.
Based on my experience with Smartproxy, I can recommend it to anyone looking for a great residential proxy provider.