Smartproxy
Smartproxy offers a large proxy network that keeps on growing and it stretches out to over 190 countries around the globe, it also supports the highest performing IPv4 protocol with applications that support HTTP/HTTPS proxies.
Pricing starts from $200/month. 20GB included

10M proxies

Dedicated 24/7 customer support

190 countries
Smartproxy will offer you a network with over 10M IPs that keeps on growing. Stretching out in over 190 countries around the globe, it also supports the highest performing IPv4 protocol with applications that support HTTP/HTTPS proxies.
24/7 customer support together with a 3-day money back guarantee makes you feel certain that if you won't be satisfied with your product, you will either have the chance to figure out your issues in about 5 minutes or be refunded.
Here is our full review.
Smartproxy Residential Proxies
General Review
Traffic
All pricing plans come with limited bandwidth.
Prices
They offer 7 different pricing plans, even include a micro plan that offers $15/GB and $75 per month with 5GB included.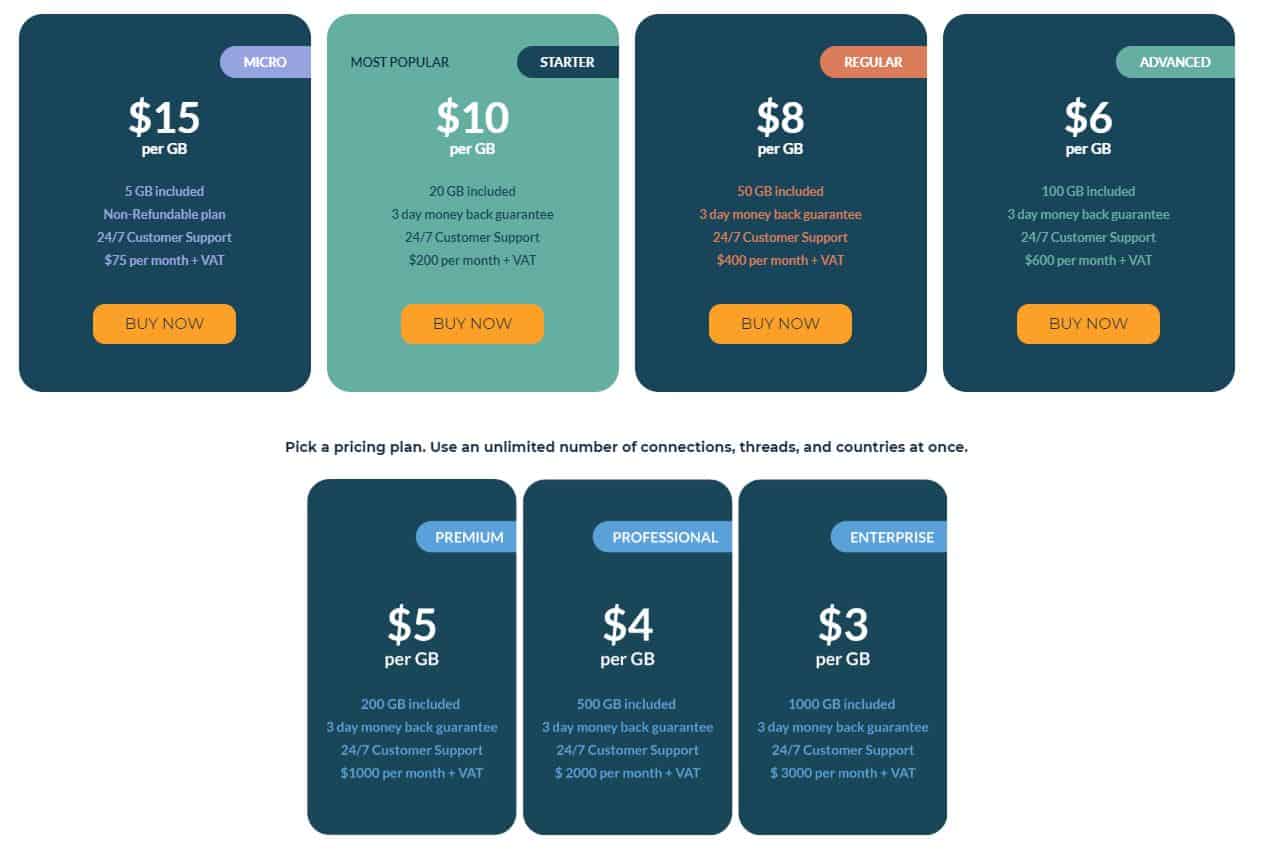 Pool size
Their website claims that they have a proxy pool consisting of over 10 million IPs.

Locations
They say that they cover over 190 countries all over the world.

Setup
You get a bunch of gateways that are filtered by a specific location or a random country's gateway.
You can use them both with account login credentials or whitelisted IPs. Also, there are two types of gateways. Sticky gateways, which have port ranges, they can hold the same IP for 10 minutes on one port. And a different type of gateways that has only one port and return a different IP every time you hit it.
Authorization method
With credentials (username: password) or whitelisted IPs. Whitelisted IPs number varies by your subscription plan. In our case, we got 50 IPs.
Sub-users
Available. But there is a limited number of sub-users you can create. It depends on what plan you subscribe to. On our Advanced plan, we could create 10 sub-users.
Session-control
Available. You can use sticky gateways that can hold the same IP for ten minutes on one port.
Filters
Location. Yes. But not all countries and cities. Check smartproxy.com/proxy-list for more information.
Proxy type. Not available.
ASN/Provider/Carrier. Not available.
Protocols
Smartproxy supports HTTP and HTTPS protocols.
Dashboard
Usage statistics. Yes.
Credentials/Whitelist IP change. Yes.
Support tickets. No.
Renew plans. Yes.
Live chat. Yes.
Support
For support, they have both live chat and email. We've tried out their live chat only because they responded really fast there was no need to contact them through email. We asked them a few technical questions and they answered us really quickly and were very nice and helpful. Really probably one of the best supports out there.
Performance
As per usual, we checked the proxy speed using the free FOGLDN Proxy Tester.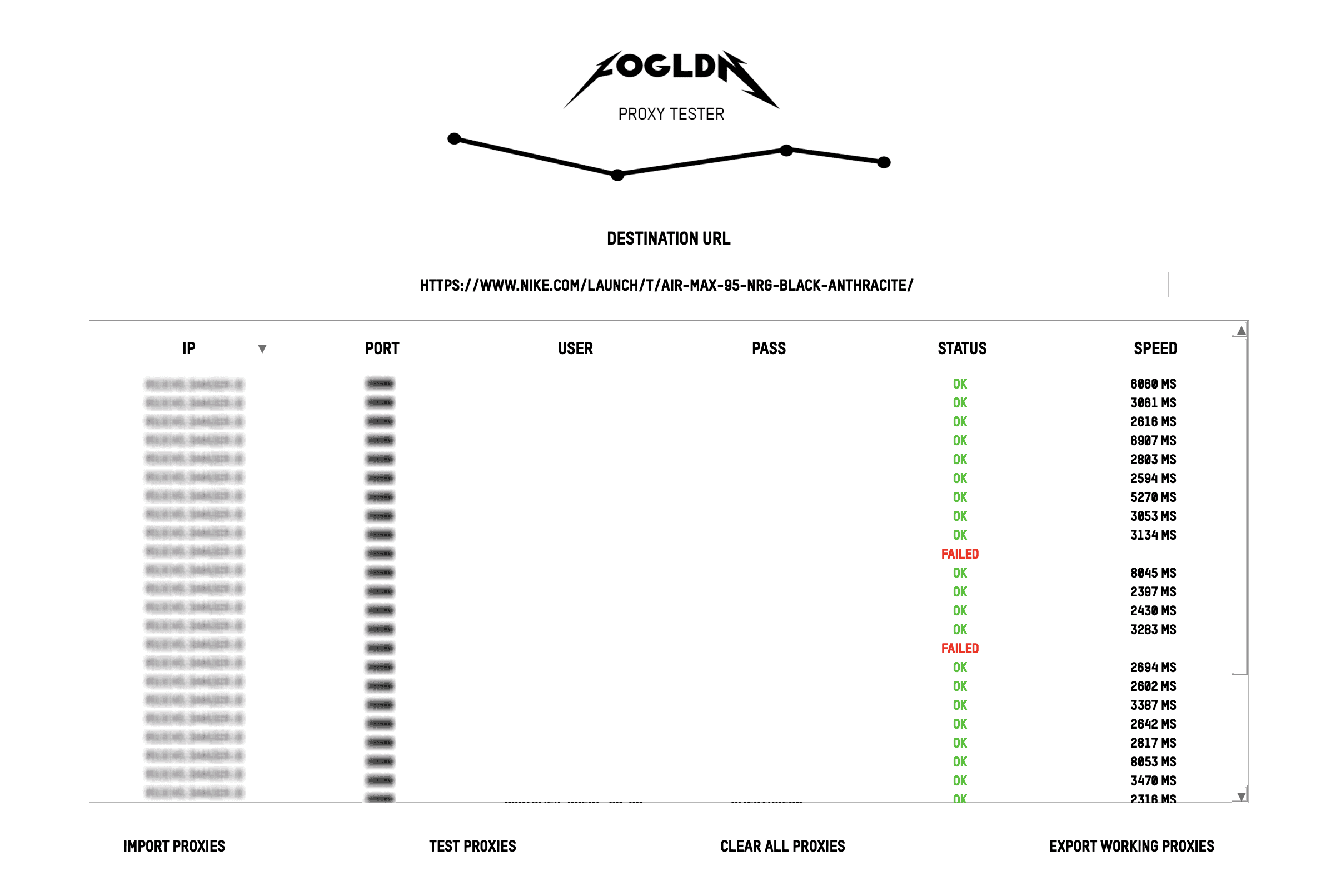 Average speed: 3.5 sec.
Based on the average speed of 3.5 seconds you can tell that they have very fast residential proxies. Even though they had a few failed statuses, they would be probably the top choice for a sneaker provider. If you want to see a full list of sneaker provider, check them out here.
Afterward, we tested the overall performance of Smartproxy's residential proxies by using our own testing script. During this test, we gradually increased the number of concurrent connections and put the proxies on a huge load. The graph below shows what happens when we do that:
Weather timeouts, blocks, neither of them increased whilst increasing concurrent connections. Connection errors barely increased and the success rate also slightly dropped. But overall had really great results.
Below you can see a detailed breakdown of the performance test results. As with other proxy providers, we used a 300 concurrent connections' benchmark.
Smartproxy has a really low number of timeouts, blocks or connection errors. Their results were fantastic and it's really hard to pinpoint a massive issue with them. Perhaps Google had the most issues, but they were quite small in comparison to other providers.
As you can see below, the little blocks google had was the 503 error, which is recaptcha block, and if you have the tools, you can go over them without too many issues. There were a few errors on Amazon, Facebook, and Instagram, Yandex. But the numbers are small.
| | | | | | | | |
| --- | --- | --- | --- | --- | --- | --- | --- |
| Blocked requests statistic |   |   |   |   |   |   |   |
| Target/status | 403 | 429 | 503 (recaptcha) | 200 (<15KB) | 504 | 200 (captcha) | 500 |
| www.aliexpress.com | 2 | 0 | 0 | 1 | 1 | 0 | 0 |
| www.amazon.com | 0 | 0 | 0 | 1 | 0 | 1023 | 0 |
| www.booking.com | 0 | 0 | 0 | 0 | 0 | 0 | 98 |
| www.facebook.com | 3 | 0 | 0 | 302 | 0 | 0 | 0 |
| www.google.com | 0 | 0 | 1366 | 3 | 0 | 0 | 0 |
| www.instagram.com | 172 | 0 | 0 | 0 | 0 | 0 | 0 |
| www.wayfair.com | 179 | 6 | 0 | 0 | 0 | 0 | 0 |
| yandex.com | 2 | 0 | 0 | 54 | 0 | 442 | 0 |
When it comes to the average response time, Smartproxy is doing really good:
The average and median times slightly vary, but not bad and the response time was pretty good whilst testing out residential proxies. Smartproxy's residential proxies are really good and will do great as sneaker proxies, there are other residential proxies you can check out, but these do really good for a trustful provider.
Conclusions
So firstly, they have one of the best customer support we have seen, especially whilst comparing to other residential providers. But you won't probably even need it as the self-service and implementation were really easy. We only contacted their support to check the response time. We bought, set up, and tested the proxies without any questions or difficulties.
However, it would be too good if there were no issues. One of them was limited country and city filtering. They have prepared country and city gateways, but you can't select a custom country or city. So even if their coverage is big, you can't select any country or city individually. Also, even though session-control exists through sticky gateways, there is no way to choose a custom time. For example when you want to hold an IP for more than 10 minutes.
But let's not forget that FOGLDN proxy test showed that Smartproxy's IPs performed really well on a sneaker website. It is definitely one of the best choices for sneaker scraping and the response times are better than the average compared to other residential providers. A good proxy provider overall.
Rating: 9.0
See the full list of the top residential proxy providers.
Smartproxy Instagram Proxies
Full review is coming soon.
Rating: 9.1
See the full list of the top Instagram proxy providers.
Smartproxy Sneaker Proxies
Full review is coming soon.
Rating: 9.2
See the full list of the top sneaker proxy providers.