Smartproxy is an international proxy provider that offers datacenter, residential proxies, and several other web scraping tools. Started in 2018, it has quickly captured a good chunk of the proxy market. Today, Smartproxy may be the third largest proxy provider… And it's very quickly catching up to the two market leaders: Bright Data and Oxylabs.
What has caused its success? I believe there are several factors at play.
One big factor is positioning. It's no secret that Bright Data and Oxylabs have their sights set on enterprise. This left a big vacuum in the market, with many small proxy providers competing for less profitable but still attractive customers. When Smartproxy appeared, it was laser-focused on exactly this type of client and quickly managed to sweep up many of the sneakerheads, Instagram hustlers, and small-time scrapers.
Of course, that alone isn't enough. What really distinguished Smartproxy was its unparalleled balance between features and price. The provider managed to offer as good a service as its premium competitors, while keeping the prices cheaper and more approachable.
Naturally, some sacrifices had to be made. You won't find some advanced features, and there's fewer IP types to choose from. But as a whole, Smartproxy's value proposition is very strong. So much so that we awarded it with the Best Value Provider award.
I might be lauding the company a little too much, but I strongly believe my praises are well placed. After all, the market is the best judge, and it seems to be loving Smartproxy. I wouldn't be surprised to hear that even some managers at large enterprises are patting themselves on the backs, happy with their secret new find.
In this review, we'll try to find what exactly makes Smartproxy such a catch.
Pros
Fast and reliable proxies
Below average price
Worldwide coverage
24/7 customer service
Key Features
Proxy types: Datacenter (shared), residential (rotating), SERP proxies
Locations: Worldwide
Audience: Hustlers, SMBs
Reselling: Yes
Extras: API, browser extension, anonymous browser
Support: 24/7 via live chat or email
Payment options: PayPal, Credit card, Bitcoin
Trial: 3-day refund
Smartproxy Proxy Networks
Smartproxy's main product is rotating residential proxies. These IP addresses come from the devices of real users. They're known for anonymity and wide location coverage. 
The provider also offers access to a pool of shared datacenter proxies. It's aimed at customers that need IPs for basic or low-scale web scraping tasks. 
Finally, there's a special kind of proxies for Google. They can retrieve all kinds of search results with a 100% success rate and even clean up the data for further use.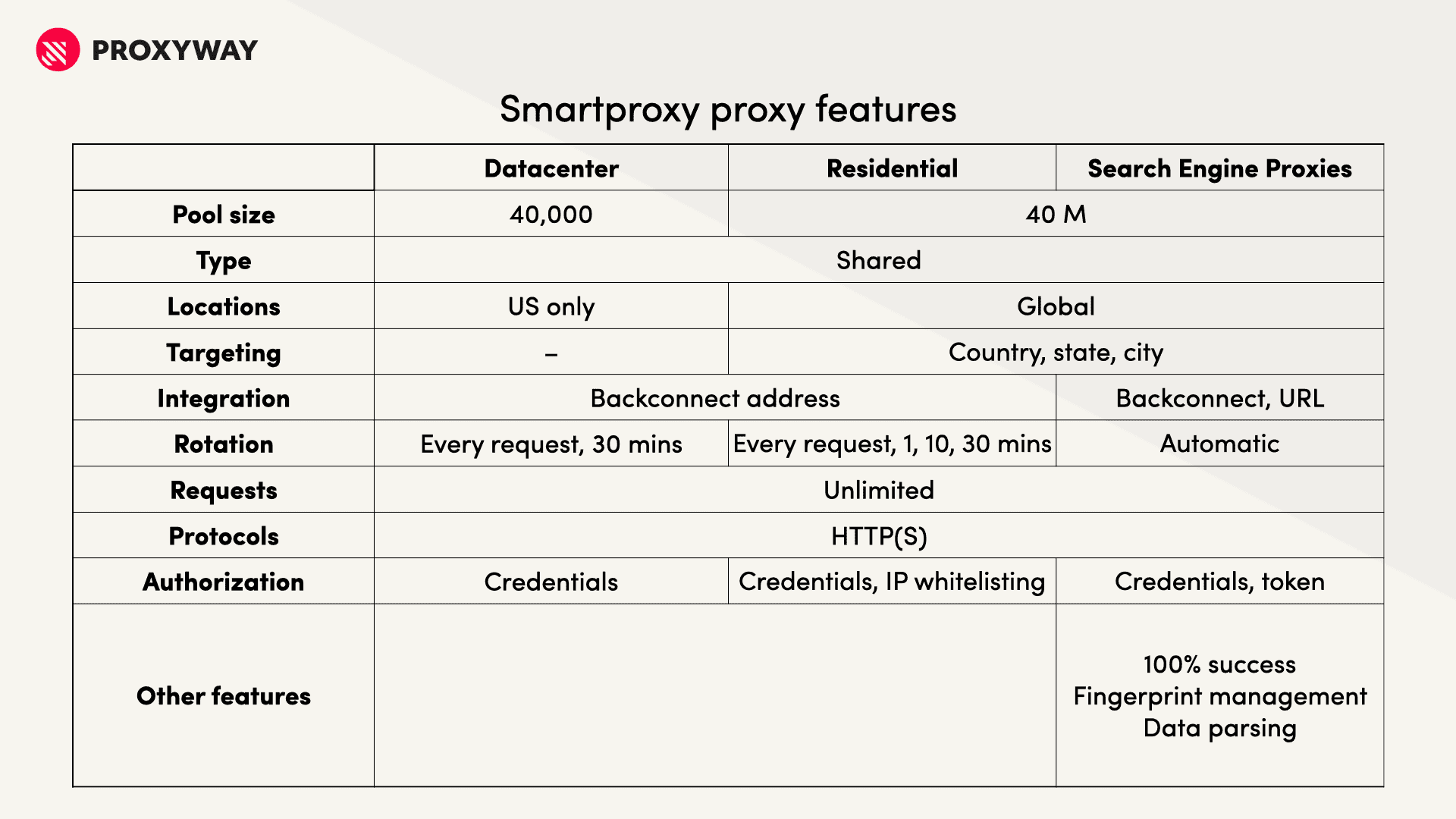 Smartproxy Residential Proxies
Smartproxy's residential proxies have a good balance of features that should be enough for most tasks. They're also amazing performers. The main missing feature is SOCKS5 support. 
How Big Is the Proxy Pool?
40 million monthly residential IPs. Smartproxy controls one of the larger proxy networks we've reviewed.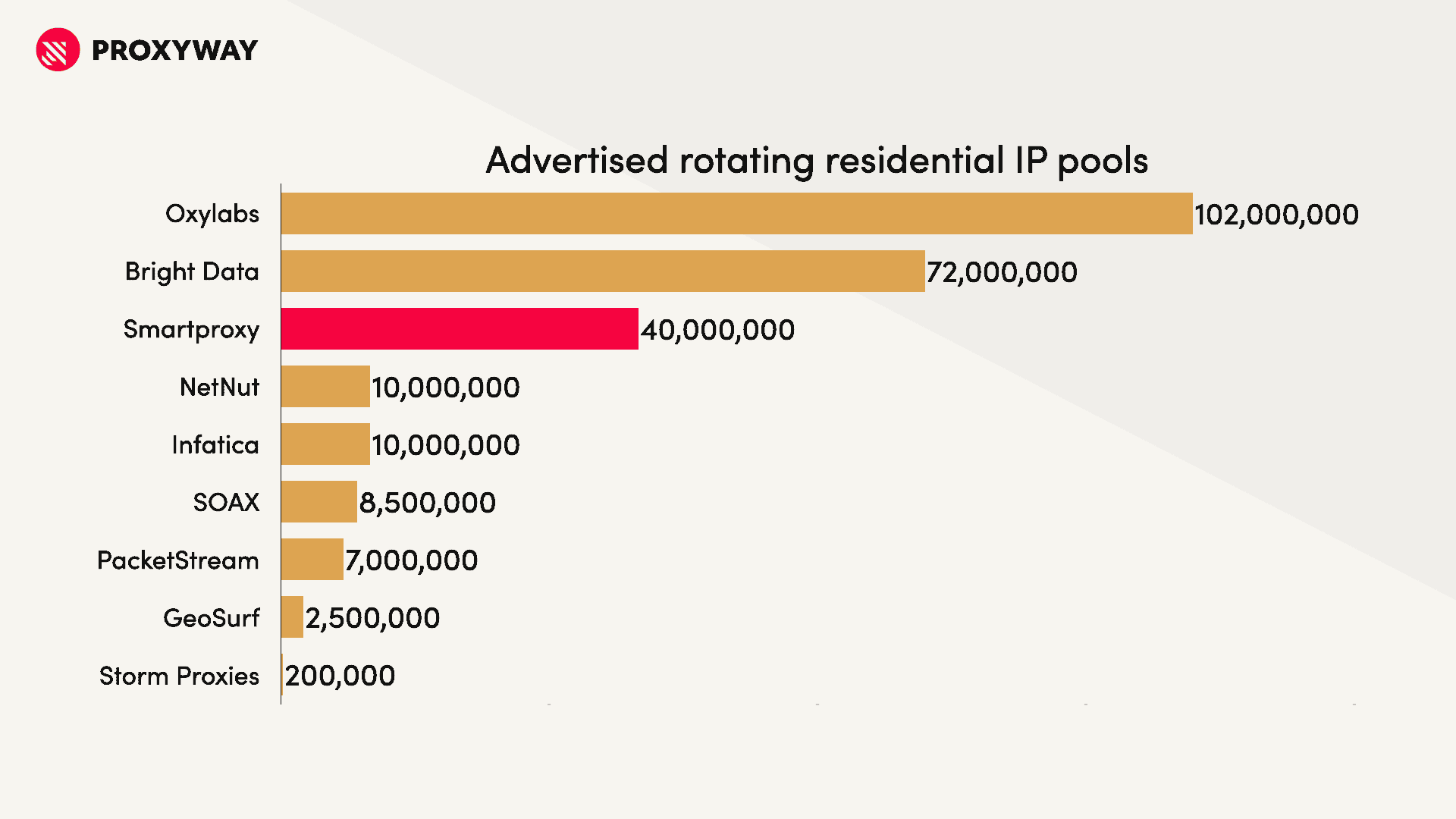 Keep in mind that this is the advertised number. The real number fluctuates daily, depending on the end users that lend their IPs.
In our tests, 63.6% of 1.9 million requests returned a unique IP. This is a great result, and it shows that Smartproxy has a large proxy network.
Are These Really Residential IPs?
Yes. In our tests, 93.3% of the IPs had landline or mobile connections, as residential proxies should. Only 2.4% were identified as originating in a data center. The IPs predominantly used the IPv4 protocol (87%). 

Where Do These IPs Come from?
We don't really know. Smartproxy provides little information about how it sources residential IPs. We only know that some are sourced independently, and the rest come from other providers. 
Which Locations Are Available?
Every country in the world. You're free to target the countries individually or choose to receive IPs at random. Further targeting options include US states, and you can specify one of eight major cities.
Many reviewers have touted limited city coverage as a drawback, including us. In reality, you can target many more cities using the backconnect method. Smartproxy does a bad job advertising this fact.
What Are the Rotation Options?
Every request, 1, 10, or 30 minutes.
Smartproxy makes a good choice both for web scraping and activities that require keeping the same session (sneaker drops, social media management). 30 minutes isn't ideal, but it's long enough.
However: These are peer-to-peer IPs, so there's no guarantee that you'll keep the same IP for the full timeframe.
Do These Proxies Perform Well?
Yes. In fact, they're one of the best we've tried. From the 1.9 million requests we made, over 99% successfully reached Cloudflare's server in the US.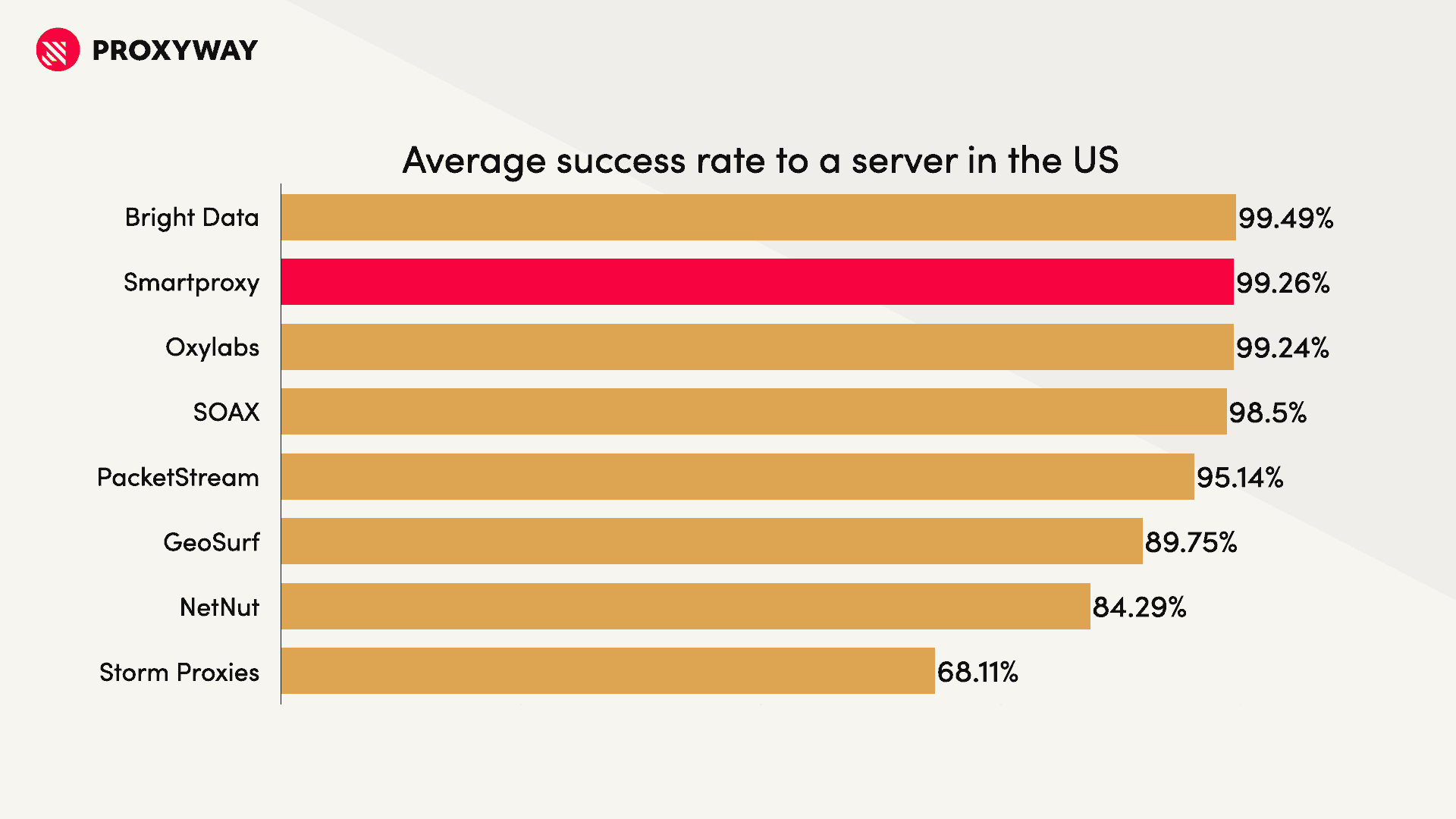 Are They Fast?
Very fast. Smartproxy had the lowest response time from the eight providers we tested for this year's Proxy Market Research. Only Bright Data and Oxylabs came close.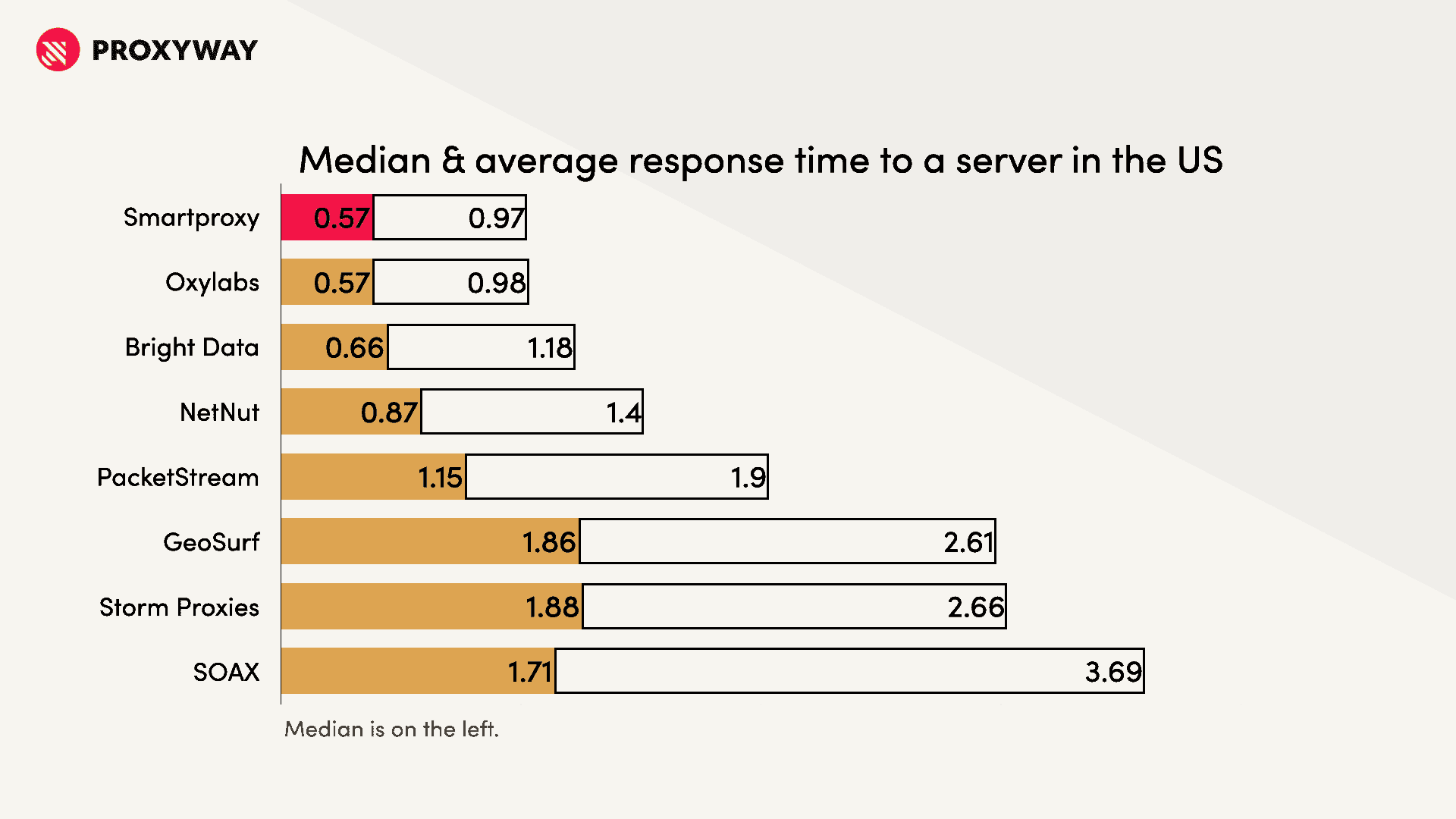 How Many Parallel Requests Can I Make?
As many as you like. Smartproxy doesn't limit the proxies by requests.
Can These Proxies Handle Loads?
Yes, at least the ones we put them through.
At 500 requests per second, the results remained great: the success rate stayed at 95%, and the response time increased only slightly to 1.1 second. This much load is evidently not an issue for the proxy server. 
Is the Proxy Server Stable?
It is. In regular use, Smartproxy's success rate deviated by around 1% – a very low number. 
We multiplied this number by three and used it as an instability threshold. Over three weeks, the proxy server remained above the threshold 98.5% of the time. Save for unexpected outages, Smartproxy should be very predictable most of the time.
Which Protocols Are Supported?
Only HTTP(S). This rules out some use cases, such as torrenting or video streaming. But traffic-based residential plans aren't ideal for them, anyway. 
How Can I Authorize These IPs?
Both with credentials and IP whitelisting.
Smartproxy allows creating sub-users, but only in limited amounts. You can buy a few extra slots based on your plan. Resellers have their own, more expensive plans.
How Much Do They Cost?
The plans start from $75 for 5 GBs of data and reach into terabytes. Smartproxy costs less than the premium providers (like Bright Data or GeoSurf) but more than the cheapest options (such as PacketStream).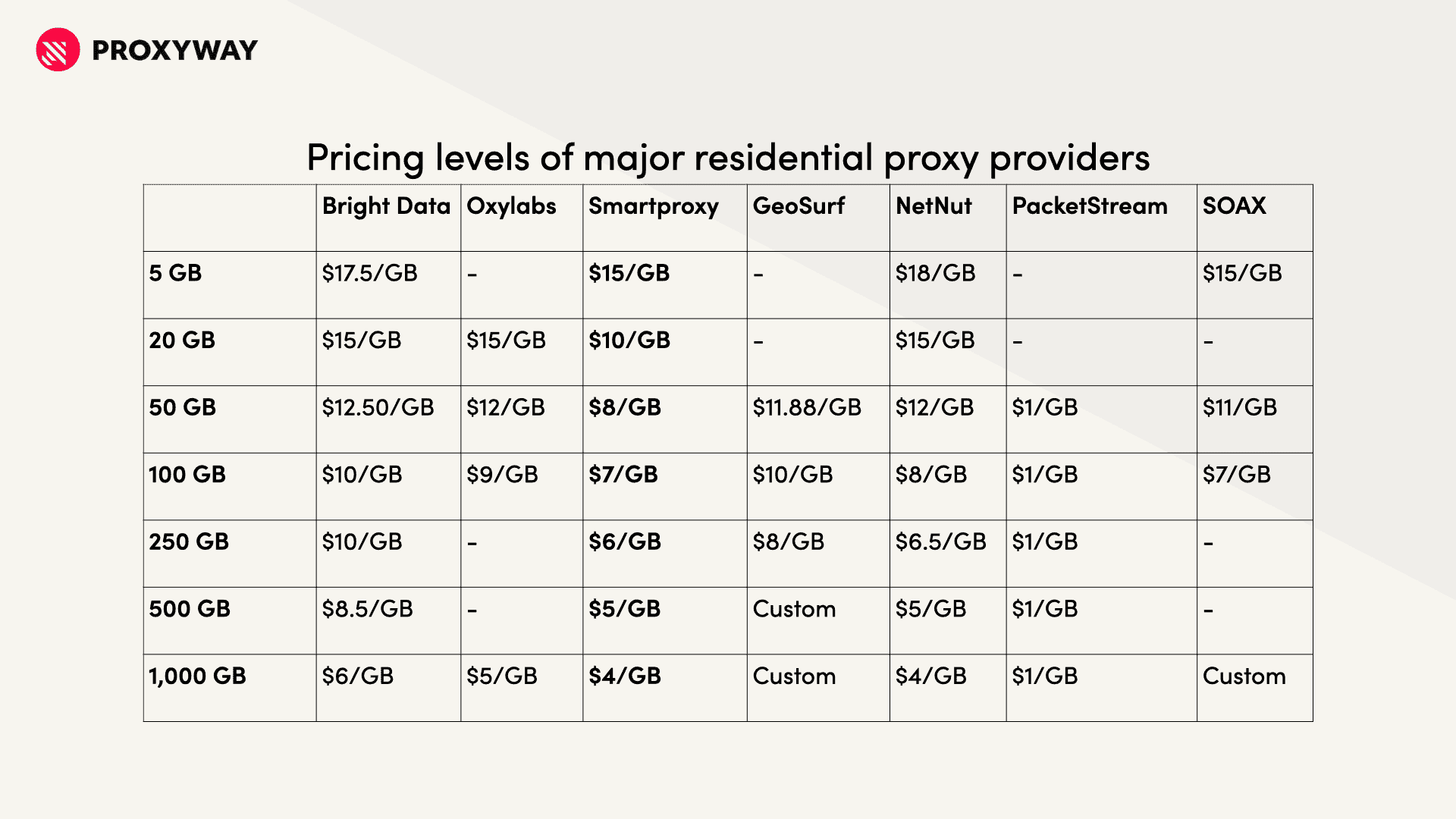 The residential proxies use a traffic-based pricing model. You buy monthly plans that refresh automatically. If you use up all the traffic, you can buy extra gigabytes up to a certain point.
There's no free trial but rather a 3-day refund.
Smartproxy Datacenter Proxies
Smartproxy's datacenter proxies are pretty limited. However, they rotate automatically and give access to a whole IP pool. This makes them a perfect choice for web scraping unprotected websites.
Do These Proxies Come in an IP List?
No. Smartproxy's datacenter proxies use a backconnect gateway server. Instead of IP lists, you get one address. It automatically changes the proxies for you.
Are These Proxies Dedicated?
No. You have to share them with others. 
How Large Is the Proxy Pool?
It consists of 40,000 IP addresses. Unlike residential IPs, these ones are available all the time, so the number is predictable. 
Which Locations Are Available?
Only the US. You can't specify particular states or cities. If you want more locations, we recommend Smartproxy's residential IPs instead. 
Do the Datacenter Proxies Rotate?
Yes, they do. The IPs rotate automatically. You can specify rotation every request or every 30 minutes. If you choose the latter, you can expect to keep the IP for the full timeframe. 
Which Protocols Are Supported?
Only HTTP(S). Once again, these proxies aren't ideal for streaming or torrenting. 
How Many Parallel Connections Can I Make?
As many as you like. Smartproxy doesn't limit the number of connections, nor the domains you can access. 
How Can I Authorize These IPs?
Only with credentials. You can also create up to 10 sub-users, based on the plan. 
How Much Do They Cost?
The pricing starts from $50 for 100 GBs of traffic ($0.5/GB). The initial investment is pretty big for datacenter IPs, but the traffic is cheap. It remains at $0.5 per gigabyte no matter the plan. Compared to other options, this is very cheap.
You buy monthly plans that refresh automatically. If you deplete the traffic, you can buy extra gigabytes without upgrading the plan. The extra gigabytes costs above the usual rate.
Smartproxy Search Engine Proxies
In early 2021, Smartproxy launched a specialized tool for scraping Google Search. It's called Search Engine Proxies. The tool builds upon the provider's residential proxy network to retrieve data with a 100% success rate.
How Do Search Engine Proxies Differ from Regular Residential IPs?
Search Engine Proxies introduce a variety of features that simplify data retrieval from Google Search. They can also parse the data for you. Some of the features include:
Automatic IP selection and retries.
CAPTCHA solving capabilities.
Fingerprint and user agent management.
JavaScript rendering.
What Kind of Data Can They Get?
Search Engine Proxies allow scraping all kinds of data from Google Search. This includes not only organic results or paid ads, but also hotels, maps, and more.
Which Locations Are Supported?
Any country in the world, just like Smartproxy's residential IPs. They also support state and city-level targeting.
How Do I Use Them?
The tool supports the regular backconnect proxy format with additional headers, hence the name.
You can also send requests via an URL. In any case, you need to keep an open connection.
How Much Do They Cost?
The pricing model here is request-based. You can buy a monthly plan.
The plans range from $2.86 to $2 per 1,000 requests. The smallest plan includes 35,000 requests for $100.
Other Tools
Proxies aside, Smartproxy offers one more anonymity tool called X Browser. It allows creating multiple profiles by giving each their own separate online fingerprint.
Is X Browser Like a Web Browser?
Yes. It's a wrapper mounted on top of a headless Chromium. You can use it like a regular browser to visit websites.
How Does It Work?
X Browser allows creating multiple online profiles, just like regular Chrome. The difference here is that websites can't link those profiles to one another.
That's because each profile gets its own IP address and parameters that compose its digital fingerprint: OS type, timezone, webRTC settings, and more. If you know Multilogin, then the principle here is the same.
Why Use X Browser?
X Browser helps to run multiple merchant, affiliate, or social media accounts from one computer without getting blocked.
Can X Browser Run without Proxies or with Other Providers?
No, you need a Smartproxy subscription to use it.
How Much Does It Cost?
It's free of charge for Smartproxy's users.
Which Operating Systems Does It Support?
Windows and macOS.
How to Use Smartproxy
Smartproxy is one of the easier providers to use. It supports self-service, doesn't take long to set up, and has user-friendly tools to help you work with proxies.
How to Register?
You'll need to enter your use case, email address, and password. Then, simply confirm the account creation by email, and you'll be able to access the dashboard. 
Is There a KYC?
Yes, there is. Sometimes, Smartproxy might ask you to provide additional information before you can start using it. I suppose that happens if you trip up the provider's security safeguards.
Is There Self-Service?
Yes. You don't need to talk with Smartproxy's team to accomplish things.
What Functionality Does the Dashboard Support?
Smartproxy's dashboard includes all the necessary functionality to manage proxies yourself. You can:
buy and upgrade plans,
authorize access to proxies,
set up the proxy server,
create sub-users,
track your traffic use,
and contact customer support.
There are introductory tutorials and guidance to help you. Overall, there's a lot of handholding, but it doesn't feel overbearing.
How Detailed Are the Traffic Statistics?
You can view your traffic by day, week, month, or choose a custom period. You can also filter it by sub-user.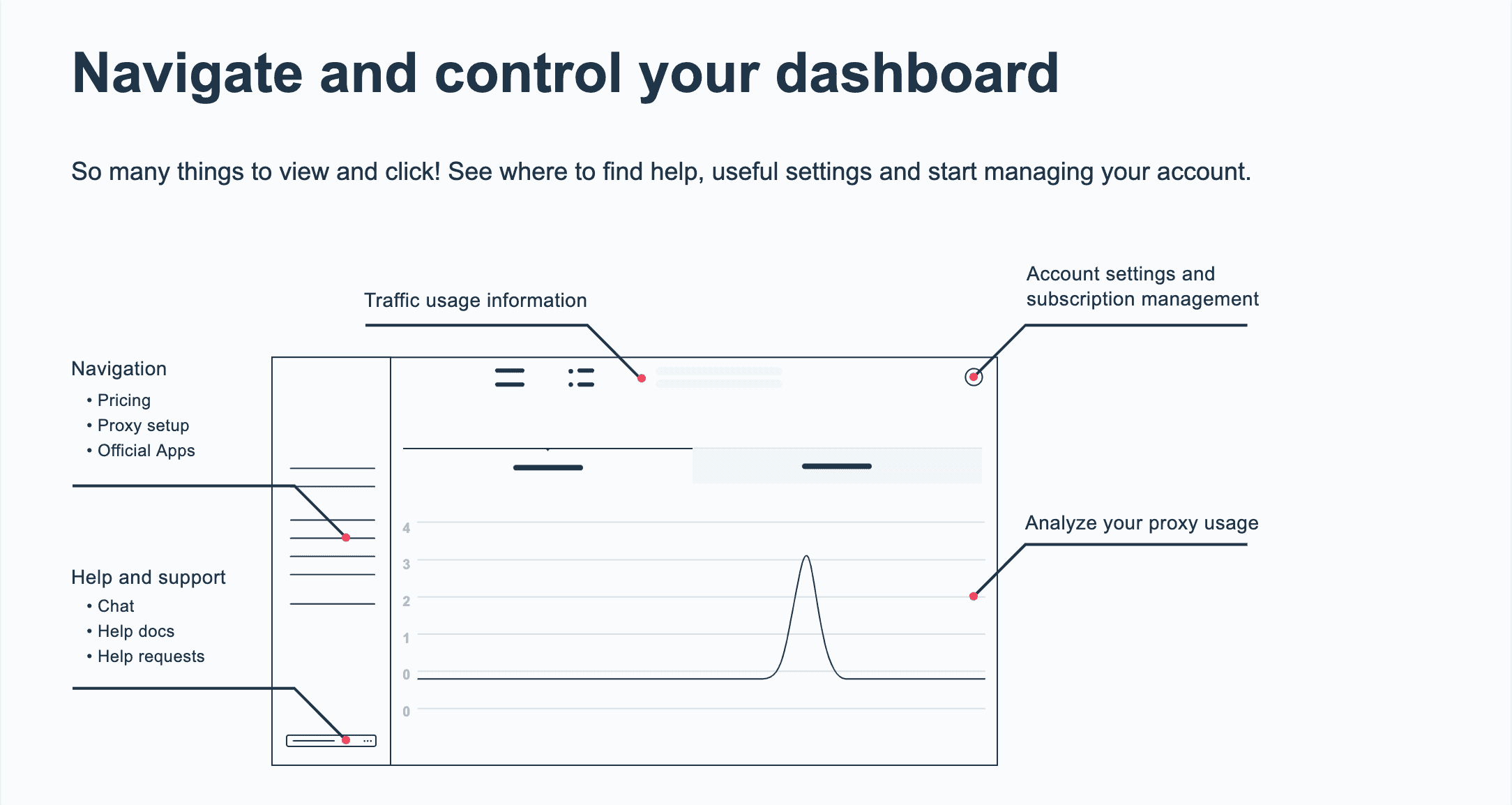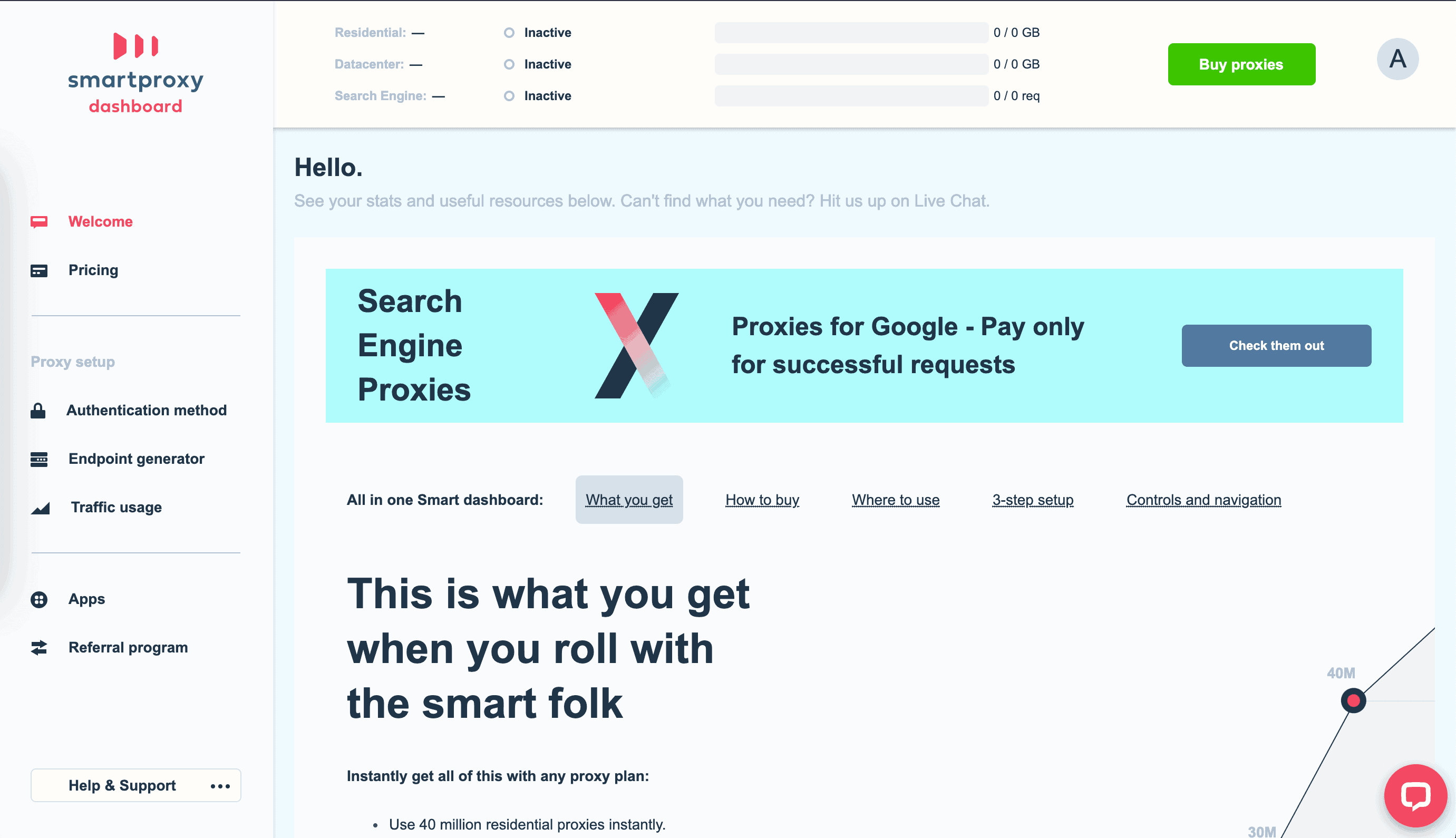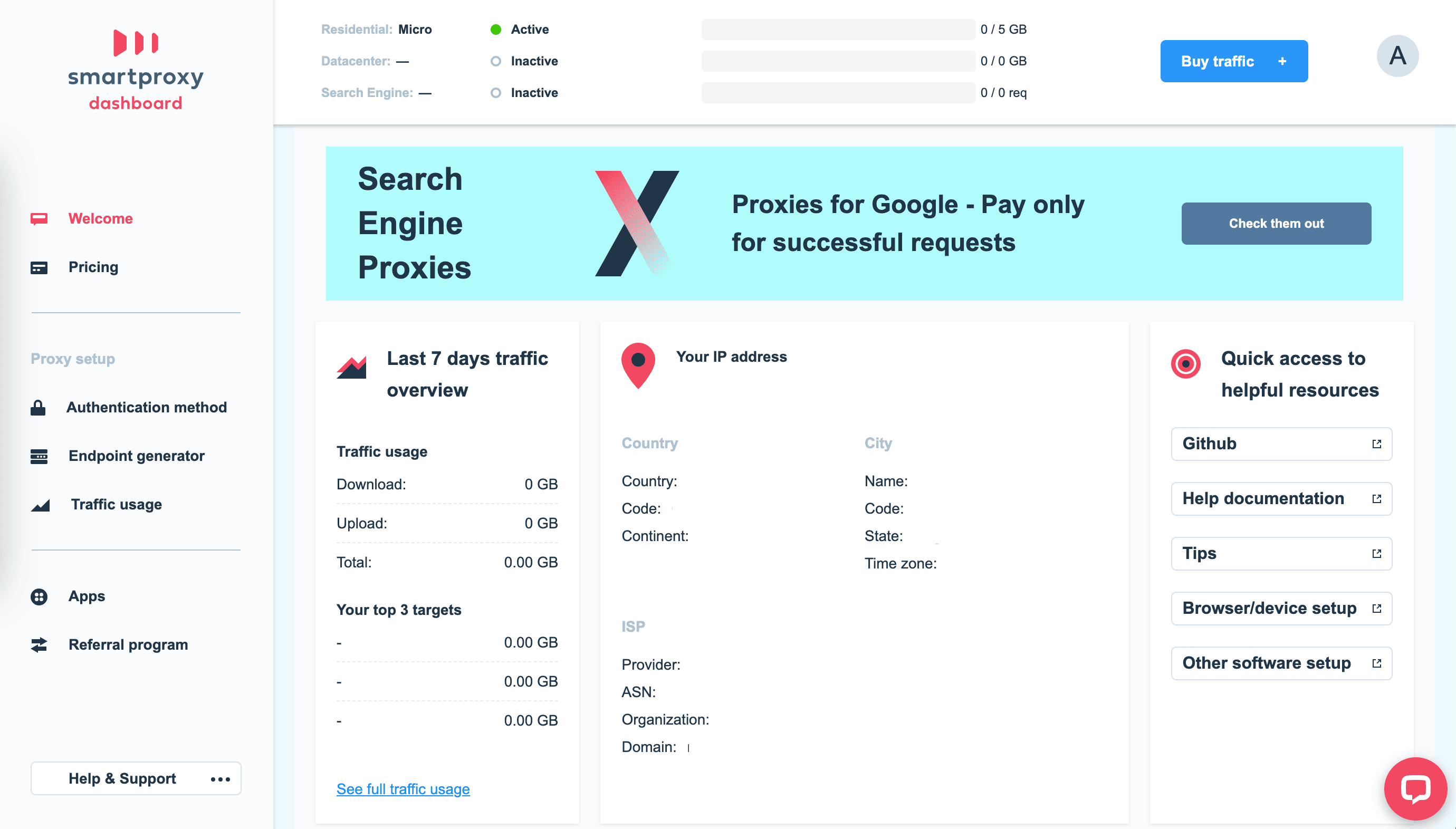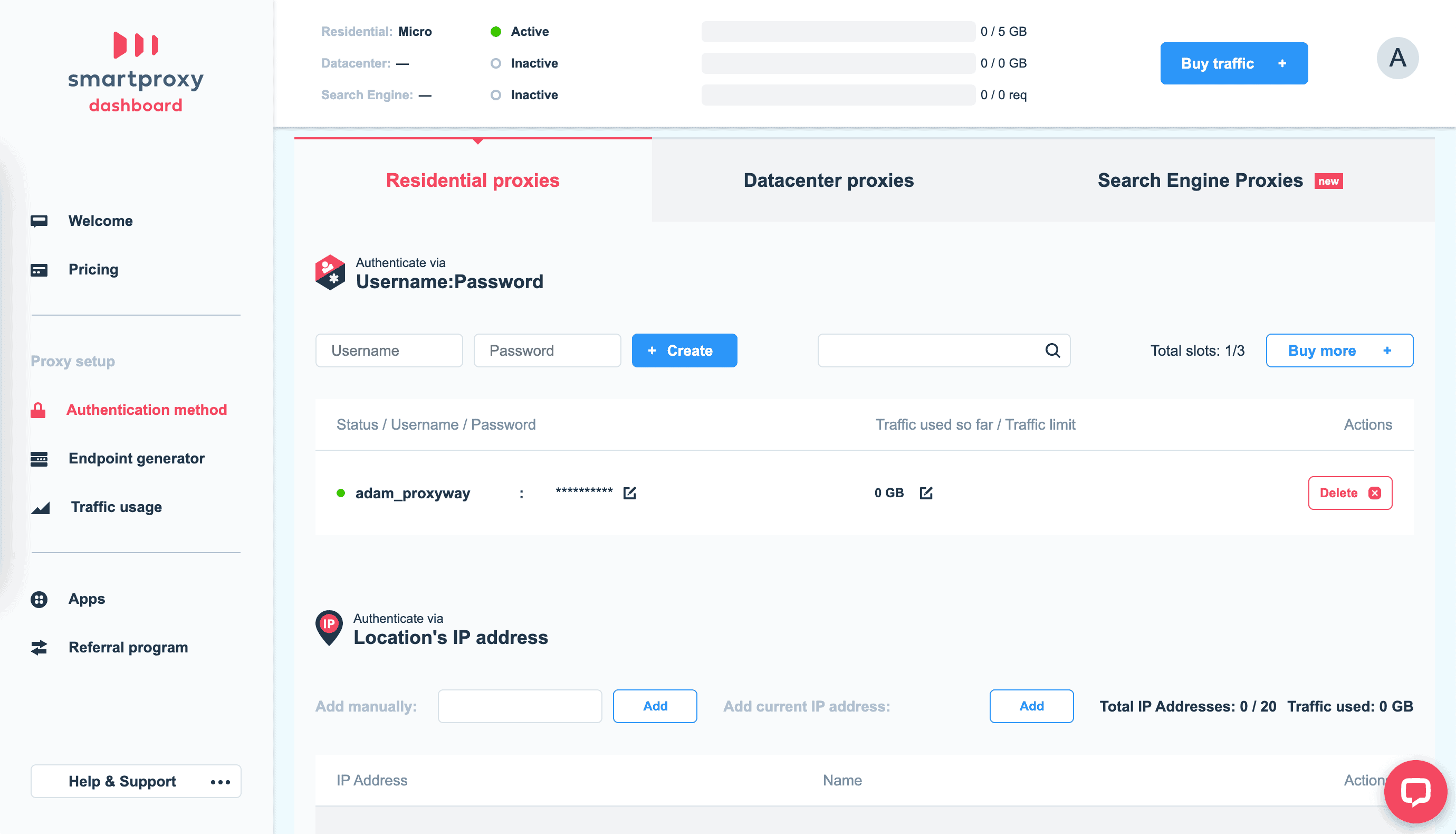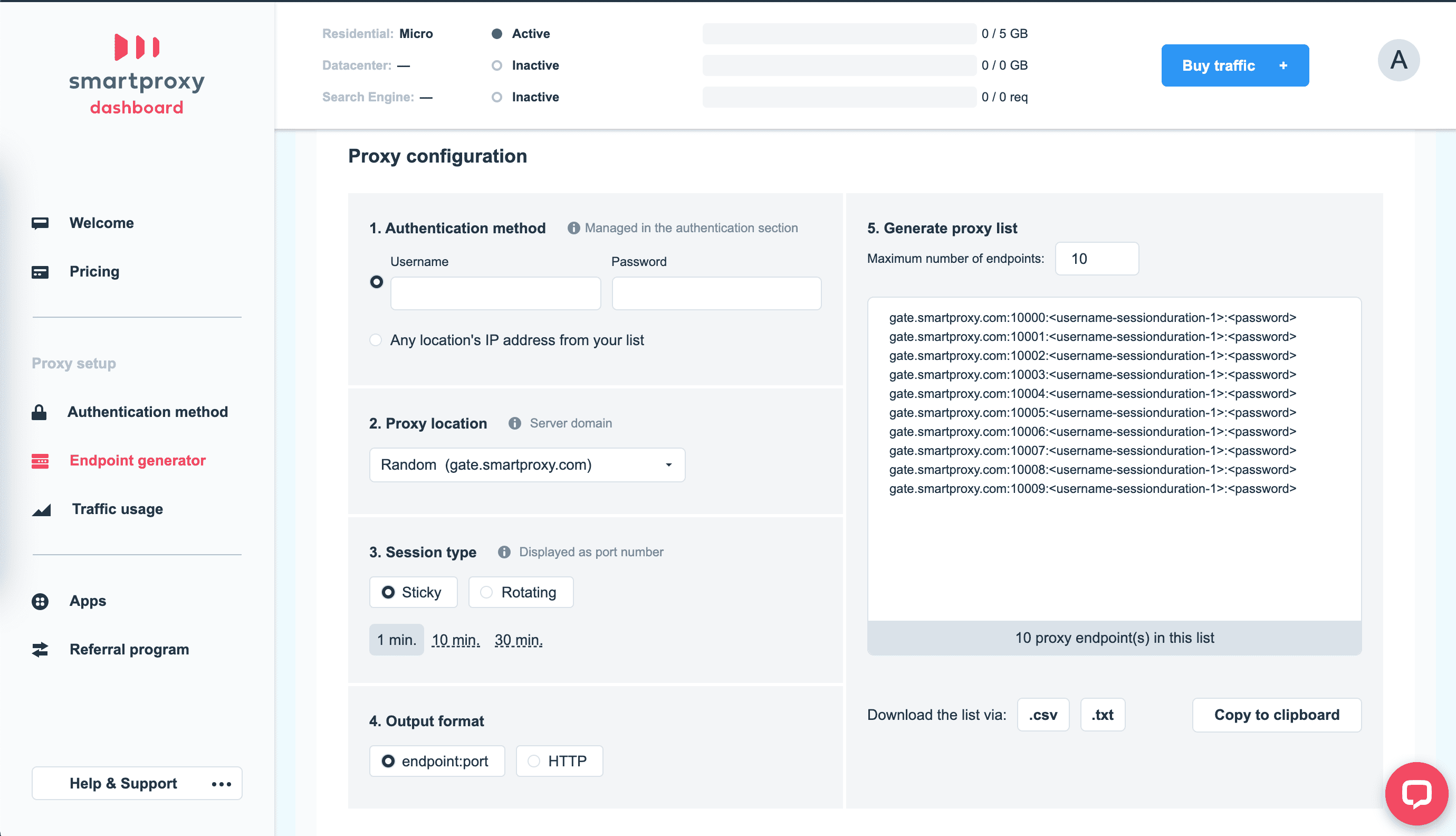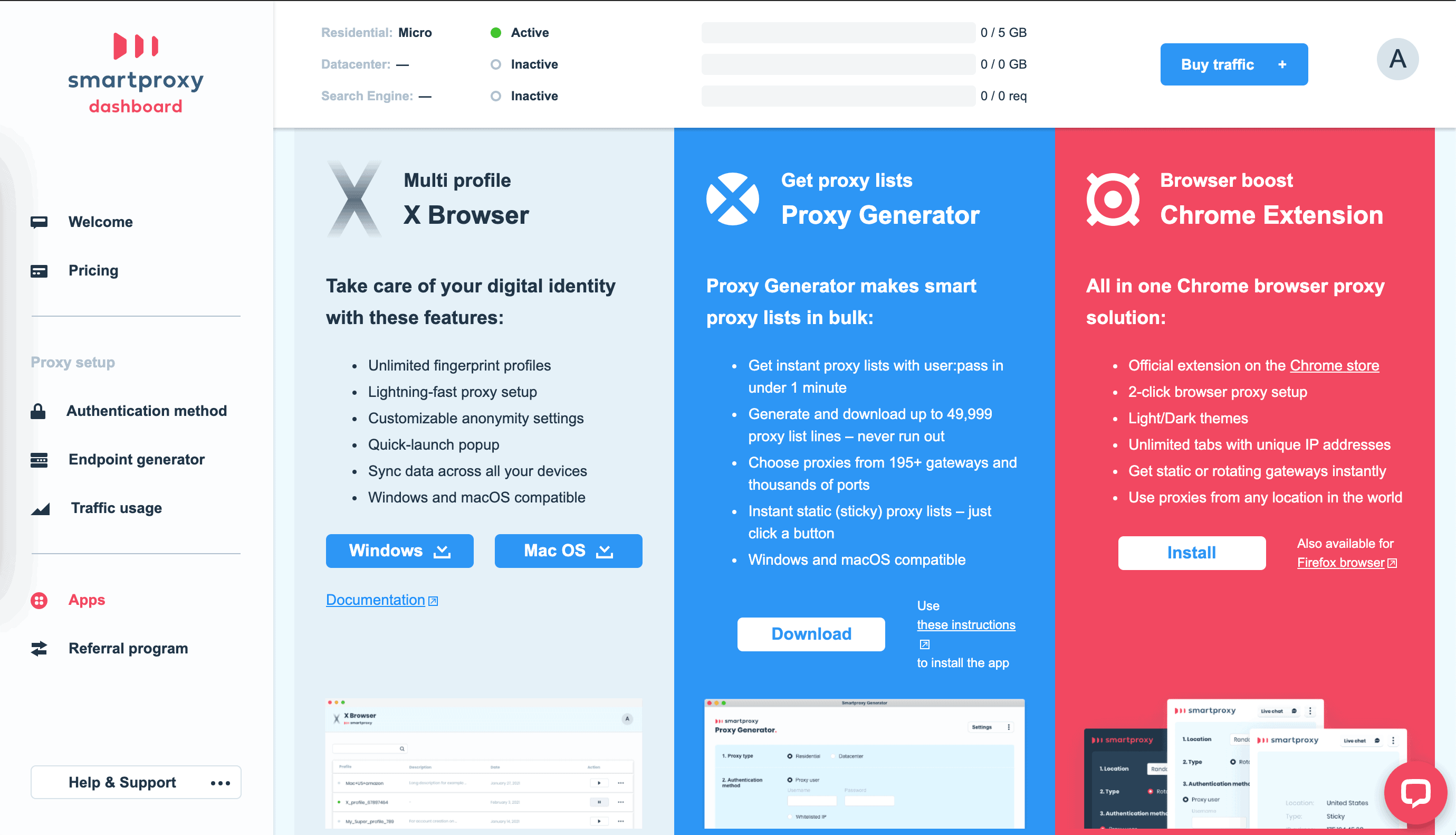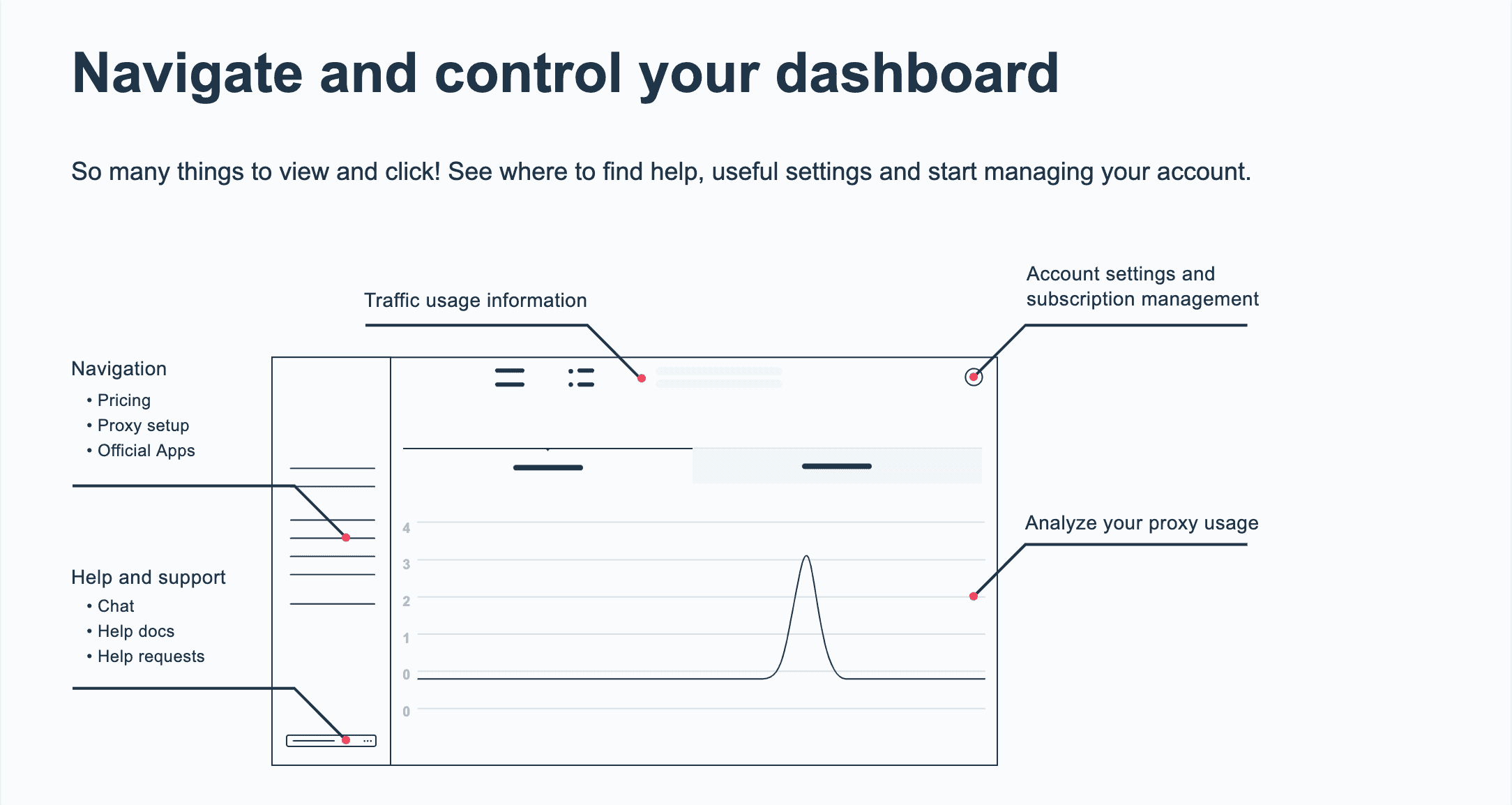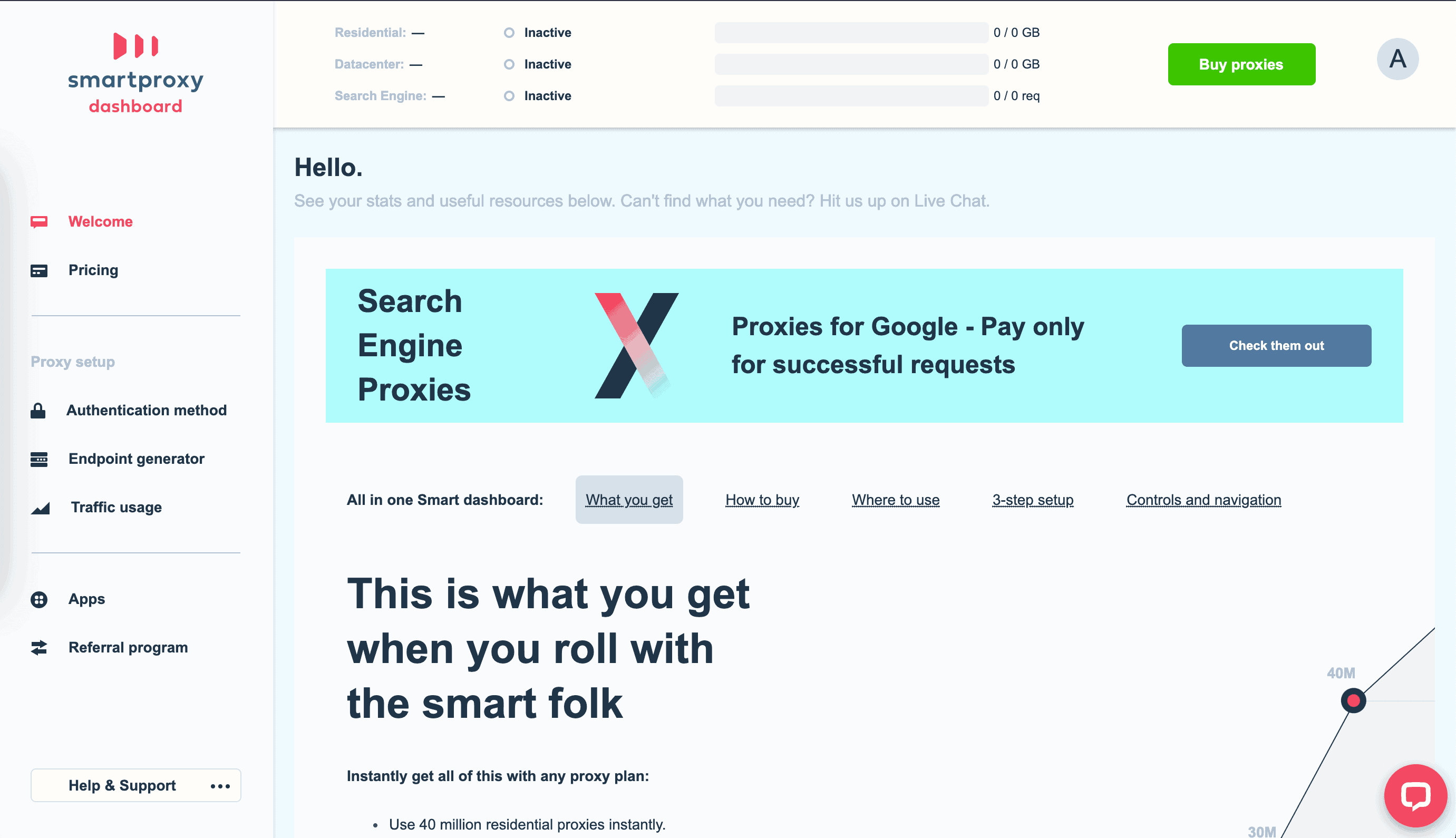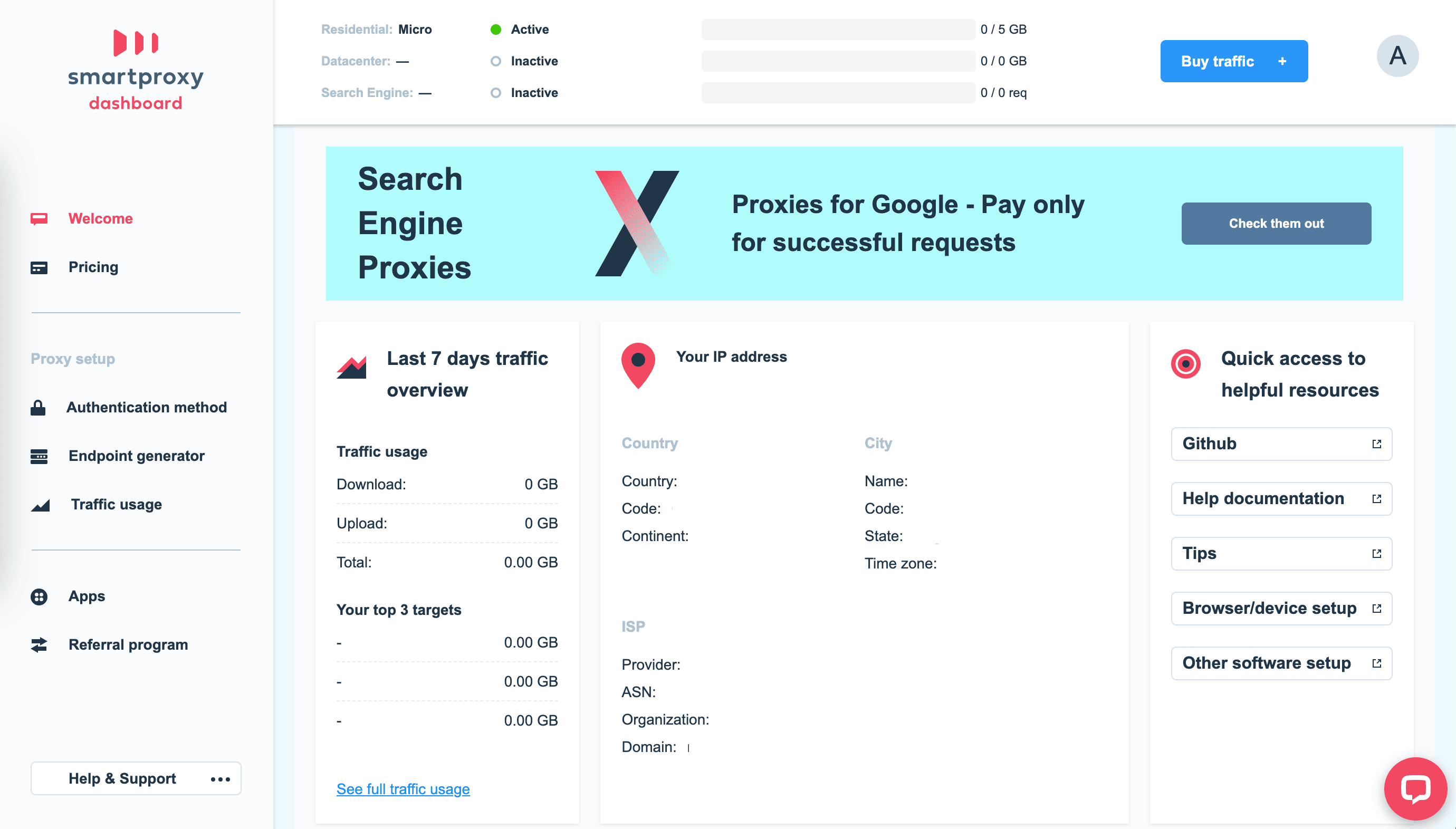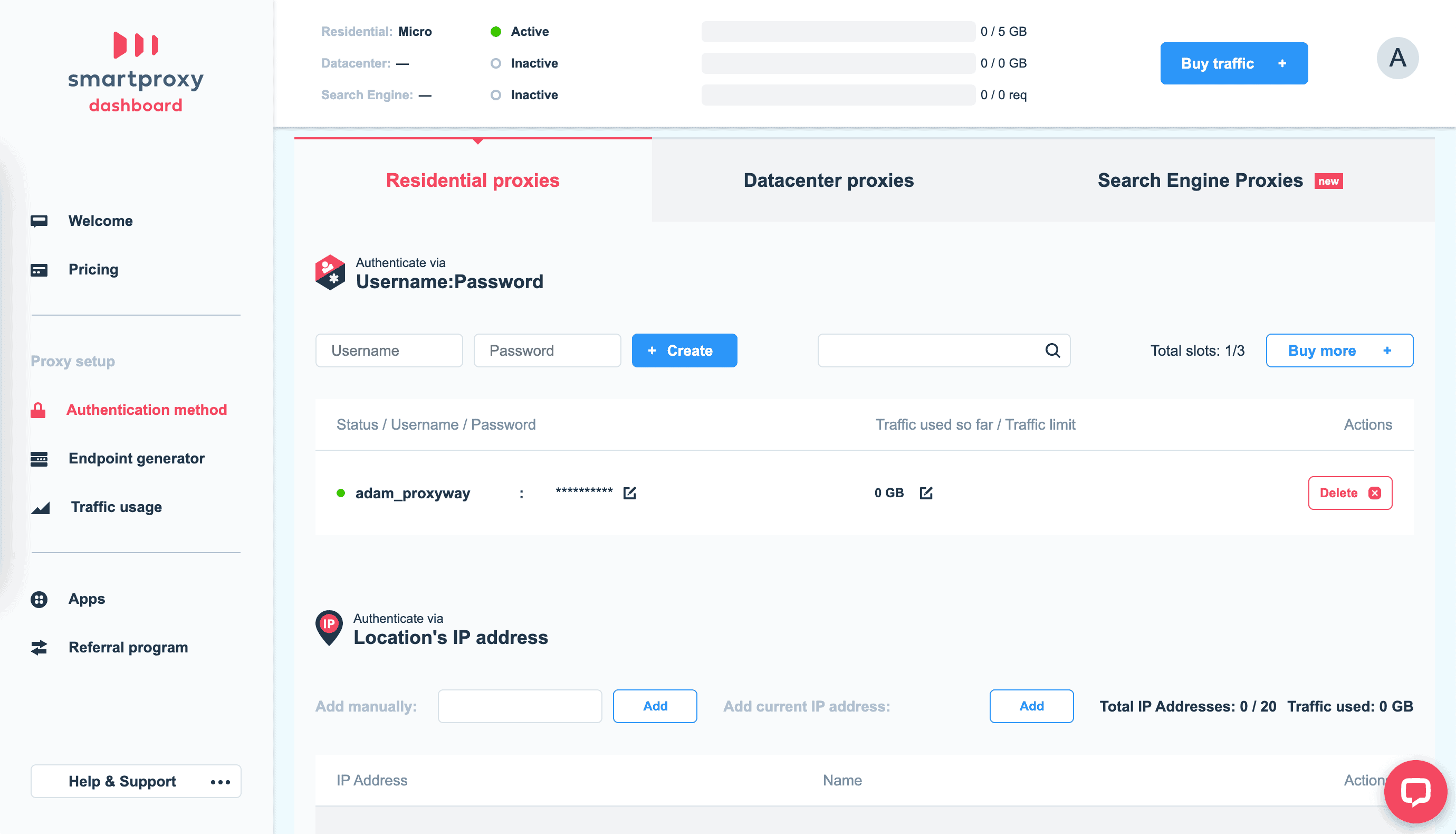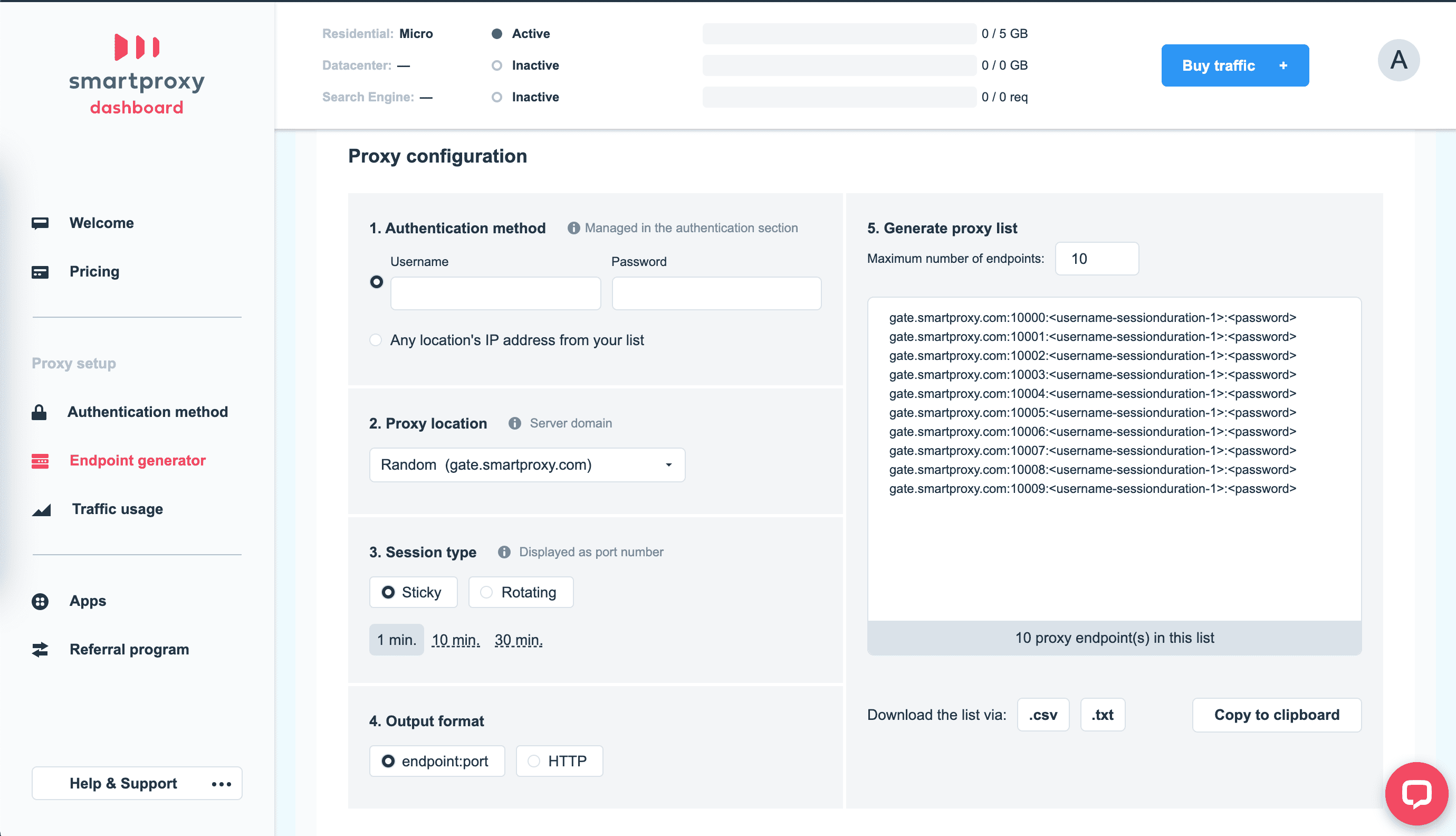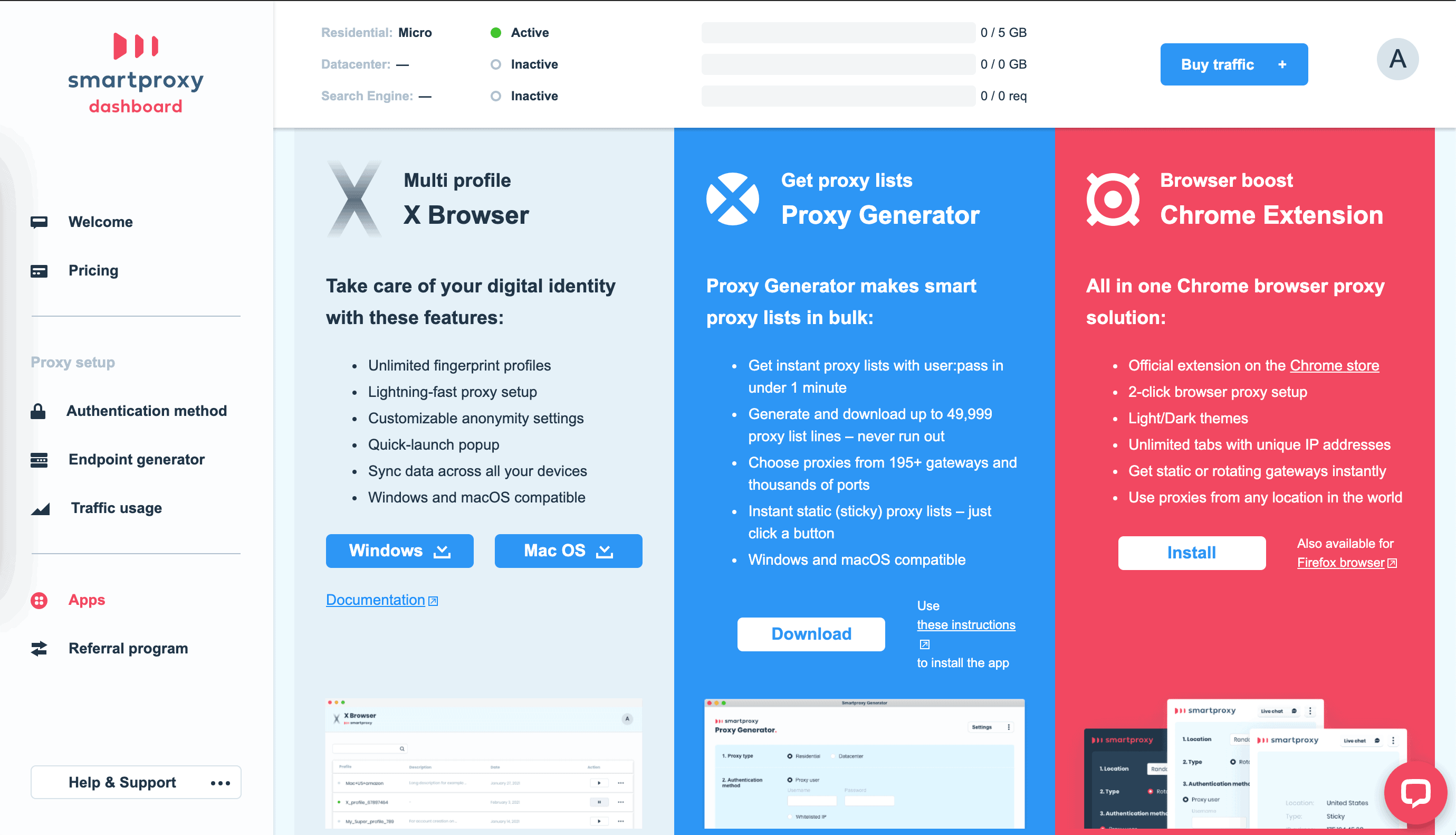 How to Set Up the Proxies?
The proxy setup here is straightforward. First, you create a user or whitelist an IP address. 
Then, you get a convenient widget to filter the proxy servers you need. The widget asks you to choose your preferred authentication method, IP location, rotation time (every request, 1, 10, 30 minutes), and output format (endpoint:port or HTTP). 
Finally, you select how many endpoints you want to generate. Endpoints are backconnect addresses that you can use instead of regular proxy IPs. Once you're done, you can copy the list to the clipboard, export it into .csv or .txt.
Overall, the setup procedure is well thought out. The only larger annoyance is that when you choose an authentication method in the widget, you can't select from your users. Instead, you'll need to enter a username and password by hand.
Does Smartproxy Have a Public API?
Yes. The API is pretty fleshed-out: it allows creating and managing sub-users, setting traffic limits, viewing usage reports and subscription status, and filtering available endpoints.  
To make your life easier, the API provides handy code examples in several major programming languages.
Is There a Browser Extension?
Yes, for Chrome and Firefox. The extension lets you easily work with proxies on the browser. In the settings, you can choose a country, whether you want the proxies to be sticky or rotate, and authorize them either with a whitelisted IP or user:pass credentials. 
Customer Support
Smartproxy is famous for its customer service. There's a rich library of help documentation, and last year we gave Smartproxy the Best Customer Service award.
What Kind of Documentation Can I Expect?
Smartproxy offers:
a detailed start guide that explains all the concepts and features,
an FAQ divided into multiple sections by topics,
integration guides for major bots and automation tools,
and configuration guides for web browsers and operating systems.
All in all, you won't be left in the dark.
Does Smartproxy Have Technical Documentation?
Yes. There's a separate hub for code samples, tips & tricks, and troubleshooting.
What Are the Customer Support's Working Hours?
Smartproxy's customer support works 24/7.
How Can I Contact the Support?
You can contact the support both by live chat and email. Live chat is obviously the faster route.
Which Languages Does the Support Speak?
The main language is English, but they can also speak Chinese.
Is the Support Fast?
Yes. I only tried out the live chat functionality because a support agent responded nearly instant and there was no need to contact the provider through email. I asked the representative a few technical questions and the answers received were very quick, nice, and helpful.
I can only conclude that Smartproxy really has one of the best customer support departments out there.
Conclusion
Having read this far, I hope you can see where I was coming from in the introduction.
Smartproxy really has struck something great. The company has responsive customer support, performant proxies, and everything set up for convenient self-service.
To be fair, compared to something like Bright Data, Oxylabs, or Geosurf, it's nothing special. But this is without considering Smartproxy's final ace – it somehow manages to achieve all this while keeping prices very competitive.
Of course, not everything is perfect. Some corners had to be cut, and here you won't find things like SOCKS proxies or ASN filtering.
But that's the whole point of Smartproxy: the company focuses on the functionality that is good enough for the majority of users at the expense of some nice-to-have or niche features. And it is damn good at that.
Based on my experience with Smartproxy, I can recommend it to anyone looking for a great residential proxy provider.
Smartproxy Alternatives

Oxylabs is like a premium version of Smartproxy. It controls a significantly larger IP pool, and you can get specialized APIs that simplify web scraping.

Bright Data is another strong option with more features and powerful proxy management tools. It also sells proxy-based web scraping APIs and even complete data sets.
The options above are expensive. Let's go the other way. PacketStream offers some of the cheapest residential proxies on the market with rotation every request and sticky sessions.
Want more? View the full list of the Smartproxy alternatives.