Cybersole Review
Efficient, expensive, and oh so exclusive.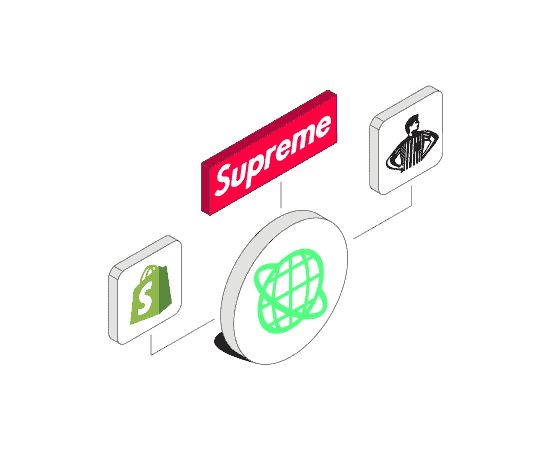 Cybersole (CyberAIO) is one of the more "exclusive" bots known for its efficiency and elusiveness. It's an all-in-one bot, with multiple site support and a good reputation among sneakerheads. Today, I'll be looking through Cybersole's main features, pros and cons, and try to answer if you should choose Cybersole's AIO or stick with ANB's AIO Bot.
Pricing
Right off the bat, the bot is sold out. But if it wasn't, you could buy it for 300 British pounds ($371 as a one-off purchase). But a thing to keep in mind is that you'll have to renew your bot every 6 months for 100 British pounds ($124).
There are people who are reselling the bot, but the prices are a bit crazy (averaging at a few thousand dollars, yikes). It's better to wait a bit – on the website it says that they restock randomly each month. We'll just have to wait and see, but from what I've seen, CyberAIO seems to be worth the original price.
Main Features
I'll have to say, CyberAIO stands out right away with the design and the website experience as soon as you start browsing the web. Everything's so sleek! They have the same easy to navigate minimalistic approach to their bot itself too, so it makes it super beginner friendly, and if even you don't consider yourself a beginner, having a clear dashboard has never hurt nobody, right?
The first big feature that catches my eye straight away is that there are no limits on the number of tasks that can be run simultaneously (for comparison, BNB's AIO allows up to 500 tasks). Another thing is that the bot has a nifty restock mode, so if you miss the drop, the bot will automatically wait for the restock. CyberAIO comes with a mobile app too which is rarely seen in the shoe bot world.
If we're comparing CyberAIO with the rest of AIOs, it also stands out by the number of sites they support. On the website it says that the bot supports 170+ websites, including Shopify, Supreme, Footsites, and Mesh amongst others. However, CyberAIO doesn't support Adidas or Nike webs.
As for the operating system, CyberAIO only works on Windows 8 and 10. Of course, you can set up a virtual machine on your Mac as well. Cybersole has a whole dedicated support webpage to setting up virtual machines on Mac.
Customer Support
CyberAIO offers an extensive website with all of their information regarding the bot, some nice tips and tricks about the copping process itself as well as some articles tailored towards common mistakes and errors when copping from particular shopping sites.
You can look through their customer support tickets and questions other people have already asked. There's an extensive guide too, but if you don't find what you need, you can always drop them an email via an email form.
Proxies
If you're getting a high-quality bot such as CyberAIO, you must invest in some trustworthy sneaker proxies as well. Don't go for the cheapest option (or god forbid the free ones), you don't want your set up tasks to go completely to waste.
If you want to get your money's worth, then you need to get some residential sneaker proxies. These types of proxies work best with shoe bots (and bots in general) because they have the lowest rate of getting blocked. Residential proxies are IP addresses that belong to real-life mobile and desktop devices and are not connected by a subnet, so even if one IP goes dead, you'll be able to get back up instantly as the next IP won't be connected to the same subnet. 
Of course, datacenter proxies might look appealing due to the speed, but they are way more likely to get blocked and take down a whole subnet with a single clocked IP.
Is Cybersole Bot Really Worth it?
Now that we've looked into the overall features of the bot, let's pick out the main pros and cons of Cybersole so you could make an informed decision.
Cybersole Bot Pros:
No limit on simultaneously run tasks:

I believe this is one of the best features Cybersole offers. The more tasks run per release, the better are your chances of copping a pair (or two).

Impressive number of sites supported:

Cybersole goes above and beyond with their selection. With over 170+ websites to choose from I'd say you'll find what you need. The sites include Shopify, Footsite, Mesh, etc.

Regular updates:

you can trust Cybersole to integrate something new with each update. Of course, these updates come with a price, but they are worth it.

Easy-to-use interface:

with sleek design and nifty features makes the copping experience pretty great. For example, the bot has a proxy checker that's one of the best ones on the market at the moment.

Comes with a mobile app:

A+ for the convenience on this one.

Good investment for resale:

even though the resale prices for Cybersole are a bit insane, there's always someone who's ready to lay down some hard cash for a rare bot. Looking at tendencies of how the bot's prices keep increasing, Cybersole might be a good investment. Maybe you're not the one for real estate, but would still like to invest, this sneaker bot might be a good choice.
Cybersole Bot Cons:
Doesn't support macOS:

Cybersole is only built for Windows OS. However, this could be fixed by using a virtual machine.

Expensive and hard to get hold of at retail price:

let's face it, Cybersole is almost impossible to get at the glorious 300 British pounds. And 4.5k for a bot, even a really good one, is hardly reasonable in my eyes.
Conclusion
Honestly, Cybersole seems like one of those things that's incredible if you can justify spending a decent chunk of money on a shoe bot. If you're an experienced reseller, then Cybersole could be the best choice for you. But if you're just testing the waters, I'd recommend starting with something that's not so high-stakes, such as BNB' AIO bot.