IPRoyal is a Lithuanian proxy provider, established in 2020. It offers datacenter, residential, ISP, and mobile proxies to a wide range of customers, with a large emphasis on sneakerheads. There's also a beta-ish tool for Google scraping. 
If you've come from Google, you're probably interested in the IPRoyal Pawns app. We briefly cover it below. Otherwise, this review focuses on the residential proxy service. 
IPRoyal is one of the newer players in the market. The company began by leasing IP subnets to other proxy providers. However, later on it changed the business model to selling proxies straight to clients. The earlier service remains, but it's no longer the focus. 
Unlike other providers that start out specialized, IPRoyal decided to cast a wide net, quickly gathering every type of proxy available. Some of its services are still pretty limited in terms of features but can do their job well if they match your needs. 
The company acknowledges these limitations, positioning itself as a competent – and improving – proxy provider. To compensate for the current trade-offs, IPRoyal has the prices down low: $3 for 1 GB of residential proxies and no monthly commitments? Yes, please.
For now, IPRoyal seems to show special attention to sneakerheads. Its Discord and Twitter channels are full of shoe-related information. You wouldn't guess it by looking at the website – it resembles that of any general-use proxy provider. And yet you'd be wrong: the surface hides 24-hour plans, non-expiring traffic, and special residential proxy endpoints for stores like Nike.  
Speaking of residential proxies, that's a curious case. IPRoyal initially resold the IPs of three different providers. Later on, it developed a beer-money app called Pawns and started collecting IPs of its own. These two different pools remain available side by side, but I wouldn't be surprised to see the former go once Pawns gets more popular. For now, the home-grown option is still much smaller but also several times cheaper.
(Update: As of Oct 26, IPRoyal is discontinuing the Premium pool.)
But enough for the introduction. Let's leave the details for the actual review. Read on, and you'll learn more about IPRoyal's services, pricing plans, user experience, and how well this provider's residential proxies fare against the competition. Let's go!
Pros
Cheap ($3/GB)
Pay as you go
Over 100 locations
Flexible IP rotation
Cons
Small proxy pool
No city or ASN targeting
Mediocre performance
Key Features
Proxy types: Datacenter (dedicated), residential, ISP, mobile
Locations: 150+
Audience: Hustlers to enterprises
Reselling: Yes
Extras: API, Google scraper
Support: 24/7 via live chat or email
Payment options: PayPal, card, Bitcoin
IPRoyal Pawns
A beer-money app that turns users into proxy servers.
If I had to describe this app in one sentence, IPRoyal Pawns rewards people (so, maybe you?) for voluntarily becoming proxies. A proxy simply means that someone accesses the web via your IP address, using some traffic in the process. They can't reach – and aren't really interested in – anything else, like your password or personal data. 
IPRoyal's clients use these IP addresses to change their perceived location, collect data from the web, or buy multiple pairs of limited-release shoes from sneaker stores. These are usually pre-approved business use cases that shouldn't cause legal issues. 
What they can do is trigger more CAPTCHAs for the IP lender, or temporarily blacklist their IP address with some websites, if the proxy user isn't careful. Otherwise, Pawns is a decent way to earn some side income. 
Apps like IPRoyal Pawns are becoming an increasingly popular format among providers to gain residential IPs. Oxylabs relies on Honeygain, Bright Data has EarnApp, Blazing SEO has introduced Cash Raven, and PacketStream offers an app of its own. 
Compared to the alternatives, Pawns is pretty generous in terms of reward size and payout conditions: its rate is twice the market average, and you can cash out from $1. The real payout, however, highly depends on the needs of IPRoyal's clients and is hard to predict.
IPRoyal Services
Every kind of proxy IP available.
IPRoyal sells four kinds of proxy IPs:
Dedicated datacenter proxies to access less protected targets. There's also a separate plan for sneaker releases. 
Rotating residential proxies for websites with strong protection mechanisms.
ISP proxies for protected websites that require long sessions. 
Mobile proxies mainly for social media marketing.
There's also what looks to be a beta-version tool for scraping Google Search results. It's like a SERP API where you feed in parameters to an API endpoint and receive raw or structured data. 
Let's look at each proxy type individually. I'll mostly focus on the residential proxies because that's what we got to test, and IPRoyal is very stingy with information on public channels.
IPRoyal Datacenter Proxies
General as well as sneaker-oriented plans.
IPRoyal controls an undisclosed amount of datacenter proxies – but I guess there's plenty  considering the provider leases subnets to others. The proxies are dedicated for your exclusive use, meaning that nobody else will be using them at the same time. 
There are general as well as specialized sneaker proxy plans to choose from. Both have the same specs, but the shoe plans ensure you'll get unbanned IPs at the time of release. They require entering your preferred sneaker website (only one) before purchase.
Finally, if you're feeling adventurous, you can buy some IPv6 proxy addresses.
Spec Sheet
Number of IPs:

unknown

Format:

IP list

Locations:

US (Reston, LA, Chicago), UK, Germany, Netherlands, Italy. 

Rotation:

no

Connection speed:

10 Gbps

Parallel threads:

Unlimited

Bandwidth:

Unlimited

Protocols:

HTTP(S), SOCKS5

Authentication:

credentials & IP whitelisting
Pricing
The general datacenter plans use a monthly subscription model. There are three plans that range from $1.5 to $1.3 per IP address. The more you buy, the cheaper these proxies become. Overall, they're pretty affordable for dedicated IPs, and you don't have to buy many. It's also interesting that every location costs the same – some other providers have different pricing for addresses outside of the US. 
The sneaker plans can be bought for 24 hours or a month. This is great if you need IPs for one release. They're more expensive than the general plans: the monthly option costs between $1.8 to $1.6/IP, reducing in price at 100 and 300 IPs. The 24-hr plans cost .80/IP, no matter how many you buy. The minimum, however, is 5 proxies.
IPRoyal Residential Proxies
Two proxy pools to choose from: home-grown and resold.
Residential proxies are a product IPRoyal gives a lot of attention to. There are actually two completely different residential proxy pools, which you couldn't tell looking at the website.
Number one is called Premium Residential Proxies. This pool includes over 50 million IPs with some neat features like city targeting. From what we were told, it combines the IPs of three other providers. In other words, IPRoyal is reselling these proxies. (Update: The Premium pool is no longer available.)
The second pool is called Royal Residential Proxies. This one has IPs gained via the Pawns app where people sell traffic for beer money. The pool is very small for now, with merely 25k monthly proxies, but they too span over 150 countries. I highly doubt you'd have a good experience targeting locations outside of North America and Europe, though. 
IPRoyal claims that its Royal proxies work better – and faster – than the Premium IPs. But if you still find them not performant enough, you can enable a high-end pool. It's a subset of the Royal proxies that includes even fewer but quality-filtered IPs.
Another thing that caught my eye is how flexible the Royal proxies are. Not exactly in location targeting, even though you can select individual countries, regions like Africa, and even endpoints tailored for shoe stores (Nike, MESH). The flexibility mostly comes in rotation control: it's the first provider I've seen that lets you choose sticky sessions between 1 second (yes, second) and 24 hours. Of course, you shouldn't actually expect the IP to remain available for the full duration.
Spec Sheet
Number of IPs:

50M (Premium pool), 25,000 (Royal pool)

Format:

backconnect gateway server

Locations:

150+

Rotation:

every request, sticky sessions between 1 s – 24 hrs

Targeting:

Region, country, city (Premium pool only)

Parallel threads:

unlimited

Bandwidth:

limited by plan

Protocols:

HTTP(S)

Authentication:

credentials
Pricing
IPRoyal's residential proxies charge by traffic. Their pricing highly depends on which residential IP pool you opt for. In any case, you can pay as you go, and the traffic never expires, which are two important – and rare – features in the market. 
The Premium pool always costs $10/GB. And by saying always, I mean it, or at least IPRoyal's pricing calculator does. 
The Royal pool is more interesting. Even after the provider had to raise its prices earlier this year, they still start out very cheap, at $3/GB. This is competing with PacketStream, the absolute price leader for residential IPs. The more you buy, the more the price drops, until it finally reaches .60/GB. Here's the full pricing scheme:
Performance
We tested IPRoyal's Royal residential proxies for several days. Their performance was decent, but we have questions about the size – and composition – of the proxy pool. 
We first tested a global endpoint on a server that wouldn't block the IPs. This is our standard benchmark. And while not always accurate about particular countries, it allows us to decently estimate a provider's IP pool.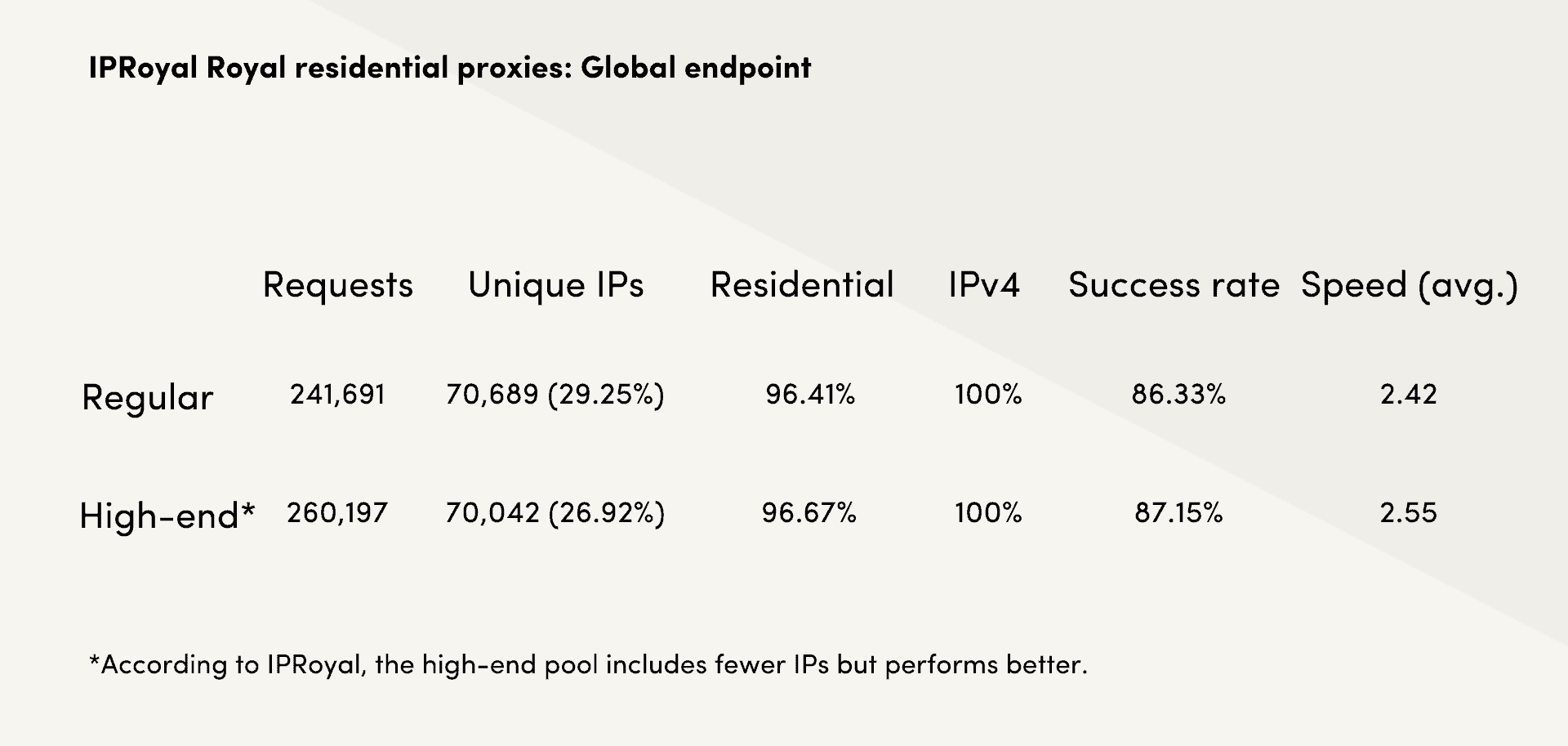 The results are pretty curious. How did we get 70,689 unique IPs? Remember: this pool is supposed to have just 25,000 unique monthly addresses. Our best guess is that IPs from other providers' pools slipped in, accidentally or on purpose. Either way, most of the addresses were residential, and all of them used the IPv4 protocol by default. 
Secondly, the high-end pool was almost identical in its composition compared to the general pool. Maybe the difference lies in individual locations?
Let's set this aside for now and look at the performance metrics.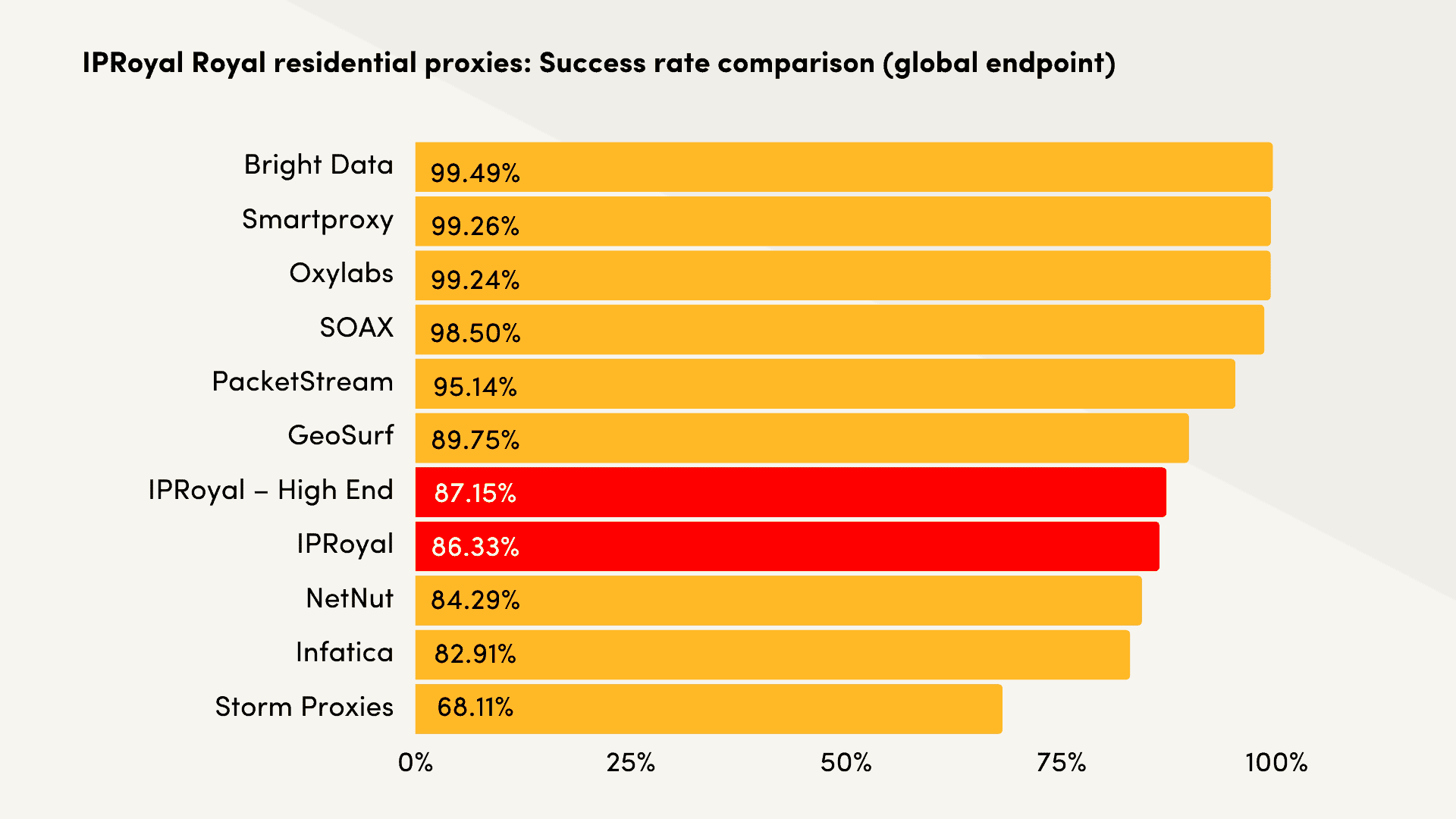 The success rate was in line with NetNut and GeoSurf – which is to say, pretty average. The results could have been impacted by the fact that the largest number of IPs (around 15%) came from China. Once again, the General pool didn't really differ from the High-End pool.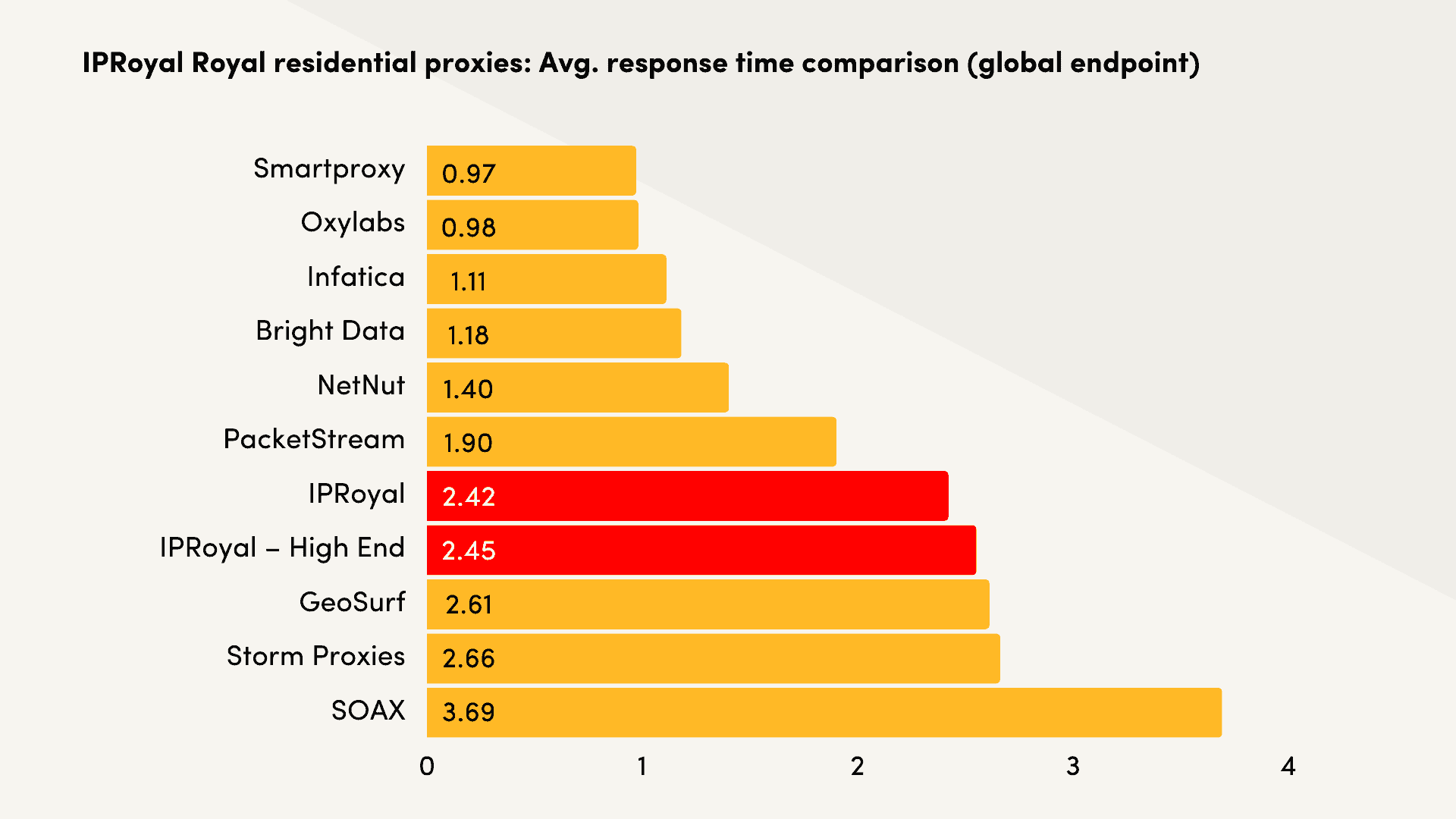 The response time was in the middle of the pack. Curiously, the High-End pool was even slower than the General pool, which contradicts IPRoyal's claims. 
Considering the findings, we decided to test individual country endpoints. Mind you, we only did it for a day, so long-term results may differ.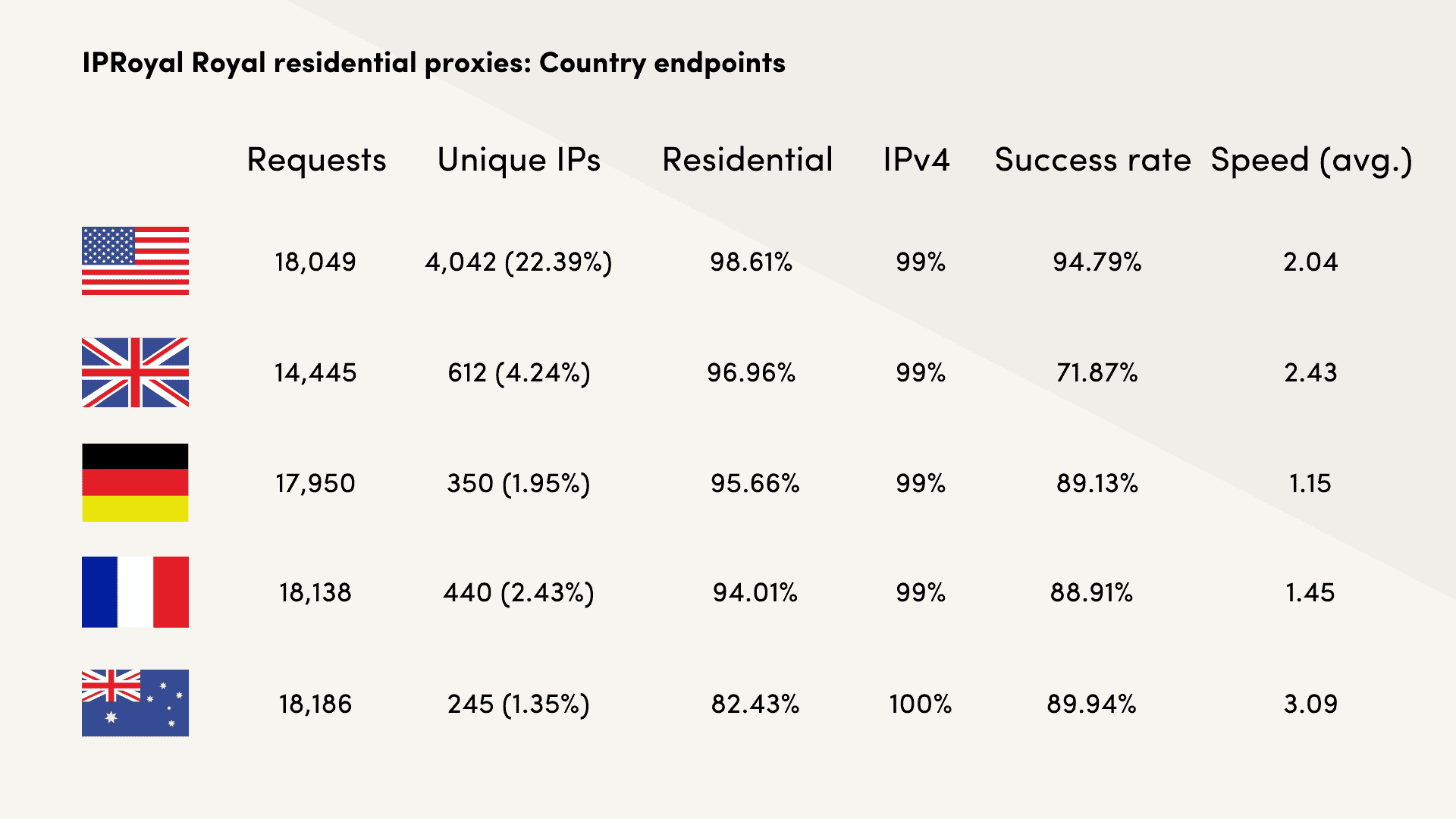 The US pool had around four thousand IPs online. This is respectable – and rather disproportionate considering the overall size of the Royal pool. Turns out, IPRoyal adds unused ISP proxies into the mix. We don't mind that, as long as they're recognized as residential addresses, which was the case here.
The UK was considerably smaller but at least residential. However, the performance metrics notably deteriorated. The German and French pools were small as well but performed much better compared to their UK counterpart. Finally, the Australian pool actually had more IPs than we expected. Their response time wasn't the best, but that's possibly because the provider has load balancing servers somewhere in Europe. 
All in all, the individual country pools paint a different picture compared to the Random endpoint. This begs the question of how many clients can IPRoyal sustain, given that it claims not to "splice" the IPs – which means share them among several users. 
The next table shows how well the proxies performed with real targets. Once again, we used a Random endpoint for the test, but the US pool had very similar issues.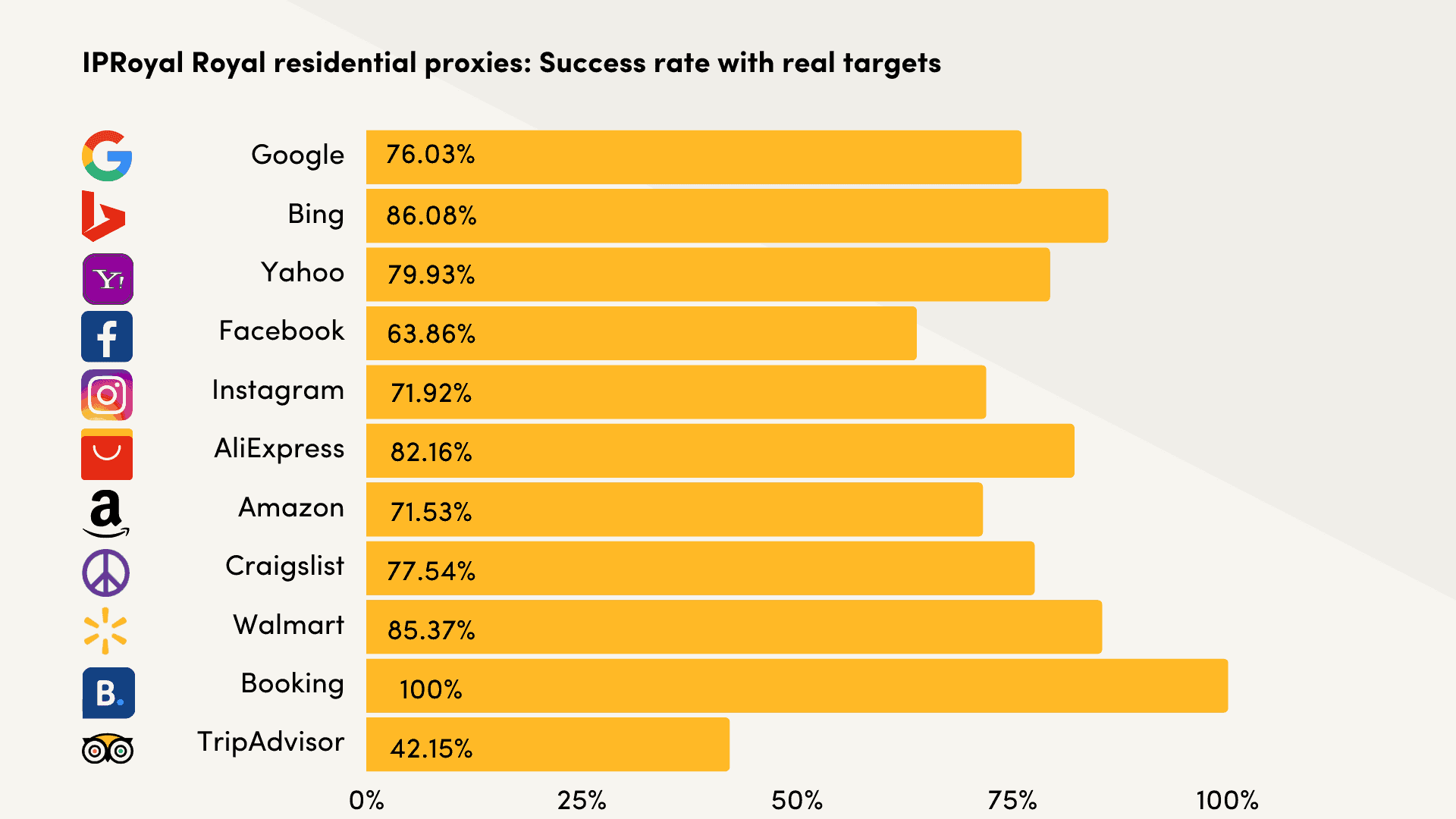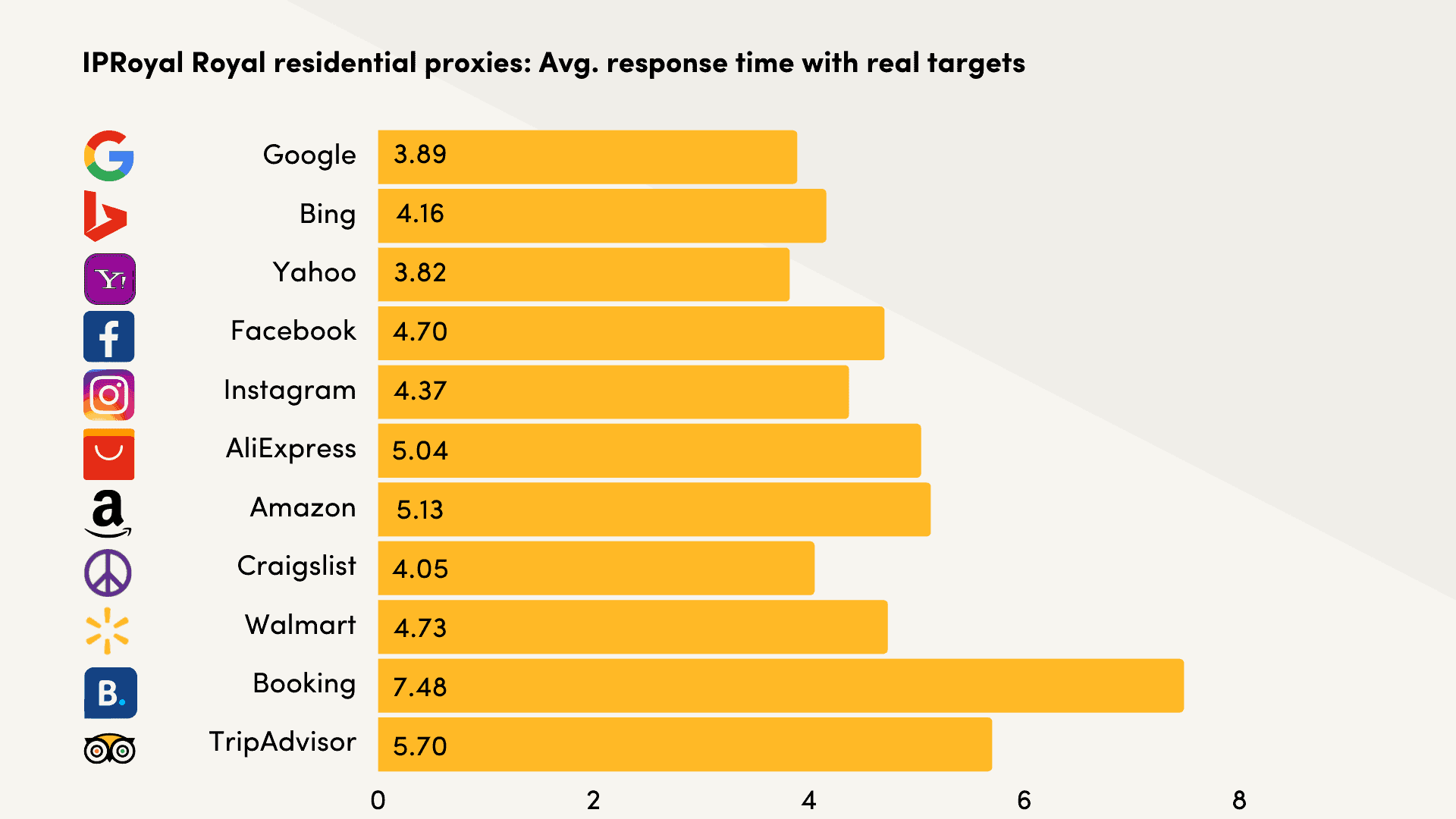 The results were average across the board. What this table fails to show is that the errors mostly came from the infrastructure. The target success rate (the ability to actually access the website once connected to the proxy node) was over 90%. 
Finally, we tested how good IPRoyal's servers are at dealing with load. 
At 300 requests per second, the proxy server did okay: not impressive, but also not bad. Afterward, it started throttling us hard. At 500 requests per second, nearly every second response code we received was 429 – too many requests. This is unusual, as IPRoyal claims not to limit threads.
IPRoyal ISP Proxies
A treat for sneakerheads.
​​I don't have much to say about this product at this point. It covers very few locations, but the proxies are priced per IP address, and you don't have to buy many. Looks like another treat for sneaker resellers.
Spec Sheet
Number of IPs:

unknown

Format:

IP list

Locations:

US (New York, Arizona), Austria

Rotation:

no

Bandwidth:

unlimited

Protocols:

HTTP(S), SOCKS5

Authentication:

???
Pricing
You can buy IPRoyal's ISP proxies per IP address, for 24 hours or a month. The monthly option costs $2.5/IP, and if you want proxies for a day, it'll cost you $1/IP. The price remains the same no matter how much you buy, and the dashboard allows choosing as few as 1 IP address. Compared to the competition, this is very affordable.
IPRoyal Mobile Proxies
Unlimited bandwidth mobile IPs on 4G.
IPRoyal's mobile pool is based on a network of peer-to-peer devices, similar to Bright Data and Oxylabs. So, they're not the USB stick farms that some mobile proxy providers use. You can expect less predictable rotation times but more variety. 
The IPs are based on 4G connections, with an option to get 3G proxies if for some reason you might need them. They can access any (legal) website, not only social media. Coupled with the fact that you don't pay for bandwidth, the mobile proxies become a pretty attractive choice. I'm just worried about their quality: with a relatively small proxy pool and no traffic limits, the IPs probably suffer from pretty heavy abuse.
Spec Sheet
Number of IPs:

100,000

Format:

backconnect gateway server

Locations:

Lithuania

Rotation:

customizable via the dashboard

Bandwidth:

unlimited

Protocols:

HTTP(S)

Authentication:

???
Pricing
These proxies cost $90 per month or $7 for one-day unlimited access. IPRoyal promises not to throttle the IPs no matter how much bandwidth you use.
How to Use IPRoyal
Self-service, reseller API, and no graphs for traffic use.
To start using IPRoyal, you must first fill in a registration form. It requires entering your name, surname, and phone number as personal details, and you might need to confirm the registration via your phone.
Once done, you get to enter the dashboard, where you can buy and manage access to IPRoyal's proxy networks. 
The provider's dashboard is divided into self-contained sections for each product. So, you only need to leave your tab to change the account settings – or deposit money if you choose to. 
Deposits provide one way to pay for services; otherwise, the other is to create orders directly. The difference is that the former option doesn't require identity verification, and you can top up with BTC. Identity verification is used for another purpose, too: screening the buyers of residential proxies for suspicious activity.
Once you've bought a plan, the setup procedure depends on which proxy type you get. For example, Royal residential proxies give you a widget with multiple options. You can choose a country, rotation type, and sticky session duration which is a text field for whatever time period you want. There are some extra options as well: selecting between several proxy formats, IP or DNS hostname. Once done, you can export up to 1,000 lines of formatted proxy addresses.
The dashboard has the ability to show your remaining traffic, but only as a number: there are no visualizations whatsoever. This is quite funny knowing that the Affiliate dashboard provides visual stats for earnings and clicks. You can opt to get traffic reminders by email. 
If you deposit at least $200, IPRoyal enables its reseller tools: a separate dashboard for managing sub-users and an API for doing the same tasks programmatically. The API documentation is well maintained and supports over a dozen programming languages. 
Invoices are held separately under individual products.
Customer Support
Responsive support, severely lacking documentation.
Documentation
IPRoyal has big issues with presenting information. I don't mean the technical documentation – the APIs are reasonably well documented; rather, general information about the services.
Let's do a small experiment. Go to IPRoyal's residential proxy page and try to find: 
Any mention about the two different residential IP pools,

supported authentication methods,

available protocols,

or the requirements for enabling the API (there are conditions!)
Won't be easy. In the same way, you'll find very few configuration instructions and other helpful information. There's truly no comparison with providers like Smartproxy or Bright Data – but maybe this aspect of the service needs time.
Hands-On Support
So, either IPRoyal's potential customers already know everything and don't ask questions or the support has to take the brunt of their curiosity. I'd bet on the second option. 
That's not necessarily a bad thing for us (unless you're a complete introvert) – IPRoyal answers queries 24/7 via live chat, email, and Discord. We tried contacting the support via live chat; an agent responded within a minute and competently answered as many questions as we threw at them. Color me impressed.
Conclusion
Like many other new proxy providers, IPRoyal is very much an exercise in compromise. You give up some features, encounter rough edges in user experience – and in this case, have to make do with a smaller proxy pool. In return, you pay less, hoping that the product that is there will be able to meet your needs. 
Well, will it?
Once again, it depends: the residential Royal pool should be just fine for small-time use, with varying performance and IP numbers for different locations. It can't hold a candle to the premium providers yet, but the service is still very new. And the upsides make a pretty compelling case: $3/GB, non-expiring traffic, and some of the most flexible IP rotation settings I've seen. 
I'm afraid to think what an enterprise whale would do to the pool now, but IPRoyal has its reseller network to fall back on (which, actually, can be compelling financially on its own up to a certain point). So, you can surely try it for tasks of limited scale today – after all, the price is right, – just be aware of the limitations.