We use affiliate links. They let us sustain ourselves at no cost to you.
The Best Shopify Bots for 2023
I bet that when you first heard of Shopify, you thought that it was just another online store. I'm sure you know better now.
Shopify is an eCommerce platform that has thousands of stores under its hood. A big chunk of them are exclusively for sneakers. Kith, Undefeated, Travis Scott – do these names ring a bell? All of them are Shopify stores. Of course, some of the most limited edition sneakers drop on this platform.
However many shoe stores there may be, the competition for hot kicks is huge. So, if you want to get some Ws, you'll be needing something special – a sneaker bot. To help you out, we've prepared a strong line-up of the most successful Shopify bots.
But hold on a second – are you curious to find what the overall best sneaker copping bot is? Then head straight to our list of the best sneaker bots. You won't be disappointed.
The Best Shopify Bots – Quick Summary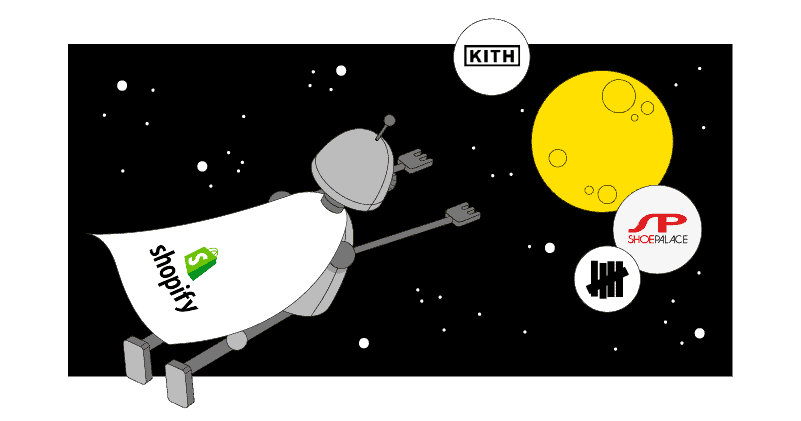 Best Shopify Sneaker Bots in 2023:
1. MEKAIO
An absolute Shopify destroyer.
MEK hasn't been around for long, but it's already rivaling the market veterans. That's right: MEK is probably the most advanced bot. In the right hands, it can be the most efficient bot for destroying Shopify.
I'm not going to lie – at the beginning, MEK wasn't so great. It seriously lagged in performance and failed some of the important cops. But now things have changed. MEK developers created a clever and sneaky anti-bot evasion system that helps to sweep Shopify's stocks. While the platform tries to fight back, MEK's developers quickly notice changes and push for updates. That's how the bot stays ahead of the game.
MEK's interface differs from most of the other Shopify bots. It may seem a little overwhelming and bulky at first, but it works well, I promise. With a little practice, you'll be able to set the bot up in minutes.
What I like the most about this bot is its cross-platform support. Sometimes it's best to work with what you've got. That's why MEK supports both Windows and macOS machines. So, there's no need to get a different laptop or a sneaker server – MEK has you covered.
If you're determined to get this bot, I have some bad news for you – it's almost always sold out. However, you can easily buy it on a trustworthy reseller's site, such as BotBroker.
Supported sites: Yeezy Supply, Adidas, Shopify, and Footsites
Operating systems: Windows and macOS
Price: $300 initially with a monthly renewal fee of $45
Current aftermarket price: $900 for a renewal copy
---
2. Wrath AIO Bot
The best AIO bot.
I'm sure there hasn't been an instance where Wrath let someone down so much they stopped using the bot completely. That's because Wrath is the most consistent Shopify bot. It may not deliver you thousands of checkouts with every cook, but you can be certain that you'll be scoring at least some Ws every time you use it.
Wrath is an AIO bot, which means it destroys many targets. I don't know how the developers manage to keep up with everything, but the advanced bot performs well on each – including Shopify. The bot has an implemented a Shopify bypass module that's extremely good at bypassing queues and security measures. Pair that with its efficient CAPTCHA harvester, and you have one of the most powerful Shopify bots on the market.
In addition to performance, Wrath has many other features. First of all, it's multithreaded, so you'll be able to run hundreds of tasks without sacrificing the bot's performance. Second, you'll be able to learn and learn from your mistakes by going through purchase analytics. Third, you'll set up tasks in under 5 minutes because Wrath has made its interface easy to figure out.
The bad news is that Wrath very rarely restocks. That's a shame because it would be amazing to get this bot for a retail price of $350 with a $50 renewal fee every 3 months. But you can always try the secondary market.
Supported sites: Yeezy Supply, Footsites, Supreme, and Shopify
Operating systems: Windows
Price: $350 for the first 3 months, then $50 per month.
Current aftermarket price: $3,600
---
3. Balkobot
A bot that's worth the hype.
For quite some time, Balkobot has been one of the most hyped bots on the market. The praises have definitely skyrocketed its aftermarket prices, but sneakerheads were not driven away by that. How could they? After all, Balkobot has been consistently cooking during the most demanding releases.
Ever since it was introduced, Balkobot has been known for destroying Shopify. All thanks to a very clever and efficient module that's always promptly updated.
The bot comes with a very minimalistic user interface that's a bit tough to navigate. Beginners may not like it that much, although experienced sneakerheads may enjoy an opportunity to try something different.
Of course, Balko has a lot of features to make sneaker copping easier. You'll get a CAPTCHA solver, analytics, and even cross-platform support. Pretty neat, isn't it?
You're probably curious how you can get your hand on this Shopify bot. Well, it comes with a price tag of $220. But that's the retail price. It currently runs for around $1,300 on BotBroker, so get it from here if you aren't willing to test your luck on retail.
Supported sites: Shopify, Adidas, Supreme, Footsites, and Off-White
Operating systems: Windows and macOS
Price: $220. Renewal for 6 months $60 and $360 for a year
Current aftermarket price: lifetime copy runs for $1,400 on BotBroker
---
4. Sole AIO
The best bot for newbies.
Sole AIO had a shady past. Its reputation was so bad that even today, many sneakerheads are swearing never to use it. But things have changed a lot. The bot rose from the ashes with a complete rework on its interface and every module. Today, Sole is known as the Sole Sorcerer – one of the best Shopify bots to cop sneakers.
Sole is extremely efficient on Shopify. Its tasks are fast, it can bypass queues, and it's constantly monitoring pools. Each time Shopify introduces an update to its anti-botting security, Sole responds by sharpening its knives, too.
Sole's most prominent feature is how well it's suited for beginners. The Shopify bot comes with an easy-to-use user interface. It is smooth, easy to grasp, and allows to set up tasks very quickly – definitely not what it used to be in the past. By the way, Sole has an extensive user guide oriented at beginners. It provides installation instructions, Shopify setup advice, and so much more.
Sole Sorcerer is a mid-priced Shopify bot. It costs £300 initially, and you will pay £125 every 6 months to continue using it. Yes, you'll be expected to that amount in pounds.
Supported sites: Yeezy Supply, Adidas, Shopify, Supreme, Footlocker, and Magneto sites.
Operating systems: Windows
Price: £300 and a renewal fee of £125
Current aftermarket price: N/A
---
5. Prism
The best arsenal of features.
Prism is one of the most hyped-up sneaker copping bots. But it works extremely well and can prove it. According to its stats, the bot has already scored over 1,000,000 successful checkouts, averaging over 300 sales per user. So, if you want to cop big, clearly Prism is a top choice.
Apart from great performance, Prism is known for its arsenal of features. Let's start with the user interface. Not only is it easy to use, but it also looks innovative and even futuristic, I would say. Seriously, it's designed very well. The best part is the ability to group tasks. Well, not just tasks. You can group everything: shoe sizes, profiles – you name it. To keep track of it all, Prism includes a section with easy-to-digest group statistics.
Oh, Prism also keeps you in the loop of releases. How? With a release calendar right in the dashboard. Developers even included a function to set up tasks and monitor them directly in the calendar to make things easier.
You can probably already guess that a bot this good is going to cost a lot. The retail price is $400 with a $150 renewal fee every 3 months, but Prism is usually sold out. Though don't be disappointed – the renewal copy has reached the lowest price of the year, so you can grab Prism for $200 on BotBroker.
Supported sites: Shopify, Supreme, Footsites, and Supreme
Operating systems: Windows and macOS
Price: $400 with a $150 renewal fee every 3 months
Current aftermarket price: $500 renewal license on BotBroker
---
6. Kodai
An untamable cooking machine.
Kodai has been around since 2018, and a lot has changed since then. But one thing has stayed the same: Kodai is still one of the top-performing bots on the market. How does it do it?
The reason behind the bot's success is a hardworking developer team. They're quick to spot changes for all of the supported targets and swiftly push out updates. While Kodai is known for its success on Footsites, it works just as well on Shopify.
The user interface has a lot to do with success rates, and Kodai has an excellent UI. It's simple, user-friendly and you can set it up in minutes.
Even when you pay a lot of money for a bot, you probably don't expect to get something for free. That's how Kodai exceeds expectations – it comes with a complimentary dashboard that makes your cooking game much easier. The dashboard includes a release calendar alongside suggested copping settings, retail and resell price, tailored settings for each specific drop, and personal analytics.
Speaking of price, Kodai costs $175 for the first two months with a $59.99 monthly renewal fee. You won't find Kodai on any major bot market because the developers forbid you from selling it on the aftermarket. However, you can still rent it on platforms like Whop or from individuals.
Supported sites: Shopify, Supreme, Footsites, Yeezy Supply, and Adidas
Operating systems: Windows and macOS
Price: first two months $175 with a $59.99 monthly renewal fee
Current aftermarket price: $7 to rent for a day on Whop
---
7. Nike Shoe Bot (NSB)
Always ready to cop.
I know you want to get the very best bot, but the destroyers of the market are either sold out or too expensive. Luckily for you, there are other options, such as the always-in-stock Nike Shoe Bot.
Nike Shoe Bot has been on the market for years. Actually, it's one of the first sneaker bots. Unsurprisingly, it knows what it takes to be efficient. That's why prompt updates to each of its module are a given.
The Shopify bot comes with a sleek user interface. It gives special attention to newbies, that's why the bot very easy to use and has sufficient documentation. In addition, NSB offers a variety of features, such as smart login, Shopify queue and bot protection bypass, CAPTCHA solver, cookie generator, and many others.
Supported sites: Yeezy Supply, Adidas, Shopify, Footsites, Supreme
Operating systems: Windows, macOS
Price: $499 every year
---
What Sneaker Sites Are Using Shopify?
Now that you're familiar with some of the best Shopify bots on the market, you should be ready to dive deeper into Shopify's realm. By that I mean you need to figure out which Shopify websites you're going to target. I'm not going to tell which ones are the best – it all depends on what you want. So, here's a list of the most important stores you need to check out:
A Ma Maniere
Bape
BB Branded
BdgaStore
Blends US
Concepts
Deadstock
DSM EFlash
DTLR
Eflash Dover Street Market
Exclucity Life
Fice Gallery
Funko Shopify Stores
Hanon Shop
Haven Shop
Just Don
Kith
Kylie Cosmetics
Noirfonce EU
NRML
OctobersVeryOwn
PackerShoes
Palace Skateboards
Public School NY
Ronnie Fieg Shopify Stores
Shoe Palace
Shop Nice Kicks
Sneaker Politics
Social Status PGH
SoleFly
Sole Steal
Stussy
SUEDE Store
Travis Scott
Trophy Room Store
The Closet Inc.
Undefeated
YCMC
Xhibition
As you can see, there are a lot of sneaker-related Shopify sites. And the list isn't final. So, what do you do if you find a store and don't know if Shopify hosts it? There's a simple way to figure it out. Just add /robots.txt to the end of the URL. For instance: https://kith.com/robots.txt. A Shopify store will have the following text written at the top of the page: # we use Shopify as our ecommerce platform.
How Do You Bot on Shopify?
Botting Shopify may be hard, but it's not rocket science. The most important thing you should understand is that every store on the platform approaches anti-botting differently. Some stores, like Kith or Undefeated, have strict measures emplaced to protect themselves. Some have none at all. Here are the different types of measures Shopify offers:
Antibot-bot. That's a variety of methods including CAPCTHAs, queues, etc.
Checkpoint. It's an additional CAPTCHA you have to solve either before entering the queue or before the checkout session.
Password page sites. Sometimes stores set up a password, and only customers who have it can enter the queue.
Most sneaker bots have three modules to evade these measures: safe mode, fast mode, and anti-bot mode. Keep in mind that their names may vary from bot to bot. Let's take a look at how you should use these modes with the most common security measure variations:
Variation 1:
Anti-bot: no
Checkpoint: no
Password: no
The type of protection means… well, there's no protection at all. If you encounter shops with no protection, all you have to do is be very fast. Also, you should use a combination of tasks with fast and safe modes and them 2 minutes before the drop.
Variation 2:
Anti-bot: no
Checkpoint: no
Password: yes
To beat password protection, you need to use a combination of fast and safe modes again. Also, you should start your tasks 5 or 3 seconds before the drop to avoid burning your proxies.
Variation 3:
Anti-bot: yes
Checkpoint yes
Password: yes
It's the strictest type of security, often used by Kith and other trendy stores. To beat it, you'll have to use an anti-bot module (if your bot has it). Then start tasks not later or sooner than 5-10 seconds before the drop and solve CAPTCHAS as fast as you can.
To make sure that you know what you're doing, make sure that you do research for each of the Shopify stores you aim to target. Usually, a good cook group will have everything you need, so make sure to join one.
What Proxies Are Good for Shopify?
If you encounter a store with no serious protection from Shopify bots, you can try running several tasks with no proxies. The chances of grabbing a pair are going to be slim, but you should still be safe from blocks.
If you're looking to win big, then you won't be able to do that without proxies. Proxies allow you to cook sneakers while looking like dozens or even hundreds of different people.
The type of proxy you need is residential or ISP. They are relatively fast IPs that come from real people. Residential proxies should work for most Shopify sites. However, if you decide to cop from more demanding targets such as Kith, you should use a combination of residential and ISP addresses.
If you have no idea where to get reliable proxies, check out our list of the best sneaker proxy providers.