NetNut is a relatively new proxy provider, established in 2017 in Israel. It offers exclusively residential IPs for companies that want to protect their brands, conduct business intelligence, or do some plain-ole web scraping.
We could wrap up the introduction here and move on with the review, if not for one interesting fact: All of NetNut's residential IPs come straight from ISPs. In other words, these are static residential proxies, and not the P2P ones rented from end users. This makes NetNut rather unique, and one of the few proxy sellers in the market offering such a product.
How? Well, NetNut uses the services of another company called DiviNetworks. It's effectively a bandwidth-sharing business; but instead of buying traffic from people, it does so with internet service providers. In effect, you get residential proxies without having to rely on end users.
This mix-and-match has its advantages. The proxies keep the stability, and much of the speed, of datacenter IPs. (There's a reason why NetNut's slogan – and all their Google ads – should out: NetNut is the fastest!) At the same time, they're as hard to detect as residential proxies – websites will see your scraper as any regular Joe from Cincinnati or wherever you decide to locate it.
NetNut further emphasizes its exlusivity by stating that it draws from IP spaces with prior usage history. You might even be using them in parallel with customers of internet service providers. As a result, NetNut's proxies should be harder to block than other static residential IPs which often come unused.
But this is all theory. How do the proxies work in practice, and where does NetNut stand compared to other top residential proxy providers? Let's find out.
Pros
Static residential proxies
Good performance
Dedicated support
Generous free trial
Cons
Not beginner friendly
Expensive smaller plans
Feature lock
Key Features
Proxy types: Residential (static)
Protocols: HTTP, HTTPS
Locations: 50 countries
Targeting: Country, city (US)
Authentication: Whitelisted IP, user:pass
Sub-users: With a reseller account
Dashboard: Yes
Extras: API, browser extension
Support: Dedicated 24/7 support
Pricing: From $300/20GB ($15/GB)
Payment options: PayPal, Credit Card
Trial: 7 days
NetNut Services
NetNut commands a network of around 5 million static residential proxies. According to the provider, all of them are active during any given time. This contrasts with peer-to-peer residential IPs, whose availability comes and goes, never fully reaching the advertised amount. You'd hardly notice the difference with the large proxy providers, but it gives NetNut an edge over smaller proxy networks.
Residential Proxies
No SOCKS5.
NetNut's proxies cover around 50 locations. They include the US, most European countries, as well as the largest countries in South America, Asia, and Oceania. Africa is the least represented region, with only a few locales to choose from. This should be enough for most geo-sensitive tasks, unless you have very specific needs. You can target cities and states, but only in the US.
The proxies use backconnect gateway servers. Because they're static, you don't have to rely on end-users and their devices. Instead, the servers can hold the same IP indefinitely. Rotation is also available, but if you want custom sticky sessions, you'll need to set them up manually. The SOCKS5 protocol isn't supported, so you'll have to make do with HTTP and HTTPS.
NetNut emphasizes that you can use its proxies with all websites, including search engines. This is a welcome approach in times where the other providers are requiring whitelists or shepherding clients toward specialized scraping tools (especially for Google). If you have a particular target in mind, you can ask NetNut for dedicated proxies to use with that website.
Both user:pass and IP whitelisting authentication methods are available, though the latter is reserver for more expensive plans.
You can create sub-users if you enroll into the company's reseller program.
NetNut Pricing
Starts off expensive, scales well. 
NetNut uses a traffic-based pricing model. You can choose from six plans, each having a set amount of gigabytes assigned to it. The cheapest plan gives you 20 GB for $300 ($15/GB). Custom plans are also available if the options on display aren't enough for you.
Recently, the provider has also introduced pricing by requests. This model targets customers with very big needs, and it starts from $7,500 per month. Paying for successful requests makes the most sense when you're scraping large web pages.
Plans differ not only by traffic but also features. For instance, the smallest option won't give you Skype support, IP whitelisting, or API access. You can unlock them by shelling out more money.
Compared to other residential proxy providers, NetNut is around the middle of the pricing scale. It starts off rather expensive, at $15/GB, but the pricing transitions well into larger plans. For example, at 100 GB you'll be paying $7/GB, and at 250 GB it drops even further to $5/GB. This is pretty fair for what you get. Just note that the rates might change depending on your use case.
Overall, NetNut's pricing scheme works in your favor if you have larger needs, but it faces tough competition for smaller projects and tasks. Perhaps that's one of the reasons why the company devotes so much space to resellers on its homepage.
NetNut Performance Tests
Mostly great, but not without "buts"
Proxy performance should be NetNut's forte. After all, we're talking about datacenter-level speeds and stability here combined with the anonymity of residential IPs. The provider further emphasizes this advantage by advertising one-hop connectivity:
Instead of going through a proxy server AND a peer-to-peer residential IP, your connection only needs to pass one server to reach the target website. End result? Speed, baby! But let's see how this works in practice.
Proxy Quality Test
IP Type

Datacenter (48.47%)




ISP (35.36%)




ISP/Mobile (8.89%)




Others (7.28%)

IP Protocol
IPv4 (100%)
Requests Made

456097

Unique IPs

326456 (72%)

Success Rate

77.76%

Average Response Time

1.36 s
We ran the proxy quality test for multiple days. Its results are somewhat divisive.
The first thing to notice is how many of the IPs were identified as belonging to a data center. This is a known issue with static residential proxy providers who co-operate with a good deal of small and local ISPs. Having your IP recognized as datacenter by an IP database may cause some issues with strict websites. 
Another hiccup was the success rate. We target a very lenient domain that shouldn't block IPs. This means most of the failed requests came from timeouts (more than 30s). This is unfortunate, considering that otherwise the connection speeds were really good. 
That aside, NetNut's results were impressive. We received a large proxy pool, as shown by the number of unique IPs. Supposedly, that is one of the benefits of having always-available residential IPs. Further yet, every one of them used the superior IPv4 protocol.
Success Rate Test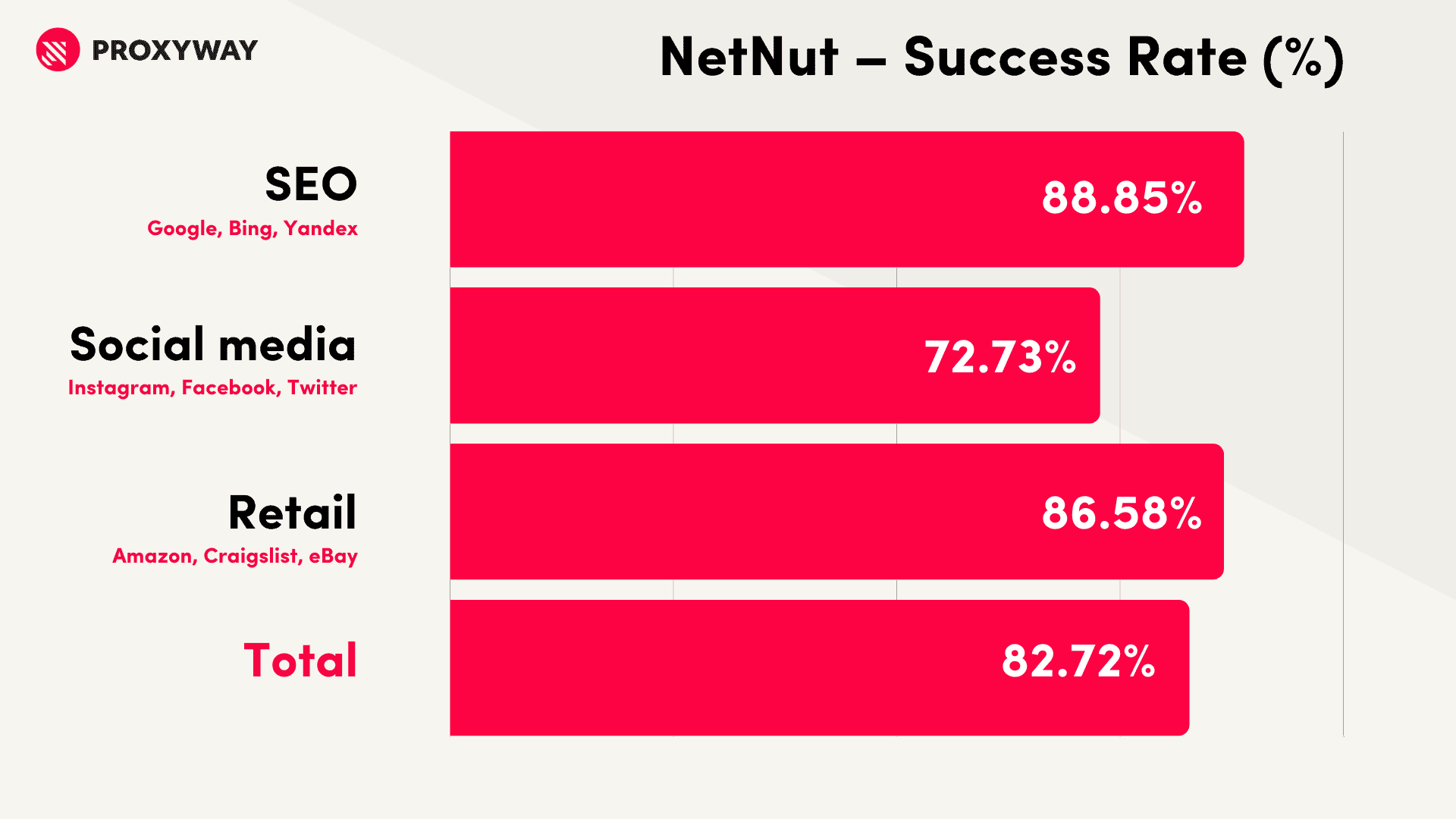 Against real websites, NetNut's results were once again good at some areas and weak at others. First, let's discuss the caveats.
The biggest weak spot was social media, but not for the reasons we thought it'd be. The graph doesn't show it, but of the three targets, it was Instagram that actually performed the best (88%). The biggest outlier was Twitter, where only around 50% of the requests went through. I'm not sure what NetNut's customers are doing with it, but it's not good. 
The results for SEO and retail websites were very respectable. They would've been even better if not for Craigslist (81.77%) and Google (85.70%). Still, this is good enough to outperform a good deal of other proxy providers.
Whenever a request failed, it was once again mainly caused by a timeout.
We've excluded sneaker websites because NetNut has a specialized pool for those. We'll test it very soon.
Speed Test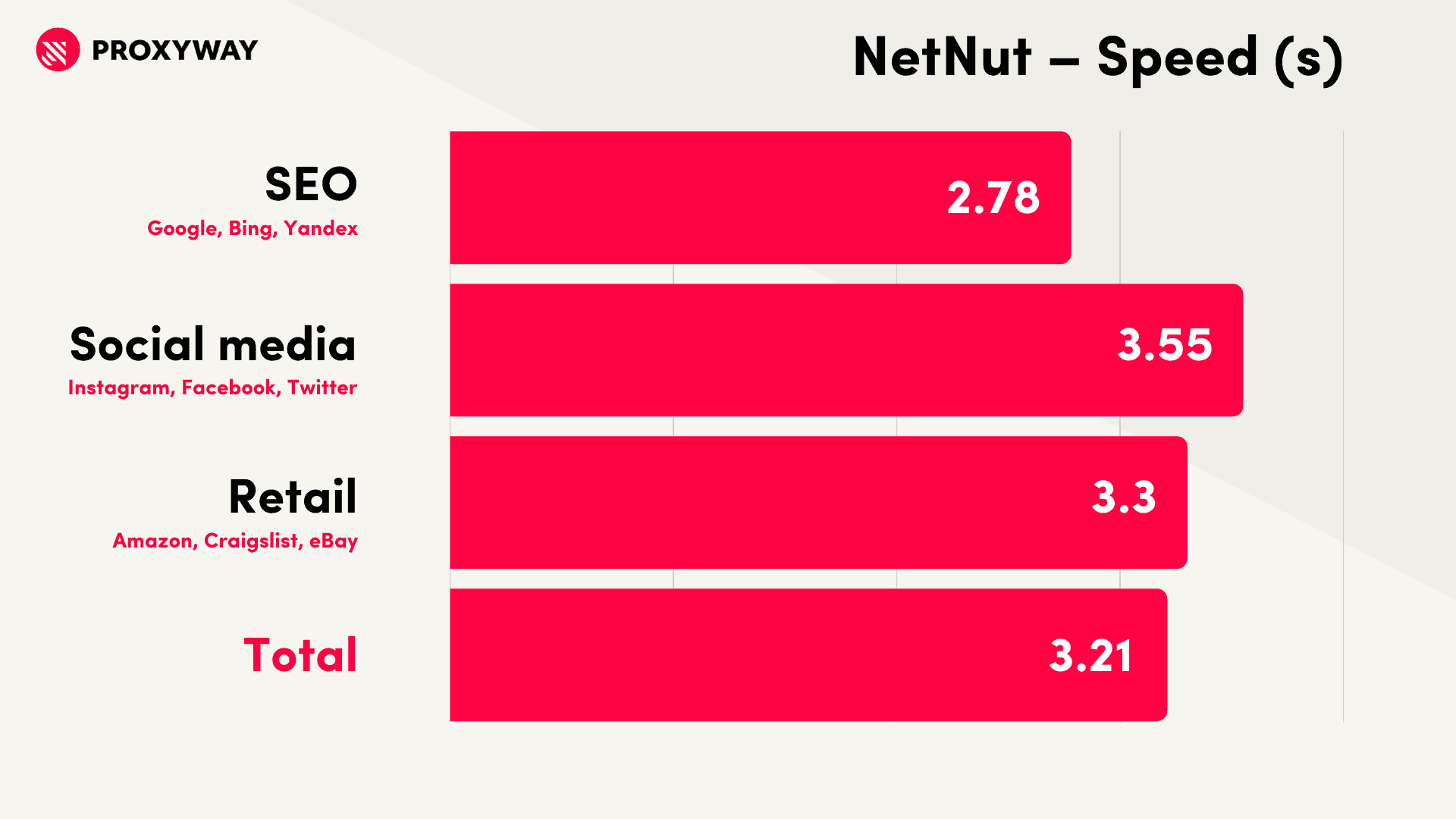 The results of the speed test were average. To give you a comparison, NetNut fared about as well as Infatica which uses peer-to-peer residential IPs. Crawlera with its datacenter proxies and black magic trickery overperformed both. 
The fastest target group proved to be SEO websites. This means you should be able to scrape Google & Co at a pretty nippy pace, especially considering the following results from our stress test.  
Stress Test
| | | |
| --- | --- | --- |
| Concurrency | Total Success rate | Avg. response time |
| 50 req/s | 81.48% | 1.86 s |
| 100 req/s | 81.82% | 2.49 s |
| 200 req/s | 82.10% | 2.47 s |
| 387 req/s | 82.30% | 2.45 s |
| 570 req/s | 82.23% | 2.44 s |
| 933 req/s | 82.14% | 2.43 s |
| 1215 req/s | 82.26% | 2.42 s |
If we had to point out one area where NetNut really shines, it's this. No matter how many parallel connection requests we made (and 1,215 requests per second is a lot), the proxy server didn't even blink. The response time even slightly decreased, though it might be a rounding error. In any case, this proxy provider can really scale well. 
All in all, NetNut's static residential IPs are indeed one of the better ones we've tried, even if not fully living up to the marketing hype.
How to Use NetNut
No self-service, limited documentation. 
To create an account with NetNut, you have to enter your full name, (company) email, and a contact number or your Skype name. There's also an optional field for domains you want to work with so that the provider could adjust the service to your uses. NetNut then will send you an email with instructions for setting up a free trial. You won't be able to access the dashboard beforehand.
Speaking of the dashboard, it's a mixed bag. Some parts are very fleshed out, while others are lacking or missing altogether.
In the dashboard, you'll be able to track your usage stats, invoices, see active plans and buy new ones. You won't be able to contact customer service. Creating or managing sub-users, changing your credentials or whitelisting IPs is also something the dashboard doesn't normally allow. To enable this functionality, you'll need to create a reseller account or rely on an account manager to make the changes for you. NetNut seems to pay particular attention to statistics: there are three pages dedicated to tracking your proxy use visually and even an API for programmatic access.
The dashboard also includes instructions for proxy setup. They showcase some basic hostname:port configurations and API code samples for popular programming languages. However, the examples are all static and fail to include available countries, so they're not very comfortable to use. NetNut could learn a thing or two from Smartproxy or PacketStream in this regard.
NetNut's static residential proxies use backconnect servers. This means that instead of a proxy list, you get one address that accesses the provider's proxy pool and automatically rotates IPs in the back end. NetNut has special addresses for Google, Instagram, and sneaker sites. If you want a sticky IP, simply change the port number. You can add special parameters to restrict the IPs to specific a country or city.
All in all, I found NetNut to be very stingy when it comes to information, and the user experience could really be improved with better documentation. Maybe I'm saying this just because I'm so used to self-service, but I found myself relying on others more than I would've liked to.
Customer Support
Customers with smaller plans can reach NetNut by email only. If you have bought a larger plan, NetNut will give you a dedicated account manager. This way, most of the communication is done via Skype.
When I registered for a free trial, one of NetNut's managers messaged me after 15 minutes or so. He immediately enabled my test account and provided me with instructions. They usually create a separate chat for active users and respond quite quickly.
Conclusion
So, what can I say about NetNut? Quite a few positive things, actually.
The little squirrel packs a punch. Its residential proxies are stable and perform well. The speeds, while not quite as a fast as advertised, still manage to compete with the market leaders. Being able to keep the same residential IP for however long you want is an underestimated bonus.
Proxies aside, improvements are needed. This applies especially to the user experience side of things: documentation is lacking, setup instructions unfriendly, and customer support limited to Skype. That's not to say the support is bad – quite the opposite, actually. But the whole interaction with NetNut feels like it hasn't been perfected yet.
Of course, NetNut is still a young provider. It's only a matter of time until it streamlines things. Even now, it's a terrific choice for scraping, market research, even social media automation – especially if you use thousands of gigabytes of data. Scale and flexibility are NetNut's strong points, and they're not to be underestimated.
All things considered, I'm giving NetNut a strong 8.6/10.