Help us sustain ourselves by purchasing proxy services through our affiliate links (we earn a small commission).
Netnut
NetNut is an advanced, secure and fast business proxy network. NetNut service depends on the unique position and location of DiViNetworks' existing data delivery and network management solutions.
Pricing starts from $300/month, 20GB included

Sticky IP

No third party computers utilized

7-day free trial
NetNut is an advanced, secure and fast business proxy network. The NetNut service depends on the unique position and location of DiViNetworks' existing data delivery and network management solutions. DiViNetworks provides services to over 100 ISPs from tens of point of presence (PoPs) around the world.
In addition, the network has the ability to manage 100's of Gbit/sec of network traffic, allowing any customer to access content and data from any web source.
Here is our full review on NetNut.
Netnut Residential Proxies
General Review
Traffic
All pricing plans come with limited bandwidth.
Pricing
It offers six pricing plans starting from $300/month with 20GB included. The price changes depending on your needs.

Pool size
They have around half a million IPs that are always online and ready to use as they get them from ISPs. They claim that they can allocate unique IPs, but they do not give you access to all of them.
Locations
In total, they say that they support around 50 countries. The list they provide goes like this: United States, Sweden, Finland, Switzerland, Spain, Mexico, Italy, France, Canada, Germany, Denmark, Norway, Russia, Ukraine, Poland, Portugal, Netherlands, Turkey, United Kingdom, India, Madagascar, Brazil, Hungary, Ireland, Australia, China, Qatar, Iraq, Saudi Arabia, Jordan, Philippines, Taiwan, Japan, Hong Kong, Kenya, Cyprus, Malaysia, Singapore, Indonesia, Vietnam, Bangladesh, Luxembourg, Nepal, Argentina, Thailand, South Korea.
Setup
Usually, you get one or a few endpoints. Every time you hit that endpoint, you get a new IP. Of course, you can use special parameters that are added to your username and you can get sticky IP or some specific country. They have different endpoints (pools) for Google, Instagram, sneaker sites. 
Authorization method
Only credentials (username: password) are available. Whitelisting is not available. They did, however, suggest that it is something they can do for a few IPs, but not regularly.
Sub-users
Available. You can create sub-users and allocate some resources to them.
Session-control
There is a possibility to use session-control. Because they use direct ISP IPs, those IPs are always online and you can use that IP as long as you want by adding a special parameter to your username. However, there is a problem, because you become responsible for the IP rotation. If you keep using the same IP, you will eventually get blocked.
Filters
The only filter available is for location. There are no filters for proxy types or ASN/Provider/Carrier filters.
Protocols
NetNut supports HTTP and HTTPS but doesn't support SOCKS5
Dashboard
Usage statistics. Yes.
Credentials/Whitelist IP change. No.
Support tickets. No.
Renew plans. Yes.
Live chat.  No.
With the NetNut dashboard, you can check your usage statistics and renew plans. However, you cannot open a support ticket, change credentials or whitelisted IPs nor you can contact them via live chat.
Customer Support
When we registered for a free trial, one of their managers messaged us via Skype after 15 minutes or so. He immediately enabled our test account and provided me with instructions. They usually create a Skype chat for active users and respond quite quickly.
Performance
As per usual, we checked the proxy speed using the free FOGLDN Proxy Tester.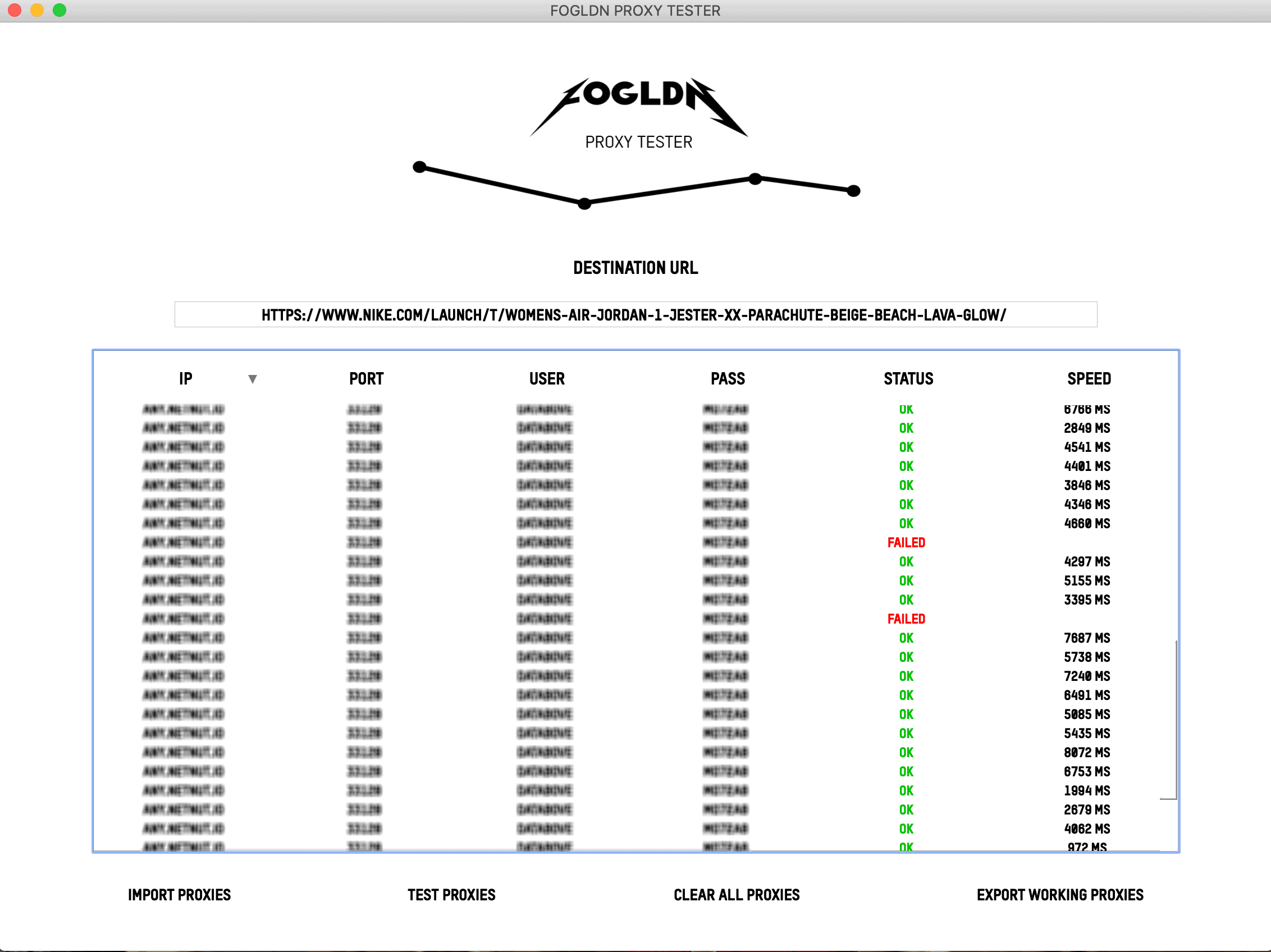 Average speed: 5 sec.
As you can see, they are pretty decent with their speeds, but not as fast as other proxy providers, especially if you are scraping sneaker sites, as they need faster proxies. They also had a few connection errors and failed statuses. If you want to know what are the 6 Best Sneaker Proxies to Cop Your Grail in 2020, click here.
Then we tested the overall performance of NetNut proxies by using our own testing script. During this test, we gradually increased the number of concurrent connections and put the proxies on a huge load. The graph below shows what happens when we do that:
As you can see, if we increase concurrent connections over 200, the number of timeouts greatly increases and continues to increase when we add more concurrent connections. However, connection errors seem to drop slightly, as do blocked IPs.
Below you can see a detailed breakdown of the performance test results. As with other residential proxy providers, we used a 300 concurrent connections' benchmark.
NetNut has a very low number of connection errors, which is normal as they offer limited traffic and that they use ISP IPs without end-user devices. Their timeouts are also on the lower side, but still not as good as other providers.
As you can see, the biggest issue NetNut has is the number of blocked IPs for google.com. 65,25% is a very high block level. As you can see below, the blocks to google.com were 503 error (recaptcha). This is not good if you do not use a recaptcha solver and will become a massive issue with the number of blocks.
There were some blocks on Amazon, Wayfair, and Yandex, but there were not too many of them. In general, if you do not take into account Google, NetNut did not have too many blocks.
| | | | | | |
| --- | --- | --- | --- | --- | --- |
| Blocked requests statistic |   |   |   |   |   |
| Target/status | 200 (captcha) | 503 (recaptca) | 502 | 403 | 429 |
| www.aliexpress.com | 0 | 0 | 0 | 0 | 0 |
| www.amazon.com | 110 | 66 | 2 | 0 | 0 |
| www.booking.com | 0 | 0 | 0 | 0 | 0 |
| www.facebook.com | 0 | 0 | 0 | 0 | 0 |
| www.google.com | 0 | 4944 | 0 | 0 | 0 |
| www.instagram.com | 0 | 0 | 0 | 0 | 0 |
| www.wayfair.com | 0 | 0 | 0 | 70 | 1 |
| yandex.com | 39 | 0 | 0 | 0 | 0 |
When it comes to the average response time, NetNut is doing above average when comparing to other proxy providers:
Though the average and median times really vary, meaning the response time during the testing was not stable. NetNut proxies are above average, but they won't work well as sneaker proxies, as they should be a little faster than this.
Conclusions
NetNut uses ISP IPs directly, so the traffic does not go through end-user devices. This makes us wonder whether they should be categorized as a residential IPs provider. However, since these are ISP IPs, they perform pretty well. We encountered a small number of connection errors or blocks. At the beginning of our test, there were almost no timeouts, but when we increased concurrent connections, IPs started to increasingly timeout. This probably means that they can't get too much load on those ISP IPs and their performance starts to cripple when clients want to put a higher load.
But please note, that you shouldn't be fooled by a small number of blocks. It turns out that after some time and lots of requests, IPs start to get more blocked. The reason is that they use full subnets ISP IPs. So maybe there have lots of unique IPs, but there are not enough subnets. Basically, after some time on a higher load, targets start to detect those IPs and give them temporary blocks.
The speed is pretty decent. But one could expect more speed from IPs that come directly from ISP. However, we did like the dashboard. Pretty simple and tasteful. They also support sticky sessions and country level IPs. But only in 50 countries. Probably because it is hard to get IPs from different ISPs located in different locations. Also, they do not support SOCKS5 protocol.
You can check 8 Best SOCKS5 Proxies Providers of 2020.
So all in all, for a small load NetNut performs perfectly. But the price – quite high. And let's not forget that Google was totally banned. At first, it wasn't, but after some testing, almost all IPs got banned.
Rating: 8.0
Netnut Sneaker Proxies
Full review is coming soon.
Rating: 8.9