Infatica is a very new proxy provider established at the beginning of 2019. It sells premium residential proxy services for businesses. The company is officially headquartered in Singapore, though its owners and part of the staff are of Russian origin.
Despite casting a wide net ('you can do or be almost anything with Infatica'), Infatica's main targets seem to be industrial clients (read: medium and large businesses). Among the use cases, you'll find the usual suspects like web scraping, ad verification, social media automation, and business intelligence. The more exotic uses involve cybersecurity, academic research, sysadmin tasks, and even election security. However, not a hint of sneaker copping.
As a business-oriented provider, Infatica tries hard to present itself as a legitimate service. This is important knowing the dubious reputation of proxies, and frankly not an easy task. Still, the company has done a pretty good job at it, borrowing several tools from Luminati's playbook.
First, the KYC. To start using Infatica, you'll have to identify yourself and your use case. This applies even to the free trial (yup, there is one here). The aim is to weed out things like cracking and spam that could bring legal issues or abuse the proxy network.
Second, Infatica is pretty transparent about how it gets and governs the residential IPs. It injects an SDK into apps and borrows the traffic from people who install them. In return, it saves them from ads or other monetization methods. The use of traffic follows strict rules and requires consent.
Third, Infatica claims it doesn't resell the proxies to others. I'm not sure if there's any way to verify the claim, but if true, it serves to further prevent potential abuse. It also explains the lack of information about sneakers: when the residential pricing plans start from $360, it's hard to expect that individual sneakerheads will jump on board. For companies, on the other hand, the pricing is pretty attractive compared to alternatives.
So, we have a young and ambitious business proxy service. With proxies, principles, and pricing, Infatica has set out to challenge the established premium residential proxy providers like Oxylabs, Geosurf, and Luminati. Let's see if it succeeds.
Pros
Good scaling
100+ locations
Competitive prices
Free trial
Cons
Inflexible rotation settings
Average performance
Lacking user experience
Key Features
Proxy types: Residential (rotating)
Protocols: HTTP, HTTPS
Locations: ~100 countries
Targeting: Country, city (custom)
Authentication: Whitelisted IP
Sub-users: Not available
Dashboard: Yes
Support: 24/7
Pricing: From $360/40GB ($9/GB)
Payment options: Credit card, PayPal, WebMoney, Bitcoin
Trial: 7 days
Infatica Services
Infatica offers a network of rotating residential proxies. It reportedly plans to introduce datacenter and mobile proxy plans in autumn.
Residential Proxies
Infatica controls a network of 10 million peer-to-peer residential IPs. They come from around 100 countries around the world and fluctuate week by week. This variety of locations should be enough for most tasks that require country targeting. City targeting is available on request in customized plans.
The proxies have a very unusual configuration: they use the SOCKS5 protocol but currently only allow accessing HTTP(S) traffic. I'm not sure what's the reason behind this, but it shouldn't have a big impact on how the IPs work.
Infatica's proxies don't limit the number of threads you can run; as with most residential IPs, the only limitation you'll encounter is traffic.
Being linked to residential users, the IPs inevitably rotate. The default rotation time is one hour – unusually long for residential proxies. You can't really set your own session time, but there's a button to manually rotate the IPs you have. It's not recommended to do that more than once per 10 minutes, though.
I could authenticate the proxies only by whitelisting an IP address, even though Infatica's website advertises user:pass authentication. Sub-users were also unavailable.
Infatica Pricing
Infatica has a range of pricing plans for its residential proxies. They start from $360/40GB ($9/GB) and lead up to $20,000/10TB ($2/GB).
There's also an option for paying as you go. For $360, it grants 30GB of traffic. The difference here is that you don't need to use this traffic within one month – it carries over.

The pricing used to combine traffic, locations, and streams. Infatica has recently streamlined it, and now it's solely based on traffic. It's a welcome change that simplifies the pricing structure.
Compared with other premium providers, Infatica's proxies are notably cheaper. The entry plans are in the range of Smartproxy, which is very competitive. The bulk plans also scale very well. Overall, the service stays more affordable than Luminati, GeoSurf, or Oxylabs throughout the whole range.
Of course, the $360 entry point can still be too much for individual users. But it's perfectly in line for the business segment.
You can try the service for 7 days, and there's also an option to refund the unused portion of your traffic within 24 hours.
Overall, pricing is one of Infatica's strong points.
Performance Tests
We received a custom 10 GB plan with location targeting and took Infatica's proxies for a spin. Our goal was to see if the proxy server was stable, fast, and if the IPs could access some of the major websites. Here's what we found.
Proxy Quality Test
IP Type
ISP/Mobile (87.81%)

Datacenter (6.99%)

Others (5.2%)

IP Protocol
IPv4 (86.2%)

IPv6 (13.8%)

Requests Made

163310

Unique IPs
76862 (47%)
Success Rate 
82.91%
Average Response Time
1.11 s
We ran the proxy quality test for several days. The results are mixed.
The good? Most of the IPs came from landline and mobile devices. The percent of datacenter proxies is low, and the IP database could have simply mislabeled them. We also had a lot of proxies to work with, as the unique IP count shows.
The not so good? Only 82.91% of the requests went through. Mind you, we were using a server that is very lenient toward abuse, so there was something wrong on Infatica's end. On the bright side, the response times were good.
 Success Rate Test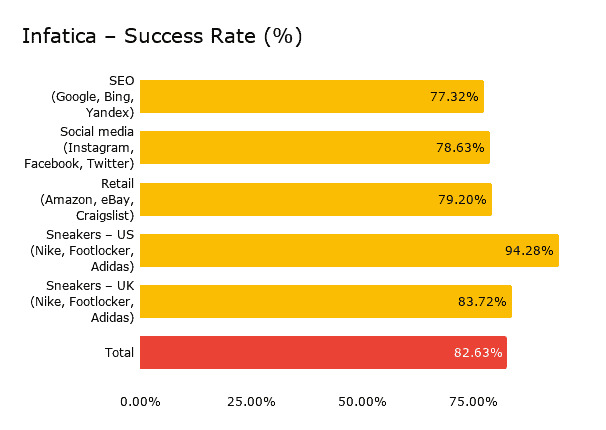 Infatica's results with real websites were mostly average. Frankly, we expected a bit more from a premium proxy provider. What really surprised us were the success rates for US sneaker sites – they're simply great. This shows that the provider's proxies haven't been abused there yet.
Most of the errors we encountered (around 60%) had to do with the SSL certificate. We asked Infatica's support about it, but they couldn't resolve the issue. Once it's fixed, the success rates should improve.
Speed Test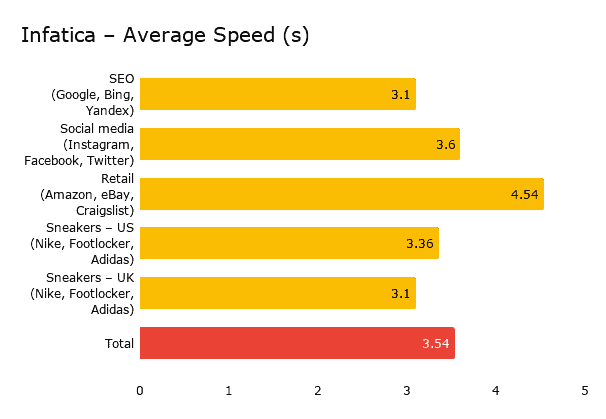 Similarly to the success rates, Infatica's speeds were just about average. You won't be breaking any record with these IPs.
The biggest outliers were Facebook (6.08s) and Amazon (7.52s). This is hardly shocking, considering how heavy the sites are.
Stress Test
| | | |
| --- | --- | --- |
| Concurrency | Total Success Rate | Avg. Response Time |
| 50 req/s | 83.77% | 1.88 s |
| 100 req/s | 84.48% | 1.63 s |
| 200 req/s | 80.20% | 1.76 s |
| 388 req/s | 83.29% | 2.04 s |
The one area where Infatica really managed to shine was performance under load. No matter how many requests we put it through, the proxy server didn't break a sweat. This is impressive, and it shows that the provider's infrastructure really is robust – aside from those pesky SSL errors.
How to Use Infatica
To register with Infatica, you'll have to complete a registration form. Two field are marked as neccessary – your name and email – but you won't be able to complete the form without entering your company's name and budget as well. Then, Infatica's salesperson will contact you and set up a free trial.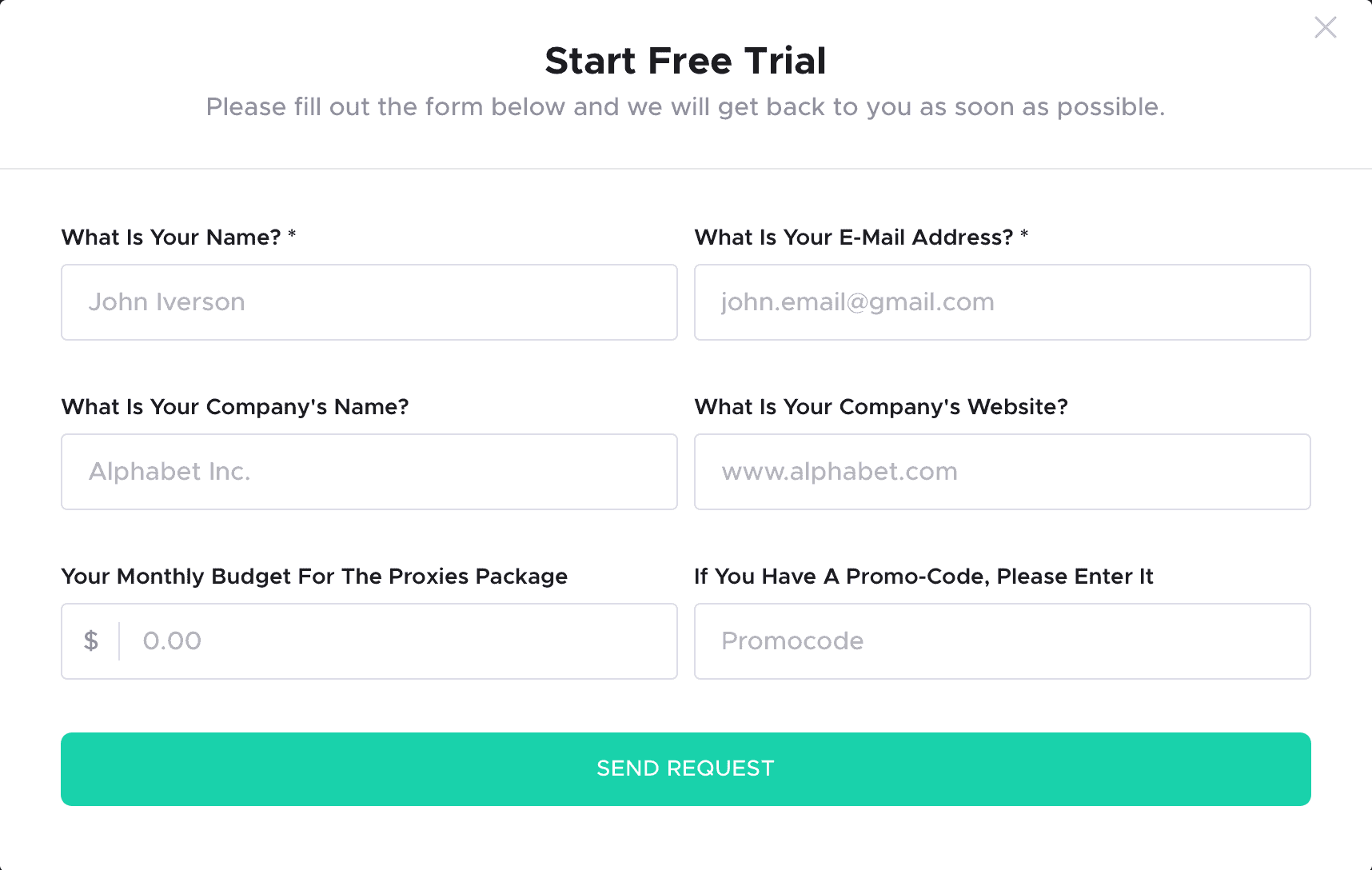 Once this is done, you'll be able to access Infatica's dashboard. There you'll be able to add funds, track your traffic use, set up the proxies, see the network status, and contact support via a ticket. You won't be able to order any IPs yet because the relevant page still shows plans that have been phased out. Instead, you'll have to rely on Infatica's support.
In terms of user experience, things could be improved. For example, the main page fails to show traffic use, and you have to navigate multiple layers deep to find it. Under Billing, having both "My Invoices" and "My Quotes" confuses, and I'm not even sure when I'd need to use the "Mass Payment" option. Oh, and there's no easy way to return to the dashboard's main screen once you leave it.
The proxy setup has its own quirks. To reach the right page, you need to go through Services and find your active plan. There, you first have to whitelist your IP. Then, there is a button to choose a location if you need geo-targeting. Once you're done, click on Proxy List.
The interesting part here is that you actually do get a list: it's backconnect addresses in the form of IP:port that have one IP address behind them. After an hour, the IP automatically changes to a different one; the address remains the same. If that's not frequent enough, you can rotate the IPs manually by pressing a button. I don't think I've seen such an arrangement anywhere else.
Infatica has no API as of yet. And for the proxies to work correctly, you'll need to install a certificate.
If you ever find yourself at a loss, Infatica's support will be your best bet. The documentation is really lacking, and I couldn't find much of the information I needed by just snooping around. Us introverts have it hard these days.
All things considered, Infatica really needs to step up in user experience. The provider is making big strides, and it has a beautiful website to woo customers, but the back-end is lagging behind.
Customer Support
Infatica provides round-the-clock support via tickets and email. According to the FAQ, the response time should be within 4 hours.
I tried opening a support ticket in the dashboard. The response came within 45 minutes, which is satisfactory.
There is also live chat on the website, but it seems to be primarily for sales questions.
Conclusion
Infatica aims high and tries hard. But behind its pretty veneer, it's very much a business in the making.
There are many indications all around: from a very barebones knowledge base, to a proxy configuration I've never seen before. I'm still not sure if it's a clever workaround to get the whole thing running, or a deliberate design choice.
The whole thing feels like a construction project in motion. It's fascinating, but a question worms its way in: Is Infatica ready for use? After all, you're looking for proxies now!
The answer? It mostly is. The proxies we've tested are decent, and the infrastructure appears to be robust. Some optimizations need to be made, but the IPs are good enough for daily use. Most of the features are also there, though some would appreciate an API or a more flexible rotation time.
Infatica's strongest points today are its price and ethical positioning. It can't compete with the market's leaders toe-to-toe yet, but it can surely outbid them. And knowing that the IPs are legally sourced can serve as a powerful reassurance for reputation-minded companies.
All in all, despite its imperfections, Infatica already makes an appealing case as a business proxy service. It's not quite there yet, but Infatica is on a mission to become a strong contender in the future.