We use affiliate links. They let us sustain ourselves at no cost to you.
The Best Proxies for Ad Verification in 2023
TrafficGuard/Juniper estimate that running unprotected digital marketing campaigns could result in around 26% loss of your investment to ad fraud. Believe it or not, but scammers already robbed businesses of over $35 billion in 2020 alone, and they're not planning to stop. While it's only a partial solution to the problem, ad verification effectively makes sure that your ads appear at the right place and are seen by actual people. This page will explain how proxies aid the ad verification process and which providers are the best for the job.
The Best Ad Verification Proxies – Quick Summary:
SOAX – a wide range of locations and excellent targeting options.
Oxylabs – the best premium provider.
Bright Data – the biggest array of features.
Smartproxy – quality proxies for less.
GeoSurf – great composition of the proxy pool and thousands of cities.
PacketStream –

satisfactory service for budget-friendly price.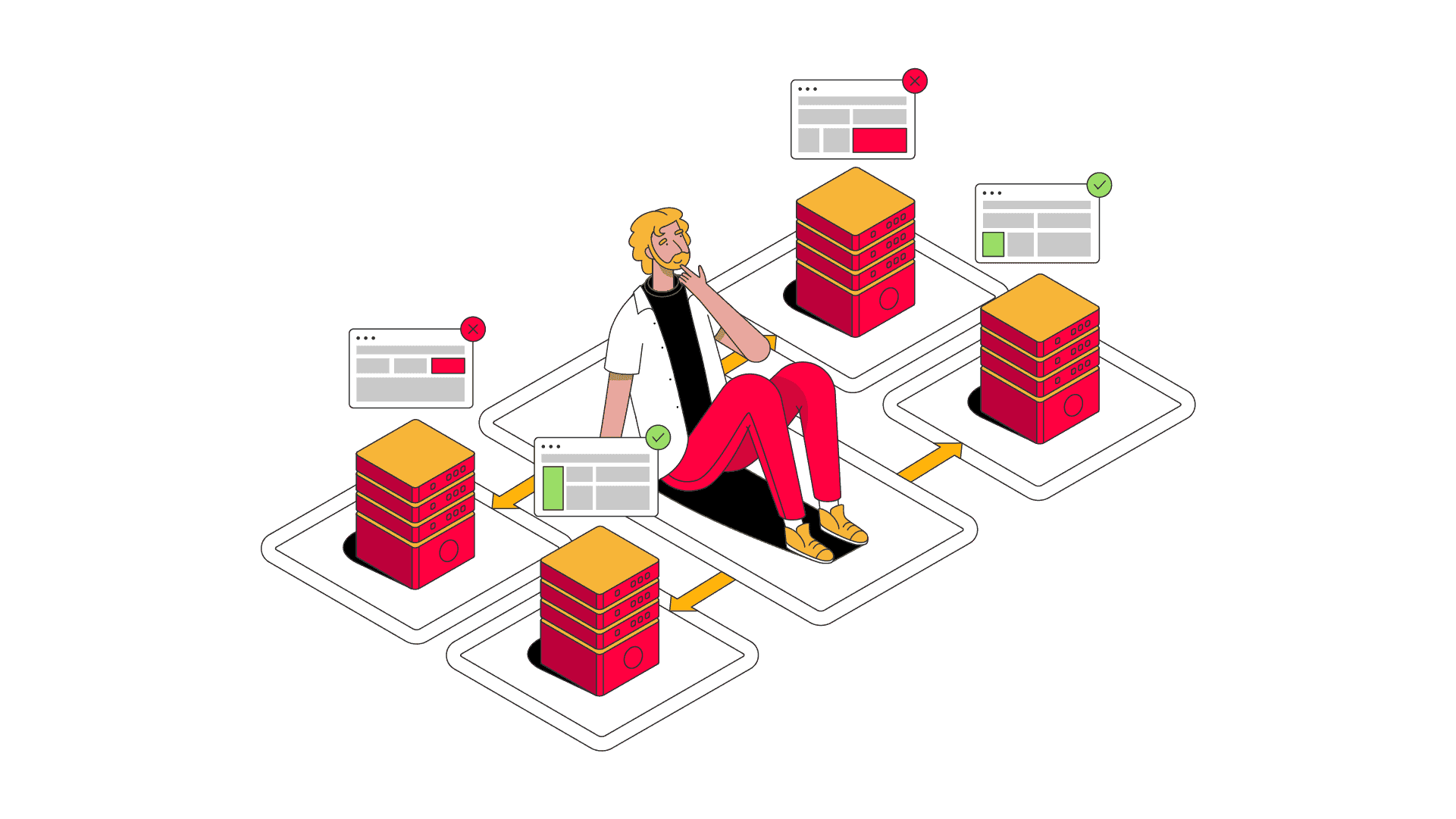 How Does Ad Verification Work?
Digital ads often get misplaced, either deliberately or accidentally. Where do they end up? After scammers tamper with them, ads are placed on lewd, untrustworthy websites, where they're seen mostly by bots.
Ad verification is a process that aims to correct both accidentally and intentionally misplaced ads. During this process, the ad verification specialists check if the ad is displayed according to the advertiser's criteria, such as location preference. They also make sure that the ad is placed on the right website and is seen by real people. 
Proxies are closely tied to this process. Let's see how. 
How Proxies Assist with Ad Verification
Scammers often are familiar with ad verification companies and blacklist their IP addresses. They also have strict anti-botting measures on their websites to filter out all the scrapers. That's where proxies come in. They allow changing the IP address and looking like a regular user to let the script do its job. 
Ad verification specialists use proxies to check ad redirection paths. Scammers frequently steal clicks from legitimate ads by redirecting the user to their websites. Fraudsters do this to lure unsuspecting users to their products or services. Sometimes they even try to install malware on the user's device.
The third use case is checking how an ad appears in a localized context. If you place geographic restrictions on an ad, such as targeting users near your physical store, you need to make sure that fraudsters aren't taking advantage of it. They can find ways to feed advertisers fake location data to get higher prices for their ad impressions. Imagine how much money you'd waste if your ad appeared to users somewhere in Asia instead of the US? Proxies allow you to connect from various locations to see how people worldwide can view the ad. 
How to Choose Proxies for Ad Verification
It's hard to imagine a successful ad verification process without proxies. That's why you need to make sure you have suitable proxies for the job. Here are a few things to consider when choosing a provider:
First of all, make sure you're using residential proxies. Any other kind of proxies may get you banned before you get any job done. Meanwhile, residential proxies provide anonymity and make you look like a regular internet user. That way, owners of fraudulent sites won't be able to know that you're using proxies and won't prevent you from running an ad verification script.  
The second criteria is a wide range of IP locations because you might need to check ads from a wide variety of locales. Also, make sure you can actually target those locations. 
Proxy pool quality is secondary, however still worth considering. The quality is best measured by looking at the composition of a proxy pool. A good quality residential proxy IP network should contain ISP, mobile, or mixed IP addresses. 
Depending on your budget, the price may also be an important aspect to think about. When it comes to proxies, you get what you pay for. Premium providers offer both well-performing proxies and plenty of additional tools to go with them. Meanwhile, mid-range and cheap providers have to cut corners to keep prices low, but they usually deliver satisfactory performance. 
Where You Can Buy Proxies for Ad Verification
There's a wide variety of proxy providers, and it can be resource-intensive to test them on your own. That's why we used our expertise in the market to do the hard work for you. We tested and analyzed the most prominent providers and composed all the data into our annual Proxy Market Research.
However, you won't find free proxies in our recommendations. Not only do they lack performance, free proxies can also compromise your security. You can read more about them in our article here. If you're not willing to take any chances, continue reading for the best ad verification proxy provider we recommend. 
The Best Proxy Providers for Ad Verification
SOAX has been around since 2019, and it still could be considered a newbie on the market. However, the quality of its services tells a different story. One of its most distinguishing features is location targeting. SOAX lets you specify a country, city, and even ASN, which is uncommon. The pool of 8.5 million addresses should provide IPs in most locations, and the proxy server is very stable, even if not that fast. SOAX's pricing is around the middle of the pack.
Features:
5M rotating residential IPs
HTTP(S) over SOCKS5
100+ locations with global, country, city, ASN targeting
Rotation from 90s to as long as available (with custom options)
Live chat support
Pricing:
From $99 for 8GB ($12.38/GB) and 300 ports. 3-day trial for $1.99 available.

---
When it comes to proxy providers, Oxylabs is almost always at the top of our lists, and it's not hard to see why. Being a premium company, it lives up to its mark. Oxylabs offers a wide range of location targeting options: every country in the world and thousands of cities. And if you pay extra, you even get ASN targeting. When it comes to performance, there's hardly anything to complain about. Oxylabs's proxies are fast and have a nearly perfect success rate.
While it's hard to find anything to criticize about this provider, there's one thing to be noted. Like most premium providers, Oxylabs may not be beginner-friendly, especially for its price. After all, the company targets mid-to-large businesses.
Features:
102M residential IPs
HTTP & HTTPS, SOCKS5 protocols
Global, country, city, ASN targeting
Rotation every request, sticky sessions up to 30 mins
Dedicated account manager & live chat support
Pricing:
Starts from $15 for 1 GB. 7-day free trial for businesses, 3-day refund for individuals.

---
Bright Data is the largest proxy provider. It dominates the market with an outlandish proxy pool, which is just a little smaller than Oxylabs' and consists of 72M IPs. The performance also exceeds expectations. During our tests, Bright Data proxies demonstrated nearly perfect success rates. The company is well known for its wide range of tools, however, setting everything up can be challenging for inexperienced users. All of Bright Data's service is wrapped into a well-working infrastructure.
However, if you're interested in all of the benefits this company has to offer, don't expect it to come cheap. It's one of the more expensive providers, especially if you need features like city or ASN targeting.
Features:
72M residential proxies
Global, country, city, ASN targeting
Unlimited concurrent requests
HTTP, HTTPS, SOCKS
24/7 support, account manager
Pricing:
Residential proxies start from $15 for 1 GB. Businesses get a 7-day trial, others a 3-day refund.

---
Smartproxy manages to combine something that seems hardly attainable – affordable prices and a quality service. And while it can't provide as many features  as its premium competitors, it emphasizes making its products easy to use. That's why you should expect a friendly user experience and extensive documentation. On top of that, Smartproxy's customer service representatives are always ready to help – immediately.
Smartproxy has country and city targeting, but it won't let you choose particular ASNs.
Features:
40M residential proxies
Worldwide locations with country & city targeting
HTTP, HTTPS,
Rotation every request, 1, 10, 30 mins
Award-winning support
Pricing:
Starts from $12.5 for 1 GB. 3-day refund available.

---
GeoSurf has been on the market for a long time, but it still manages to rival its competition by offering good quality services. Although it owns one of the smallest pools compared to all top-tier providers – 2.5 million IPs – GeoSurf takes good care of it. When it comes to targeting, the provider allows you to specify over 100 locations; however, you'll be expected to pay extra for city and ASN targeting.
Being a premium provider, the price of GeoSurf services is not cheap. It's clear that the company targets big business, but so do other premium companies, and to be fair, it's not a no-brainer.
Features:
2.5M residential (static, rotating)
HTTP, HTTPS
135 countries, 1,700 cities
Rotation every request, 1, 10, 30 mins
24/7 support
Pricing:
Starts from $300/20 GB ($15/GB). Demo session available.
---
PacketStream offers very cheap pricing for its services. This provider charges as low as $1 per gigabyte with a commitment-free pay-as-you-go model. You can target over 100 countries and create sticky sessions for redirect chains. All in all, PacketStream is perfect for beginners. However, not so much for bigger businesses. Although this provider does offer a decent service, it can't compete with the market giants.
Features:
7M rotating residential IPs
HTTP & HTTPS protocols
Global locations with country targeting
Rotation every request, sticky sessions as long as available
Email support
Pricing:
Starts from $50/50GB ($1/GB). Free trial available.
Read the PacketStream review for more information and performance tests.