At Proxyway, we mostly review major proxy providers. They're large, reliable, and mainstream. But such providers can't be best for everything or at least everyone – and this is where smaller, specialized companies find their opportunity to thrive.
Proxydrop is one of such companies. Established in 2020, it sells residential, ISP, and CAPTCHA proxies exclusively for rare shoe releases. Like many similar businesses, Proxydrop is mostly a Discord and Twitter-based operation, run by sneakerheads for sneakerheads. 
The business model here is to somehow get a bunch of IPs, optimize them for sneaker stores, and sell the proxies in limited quantities for a premium. You end up paying more per IP or gigabyte, but having to buy less. A pretty good deal for small-time shoe flippers. 
Proxydrop isn't the first sneaker proxy provider we've reviewed, and it probably won't be the last. Does it have what it takes to compete both with the mainstream companies and its sneaker brethren? That's exactly what we'll try to find out.
Proxydrop Services
Proxydrop offers three kinds of proxies: datacenter IPs for generating one-click CAPTCHAs, ISP proxies, and rotating residential proxies. The last kind has several tiers that further optimize the IPs for copping. Let's run through each type. 
Datacenter (CAPTCHA) Proxies
These are dedicated datacenter IP addresses made for getting one-click CAPTCHAs during sneaker drops. As such, they work only with Google and YouTube, where you farm CAPCTHA tokens by watching videos. 
Other than that, Proxydrop provides little information about its CAPTCHA proxies: no location or number of concurrent requests. But that's not really needed, as long as the IPs do their job. 
You can authenticate the CAPTCHA proxies using user:pass authentication. Access to them expires after a month of use. 
ISP Proxies
ProxyDrop's ISP proxies are static residential IPs. They're dedicated to one user at a time and available only in Virginia. Most of the major shoe stores have servers nearby, so they should work well for US releases. However, if you want to cop from locations outside the US, these IPs won't do. 
Proxydrop advertises the ISP proxies as very fast (>50 MS) and working with ALL websites. We interpret the statement to mean sneaker websites, though knowing the purpose of these IPs, it doesn't make much difference. 
Proxydrop's ISP proxies support user:pass authentication. They expire after a month. 
Residential Proxies
The last and Proxydrop's main product is peer-to-peer residential proxies. The provider claims access to over 28M IPs. It's hard to believe that Proxydrop sourced all these proxies by itself, so at least part of them should come from other, larger proxy providers. That's not necessarily a bad thing, as long as the IPs do their job. 
The proxies cover all the major sneaker locations: US, UK, Japan, and more. All in all, you can choose from 20 countries, and we suppose more are available on demand. This is enough for the vast majority of drops. Here's the full list of visible locations:

To keep its residential proxies fast, Proxydrop uses something called smart server routing. Basically, whenever you use proxies in a particular country, the provider routes your connection through a server that's closest to the IP's location. This makes a serious difference in response time, as illustrated by Proxydrop itself:
Another interesting thing with ProxyDrop is that one residential proxy isn't equal to another. In fact, you can get three different plans:
Regular residential proxies.

They're advertised as fast and working on all sneaker websites. Save for smart server routing, it doesn't look like these proxies have any special optimizations. They are configured to hold the same IP for 10 minutes. 

Elite residential proxies.

These IPs come from separate pools with additional speed filtering. They also tout better stability and longer sticky sessions – 30 minutes instead of 10. 

Prestige residential proxies.

Even more exclusive IP addresses. Available only in the US, these proxies reportedly have the best reputation out of all three options. Like their elite sibling, they can keep the same IP for up to 30 minutes.
All in all, this classification is pretty confusing. I'd consider the regular option as the default choice. If you lack speed or the rotation time is too short, try the elite IPs. And if IP reputation is your main concern, you're left with the prestige option. 
You can authenticate the residential proxies with a username and password. They do not expire.
Proxydrop Pricing
Proxydrop's prices and pricing model depends on which type you go for. In any case, the server is tailored toward small-time sneakerheads and not resellers. 
The CAPTCHA proxies start from $11/10 IPs ($1.1/IP). The largest advertised plan costs $50/50 IPs ($1/IP) and lasts a month.
The ISP proxies start from $65 for 25 IPs ($2.6/IP). The largest plan on display will cost you $240/100 IPs ($2.4/IP) and last a month. You can also get one-day ISP plans from $12.5 for 25 IPs ($0.5/IP) and monthly ISP subnets that cost $380 for 256 IPs ($1.5/IP).
With the residential IPs, it depends on which option you choose:
Apex ranges from

$18/GB to $14/GB at 10 GBs of data.

Prestige

is more expensive still, with pricing ranging from $22/GB to $18/GB at 10 GBs of data. 
All in all, while not cheap, the pricing is agreeable for what you're getting. Two things that work in Proxydrop's favor are the fact that its residential IPs never expire and that they don't impose artificial scarcity. In other words, save for perhaps the Prestige proxies, you can come and buy a plan at any time.  
The provider accepts PayPal, credit card, Google Pay, and iDeal as payment methods. There are no trials and no refunds available, though like many other sneaker proxy providers, Proxydrop regularly organizes giveaways.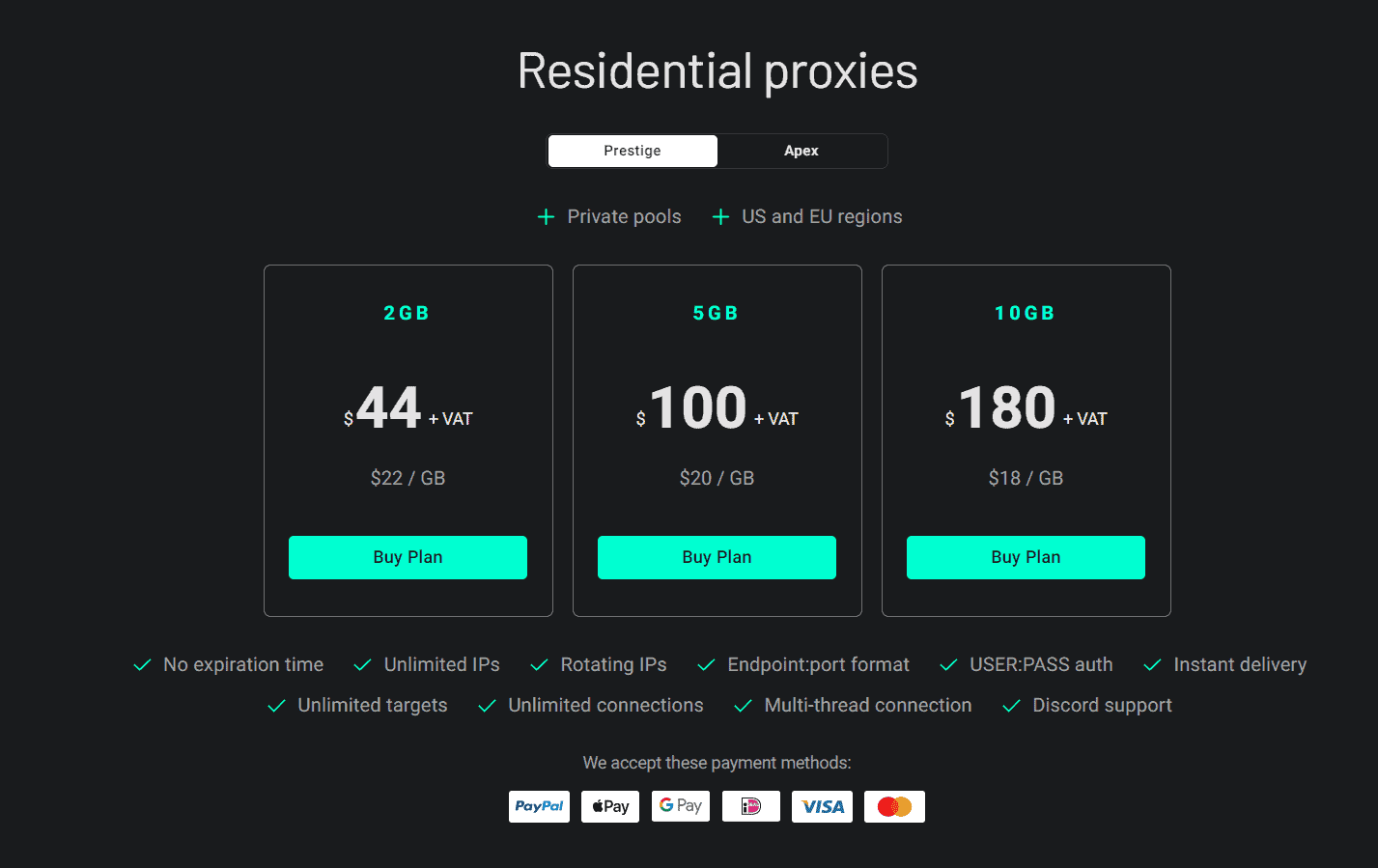 Proxydrop Performance Tests
ProxyDrop's performance tests are coming soon.
How to Use Proxydrop
Using Proxydrop is a simple, but as of yet unpolished affair.
To register, you have to use a Discord account – no other way around it. If you don't have one, you'll need to create an account. This requires an email, username, password, and date of birth. You don't need to download the actual app, as Discord can function within a browser.
Proxydrop will then ask to authorize access to some basic info on your account. Note that if you create a new account, you'll have to verify it on email first; otherwise, the authorization dialog won't work without telling you what's wrong. 
Once agreed, you'll enter the Proxydrop dashboard. It's a very simple affair that consists of two tabs only: Licenses and Generator.
Licenses lets you create a proxy license, view your active licenses, and remaining traffic. To create a license, you'll have to buy a plan first: either from the Proxydrop bot on the provider's Discord server, or by using the website. If you choose the website route, you'll be asked for an email address, your country, and then your card or PayPal details. Once the payment is processed, you'll receive the credentials by email.
Once you have a proxy license set up, you can start generating proxies. Simply choose a country, plan type, and press Generate. You'll receive a list of 1,000 backconnect gateway addresses to paste into your bot. If that's not enough, the dashboard doesn't prevent you from generating multiple times.
Note that this only works for the residential plans – with CAPTCHA and ISP proxies you simply get a list pre-generated addresses.
Another way to buy proxies is via Proxydrop's Discord server. However, the server's purpose is not only that: it's also a place for instructions, chit chat, giveaways, and support. If you use this platform, you'll definitely want to join in. The server is missing things like monitors and release calendars, but you should be getting those from your cook group anyway. Overall, it's not overcrowded, but still a pretty lively place.
Finally, Proxydrop has a proxy checker to help test the proxies you've bought before a release. It's a downloadable app for Windows and macOS. The proxy checker lets you enter a list of IPs and choose a target. It then shows you how fast the IPs are, if they managed to reach the target successfully, and if not, what exactly failed.
It's neat that you can interact with the IPs directly in the list, such as remove bad ones or copy the ones you liked. The checker also provides more information than, say, FOGLDN, which gives it an upper hand over the long-standing industry standard.
Customer Support
Proxydrop offers support via its Discord server. If you have any questions or issues, you can click on an envelope emoji, and it'll create a private chat with a representative. 
I tried doing so and received a reply within 10 minutes. Note that we're in a European time zone. According to the replier, you can expect support until 8 PM EST. Proxydrop plans to introduce US-friendly support once it scales up.
So, the support is fast but only within set hours for now. 
Conclusion
Well, does Proxydrop have what it takes? 
It depends. Proxydrop sounds like a good choice for small-time sneakerheads. I really like that you can buy a residential plan and simply forget about it – the plan won't expire. Or that you don't have to play the scarcity game and hunt for a proxy plan to drop – we have enough of those already. The pricing is pretty palatable as far as sneaker proxy providers go. 
I have mixed feelings about the variety of residential IP plans. On the one hand, the added optimizations can help you win. On the other hand, having so many choices is pretty confusing. I'd suggest you start the simplest plan and move on the others if you're having issues with that. 
The aspect I liked the least was user experience. Sure, all the pieces are there: you can buy a plan, generate IPs, and follow your traffic use. But the way they interact is pretty disjointed, considering that the website doesn't even mention half the proxy types ProxyDrop sells. It's not a dealbreaker but something to work on. 
So, it's simple: if you're a reseller, stay away – Proxydrop isn't for you. If you need sneaker proxies for yourself, Proxydrop can be your one-stop shop for proxy IPs, especially during quieter months (no expiration!).