Luminati is big, and the company knows it. It boldly claims to be world's leading proxy provider and the largest proxy service. It's also the only proxy company I've seen to call itself an ethical proxy network.
Reading all this, a question arises: can Luminati back its claims?
It sure can. In the market since 2014, this Israeli provider has grown an array of features and infrastructure around it. You won't have trouble finding any kind of proxy or protocol, anywhere in the world. You'll have a powerful dashboard to configure your proxies and 24/7 customer support in case things go wrong. You'll also be assured that the company serves 'Fortune 500 enterprises'.
In short, you'll find yourself in the comforting embrace of an industry giant.
However, in the last few years, a number of smaller and more nimble competitors have been putting the company under increasing pressure. With cheaper or simply more focused services, they have begun eating into Luminati's market share. And instead of raising itself higher and showing continuous excellence, the company took the hammer: It challenged Oxylabs and Geosurf in court.
I don't know about you, but for me, it shows that the proxy market is heating up. I'd prefer the providers to compete using different measures, but I guess business is ruthless. We'll see how this will affect the market in the long run.
But we're here to talk proxies. If you don't have time, the key features are below. The full review consists of Luminati's services, pricing plans, performance tests, user experience, and customer support.
Let's get started!
Pros
Huge proxy pool
Many features
Powerful proxy controls
Trial and money-back guarantee
Cons
Expensive
Can be hard to use
Strict KYC procedure
Key Features
Proxy types: Datacenter (dedicated, shared), residential (static, rotating), mobile
Protocols: HTTP, HTTPS, SOCKS
Locations: Global
Targeting: Country, city, ASN, carrier
Authentication: Whitelisted IP, user:pass
Sub-users: Up to 500
Dashboard: Yes
Extras: API, browser extension, proxy manager, scraping tools
Support: 24/7, account manager
Pricing: From $500/40GB ($12.5/GB) for residential proxies
Payment options: PayPal, credit card, wire transfer, AliPay, Payoneer
Trial: 7 days (businesses), 3-day refund (individuals)
Luminati Services
Luminati offers a whole range of services: from datacenter IPs (both shared and dedicated), to residential proxies (shared, dedicated, and mobile), to specialized tools that keep the proxies in-house and simply hand you the data you want.
Residential Proxies
A huge pool, many locations, and rich targeting options.
Residential proxies are Luminati's forte. With over 72 million IPs under its belt, Luminati has the largest rotating residential proxy pool in the world. They cover all countries and thousands of cities, so location targeting won't be an issue. 
The proxies come from desktop and mobile devices of real users. Luminati acquires the IPs by burying its code into popular apps with or without people's knowledge (let's be frank – who actually reads terms and conditions?). This means several things: the IP numbers fluctuate day by day; Luminati can't ensure their availability; the proxy pool is shared between all users. To counteract the last point, Luminati has introduced gIPs – 3 to 30 residential addresses for your exclusive use with a specific domain. 
But if you want residential proxies dedicated all to yourself, there's a better alternative. Luminati now offers over 110 thousand datacenter IPs registered with internet service providers. They don't have to rotate and are almost as good at tricking websites that a real user is accessing them. There are some nuances concerning prior IP usage, which can result in easier bans, but such proxies are valued for sneakers and especially social media tasks. 
Both kinds of residential proxies have no connection limits, and Luminati even encourages putting them under as much stress as you can. That's because the company uses so-called Super Proxies to balance the load. They make your requests go through an additional intermediary but ensure more stability in return.
Luminati's residential proxies cover all the main protocols: HTTP, HTTPS & SOCKS5, so you'll have no trouble using them for any task. Aside from the usual country, state, and city targeting options, you'll be able to target IPs by ASN as well. The latter option applies only to the rotating proxies and is a rare find.
You can authorize the proxies both with credentials (user:pass) and whitelisting an IP address.
The performance tests can be found below.
Datacenter Proxies
Both shared and dedicated IPs.
Luminati's datacenter proxies include both shared and dedicated IPs. The provider boasts having around 770,000 addresses across 3,000+ subnets. They don't seem to be the company's focus on their own, and least not when selling to consumers. 
As you might expect from Luminati, its datacenter proxies are stacked. They're located all around the world, so you shouldn't have issues finding an IP even in a more exotic place.
The private datacenter proxies don't rotate by default, but you can set up rules for rotation using Luminati's brilliant proxy manager. You can target them by country or city. The shared proxies can rotate if you buy them by bandwidth – you will then get access to a pool of 20,000 addresses spread out globally.
If you opt for private proxies, you'll need to specify the domains you want to access. So, they won't be exclusively yours, but rather exclusive for those few domains. You'll also have an option to choose a cooling period – the number of days the IPs haven't been used.
All the main protocols are available here, including SOCKS5. You can authenticate with both user:pass and IP whitelisting.
Mobile Proxies
Many locations and good targeting options.
If you have particularly sophisticated needs – or particularly hard targets (ehem, Instagram), Luminati can offer you around 7 million IPs from 3G & 4G powered mobile devices.
Just like the other two types, Luminati's mobile proxies will leave you spoiled. They cover most of the world, and you can freely target the countries and cities you like. Not only that, but you also have the option to select a particular ASN and even carrier. You'll find few providers offering such granular controls.
The mobile proxies come from devices of end users, so they invariably rotate. You can specify the session time you like. Luminati also offers an option to get private mobile proxies – these are 3-30 IP addresses reserved for your exclusive use.
All three protocols are available here, including SOCKS5. To enable it, you'll have to use the Luminati Proxy Manager.
You can authorize both with user:pass credentials and IP whitelisting.
Luminati Pricing
Luminati's proxies aren't cheap. Shared, dedicated, residential, or mobile, they'll always cost above the industry average. It doesn't help that the pricing structure can be convoluted at times, and the pricing plans on the website don't fully reflect the real situation. The true numbers reveal themselves in the pricing calculator. 
The company's pricing is based on a credit model. In other words, you'll need to add money into your account and pay for proxies as you go. The plans require minimum monthly commitment. You can always pay for what you use. But if you fail to spend enough to reach a certain plan, the rates will be very expensive.   
The plans obviously target customers with large needs: the cheapest rotating residential proxy plan starts from $500 ($12.50/GB); spending less will cost you $17.50/GB. The static proxies have the same traffic plans but also charge by IPs. The price gradually decreases to $3/GB, but at that point you'll be committing to pay $30,000 monthly. Advanced features like ASN or city targeting will make the price double. 
The shared datacenter proxies can be bought by IPs or traffic. The latter will give you access to a backconnect proxy pool, but you'll have less control over the IPs. These proxies are actually quite affordable and cost $0.65-1.15 depending on your choices. The dedicated proxy plans include both traffic and IPs into calculations. You have further options for target domains and a cooling period. Each modifies the end price. 
As the best and most exclusive proxy type, Luminati's mobile IPs are extremely expensive. The smallest plan starts at $500/30GB ($30/GB). You can go lower by choosing to pay as you go, but can you really afford to dish out $42 per gigabyte? The pricing is traffic based.
Luminati Performance Tests
We put Luminati's rotating residential proxies to test, and they didn't disappoint. On the opposite: the IPs showed great results in most benchmarks where the company didn't deliberately cripple their performance.
For one, they had extremely high success rates. This applied to most target websites, showing that Luminati's proxies are very well maintained. However, only around half of the requests to Google went through. As we found out later, you need special arrangements to access the search giant. The same happened with several more of our tested websites.
Second, they were fast. I think Luminati is being modest by advertising that its Super Proxies increase stability at the small cost of performance – at least for individual websites. However, when we put the residential proxies under stress, something unexpected happened: they slowed down considerably, and the success rate dropped. I'm not sure what's the deal with this, but it made me question the provider's infrastructure.
In proxy quality tests, none of the tools we used revealed Luminati's residential IPs as proxies. This is a good result, as it shows that the proxies are hard to detect and they won't leak out your own IP address.
Having this in mind, I can safely say that Luminati's residential proxies should do well for most of the usual proxy use cases: web scraping, ad verification, and tasks that require precise targeting options. Just remember to contact Luminati beforehand, as you might encounter the same artificial limitations I did.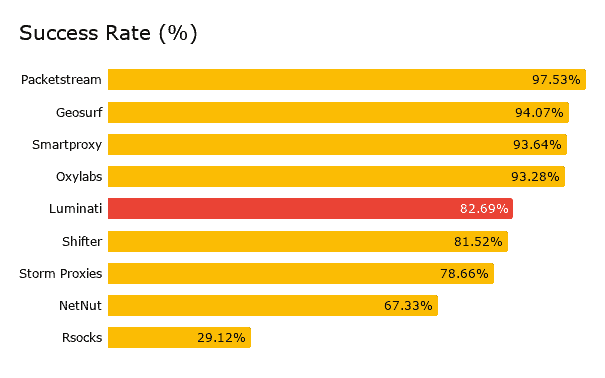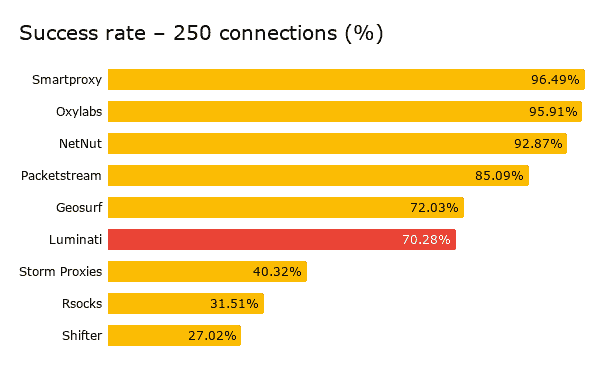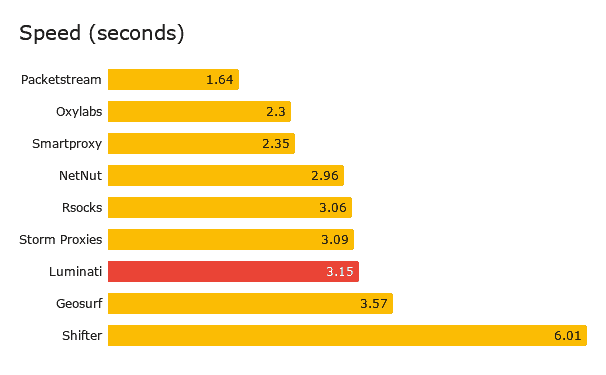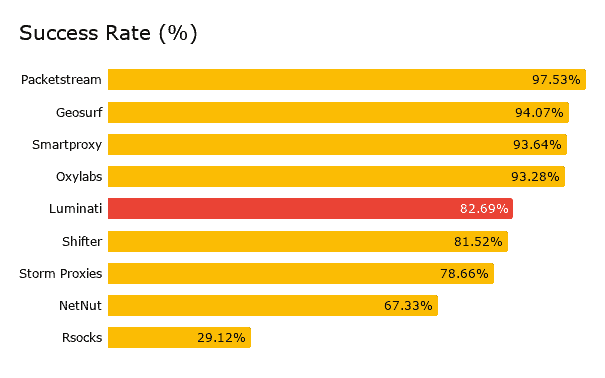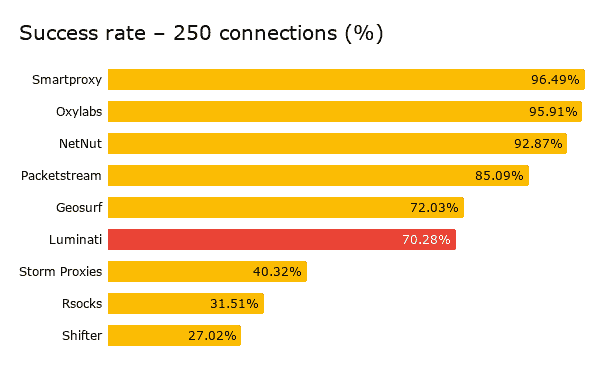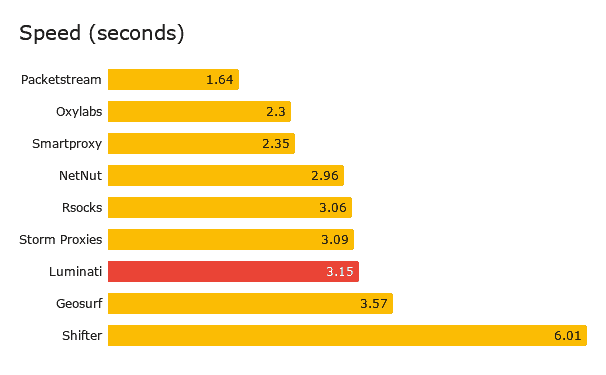 How to Use Luminati
You can sign up with Luminati either with your Google account or using a corporate email. If you choose Gmail, you won't need to enter any other info such as your phone number or address. After registering, you'll be able to access the dashboard. 
Luminati's dashboard is full of options. While there are instructions at every corner, the first exposure can be a little overbearing. Using it, you'll be able to top up your credit, set up and activate the proxies, follow your usage statistics, configure your account, and contact support. It also includes configuration options for the wide range of proxy management tools, API instructions, and a link to the knowledge base.
The actual proxy setup is done using something called Zones. It's a combination of plans and sub-users. You can add multiple configurations and types of proxies there. Once a new month begins, you'll be charged from the pool of funds you have added in the Billing tab.
When creating a zone, you can choose its name, network type (DC, residential, mobile), geolocation (you can even subscribe for the ASN filtering feature), and IP type (shared or exclusive). You can create 500 zones for free; then there's a cost for each new one.
After setting the proxies up, you can simply enter the hostname:port into your software; if it's datacenter proxies, you'll get a list, and that's self-explanatory. Alternatively, you can create cURL requests using the provided instructions. 
Luminati has several more tools to help you work with proxies. One is a browser extension for Chrome. It's pretty customizable and lets you change your IP address based on a Zone or a location. You can set up sticky sessions and even modify the request headers. Luminati advertises the extension as a tool for manual scraping, but I think it's better suited for viewing content rather than extracting it.
Another tool is the Luminati Proxy Manager. It's a robust open-source tool to help you control the proxies. The manager provides many features for advanced users, such as rules for IP rotation, blacklisting, request routing through different proxy types, advanced logs, and more.
Customer Support
Luminati has live chat support and a ticket system in the dashboard.
The answering time in the live chat is great: it usually took me within 5 minutes to receive a reply. I tried asking technical questions and got a detailed explanation every time.
However, with the tickets, Luminati's customer support responded to us only after 5 hours. So, I can only conclude that its ticketing system works less efficiently.
Conclusion
Luminati has all the features you would ever need from a proxy provider, but they do come with a high price. Even though the starting price point is agreeable, every choice you make to improve the proxies will add up and your wallet might suffer.
The proxies we've tested are stable and fast. They have no issues reaching most target websites and compare well with other leading proxy providers. However, Luminati deliberately limits the domains you can access, so you should discuss your needs with an account manager in advance.
The infrastructure surrounding the proxies is also top-notch. I really liked the proxy manager – especially the fact that it's open source. Luminati has also made a lot of instructional material over the years and is very active in educating and promoting ethical proxy use. However, I did feel that parts of the experience were over-engineered and have become unwieldy. This inevitably happens many established companies.
Overall, Luminati is a good choice for any use case. It also attempts to cover every customer, but unavoidably fails – the entry threshold is high, and the pay-as-you-go plans cost too much. It's really a better option for larger business clients.
So, the ultimate question should not be, "can Luminati do that for me?" but rather "can Luminati do it better than other providers?". The competition is tough, and sometimes the answer is not as obvious as it could be.