We use affiliate links. They let us sustain ourselves at no cost to you.
Proxy Service Awards 2023
A year has passed since our last awards. Already! And what a year it's been: web data collection continues to rise at an astounding rate, lifting all the boats. And in these turbulent waters (in-between the web scraping protection systems, economic uncertainty, and legal challenges, the waters are turbulent indeed!), we have proxy providers to keep the industry afloat. 
Throughout the year, we closely followed the proxy server market, which culminated in our annual proxy market research. Now, it's time to look back and recognize the companies whose services, innovation, and practices have excelled among their peers, pushing the whole market forward.
Without further ado, here are the awards for 2023:
---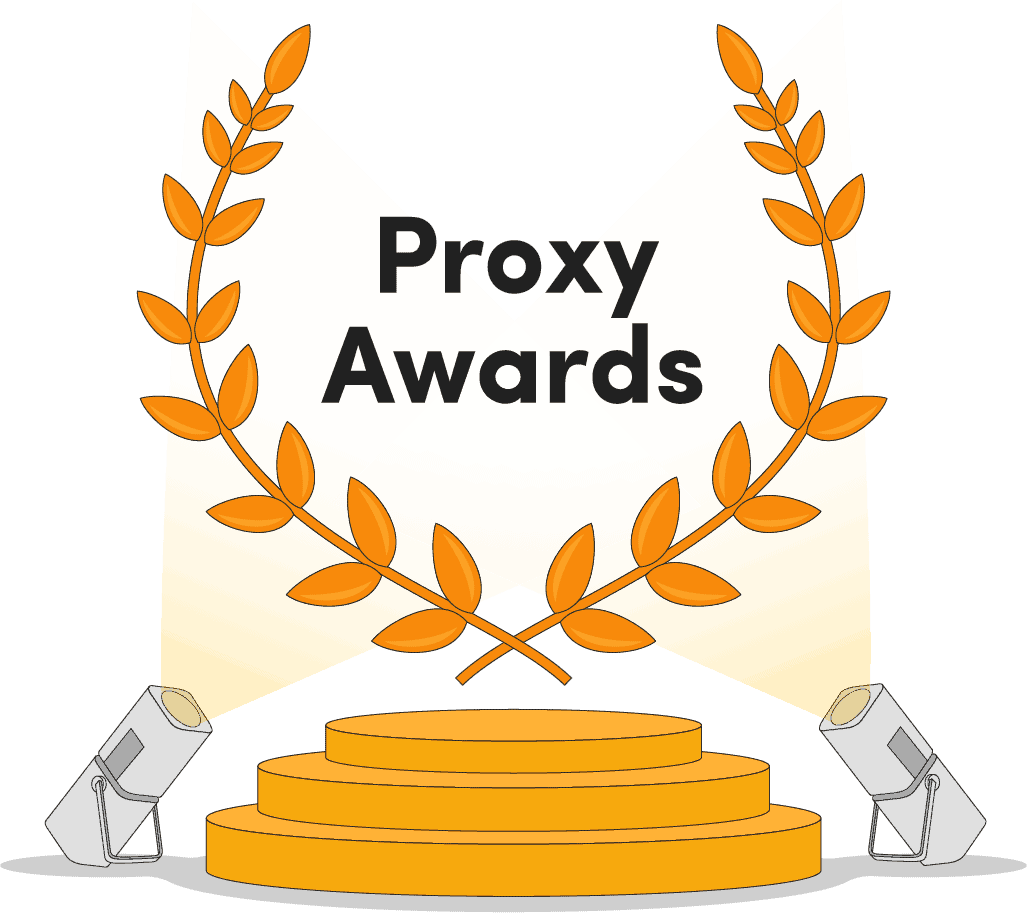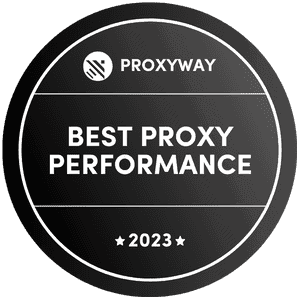 Best Proxy Performance – Oxylabs
Over the years, proxy server infrastructures have gotten really good. Proxies from major providers can pass on connection requests successfully 98-99% of the time – day in, day out. Servers have become faster and more robust all around. 
Still, some do it better, and Oxylabs does it best. Even today, the provider's year-old residential proxy response time would outperform all participants in 2023's market research. But we're comparing new data, and Oxylabs has sped up by 30% since. 
This is just one example. The pattern repeated throughout our tests time and time again. Infrastructure performance? Response time? Success rate with popular targets? Oxylabs was always either the best or among the best. The competition isn't loitering around – SOAX, Shifter, Rayobyte have all made tangible improvements. But they still have ways to go. 
Praise aside, we're not nominating Oxylabs as the best provider this year. Despite introducing cheaper plans and easier access, the company continues to have usability issues with multiple products – namely, the datacenter and ISP proxies (which we hope will be addressed by the next year). However, as far as performance goes, we're looking at a winner. 
---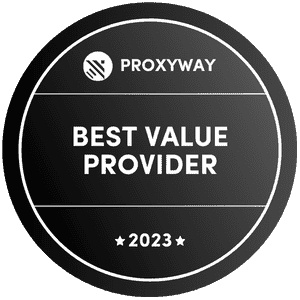 Best Value Provider – Smartproxy
Smartproxy has won this award… what, like three times in a row? And even we have started to question questioning whether it's time to give someone else the spotlight. But there are good reasons why the provider remains the king of value. 
For one, Smartproxy continues to perform really well, competing with and often outcompeting premium providers. Its proxy networks are large, and they offer the majority (though not all) of features that customers care about. And, of course, the provider still has its trademark strengths – user experience and customer support – to improve or cushion any touchpoint. 
In all fairness, Smartproxy's chair was shaken up multiple times. But one of the challengers, PacketStream, seems to be fizzling out. (It doesn't help that its infrastructure overcounted traffic use by 8-10 times during our tests.) IPRoyal had to double its prices in early 2023, becoming a harder sell, and Rayobyte isn't quite there yet. 
On the other hand, Smartproxy introduced an option to pay as you go, new proxy types, and very affordable plans starting from just $7.5. Can you find cheaper proxies? Definitely, especially if you're not concerned with how they're sourced. Will those proxies offer a comparable level of quality and service? We very much doubt it. 
---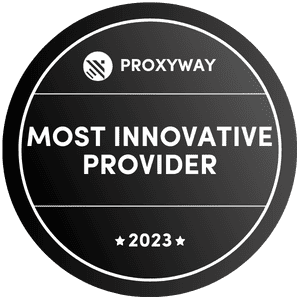 Most Innovative Provider – Bright Data
It's hard to consider Bright Data a proxy provider anymore. In the last few years, it's grown into a full-blown platform for web data extraction, with services that range from proxy networks and web scrapers to datasets and data insights. 
Taken together, they bring us way out of the scope of proxy servers. But we shouldn't be so narrow-minded, and in any case – wherever Bright Data goes, the market tends to follow. Or at least that's the impression we get. 
Some of Bright Data's innovations stand front and center. One example is Web Scraper IDE, which lets any developer create spiders on the provider's platform. Others are less noticeable: for instance, did you know that Bright Data's EarnApp can turn willing users into web scrapers by accessing websites through their Chrome browsers? The proxy networks weren't forgotten, either: you can now download cached pages cheaper and faster, target IPs by ZIP code, and open select websites without a KYC procedure. 
As a company, Bright Data continues to partner with academic and other institutions. In addition, it creates collaborative videos to popularize data collection and has even released a web scraping themed documentary! The whole company seems to ooze ideas, and it's exciting to watch them expressed creatively rather than bullying competitors with patent lawsuits. For this, we'd like to award Bright Data as the Most Innovative Provider of 2023. 
---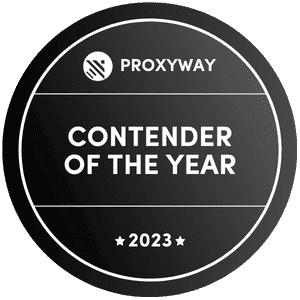 Contender of the Year – SOAX
When we first awarded SOAX in 2021 as the Newcomer of the Year, the provider already had many of its building blocks laid out. It ran feature-rich residential and mobile proxy networks, cared highly about customer service, had a slow but stable infrastructure, and invested heavily in brand marketing. 
Two years have passed, and SOAX has brought on no revolution – we could still describe it using most of the same words. But revolutions aren't always necessary. Instead, SOAX chose an evolutionary approach – to iterate on its strengths while fixing the few glaring flaws it had. 
Has this worked out? To give you some context, SOAX's proxies now are over thrice faster, fast enough to compete with market leaders like Bright Data. Though unchanged, its out-of-the-box features still stand out in the broader context. The company employs over 50 people, visits conferences worldwide, and produces polished thought leadership type content. So our answer is: yes, we believe it has.
Seeing how fast SOAX has improved and where the provider stands now, it would make little sense not to give it the Contender of the Year award. And we like to consider ourselves reasonable people. So, congratulations!
---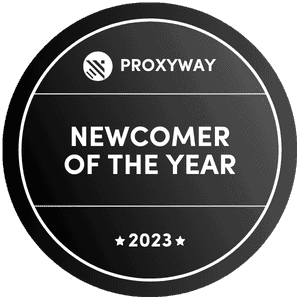 Newcomer of the Year – Webshare
Webshare is somewhat of a unique case. With the market going residential this… mobile that… you'd think that datacenter proxies have fallen into irrelevance. That may become the case eventually – but in fact, server-hosted proxies still power a large portion of web scraping activities. 
But when you looked at the market, especially for dedicated IPs, you'd often see the same scenario: veteran providers (the average dedicated proxy provider has been in business for nine years) with inflexible pricing models that seem to have changed little since their inception. Webshare came and upended the market. 
The provider's two killer features are customizability and absolute self-service. For the first time, many customers had the opportunity to see how many IPs were available and customize their every aspect, ranging from IP quality, refresh frequency, and even network priority. They got full control over the subscription via a dashboard or a fleshed-out API. And as a cherry on top, Webshare gave all customers an ability to make their proxies rotating without delving into code or paying extra.
This flexibility, coupled with a free tier, made Webshare the go-to choice for over 20,000 users. It has since expanded into ISP and recently residential proxies with big ambitions for further growth. For this, we'd like to award Webshare with our 2023's Newcomer of the Year badge. Well done!
---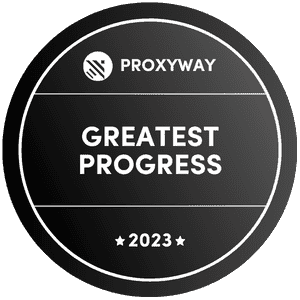 Greatest Progress – Rayobyte
Rayobyte is an old dog learning new tricks. The company has been around since 2015; and for most of this time, it has focused on building and maintaining a datacenter proxy network. So, when we tested its freshly-baked residential and mobile proxies last year, it was a rough ride: the proxy pools barely had any IPs in them and fell laps behind competitors in speed.
Imagine our surprise when in this year's tests, Rayobyte's residential product had not one, not two, but more than 10 times the number of proxies! They couldn't all be sourced in-house, but this is hardly crucial as long as the proxies perform well and Rayobyte sticks to its strict ethical code. And they do perform decently, though there's still room for improvement. 
The mobile proxies have improved even more. To be fair, with a response time of over 7 seconds and US-only IPs, the bar wasn't set very high. Still, Rayobyte managed to significantly better every aspect, ranging from infrastructure performance to available locations and features. We wouldn't call it great yet, but within a year this proxy network turned from an alpha-level proof of concept to a serviceable product.
Rayobyte's bread and butter, datacenter and now ISP proxy networks, remain among the best in class. At this rate, the other two proxy networks might join them in a few years – and even now, the highly scalable pricing of Rayobyte's residential IPs should be making some competitors sweat. Taking this into account, we think it's fair to award the provider with the Greatest Progress badge.