We use affiliate links. They let us sustain ourselves at no cost to you.
The 7 Best Supreme Proxy Providers That Can Prevent Blocks
So, how are those Thursdays making you feel? Excited, anxious, disappointed? Maybe all three in a row? That's Supreme for you – blink, and that cool tee with the boxy red logo is gone… only to appear a few hours later on stockX for thrice the price. Pity.
But hey, there's a way around this, and you know it. That's why you're here, after all, to cop Supreme. You'd better have your sneaker bot ready, 'cause today we'll show you some of the best Supreme proxy providers that will help you power through every drop. Full handed, of course. Let's pick you a winner now!
The 7 Best Supreme Proxy Providers of 2022
Smartproxy

–

overall best proxies for Supreme.

Proxydrop – fast and always-in-stock proxies for sneakers.
Bright Data – the most versatile proxies with a great infrastructure.
NetNut – one of the largest ISP proxy pools for sneaker copping.
Oxylabs – premium residential proxies with excellent performance.
PacketStream – best budget residential proxies.
Rayobyte – fast and cheap datacenter IPs.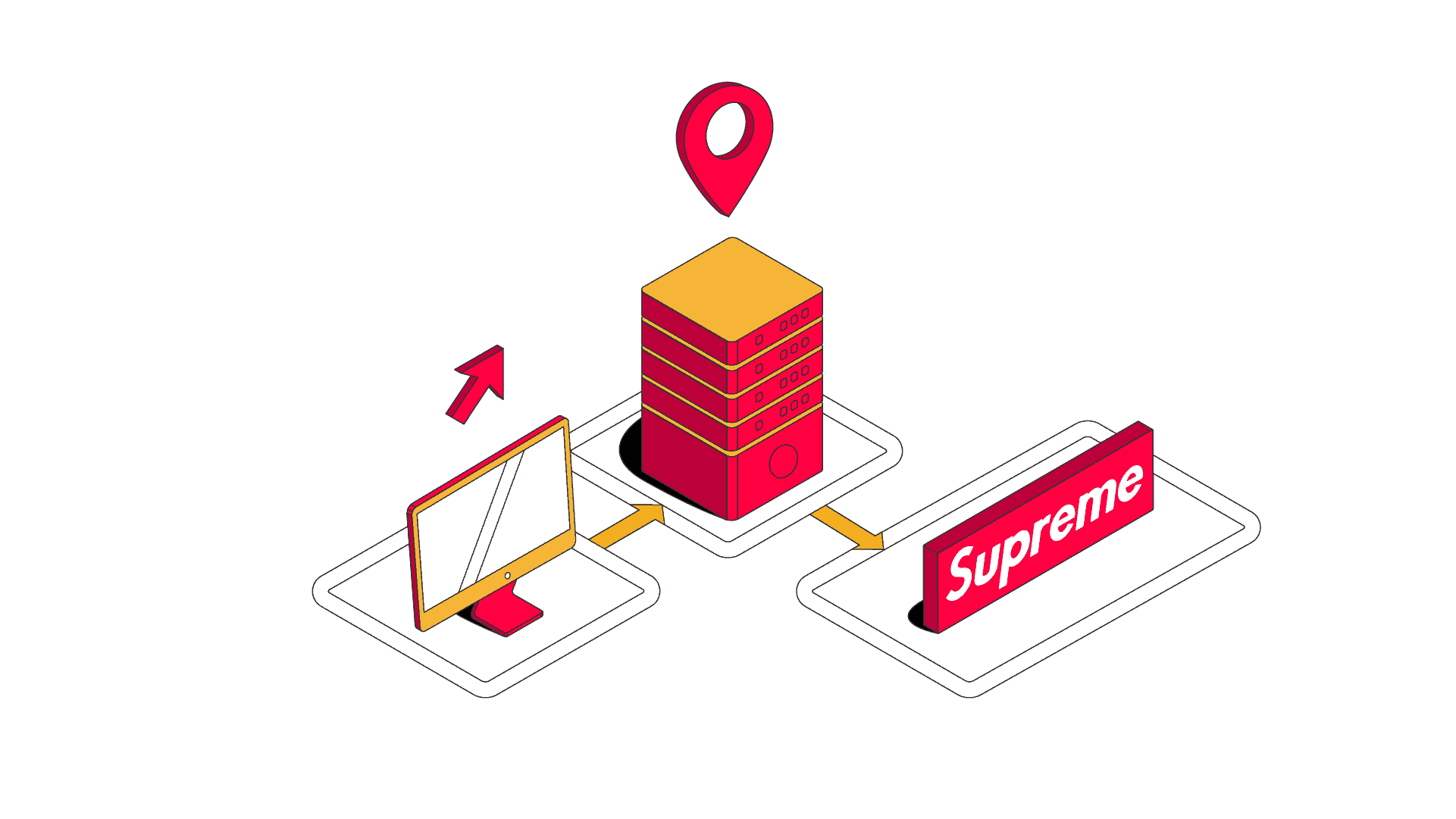 How Copping Supreme Works
Every Thursday at 11 PM EST/BST, Supreme online stores release a limited batch of clothing. They're available until sold out, at which point the release ends. Unlike other shoe stores, Supreme is still using the "first come, first serve" model, meaning that the fastest shoppers win. This is where bots and proxies come in – by using faster connection speeds and automating the checkout process, they let you beat the competition and buy the gear you craved for. 
What Are Proxies for Supreme?
A Supreme proxy is an IP address on a fast internet connection. You use them to access the supremenewyork website in place of your own IP. In the eyes of Supreme, each proxy is like a different identity, which lets your Supreme bot cart many items without getting blocked. 
Do You Need Proxies for Supreme?
It depends. You'll want proxies for Supreme if you have a slow internet connection, live in a country with no Supreme stores, or if you want to buy multiple items from one release. Even if you need a single thing, proxies will give you more attempts to get it. 
On the other hand, if you're only eyeing one item and are willing to take your chances, proxies aren't necessary. But you'll still want to use a sneaker bot to compete with others. Copping Supreme is a contest of speed, after all. 
How to Use Proxies to Buy Supreme
You use proxies with a bot. Most Supreme bots simply let you enter a list of proxy IPs and then use those for different tasks. Try to have no more than one proxy for one task. These are the very basics.
If you don't know what a proxy IP looks like, there can be two formats:
IP address and port, for example: 192.178.0.1:10000

Hostname and port, for example: en.proxyprovider.net:10000
If you're using the IP address and port format, simply paste the list of IPs into your bot. If you have a hostname, it will remain the same, and only ports will change. Behind each port, there's a different IP. 
Picking the Best Supreme Proxies
Until very recently, the best proxies for Supreme had to meet three requirements: 1) be close to the store's servers, 2) be as fast as possible, 3) be able to access supremenewyork during a drop. This meant getting private datacenter IPs in Ashburn, London, Tokyo, or another relevant location. 
Now, however, Supreme has implemented a stricter security mechanism which bans not only datacenter IPs but also some ISP proxies. As a result, residential proxies have become the preferred proxy type. You still have to choose the right location, and speed still matters. There's one more thing you need, which is sticky sessions – the ability to hold the same IP address for 10 to 30 minutes. 
So, to recap: get fast residential proxies with sticky sessions and close to the online store's servers. Luckily, that's exactly what our list offers (with some extras thrown in if you're feeling adventurous).
More about the differences between residential and ISP proxies.
The 7 Best Supreme Proxy Providers