The 7 Best Supreme Proxy Providers That Can Prevent Blocks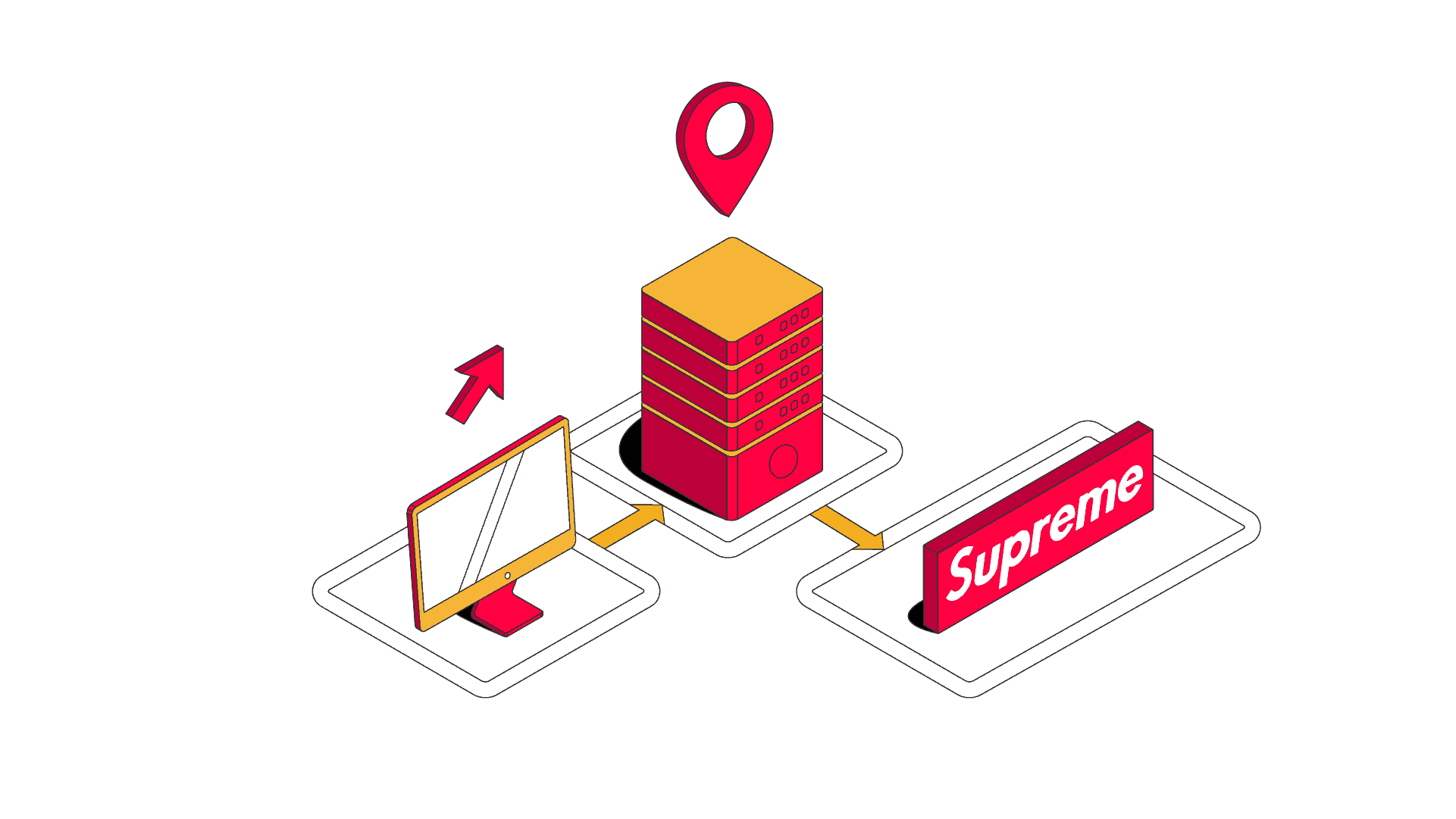 So, how are those Thursdays making you feel? Excited, anxious, disappointed? Maybe all three in a row? That's Supreme for you – blink, and that cool tee with the boxy red logo is gone… only to appear a few hours later on stockX for thrice the price. Pity.
But hey, there's a way around this, and you know it. That's why you're here, after all, to cop Supreme. You'd better have your sneaker bot ready, 'cause today we'll show you some of the best Supreme proxy providers that will help you power through every drop. Full handed, of course. Let's pick you a winner now!
The 7 Best Supreme Proxy Providers of 2021
Smartproxy

–

overall best proxies for Supreme.

Proxydrop – fast and always-in-stock proxies for sneakers.
Bright Data – the most versatile proxies with a great infrastructure.
NetNut – one of the largest ISP and residential proxy pools for sneaker copping.
Oxylabs – premium residential proxies with excellent performance.
PacketStream – best budget residential proxies.
Blazing SEO – fast and cheap datacenter IPs.
How Copping Supreme Works
Every Thursday at 11 PM EST/BST, Supreme online stores release a limited batch of clothing. They're available until sold out, at which point the release ends. Unlike other shoe stores, Supreme is still using the "first come, first serve" model, meaning that the fastest shoppers win. This is where bots and proxies come in – by using faster connection speeds and automating the checkout process, they let you beat the competition and buy the gear you craved for. 
What Are Proxies for Supreme?
A Supreme proxy is an IP address on a fast internet connection. You use them to access the supremenewyork website in place of your own IP. In the eyes of Supreme, each proxy is like a different identity, which lets your Supreme bot cart many items without getting blocked. 
Do You Need Proxies for Supreme?
It depends. You'll want proxies for Supreme if you have a slow internet connection, live in a country with no Supreme stores, or if you want to buy multiple items from one release. Even if you need a single thing, proxies will give you more attempts to get it. 
On the other hand, if you're only eyeing one item and are willing to take your chances, proxies aren't necessary. But you'll still want to use a sneaker bot to compete with others. Copping Supreme is a contest of speed, after all. 
How to Use Proxies to Buy Supreme
You use proxies with a bot. Most Supreme bots simply let you enter a list of proxy IPs and then use those for different tasks. Try to have no more than one proxy for one task. These are the very basics.
If you don't know what a proxy IP looks like, there can be two formats:
IP address and port, for example: 192.178.0.1:10000

Hostname and port, for example: en.proxyprovider.net:10000
If you're using the IP address and port format, simply paste the list of IPs into your bot. If you have a hostname, it will remain the same, and only ports will change. Behind each port, there's a different IP. 
Picking the Best Supreme Proxies
Until very recently, the best proxies for Supreme had to meet three requirements: 1) be close to the store's servers, 2) be as fast as possible, 3) be able to access supremenewyork during a drop. This meant getting private datacenter IPs in Ashburn, London, Tokyo, or another relevant location. 
Now, however, Supreme has implemented a stricter security mechanism which bans not only datacenter IPs but also some ISP proxies. As a result, residential proxies have become the preferred proxy type. You still have to choose the right location, and speed still matters. There's one more thing you need, which is sticky sessions – the ability to hold the same IP address for 10 to 30 minutes. 
So, to recap: get fast residential proxies with sticky sessions and close to the online store's servers. Luckily, that's exactly what our list offers (with some extras thrown in if you're feeling adventurous).
More about the differences between residential, datacenter, and ISP proxies.
The 7 Best Supreme Proxy Providers
1. Smartproxy
Overall best proxies for Supreme.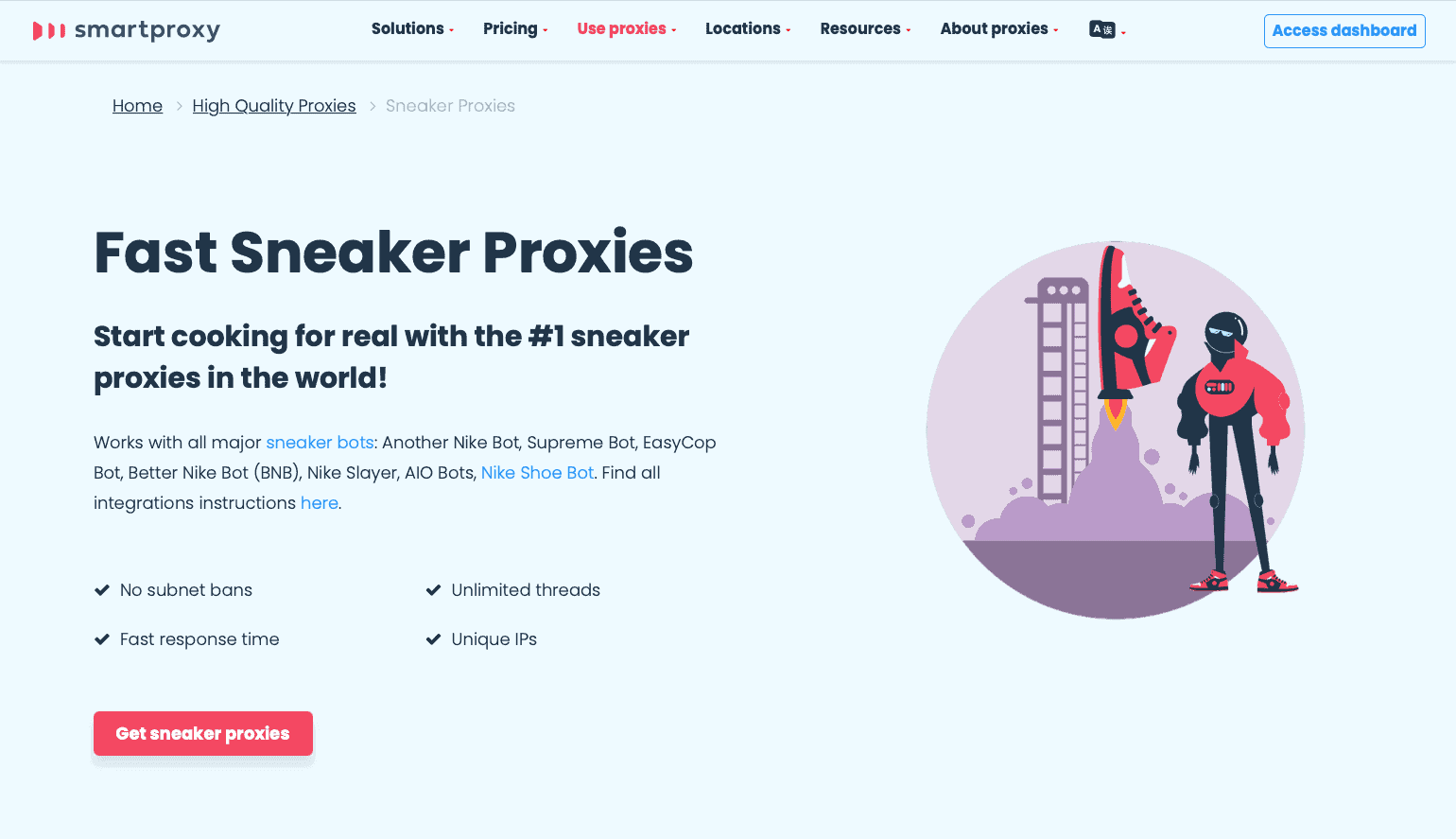 When it comes to Supreme proxy providers, Smartproxy is a no-brainer. This provider already has a good reputation among sneakerheads for simply being efficient. What you'll like about this provider are its ultra-fast proxies. After all, speed is everything in this game. Let's not forget that locations are important too, and Smartproxy has them all. 
If you're new, you'll enjoy the ease of use and great support Smartproxy provides. I also know how much you hate restocks, so you won't have to face that with this provider. Smartproxy proxies are always in stock and ready to use. Oh, and let's not forget that the provider offers 30-min sticky sessions. You know you're going to need these, right?
However, you may not be fond of the fact that Smarproxy doesn't offer ISP proxies, although its residential proxies are excellent. Also, keep in mind that if you need proxies for a single release, you will end up buying a monthly plan which starts from $75. 
Pricing:
Starts from $75/5 GB ($15/GB). 3-day refund available.
Smartproxy Coupon
Use the code Proxyway to get a 20% discount.
Read the Smartproxy review for more information and performance tests.
---
2. Proxydrop
Fast and always-in-stock residential proxies for sneakers.
This provider is relatively new to the market and specializes in sneaker releases. Its residential proxy plans are perfectly optimized for sneakers. The Proxydrop has several subscription plans, but if you opt for the Prestige plan you'll receive a clean private pool. 
Planning on running a lot of traffic? Great, Proxydrop has you covered. The traffic never expires, so don't worry about using the monthly quota. Unlike other specialized providers, Proxydrop has two of the three residential plans available at all times, so no need to wait for restocks. 
If you're exclusively looking for ISP proxies, you won't find them at Proxydrop. However, you can check back with them later, as the provider promises to deliver them in the future. 
Pricing:
Regular residential proxies start from $36/2GB ($18/GB).
Visit Proxydrop
Read the Proxydrop review for more information and performance tests.
---
3. Bright Data

 The most versatile proxies with a great infrastructure.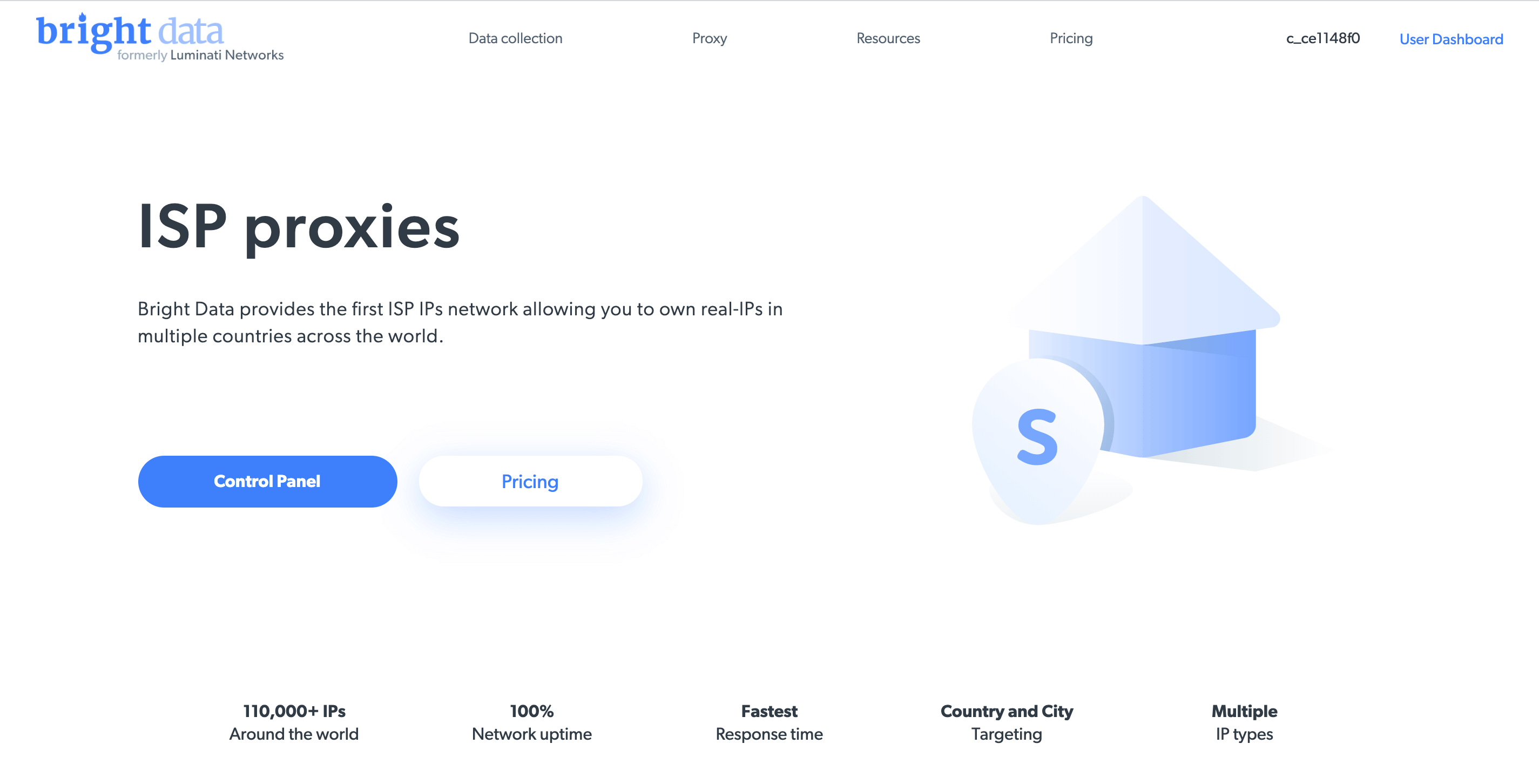 I bet you've heard of Bright Data or at least know it by its old name – Luminati.  Bright data indeed is the largest and the most versatile proxy provider on the market. Unlike some other providers, it offers you the opportunity to choose between both residential and ISP proxies for your copping needs. They are highly customizable. You can pick any location and rotate proxies according to your best needs.
Bright Data's infrastructure is really strong, so you don't need to sweat about it going down at the worst time possible – the time of the release.
I'm not going to lie, to reap the most benefits of Bright Data's service you need to be quite knowledgeable; otherwise, you will easily get confused by its complex service. 
Pricing:
Residential proxies start from $17.5/GB. 7-day free trial for businesses, 3-day refund available.
Bright Data Offer
Add $250 in credits, mention Proxyway, and Bright Data will match you with another $250.
Read the Bright Data review for more information and performance tests.
---
4. NetNut
One of the largest ISP and residential proxy pools for sneaker copping.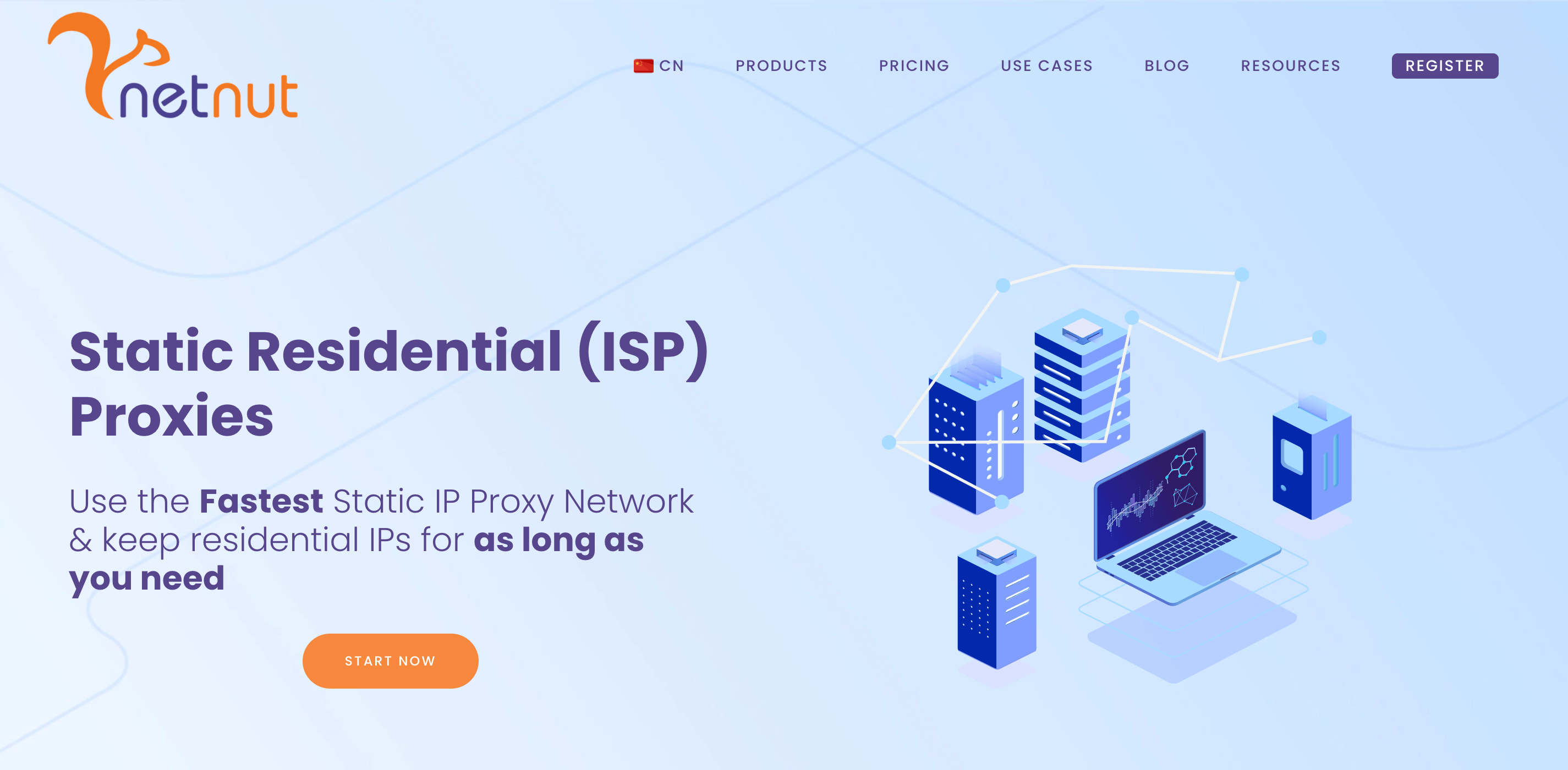 The best part about this provider? It has the largest ISP proxy pool on the market. Although, you might be looking for residential proxies instead. No problem, NetNut has them both. It provides well-performing, fast IPs in all main locations.
NetNut has long been a popular choice among resellers. But if you're an individual sneakerhead looking for an even more sneaker-optimized service, you might want to check out Chi proxies, which is also owned by NetNut. 
No matter how good the provider's proxies sound, you may be put off by the lacking user experience. Also, the price is not tempting: the ISP proxies charge by traffic and are quite expensive. 
Pricing: 
Starts from $20/1 GB ($1/GB). 7-day free trial available.
Visit NetNut
Read the NetNut review for more information and performance tests.
---
5. Oxylabs

Premium residential proxies with excellent performance.
Very few other providers can compare to Oxylabs both in size and performance. After all, Oxylabs is one of the largest premium providers on the market. It controls a giant proxy poll of over 100M IPs, which comes in excellent quality. You don't need to worry about locations: Oxylabs has millions of IPs very close to each of the Supreme stores. 
Even though its residential proxies are fast, perform well, and have 30-min sticky sessions, you may still prefer ISP proxies, but Oxylabs don't offer them yet. Also, Oxylabs' services are expensive even for buying in bulk. 
Pricing:
Starts from $300/ 20 GB ($15/GB) for a monthly plan. 7-day trial for businesses, 3-day refund available.
Oxylabs Coupon
Use the code Proxyway15 to get a 15% discount.
Read the Oxylabs review for more information and performance tests.
---
6. PacketStream
Best budget residential proxies.

Are you on a tight budget? PacketStream is the one for you. That's right, this provider offers very cheap proxies. Seriously, they come at a price of $1 per gigabyte. While it may be reasonable to expect that its service is poor in quality, we ran tests to find out that PacketStream performs relatively well. It also offers all the main locations and sticky sessions as long as the IP remains available. 
However, its proxy pool is quite small, which means that you risk getting abused IPs. 
Pricing:
Starts from $50/50GB ($1/GB).
Visit PacketStream
Read the PacketStream review for more information and performance tests.
---
7. Blazing SEO
Fast and cheap datacenter IPs
Despite what its name may suggest, this provider isn't just concerned with SEO. In fact, it has proxies dedicated to sneakerheads, too. Keep in mind that the proxies Blazing SEO offers are datacenter. They are much cheaper than residential proxies and you don't need that many IPs. By the way, they are fast and come from all main locations. You also get unlimited traffic, so that's one less thing to worry about when copping. 
To be honest, it's hard to say whether these benefits outweigh the fact that datacenter proxies may be too easy to detect for Supreme's anti-bot protection. 
Pricing:
From $7/5 IPs ($1.40/IP) in the US. Other countries have individual pricing. 2-day free trial available. 
Visit Blazing SEO
Read the Blazing SEO review for more information and performance tests.