Important Sneakerhead Slang You Should Know as a Beginner
Here's how to sound like a real sneakerhead.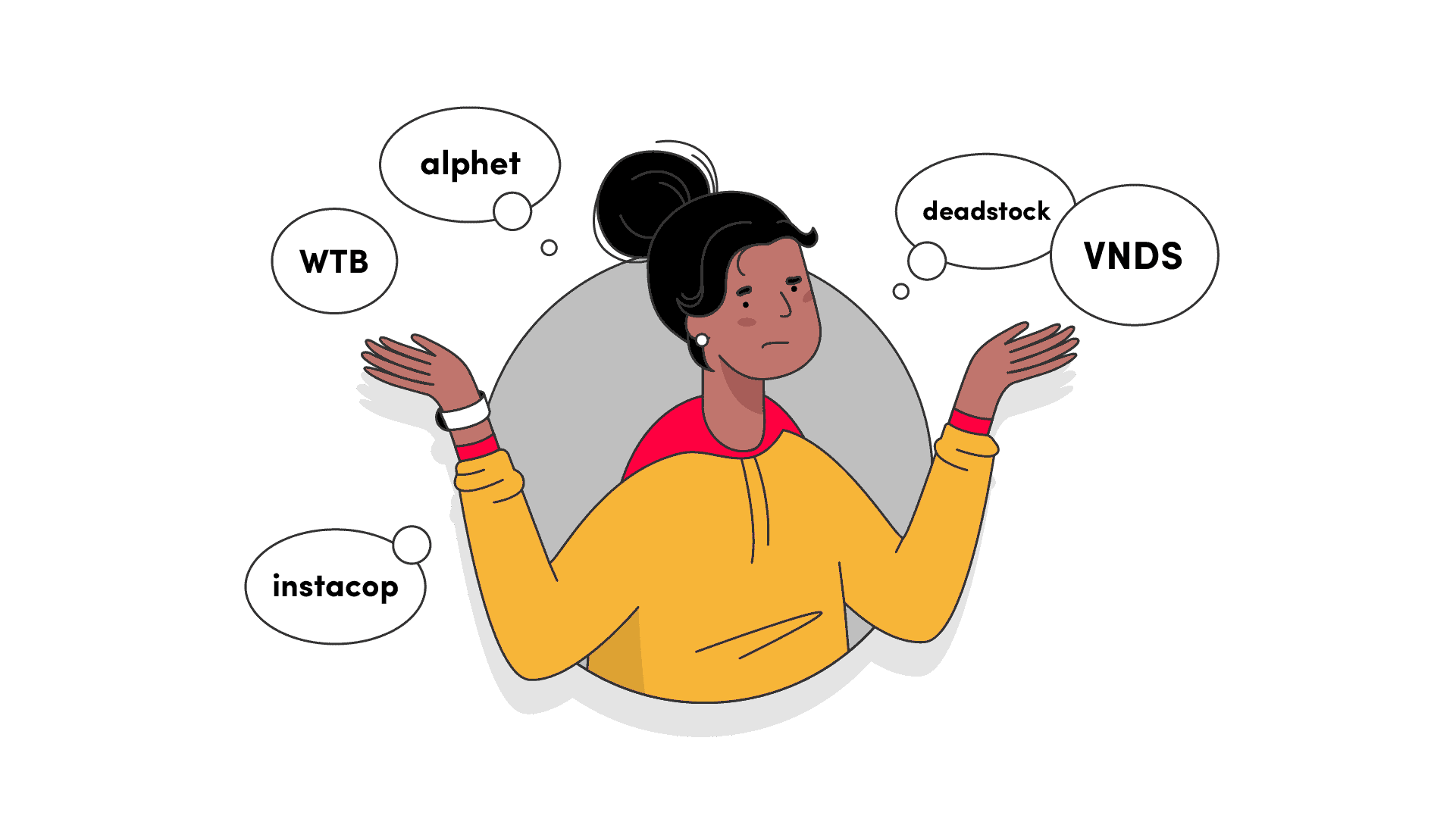 Everyone has different opinions on what's the hardest part when learning to cop sneakers. Some say it's getting into a cook group, figuring out how to set up a bot, or jigging your way through a successful checkout. Of course, these aren't easy, but you know what confused me the most in the beginning? It's the lingo. 
Have you ever caught yourself going "ugh, what??" when you stumble upon words like deadstock or hyperstrike while casually browsing sneaker subreddits? When I started out, I was hit in the face with so many abbreviations, nicknames, sneakerhead slang that made me feel like a noob. 
The sneaker culture has come a long way since the late 80's and so has its slang. To feel like you belong, you need to speak the same language. For this very reason, I made a comprehensive, beginner-friendly list of sneakerhead slang. 
Here it goes: 
ACG: if you ever encounter this abbreviation, take note that it refers to All Conditions Gear, a line of out-door focused shoes and apparel by Nike. Did you cop any of these yet? Maybe you should give it a try? 
ADC: Adidas dot com. If you're planning on frequenting cook groups and Reddit a lot, you should remember this one. 
Aglets: you know those plastic or metal tips you find at the end of shoelaces? Yeah, that's aglets. Their sole purpose is to prevent the lace from unraveling. 
Alphet: just another way to say that your outfit is fire. I know, this one sounds like it belongs to r/BoneAppleTea, right? Though, it's actually a combination of alpha and outfit. The more you know.
Beaters: your worn-down, go-to pair of sneakers that you'll probably wear until they rip through the sole.
BIN: buy it now, or in other words, the lowest price for buying a pair directly. Choose BIN to instantly beat bidders.
B-grade: these are the sneakers deemed not good enough by the brand's quality control. They have some factory defects, flaws, and damages. While not all of the defects are noticeable, the b-grade shoes end up being sold at a lower than retail price, making them a good catch. 
Bot: an automation software that allows to complete purchases at lighting speed.
Bred: you know what you get when you combine black and red? Bred. You get Bred. 
Bricks: hyped, or should I say overhyped, sneakers that you cop to make some sweet cash, but end up making none. Happens to the best of us, I guess. 
Coke white: sometimes, simply saying that your sneakers are white doesn't do justice to how flawless they are. In this case, try saying coke white instead. 
Colorway: I don't need to tell you that sneakers come in all possible colors and their combinations, that's why a proud sneakerhead knows every colorway (a range of color combinations) their favorite kicks come in. 
Cop: you've heard this word so many times on our blog, it would be awkward if you didn't know what it meant yet. But to be sure – cop means to buy something. You might as well read our copping guide while you're at it. 
Cook group: looking for a place where you can feel like you belong? Ok, maybe not necessary that, but if you want some early links, tips & tricks, or drop dates there are these groups on discord which can provide all of that.
Cozy boy: who said that being cozy and stylish doesn't mix? That's what the cozy boys are all about. Rocking sweatpants and looking fire. 
Crepes (creps): no, no one is talking about pancakes here. That's just another way to call sneakers. Clearly, this word originated from the UK. 
Deadstock (DS): a shoe from an old release that has never been worn, comes in a box, and has all tags attached. If you ever encounter VNDS, it means – very near deadstock.
Deubre: a term originated by Nike which describes an ornamental shoelace tag. 
Dope: usually means that something is cool and fashionable, unless somebody calls you that, then it could mean a whole different thing. 
Double up: getting a second pair of the shoes you love, if you're lucky, that is. 
Drop: don't you just love when those hyped sneakers finally drop? I mean get released? That's right, drop refers to a release. 
Factory-laced: sneaker so brand new, they are still laced by the manufacturer.
Feezy: that's what you call fake Yeezys when you spot them. 
Flaking: a buyer backing out of the deal. 
Flip flop: you know that feeling when you're convinced that the upcoming release is not worth a damn thing. Then, just as it's about to drop, you're hit with a sudden realization that you're about to miss a fire pair of kicks. Yeah, that's flip-flopping, don't do that. 
Flop: failing to sell miserably. 
Fragment/Fragment's or frags: shoes made in collaboration with Hiroshi Fujiwara.
Friends and Family (F&F): refers to a sneaker so rare, that only 'friends & family' or collaborators and designers can get ahold of them. 
FSR (full-size run): it means the particular style of sneakers has sizes ranging from the smallest to biggest. How does matching shoes with your kid sound like, huh? 
Fufu: something you most certainly don't want to get – fake sneakers
Fugazi: fake or damaged beyond repair.
Garms: do you think garments is way too long of a word? Try saying garms instead. 
GOAT (greatest of all time): some would say that Michael Jordan and Kanye West are GOATs. 
GR (general release): don't worry if you miss out on these, they'll be easy to spot later. After all, it's the lowest tier of sneaker releases. 
GS (grade school): designed for children.
Heat: a rare sneaker you simply cannot miss out on. Get ready to cop some heat!
Highs or high tops: the kind of shoes that extend up over the ankle. 
Hiroshi: Hiroshi Fujiwara is one influential streetwear designer. Seriously, look him up, you'll thank me later. 
Holy Grail: the sneakers of your dreams you desperately want to get your hands on. 
Hypebeast: a person who is obsessed with being trendy, only to impress others. That's not always a good look on somebody. 
Hypebae: a woman who follows trends just like hypebeasts do. 
Hyperstrike: the most exclusive sneakers of them all. 
Infrared: an iconic color developed by Nike. You'll see it on the Swoosh's most popular sneaks. 
Instacop: a pair of sneakers so hyped up that you cop them without even thinking. 
Icy sole:  a transparent or see-through sole. Not much more to add here. 
Jumpman or JB: of course it refers to nothing other than the Air Jordans brand. 
Kicks: just another way of saying sneakers. Seriously, how many of these words are out there? I'm losing count. 
LBJs: the Lebron James line by Nike. 
LC: legit check. That's what you do to prevent getting fufu. 
LE: limited edition.
Lit: need a new way of saying awesome or dope? Try using lit. 
Lows or low-tops: the kind of shoes that goes below your ankle. 
Ls: loss or failure to cop a sneaker. Taking an L is just a part of the game. 
LPU: latest pick up.
Mids (mid-top): a sneaker that goes up to your ankle bone. Basically, any sneaker that's in between a high-top and a low-top. 
NIB (new in box): unworn, brand new shoes, right out of the box.
NOS (new old stock): old sneaker release shoes that haven't been worn yet. 
NRG (energy): it's the most exclusive product line Nike has to offer.
NSW: Nike sportswear.
OGs: original, the very first release of a shoe. 
Pack: sneakers that are released as a series. 
PE (Player Edition): sneakers released exclusively for athletes. 
Quickstrike: a pair that is released in limited quantities and drops without notice. You might want to keep an eye on these. 
Red Octobers: all-red Air Yeezy II.
Reseller: a person who buys limited edition items to resell them at a bumped-up price. 
Restock: when the previously sold-out item comes back in stock. 
Retro: re-release of an OG pair of shoes. 
Sample: used during the production or sales process, not meant for the public yet. 
SB: I bet you've wondered what it stands for in NIKE SB Dunk. Well, it's time to unveil the mystery. It means skateboarding. Surprised? 
SE (Special Edition): sneakers released to celebrate a special occasion
Size Run: the number of different sizes the retailer has in stock. 
Silhouette: design of a sneaker. 
Sneakerhead: a person obsessed with sneakers and sneaker culture. So, you, hopefully. 
Super Fire: a whole new level of cool. 
Steez/Steezy: I don't know how they do it, but some of us manage to combine style and ease together to look steezy. Good for them. 
Tinker Hatfield: ok, you have to know who this is – the most legendary sneaker designer!
Tonal: monochrome sneakers that are made of one color.
Trainers: again just another word for sneakers, British edition. 
TZ (tier 0): the absolute top tier Nike's retail accounts.
Upper: the portion of a shoe above the sole. 
Uptowns: a way New Yorkers call the Air Force 1s.
W: something we all strive for – winning a cop. 
White on whites: another way of calling all-white Air Force 1 Low.
WTB: want to buy. 
WTS: want to sell. 
WTT: want to trade.
X: a cross between two brands or, in other words, a collaboration.
Y-3: a collaboration between Adidas and Japanese designer Yohji Yamamoto.
Yeezy: ok, if you don't know this one, what are you even doing here? Fine, let me explain, it's Kanye's sneaker line. 
Zapatos: the Spanish word for 'shoes'.
There we go, now you're up to speed and ready to dive into the community. If you want something to be added to the list, don't forget to drop it in the comments.