The Best 4G Mobile Proxy Providers of 2021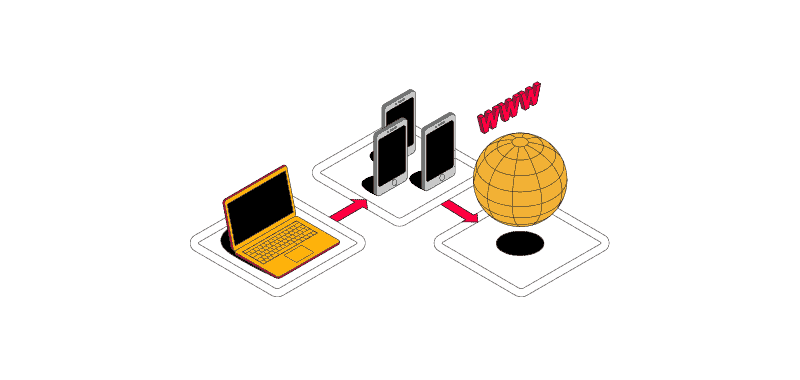 Sometimes, datacenter proxies just won't do. You can always swallow the cost and try residential proxies – but what if they fail to work, as well? Don't worry, not all is lost: this is where mobile proxies come to the rescue. These addresses have the highest IP reputation and are extremely hard to block.
If you've find yourself in need of mobile addresses, we've picked out some of the best 3G and 4G mobile proxy providers in the market. Have a look.
The Best Mobile Proxies of 2021 – Quick Summary:
Key Points about Mobile Proxies
Mobile proxies send your connection requests via devices connected to mobile carriers like T-Mobile and Verizon.
They have the best IP reputation and are hardest to block because hundreds of users share the same IP address.
For this reason, they're used with the most sophisticated targets; a popular use case is social media automation.
Mobile proxy IPs cost significantly more than datacenter and residential proxies. The pricing model is either traffic or ports (how many IPs you can access at once).
Learn more: What Is a Mobile Proxy?
How We Chose the Best Mobile Proxy Providers
The mobile proxy market is still relatively new, and not many providers specialize in mobile proxies. From the companies that do, some are more well rounded and better than others – and deserve their place in the 'best of' list.
We picked out reliable provides, with a proven track record and market experience. They were ranked based on their offered use cases (social media, web scraping), mobile proxy features, and performance. We also took pricing into account to make this list better rounded. So, in one way or the other, these providers are all good choices for mobile proxies.
The Best Mobile Proxy Services of 2021
1. Bright Data (Luminati)
The largest mobile proxy provider.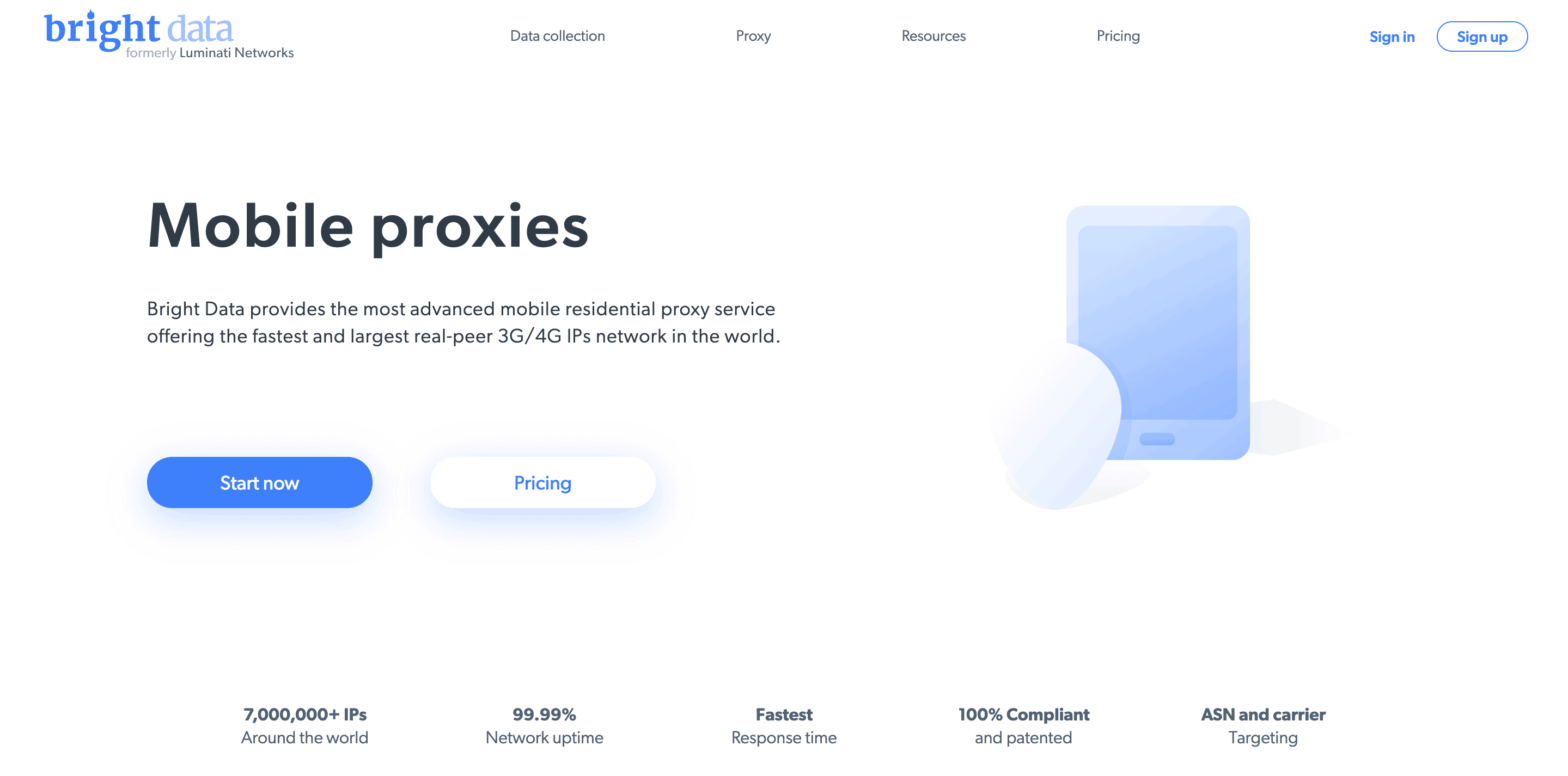 Bright Data has probably the largest network of 3G and 4G proxies from real users around the world. They are rich in features and highly customizable if you have the technical skills. You can choose a particular mobile carrier, modify the rotation settings however you like, and use an unlimited number of IPs at once. Bright Data offers an API for programmers and a browser extension. All in all, it's a highly versatile and powerful service.
That said, using Bright Data makes sense if you have cash to spare. The service is pretty expensive, and the pricing plans start from $300. There is an option to pay as you go, but who in their right mind would shell out $60 per gigabyte?
Features:
Proxy pool: 7 million 3G & 4G mobile proxies
Protocols: HTTP(S), SOCKS5
Locations: Every country, thousands of cities with carrier targeting
Rotation: Every request, as long as available. Further customizable with Proxy Manager
Connections: Unlimited
Pricing:
The pricing plans start from $300 for 8.6 GB ($35/GB). 7-day free trial for businesses, 3-day refund available.
Bright Data Offer
Add $250 in credits, mention Proxyway, and Bright Data will match you with another $250.
Read the Bright Data review for more information and performance tests.
---
2. SOAX
Highly flexible rotation and location targeting options.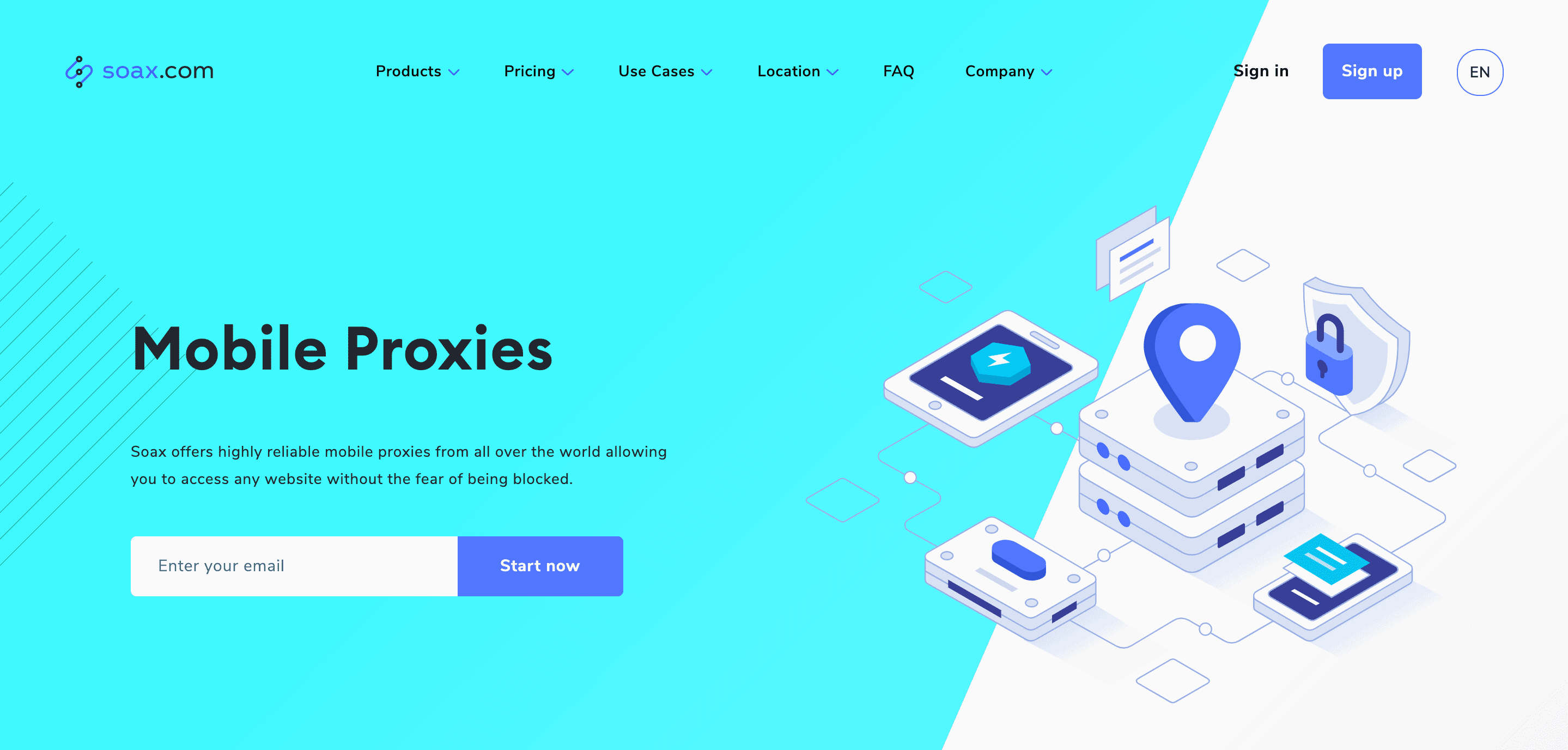 SOAX is like Bright Data lite: half the proxies, fewer (but still many) locations, fewer proxy management tools. However, it has just as flexible IP filtering options, which are easier to use via the dashboard. While not very fast, the proxy network is stable, and the customer service is one of the better we've seen. SOAX also costs less than Bright Data – its plans start from $75.
The downsides are that you have to whitelist an IP address, and that SOAX limits the number of proxies you can access at once. Still, 300 ports are quite a bit, and the larger plans grant even more.
Features:
Proxy pool: 3.5 million 3G & 4G mobile proxies
Protocols: HTTP(S) over SOCKS5
Locations: 100+ countries with city & carrier targeting
Rotation: 90-360 seconds or as long as available
Connections: 300-600 ports
Pricing:
Starts from $70 for 2GB ($35/GB). Paid trial available.
Visit SOAX
Read the SOAX review for more information and performance tests.
---
3. RSocks
Unlimited-bandwidth plans from select carriers.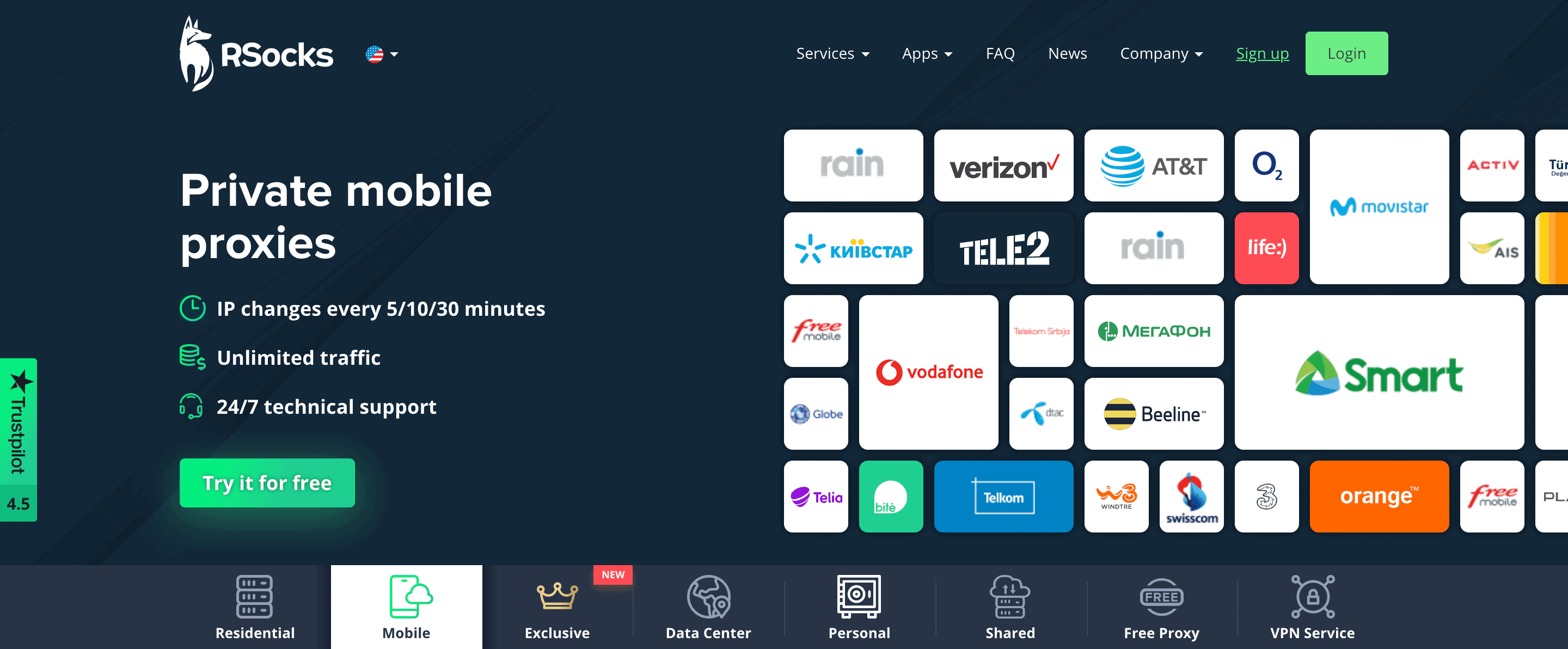 RSocks has a very particular business model that works best when you don't need many IPs at once. The plans lets you choose a location, carrier, and duration: day, week, or month. You then receive one backconnect port that rotates the IP every 5-30 minutes in the backend. The upside is that the service doesn't limit traffic; the downside – you can't change the settings after buying a plan. And that one port with 10 threads is pretty restrictive.
Whenever we tested RSocks, the performance was always shaky. But if you have specific requirements and don't like bandwidth limits, it can be a provider to consider.
Features:
Pool size: Over 1 million mobile IPs
Protocols: HTTP(S), SOCKS5
Locations: 23 countries with 45 cities and 45 carriers
Rotation: 5, 10, or 30 minutes
Connections: 1 port per plan, 10 threads per port
Pricing:
Starts from $3 per day ($100 per month) for one port.
Visit RSocks
Read the RSocks review for more information and performance tests.
---
4. Blazing SEO
Affordable US mobile proxies for web scraping.
Blazing SEO is very new to mobile proxies, so beware – here be dragons. But if you're brave enough, you'll get access to a pool of mobile IPs in the US. They rotate often, so these proxies are best suited for web scraping. The pricing is pretty good for what you get (and much cheaper compared to something like Bright Data). You also get an optional tool that helps you with scraping tough websites.
So, if you're okay with all the restrictions, and want to try out mobile IPs for your web scraping project, Blazing SEO might be a good choice.
Features:
Pool size: Unknown
Protocols: HTTP(S)
Locations: Mainly the US
Rotation: Every request
Connections: Unlimited
Pricing:
Starts from $50 for 2GB ($25/GB).
Visit Blazing SEO
Read the Blazing SEO review for more information and performance tests.
---