We use affiliate links. They let us sustain ourselves at no cost to you.
The Best Shared Proxy Services of 2021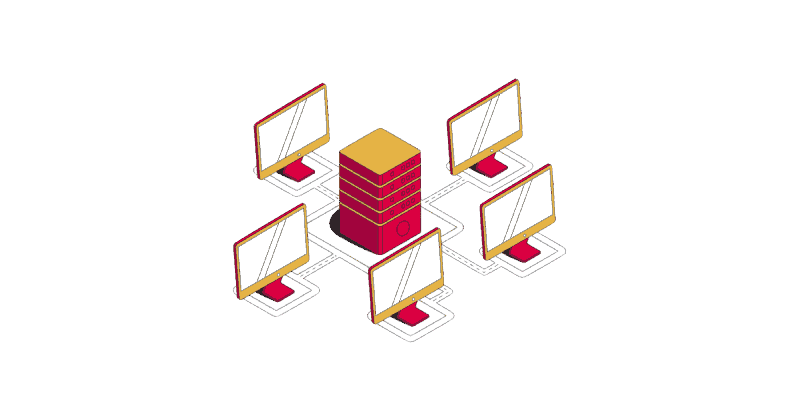 Shared proxies are IPs that multiple people use at the same time. They are less effective than dedicated or residential proxies. But they also cost less. A shared proxy is great for hiding your IP, unblocking geo-restricted content, and scraping unprotected websites. It's a good choice for beginners who want to try out proxies.
If you're looking to buy cheap shared proxies, you've come to the right place. We picked out the top shared proxy providers to ensure you'll get the best experience for the price. Here are our favorite picks.
The Best Cheap Shared Proxies – Quick Summary:
What Is a Shared Proxy?
A shared proxy is a proxy IP address used by multiple people at a time. While they're a good choice for some, shared proxies are generally considered to be at the bottom of the proxy ladder, especially compared to private (dedicated) proxies.
When people talk about shared proxies, they usually mean datacenter IPs. Residential and mobile proxies often are shared as well, but they go by different names. This is a convention from the old days. Besides, for many "shared" equals "cheap", and it's something residential and mobile proxies are not.
Why are shared proxies thought to be inferior to other proxy types? They're prone to something called "the bad neighbor effect". It refers to when someone has abused a proxy and its IP gets banned from sites you might want to target. This is a significant risk with shared proxies. Even if the proxy is not banned, its prior use history on a specific website might mean that your scraped data is polluted.
The Main Uses of Shared Proxies
Hiding your IP. Shared proxies can be used for security reasons, to stay anonymous on the web. They give you a list of IP addresses to use; whenever you connect to a website, it sees that address instead of your original IP.
Geo-location unblocking. You can get shared proxies in various countries around the world. This lets you access content that's limited to those locations, whether it's movies, news, or pricing information.
Torrenting. We're big believers in respecting authors by paying for content, but, obviously, not everyone is. Shared proxies work great for torrenting, and no one will be able to track your IP.
Web scraping. If you're not planning to scrape on a big scale, or the websites you're targeting aren't very well protected, shared proxies might be a good option. They'll let you avoid rate limiting and blocks caused by making too many connections from the same IP.
Shared Proxy Types
There are two types of shared datacenter proxies based on their format. One is a list of IP addresses, the other one – a backconnect gateway server.
Shared Proxy List
A shared proxy list is exactly how it sounds: you receive a list of IP addresses in a text document, which you can use however you like. That's it. These IPs don't rotate, and they have no fancy settings where you can modify the port number to change the location or rotation interval.
Shared proxy lists work well when you don't want your IP address to change: for example, when you're gaming. But they're less ideal for tasks like web scraping. When you use this format, you usually pay per IP address.
Shared Rotating Proxies
Shared rotating proxies give you something called a backconnect gateway server. It's an IP address, often disguised as an URL (for example, en.proxyprovider.net:10000). This backconnect server connects you to the provider's proxy pool and automatically assigns you an IP address. After some time, say 30 minutes or even every connection request, it gives you a new IP address from the pool. Rinse and repeat.
Shared rotating proxies are simpler to manage than proxy lists if you need your proxies to rotate. When you use this format, you usually pay for the traffic that goes through the IPs.
When to Choose Shared Proxies vs Dedicated Proxies
Shared proxies have multiple users, while dedicated proxies just one. This makes the former cheaper but worse performing due to bandwidth sharing and unpredictable usage history. In general, shared proxies are worth it when:
You are just starting out with web scraping and just need the tech to experiment. Due to their low price, shared IPs are a great gateway tool for learning the ropes.
You don't have the funds to invest in a dedicated proxy. Let's face it – dedicated proxies are expensive. Sometimes, you might find it worthier to have worse performance and more IPs than fewer IPs or nothing at all. Just remember that shared datacenter proxies won't work for use cases like sneaker scalping or social media automation.
The websites you wish to target are relatively unknown. Not every website has the security level of Google. If you work smart and manage to find unabused IPs, shared proxies will let you scrape many a website with few issues.
The Best Providers of Cheap Shared Proxies in 2021
1. Smartproxy
40,000 rotating US proxies with unlimited threads.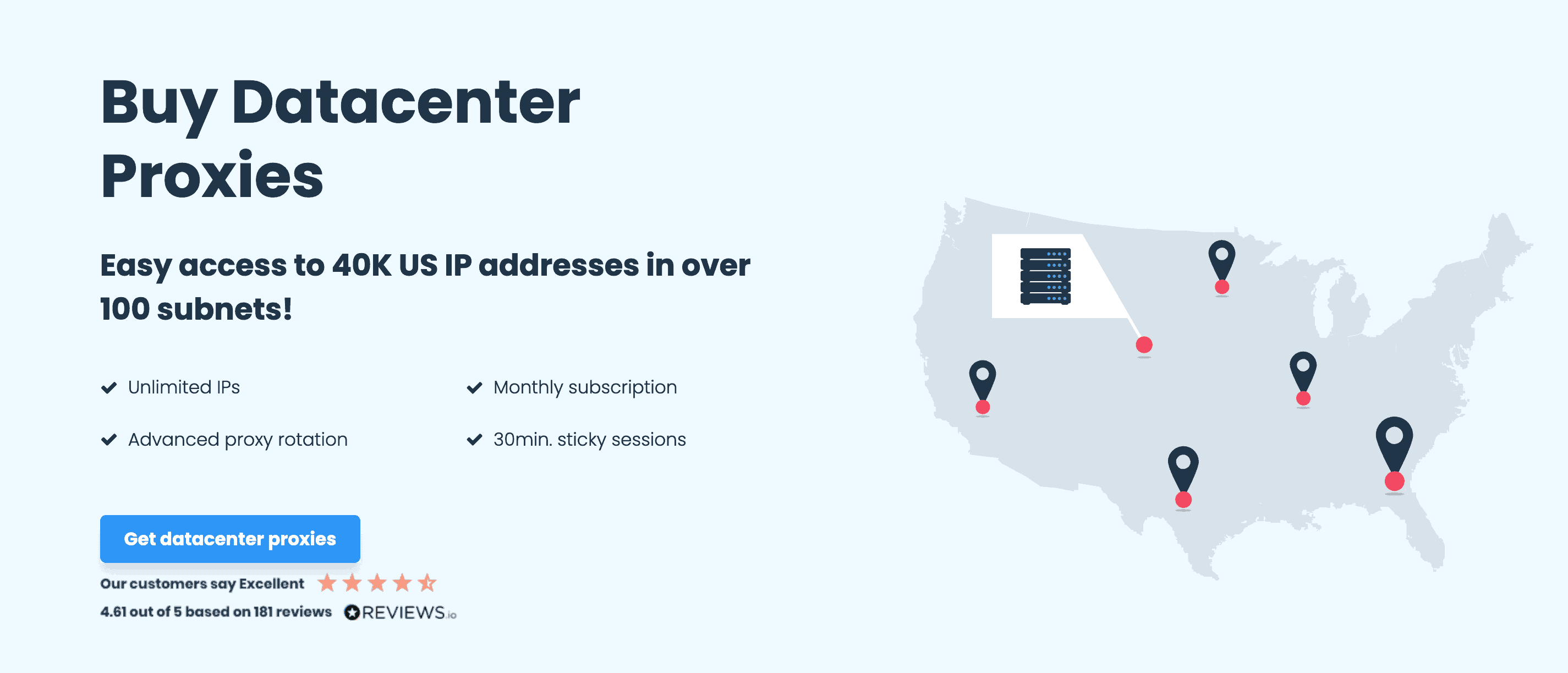 Smartproxy is known for its residential proxies, but it sells shared datacenter IPs as well. The provider offers 40K rotating IPs in the US. By choosing any plan, you get access to the whole pool, which lets you scrape without any reservations. Smartproxy is a user-friendly provider with awarded customer support and plenty of documentation to help you. Overall, it's perhaps the best choice for headache-free scraping on a budget.
For the drawbacks, these proxies are only available in the US, and the 30 minute sticky sessions might not be long enough for everyone.
Features:
40,000 shared datacenter IPs
HTTP(S) protocol
Proxies in the US
Rotation every request, 30 mins
Unlimited threads
User:pass authentication
Sub-users
API
24/7 customer service
Pricing:
From $50/100GB ($0.5/GB). 3-day money-back guarantee available.
Smartproxy Coupon
Use the code Proxyway to get a 20% discount.
Read the Smartproxy review for more information and performance tests.
---
2. Luminati
Rotating and static shared IPs with the most customization options.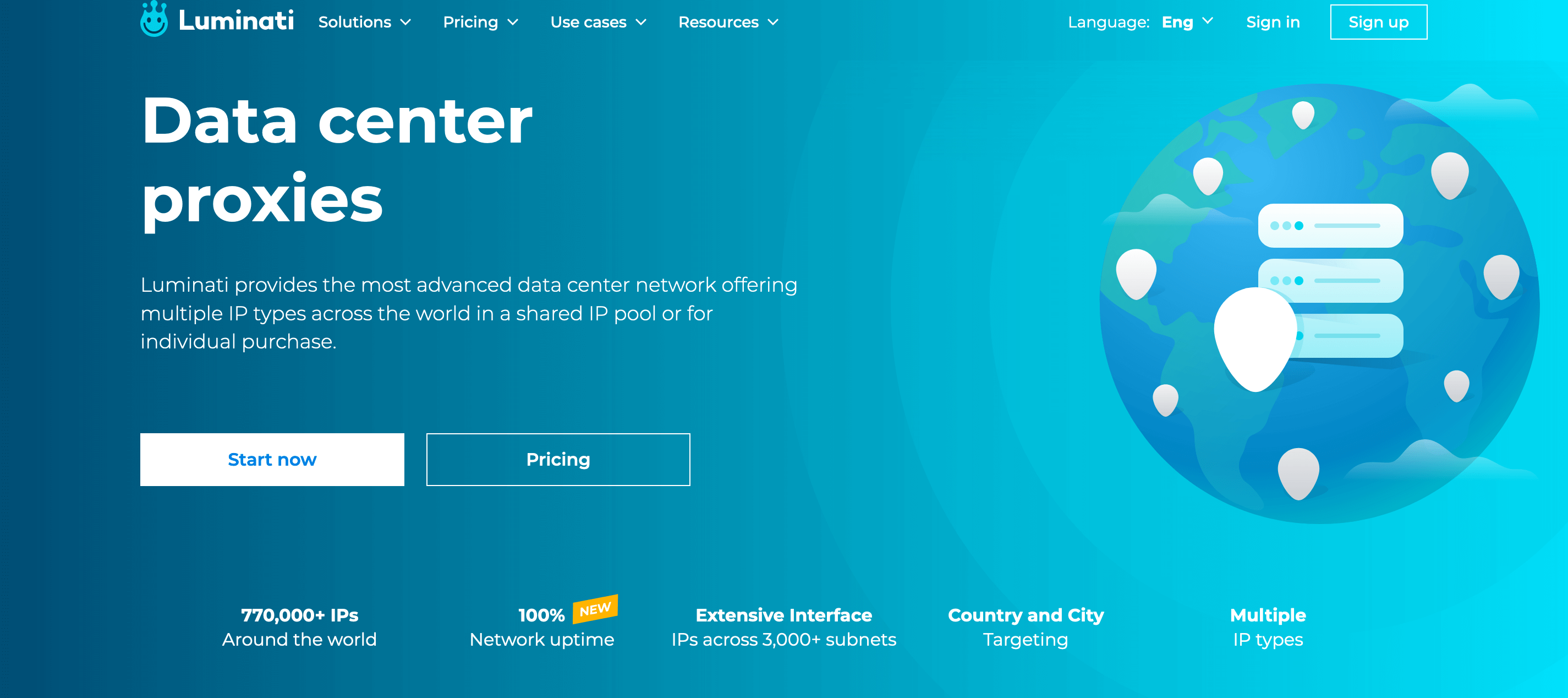 Luminati lets you rent either a set number of shared IPs, or access a pool of 20,000 addresses. In any case, you'll be able to choose proxies from over 80 locations around the world. These IPs carry no thread limits, and you get very granular control over how they work using Luminati's homemade proxy manager. You can pay as you go or commit to a monthly plan for better prices.
In short, Luminati offers an elaborate and technically demanding service for professionals. If you're one, you'll find it very powerful; otherwise, you might find Luminati too complex. The KYC procedure is pretty rigorous as well, requiring a proof of employment or government ID.
Features:
Shared IP list or rotating proxy pool
HTTP(S) & SOCKS5 protocols
Over 80 locations
Flexible rotation settings
Unlimited threads
User:pass or whitelisted IP authentication
Sub-users
API, Luminati Proxy Manager
24/7 customer service
Pricing:
From $1/1GB or $1/IP. 7-day trial for businesses, 3-day refund for individuals available.
Visit Luminati
Read the Luminati review for more information and performance tests.
---
3. Blazing SEO
Affordable semi-dedicated proxies in 4 countries.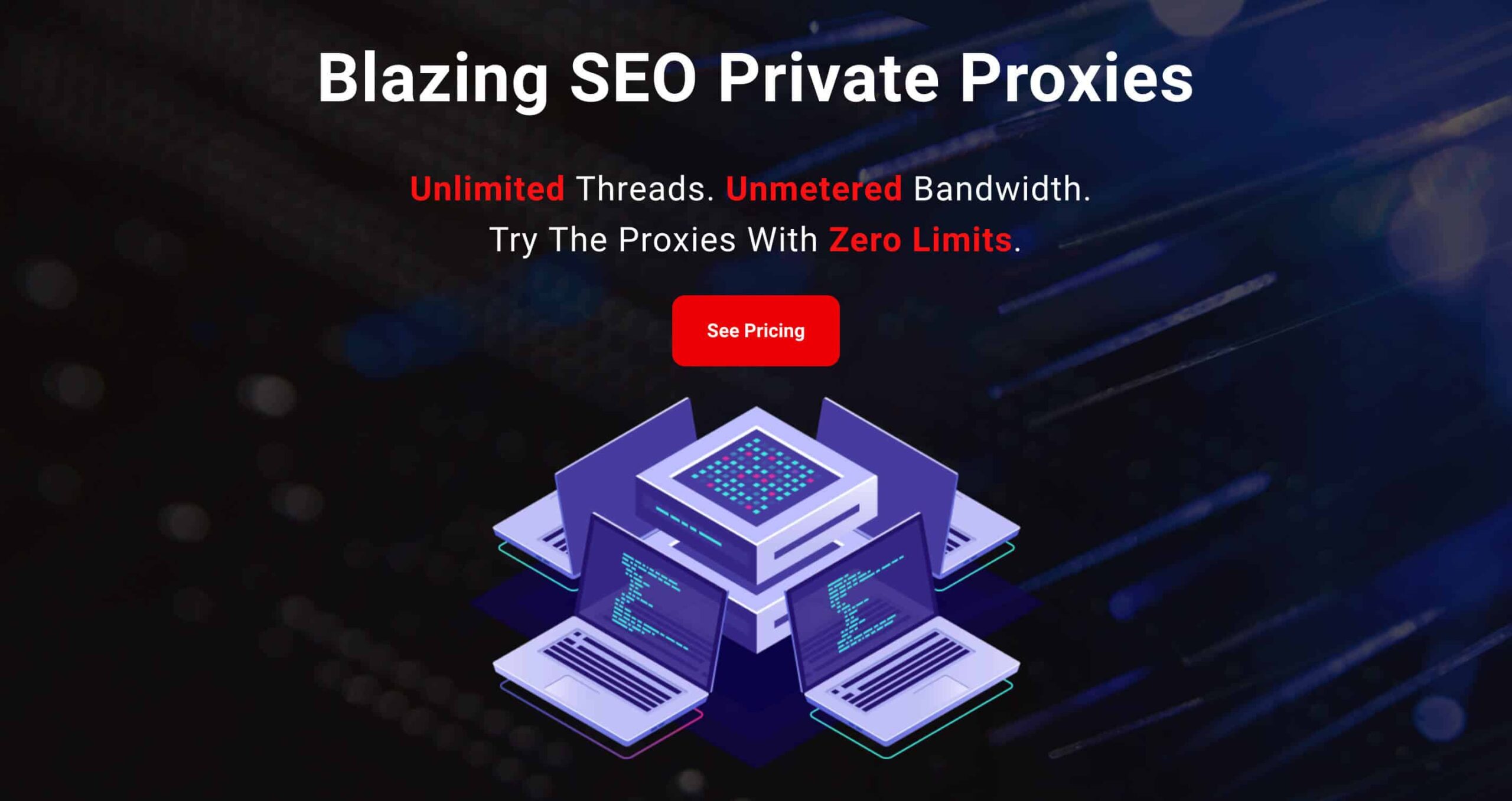 Like Luminati, Blazing SEO sells shared proxies in two formats. The first one is a list, where you can buy from as few as five IPs in four countries and share them with 2-3 people. The second is a pool of rotating datacenter proxies. The rotating pool resembles Smartproxy, but instead of getting full access, you buy a certain number of ports with limited IPs: 10 ports with 200 IPs, and so on. This, together with longer rotation times, make Blazing SEO a worse but still a good choice for web scraping. All proxies use fast 1Gbps connections.
Features:
IP list or rotating proxy pool
HTTP(S) & SOCKS5 protocols
US, Germany, Brazil & Netherlands
Rotation every 10-120 mins
Unlimited threads
Unlimited bandwidth
User:pass or whitelisted IP authentication
24/7 customer service
Pricing:
From $5/5 IPs ($0.6/IP). 2-day free trial available.
Visit Blazing SEO
Read the Blazing SEO review for more information and performance tests.
---
4. Storm Proxies
A large pool of backconnect shared IPs with 3 rotation settings.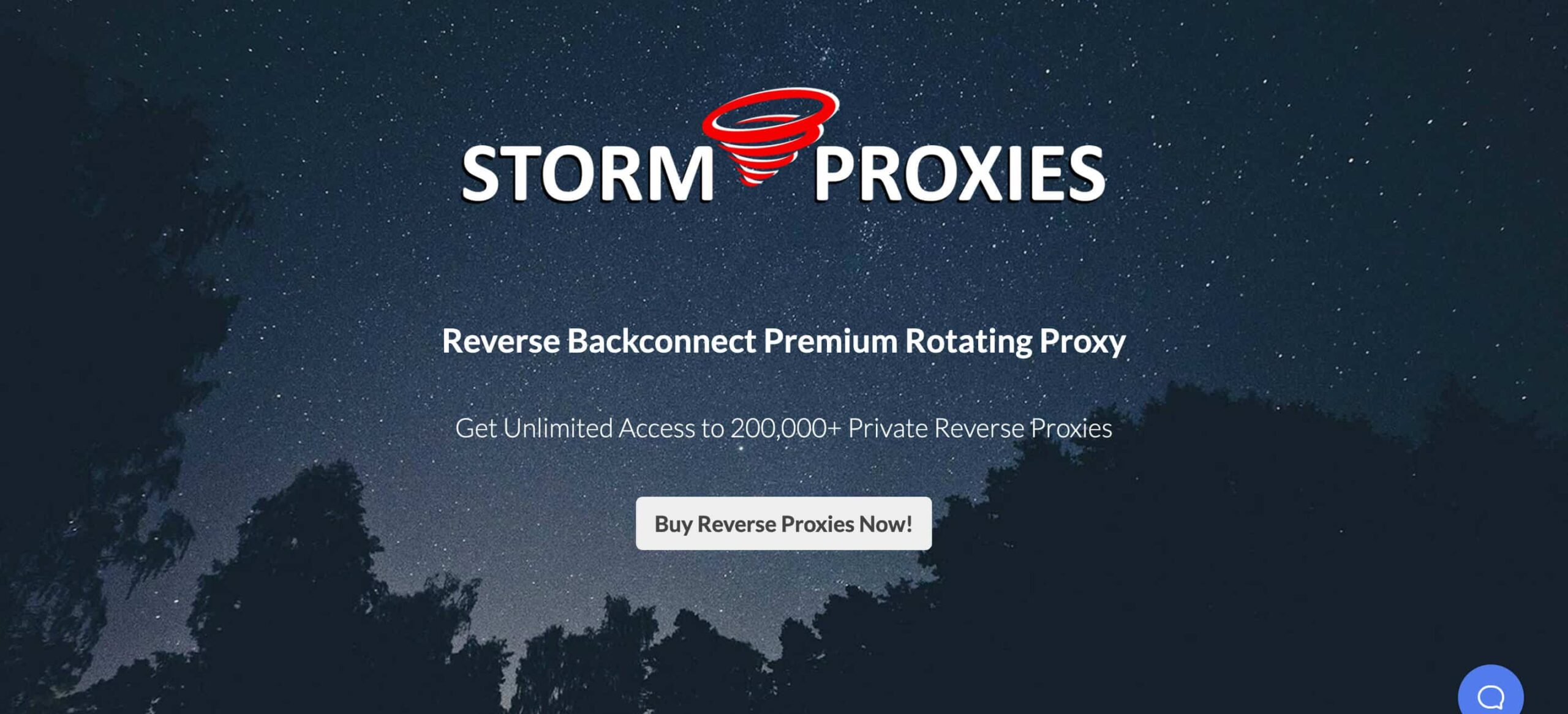 Storm Proxies offers a pool of 200,000 shared rotating proxies which you can access instantly after purchase. These datacenter IPs don't limit bandwidth and instead throttle the number of threads you can make: the cheapest plan gives you 40, then 80, and then 150. The IPs have flexible rotation settings, and you can choose from several, though very broad, locations. The pool gets refreshed every 7 days, at least according to Storm Proxies.
Overall, it's a pretty good deal. Our biggest gripe is that there's only whitelisted IP authentication, which is very limited as well.
Features:
200,000 rotating datacenter IPs
HTTP(S) protocol
US, EU, US & EU, or worldwide locations
Rotation each request, 3, 15 minutes
Unlimited bandwidth
Whitelisted IP authentication
24/7 customer service by email
Pricing:
From $39 for 40 threads. 24-hour refund available.
Visit Storm Proxies
Read the Storm Proxies review for more information and performance tests.
---
5. MyPrivateProxy
Non-sequential shared proxy lists in 24 locations.
MyPrivateProxy offers shared datacenter proxies in the form of IP lists. These are "super elite" proxies (which means anonymous translated from marketing speak) that run on fast 1Gbps connections in 24 locations. They activate instantly and allow a monthly refresh.
Compared to other companies on the list, MyPrivateProxy doesn't stand out much. But it's nevertheless a stellar proxy provider that's been in the market for over 10 years.
Features:
Shared datacenter IP list
HTTP(S) protocol
24 locations (16 US, 8 EU)
Unlimited bandwidth
100 threads per proxy
Non-sequential IPs
User:pass & whitelisted IP authentication
Sub-users
API
24/7 customer service
Pricing: 
From $50/50 IPs ($1/IP). 3-day refund available.
Visit MyPrivateProxy
Read the MyPrivateProxy review for more information and performance tests.