We use affiliate links. They let us sustain ourselves at no cost to you.
Proxy Service Awards 2020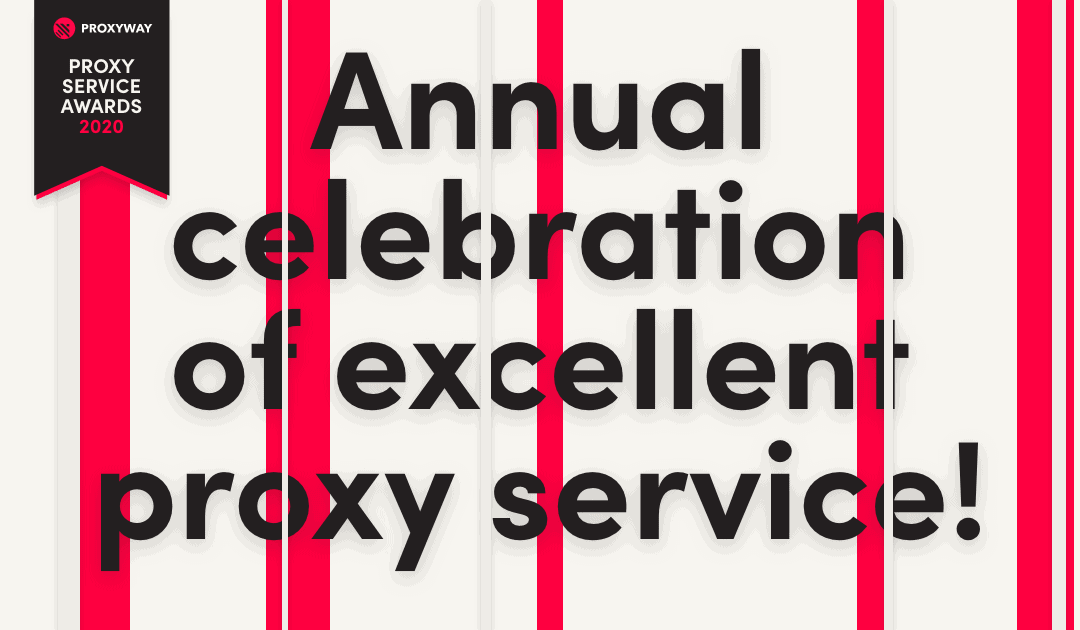 Proxy services are diverse. They operate in a variety of niches: from sneakers to market research to security. Some are small, with hundreds of proxies at their disposal; others command millions. Nevertheless, size is not everything when it comes to choosing the best proxy provider.
Over the past year, we've tested dozens of proxy providers. A few of them have really stood out with their remarkable proxies, infrastructure, and customer experience. We want to appreciate their hard work, and to give them some well-earned praise.
Here are this year's nominations:
The results are largely based on our Proxy Market Research. Read more about it here.
Best Overall Proxy Provider – Oxylabs
The winner of last year's awards, Oxylabs continues its reign as the best proxy service. The company offers a huge network of proxies with many features and global location coverage. Once again, our recent tests have shown its residential IPs to be very scalable and great performers for a wide range of tasks.
Oxylabs supplements the proxies with exceptional user experience: there's a dedicated account manager for each client, a modern dashboard, and extensive user documentation around the company's robust API. Business clients get an insurance and service level agreements. And recently, the provider introduced a new entry plan to lower its entry threshold for smaller businesses.
All things considered, Oxylabs really is this year's proxy service to beat. Congratulations!
Recognition, especially so deeply based on research, means a lot to us at Oxylabs. At the end of the day, every single person at Oxylabs is working towards the same goal – providing our customers with the highest quality web scraping solutions, products and services.

On behalf of everyone at Oxylabs, we would like to express our sincere gratitude to Proxyway's team, and now we have a goal to defend the title for 2021!
Oxylabs
Editor's Choice – Smartproxy
It's no secret that we like Smartproxy. And truly, there are many reasons why we're so infatuated with this provider.
Smartproxy is an in-betweener. It's not a niche proxy service that caters to regular Joes with small yet very specific needs. Nor is it an all-business service fishing for large enterprise clients. In a way, it targets neither and both. And it does a darn good job at that.
Smartproxy's proxies cover the fundamentals admirably. There's enough of them to scale, but the smaller pricing plans also welcome proxy entrants. The IPs work well and include all the necessary locations. The already simple setup process is made even easier by extensive documentation, a dashboard, and a functional API.
In short, the provider aims straight at the center, and it manages to hit its target dead-on. It does sacrifice the fringes: no account manager, no SOCKS5, few cities to choose from. But 8 out of 10 use cases, Smartproxy is our go-to. For these reasons, we're nominating it as our proxy service of choice.
Best Proxy Ecosystem – Luminati
Gone are the times when proxy services were merely lists of IP addresses. Today, they involve much more: we have backconnect servers, load balancers, and straight up tools that do all the proxy-ing for us.
Luminati is at the forefront of these advances. So far, the company hasn't failed to impress us.
Let's not even mention different proxy types – when we're talking about Luminati, those are a given. The real interest is what you can do with them. And you can do plenty: at your disposal, there is a powerful proxy API; super proxy servers that combine different proxy types; a greatly customizable open source proxy manager; a tool that automatically unblocks content for you; and a data collection automator. Oh, and we almost forgot to mention the Chrome extension.
Outside proxies, Luminati stretches the market's boundaries with webinars and events. It also promotes ethical proxy use to shed positive light on the industry, as well as an accelerator program to help startups scrape data in the right way. All in all, Luminati is doing an admirable job turning proxies into something more – and that's what we want to thank them for.
We would like to thank Proxyway for awarding Luminati Networks as the best proxy network ecosystem and are delighted to be recognized for this category.

The entire team at Luminati will continue attaining one of its main goals of driving web-transparency and integrity forward, reaching high-performance results in an ethical-by -design manner. We will also continue to expand our educational activities and partnerships worldwide.
Luminati
Most Efficient Provider – Geosurf
It's easy to provide good service when you have huge resources. But how do you manage with ten times fewer proxies than your largest competitors and still go toe-to-toe with them? Geosurf shows the way.
The company offers around 2.5 million residential IPs. That sounds like quite a lot, doesn't it? But what if I told you that Luminati has 40M and Oxylabs 30M? And that all three companies compete for the same enterprise customers? It really puts things into context.
Yet somehow, Geosurf manages to keep its proxy quality top notch despite its limitations. In our tests, the IPs showed comparable performance, which is even more impressive knowing that they stretch across 1,700 cities worldwide. We can only conclude that Geosurf is either great at vetting the proxies, very efficient at managing their load, or both.
Here's one to efficiency.
Best Customer Service – Smartproxy
Customer service isn't something you can easily measure. Sure, you can count the different ways for getting help, or the time it takes to receive it. But it's also the quality of interactions, and the feel you get after it's over.
When we sat down and tried to recollect all our support experiences, several companies sprang to mind: Luminati and Oxylabs with their account managers, talks with Geosurf over Skype, and the never-sleeping RSocks agents that can greet you in three languages. But in the end, we decided to go with Smartproxy.
Put simply, the provider's support is great. We tried the live chat, and each time our conversation left us smiling. We created a support ticket – help came quickly, the response was competent and led us to Smartproxy's rich knowledge base for an extra read. Any touchpoint with the company feels like part of a well-oiled machine, and so far it's been only improving.
Thank you, guys, and keep up the good work.
Newcomer of the Year – PacketStream
The proxy market has room for many participants. (Don't believe us? Try going through all the sneaker proxies on Twitter!) But on the top, we're used to seeing the same names year after year. That's why we become very excited when a promising newcomer pops up. Last year it was Smartproxy; this year the baton goes to PacketStream.
PacketStream is a residential proxy greenhorn with a simply brilliant business model and a brilliantly simple service. Unlike other providers that get their IPs via SDKs and what-have-you, the company flat out offers its visitors to sell their traffic. On the main page. Who does that?!
Such an approach depends greatly on the whims of the data sellers, and we're not sure how sustainable it is, but for now it seems to be working very well. It's allowed PacketStream to gather 7 million proxies very quickly (last time we checked, there were only 0.5M). The pricing is also extremely competitive – for now. Being new blesses with another advantage: In our tests, the residential proxies performed on par with the market leaders. That's impressive indeed.
Of course, PacketStream is still very rough around the edges. It's missing in features and customer support. But the company has laid down an impressive groundwork. We're very excited to watch how it will pan out in the long run.
---
These are all of the awards! Do you agree with our picks? Which residential proxy service providerwould you choose? Leave your comments down below and don't forget to return for new reviews, coming to you very soon! Thank you for reading!