We use affiliate links. They let us sustain ourselves at no cost to you.
Comparing Popular Proxyware Bandwidth Sharing Apps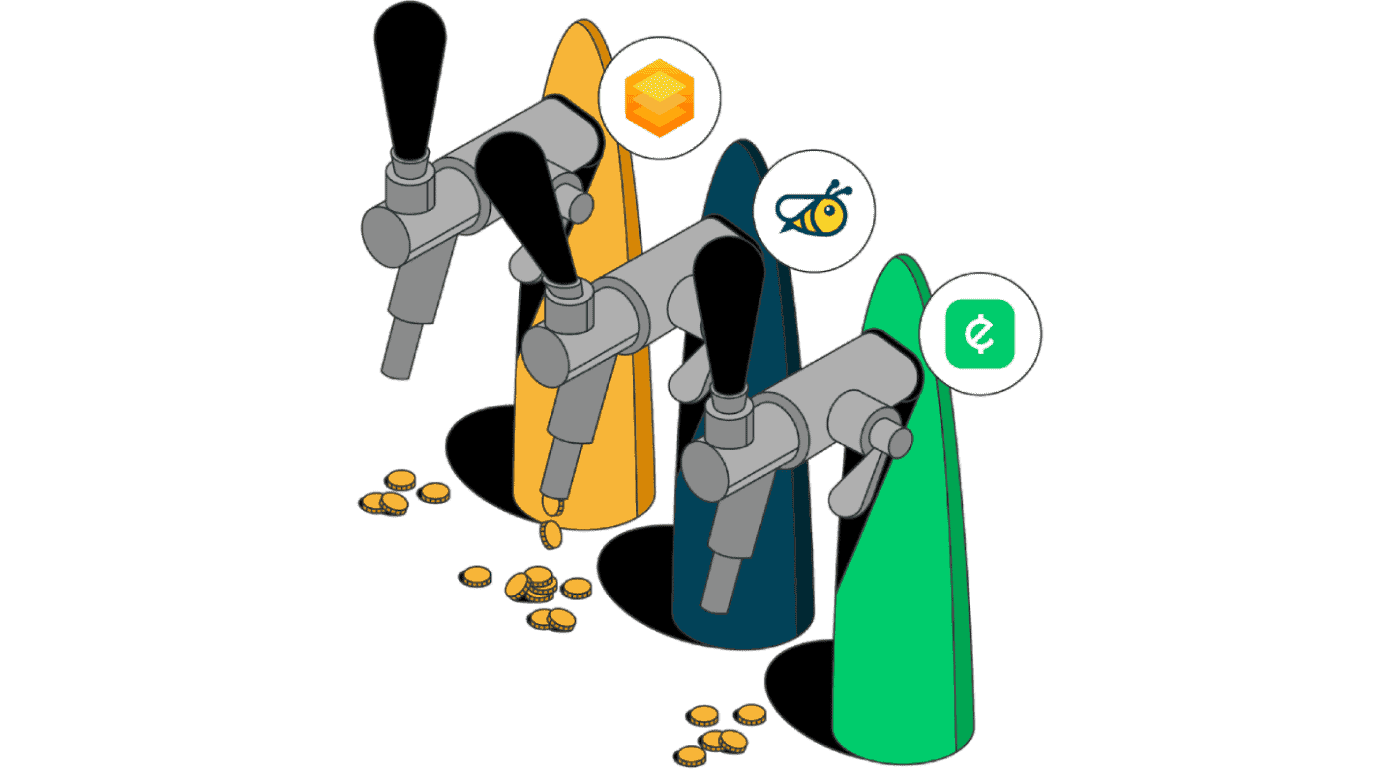 Want to earn some beer money? Not using your internet connection to its fullest (and with fiber, frankly, who is)? Then install this app, sit back, and get paid.
That's the draw behind proxyware – an increasingly popular category of apps that let people share their internet connection for money. You've probably heard about Honeygain and PacketStream. But now there are a dozen similar options, each competing for your eyeballs and IP address.
We've decided to see how they stack up. So, we took seven popular apps and made an in-depth comparison. It covers nine aspects, ranging from payout size to who owns the apps. Don't worry, you'll also find a brief summary of the findings. And if you want more information on proxyware, the intro below will lead you to relevant parts of the page.
A Brief Intro
Who's Taking Part
For this investigation, we picked out seven popular proxyware applications. We decided to exclude crypto-based projects like Nanowire, Mysterium, and Aioz. They're not very popular yet and add extra layers of complexity to what's supposed to be a simple economic arrangement.
Here's the full list, ordered by year and then alphabet:
It's actually crazy how many news apps popped up in 2021. Before, you could basically choose between Honeygain and PacketStream. Now, there are at least seven options, with probably more that slipped under our radar. 
Some of them aren't very inspired. For example, Income basically copied its competitor's page structure, only rewriting some of the marketing copy. But that's not our headache to have, is it?
Key Takeaways
If you're short on time, here's a brief summary of what's below.
Honeygain

is by far the most popular option that partners with a major proxy provider. Despite being older than most, it has kept up with the times and remains the leading app. The pay is decent, especially if you choose the cryptocurrency option, and there are extra ways to earn. The referral program is just okay, though.

PacketStream

is another veteran that relies only on bandwidth sharers to provide services. It has a good reputation but has fallen behind by not changing anything since 2018. $.10/GB is very little these days.

Cash Raven is the least developed so far. It pays little ($.10/GB) but emphasizes ethical use and allows cashing out with Amazon coupons. Some upcoming features, like choosing which websites can be accessed via your IP, look promising.
EarnApp

is owned by one more huge proxy provider. The app pays very well in some locations (like the US), but it has already cut the rates twice, and users like EarnApp less than the other options (3.6 Trustpilot score compared to the 4.4 average).

Income by Spider is just getting started: it has no social media presence or reviews yet. The highlights are high rates that discriminate by location (like EarnApp) and multi-level referrals. But the payout amount is also one of the highest ($20) and it uses some eyebrow-raising business practices.
IPRoyal Pawns strongly resembles PacketStream in most aspects. The difference is that it pays more up-front but has a worse referral program. Otherwise, it stands in the middle of the pack.
Peer2Profit

offers the best rates on paper and a strong referral program. It's not well known on social media platforms, probably due to targeting Russian-speaking audiences. The app might experience temporary issues if it gets hit by war sanctions.   
The Comparison
1. Who's behind These Apps?
All seven proxyware apps are controlled by, or in partnership with, proxy service providers. You don't need to know this information to use the apps. But it may help to learn about their business practices and give you some practical insights.
For example, if the provider is large and has many IPs, it may generate less but more consistent traffic. Small companies may send traffic in bigger bursts, then go silent for some time. The fewer IPs a provider controls, the more it will choose yours – which can be profitable but also get your address blocked with some websites due to overuse.
| App | Affiliation | Monthly IPs | Company size |
| --- | --- | --- | --- |
| Honeygain | Oxylabs | 100 million | Large |
| PacketStream | PacketStream | 7 million | Medium |
| Cash Raven | Blazing SEO | 10 million | Medium |
| EarnApp | Bright Data | 72 million | Large |
| Income | Spider | 70 million | Medium |
| IPRoyal Pawns | IPRoyal | 100,000 | Small-medium |
| Peer2Profit | AstroProxy (?) | 1 million | Small-medium |
Honeygain and EarnApp have the two largest proxy providers behind them. They enforce strict ethical standards, supply many business clients, and should have demand even outside popular locations. Spider runs a similar but somewhat smaller service.
PacketStream and IPRoyal rely on bandwidth sharers. Their IP numbers aren't that high, and both companies further resell proxies to other proxy providers.
AstroProxy is a new Russia-based service. Its main customers so far have been multiple account managers on social media. While we aren't completely sure that it owns Peer2Profit, the similarities are uncanny.
And finally, Blazing SEO supplies companies that need to scrape the web. It looks to be a trustworthy service that ensures responsible use.
2. Which App Is the Most Popular?
|   | Facebook | Instagram  | Twitter | Discord | Trustpilot |
| --- | --- | --- | --- | --- | --- |
| Honeygain | 120,000+ | 70,000+ | 35,000+ | 12,000+ | 5,500+ |
| PacketStream | 500+ | 50+ | 600+ | - | 400+ |
| Cash Raven | - | - | - | - | - |
| EarnApp | - | - | 150+ | 4,000+ | 250+ |
| Income | - | - | - | - | - |
| IPRoyal Pawns | 50+ | 100+ | 1,700+ | 4,000+ | 450+ |
| Peer2Profit | 350+ | - | - | - | 4,300+ |
Thanks to its early start, great marketing, or quality of service, Honeygain is by far the most popular passive income app. It has large – and pretty balanced followings – on all major social media platforms. IPRoyal is also well known, but not on Facebook or Instagram. Peer2Profit has very small followings, which is strange given the number of Trustpilot reviews. 
Others, like Spider's Income and Cash Raven, are barely on the map. They haven't had the chance to get their marketing engines going yet. On its website, Income actually claims it has over 2,000 Trustpilot reviews, but we couldn't find them for the life of us. 
We also had a look at Google Trends. They show how often people search for certain keywords over time.
The results are very similar: Honeygain goes first, then maybe IPRoyal; the other apps barely make the graph. You can't see it in the screenshot, but Peer2Profit is pretty popular in Russia and for some reason, EarnApp leads in France.
3. What Do People Say About Them?
| | Trustpilot Score |
| --- | --- |
| Honeygain | 4.5 |
| PacketStream | 4.4 |
| Cash Raven | - |
| EarnApp | 3.6 |
| Income | - |
| IPRoyal Pawns | 4.3 |
| Peer2Profit | Suspended |
The apps are rated surprisingly well. You'd think that a low barrier of entry and unpredictable progress would lead to easily frustrated users, but people seem to be happy. Only EarnApp's score is lower, with a fifth of the reviews giving one point out of five. Peer2Profit's rating is temporarily disabled due to Trustpilot pulling out of Russia; it used to be around 4.6.
The main cause for negative feedback throughout all apps is slow (or gradually slowing down) earning rate. Some (like lately EarnApp) are sometimes identified as malware by antivirus protection, which scares users. This is due to the way these apps work, and it's usually a false positive. A small minority had issues with lagging PayPal payouts (Honeygain), fees they didn't know about, or IP addresses getting blocked on particular websites (like Footlocker – proxy servers are often used to buy sneakers). 
4. Which App Offers the Highest Rates?
The payout rates differ wildly by service. Pay2Profit pays the best overall, PacketStream the worst. Its rate hasn't changed ever since the service was founded in 2018. 
Honeygain used to be among the underdogs, until it tripled the payout size in February 2022. Now, it's among the better options, especially if you choose to collect the JumpToken cryptocurrency. And this is without considering all the extra ways to earn. We talk about them below.  
EarnApp and Income both discriminate by location. It's great if you're in the US, but not so great if you live elsewhere. EearnApp has actually changed the rates several times, often for the worse. For example, users in the US first received $2/GB, then the payout was halved to $1 and halved again to $0.5 in 2022. While we understand that these decisions are driven by demand and profitability, they can be disheartening. 
5. How Else Can You Earn?
| | One-time | Recurring |
| --- | --- | --- |
| Honeygain | $5 signup bonus | Content delivery, Lucky pot,  Weekly contests |
| PacketStream | $1 signup bonus | - |
| Cash Raven | - | - |
| EarnApp | - | Monthly contests  |
| Income | $5 signup bonus | - |
| IPRoyal Pawns | $1 signup bonus | - |
| Peer2Profit | - | - |
Four of the seven apps hand out sign-up bonuses to get their users invested. Honeygain and Income are the most generous. It's easy to see why, as their payout is harder to achieve (both require $20). 
However, the majority of apps put in little effort afterwards. Honeygain is by far the most active in providing opportunities to earn extra. The company runs weekly campaigns, and there's a daily lottery called Lucky Pot that randomly grants 10-10,000 credits (up to $10). 
Another notable feature is content delivery. It guarantees six credits ($0.06) per hour, no matter the traffic use. This is Honeygain's way of bringing consistency to a market where there's none. The feature is only available in limited regions at the moment. 
EarnApp is the second app to do something similar. It runs monthly competitions where a small number of participants can win prizes. For example, February's contest rewards 10 users for new referrals, the first place award reaching $500.
6. What About the Referral Programs?
| | Referral bonus |
| --- | --- |
| Honeygain | 10% |
| PacketStream | 20% |
| Cash Raven | - |
| EarnApp | 10% + $1 |
| Income | 25% lifetime + 10% if they refer other people |
| IPRoyal Pawns | 10% |
| Peer2Profit | $0.4/GB |
The referral bonus is another, probably even more important piece. It allows earning income even when your device is offline. It also scales better if you can get people onboard.
Peer2Profit has the most generous referral program, where you get half the money your referees generate. PacketStream and Income follow. Income's model lets you earn even when the person you referred continues to bring other people. This goes 10 levels deep, which is quite a mind-bender. The others stay at 10%. 
7. When Can You Cash Out?
| | Minimum payout |
| --- | --- |
| Honeygain | $20 / any amount (after gas fees) |
| PacketStream | $5 |
| Cash Raven | $10 |
| EarnApp | $5 |
| Income | $20 |
| IPRoyal Pawns | $5 |
| Peer2Profit | $2-300 (based on payment method) |
The minimum payout size is predominantly $5. For some (like Peer2Profit) it depends on the payment method: WebMoney requires only $2, card $15, and don't even try cashing out Bitcoin without $300 in your pocket. Others have it fixed. 
Only Honeygain and Income lock in users until $20. So, they either produce earnings faster or run on inertia. That said, Honeygain has a way to go around this limitation: you can choose to get paid in cryptocurrency and cash out as soon as the amount covers gas fees.
8. How Can You Cash Out?
| | PayPal | Card | Crypto | Others |
| --- | --- | --- | --- | --- |
| Honeygain | ✔️ | - | Bitcoin, Jump Token | - |
| PacketStream | ✔️ | - | - | - |
| Cash Raven | ✔️ | - | - | ACH, Amazon Coupon |
| EarnApp | ✔️ | - | - | Amazon Coupon |
| Income | ✔️ | - | - | - |
| IPRoyal Pawns | ✔️ | - | Bitcoin | - |
| Peer2Profit | | ✔️ | Bitcoin, Ethereum, Altcoins | YooMoney, WebMoney, Advcash, Payeer |
PayPal is king among proxyware apps, probably because it's so widespread. But convenience costs money, and cashing out may eat away anywhere between 2% and 15% in fees. It's one of the gotchas people often fail to consider. 
Crypto is pretty popular as well, though it mostly revolves around Bitcoin. Only Peer2Profit and Honeygain offer alternative tokens. Peer2Profit's options are altcoins like Doge, Ripple, and Monero. Honeygain partners with JumpToken and gives a 50% bonus if you choose it. 
Finally, two apps offer payouts in Amazon gift cards. It's an interesting approach, as it avoids transaction fees but also limits the money's usefulness to Amazon.
9. Which Platforms Do The Apps Support?
| | Android | iOS | Windows | macOS | Linux |
| --- | --- | --- | --- | --- | --- |
| Honeygain | ✔️ | ✔️ | ✔️ | ✔️ | ✔️ |
| PacketStream | - | - | ✔️ | ✔️ | ✔️ |
| Cash Raven | ✔️ | - | March 2022 | - | - |
| EarnApp | ✔️ | - | ✔️ | ✔️ | ✔️ |
| Income | - | - | ✔️ | - | - |
| IPRoyal Pawns | ✔️ | - | ✔️ | - | ✔️ |
| Peer2Profit | ✔️ | - | ✔️ | ✔️ | ✔️ |
Honeygain is the only proxyware company to support all major platforms. This is quite a feat considering how harsh iOS treats similar apps. Android allows sideloading apps without going through the Play Store, so it's much more popular. But PacketStream and Income fail to support even that. 
Windows, on the other hand, is everywhere. We'll let you in on a little secret: clients of proxy services desire IPs from desktop devices the most, as they often have the best connection speed and stability. It's curious that fewer apps support macOS than they do Linux.
General Information
Why Would Anyone Want Your IP Address?
Simply put, it's valuable. IP addresses are like postcodes that identify your home network and approximate location. They're necessary for websites and others to communicate with you online. 
Some businesses need to open the same websites many times: for example, price aggregators that show you the best deals. Using multiple IPs helps to avoid blocks when doing so. Others want to reach resources available at a particular location (such as flight prices as shown to New Yorkers), which is also made possible by borrowing an IP address from a local.
Who Operates These Apps
Many of the proxyware apps belong to, or are associated with, proxy service providers. They supply organizations with IP addresses to view localized content, prevent excessive CAPTCHA challenges and blocks when collecting data. And home connections – also called residential connections – offer the most effective way to accomplish the task.
Is proxyware the only way for proxy providers to get residential IPs? Not exactly. They often insert code (through something called SDKs) into popular apps, which can then provide free or at least ad-free experience in exchange for using your IP address. The issue is that such apps aren't always clear about the functionality or add it without giving anything in return. 
Proxyware apps, on the other hand, always combine compensation, awareness, and consent: you explicitly lend your IP and get paid for it. This benefits both the user (as long as you're happy with the terms) and the provider, which can brag about having ethical business practices. For example, proxy service Oxylabs calls it a Tier A+ method in its model of IP sourcing approaches.  
Knowing that some providers get addresses by straight out hacking unprotected routers, the proxyware route does seem ethical in comparison.
Are There Any Risks Involved?
While proxyware apps should only be able to access your IP address – and nothing more – there are still risks involved. Here are three possible hazards you should know about in order of frequency: 
1. Degraded browsing experience. Proxy providers allow businesses to rotate between thousands of addresses. But sometimes, if their pool of IPs is small, you can still get flagged by popular websites like Google and Amazon. If this happens, you may encounter more CAPTCHAs, Cloudflare checks, and other anti-bot measures. The risk multiplies with the number of proxyware apps you've installed, so we don't recommend using more than one at a time.
2. Unreliable providers. The company that buys your traffic controls who uses it and how. Most of the providers on this page pre-screen customers for legitimate business needs. But, however rare, there's always a possibility that your IP address may be used to verify stolen credit cards or engage in ad fraud. To avoid it, you should trust the company standing behind the proxyware app. 
3. Compromised installers. Thanks to its popularity, proxyware has started drawing unwanted attention. For example, an investigation has found hacked app versions that snoop traffic and mine cryptocurrency without the user's knowledge. You can dramatically reduce the risk by downloading the app from official or trusted sources.
In brief, the danger is there. But you're unlikely to get hurt if you use proxyware from a reputable company, limit the number of apps you install, and avoid shady download links.
How Much Money Can You Realistically Make?
Proxyware apps pay between $.10 and $.80 for each gigabyte of traffic sent via your internet connection. But in reality, your earning rate depends on multiple factors:
1. You'll earn at a different rate based on where you're located. Companies that rent IPs from proxy providers tend to favor certain countries more. For example, the US, Western Europe, and Japan are highly sought after, while some African countries will have less demand most of the time.
2. You'll earn more the longer you keep your IP available. That's because companies may need it at any time, and because they greatly value stability. It's also one of the reasons why proxy providers prefer Windows devices over smartphones – people are less likely to disconnect unexpectedly.
3. More IPs equals more earning potential. More devices = not so much. Providers care about the number of unique IPs you add to their network; if you install the app on several computers using the same network, they'll simply share the traffic you'd have received anyway.
4. Much depends on the company associated with the proxyware app. If it's a large and established proxy provider, you may have a smaller but steadier stream of income. If it's a new company, traffic may come in bursts and then disappear for a while.