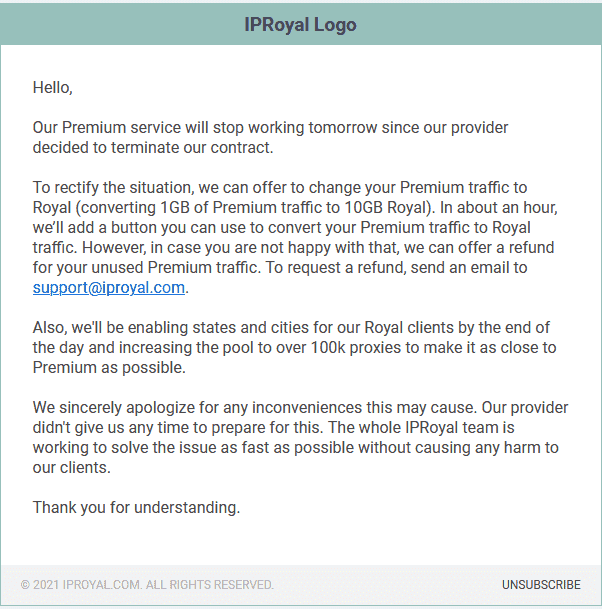 Lithuanian proxy provider IPRoyal has announced about discontinuing one of its residential proxy services, effective October 26. 
If you've had the chance to read our review or use the provider, you know that it offers two separate residential IP pools: 
Premium with 10 million IPs which resold the proxies of three other providers.
Royal with 25,000 IPs gained through IPRoyal's own beer-money app called Pawns. 
Earlier yesterday, the provider notified its customers that it would be discontinuing the Premium pool. The reason: one or more of the IP sources terminated their contract. The notice came abruptly, leaving IPRoyal little time to prepare. 
In an effort to protect its existing customers, the provider promised to exchange the Premium traffic to Royal at a 1:10 ratio or grant a refund. It also increased the size of the Royal pool four times – up to 100,000 monthly IPs –  and enabled city-level targeting. 
It's unclear where the extra proxies come from; a possible option is that they'd be merged from the remaining sources of Premium IPs. What is clear, though, is that the loss of the Premium pool came as a shock, and that it's likely to have a noticeable short-term impact on the service. 
Another question is whether the Premium pool will return once IPRoyal strikes a deal with a different source, or if all resources from now on will go to the Royal residential service. Time will tell.