PacketStream is a new addition to the proxy market. Started some time in 2018, this American provider is still in toddler shoes: building up features, wooing customers, and strengthening its proxy network. Still, even now things aren't half bad.
For companies, PackStream is a residential proxy service. It's business as usual here: You pay money and receive a slew of IP addresses to sate your scraping, social media automation, or other needs.
But you see, PacketStream isn't merely a service – it's a marketplace. And here's the interesting part: On the provider's website, you can not only buy proxies, but also sell your own traffic; in other words, your device effectively becomes a proxy itself.
It's the first time I've seen a proxy provider be so upfront about its business model. Usually, residential proxies are made by burying SDKs in some free apps, or using even less charitable methods. Not here.
This straightforward business model has allowed PacketStream to collect an impressive number of residential IPs in short notice. It's also dumped the prices to impressive lows – with no entry threshold, mind you. But at the same time, it's extremely reliant on the so-called 'packeters', or bandwidth sellers – their whims can make or break the whole network.
At this point, PacketStream is still very raw, with only email support, no SOCKS, and no city targeting. But for those who don't need these features, or simply want to see what proxy networks are all about, the provider presents a very tempting deal.
Pros
Low price
Global locations
Good performance
Cons
Lacking customer support
No SOCKS5
No city targeting
Key Features
Proxy types: Residential (rotating)
Protocols: HTTP, HTTPS
Locations: Global
Targeting: Country
Authentication: User:pass
Sub-users: Not available
Dashboard: Yes
Support: Email
Pricing: From $50/50GB ($1/GB)
Payment options: PayPal, Stripe
Trial: Yes
PacketStream Residential Proxies
PacketStream offers around 7 million residential proxies. The number is very fluid, as it depends on people who participate in the provider's bandwidth-selling program.
Features: 3/5
Enough if you don't need SOCKS5 or IP whitelisting.
PacketStream residential proxies are not heavy on features, but the essentials are all there.
The proxies cover most countries in the world. You can see the locations listed in the dashboard, but there's no way to know how many IPs each has, so you'll have to rely on the provider. No other targeting options are available, such as city or ASN.
You'll have two protocols to choose from: HTTP and HTTPS. The choice is explicitly available. Unfortunately, SOCKS proxies are not supported here, so this rules out torrents or streaming sites.
The residential proxies are peer-to-peer, so they inevitably rotate. You can choose rotation every request or to keep the same IP for as long as it remains available.
There is no option to whitelist IPs, so you'll have to make to with user:pass authentication. Sub-users are also unavailable, though PacketStream does have an API for resellers.
PacketStream advertises that you can use the proxies anyhow you like, but in reality the terms of service prohibit some use cases, specifically advertisement spam.
Pricing: 5/5
Probably the cheapest residential proxies out there.
Compared to some other larger providers, PacketStream sells proxies for peanuts. The pricing model is very simple: 1GB of traffic costs $1. That's it.
You pay for the traffic as you go, so first, you have to add some credit to your account. Then, your use of bandwidth will simply eat into this money until there's no more left. If you want, you can hook up your credit card to auto-recharge your balance. Otherwise, top-up amounts are $50, $100, $250, $500, or $1000.
There is only one gotcha: Even though a gig costs merely $1, you can buy no fewer than 50GBs at a time.
You can get a free trial by filling in a form.
Surprisingly good for most tasks. 
Maybe because the service is so new, PacketStream's residential proxies perform surprisingly well. They are both fast and have good success rates with most of our test targets. The only larger weakness reared its head when I put the proxies under load; then, the success rate suffered but remained acceptable.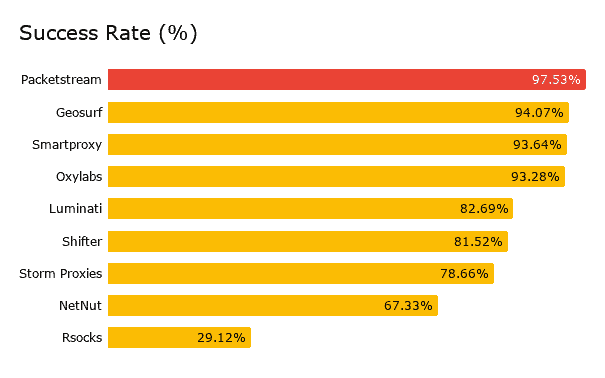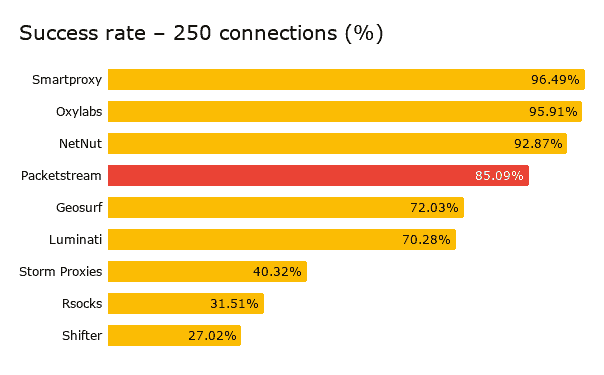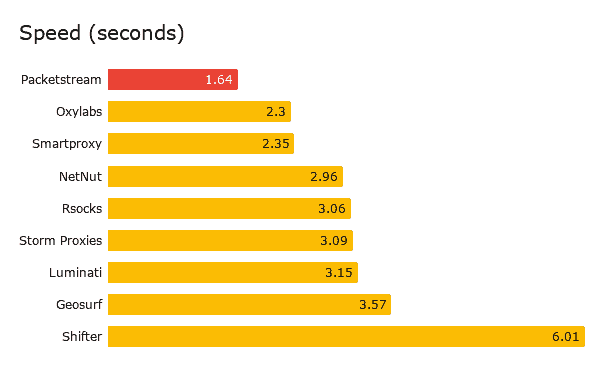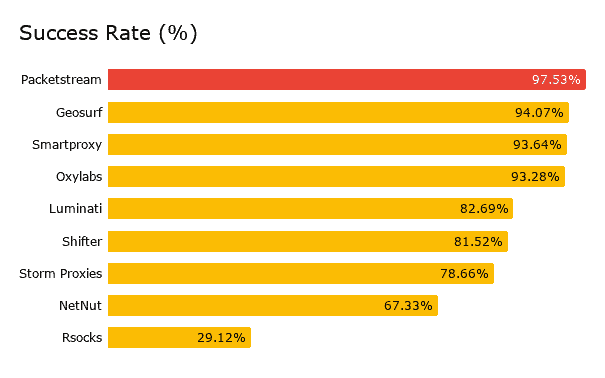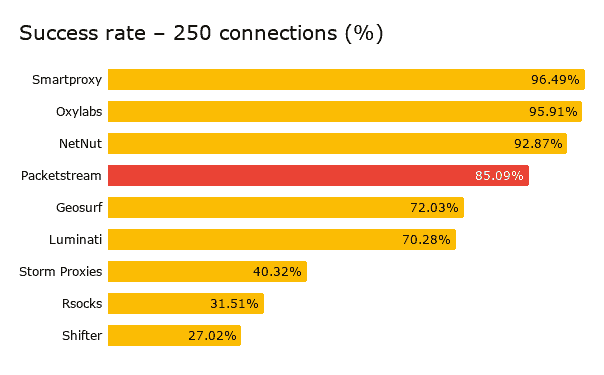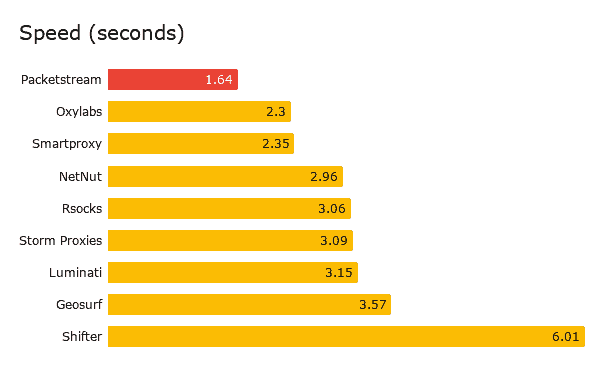 How to Use PacketStream
Registration
No talking required. 
Creating an account with PacketStream is a simple affair:
Enter your username, email, and password
Choose whether you want to sell traffic or buy proxies
Then, you end up in the dashboard. You don't even need to confirm your email address.
Dashboard
For setup, stats, and topping up. 
Packetstream has a simple dashboard that tries to serve both sides of its business at once. One half is dedicated for traffic sellers, and the other half for proxy users. This doesn't affect the user experience too much, as the dashboard is not yet overloaded with features.
Using it, you'll be able to see your traffic stats, invoices, buy bandwidth. There's a button for contacting support as well, but it merely returns you to the FAQ page.
Of course, there's also a page for setting up proxies. It includes automatically generated cURL commands based on your choices, setup guides, and code examples for programmatic access. That's about all the documentation you will find.
Other options, such as downloading the PacketStream app or managing referrals, aren't really relevant for proxy users.
Finally, you'll find a form to request access to the Reseller API, if you partake in such activities. What about an API for your own proxy use? The provider says nothing about it.
All in all, the dashboard provides all that is needed to get you going. It's light on documentation and missing quick access to customer service, but all the essentials are there.
Proxy Setup
Backconnect proxies & cURL requests. Setup guide included.
To set up proxies on PacketStream, you will have to use the dashboard to generate your IP:Port or cURL command. This involves selecting items from several drop-down lists. A nice touch is that you can change between DNS hostname (so, proxy.packetstream.io) and IP hostname (52.0.99.143) at will.
Here's what the configuration widget looks like: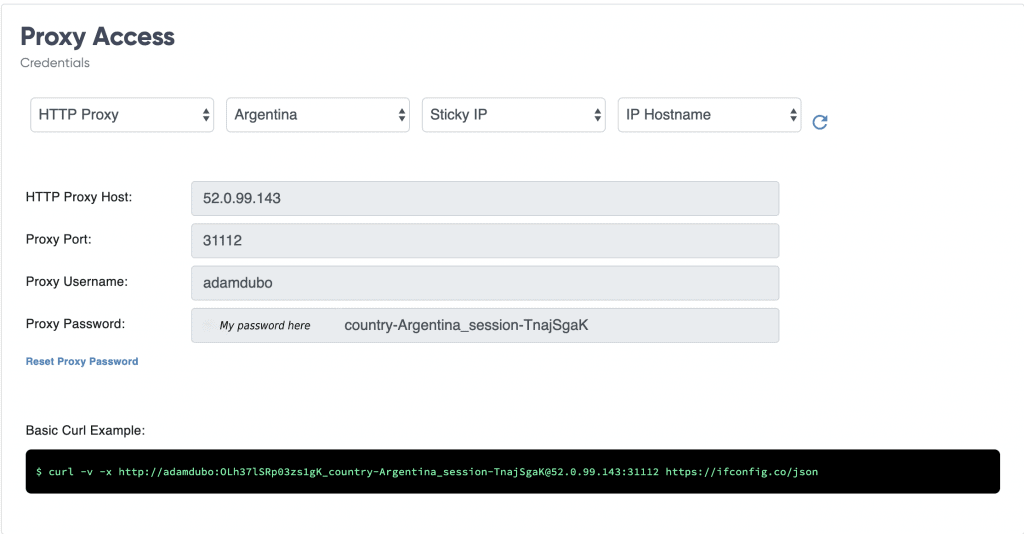 Customer Support
You can reach PacketStream's customer support by email only. When I contacted the provider, a reply came in quickly, in about half an hour. and provided the requested information.
However, not all customers are that lucky: I found out that in general tickets receive responses within 24 hours. This is better than nothing, but it might not be enough for enterprise clients.
I also managed to reach the provider by Skype, but was unceremoniously shooed away after being told that it's for sales only.
PacketStream Conclusion
So, that was Packetstream. What can you take away from this review?
If I had to put it in one sentence, it would sound something like this: Packetstream is lean, its proxies mean, and pricing impressive enough to attract, but the provider still hasn't put on enough fat to wrestle for more sophisticated clients.
If your proxy needs are simple – by all means, go ahead and get PacketStream. For me, it's the best entry provider to try out residential proxies, save for perhaps Storm Proxies and Smartproxy.
If you're a business, consider this provider as well. I'd still consider PacketStream an attractive proposition, even if I have doubts about its non-technical aspects (namely documentation and customer experience). Just make sure you don't need SOCKS5 or city targeting first.
If you're an enterprise… I would hold off on PacketStream. For now, the provider still doesn't seem ready despite its strong fundamentals. It might be in the near future, but today I'd still go for Oxylabs or Luminati.
All things considered, I really like PacketStream and take great interest in its business model. Building a business on spare-change traffic looks risky and subject to fickle whims of the participants; but if this provider makes it work – or at least pivots in time otherwise – PacketStream might built itself a bright future.