Geosurf has been around for a while. The company was established in 2009, under BiScience. Today it sells residential proxies and a VPN for businesses.
I don't know about you, but for me 10 years is an impressive longevity for an internet company, and it says something about its services. For some reason, Geosurf seems to think otherwise. It's hard to find anything on the website mentioning the fact: you know, "with you since…", or something in that vein. The thing marketers drool about.
And yet, there are traces all around. For instance, you can find a TechCrunch testimonial on the homepage. Quite a website to have, right? But after opening the link, you find out that the article was written in 2011.
In a way, this little example tells a lot about the company as a whole. Despite entering the market very early, way before either of its main competitors, Oxylabs and Luminati, Geosurf is trying hard to keep up with them. The provider has fewer IPs, no dedicated account manager, no fancy proxy-as-a-service tools like Real-Time Crawler or Unblocker.
Despite all this, Geosurf is putting up a fight and remains among the top proxy providers. So maybe there is something about it that keeps the clients coming, and then coming back?
Let's find out.
Pros
Reliable workhorse proxies
Worldwide coverage with many cities
Dedicated support agent
Cons
Expensive
Only HTTP(S) available
Non-instant setup
Key Features
Proxy types: Residential (static, rotating)
Protocols: HTTP, HTTPS
Locations: 135 countries, 1,700 cities
Targeting: Country, city
Authentication: Whitelisted IP, user:pass
Sub-users: Not available
Dashboard: Yes
Extras: API, browser extension
Support: 24/7
Pricing: From $450/38GB ($11.85/GB) for residential proxies
Payment options: PayPal, Credit card, Bitcoin, wire transfer
Trial: Ask account manager
Geosurf Residential Proxies
Residential proxies are one of Geosurf's main products, and the company sure tries to make it good. You can get 2.5M residential IPs – that's less compared to providers like Smartproxy but still a respectable number.
Features: 4.5/5
Everything but SOCKS5. 
Geosurf's residential proxies cover 135+ countries around the world. More impressive is the number of available cities: you can get proxies in about 1,700 locations. This makes the provider a good choice for geography-sensitive tasks.
Geosurf advertises the IPs as clean, meaning they haven't been blocked or blacklisted, as well as unlimited – having no limitations on the number of connections, threads, and locations. The only limit you'll encounter is traffic; and that too can be solved by buying a bigger plan.
Geosurf also has specialized proxies for Instagram and ad verification. Turns out, there's nothing unique about them – they're just like any other residential IP. Even so, it's a nice way to market the proxies, and whoever wrote the description deserves a raise:

The proxies are backconnect, and Geosurf has a built-in rotation API. It can rotate the proxies every request, after 1, 10, or 30 minutes. IP rotation allows sending many parallel requests at once and should be helpful for large-scale scraping.
Supported protocols are HTTP and HTTPS. Socks5 is not available, so Geosurf won't be a perfect choice for bandwidth-intensive tasks like torrenting or gaming.
You can authorize Geosurf residential proxies both with whitelisted IPs and user:pass credentials. However, you won't be able to create any sub-users, so you can forget about reselling. There's country and city-level filtering, but you can't choose things like ASN or carrier.
Pricing: 1.5/5
The expensive kind. 
No matter how you look at it, Geosurf's residential proxies are expensive. Out of the four plans on offer, the cheapest one starts at $450/month for 38GB. That converts to around $11.85 per GB.
The plans obviously target clients that are serious about proxies. Geosurf is even prepared to offer 2 TBs of traffic should you require this much. Considering this, I'm not quite sure how large your sneaker buying or Instagram marketing business should be to fall into the target audience. Still, the provider covers these cases on its website.
So, Geosurf naturally falls off if you have limited needs. Even if you intend to do some serious scraping, the provider is hardly the obvious choice – at this price point, it will be competing with Oxylabs, Luminati, and NetNut; and each of the competitors offers a lot.
Subscriptions here are recurring, so you'll automatically be charged every month for the services.
Performance: 4/5
Competing with the best. 
Geosurf's residential proxies are no slouches. In our tests, they had high success rates for all of our target websites, including Amazon and Google. They weren't very fast, but still managed to display satisfactory speeds.
A year ago, we gave Geosurf the "Most stable proxies" award. Unfortunately, this year we couldn't do the same. I'm not sure if it's because of the proxies we received or problems with Geosurf's infrastructure. Still, even at 250 concurrent connections, the success rate remained around 70%, which isn't bad.
Only 1% of the proxies were unique. I guess we received a trial account with a separate proxy pool for testing. IP diversity should be much higher with the main gateway address.
None of the online tools we used managed to recognize Geosurf's IPs as proxies. It's a great result, showing that the provider has no leaks and can truly call its proxies anonymous.
Our rankings for different use cases show Geosurf to be a good choice for market research, SEO, app development & localization, and sneaker buying tasks.
Overall, Geosurf's residential proxies remain among the top performers. It's not without reason that we decided to give it the "Most efficient provider" award – Geosurf's ability to maintain top-notch quality with such a limited proxy pool is indeed a notable feat.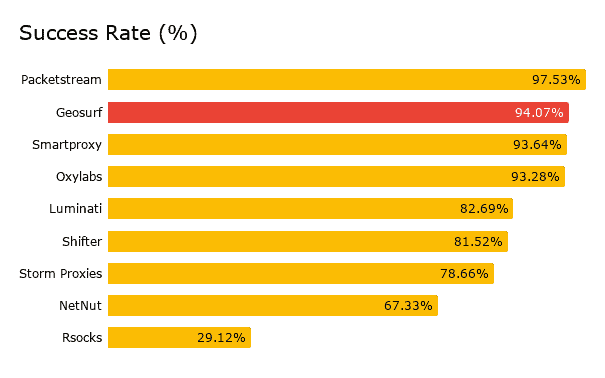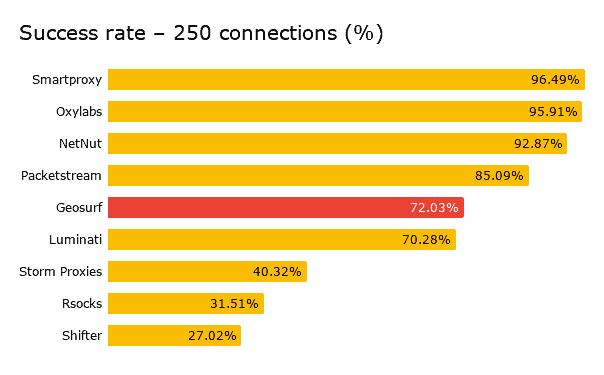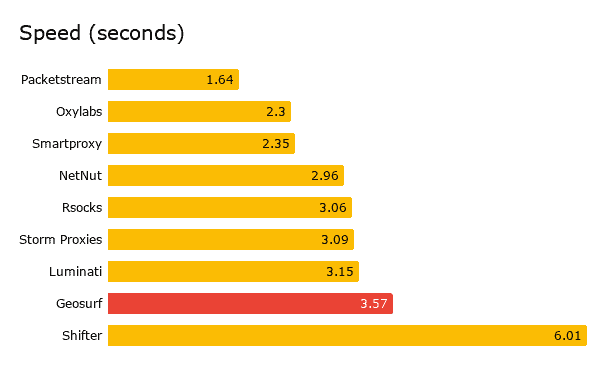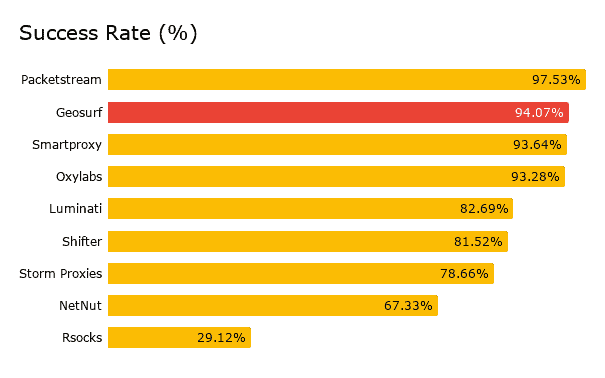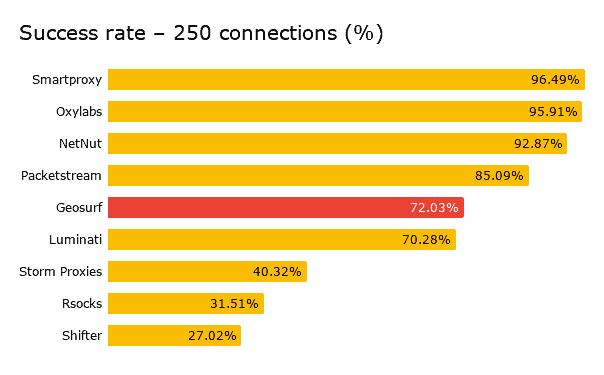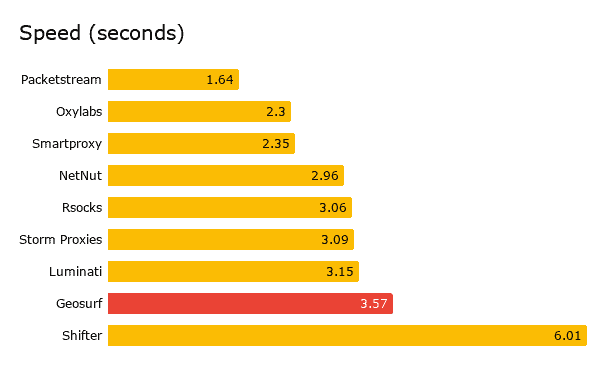 How to Use Geosurf: Dashboard, Extension, API
Registration
No self-service.
To register on Geosurf, simply fill in a form on their website. You'll have to enter your full name, email address, and country.
However, you won't be able to buy a plan and start using proxies just yet. You'll receive an email from Geosurf's salesman, and they'll ask you to jump on Skype and discuss your needs or schedule an appointment. When you both agree on a plan, you'll get a user account and be able to actually access the proxies.

A simple and elegant way to interact with Geosurf. 
Backconnect gateway servers. Instructions included. 
Multiple programming languages supported.  
Customer Service
I tried looking for Geosurf on Skype and managed to find the company's account. After sending a short message, I got a reply within 1 hour. Later, communication via Skype went very smoothly. I needed assistance with various small issues and Geosurf's team responded immediately every time.
Conclusion
For an old-timer, Geosurf is surprisingly lively. You wouldn't say that looking at its website (it either needs an update or is in the process of getting one), but the whole package is really solid.
The proxies are fast, well-performing, and stable – this shows that Geosurf has a good infrastructure. They are supported by various nifty tools to help you, like the well-made dashboard and browser extension.
There are many things to like here, and somehow I've found myself sympathising with Geosurf. And yet – I can't really put my finger on it – something is amiss.
Is it the lack of attention to detail? The relatively small proxy pool? The fact that you have to use Skype to get your account activated? None of these is a deal-breaker. But when I look at the company's pricing, and weight them pound-for-pound against the competition, it's a tough choice.
Nonetheless, if you do choose to go with Geosurf, you won't be disappointed.