Geosurf offers Residential IPs based on a P2P Network, which enables clients the freedom to harvest the web by harnessing a pool of over 130+ global locations with over 2M residential proxy pool. According to their website, Geosurf proxies are great for ad verification, social listening, SEO, sales intelligence, and sneaker copping.
Geosurf offers inbuilt IP rotation API for high scope & high-performance Enterprise level activities. This approach enables you to send unlimited parallel requests through millions of 100% verified working IPs; meaning you won't get blocked.
Geosurf Residential Proxies
General Review
Traffic
All pricing plans come with limited bandwidth.
Pricing
Geosurf has a few pricing plans. Check them out here. As you can see, Geosurf clients pay per GB and the price depends on how much traffic they are using.
The starting price plan is $300/month with the included 20GB and an extra $15/GB. Geosurf also offers two other pricing plans and a custom plan if you have different needs.
Pool size
According to their website, Geosurf has 2M residential IPs.
Locations
You can purchase residential IPs from 130 countries, including the US, Germany, France, Brazil, and Japan.
Setup
After you choose a pricing plan and purchase it, you get a bunch of gateways (also known as endpoints) with different ports and hosts. All gateways are categorized into sticky, high-rotation, and city gateways.
When using sticky IPs, you can choose how long one gateway will hold the same IP address. Time options are 1, 10 or 30 minutes.
High-rotation gateways don't hold the same IP but change it with every request. With both sticky and high-rotation gateways, you can choose an IP location. Country-level targeting is available.
City gateways work like sticky ones, the only difference is that you can use a city-level targeting. Geosurf offers a huge list of available cities.
Authorization method
Whitelisted IPs. You can whitelist as many IPs as you want.
Sub-users
Not available.
Session-control
Available. You can choose between 1, 10 and 30 min session time.
Filters
Location.

Yes. 130 countries are available.

Proxy type

. Not available.

ASN/Provider/Carrier.

Not available.
Protocols
Only HTTP protocol is supported.
Dashboard
Usage statistics.

Yes.

Credentials/Whitelist IP change.

Yes.

Support tickets.

 Not available. You can find a category called

Support

in the Geosurf's dashboard. However, once you click on it, it redirects to email.

Renew plans.

Yes.

Live chat.

Not available.
Customer support
We tried looking for Geosurf on Skype and managed to find their account. After sending them a short message, we got a reply within 1 hour. Later, communication via Skype went very smoothly. We needed assistance with various small issues and  Geosurf's team responded immediately every time.
Performance
When it comes to speed, Geosurf residential proxies performed averagely. We checked their speed using the free FOGLDN Proxy Tester. You can see the test results in the print screen below.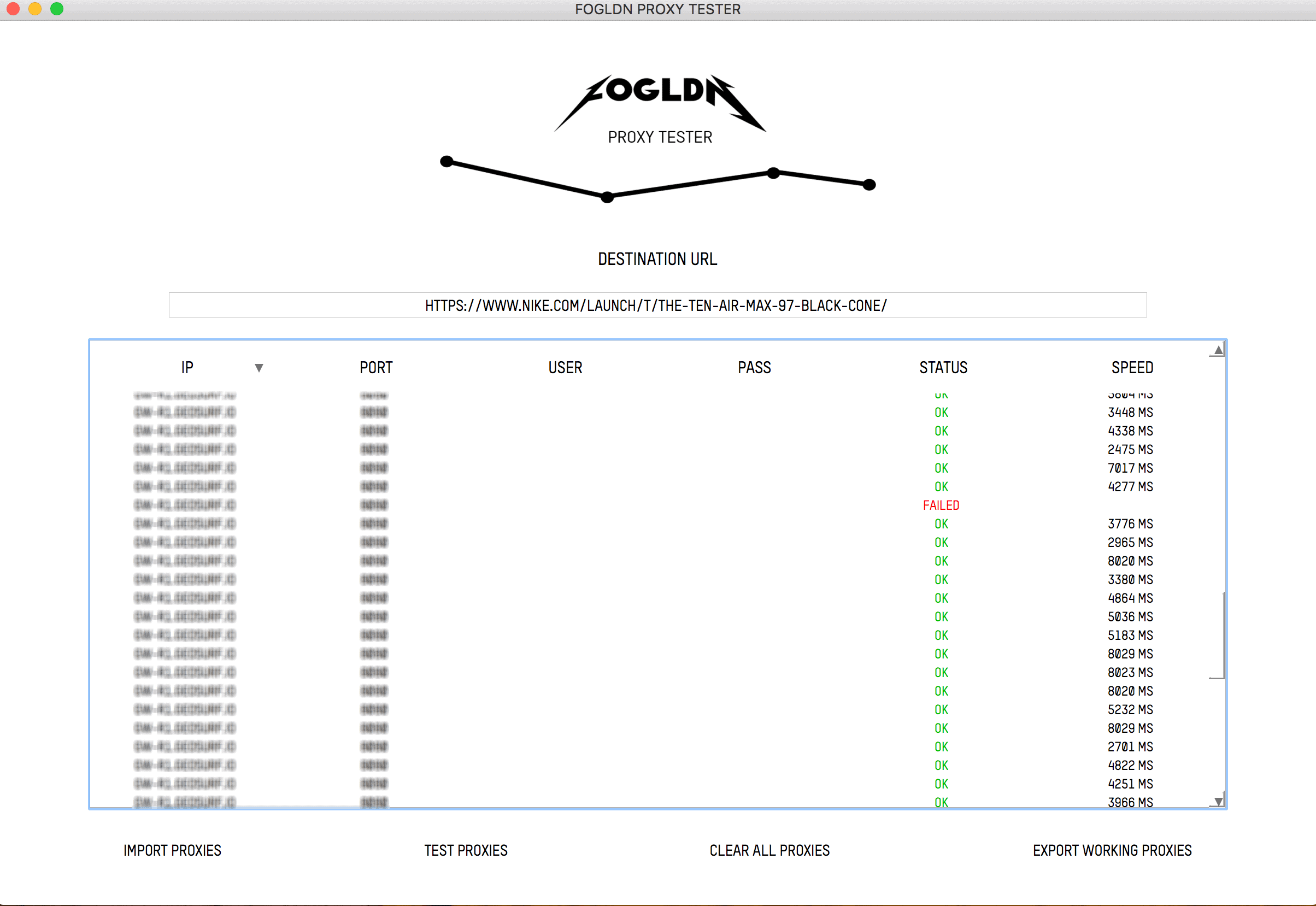 As you can see, some response times were really good, but some – extremely slow. However, we got just one failed try, which is impressive. Would we use Geosurf residential proxies for sneaker copping? Well, we could, but since their speed is so inconsistent, we recommend finding faster and more stable sneaker proxies.
The second part of our test includes putting Geosurf residential proxies on a huge load by gradually increasing the number of concurrent connections. We use our testing script for this task. You can see the test results in the graph below.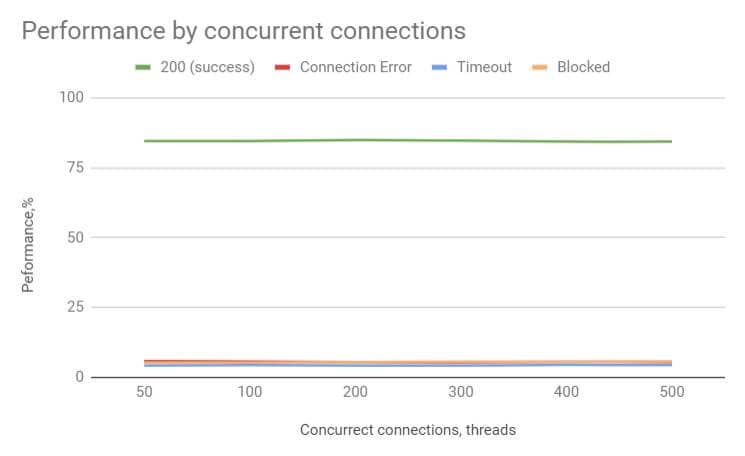 Overall, Geosurf residential proxies performed really well with the average success rate of 84%. As you can see, even if we increase concurrent connections, the error rate stays the same.
Below you can see a detailed breakdown of the performance test results. As with other proxy providers, we used a 300 concurrent connections' benchmark.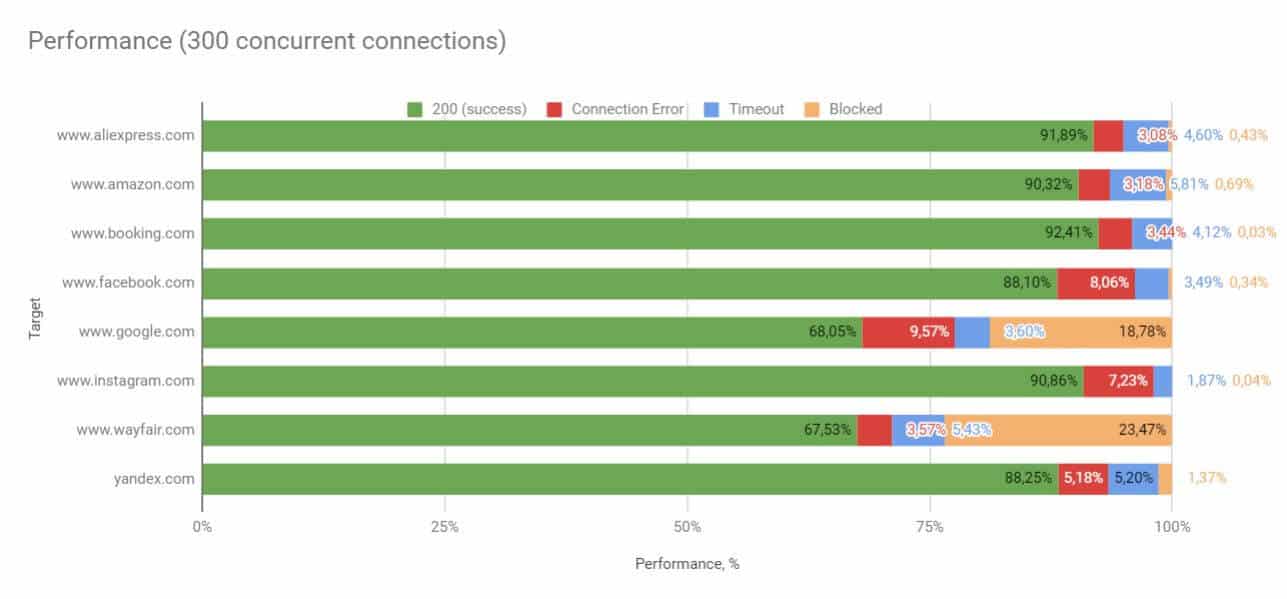 Geosurf surprised us with a high success rate. Only Google and Wayfair were blocked a bit more than other targets. For a residential proxy provider, the connection error and timeout rates are very good.
As you can see from the table below, the majority of the Wayfair blocks were 403 error. The blocks to Google were mostly 503 error (recaptcha). There were some blocks on Aliexpress, Amazon, Facebook, and Yandex, but there were not too many of them.  
| | | | | | | | | |
| --- | --- | --- | --- | --- | --- | --- | --- | --- |
| Blocked requests statistic | | | | | | | | |
| Target/status | 403 | 502 | 200 (<15KB) | 404 | 504 | 503 (recaptcha) | 429 | 200 (captcha) |
| www.aliexpress.com | 6 | 0 | 3 | 40 | 1 | 0 | 0 | 0 |
| www.amazon.com | 5 | 0 | 2 | 0 | 0 | 0 | 0 | 74 |
| www.booking.com | 1 | 0 | 2 | 0 | 0 | 0 | 0 | 0 |
| www.facebook.com | 4 | 0 | 35 | 1 | 0 | 0 | 0 | 0 |
| www.google.com | 0 | 0 | 3 | 0 | 0 | 2180 | 0 | 0 |
| www.instagram.com | 4 | 1 | 0 | 0 | 0 | 0 | 0 | 0 |
| www.wayfair.com | 2668 | 0 | 1 | 0 | 0 | 0 | 1 | 0 |
| yandex.com | 1 | 0 | 2 | 3 | 0 | 0 | 0 | 153 |
When it comes to the average response time, Geosurf residential proxies are doing pretty well compared to other proxy providers: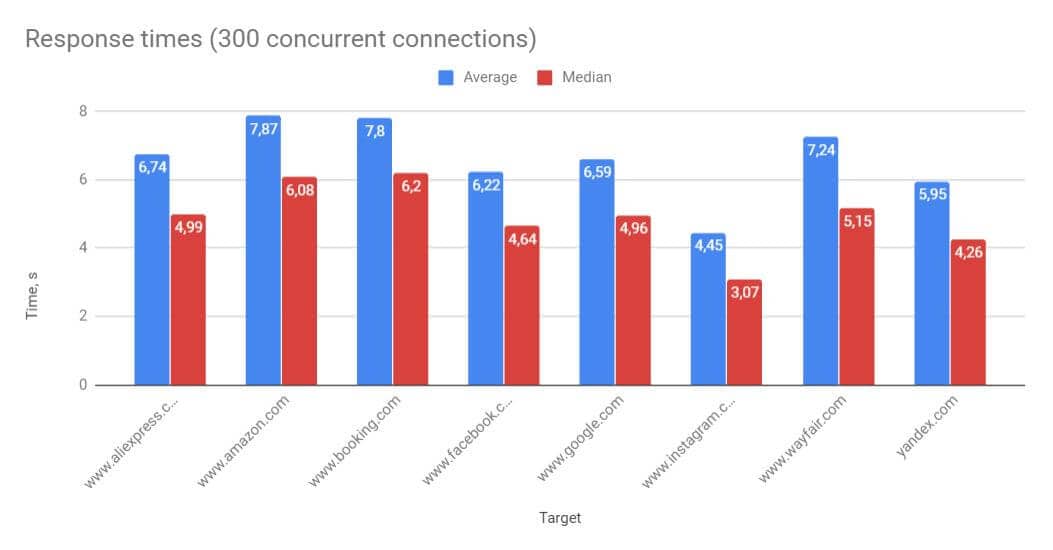 During the FOGLDN speed test, we learned that with sneaker sites Geosurf residential proxies perform at an average. However, with other targets, the speed of Geosurf residential proxies was quite impressive. For example, the average Amazon response time is 7,87 seconds. As we mentioned in other reviews, Amazon is a difficult target and if proxies are fast with Amazon, you can expect that they will perform well with other targets too.
A discrepancy between the average response time and the median indicated small instability of the overall response time. However, we don't see this as a big issue because the number of timeouts is extremely low.
Conclusion
The performance test showed that Geosurf has a pretty good infrastructure. Their residential proxies maintained a high-performance level even though we kept increasing the number of concurrent connections. This is definitely the biggest advantage.
As for disadvantages, the biggest drawback is the price. Geosurf residential proxies are pretty expensive. Moreover, for such a high price, we expected to choose a proxy type (residential/mobile) or a carrier, but Geosurf doesn't offer this type of filtering.
Also, according to the Geosurf's website, they have only 2 million proxies, which is quite a small number compared to other residential proxy providers. A small IP pool provides a higher risk of IP blocks.
When it comes to session control, you can choose between 1, 10, and 30 minutes sticky sessions. However, it would be nice to select a custom time.
Rating: 8.9
See the full list of the top residential proxy providers.