Quick Facts about Geosurf
Proxy types:

Residential

Protocols:

HTTP, HTTPS

Locations:

130+ countries, 1700+ cities

Targeting:

Country, state, and city level

Dashboard:

Yes

Support:

24/7 dedicated customer support

Pricing:

Residential proxies start from $600/month for 50GB

Payment options:

Credit card, PayPal, wire transfer

Free trial: No
Geosurf has been around for a while. The company was established in 2009, under BiScience. It has been playing the proxy game ever since. I don't know about you, but for me 10 years is an impressive longevity for an internet business, and it says something about their services.
For some reason, Geosurf seems to think otherwise. It's hard to find anything on the website mentioning the fact: you know, "with you since…", or something in that vein. The thing marketers drool about.
And yet, there are traces all around. For instance, you can find a TechCrunch testimonial on the homepage. Quite a website to have, right? But after opening the link, you find out that the article was written in 2011.
In a way, this little example tells a lot about the company as a whole. Despite entering the market very early, way before either of its main competitors, Oxylabs and Luminati, today Geosurf is trying hard to keep up with them. The provider has fewer IPs, no dedicated account manager, no fancy proxy-as-a-service tools like Real-Time Crawler or Unblocker.   
Despite all this, Geosurf is putting up a fight and remains among the top proxy providers. So maybe there is something about it that keeps the clients coming, and then coming back?
Let's find out.
Using Geosurf: Dashboard, Extension, API
Account Creation
To register on Geosurf, simply fill in a form on their website. You'll have to enter your full name, email adress, and country. 
However, you won't be able to buy a plan and start using proxies just yet. You'll receive an email from Geosurf's salesman, and they'll ask you to jump on Skype and discuss your needs or schedule an appointment. When you both agree on a plan, you'll get a user account and be able to actually access the proxies.
Geosurf Dashboard
After logging in with the provided credentials, you'll find yourself in a simple and elegant dashboard. There, you'll be able to see your balance and traffic use, change the password, whitelist IPs, access Geosurf's gateways, add credits, and update your plan. 
If I could change anything, I'd include easier access to the FAQs and the customer support (now, pressing on 'Support' only prompts you to create an email). Oh, and you can't really change your profile picture, so why have that at all. 
But these are all minor gripes, and overall the dashboard is pleasant to use. Here's a brief visual walkthrough:
Geosurf API
You can also use Geosurf's proxies via an API. The instructions weren't easy to reach – they're hidden under 'Residential IPs Integration Guide' in the navigation bar. Once you're there, you'll find useful code examples covering the main programming languages, as well as other integration info.
Geosurf Toolbar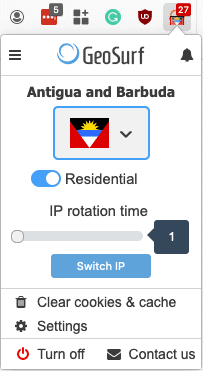 Geosurf has a browser extension for Chrome, Chrome-based browsers (such as Opera, Vivaldi, or Brave), and Firefox. It lets you use proxies on your browser – kind of like a localised VPN. With it, you can easily select the location of your proxy IP address and its rotation time. You can also clear cookies and cache at the press of a button. Pretty neat.
The name "Geosurf Toolbar" points to out to the company's long lineage. Remember the Techcrunch article from 2011? Yup, it's about the toolbar – only back then you could download it for now discontinued Internet Explorer. 
Pricing Plans
No matter how you look at it, Geosurf residential proxies are expensive. Out of the four plans they offer, the cheapest one starts at $450/month for 38GB. That converts to around $11.85 per GB. 
So, Geosurf naturally falls off if you have limited needs. Even if you intend to do some serious scraping, they're hardly the obvious choice – at this price point, Geosurf will be competing with Oxylabs and Luminati; and both of them offer a lot.
Geosurf Residential Proxies
Residential proxies is one of Geosurf's main products (the other being a VPN), and the company sure tries to make it good. It advertises the IPs as clean, meaning they haven't been blocked or blacklisted, and unlimited – having no limitations on the number of connections, threads and locations. 
Geosurf has separate pages for Instagram and ad verification proxies. Turns out, there's nothing special about them – they're just like any other residential IPs. Even so, it's a nice way to market the proxies, and whoever wrote the description deserves a raise:
There's also a built-in rotation API. It allows sending many parallel requests at once and should be helpful for large-scale scraping. 
At some point Geosurf offered datacenter IPs, as well. I'm not sure if it still does – the link leads to a dead end: 
GeoSurf Proxy Features
Traffic: All pricing plans come with limited bandwidth.

Pool size: According to its website, Geosurf has over 2.5M residential IPs.

Locations: You can purchase residential IPs from 130+ countries, including the US, Germany, France, Brazil, and Japan.

Authorization Method: Credentials (user:pass) and whitelisted IPs. You can whitelist as many IPs as you want.

Sub-users: Not available.

Session Control: Available. You can choose between 1, 10, and 30 min session time.

Filters:

Location: Yes. 130 countries are available.

Proxy type: HTTP, HTTPS

ASN/Provider/Carrier: Not available
Proxy Performance
As usual, we test four things: proxy speed with sneaker sites, performance using many connections at once, ability to access major websites, and response time. 
Proxy Speed
We test proxy speed using the free FOLGDN proxy tester on https://www.nike.com. Slow proxies are not only an annoyance – speed can be crucial for many time-sensitive tasks, such as sneaker copping.
In terms of speed, Geosurf's residential proxies performed averagely. Some response times were really good, but some – extremely slow. However, we got just one failed try, which is impressive. 
Would I use Geosurf residential proxies for sneaker copping? Well, I could, but since their speed is so inconsistent, I recommend finding faster and more stable sneaker proxies.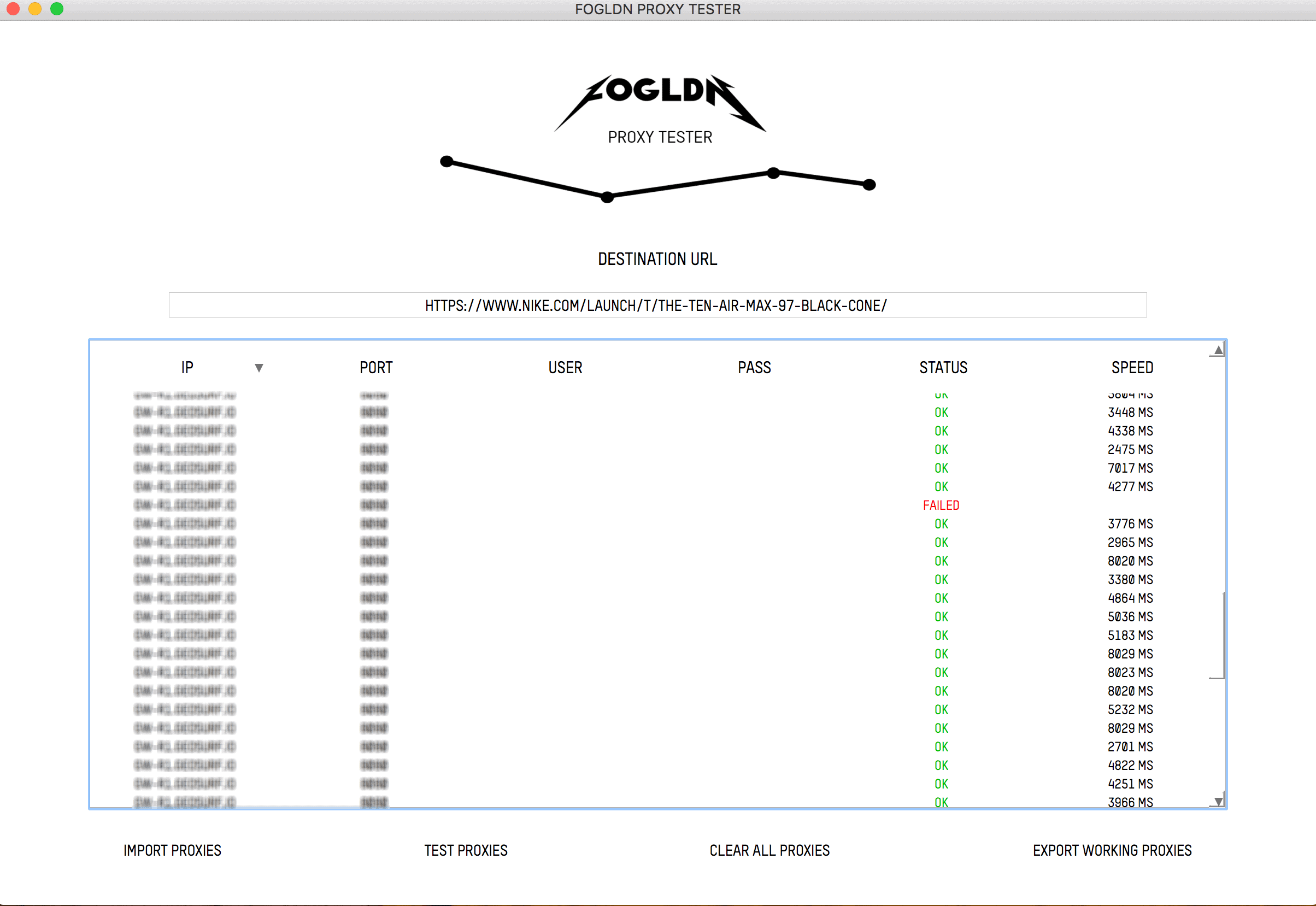 Concurrent Connections
We use our own testing script to gradually raise the number of connections at the same time. More connections will let you do tasks faster. This also tests the quality of the provider's infrastructure.
Overall, Geosurf residential proxies performed really well with the average success rate of 84%. Even when I increased concurrent connections, the error rate stayed the same.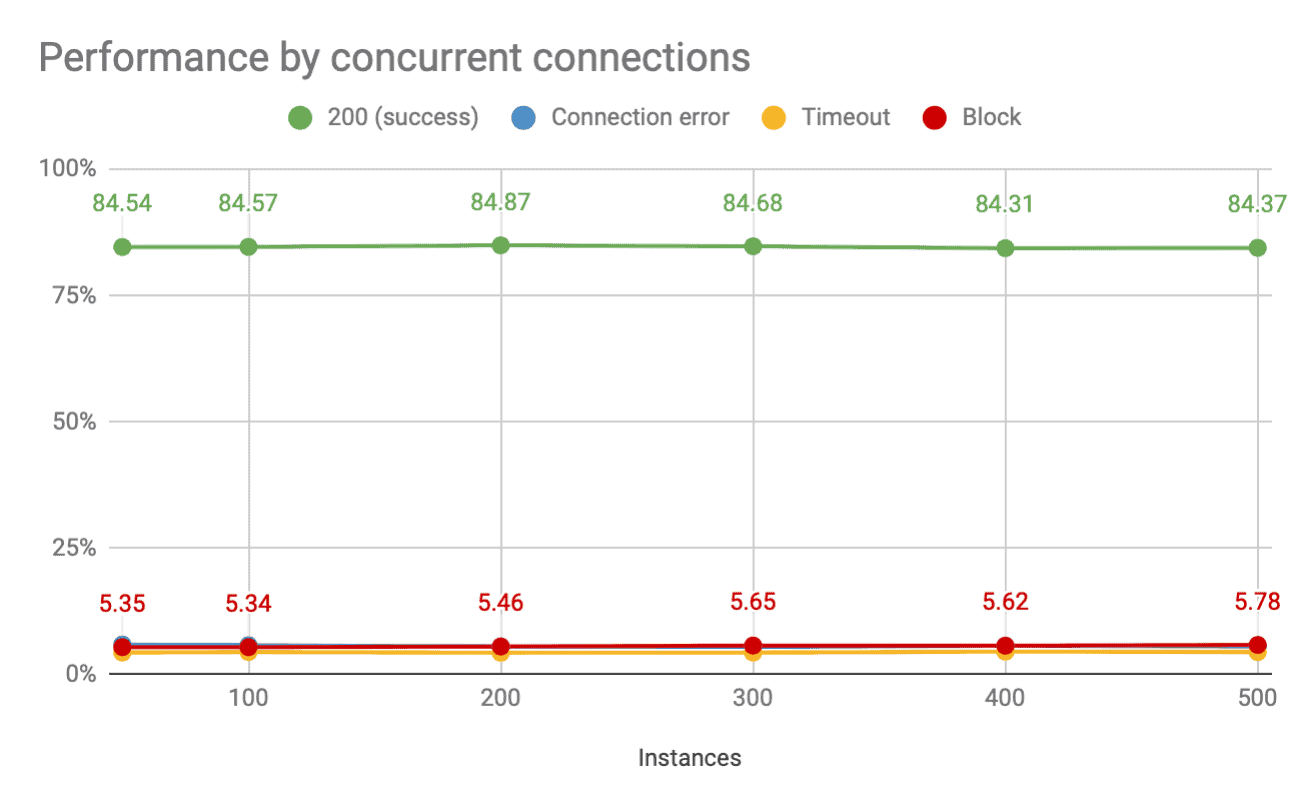 Success with Major Websites
We test how the proxies perform with major websites, by making 300 connections at once. This a good way to check proxy quality, especially if you're planning to scrape any of those sites.
Geosurf surprised us with high success rates. Only Google and Wayfair were blocked a bit more than other targets. For a residential proxy provider, the connection error and timeout rates are very good. 
Blocked Requests
Most of the Wayfair blocks were the 403 error. The blocks to Google were mostly 503 error (recaptcha). I also experienced some blocks on Aliexpress, Amazon, Facebook, and Yandex, but there weren't too many of them.
| | | | | | | | | |
| --- | --- | --- | --- | --- | --- | --- | --- | --- |
| Blocked requests statistic |   |   |   |   |   |   |   |   |
| Target/status | 403 | 502 | 200 (<15KB) | 404 | 504 | 503 (captcha) | 429 | 500 |
| www.aliexpress.com | 6 | 0 | 3 | 40 | 1 | 0 | 0 | 0 |
| www.amazon.com | 5 | 0 | 2 | 0 | 0 | 0 | 0 | 74 |
| www.booking.com | 1 | 0 | 2 | 0 | 0 | 0 | 0 | 0 |
| www.facebook.com | 4 | 0 | 35 | 1 | 0 | 0 | 0 | 0 |
| www.google.com | 0 | 0 | 3 | 0 | 0 | 2180 | 0 | 0 |
| www.instagram.com | 4 | 1 | 0 | 0 | 0 | 0 | 0 | 0 |
| www.wayfair.com | 2668 | 0 | 1 | 0 | 0 | 0 | 1 | 0 |
| yandex.com | 1 | 0 | 2 | 3 | 0 | 0 | 0 | 153 |
Response Time
Another metric for speed, only with a wider variety of targets.
When it comes to average response time, Geosurf residential proxies did pretty well compared to other proxy providers:
During the FOGLDN speed test, we learned that Geosurf proxies are only average at reaching sneaker sites. However, with other targets, the speed of Geosurf residential proxies was quite impressive. For example, the average Amazon response time is 7.87 seconds. As we mentioned in other reviews, Amazon is a difficult target; if proxies are fast with Amazon, you can expect that they'll perform well with other targets, too.
The discrepancy between the average response time and the median indicates some instability. But I don't see this as a big issue because the number of timeouts was extremely low.
Customer Support
I tried looking for Geosurf on

Skype

and managed to find the company's account. After sending a short message, I got a reply

within 1 hour.
Later, communication via Skype went very smoothly. I needed assistance with various small issues and Geosurf's team responded immediately every time.
Conclusion
For an old-timer, Geosurf is surprisingly lively. You wouldn't say that looking at its website (it either needs an update or is in the process of getting one), but the whole package is really solid. 
The proxies are fast, well-performing, and stable – this shows that Geosurf has a good infrastructure. They are supported by various nifty tools to help you, like the well-made dashboard and browser extension. 
There are many things to like here, and somehow I've found myself sympathising with Geosurf. And yet – I can't really put my finger on it – something is amiss. 
Is it the lack of attention to detail? The relatively small proxy pool? The fact that you have to use Skype to get your account activated? None of these is a deal-breaker. But when I look at the company's pricing, and weight them pound-for-pound against the competition, it's a tough choice.  
Nonetheless, if you do choose to go with Geosurf, you won't be disappointed.
Rating: 8.5
Geosurf Alternatives
In case you want to look around and compare Geosurf with other proxy services, we've written a few articles that may help you:
Frequently Asked Questions
What Is Geosurf?
Geosurf is a VPN and proxy provider from Israel. Established in 2009, it helps thrive in the digital world by giving them the tools to monitor and verify their geo-targeted content.
How Do I Use Geosurf?
First, you need to make an account and buy a plan. Then, you can start using Geosurf proxies in three ways: 
1) By installing the Geosurf Toolbar browser extension.
2) By getting a gateway address from the Geosurf dashboard and adding it to any application that supports proxies. 
3) By making use of Geosurf API to integrate the proxy service into your infrastructure. 
How Does Geosurf Work?
Geosurf's P2P residential proxies borrow the IPs of real users from around the world which the company then sells to its customers. Geosurf does not disclose where those addresses come from.