We use affiliate links. They let us sustain ourselves at no cost to you.
Proxy Market Research 2020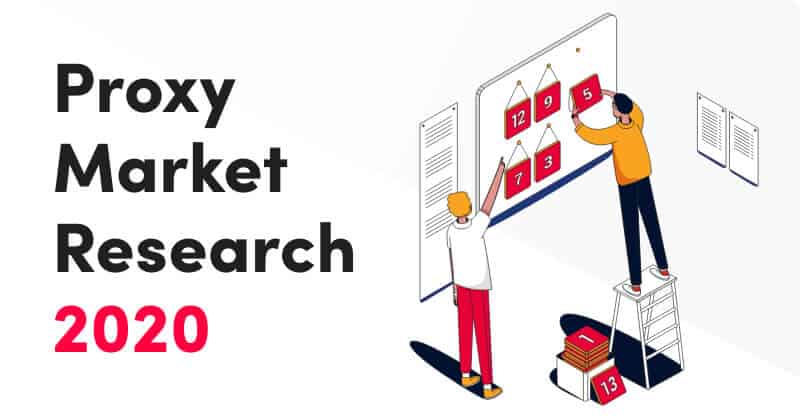 The first vertical-based technical evaluation of the proxy market
We live in an increasingly data-hungry world. Proxies are crucial for many businesses that collect, analyze, and deal in information. Yet, perhaps due to their association with hackers and social media manipulation, there are very few reliable resources on proxy networks. For the first time in the market's history, we are releasing a report that evaluates the largest proxy providers in six key verticals. Based on the feedback of 191 industry experts and extensive performance tests, it aims to give you an objective tool for comparing proxy services.
Feedback About the Market Research
Companies
Nice work! I guess it's the most comprehensive IP report in the market – Sorin Diaconu, Georanker.
It's a really objective tool for comparing proxy services; every company should take a look at the research before deciding which to buy. – Valerie Tkachenko, Netpeak Software.
This data is immensely helpful! Normally we'd have to spend time emailing each provider to set up a proper test account, write our tests, conduct them and then examine the data. Multiply this across a variety of providers and that adds up to a lot of time spent on proxy testing that could have been put towards our actual business. This report will save us so much time in the future. And for a business, time saved is money saved. – Elizabeth Oster, SerpApi.
When it comes to ads tracking and having a good proxy service is like a gold mine and this report literally help you to decide what matters and help you get better insight with which provider you can go ahead with, I want to appreciate the hard work that Proxyway has put in to make our work easy! – Himanshu Tiwari, Trackier.
Providers
It's really wonderful to see Proxyway doing what they do, as their conducted research is valuable not only for proxy service's clients but also for proxy providers. – Julius Cerniauskas, Oxylabs.
Definitely, a relevant source of information regarding the current proxy market, we look forward to seeing the next year's results with the benchmark of our brand new updates. – Shifter Team.
Key Takeaways
Here are our main findings at a glance:
Data scraping
36 experts participated in the study.
Data scraping is a broad category that targets various public data sources and requires versatility.
Success rate is the most important criterion, followed by scalability, diversity, and price.
Oxylabs is the best provider for scraping; Luminati came second and Smartproxy third.
Data aggregation
31 professionals gave feedback.
Data aggregators scrape the same targets over and over. Some need to handle millions of requests and provide data extremely quickly.
Success rate is the most important criterion. Then come reliability, scalability, and diversity.
Oxylabs has the best proxies for data scraping. Luminati and Smartproxy closely follow.
SEO
32 experts participated in the study.
SEO and SEM specialists use proxies to access precise data for localized search queries.
Locations is the most important criterion. Price, success rate, and anonymity come after.
Oxylabs and Smartproxy tied with the same score. Packetstream is the third best.
Market research
31 companies and professionals took part.
Researchers use proxies to gather public data. Unlike scrapers of aggregators, they rely less on speed and more on the proxy price.
Reliability is the most important criterion. It's followed by price, anonymity, and speed in decreasing importance.
Smartproxy is the best provider for market research. Packetstream came second, and Oxylabs third.
Ad verification
33 digital advertising companies and professionals gave feedback.
Ad publishers test how their ads are served in websites around the world. They also anonymously check for ad fraud.
Locations is by far most important criterion. The others are diversity, speed, and price.
Smartproxy offers the best proxies for ad verification. Oxylabs and Packetstream took the second and third places.
App development & localization
28 experts shared their knowledge.
App developers, testers, and localization professionals use proxies to simulate traffic and global connection requests.
Locations is the most important criterion. Price, success rate, and anonymity trail behind.
Smartproxy is the best provider for app development & localization. Packetstream and Oxylabs come after.
What's your #1 takeaway lesson from this research? Do you agree with our findings? Either way, feel free to leave a comment below.