Smartproxy vs. Bright Data: A Comparison
Smartproxy and Bright Data are some of the largest proxy providers in the market. Let's see how the two compare, and which would be a better choice for you.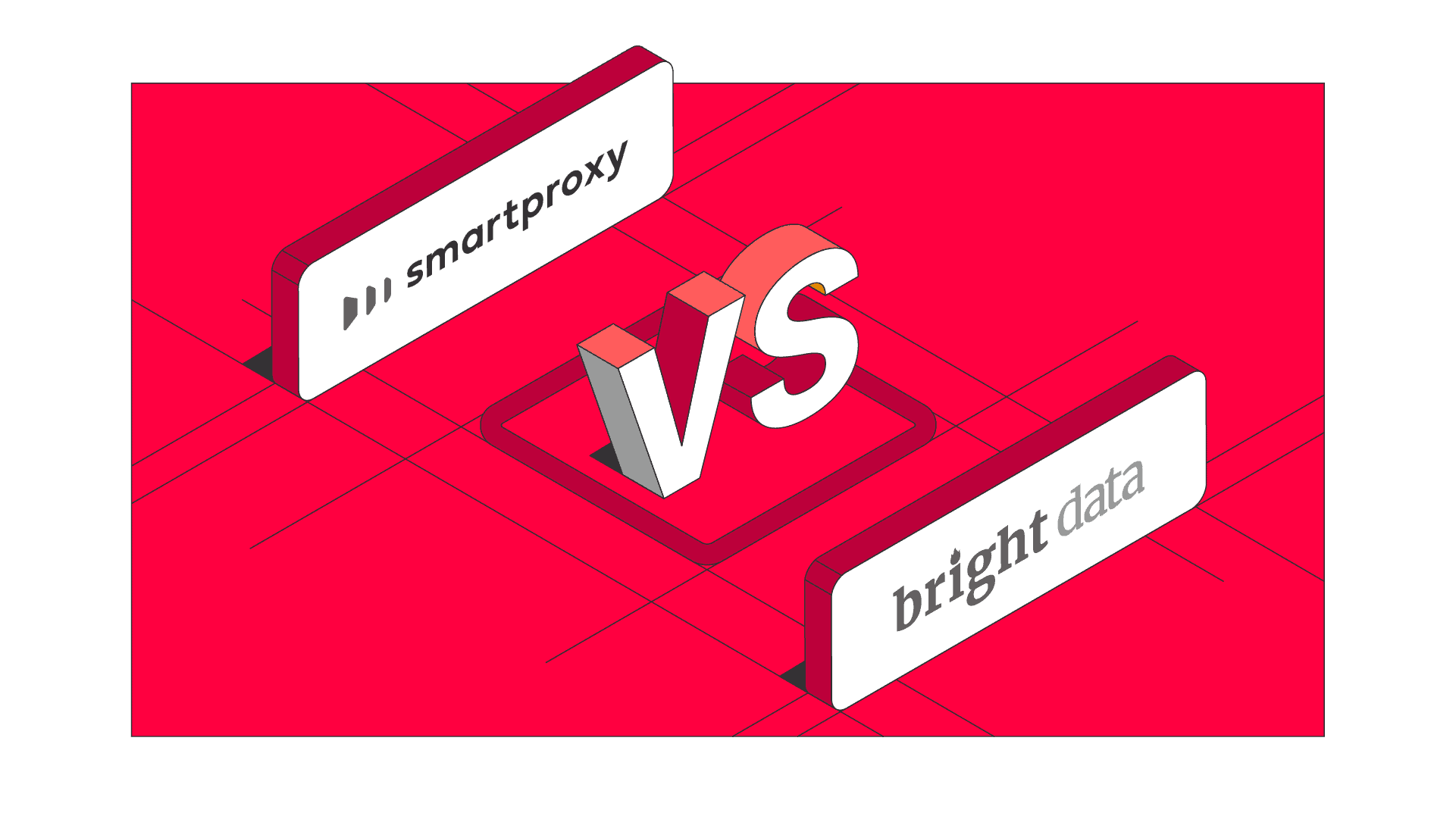 Summary
Smartproxy and Bright Data are both excellent proxy providers. They have a variety of tools for data collection, large proxy pools whose infrastructure barely ever fails, and polished user experience. 
Overall, Bright Data offers more choice, whether we're talking about proxy types, their features, or customizability options. You'll be able to get anything and fine-tune it for your needs – at the price of complexity and premium rates. On the other hand, Smartproxy delivers features that most customers need, wrapping them up in a convenient and cheaper package. 
My advice is: consider if Smartproxy's functionality meets your requirements. If so, you'll be able to get a similar quality service for significantly less. If not, choose Bright Data – you will pay more, but there's no other service as complete. 
Here's a quick table of the aspects we compared:
| | | |
| --- | --- | --- |
| | Smartproxy | Bright Data |
| Variety of services | ★★★☆☆ | ★★★★★ |
| Proxy pool size | ★★★★★ | ★★★★★ |
| Proxy features | ★★★☆☆ | ★★★★★ |
| Performance | ★★★★★ | ★★★★★ |
| User experience | ★★★★★ | ★★★☆☆ |
| Customer service | ★★★★★ | ★★★★☆ |
| Price | ★★★☆☆ | ★☆☆☆☆ |
| | Get 20% Off | Visit Bright Data |
Smartproxy vs Bright Data (Luminati): General Information
Smartproxy
Bright Data
Jurisdiction
International
Israel
Founded
2018
2014
Services

Proxy networks

Web scraping APIs

No-code scraper

Antidetect browser

Proxy networks

Web scraping APIs

No-code scraper

Data sets

Target audience
Small to mid businesses
Small to large businesses
Awards 
Editor's Choice (2019, 2020)

Best Customer Support (2020)

Best Value Provider (2021, 2022)

Best Proxy Ecosystem (2020, 2021)

Best Tools for Data Collection (2022)

Trustpilot score
4.7
4.8
Smartproxy is a relatively young provider, with a team spread across the globe. Bright Data is Israel based and has been around for longer, though still not as long as companies like GeoSurf. 
Both providers sell access to multiple proxy networks and proxy-based APIs for data collection, as well as tools for scraping without programming experience. Other than that, Smartproxy offers a complementary antidetect browser, while Bright Data sells pre-scraped data sets.  
Smartproxy's target audience is hustlers and small businesses. This is evident from its focus on use cases like sneakers and Instagram, as well as approachable pricing plans. Bright Data, on the other hand, tries to cover a wide range of customers. But in the end, it focuses on a highly technical audience working at enterprises. 
We like Smartproxy and don't hide it: it's won an award every year, either for value services or great customer support. Bright Data excels in its proxy management and data collection tools.
What Exactly Can These Providers Offer You?
Smartproxy
Proxy networks
Web scraping tools
Other tools

Datacenter (static, rotating)

Residential

Web Scraping API

SERP Scraping API

E-Commerce Scraping API

No-code Scraper

X-Browser
Smartproxy offers two types of proxy networks: datacenter and residential. The datacenter proxies branch out into two further options: you can get a list of dedicated addresses or buy access to a large pool of shared rotating proxies.
In addition, Smartproxy can sell you three web scraping APIs. Web Scraping API can scrape any website with a 100% success rate. It returns results in HTML. SERP Scraping API and E-commerce Scraping API are designed to scrape only particular categories, but they can structure the results in JSON.  
Smartproxy's No-code Scraper allows collecting data without programming experience. You can do it by using templates (currently, for Google SERPs and Amazon search) or a browser extension that lets you create new web scrapers using a point-and-click interface.
Smartproxy's final product is an antidetect browser called X-Browser. It comes for free with a residential proxy subscription. The browser allows creating unrelated profiles for tasks that require different identities (such as managing multiple accounts).
Bright Data
Proxy networks
Web scraping tools
Other services

Datacenter (static, rotating)

ISP (static, rotating)

Residential

Mobile

Web Unlocker

Search Engine Crawler

Data Collector

Data sets
Bright Data can provide you with any type of proxy server available. You can further choose different configurations. For example, you can get datacenter or ISP proxies in dedicated lists, shared lists, or rotating proxy pools. 
In addition, Bright Data has its share of proxy-based APIs. Web Unlocker integrates as a proxy network, but it has an additional layer of web scraping logic on top. This ensures 100% success when collecting data from problematic websites. Another tool, Search Engine Crawler, targets specifically search engines – it both scrapes and structures data from all major search platforms like Google and Bing.
Bright Data's no-code tool, Data Collector, is template based. You can access a vast collection of pre-made web scrapers or request to build new ones. The provider also lets you get into their innards through a cloud-based development environment, so that you can adjust the template as needed. 
And if you want to get data without investing time or development resources, Bright Data lets you buy data sets for various websites.
Which Provider Controls a Larger Proxy Network?
Bright Data, though both have some of the largest proxy pools in the market. 
Judging solely from advertised numbers, Bright Data's proxy network is markedly larger: 72 vs 40 million residential IPs, and 1.6 million vs 500,000 datacenter proxies.
However, when we tested their residential proxy networks in practice, the difference was by no means large. Both providers returned hundreds of thousands of addresses, beating most mid-range and premium competitors. Despite slightly falling behind overall, Smartproxy even had more IPs in European locations like Germany.
Whose Proxies Have More Features?
Bright Data's – it's one area where the provider can't be beat. 
Smartproxy has a utilitarian approach to functionality – it tries to offer those features that the majority of users care about. And it mostly works. Residential proxies are the provider's strongest service overall; the datacenter proxy networks are competent as well, as long as you're fine with the location coverage they provide.   
Bright Data is different – it aims to offer everything. Want to select proxies from a particular internet service provider? Yes, of course. Connect using the SOCKS5 protocol? That can be arranged. Or maybe residential proxies dedicated to your personal use? Also possible. As we'll see, the main restriction with Bright Data isn't a lack of something but whether you can afford it.
Smartproxy
Bright Data
Datacenter (static)
Datacenter (rotating)
Residential
Datacenter
ISP
Residential
Mobile
IPs
400,000
100,000
40 million
1.6 million
600,000
72 million
7 million
Type
Dedicated
Shared
Shared, dedicated
Locations
US
US & Europe
All countries
80 countries
50 countries
All countries
Filtering
–
US or Europe
Country, state, city
Country, city
Country, state, city, ASN
Rotation
–
Every request, 30 mins
Every request, 1, 10, 30 mins
Every request, sticky sessions (customizable with Proxy Manager)
Threads
Unlimited
Protocols
HTTP(S), SOCKS5
HTTP(S)
HTTP(S), SOCKS5
Authorization
Credentials
Credentials, IP whitelisting
Credentials, IP whitelisting
Which Provider Performs Better?
Both providers displayed market-leading performance. 
We thoroughly benchmarked the providers' residential proxy networks for 2022 Proxy Market Research. You'd think that a premium company like Bright Data would show better results over a mid-ranger like Smartproxy, but that wasn't the case. 
In reality, both residential proxy networks performed very well. When connecting to Cloudflare's server (small size, low distance, no blocks), over 98% of the requests completed successfully, which shows that their infrastructure rarely fails.
Furthermore, both proxy networks were fast. Smartproxy's average to random locations was 1.29 seconds, while Bright Data connected in 1.08 seconds on average. In popular locations like the US or UK, their performance was very similar and some of the fastest in the market.
1 million connection requests over 18 days, random locations

| | | |
| --- | --- | --- |
| | Smartproxy | Bright Data |
| Avg. success rate | 98.69% | 99.47% |
| Avg. response time | 1.29 s | 1.08 s |
Which Has a Better User Experience?
Smartproxy is easier to use, though it offers fewer customization options. 
User experience is one of Smartproxy's differentiating areas. The provider invests a lot of effort into making it comfortable and simple to grasp. You'll find onboarding guides, plenty of explanations, and straightforward onboarding flows to generate proxy servers based on your needs. 
Smartproxy treats its products as separate islands: each has its own tab with subscription, usage information, setup instructions, and proxy management APIs. This simplifies the experience if you're using one or two products but complicates things if you've bought multiple different subscriptions at once.
Bright Data is more problematic: its management tools are well thought out and form a system that transcends one service. While there is a lot of information to help you make sense of things, it still requires commitment to learn new concepts and unlock the system's full potential.  
For example, the provider uses something called Zones. They combine sub-users and pricing plans. This means you can have multiple active plans for one service and see them together with other plans on one screen. Or that Bright Data's usage statistics allow viewing all zones in one graph. But it also increases the management complexity. This applies to Bright Data's proxy management API, as well – it's very powerful but also overwrought. 
The same goes for proxy setup. Bright Data generates dynamic code samples, offers pre-sets and advanced toggles, such as where to resolve DNS. At the same time, you can't even customize the rotation interval without using extra software (Bright Data's proxy manager). 
When it comes to subscription management, both providers have it good. You can subscribe to their services by yourself, add money onto the platforms without necessarily buying a plan, cancel a subscription and download invoices using the dashboard.
And the Customer Service?
Smartproxy's customer service is the best in the market. 
We've awarded Smartproxy several times for its customer service. It remains great. You can use live chat, and a real person will answer you within seconds at any time of day. You can send a ticket. Or interact with an account manager. 
If you're looking for written help, Smartproxy has a rich body of documentation with quick-start guides, integration instructions, and an FAQ. It's ballooned with the years and has become a little scattered, but you can still find answers to most questions on your own. 
Bright Data has no live chat. There's a ticketing system that responds within an hour and account managers to help you within business hours. In the past, we heard some uncharitable anecdotes about the quality of Bright Data's service, but it seems to have become a bigger priority. 
Like Smartproxy, the provider has a large body of information you can tap into. There's an FAQ, integration instructions, webinars, video guides, and whatnot. Very comprehensive. 
Overall, neither provider should let you down. We're giving this to Smartproxy because we've had (and heard about) consistently great experiences with its customer service.
What about the Price?
Smartproxy is significantly cheaper, especially if you enable Bright Data's advanced features. 
Smartproxy uses a subscription-based pricing model. The provider's pricing structure is straightforward, in that there's one major criterion to follow. Its rotating proxy plans charge for traffic, static proxies – IPs, and scraping APIs count successful requests. Larger plans unlock more sub-users and whitelisted IP slots but not much else.
The only service that allows paying as you go is the residential proxies. Despite that, the entry plans aren't expensive: they range between $7.5 for dedicated datacenter IPs to $50 for a web scraping API. The rates are also pretty good: though Smartproxy can't compete with cheap providers like PacketStream, it costs less than premium companies like Oxylabs and Bright Data. They also scale well. 
Bright Data uses a flexible pricing model: most of its services allow paying-as-you-go, and once you scale up, you can switch to cheaper, commitment-based plans. This works in your favor if you have small needs or want to combine multiple services. Here too rotating proxy plans charge for traffic and scraping tools count requests. But that's only on the surface.
Once you dig deeper, you find out how complex Bright Data's pricing really is. For example, the static datacenter or ISP proxies, while sold by IPs, also count your traffic expenditure. You can remove the limits, but it'll cost extra. So will the ability to target several domains. Or, in the case of residential and mobile proxies, to filter by city or ASN. 
There are many little opt-ins that inflate the price. Expensive even without any of them, it becomes even more so if you enable a feature Bright Data treats as premium. The problem is that some of them (like unlimited bandwidth for static datacenter IPs) are an industry standard, so you either overpay or get a gimped experience. 
So, compared to Smartproxy, Bright Data will cost you significantly more. Here's a table showing how much residential traffic different amounts of money would get you with each provider:
Gigabytes of residential traffic you can buy. 

| | | | |
| --- | --- | --- | --- |
| | Smartproxy | Bright Data | Bright Data (city/ASN targeting) |
| $15 | 1 GB | 1 GB | – |
| $100 | 10 GB | 6.7 GB | 3.3 GB |
| $300 | 33.3 GB | 20 GB | 10 GB |
| $500 | 62.5 GB | 39.22 GB | 19.61 GB |
| $1,000 | 142.86 GB | 88.9 GB | 44.4 GB |