Oxylabs vs. Bright Data (Luminati): Which Is the Best?
Oxylabs and Bright Data are the largest (and probably most advanced) proxy providers today. They target well-off business clients and constantly compete for the top dog position. Each has advantages over the other, but which one is the overall better provider? Let's find out.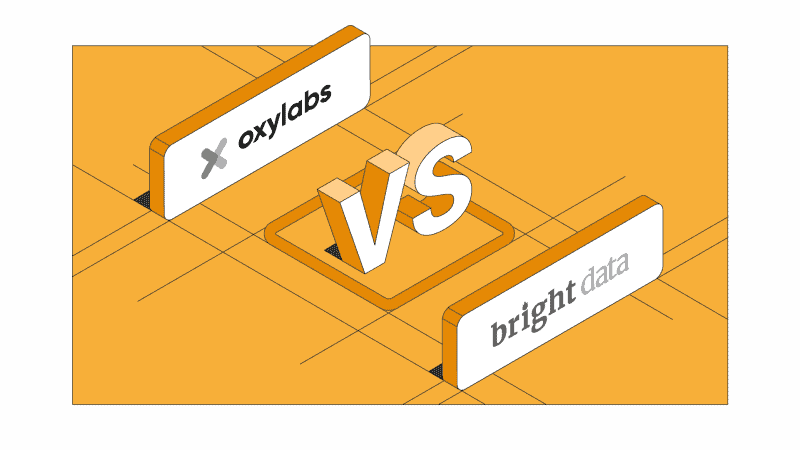 Oxylabs vs Bright Data (Luminati): General Information
Oxylabs
Bright Data
Jurisdiction
Lithuania
Israel
Founded
2015
2014
Target audience
Mid to large businesses
Small to large businesses
Awards
Best Overall Provider (2019, 2020)

Best Premium Provider (2021)

Best Proxy Ecosystem (2020, 2021)
Trustpilot score
4.8
4.7
Oxylabs and Bright Data both were founded at similar times; Oxylabs hails from Lithuania, while Bright Data's home is Israel. It's curious how many residential proxy providers come from the latter region: it's also the HQ of GeoSurf and NetNut.
Oxylabs targets mid to large businesses and is very clear about this. Bright Data, on the other hand, tries to cover the whole spectrum by offering a credit-based pricing model that scales into monthly plans. In reality, the Israeli provider favors larger businesses too – otherwise, it's simply too expensive.
We awarded Oxylabs three years in a row for its exceptional service and performance. Bright Data has received several awards as well, mostly celebrating its stack of proxy management tools.
Oxylabs vs Bright Data (Luminati): Services
Both providers offer many IP types and specialized tools for web scraping.
| | | |
| --- | --- | --- |
| | Oxylabs | Bright Data |
| Datacenter proxies | Dedicated | Shared, dedicated |
| Residential proxies | Peer-to-peer, static | Peer-to-peer, static |
| Mobile proxies | ✖ | Rotating |
| Proxy APIs | Next-gen residential proxies | Data Unblocker, Search Engine Crawler |
| Web scraping tools | Real-Time Crawler | Data Collector |
| Other tools | Proxy rotator, Chrome extension | Chrome extension, Proxy Manager |
Both providers offer several types of proxy networks. Bright Data is more versatile in this regard, with shared datacenter proxies and a separate pool of mobile IPs.
The competitors have also built some proxy APIs to simplify data collection. Next-Gen Residential Proxies are very similar to Data Unblocker, in that they look as proxies and return data without fail. Search Engine Crawler is an offshoot of Data Unblocker aimed at search engines.
Oxylabs' web scraper enables large scale scraping of e-commerce websites and search engines. It's still a technical tool that requires programming experience. Bright Data's Collector provides a highly customizable framework for web scraping. It's more versatile, though we're not sure how well it can scale.
Both providers have a browser extension; Oxylabs gets a thumbs up here because theirs works with any proxy server. The Lithuanian provider also offers a proxy rotator to enable IP rotation with its datacenter IPs. Bright Data, on the other hand, has a powerful tool called Proxy Manager. It allows for very granular control of proxy networks: headers, criteria-based IP filtering and whatnot.
Pricing
Oxylabs costs less for the same package but offers less customizability.
Oxylabs
Bright Data
Model

IPs (datacenter, static residential)
Traffic (rotating residential, Next-Gen Residential)

Traffic (rotating residential, mobile)
Traffic + IPs (datacenter, static residential)
Requests (Data Unblocker, Search Engine Crawler)

Period
Monthly
Credit/monthly
Unlockables
Dedicated acc. manager, Proxy Rotator
City, ASN targeting, IP cooldown, exclusive proxies
Trial/refund
Both
Both
Both providers hope to sign you up for monthly (better yet – yearly) plans, though Bright Data also offers the opportunity to pay as you go. This way, you don't have to spend much but the already expensive pricing becomes even more so.
What's more, neither provider puts everything on the table for the base price. This is the most apparent with Bright Data's residential proxies: to enable city or ASN targeting, you have to pay double. So, the display price often won't reflect the real amount – to discover it, you'll have to use Bright Data's pricing calculator. Oxylabs' plans are more straightforward.
Overall, whatever choice you make, it will be expensive. At the end of the day, Oxylabs will likely cost you less for the same package, but you'll get less customizability. Here's a table to illustrate the pricing of the residential proxy plans:
| | | | |
| --- | --- | --- | --- |
| | Oxylabs | Bright Data | Bright Data (city targeting) |
| 20 GB | $15/GB | $15/GB | $30/GB |
| 50 GB | $12/GB | $12.50/GB | $24/GB |
| 100 GB | $9/GB | $10/GB | $24/GB |
| 1,000 GB | $5/GB | $6/GB | $15/GB |
Rotating Residential Proxies
Both providers are packed with features and have great performance. Oxylabs' IP pool is larger but doesn't support SOCKS5.
Oxylabs and Bright Data consider rotating residential proxies to be their main product, though lately they've been heavily promoting residential proxy-based API instead.
Features
Oxylabs
Bright Data
Advertised monthly IPs
100,000,000
72,000,000
Locations
Every country & city
Every country & city
Filtering

Global
Country
State
City
ASN

Global
Country
State
City
ASN

Session control

Every request
Sticky sessions (up to 30 mins)

Every request
Sticky sessions (customizable)

Parallel requests
Unlimited
Unlimited
Protocols
HTTP(S)
HTTP(S), SOCKS5
Authentication
Credentials, IP whitelisting
Credentials, IP whitelisting
Sub-users
✔
✔
Other
Exclusive proxies
The two providers pretty much go toe-to-toe with one another. One difference is that Oxylabs doesn't support SOCKS5 – to use it, you'd have to choose its datacenter or static residential IPs.
The second difference is that Bright Data offers something called exclusive proxies. Basically, this gives you access to 10-80 IPs from the same country and city. Bright Data then ensures that no one else will be using these IPs with your domains.
Pool Size
We made 100,000 connection requests per day for three weeks. We used a high rotation setting and a global endpoint.
| | | |
| --- | --- | --- |
| | Oxylabs | Bright Data |
| Connection requests | 2,114,372 | 1,924,216 |
| Unique IPs | 1,317,484 (62.31%) | 1,082,528 (51.04%) |
Oxylabs proved to have more IP addresses. But, with more than 50% unique IPs, both providers can be considered to have large proxy pools.
Pool Quality
We checked the proxies we received in an IP database.
| | | |
| --- | --- | --- |
| | Oxylabs | Bright Data |
| Landline or mobile | 93.35% | 92.55% |
| Datacenter | 2.38% | 3.83% |
| Other | 4.27% | 3.62% |
Both providers had a similar share of IPs from residential devices. Overall, these are good quality proxies.
| | | |
| --- | --- | --- |
| | Oxylabs | Bright Data |
| IPv4 | 86.93% | 99.9% |
| IPv6 | 13.07% | 0.01% |
Bright Data remains an IPv4 purist, while Oxylabs allows some IPv6 addresses inside its pool.
Success Rate
We targeted Cloudflare's US server. It's an unbiased target that shows how well the proxy server works.
| | | | |
| --- | --- | --- | --- |
| | Oxylabs | Bright Data | Other providers |
| Success rate | 99.24% | 99.49% | 89.18% |
Both Oxylabs and Bright Data had an exceptional success rate. Results with individual websites might differ. But if you set up your web scraper well, these proxies will rarely fail you.
Here are some results with our own web scraping script. We ran 6,000 requests for each target:
| | | | |
| --- | --- | --- | --- |
| | Oxylabs | Bright Data | Other providers |
| Amazon | 84.19% | 88.74% | 72.84% |
| Booking | 98.50% | 98.38% | 88.33% |
| Craigslist | 95.33% | 97.72% | 85.82% |
| Facebook | 96.55% | 98.19% | 82.39% |
| Instagram | 98.86% | 99.42% | 84.80% |
Response Time
Once again, our target was located in the US.
| | | | |
| --- | --- | --- | --- |
| | Oxylabs | Bright Data | Other providers |
| Response time (avg.) | 0.98 s | 1.18 s | 2.21 s |
| Response time (median) | 0.57 s | 0.66 s | 1.34 s |
Oxylabs had faster proxies, but in general both providers displayed great response times, especially compared to the market average.
Load Test
We ran 500 connection requests per second to see how well the proxy servers handle load.
| | | |
| --- | --- | --- |
| | Oxylabs | Bright Data |
| Success rate | 95.71% | 98.87% |
| Response time (avg.) | 1.20 s | 1.40 s |
Neither provider had issues with this much load. Oxylabs' success rate fell more, but Bright Data was slightly slower.
Server Stability
Oxylabs and Bright Data provide uptime statistics. Let's look at them first.
Evidently, both providers have a great uptime, nearing 100%. Bright Data experienced some downtime during a big sneaker release but otherwise performed flawlessly.
We also did our own tests to measure stability. The table below shows how much the proxy servers fluctuate during regular use (standard deviation), and how often they were above the instability threshold (3 x standard deviation) throughout three weeks of constant monitoring:
| | | |
| --- | --- | --- |
| | Oxylabs | Bright Data |
| Standard deviation | 0.96% | 0.62% |
| Stability | 97.55% | 97.01% |
Oxylabs and Bright Data were both very stable throughout the testing period.
User Experience
Bright Data offers more customizability options but is harder to use.
Oxylabs
Bright Data
KYC
✔
✔
Self-service
✔
✔
Setup difficulty
Moderate
Hard
Dashboard

Usage stats
Authentication
Renew plans
Contact support

Usage stats
Authentication
Renew plans
Contact support

API
✔
✔
Management tools
Chrome extension
Proxy Manager, Chrome extension
Both providers impose some kind of KYC check. Bright Data is infamous for its harsh procedure, where you not only need to provide your personal information, but sometimes hop on a video call. Some find that intrusive, but in general it shouldn't be an issue for companies.
The providers also have self-service. KYC aside, you can go through the whole setup flow without talking to their representatives. Oxylabs' self-service at this point is pretty limited – it only applies to the two cheapest residential proxy plans.
Neither provider is very easy to use, though Bright Data is significantly more complex. You not only have to adjust to a new naming scheme (the provider uses something called Zones) but also use its Proxy Manager to adjust necessary features like IP rotation. However, once you do, you'll find Bright Data's management tools very powerful and customizable. Oxylabs lacks any kind of setup widget but provides comprehensive documentation instead.
Oxylabs' API is limited to residential proxies; it's mostly built around managing sub-users. Bright Data's API involves all services, is very comprehensive and complex.
Customer Support
Both providers have great documentation but we favor Oxylabs' hands-on support.
Oxylabs
Bright Data
24/7
✔
✔
Languages

English
Russian
Chinese
Lithuanian

English
Russian
Chinese
Arabic
Hebrew
Japanese

Live chat
✔
✔
Account manager
✔
✔
Response time
2 mins via chat
25 mins via chat
Documentation
Extensive
Extensive
As premium providers, Oxylabs and Bright Data strive to ensure excellent customer support. In many ways, they succeed: you get a dedicated account manager during working hours and 24/7 customer support after.
The documentation is also excellent: you'll have no lack of tutorials, integration instructions, and other information to help you use the service.
From our experience, Oxylabs' customer support agents take less time to respond and provide sufficient advice to solve our issues. Bright Data can be less predictable.
Oxylabs vs Bright Data (Luminati): Conclusion
Alright, so which of these two premium powerhouses is better?
Bright Data might be a better choice if you need all the flexibility – or edge features – it can offer: a separate pool of mobile proxies, exclusive residential IPs, or a no-code web scraper.
Otherwise, Oxylabs will provide you with the same or even better experience for the price.
In any case, you'll get the best that proxy servers can offer.