We use affiliate links. They let us sustain ourselves at no cost to you.
Proxy Service Awards 2021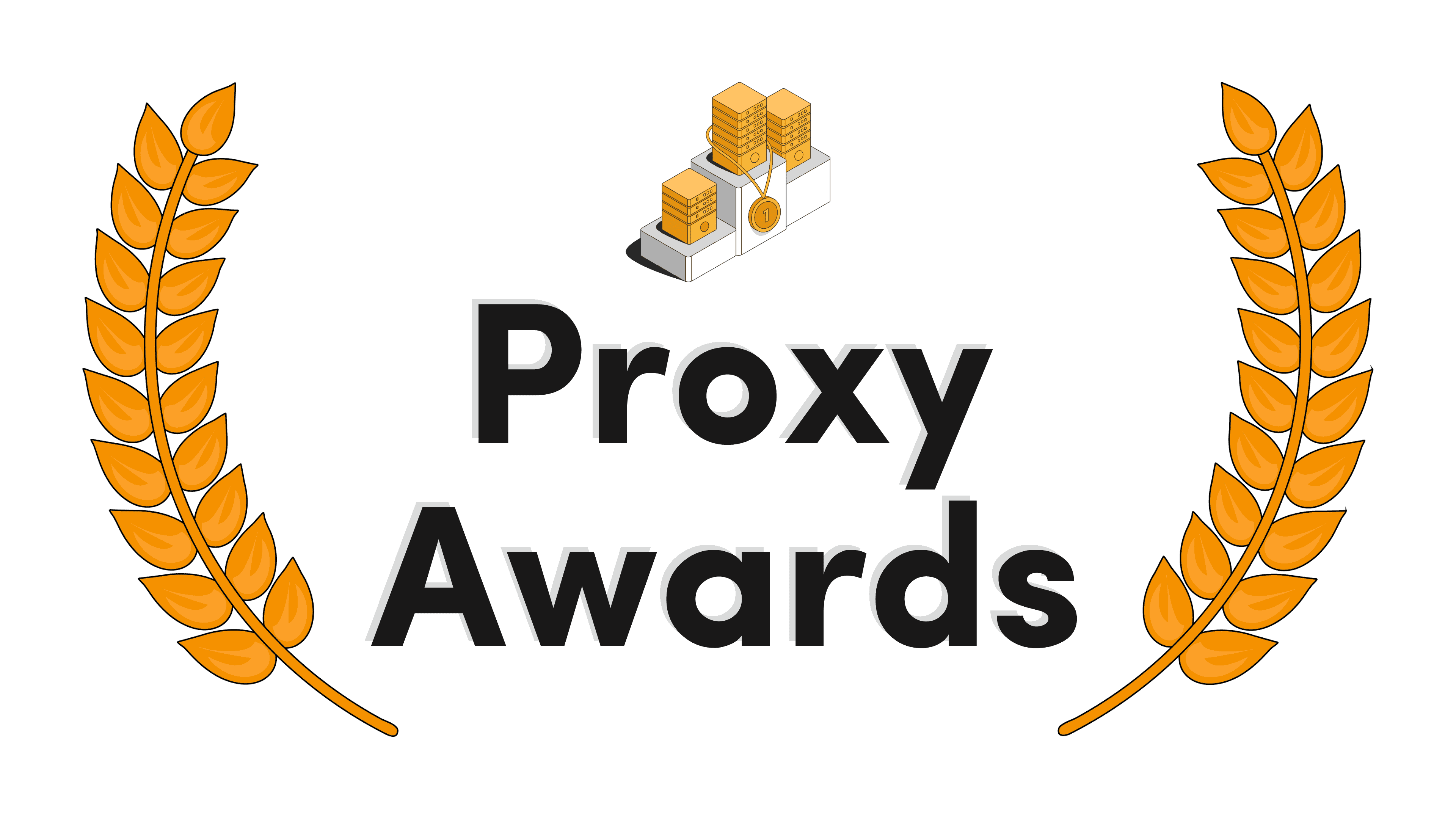 Over the past year, thousands of you used proxy services. Sneakerheads equipped residential proxies to cop drops, entrepreneurs used them to automate their businesses, and an overwhelming majority reaped the benefits of being anonymous online. None of that would be possible without reliable proxy service providers. However, providers had a lot more to work on this year, other than keeping up with their clients' demands. One company rapidly expanded its proxy pool, another came to light with a brand new name, and several fought it out in court. 
It's been a captivating year for sure and here at Proxyway, we were in the loop of it all: thoroughly tracking every bit of news in the market, testing and reviewing proxy servers, and answering your queries. For the third year in a row, we summarized our annual effort by launching an extensive and one-of-its-kind proxy market research. Can you guess what comes after it? That's right! It's time for proxy service awards, where we acknowledge the most exceptional companies of the industry.
Here are this year's nominations: 
The results are largely based on our Proxy Market Research. Read more about it here.
You can also watch the awards in video format:
---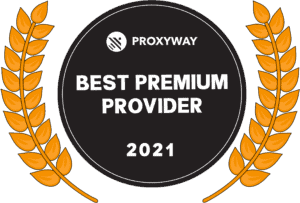 Best Premium Provider – Oxylabs
For the third year in a row, Oxylabs proved itself to be tough competition. After awarding it as the best overall provider twice in a row, this year, we proclaim the Lithuanian company as the best premium provider – and for an excellent reason. Oxylabs controls the largest datacenter and residential IP network today. What could be more impressive than 102 million residential IPs? Of course, their speed and performance. During our extensive testing, Oxylabs demonstrated the top quality of its proxy pool. But that's not all. The company offers a wide range of features and tools, some of which are built on cutting edge AI & ML technology. The icing on the cake is Oxylabs' excellent customer care: its clients get a personal account manager, SLA, and insurance.
We are honored to be named as the best premium proxy provider of 2021 by Proxyway. Our teams will continue to deliver excellence to clients at every step of the way. From everyone at Oxylabs, we would like to thank the Proxyway team for their tireless dedication to the industry.
– Oxylabs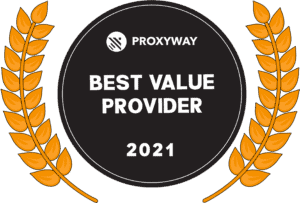 Best Value Provider – Smartproxy
Smartproxy is a go-getter. It provides well-suited services not only to proxy newbies but also large-scale businesses, especially if you're looking to save a buck or two. Here's the thing – Smartproxy offers lower prices for services that are just as good as any of the premium providers. How does it do it? Well, the company focuses on what matters the most: providing excellent customer service, easy-to-use API, and, of course, fast and well-performing proxies.  In return, Smartproxy cuts some fringe features that are indispensable for some, but which many customers don't really need. And while Smartproxy can't really compare with the cheapest providers on the market, there's hardly a company that can match its value at the price point. 
Best Proxy Ecosystem – Bright Data
Formerly known as Luminati, Bright Data began the new year with a brand new name. Even though the company decided to freshen up, the most important things have stayed the same. We are talking about Bright Data's most significant asset – its amazing proxy ecosystem. The provider spoils its clients by allowing them to choose from every type of protocol or proxy IP located anywhere in the world. But that's not all. It has created a variety of useful tools, such as a powerful proxy management app, browser extension, and APIs that can unblock any content. Recently, it also introduced a data collection tool that requires no coding experience whatsoever. Whatever you're trying to accomplish, Bright Data will be able to offer the right tools for the job. 
However, Bright Data's expanding technical arsenal makes only one part of the story. The company also dedicated a great deal of effort to make the proxy industry more luminous and ethical through webinars and other educational events. Cheers to that. 
We would like to thank Proxyway for recognizing Bright Data as the best proxy network ecosystem – we are delighted to receive this award. The entire team at Bright Data will continue striving to deliver reliable structured online data reaching high-performance results for our thousands of customers.
– Bright Data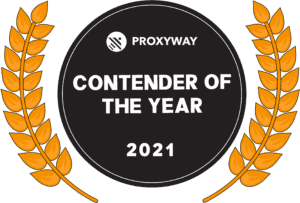 Contender of the Year – NetNut
NetNut is not lagging behind. Ever since the company entered the market with  static residential proxies, we have been closely following NetNut to see what it will deliver next. And it has. Recently, NetNut greatly expanded its services with 10M peer-to-peer residential proxies and 500,000 datacenter IPs. The pricing has also changed to reflect NetNut's growing appetite: the new plans start from as little as 1 GB. Overall, the provider has taken a big leap forward by opening up to a much broader audience that ranges from entry customers to resellers and big enterprises. We're sure this contender of the year has made the top three providers on the market, Oxylabs, Smartproxy, and Bright Data, raise an eyebrow.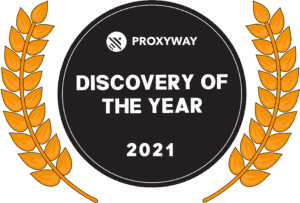 Discovery of the Year – SOAX
We admit it – for a while, SOAX flew under our radar. That is, until the company marched to our door and demanded to be reviewed. (Okay, more like asked politely. But where's the suspense in that?) So we did, and frankly, we were pleasantly surprised.  SOAX controls a respectable IP pool, with robust infrastructure and very flexible proxy management options. While it still needs to work on user experience – and especially response times – to compete against top-tier providers, the company already brings a lot to the table. So much so, in fact, that it managed to beat some of the market veterans in our performance benchmarks. For this feat, SOAX became our discovery of the year.
---
So, what do you think of our picks? Which residential proxy service provider is your favorite? Let us know in the comment section below and stay tuned for our new reviews!