We use affiliate links. They let us sustain ourselves at no cost to you.
What's a TikTok Proxy and Where to Get Them?
In just five years, TikTok has drawn the attention of nearly 1 billion users worldwide, and the audience just keeps on growing. Even marketers decided to join the hype – they saw the opportunity to exploit the platform from a business perspective. But TikTok plays by its own rules – if you don't follow them, you might end up losing the game. And by that, I mean account suspension or an IP ban.
The way TikTok works is simple: you post short videos – from 15 seconds to 3 minutes – and wait for the views to hit. However, the platform uses algorithms that aren't in favor of your plans – no spamming, running accounts in bulk, automating your actions or scraping, to name a few.  
But the ball is in your court – with TikTok proxies, you can run multiple accounts, go around geo-restrictions, or scrape the platform for marketing insights. 
Let's find you the best proxy provider for your needs.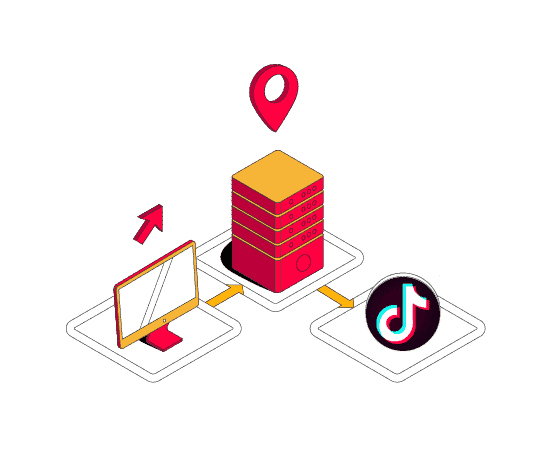 What Is a TikTok Proxy
A TikTok proxy is an intermediary IP address optimized to work around TikTok restrictions. The difference between a regular proxy server and a TikTok proxy is that you get a clean IP address that's not blocked on the platform.
TikTok proxies route your traffic through a server instead of connecting you to the platform directly. This way, you look like a different person each time you access the social media network.
Why Use Proxies for TikTok
Scraping TikTok
Many people scrape TikTok for titles, hashtags, emails, posts, comments, followers, and more. However, TikTok doesn't have its official API and allows only small-scale scraping. For larger projects you'll need a rotating TikTok proxy or a quality scraping API. If not, your IP address might be linked to suspicious activities.
Multiple Account Management
Social media platforms are strict about the number of accounts you can create from a single IP address. And in this case, TikTok's the worst as it limits that number to 3 accounts. If you want to exceed it, you'll need to get yourself a TikTok proxy and an antidetect browser. The first will mask your IP address, and the latter will spoof your digital fingerprint.
Otherwise, TikTok will ban your IP address, and you won't be able to access the platform because TikTok can easily detect when you change your location. The platform can even tell if you're using an actual device, emulator, or a VPN. So, don't risk losing your accounts.
Unblocking TikTok
As TikTok went so viral over the past years, it shouldn't be surprising that the content posted is pretty addictive. That's why some schools or workplaces restrict access to the platform. Countries like India or Pakistan have even banned TikTok. A proxy server changes your IP address to a different one that's not restricted in a specific country or place.
Accessing More Content
TikTok uses algorithms that filter the content on your feed based on your region. And that's OK if you're living in an area with many talented creators. But what about places with less active users? You'll simply miss some great content, so you might need to change your location with a TikTok proxy. A proxy server will also help you target audiences in other countries.
Boosting Automation
Automation software can both make your life easier and a living hell. With bots like Ninjatok or Toksocial, you'll be able to mass-follow, like comments and videos, comment, and the like. However, like most social media platforms, TikTok doesn't favor automation, so it will easily detect your bot without a TikTok proxy.
Which Types of Proxies Work Best for TikTok
Residential proxies. IP addresses from real residential devices are very reliable when targeting social media sites. There are two types of residential IPs: rotating and static (ISP). The former works well with creating bulk TikTok accounts, scraping and getting more followers and views; the latter – with multiple account management. Residential proxies are the middle ground between quality and price.
Mobile proxies. While you can use TikTok on your browser, first and foremost, it's an app. That's why it avoids blocking IP addresses that come from mobile devices because many users share the same IP; if you block one, you might accidentally restrict access to hundreds of users. However, mobile proxies are the costliest and aren't best suited for bulk account management.
Dedicated datacenter proxies. Datacenter proxies are much cheaper and faster than mobile and residential ones. Even though you don't have to share your IP with other users, these proxies are more likely to be blocked. Not the best choice for automation, but it can handle scraping and a few TikTok accounts.
Shared datacenter proxies. Getting a shared IP address will save you some money, but they're the easiest to block. And since many people share a single IP at a time, you might get an abused address. However, shared proxies might come in handy when accessing geo-restricted content.
Tips for Using a TikTok Proxy
Don't violate the terms of service. Try to be considerate towards other users – don't spam, use inappropriate language, or negatively impact other users' experience in other ways.
Mind your actions. Even though TikTok is all about the frequency of actions rather than the total number of requests, you shouldn't take it for granted. The platform still implements some request limits. However, they're based on account age and user actions.
Warm-up your account. First, you have to act like a real person. Interact with other content, watch, and follow other users. Only two weeks later, post content yourself. The longer you have an account, the safer it is to start automating your actions or manage multiple accounts.
Pair your proxies with an antidetect browser. Use a TikTok proxy with a quality antidetect browser like Multilogin, GoLogin or Smartproxy's X-Browser. TikTok is aware not only of your IP address, but also your digital fingerprint. Antidetect browsers will change your digital fingerprint and let you easily manage hundreds of accounts without the risk of banning them all.
Don't use free proxy services. These services are free for a reason – no one wants to invest in a business unless they get profit. And usually, free IPs are abused on most social media platforms because everyone can access them. Thus, a good proxy service is the right way of reaching your goals.
The Best Proxy Providers for TikTok
Smartproxy's services are a sweet deal for anyone interested in mid-range prices and quality TikTok proxies. The provider offers 40 million rotating residential IPs from 195 locations that don't share subnets. For two years in a row, our research showed that Smartproxy provides the best overall user experience, and its residential proxies proved to be the fastest on social media platforms. For scraping enthusiasts – Smartproxy has just released four different scraping APIs combined with a network of residential and datacenter proxies.
However, these are peer-to-peer residential IPs. And due to their rotating nature, your sticky sessions will be limited to 30 minutes.
Features:
40 million peer-to-peer residential IPs
195 locations
Rotation every request, sticky sessions up to 30 mins
Unlimited connections and threads
Whitelisted IP & user:pass authentication
Sub-users
API & browser extension
Pricing: from $12.5 for 1 GB. 3-day refund available.

---
The largest proxy provider in the market offers all types of proxy servers with over 72 million IPs from various locations worldwide. Its services include features like country, state, city, and ASN targeting, which are great for TikTok account management. Bright Data's residential proxies shine in response time and stability – our latest data showed over a 99% success rate. The provider offers three tools for data collection, developer tools like its open-source proxy manager and flexible IP rotation options.
But prepare to empty your pockets because all those premium features cost. Also, Bright Data is all about compliance; if you're up for some gray-hat activities, the provider can choose not to serve you.
Features:
72M peer-to-peer & static residential IPs
HTTP, HTTPS & SOCKS protocols
Country, city, ASN and carrier targeting
Rotation every request, sticky sessions available
Pay-as-you-go option
Pricing: from $15 for 1 GB. 7-day free trial for businesses, 3-day refund for individuals.

---
NetNut offers both static and rotating residential proxies. Even though it's a premium provider that focuses on medium and large-sized businesses, you can get both types of proxy with as few as 1GB of traffic. The rotating residential proxy pool has around 10-20 million monthly addresses from over 150 locations. NetNut supports proxy rotation every request or sessions that allow you to keep the same IP until it becomes unavailable; or in the case of ISP proxies, indefinitely. Residential rotating proxies showed the best results in the US; the average response time was less than 1 second, while other providers like IPRoyal couldn't fit into 3s.
But if you're outside the US, NetNuts' proxies lose their gear – they're twice as slow. And only the most expensive pricing packages offer city and state targeting, API access, or a dedicated account manager. Finally, the provider doesn't include premium features like ASN targeting, which could be a great limitation.
Features:
10-20M peer-to-peer residential IPs
Over 150 countries (country, state and city targeting)
Rotation every request or keep the same IP indefinitely
Unlimited connections
Whitelisted IP & user:pass authentication
API & browser extension
Pricing: from $300 for 20 GB ($15/GB). 7-day free trial available.
Read the NetNut review for more information and performance tests.
---
SOAX has around 5M residential and 3.5M mobile proxies. It's a cheaper provider that charges by traffic and offers features like country, state, and ASN targeting – a golden standard for TikTok account management. The proxy rotation options range from 90 to 600 seconds. After testing a handful of mobile proxy providers, SOAX showed great results – its proxies reached almost 99% success rate, while Blazing SEO's was less than 89%.
However, SOAX doesn't support rotation with every connection request, and that can limit web scraping potential. Also, depending on the pricing plan, you can access only 300-600 IPs at once.
Features:
5M residential, 3.5M mobile IPs
Global locations with city & ASN targeting
Rotation from 90 seconds to as long as the IP remains available
Concurrent connections limited by plan
Whitelisted IP & user:pass authentication
Pricing: mobile proxies start from $99 for 3GB ($33/GB) + 300 ports. 3-day trial for $1.99 available.

---
Rayobyte offers mobile proxies, which, unlike other providers of this proxy type, are mixed dedicated devices with IPs borrowed from other people. Its proxies come in with a built-in proxy manager and are much cheaper than most mobile IPs. The proxies support rotation every request for medium-sized scraping projects.
Even though the low price is tempting, these mobile proxies are very slow. According to our latest data, the average response time is above 7s, while other providers managed to go under 2s.
Features:
Unknown pool size
Supports HTTP(S) protocol
Only US-based locations
Rotation every request
Unlimited connections
Pricing: from $50 for 2 GB ($25/GB).