Taking over the proxy world by storm?
Not quite. Storm Proxies is too small and limited for that.
It has just 70,000 proxies, no real dashboard, limited configuration options, and you can't even country target the few US and EU locations available.  This is nothing compared to the bigger players, Oxylabs, Smartproxy, or Luminati.
Still, the company has carved itself a comfortable niche with a surprisingly loyal following. Storm Proxies is all about small-time scrapers, sneaker coppers, Instagram managers, and Pokemon catchers – and it won't try to talk you into thinking otherwise.
The pricing is also telling: the largest residential plan charges $300; some companies start with more, perhaps twice that.  Add in a few well-placed ads here and there, word-of-mouth recommendations, and suddenly Storm Proxies' popularity starts making sense.
The only real expectation here is for the actual proxies to work well – and they do.
So, let's return to our initial question: is Storm Proxies taking the proxy world by storm? No. But it's doing a pretty good job regardless.
Pros
Unlimited bandwidth
Inexpensive
Specialized plans
Cons
Small proxy pool
No location targeting
Average performance
Key Features
Proxy types: Residential (rotating), datacenter (dedicated, shared)
Protocols: HTTP, HTTPS
Locations: US, EU
Targeting: US, EU, or both
Authorization: Whitelisted IPs
Sub-users: Not available
Dashboard: Yes
Support: 24/7
Pricing: From $19 for 1 port ($19/port) for residential proxies
Payment options: Credit/debit card, PayPal, Amazon Pay
Trial: 24hr refund for residential proxies
Storm Proxies Residential Proxies
Storm Proxies offers around 40,000 rotating residential proxies. The provider claims that its residential IP technology is something you can't find anywhere else on the market. I don't buy it.
Features: 2/5
Mostly the basics. 
The residential proxies cover US and EU locations. You can't really choose which countries or cities you want to target: it's either US, EU, or half and half. This makes Storm Proxies unsuitable for tasks that need accurate location targeting.
Like most peer-to-peer residential proxies, these ones are backconnect. They rotate automatically every request, five, or fifteen minutes. You can't specify a custom rotation time, which would be nice.
The proxies support HTTP & HTTPS protocols. This is enough for most tasks, but no SOCKS5 limits such use cases like streaming, torrenting, or gaming.
If you have particular needs, Storm Proxies can offer you residential proxies optimized for sneaker sites and ticket sales. Such IPs should be clean for the relevant target websites, and in the case of sneakers – close to the servers of main sneaker sellers (mostly Shopify).
The authentication method here is whitelisted IPs. User:pass is not available. You can only whitelist one IP address, no matter which plan you choose. Considering how small the provider's plans are, such a limitation does make sense. I only wish both authentication methods were available.
Cheap price and no bandwidth limits. 
Simply put, these residential proxies are cheap and accessible. The pricing starts from just $19 and reaches $1,600 per month for the largest plan. Each plan gives you access to the full 40,000 proxy network.
Storm Proxies does not sell by bandwidth, nor by the number of IPs. Instead, you'll be paying for open ports. This basically means the number of gateway addresses you can access.
Specialized plans for tickets and sneakers cost the same amount as general plans – but it might not look that way because their webpages display bigger packages.
You can get a 24-hour money-back guarantee, but only if you buy the small $50 plan.
Passable but not for demanding tasks. 
Compared to the market leaders, the performance of these residential proxies fails to impress. In our tests, they displayed mediocre success rates. I'm afraid, they weren't particularly fast, either, and this year Storm Proxies won't be getting the Fastest Proxies award again.
I'm not very happy with the performance under load, as well. With 200 concurrent connections, only 40% of the requests went through. Compared to over 90% by Smartproxy, Oxylabs, or NetNut, this isn't much at all. So, I wouldn't suggest pushing these proxies very hard.
The hardest target for Storm Proxies to crack was Google. Only every fifth request managed to succeed, and almost half of the failed requests were blocks. To be fair, Storm Proxies only recommends its rotating private proxies for SEO; but in our experience, datacenter proxies tend to do worse than residential IPs against hard targets like Google. On the bright side, the proxies worked much better with unprotected websites and even Amazon.
We tested the residential proxies with multiple online tools to check if they make you anonymous. We found no IP leaks, but one website managed to recognize an IP as a proxy.
All things considered, Storm Proxies residential proxies aren't bad, especially knowing that we pit them against the best providers on the market. But the tests show things as they are – that the proxies hardly suitable for serious business use. On the other hand, if your needs are small, let's say cop a pair or two, they might just be good enough.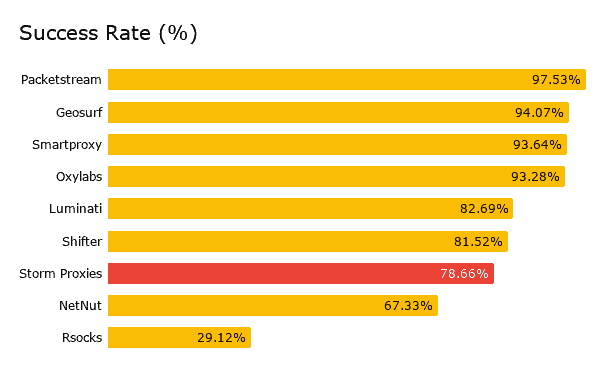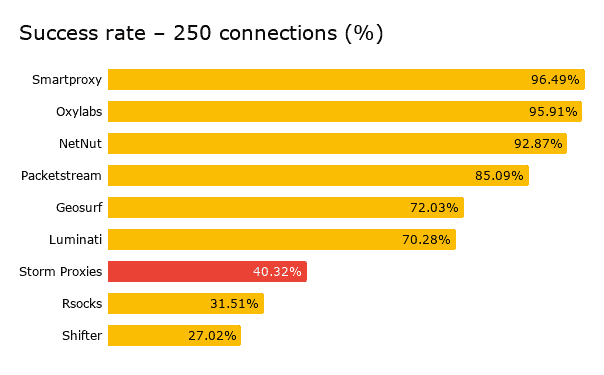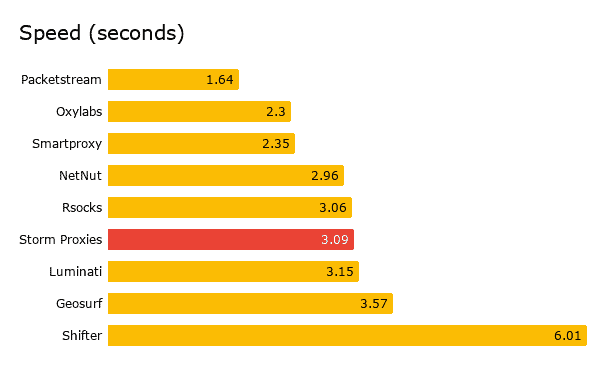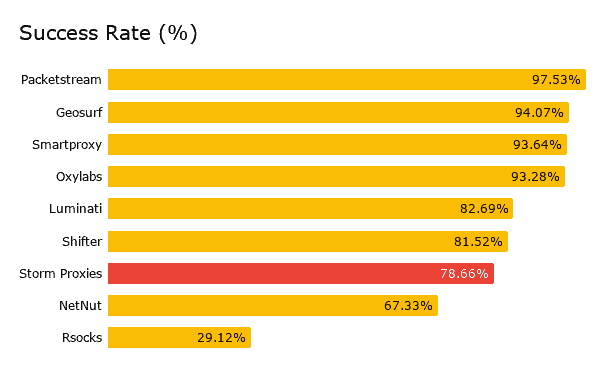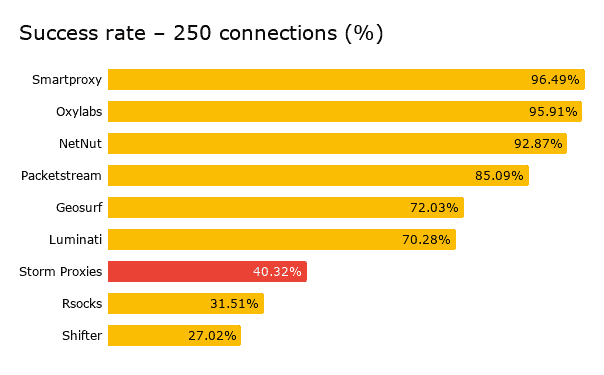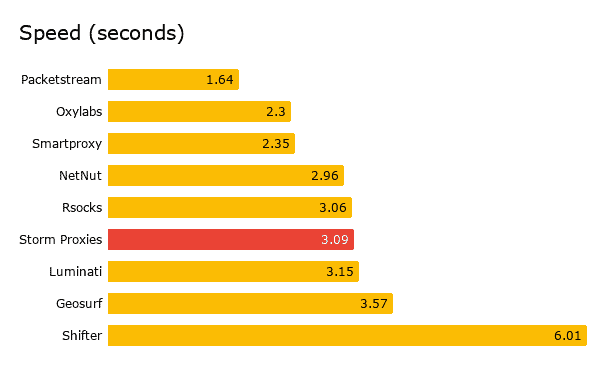 How to Use Storm Proxies
Imposing but easier than it seems.
To create an account with Storm Proxies, you'll have to enter your full name, email address, and a password.
You'll also be asked to choose a plan – you can register without paying, but it won't be much use, as you won't be able to see the IPs addresses.
Note that there are different registration forms depending on the page you used to register; there are also warnings about proxies not working with certain use cases. I find such honesty very welcome.
Only the basics covered.
The dashboard, unfortunately, is quite lacking in features which could make using the proxies easier.
Although you can renew plans and change credentials or your whitelisted IPs, there's not much else. You won't find usage statistics, and there's no support ticket functionality or live chat on the dashboard.
Customer Support
You can only get in touch with support by filling out a contact form, which seems pretty outdated. Storm Proxies then reply directly via email. In my case, they took under an hour to respond, which is good enough.
Despite this, the company's claim of offering "premium" support raises an eyebrow when there's no live chat functionality or support tickets. Implementation of such support options would surely make using their services more convenient.
Storm Proxies Conclusion
Storm Proxies won't be able to wow you with variety.
You won't get millions of IPs, advanced geo-targeting, fancy dashboards, account managers, browser extensions, or SOCKS5 support.
They also might not be the best choice for large scale use. But you will get good proxies: if you don't work with search engines, you'll find them stable and reasonably fast.
Storm Proxies even went the extra mile and made proxy rotation simple. Don't get me wrong – it's nothing unique, but nonetheless a nice touch.
The provider's customer service is also good, simply not very convenient.  I'm just not sure how residential the proxies really are. But I'm hesitant to make any strong claims here, so let's leave it at that.
Overall, Storm Proxies has got the fundamentals down, and its proxies will do very well for some simpler, practical tasks. However, if your requirements call for a more versatile proxy provider – or you have high demands – there are more options to choose from.