Storm Proxies
Storm Proxies have very fast proxies and perform great with most targets (except search engines). However, a lack of features can stop you from choosing Storm Proxies.
Pricing starts from $10/month, 5 proxies included

Over 45K residential IPs

Unlimited bandwidth

24-hour money back guarantee
Stormproxies offer a pool of 40K rotating residential IP proxies that rotate every 3 to 15 minutes. This is ideal for those who require different IPs whether for scraping sites, SEO tools and/or sneaker sites.
For their residential proxies, they offer a 24-hour money back guarantee and a 24/7 customer support. Always a plus.
Storm Proxies Residential Proxies
General Review
Traffic
All pricing plans come with unlimited bandwidth.
Pricing
Storm Proxies offer 4 pricing plans and also do not charge per GB, but rather per port. Starting from $19 per port. The price depends on how many ports you want to have. With more ports, you can put more load through them.
Pool Size
Storm Proxies have 40,000 rotating residential IPs.
Locations
Storm Proxies let you choose only from the U.S. and European Unioncountries.
Setup
This is how Storm Proxies describe their setup:
"You will receive several "proxy gateway" IPs that you need to enter inside any software that should make a proxy connection. By accessing our "proxy gateway" servers with those IPs, your software will receive a new proxy IP after every 5 minutes. You don't need to change the IP in your software – all proxy rotation automatically happens on our side."
Authorization Method
Whitelisted IPs. You can whitelist only one IP.
Sub-users
Not available.
Session Control
By default, Storm Proxies hold the same IP on the same port for a certain period of time.However, you can't choose this time yourself, which would be nice.
Filters
Location. You can choose either USA proxies or EU proxies.
Proxy type. Not available.
ASN/Provider/Carrier. Not available.
Protocols
Only HTTP protocol is supported.
Dashboard
Usage statistics. Not available.
Credentials/Whitelist IP change. Yes.
Support tickets. Not available.
Renew plans. Yes.
Live chat. Not available.
Customer Support
You can contact Storm Proxies Support by filling out a formon their website. Once you do that, an automated response comes to your email and for the "real" answer you have to wait a bit. We've used this form for a few times and each time the answers came in less than an hour. Well, not the best solution for customer support, but at least the answers were helpful.
Performance
When it comes to speed, Storm Proxies performed better than average. We checked their speed using the free FOGLDN Proxy Tester. You can see the test results in the print screen below.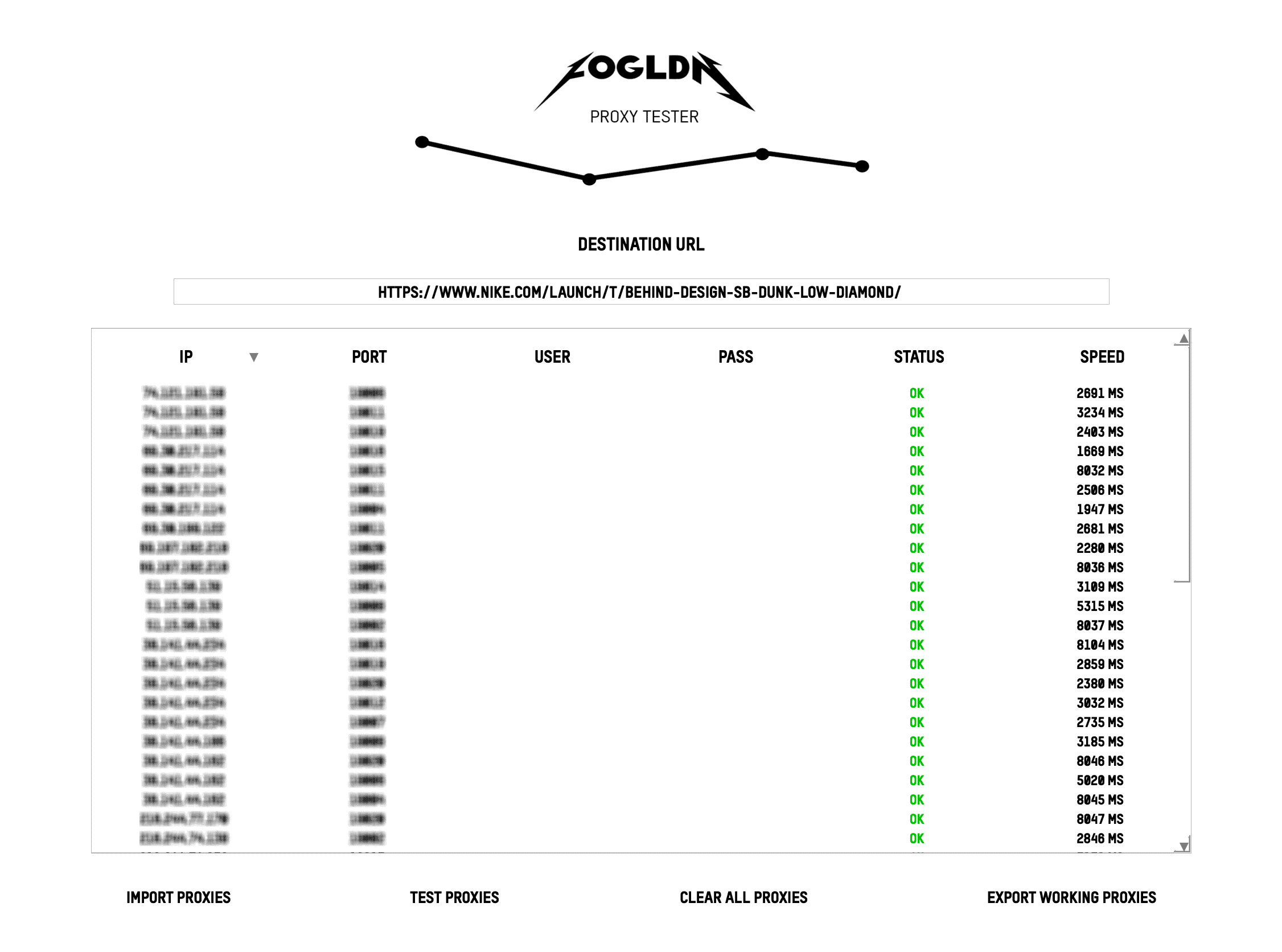 As you can see, Storm Proxies are quite decent with their speed and, to answer the question if we would use them for sneaker copping – yes, we would. We've rated best sneaker proxies before, so check the full list.
As per usual, we tested the overall performance of Storm Proxies proxies by putting them on an increasingly growing load. The graph below shows what happens when we do that:
It's easy to notice that when we increase the number of concurrent connections, timeouts begin to rise.The number of blocked IPs is stable and as for connection errors, they only grew slightly.
Below you can see a detailed breakdown of the performance test results. As with other residential proxy providers, we used a 300 concurrent connections' benchmark.
Storm Proxies work great with almost all targets, except search engines, but we'll get to that a bit later. As for targets such as Aliexpress, Amazon or Facebook, the results look really good with the average success rate of 85%.
Also, the number of connection errors is small. There is no more than 10% of timeouts.
However, when it comes to search engines, Storm Proxies residential proxies are almost absolutely blocked on Google and Yandex.As you can see from the table below, the blocks to Google were only the 503 error (recaptcha). While pinging Yandex, we mostly got the 200 error (captcha), there were just a couple of the 404 errors.
We got some other blocks here and there but there were not too many of them.
| | | | | | | |
| --- | --- | --- | --- | --- | --- | --- |
| Blocked requests statistic |   |   |   |   |   |   |
| Target/status | 404 | 403 | 429 | 200 (captcha) | 503 (recaptcha) | 502 |
| www.aliexpress.com | 7 | 0 | 0 | 0 | 0 | 0 |
| www.amazon.com | 7 | 0 | 0 | 115 | 0 | 0 |
| www.booking.com | 6 | 0 | 0 | 0 | 0 | 2 |
| www.facebook.com | 8 | 0 | 0 | 0 | 0 | 0 |
| www.google.com | 11 | 0 | 0 | 0 | 10876 | 0 |
| www.instagram.com | 11 | 0 | 0 | 0 | 0 | 0 |
| www.wayfair.com | 7 | 5 | 1 | 0 | 0 | 0 |
| yandex.com | 2 | 0 | 0 | 10398 | 0 | 0 |
As to the average response time, compared with other proxy providers, Storm Proxies are very fast.
As you can see, the average response time is somewhere around 4 sec.
After conducting this test and analyzing its results we had a suspicion that Storm Proxies residential proxies are actually direct Internet Service Provider (ISP) IPs. They are fast, stable and heavily blocked on search engines. Also, Storm Proxies have a suspiciously small residential IP pool, only 40,000 proxies. On top of that, we noticed some similar subnet classes.
Conclusion
If we're right and Storm Proxies are actually selling direct ISP IPs, their IPs shouldn't be categorized as residential ones. But for the sake of this review, let's say that they are actually residential proxies.
So, to sum up, the performance test showed that Storm Proxies have very fast proxies and perform great with most targets (except search engines). However, a lack of features can stop you from choosing Storm Proxies. We don't count the selection between the US and EU countries as a proper location filter. Also, you can't choose a proxy type or ASN.
Overall, Storm Proxies dashboard is one of the worst dashboards we've ever seen. You can't see your usage statistics, set a custom session control time or whitelist more than one IP which is especially troublesome if you want to use proxies on a few machines.
Moreover, Storm Proxies customer support system is not user friendly, so in the end, we can rank them only as an average proxy provider.
Rating: 7.7
See the full list of the top residential proxy providers.
Storm Proxies Dedicated Proxies
UPDATE: April 11, 2019
by Adam Dubois
Hey everyone, Adam here. Chris previously reviewed Storm Proxies residential proxies and now it's time to take a look at what they offer in terms of dedicated proxies.
It's worth noting that Storm Proxies have both general dedicated proxies and proxies optimized for specific uses, namely – ticketing and social media proxies (Instagram proxies and Twitter proxies are available among all other). They also offer proxies meant to be used with Pokemon Go bots. Wait… Is Pokemon Go still a thing? 
In this review, I will be focusing on their general use dedicated proxies and also share the results of some tests I've performed.
General Review
With their dedicated proxy plans Storm Proxies offer:
Unlimited bandwidth with each pricing plan
1 GB/s network connection
Previously unused ("virgin") IPs
100 concurrent threads
Multiple subnets and IP classes
These are all nice to see, however, nothing out of the ordinary.
Aside from unlimited bandwidth, which is a nice perk, Storm Proxies also offer a 2-hour money back guarantee with all general dedicated proxy plans. This means that you can test their service without immediately committing to the purchase which is definitely a plus.
Pricing
If you're buying a smaller amount of proxies, Storm Proxies offer somewhat average market prices for general use dedicated proxies. However, the price per proxy becomes quite competitive when purchasing their largest 400 proxy plan which will only cost you $1 per proxy. Prices range from $10 for 5 proxies to $400 for 400 proxies, billed monthly.
Pool Size
According to Storm Proxies support, they have a total pool of 340k dedicated data center proxies which makes them a medium-sized proxy provider.
Locations
Storm Proxies offer proxies located only in the US. According to their support, they cover these states: NY, WY, GA, CA, IL, TX, DE, MO, FL. 
This is mostly fine if you want to use your proxies with US-based services, however, this factor limits use cases which means that Storm Proxies might not be a suitable proxy provider for more demanding users.
Authorization Method
After your purchase, you will get a list of private proxies with credentials in this form:
IP:Port:Username:Password
You can also whitelist your IPs and use proxies without the user:pass authentication.
Filtering
The proxies are located in the US only, so there's no need for filtering by location.
Supported Protocols
Storm Proxies only support the HTTP protocol.
Dashboard
Usage statistics. Not available.
Credentials/Whitelist IP change. Yes.
Support tickets. Not available.
Renew plans. Yes.
Live chat. Not available.
The dashboard, unfortunately, is quite lacking in features which could make using Storm Proxies dedicated proxies simpler. Although you can renew plans and change credentials or your whitelisted IPs, there's not much else. You won't find usage statistics, and there's no support ticket functionality or live chat.
Customer Support
Live chat. Not available.
Support tickets. Not available.
Email support. Yes.
24/7? Yes.
You can only get in touch with support by filling out a contact form, which seems pretty outdated. Storm Proxies then reply directly via email. In my case, they took under an hour to respond, which is good enough. 
Despite this, their claim of offering "premium" support raises an eyebrow when there's no live chat functionality or support tickets. Implementation of such support options would surely make using their services more convenient.
Performance
Despite some shortcomings in customer experience, in general, Storm Proxies dedicated proxies perform well. That is, with a few notable exceptions, but more on that later on. 
As is tradition, I have tested the overall performance of their dedicated proxies by increasing concurrent connections to target websites and here are the aggregated results.
We can see from this chart that the load doesn't matter much – going from 50 to 500 threads, the successful connection rate decreased by only 1.55%, which is essentially insignificant. So I have to hand it to them, Storm Proxies dedicated proxies are respectably stable.
There were also virtually no timeouts, connection or other errors.
Now, let's take a look at how their dedicated proxies performed in relation to different targets. For this, I once again chose the approximate middle – 300 concurrent connections.
Storm Proxies dedicated private proxies perform great with most of the tested targets, reaching an almost 100% average success rate essentially without any connection errors, timeouts or blocks. It doesn't come as a surprise since dedicated data center proxies are usually more stable than their residential counterparts.
However, problems become apparent when targeting search engines, which is difficult or near impossible to do with their data center proxies. As you can see from the chart, Google had a low success rate of 27.36% and Yandex.com was even worse with a measly 3.77%.
What's more, utilizing Storm Proxies for Amazon scraping would also not be the smoothest experience as only 3 out of 4 requests would be completed successfully.
In the case of Yandex and Amazon blocks, 502 or 503 error codes were returned by the server. Google, however, required to solve CAPTCHAs, which is another factor that should be taken into account.
Now, to complete the performance review, one last chart regarding connection speed. As with their residential proxies, Storm Proxies dedicated proxies are notably fast.
The average response time is 1.97 seconds. No complaints here.
Conclusion
To sum up, despite excelling in some areas, Storm Proxies seriously lack in others. They offer both general and specific use dedicated proxies which are reasonably priced, fast and stable. Also, the money back guarantee is a nice perk.
The main issue with their private proxy service is the limiting factors. First of all, the IPs are located in the US only. Then, there's the fact that their dedicated proxies are essentially unusable with search engines or Amazon. On top of all this, Storm Proxies have subpar support options, and the dashboard is noticeably lacking in features.
Taking everything into account, Storm Proxies general dedicated proxy service can be a practical solution to perform some data extraction tasks, depending on the target. However, if your requirements call for a more versatile proxy provider, I would consider Storm Proxies twice before choosing them.
Rating: 7.5
See the full list of the top dedicated proxy providers.