Essential NFT Slang Terms Every Beginner Should Know

Mint? NGMI? Terminology is a huge part of NFT Twitter culture. If you don't know it, you might feel a little dizzy while trying to navigate through the ever-growing space. That's why I compiled this list of frequently used NFT slang that you can use as your very own NFT vocabulary. (There might be a bit of crypto slang in here too. Shh..)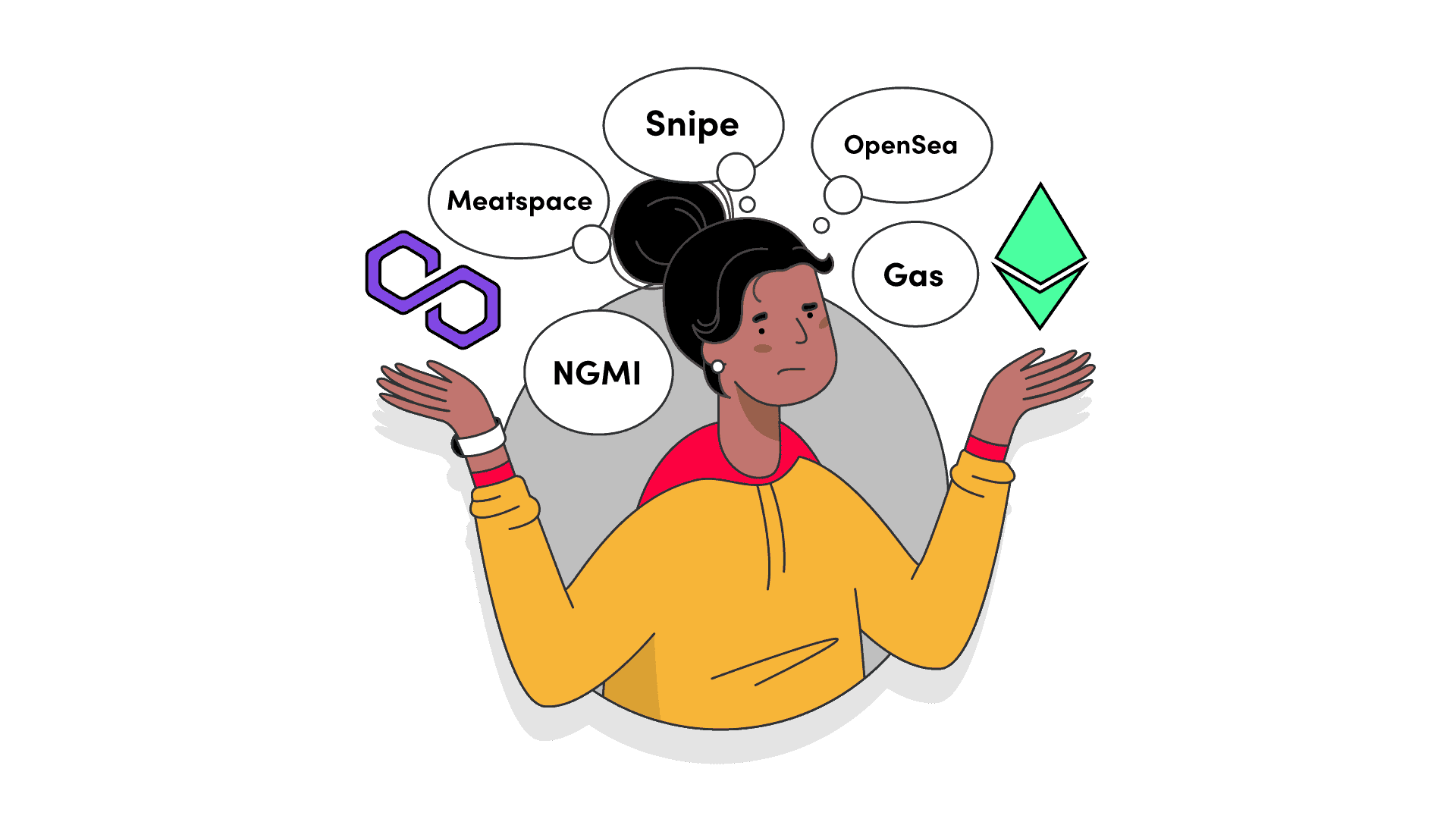 Apeing in or Aped in – when one buys into something, and you believe it's a good deal or that it has future value.
Buying on secondary – Buying already minted NFTs on marketplaces such as OpenSea.
Cop – to get an NFT.
Dapps – Decentralized applications.
Delist – to remove NFTs from a marketplace.
Derivative – an NFT project derived from an original project. For example OG projects such as Crypto Punks and BAYC have a loooot of derivatives.
Diamond handing – refraining from selling an NFT.
Down Only – the undesirable direction for the state of NFT prices.
Few – few understand.
Floor price – the lowest priced NFTs on the market.
Gas – the fee that most NFT trading platforms charge. It's determined by the amount of traffic on the network and the computation power taken to execute a transaction.
Gas limit – a set number of gas that a person wants to spend on a transaction.
Gas wars – surge in gas prices.
Generative Art – algorithmically generated art.
GMI/WAGMI – Gonna Make It / We All Gonna Make It. The state of happiness that good times bring to the NFT community. This could be brought by a successful purchase or a sell.
LL – Larva Labs (John Watkinson and Matt Hall) the creators of Crypto Punks, Autoglyphs and Meebits.
LFG – Let's F***ing Go. Usually used when one is super excited.
Looks Rare – often used ironically to describe an NFT that actually isn't rare.
Meatspace – term used to describe the real world. Synonym for IRL.
Mint – the act of initially issuing a piece of art on the blockchain. The issuing can be done either by the artist or the collector.
NGMI – Not Gonna Make It. Often used in a self-deprecating way about one's unprofitable decisions.
OpenSea – the biggest NFT marketplace.
Paper handing – selling an NFT too early. 
PFP – Profile Picture. Avatar based digital art is often used as profile pictures on social media.
Rarity – one of the most important aspects of determining the value of an NFT. The rarer the NFT the more valuable it is. Overall rarity of an NFT is calculated based on the rarity of the different traits that it's compiled of. Traits could be avatar's hair, garment, eye shape and MANY more things.
Right Click Save As – the act of downloading digital art from a web browser and setting it as PFP. Usually done by people that don't own any NFTs.
Roadmap – the set of activities NFT project developers set out to accomplish. Roadmaps often add value and trust to a project.
Rug pull – when an NFT project developers abandon their project and disappear with the investment.
Snipe – to buy an NFT for less than its actual worth. Sniping usually occurs when someone is asking for too little because they aren't aware of how rare their NFT is.
Sweep the floor – buying all NFTs listed at the current floor price.
Szn – Season or market cycle. 
Up Only – the desirable direction for the state of NFT prices.
Wen Moon – a term referring to the price of an NFT becoming so high it ascends to the moon. This phrase originated in the crypto side of Twitter.
1:1 Art – unique or 1 of 1 art pieces.
1/1 of X – art pieces that belong to a coherent collection in contrast to 1:1 art. So, if a collection consists of 10 000 art pieces and you owned one of them you could say you own 1/1 of 10 000.  
Congratulations on reaching the end of the list! Didn't get an explanation of a term you were wondering about? No problem, just leave it in the comments and I'll add it to the list.