How to Successfully Cop Yeezys with a Bot
Follow this step-by-step tutorial and learn how to cook Yeezys with a bot.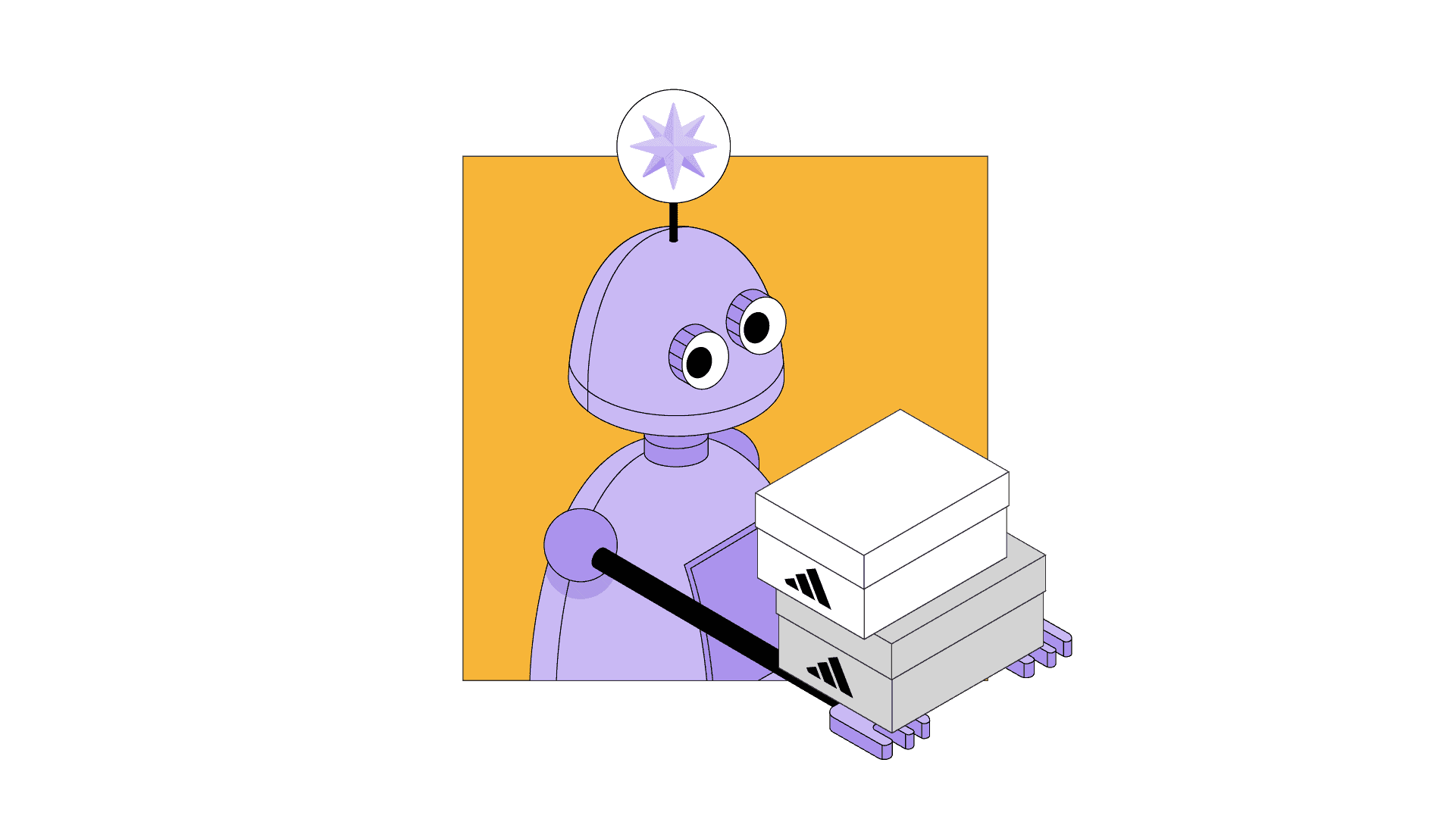 If you don't want to rely solely on luck in your Yeezy copping process, you might want to get a trustworthy bot. Sure, you can try to buy these sneakers without one, but let's be realistic – every experienced sneakerhead is using bots and you can't beat them on your own. That's why, a fast and efficient bot can get you ahead of the game. 
However, getting started with a bot might be a little intimidating. To reassure you, we've prepared a detailed guide to walk you through the process of setting up a bot to cook Yeezys from the Yeezy Supply store. Keep in mind that while our bot of choice for this guide is Polaris, most of the sneaker bots work similarly. So, even if you have something else, let's say Splashforce, Cybersole, or AIO Bot, this guide will lay a foundation for how to use them.
Why Polaris Bot?

Well, two reasons:
Polaris has gained popularity over its high success rates for Yeezys. It's particularly useful because it has a special mode that solves captchas for you, so you don't have to worry about captcha harvesters. Easy.  

We were lucky enough to get our hands on it for this guide. 
Polaris is an AIO bot that has been around since 2017. It costs $360 and every 6 months, you pay $120 to renew your subscription. However, just like most bots, it gets sold out quickly and you have to keep an eye on Twitter to see when it goes on sale. You'll most likely have to rent it or buy it from a reseller – though  you won't be pleased with the price, as Polaris Bot usually starts from $1,500. 
Ready, Set, Cop: How to Set Up the Bot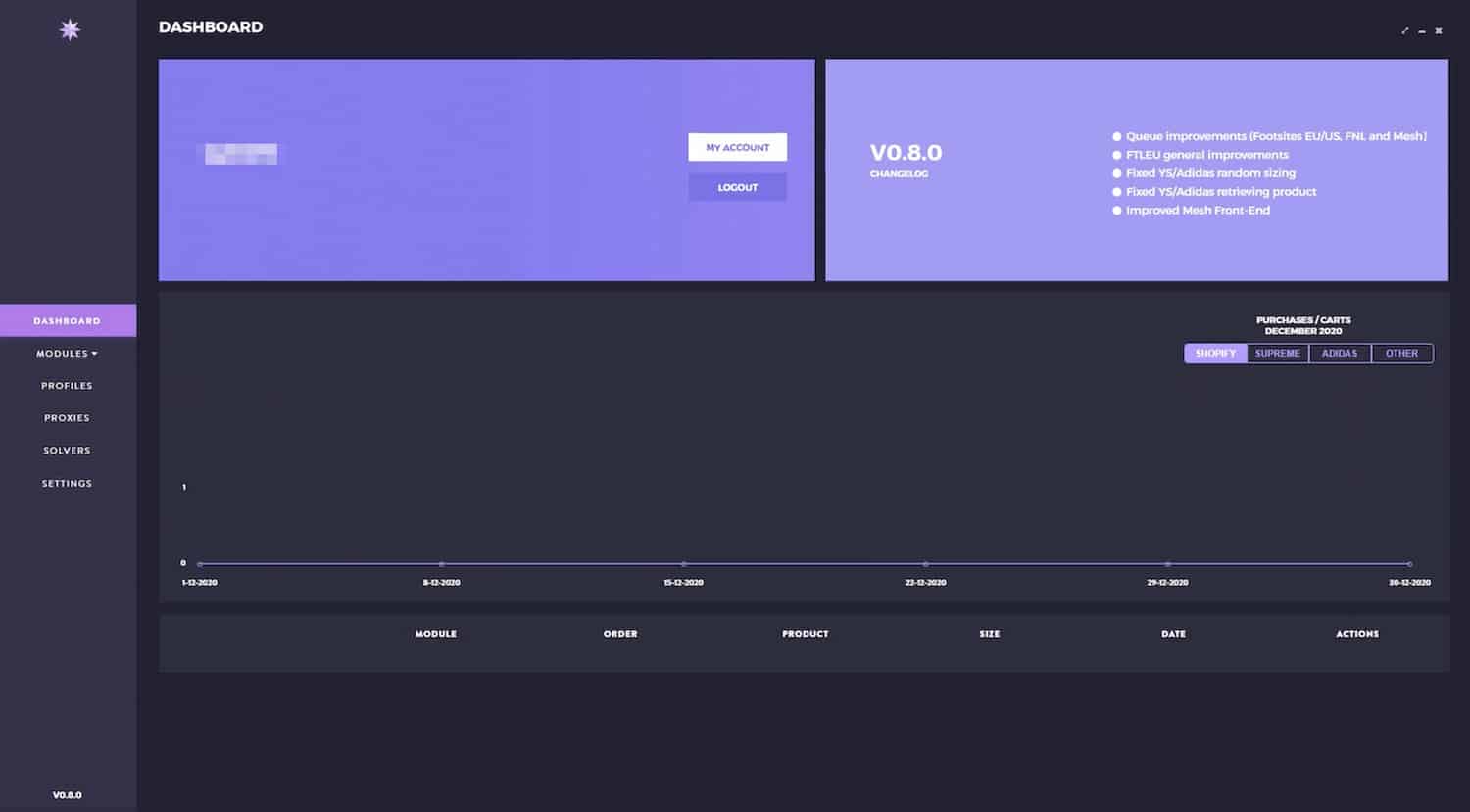 Do you have your bot installed and ready to go? Great, let's dive in. First things first – Polaris has 6 main tabs:
Dashboard

. It shows your recent purchases.

Modules

. In this tab, you create your tasks for the store you'll cop from.

Profiles

. Your billing and shipping information goes here.

Proxies

. Don't want to get blocked? Input your proxies here.

Solvers

. In this tab, you can set up captcha solvers.

Settings

. Here you can find some additional functions.
You should see something very similar in other bots, too. 
Step 1. Checking settings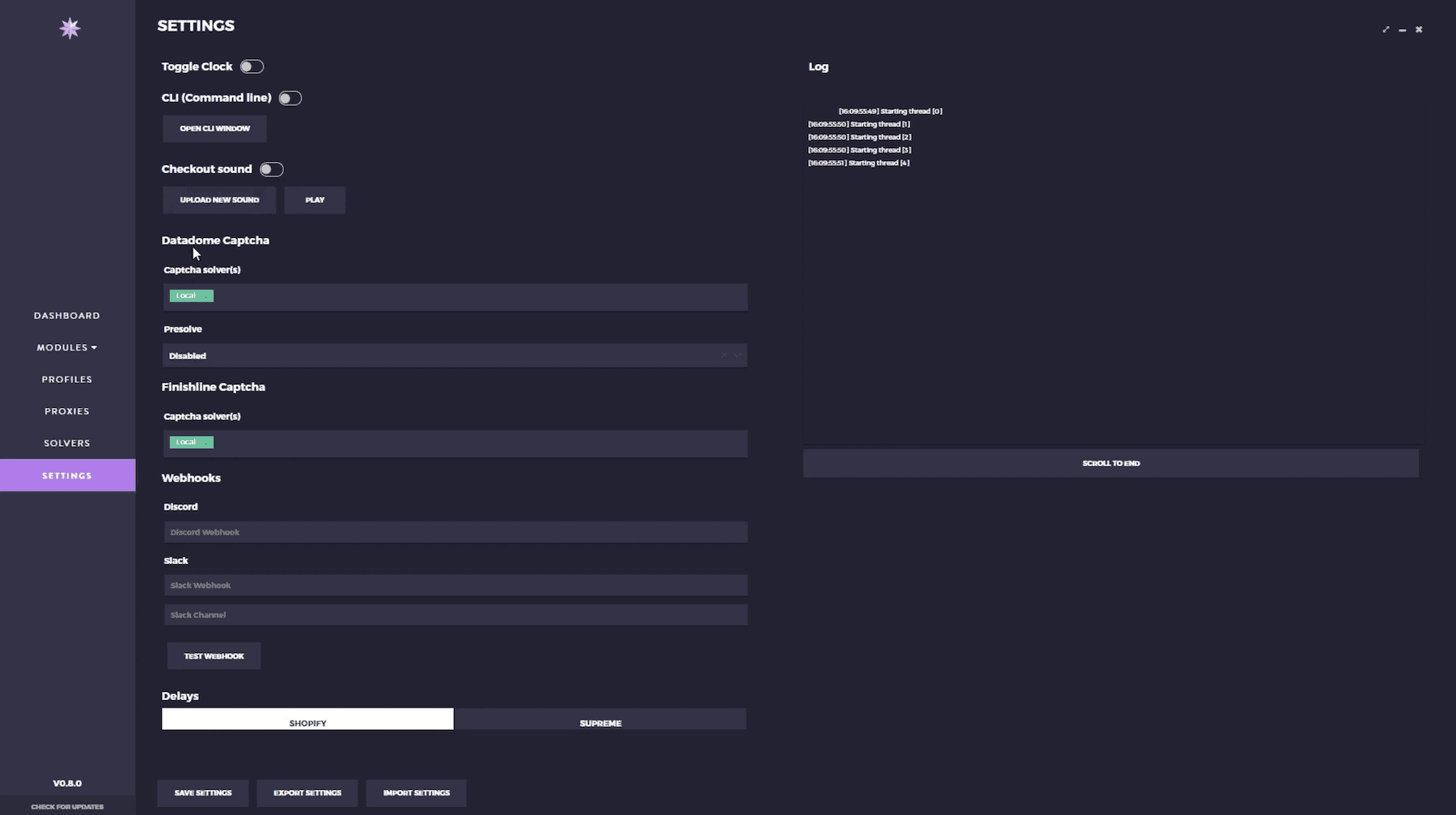 Let's start from the bottom – settings. Here everything is pretty self-explanatory and depends on what you need. If you prefer, you can toggle on the clock and choose a checkout sound. Adding webhooks will allow you to track your process via Slack or Discord. 
In the Polaris settings you will notice Datadome and Finishline captcha fields. Datadome is a security method used by Footlocker and the other one is exclusive to the Finish Line store. Since we are copping from Yeezy Supply we don't need to do anything with these settings. 
Step 2. Adding proxies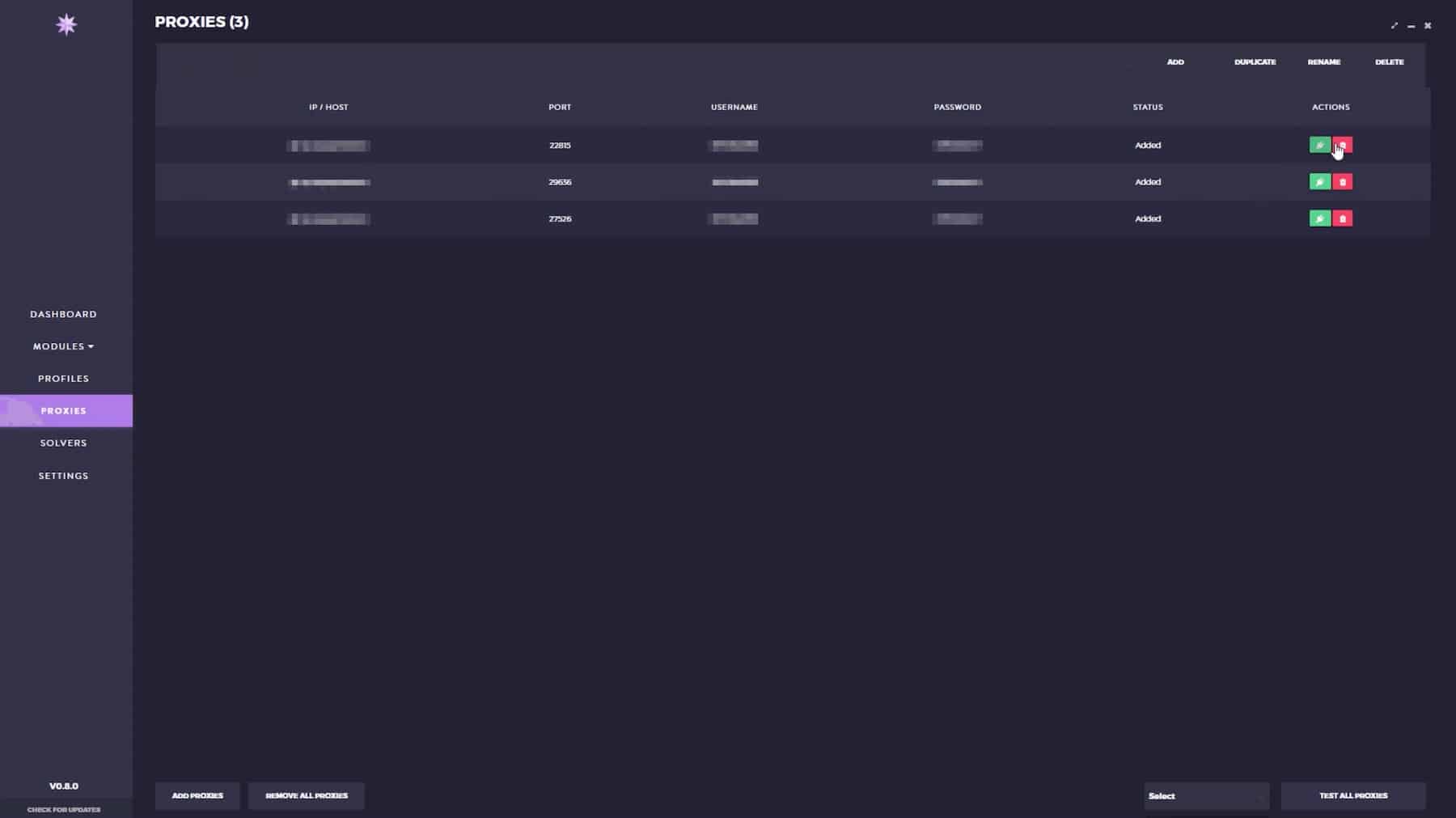 What you definitely need are proxies. They will allow you to make multiple requests to Yeezy Supply without getting blocked.
For our cop, we decided to use ProxyDrop as our provider. It offers affordable sneaker-optimized residential & ISP proxies with low MS. ProxyDrop is a pretty new provider, but we found it to work well with most shoe stores. Just remember to choose US IPs because otherwise you risk getting blocked. 
To add your proxies simply click add proxies and paste them in. Easy as that. 
Step 3. Adding billing and shipping information.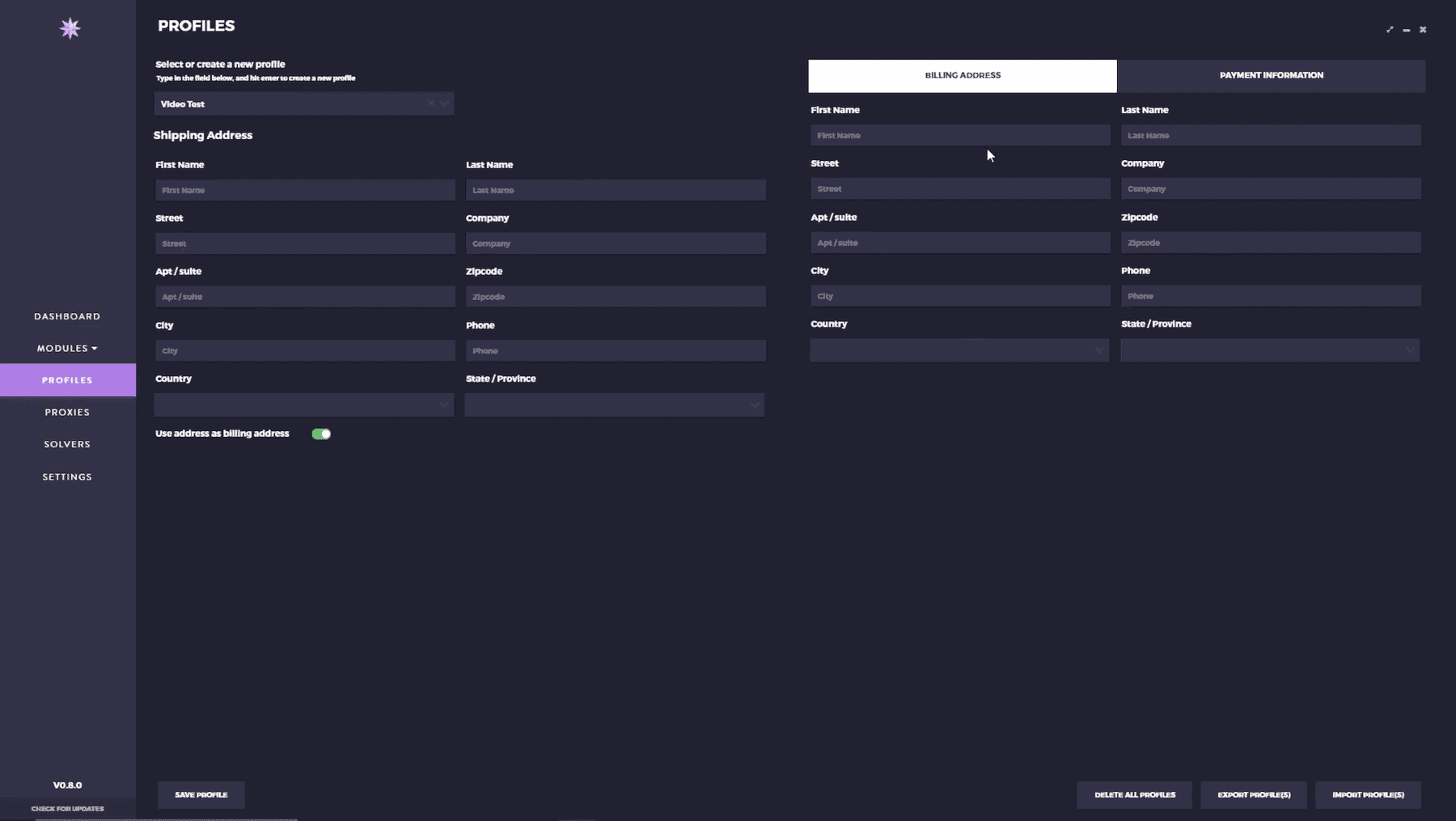 Now it's time to set up your profiles. In this section, you have to fill in your shipping and billing details for automated checkout. 
While this part seems the easiest, there are several important things to keep in mind. Make sure that you don't attach the same payment details to a large number of tasks. You should be using several different credit cards or other payment methods. Why does it matter? If you decide to use the same credit card for many purchases, your activity can get flagged, and then all of your orders will be canceled. 
The same goes for your address. Sneakerheads who don't have several names and different addresses, use a trick called jigging. This trick simply means that they make small alterations to their address, such as changing "lane" to "ln" or road" to "rd". Some go as far as adding random letters or numbers before their address. For instance, 123 Mount Road. You can experiment with this trick, but make sure your order can still be delivered with no issues. 
Step 4. Creating tasks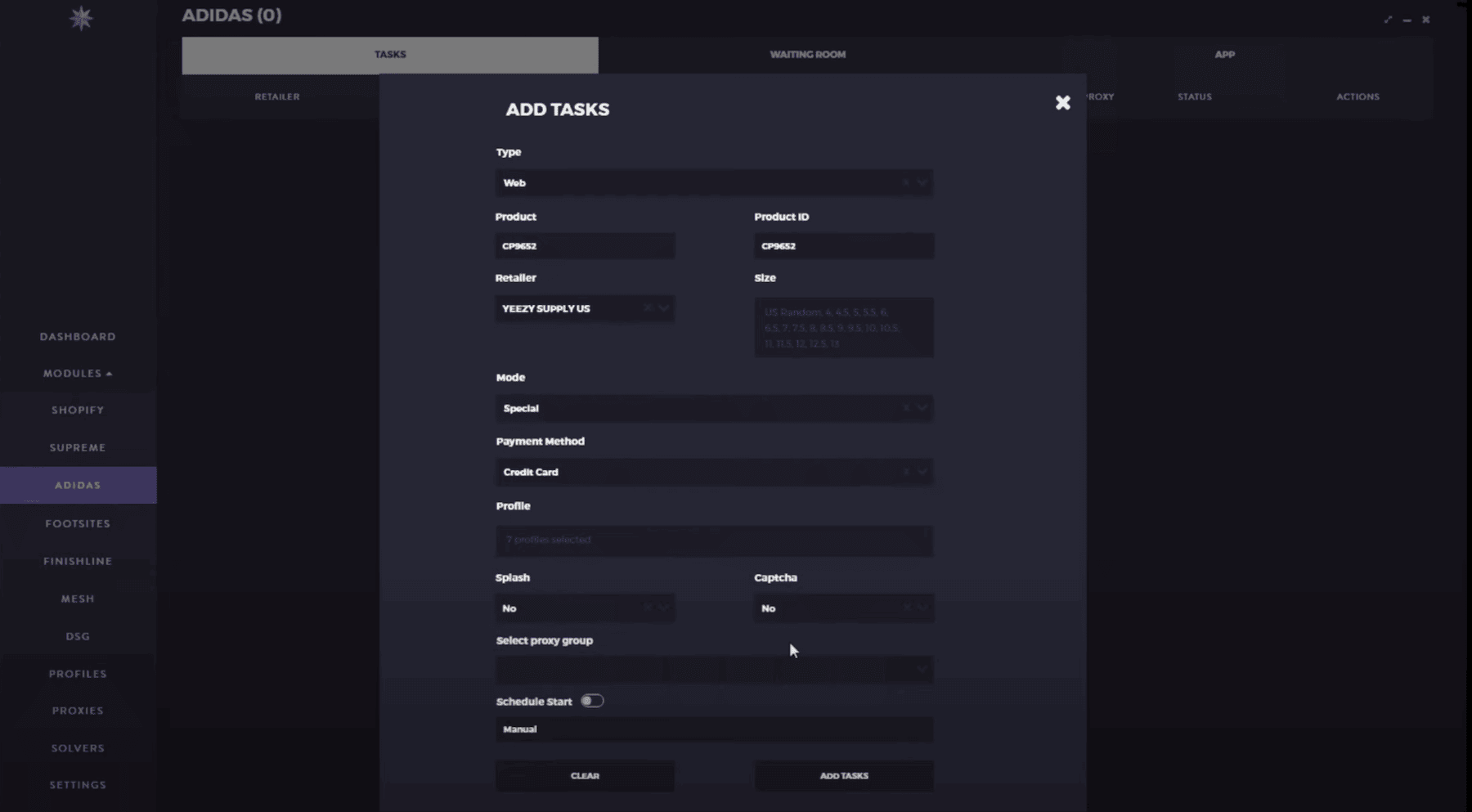 Finally, you can create tasks. Tasks are requests your bot will be making to the website. In the modules section of Polaris, you won't find Yeezy Supply, because you have to choose Adidas first. Click add tasks and fill out the form. Here's how to do it correctly: 
In the release type pick WEB. 
You can input whatever you want in the product section. This field doesn't affect anything; however, it can help you to navigate your tasks easier. 
As you may already know, each Yeezy has its own unique ID. You can find them in cook groups, and once you get the one you need, input it into the product ID field.
The retailer field is where you can find Yeezy Supply – do so and select it. 
The size field allows you to pick shoe sizes. Here, you have to decide which size you want to cop. If the size doesn't matter just pick a random option. Note that the most popular sizes will always have higher competition.
The proxy group field allows you to choose a specific proxy group.If you have not grouped your proxies, just pick random. 
Are you going to be available for the start of the cop? In case you won't, it's a good idea to schedule your cop for it to start automatically. You can do that in the schedule start section. Our best advice is to check for updates on drop dates, as they may start sooner or get delayed. 
In the payment method, choose either credit card or PayPal depending on which payment method you set up in your profile.
A word about CAPTCHAs
Probably the best part about the Polaris bot is the special mode which deals with CAPTCHAs on your behalf. This mode solves anti-botting measures and takes the pressure and additional work off of you. However, there's a catch: you can only run up to 100 tasks. For queue-based stores like Yeezy Supply, you might want to create a lot more tasks. 
Why having 100 tasks may not be enough? To put it simply, tasks work like multiple browser tabs to the same site. With the help of your bot and proxies, the website you're targeting identifies these tabs as requests made by different users and puts them all in a line to purchase sneakers. The more tasks, or "tabs", you have, the bigger are your chances to get closer in line to purchase before the stock runs out. 
If your bot doesn't have the special mode, or if you have decided to run more than 100 tasks on Polaris, you're going to have to deal with CAPTCHAs. Retail stores often try to protect themselves from botting activity by popping an image or one-click challenge right at the checkout. 
Luckily, most bots have built-in captcha harvesters, so you don't need to get an additional tool. However, what you are going to need is trustworthy Gmail accounts and separate proxies for each of them. 
You might be wondering what we mean by trustworthy. Well, to make sure you're not a bot, Google tracks online activity of your Gmail accounts and assigns a score to them. If you get a good score, you will receive a reECAPTCHA V3, also known as a one-click CAPTCHA, and your bot will handle it. That's why you should get aged Gmail accounts to add them to your captcha harvester and create an activity (it is usually done by watching YouTube videos). 
If you fail to do so, you will receive an image CAPTCHA at the checkout and will have to solve it manually. At worst case, you'll receive fading image CAPTCHAs, and those will destroy your drop.
Since you chose the special mode, click no in both splash and captcha sections – you don't need to worry about these with the special mode.
What Happens During a Yeezy Drop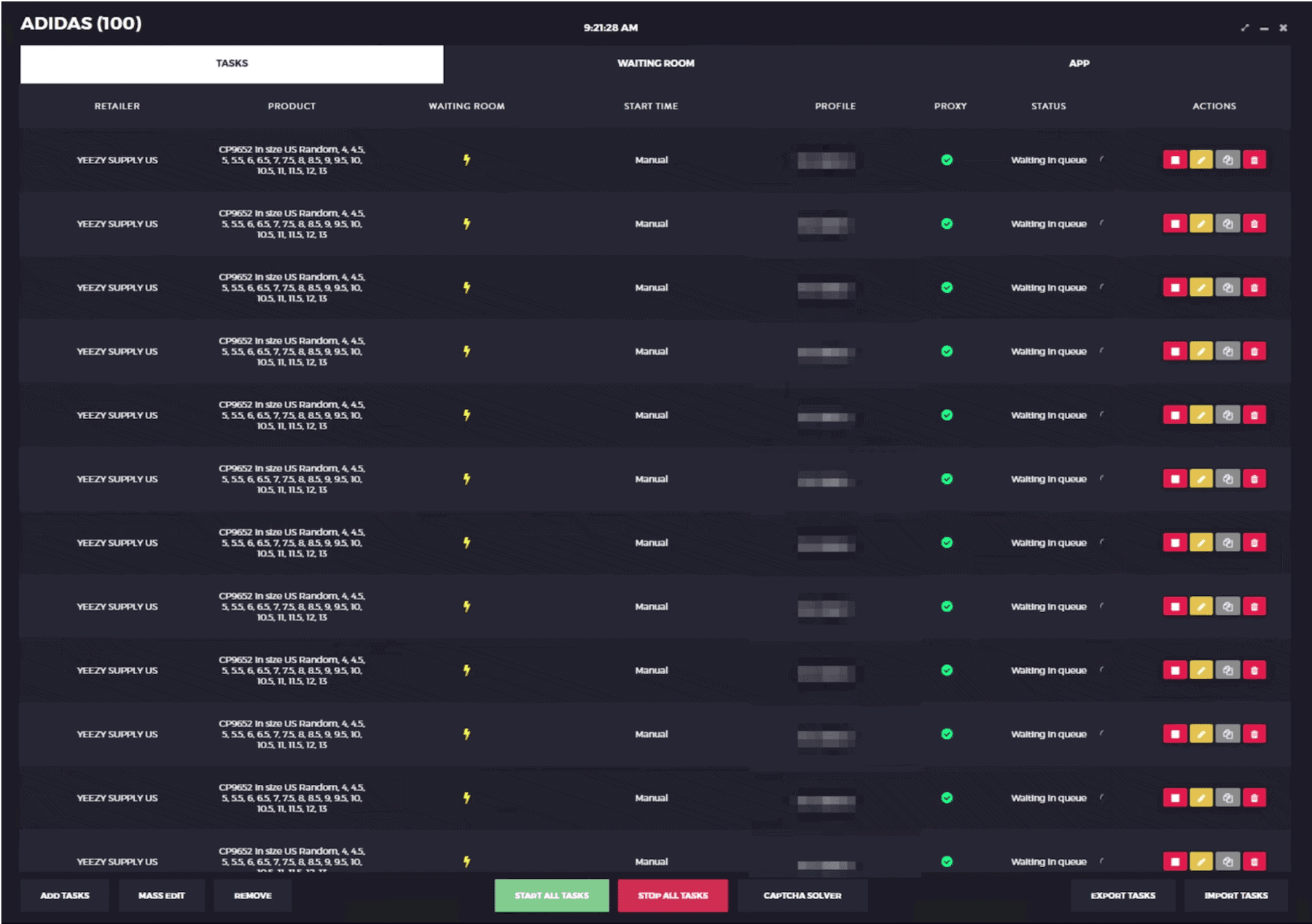 All of your tasks should be ready before the release. Once you receive a notification from your cook group that the Yeezy Supply servers are open, it's go time! Now you can start your tasks. 
To increase your luck in getting a little more favorable spot in the queue, it's a good idea to start running your tasks before the drop. That's right, Yeezy Supply puts all of its customers in a queue and there's no way around it. However, the precise time depends on the bot you're using. If you're using Polaris in special mode, then the tasks will start automatically at the precise time. Keep in mind that with some bots you need to start your tasks  1 second before the drop, with others 10 or even 30 minutes. You should refer to your cook group for this information.
At this point, all you can do is track the progress of your tasks to see which ones completed the purchase and if there's any that failed to do so. You can also add new tasks if you feel it's necessary. If you're lucky enough to get a spot before stocks run out – voila! You've got your cop! Easy as that. 
If you have any questions don't hesitate to ask them in the comment section, we're here to help.