We use affiliate links. They let us sustain ourselves at no cost to you.
Best Free Proxy Lists for Web Scraping & Anonymity
As proxy reviewers, we tend to get into the mindset that everyone needs proxy servers for scraping huge e-commerce stores or creating their own search engines. When in reality, many people just want to unblock a website or do some light data collection… And not pay hundreds of dollars for it. And while free proxies can be dangerous – and aren't exactly reliable – they let you do just that. With that in mind, here are the best free proxy lists for you to try out.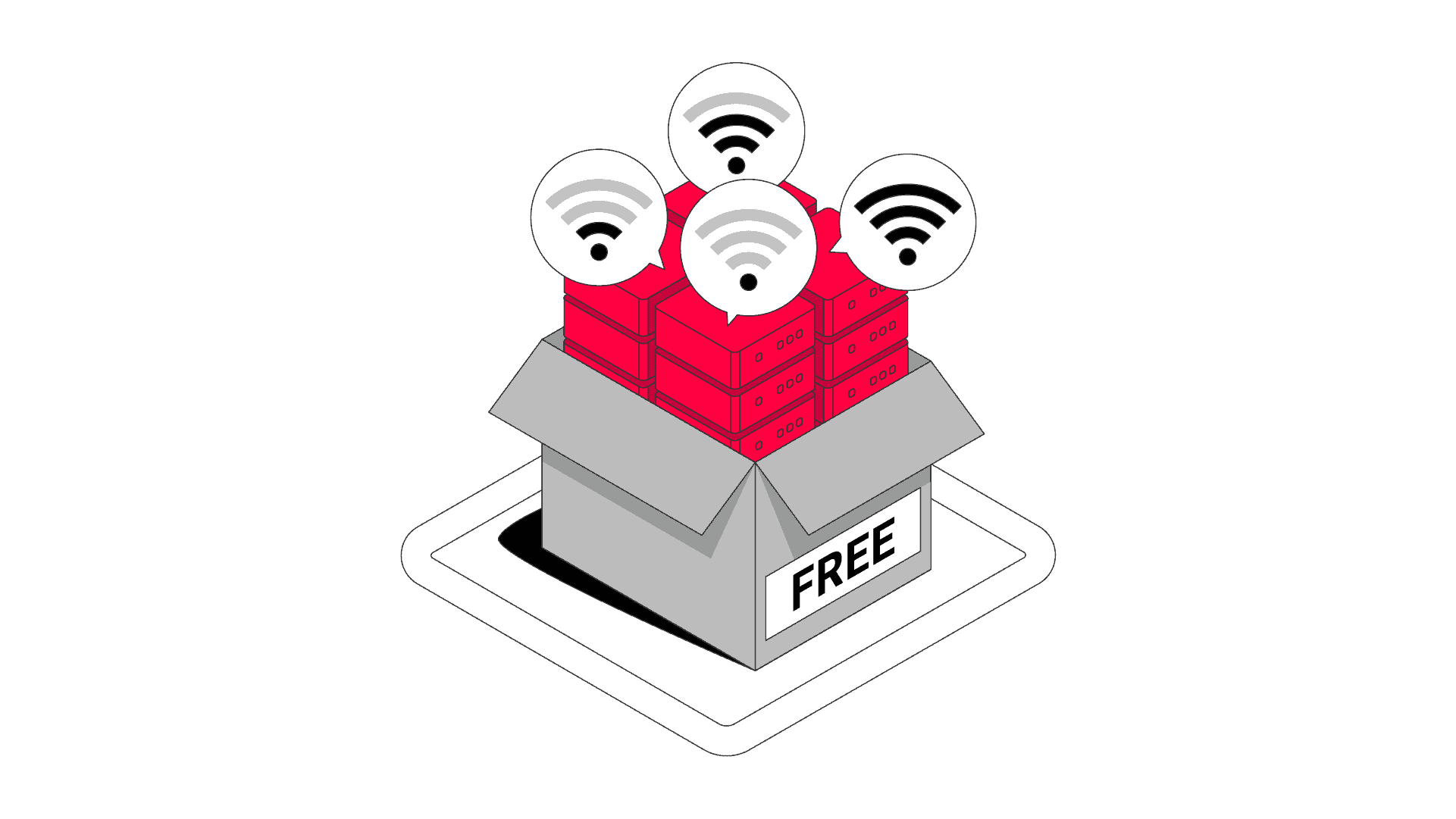 How Are Free Proxy Lists Made?
Free proxy lists are collected by scanning the web for computers with open connections. They're gathered from multiple sources, some of which may not want to share their IP, while others may have malicious intentions. There's really no way to know who hosts them.
They differ from free web proxies, which are websites that let you enter URLs and surf through them. Such websites often have known hosts (for example, VPN services) and are best suited for quickly unblocking a resource of browsing from a different location. Proxy lists, on the other hand, require setup and work best with web scraping tools, automation software, and other apps.
This page focuses on proxy lists. But if you believe a web proxy would meet your needs better, you can try services like KProxy, VPNBook, or CroxyProxy. Do it at your own risk.
What to Expect from a Free Proxy List
While free proxy lists can be useful, you should have realistic expectations about them.
First, these proxy servers are public – anyone can use them to their heart's content. As a result, they're often slow, unstable, and don't stay online for very long. They're also blacklisted by popular websites like Google or Instagram, unless you manage to snatch a free proxy server very early in its life cycle. So, strengthen your patience and prepare to constantly juggle between IPs.
For example, we downloaded 35 HTTPS IPs from ProxyScrape's list that was checked two minutes prior. Only 15 of them worked, meaning they could connect at all. Half an hour later, only 11 address out of 35 succeeded. That's about par for the course with free IP lists.
Second, you don't know who's behind a public proxy server. It can be run by hackers or other people with malicious intent. They have the power to log your personal information or inject unwanted content into pages, especially if you use HTTP proxies. While research has found that relatively few free proxy servers are malicious, you should be very careful about sending private data through them and always consider the risks.
If possible, we strongly suggest getting a paid service. Many of them offer free trials or at least money-back guarantees.
How to Check Proxy Lists
The biggest challenge with proxy lists is to find and maintain working IPs. This can be burdensome. While proxy sites periodically filter their addresses, some of them will be dead in any case. That's why it's useful to test the IPs by yourself.
There are plenty of proxy checkers to help you do that. We have an online proxy checker of our own where you can enter a list of proxies into your browser and receive the main information about them. Feel free to use it.
Just keep this in mind: because public proxies are so unstable, it's very possible for multiple tests to show different data, even when done seconds apart.
Alternatives to Free Proxy Servers
If you find free proxies too slow or unreliable, you'll need to go paid.
For web scraping or automation tasks, a VPN will do you little good. Instead, you should opt for a commercial proxy server. You can get thousands of shared datacenter IPs that rotate automatically for $50/month or less. Sophisticated targets like Google may require residential proxies which are more expensive.
We list several freemium datacenter proxy providers below. They'll give you free access to much better quality proxies. While limited, it should be enough to run a small project or ease into a paid service.
Providers with Free Plans
Webshare offers an enticing deal: 10 static datacenter proxies from four different locations. These IPs are private, which ensures predictable uptime and performance. Webshare gives you the option to rotate this list, though I'm not sure how much good that would do with so few IPs. The catch? You get 1 GB of traffic (per month) with max 50 parallel threads.
Getting the proxies is easy: register and Webshare will assign you with a list automatically.
Visit Webshare
---
Though Razorproxy is a private proxy provider, it also offers a completely free plan. The plan lets you access 40,000 shared datacenter IPs in the US. Razorproxy's proxies will be faster and much more stable than any public address. In addition, they automatically rotate, so you won't need to manage a proxy list by hand. We only wish that it'd be a monthly and not a one-time deal.
You get 500 MBs of data without other limitations, which is pretty generous. This will require filling in a form. Once the traffic runs out, you can upgrade to a paid plan if you liked the service.
Visit Razorproxy
---
Best Free Proxy Lists
ProxyScrape's proxy list isn't the biggest, nor is it the most feature complete. But it offers the right combination of features and convenience to take the first place.
You can actually choose from three lists based on their protocol: HTTP(S), SOCKS4, and SOCKS5. They range from 200 to 2,000 IPs, which isn't much. That's because ProxyScrape updates the IPs every five minutes to filter out dead proxies. You can filter the lists by speed, location (two letter country codes), anonymity level, and encryption status. All in all, there are around 40 countries to choose from.
Unlike some other websites, ProxyScrape offers generous exporting options. You can download the filtered list to a .txt file or use the provided API free of charge.
What we don't like is that you can't see the actual list before exporting it. And while frequent refresh times should ensure live IPs, you have no way to know if they'll stay online, as there are no uptime metrics.
---
Free-proxy.cz is a long-standing and one of the most feature complete proxy lists. It offers over 6,000 IPs from more than 100 countries. Of course, some of them have only a few addresses, but major locations like the US include hundreds.
The website lets you filter proxies by protocol, location and anonymity. You then receive 35 IPs per page with additional information about their response time, speed, uptime, and when they were last checked. You can sort each parameter. The uptime metric is especially useful, as the IPs are checked infrequently – every six hours or longer.
There's a button to export the list, but it's not very convenient. A yellow pop-up appears that lets you copy the IPs from one page. If your filtered list is longer than that, you'll have to repeat the process for each separate page.
---
Spys.one is another old-timer that's still up and running. It offers one of the largest proxy lists we've seen, with over 28,000 proxies in ~160 countries. The proxies are updated at different times, so some will be checked a few minutes ago, while others will have stayed there for over a year.
Spys.one lets you filter the IPs by various parameters like protocol, anonymity, and location. It also includes less usual filters such as city, ASN, Squid, and Mikrotik proxies. You have several ways to narrow down the IPs you need, the simplest one being tabs at the top of the page. There's additional information by each address, such as its latency, uptime, and the date it was checked.
Despite its size and wealth of options, Spys.one isn't the easiest proxy list to work with. While you can choose to show between 30 and 500 IPs, there's no pagination, so you're never sure how many addresses there are in total. Then, you can't really sort the columns, for example by uptime. And finally, you have no way to export the proxies in bulk. So, there's a lot of handpicking involved.
---
Hidemy.name is a VPN provider that also offers a list of free proxies. But don't get your hopes up: these IPs are no different from the other lists we've reviewed. They're still aggregated from various online sources.
Still, Hidemy.name constantly has around 10,000 proxies in over 60 countries. Of course, most of them congregate in several locations. To our surprise, among the main countries were Armenia, Belize, and Curacao. You can filter the list by location, protocol, and anonymity; the list also shows the IP's speed and when it was updated. It's nice that you can have several toggles at once, for example, to include both anonymous and elite addresses.
The list refreshes pretty frequently. When we last checked, the newest proxies were updated a minute ago, and the oldest ones around four hours prior. The biggest issues is actually getting the list out of the website: you can export them in multiple ways, but only after paying $5. That's one way to monetize.