RSocks is a proxy and VPN provider in business since 2016. In these few years, it has made a comfortable foothold in the market, and today the company offers a whole range of proxy services to protect your privacy.
Most of them are conventional: RSocks can rent you any kind of residential or datacenter IPs for social media, web scraping, Twitch streaming, or what have you. You'll also find less conventional options such as mobile IPs and personal proxies that honestly look like a gimped version of VPNs.
But you shouldn't treat RSocks as just another proxy provider. Underneath the surface, there are quite a few curious things going on.
First, RSocks is not a proxy provider in the strict sense. Confused? So was I at first. Turns out, the company only functions as an intermediary: it has contracts with actual proxy providers and takes care of selling their IPs:

Second, unlike many other services, RSocks doesn't shy away from the more shady areas of proxy use. How often do you see providers selling packs for mailing? Not often at all.
You can also find RSocks actively participating in threads on forums about cracking, leaks, and similar gray or black-hat activities such as nulled.to. Let's not kid ourselves: every self-respecting proxy provider has a BlackHatWorld account.
But RSocks goes a step further. The company even offers a mechanism to promote itself on those sites, offering to exchange good feedback for a free trial. So, if you like to read specialized forums to evaluate proxy services, I'd take whatever you find there with a large pinch of salt: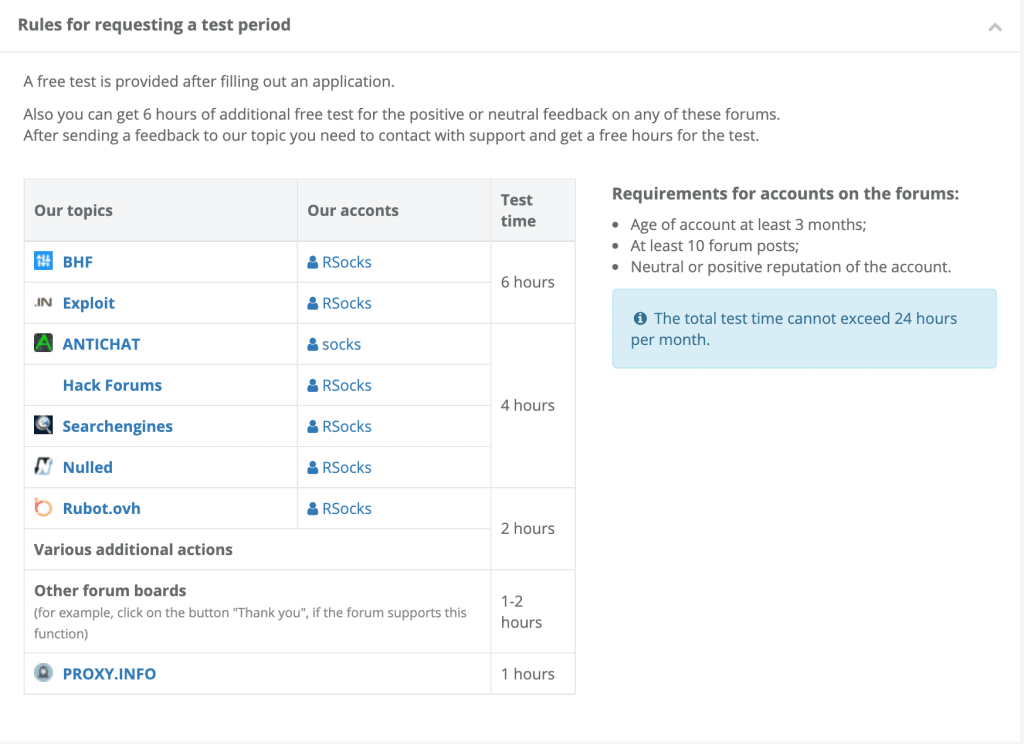 Controversies aside, RSocks really seems to focus on customer experience: the website is fully translated into Russian and Chinese; you can pay with a variety of unconventional payments methods (DMZ? Yandex.money? Ethereum?); multiple customer support agents are at the ready 24/7 to help you in three languages.
But what about the actual proxies?
Let's find out.
Pros
Many features
Unlimited traffic
Great 24/7 support
Cons
Proxies could be more reliable
Expensive for longer tasks
Key Features
Proxy types: residential, mobile, datacenter (shared, private)
Protocols: HTTP, HTTPS, SOCKS
Locations: Global, continent or country-based, depending on the plan
Targeting: Country, carrier (mobile)
Authorization: Whitelisted IPs
Dashboard: Yes
Support: 24/7 in 3 languages
Pricing: Varies highly depending on the pricing plan
Payment options: Credit card, Yandex.money, AliPay, WebMoney, Bitcoin, Ethereum
Trial: Only if you have a forum account
Services
Let's quickly go through what RSocks offers. Some of its services have unconventional names, and it takes some digging to find out how exactly they all differ:
Residential proxy
Your regular IP addresses issued by Internet service providers. In this case, the residential proxy plans include only IPs of desktop devices. RSocks claims it has more than 1M proxies online, but you can never access the whole pool – it's spread out across a variety of plans. While some of the pools may look small, they are constantly updated every few hours – or even minutes if you choose one of the rotating plans.
Like all RSocks services, the residential proxies support all the main protocols, including SOCKS5. At first sight, there are a lot features, but no one plan to access all of them at once. For example, if you need proxies in one location, you can simply buy a specialized plan. But what if you want two? Or three? More plans? Things start to get complicated.
A curious thing about these proxies is that they have all the ports open (though you'll still have to order a special plan for mailing). They also come with no bandwidth limits, which is something to consider when most residential proxy providers count traffic.
You can find the performance tests below.
Limited proxy
These are residential proxies, as well. Two things separate them from regular residential IPs: 1) they have never been used; 2) you won't have to share them with anyone else. If the marketing claims are true (it's hard to find unused IPs nowadays! IPv6 doesn't count), limited proxies should work very well with Google, Amazon, Youtube, and other hard websites.
Shared proxy
IP addresses which many people use at the same time. They are similar to free proxy lists, and might even be a collection of free IPs available online. RSocks gives no guarantees about them and all the ports are open. So, using them will either be a coin toss, of you'll have to spend considerable time filtering working IPs with RSocks' Proxy Checker.
At the time of writing, IPs in 136 countries were available. But the top was dominated by tier 2 countries like Brazil and Indonesia, and many locations had fewer than 10 IPs.
Personal proxy
One IP address for your personal use. You can get a shared IP, private datacenter IP, or a residential address. There are multiple countries to choose from, or use cases if you want a shared address. I'm not why anyone would opt for this service instead of a VPN, but evidently there is some demand.
Datacenter proxy
IP addresses that originate in a data center. What RSocks' webpage forgets to mention is that these proxies are semi-shared. Compared to other services, datacenter proxies are strictly for white-hat use cases. They don't have automatic refresh and are available in 8 countries.
Mobile proxy
IP addresses from mobile devices of residential users. They include 6 countries, and you can further specify a city and provider for some of them. The proxies have no bandwidth limits and rotate every 2 minutes by default. You can modify the rotation frequency to your liking.
VPN service
Not much to say about this one.
Pricing Plans
Usually, proxy providers have a range of plans based on a certain limitation: for example, GBs for residential proxies or the number of IPs for datacenter proxies. Larger plans simply increase the threshold for these limits and make buying proxies in bulk more efficient.
RSocks has decided to go with a much more granular approach.
Say you want to buy residential IPs. You'll have a choice of a whopping 24 (!) residential plans based on geolocation, proxy rotation, or theme. For instance, you can buy USA proxies, USA rotating proxies, or Twitch proxies. Then, you can choose the duration: whether you want to rent IPs for an hour, day, week, or month.
This is good if you know what you want. Otherwise, you'll very quickly get confused by the number of options and have to ask the customer support to help you.
Datacenter proxies are more straightforward. Select the location, number of proxies, and how long you want them for:
Mobile proxies are based on the country and operator, such as Verizon in the US. You can get them for a day, week, or month:
Shared proxy IPs come in a list of around 20K addresses. You buy the whole list for a day or month. The locations are available on RSocks' webpage:
To buy limited proxies, you'll have to decide on the number of IPs and duration of your plan.
Finally, if you want a personal proxy, you'll have to choose a country, period (month, half-year, or year), and the number of IPs. RSocks will also ask you to enter the purpose for using the proxy – this is to help ensure it won't interfere with other users:
Price wise, it's hard to compare RSocks with other providers, such as Smartproxy, because their pricing models differ so much. But in general, you'll be paying way above the market average for the monthly plans. So, I wouldn't recommend RSocks for any longer tasks, unless you really need what the company has to offer.
Shared proxies are an exception to this rule. If you don't mind the hassle that comes with using the same IPs with many people, RSocks can sell you really cheap shared proxies for basic tasks.
How to Use RSocks
Registration
No talking needed.
To create an account with RSocks, you'll have to provide an email address, username, password, and a way to reach you over one of the major communication apps, such as Telegram, Skype, or QQ.
You won't have to buy anything just yet.
Dashboard
No usage stats, but they're not necessary
After logging in, you'll enter the RSocks dashboard. It's a convenient tool whose purpose is to let you buy, configure, and follow the status of your proxies. You can also use it to open a support ticket or start a live chat with RSocks' customer support representatives. The dashboard is evidently well made, and I've had no issues with it.
Compared to other providers, the dashboard lacks any kind of visualizations or usage statistics, but when none of the plans limit traffic, that's not really necessary.
My only real gripe was that the notification center – which can inform you about your subscription status via multiple channels, such as email or Telegram – didn't work on Chrome.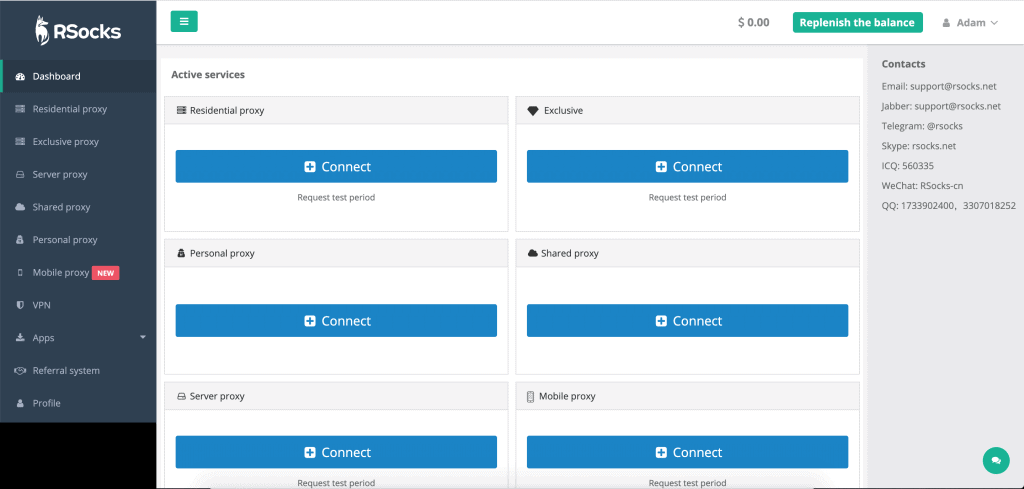 RSocks Proxy Checker
For checking proxies and simplifying work with proxy lists.
RSocks Proxy Checker is a program that analyzes proxies based on a number of parameters, including:
IP address availability
Proxy speed
Spam database presence
Location
Anonymity level
The checker greatly simplifies work with proxy lists, especially if you've bought a shared proxy plan. Best of all, you can use it with any IPs, not only those of RSocks, and the tool is available on all major platforms: Windows, macOS, and Linux.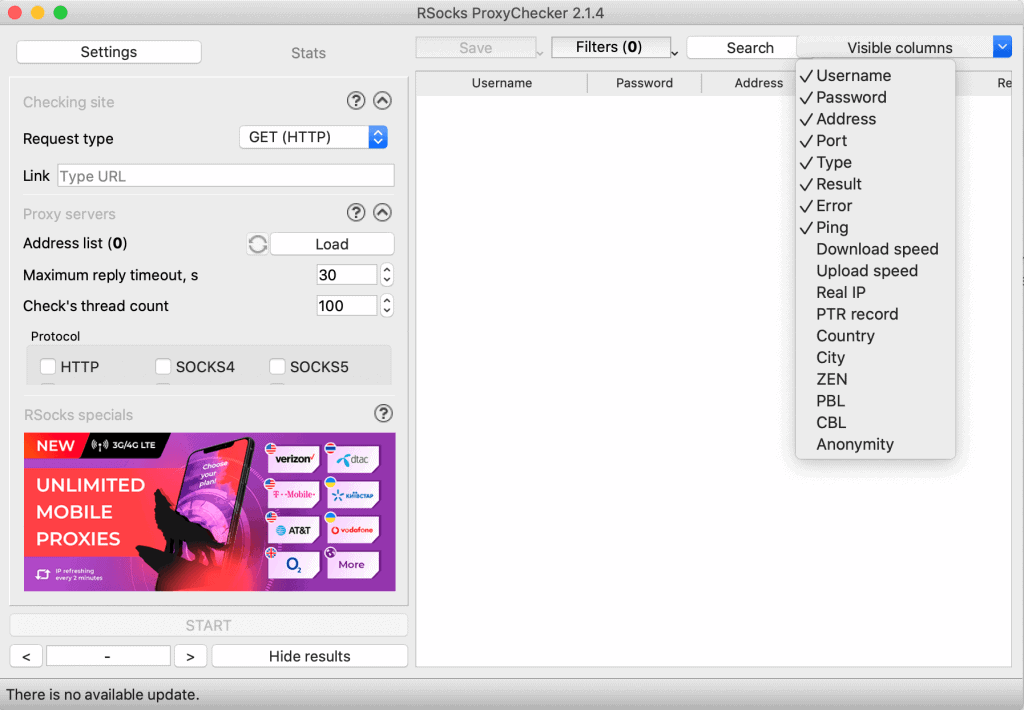 RSocks IP-Changer
For whitelisting your IPs.
The IP-Changer was made to compensate for the fact that RSocks only supports whitelisted IP authentication, as this can get problematic for users with dynamic IPs.
The changer automatically checks the user's IP address every ten minutes, and if it's changed, it rebinds all the proxies to the new address.
Unlike the Proxy Checker, IP-Changer was designed to work only with the provider's services. It's also only available on Windows.
Performance Tests
1.5/5 for residential IPs.
We only had the chance to test the performance of RSocks residential proxies. If you're eyeing a different kind, you shouldn't be basing your decision on this part alone.
Overall, the results weren't good. Even when we put the IPs against Cloudflare, to test if the servers even work, only 32% of the requests were successful. Websites like Google and Amazon were even more relentless, and in the end RSocks showed some of the worst results from our 9 tested residential proxy providers. The same was with performance under load.
There were no DNS mismatches or header leaks, but the IP Intelligence tool managed to detect some of the IPs as proxies (0.99/1) and they were found in 3 blacklist databases.
Perhaps we were simply unlucky, but I wouldn't consider these residential proxies very good or even simply good.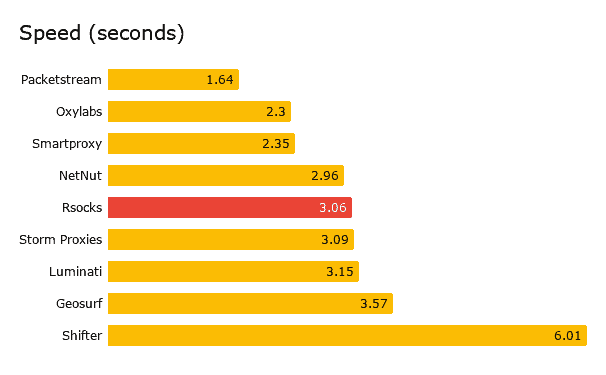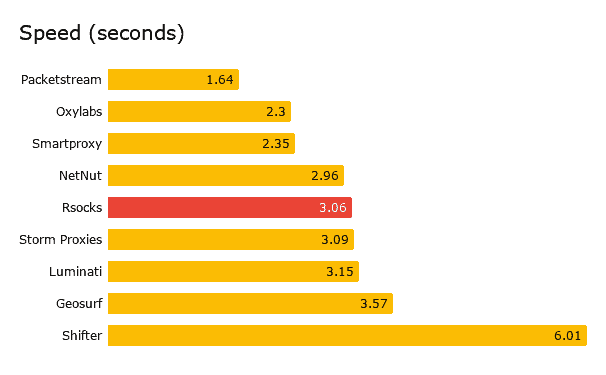 Conclusion
RSocks has got many things right: the provider offers proxies for any kind of customer. And by saying that, I mean it.
Budget range? Choose from penny-pinching shared proxy plans to semi-shared datacenter proxies, to exclusive mobile IPs. Protocols? Any kind, including even the antiquated SOCKS4. Use cases? Netflix, Youtube, web scraping… Even email is on the table.
The quality of the residential proxies I've tested is by no means great. Their success rates were among the worst of our tested providers, and so was performance under load. This concerns me looking at the price – the proxies will cost you, especially if you go for a longer subscription plan.
The customer support is excellent, and the whole presentation gives a strong impression that RSocks really cares about you – or at least your money.
Then again, the fact that RSocks does not own the proxies and only resells them is sobering. Where do the IPs come from? Is this whole thing legal? How legal? Perhaps these are silly questions, but buying feedback on cracking forums doesn't doesn't exactly inspire credibility.
Overall, I'm conflicted about RSocks, and my score reflects that. Go with this provider if you need the features or have a large short-term project to do.