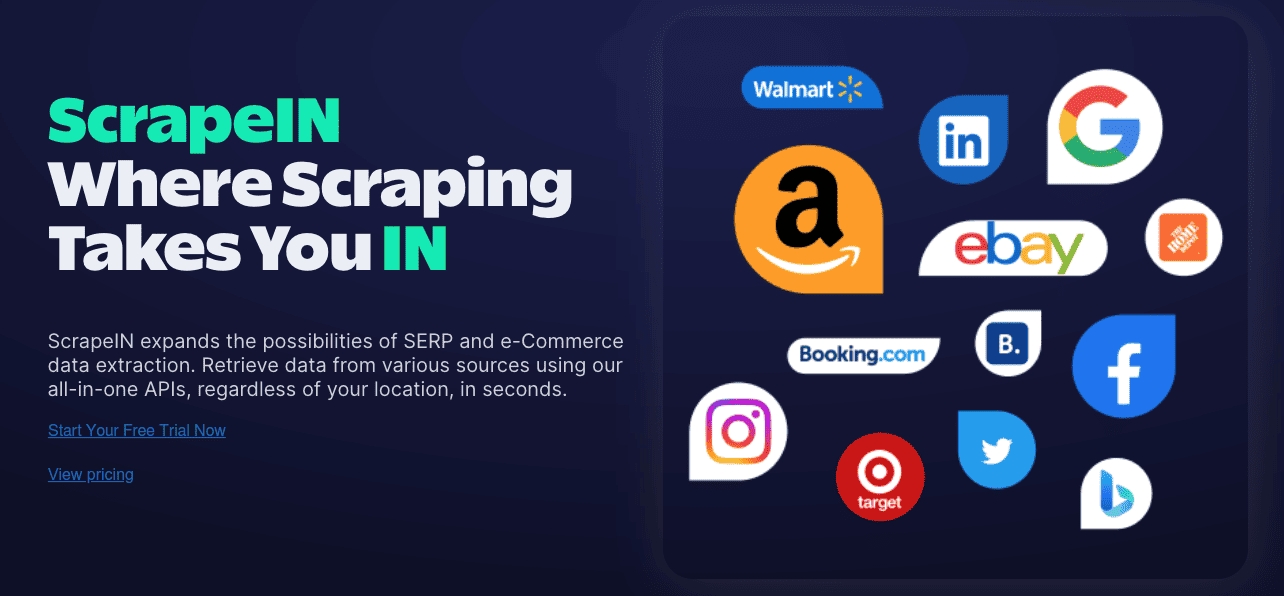 SOAX, the UK-registered proxy provider, has introduced web data collection tools: scraping APIs and a proxy-based website unblocker. The APIs come under a separate brand called ScrapeIn, though both websites openly link to one another.
Web Scraping APIs
So far, SOAX has released SERP and E-commerce APIs. They return structured data from major search engines and e-commerce stores, namely Google and Amazon.
The SERP API includes an endpoint for Google search, as well as specific search types: images, videos, news, and maps. There're also five endpoints for Google Shopping that cover not only search and product pages but also reviews and seller information.
The E-commerce API is able to return various Amazon properties: product and search data, categories, deals & bestsellers, reviews, and seller information.
The provider has plans to further expand their reach by introducing more search engines (Bing, Yahoo, Baidu, and Yandex) and e-commerce stores (like eBay).
In addition, SOAX is beta testing a third API aimed at extracting data from social media networks. The landing page advertises all major platforms, such as Instagram, Facebook, LinkedIn, and Twitter.
The APIs charge for successful requests. Their pricing starts from $59 and ranges between $2.5 and $1.3 per 1,000 requests:
| | | | |
| --- | --- | --- | --- |
| | $59/month | $249/month | $999/month |
| SERP | 23,600 requests ($2.5 CPM) | 125,000 requests ($2 CPM) | 625,000 requests ($1.6 CPM) |
| E-Commerce | 26,818 requests ($2.2 CPM) | 155,625 requests ($1.6 CPM) | 768,462 requests ($1.3 CPM) |
SOAX offers 5,000 requests to try out the service. No credit card is needed.
Web Unblocker
SOAX also teased a proxy API that integrates using the usual hostname:port format and overcomes website protection mechanisms. The provider calls it Web Unblocker – the same as Oxylabs and very much alike to Bright Data's Web Unlocker.
We have little concrete information about Web Unblocker yet, and the sign-up button opens a lead capture form. Still, we can expect it to function similarly to the competition.
Bottom Line
SOAX's expansion into web scraping tools spells bad news for the competition, but it gives more choice to us. We find some decisions brave, such as introducing social media scrapers in the wake of Meta and Twitter lawsuits. But overall, this is a natural and, by now, well-trodden path for an expanding proxy server business.