Oxylabs, the Lithuanian proxy and web scraping infrastructure provider, announced three changes to its mobile proxy service: 
Introduction of a pay-as-you-go self-service plan

Four new pricing plans for enterprise customers
Easier Onboarding and New Plan
The first and probably the biggest update includes a pay-as-you-go plan with mobile proxies. Oxylabs' customers can now get mobile IPs at a fixed rate of $30 for 1GB  without committing to a monthly or yearly subscription. This is the provider's second product to support the pay-as-you-go model.
With the new model, Oxylabs allows getting up to 30GBs per month. If you don't use the traffic during the one month period, it will automatically expire. Additionally, this traffic won't carry over if you subscribe to another plan.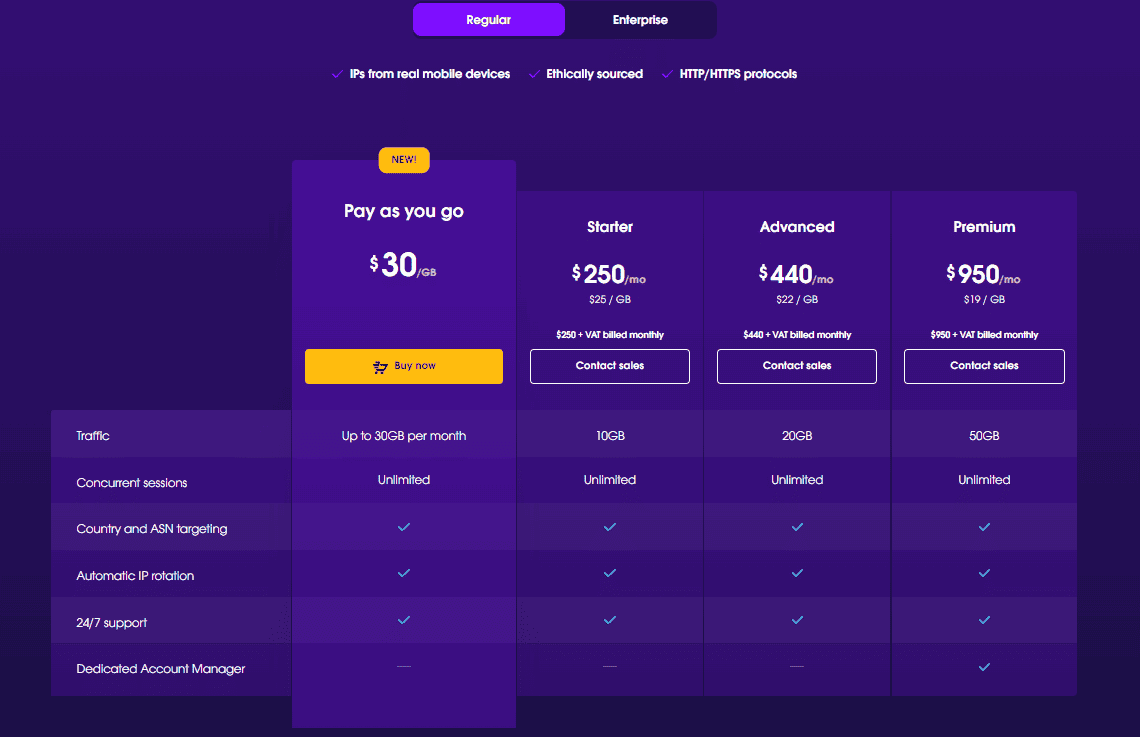 As a part of this update, Oxylabs simplified the onboarding flow. Mobile proxies are now available through self-service with the pay-as-you-go option. 
This means that the provider's customers can start using the mobile service without contacting the provider's sales team to register on the platform. Self-service isn't available with subscription-based plans.
Before, Oxylabs supported self-service for two of its proxy products: rotating datacenter proxies, and the cheapest residential proxy plans. Also, all the web scraping services (except Real Estate Scraper API). 
The Enterprise Plan Splits into Four Options
The second change involves large-scale use. Oxylabs has split its single Enterprise plan into four options: Venture, Business, Corporate, and Custom+. Its business customers can now get from 100GB to 500GB of traffic.
| | | | | |
| --- | --- | --- | --- | --- |
| Plan | Venture | Business | Corporate | Custom+ |
| Traffic | 100GB | 200GB | 300GB | 500+GB |
| Price per GB | $17 | $16 | $15 | Custom |
| Monthly price | $1,700 | $1,600 | $1,500 | $6,500 |
Bottom Line
Oxylabs has made several noteworthy updates to its offerings to improve the self-service experience and cater to a wider range of customers. This year, it's the third time the provider has made similar changes to its plans. Additionally, the changes in the Enterprise plan demonstrate Oxylabs' commitment to serving its business customers with varying traffic requirements.