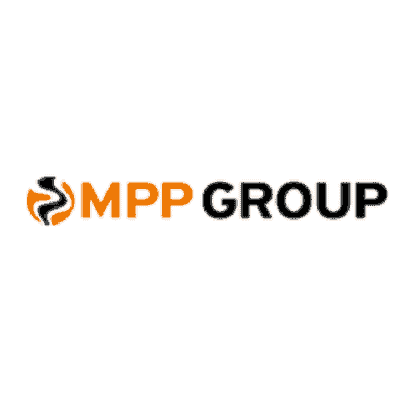 Myprivateproxy, also known as the MPP Group, is one of the dinosaurs of the proxy market. Founded way back in 2011, their Twitter account died a year later, but the proxy network has been running well.
MPP proxies run a proven business model by only selling datacenter proxies with various access options. For instance, shared proxies from Myprivateproxy are a bit cheaper than private or dedicated proxies, and the price per proxy becomes more affordable when you increase the number of proxies you buy.
The geography of their network is not that wide: only 24 locations with a total of 220 servers. The maximum subnets you can buy with a private proxy plan is only 42, unless you land a custom deal with MPP Group. As far as I know, they have 520 total subnets available – a good number for any dedicated proxy provider.
Even though Myprivateproxies boast having 'industry experts' work on their network (don't they all?) the website looks like something from the early 2000s. Simplicity works for some of us, I guess.
On the technical side, the network has an API and a minimalist proxy control panel.
MPP proxies do have some peculiar proxy naming. If you look at their website, you might get confused why they have both dedicated and private proxies as separate products. And, if you try to visit the dedicated proxies page, you get pricing offers for sneaker, PokemonGo and ticket proxies. Confusing enough for ya?
Sneaker proxies and ticketing proxies should have better speed for some target servers, but they do cost around 50% extra.
In general, MyPrivateProxies has some good advantages: unlimited bandwidth with 100 threads per proxy, and free proxy replacement once per billing cycle. BUT, even though you might use private proxies (that means you are the only one using your IP addresses at any time), there's no guarantee the proxies weren't previously abused by other clients. If that's the case, the single proxy replacement per billing cycle might not be enough.
Pros
Fast proxies without traffic limits
Works well with Amazon, Wayfair, and some other targets
Proxy API
Cons
Limited locations
No easy way to control locations
Low success rate for Google and Yandex
Key Features
Proxy types: datacenter (shared, private)
Protocols: HTTP
Locations: USA, Canada, Europe
Targeting: Country, City
Authentication: User:pass, whitelisted IPs
Dashboard: Yes
Support: Tickets, email, 24/7 live chat (not working during review)
Pricing: Monthly price per proxy, smallest private proxy plan $2.49/IP
Payment options: PayPal, credit and debit cards through 2CheckOut
MyPrivateProxy prices their plans by the number of proxies in the package. Since all of them are from data centers, the only difference is the number of subnets you get. The 'dedicated' Pokemon Go, ticket and sneaker proxies are more expensive, while shared proxy plans are a bit cheaper.
Even though the price per proxy drops with the number of proxies you buy, open up a calculator so you don't get fooled by the numbers on their site: for example, the MPP 20 plan has 20 (plus two bonus) proxies going for $44.20, which is $2.21 per proxy ($2.01 if you count the bonus proxies), but the sites states the price per proxy at $2.00.
This gets worse with larger plans. MPP 2000 offers you 2,000(+200) proxies for $2,500, which means that a single proxy costs $1.136, but the stated price per proxy is $1.13 – not much of a difference, right? Well, if those 2,200 proxies did actually cost only $1.13, then the whole plan would be priced at $2,486. That's a difference of 14 bucks!
I don't know where you're from, but that can buy you a nice meal where I come from. In any case, these small misleading details in pricing make me feel like MyPrivateProxy might not be completely trustworthy.
MyPrivateProxy has over 100,000 proxies in 520 subnets. They shared some info with me stating they had 121,000 IPv4 addresses in the network.
Changing Locations in MyPrivateProxy
Since MyPrivateProxy has only data center IPs, their geography is limited. The site has locations in 16 US cities and 8 Locations in Europe.
MyPrivateProxy also has proxies in Canada, although they don't advertise them that much. You can also get data center proxies in the UK, Germany, France, Sweden, The Netherlands. The most interesting location with a significant amount of proxies that MyPrivateProxy offers is the tiny country of Luxembourg.
I doubt you'll get a lot of done with those proxies before you get blocked, but I might be wrong on this.
MyPrivateProxy has a bare-bones dashboard, which is fine, because they do not limit traffic. Most of the things you need to do are available through the MPP proxy API.
Usage statistics. No.
Credentials/Whitelist IP change. Yes.
Support tickets. Yes.
Renew plans. Yes.
Live chat. No
Note that the Live chat button is available, though it wouldn't launch on any of my browsers when I last checked the site in late 2019.
How to use MyPrivateProxy
Before I get into the nitty-gritty of testing the proxies, I want to tell you about some things that stuck out about how MyPrivateProxy works.
To get access to proxies, you can use proxy passwords and usernames in your MyPrivateProxy dashboard. Otherwise, you can whitelist up to 10 IP addresses, so that makes these proxies good for a larger team. MPP proxies also told me I could authorize more than 10 IPs by messaging them.
I guess those limits are there just to prevent proxy reselling.
Even though you can see proxy locations in the MyPrivateProxy dashboard (it's under the My Proxies section), you don't get the locations if you download the IP list.
It takes a lot of work to filter proxies manually, so MPP proxies offered a solution: fetching proxies via the API, which can also send you the locations.
This makes me thing that most MPP proxy users are either old-school or quite advanced, because most of their competitors have moved on to smoother solutions.
As I've noted above, the Live Chat did not work for me. I think this is a long-standing problem at MyPrivateProxy, as we've never been able to get on their Live Chat.
This is a real-world proxy load test with Proxyway's benchmarks. If you want to compare MyPrivateProxy to other private proxy providers, visit our best private proxies page.
For the test below, I got a custom trial for 500 data center IPs from one of the generic private proxy plans. I did the usual connection success rate test, starting from 50 instances and finishing with 500.
In terms of proxy plans, a comparable package would be their MPP 500. Since MyPrivateProxy does not limit traffic, you can calculate the price by proxy, which would be $1.36.
Private proxies from MyPrivateProxy perform really well and the success rate is always around or above 80%. That means four out of five connection requests will be successful and send back the data you need.
This does change with more connections: the more connections you send at the same time (called concurrent proxy connections), the less successful your connections will get. This is pretty normal for data center proxies, and the drop isn't too significant.
If you want a stable success rate at hundreds of concurrent connections, you should look into residential proxies.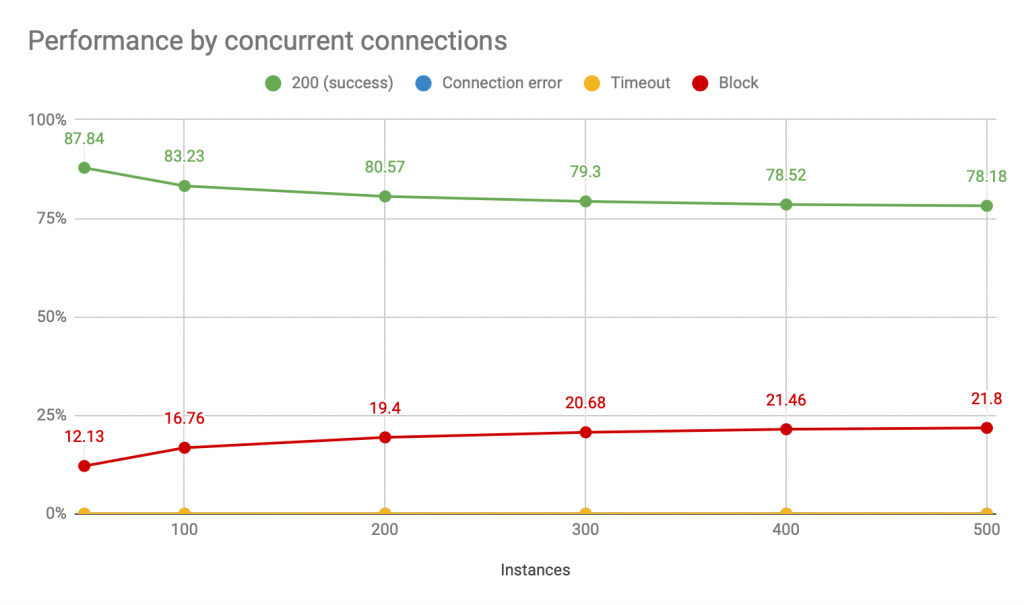 How Fast Is MyPrivateProxy?
I have no complaints about response speeds: MPP proxies are FAST. The response speed at 300 concurrent (simultaneous) connections averages at 1.58 seconds. No further comments needed.
That means you can use MyPrivateProxy for just about anything without much lag. But, as you know, speed is not everything – you also have to get a good success rate for your connections to get the job done.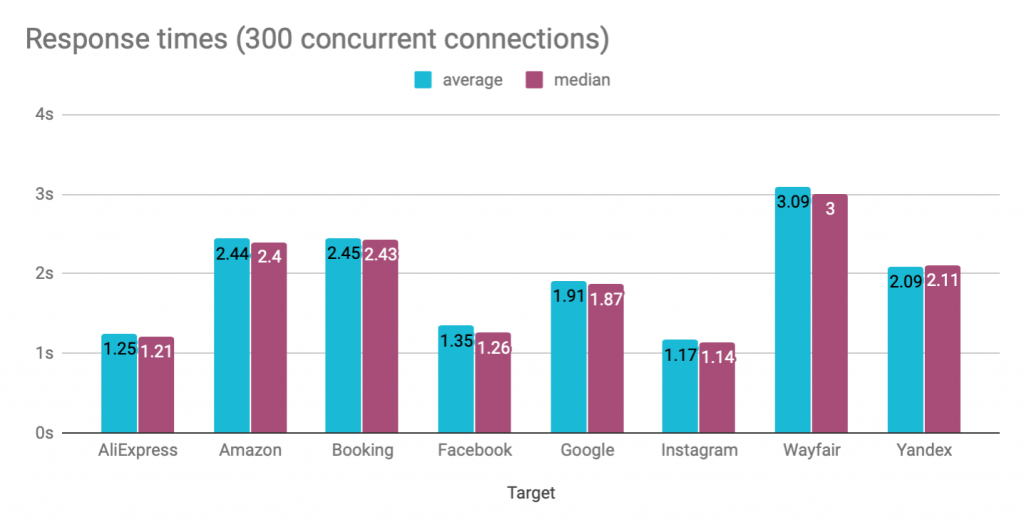 Is MyPrivateProxy Good for SEO?
Scraping SERPS is a very important feature for any proxy network. And even though MPP Group advertises as the 'best SEO proxies', the success rate when connecting to Google and Yandex are way below what you'd want for a SERPS scraping proxy.
MyPrivateProxy success rate to Google (48.7%) is one of the worst. We got a lot for recaptchas (code 503) sent back for our connection requests, which makes me think that either other users are abusing MyPrivateProxy for scraping, or Google is getting more adamant about sending recaptchas to data center connections (looking at you, VPN providers).
In the case of the Russian search engine Yandex we got a lot of captchas (200). The success rate for Yandex was abysmal – only 3.5%. Maybe a lot of Russians are using MyPrivateProxy?
Can You Scrape Amazon with MyPrivateProxy?
When I tested MyPrivateProxy on Amazon, I got a solid success rate of over 82%, but the rest of my connections ran into the same problems as with Google and Yandex: 503 and 200 error codes.
Targeting Specific Websites
MPP told me in an email that users can get proxies for a specific target, and MPP Group will make sure that success rate will be much higher.
I tested proxies that were selected randomly and the success rate was pretty good that way too. So you might want to drop them a line before choosing a plan to make sure you get the best proxy.
Note that this might cost you extra, because their 'dedicated' sneaker and ticketing proxies bump the price by 50% per proxy.
To sum up, despite a couple of hiccups in performance, the non-functional live chat and somewhat unclear pricing, MyPrivateProxy private proxies performed quite well in my test. Now, using data center proxies might not be the best option if you want to send a lot of connection requests, but MPP might be a good option for a slow Amazon price scraping operation.
In general, these proxies are fast, although the speed tends to decrease with more concurrent connections. In most cases, you will have a good success rate close to 100%. The only two huge red flags to me were Yandex, which is almost completely blocked and Google, which gets a lot of captchas, so I would never use MPP for SEO, unless you manage to get a custom deal for unabused proxies..
MyPrivateProxy is an old proxy provider and it's website, dashboard and proxy management feels like it. It does what you need, buy if you're used to having an easy way to filter and manage proxies, you might want to look into other providers.
All in all, I'm giving MyPrivateProxy a rating of 8.3/10.
P.S. I didn't check any of their dedicated proxies, so if you had any experience with those, how did they perform? I'm especially interested to know if they manage to get a higher success rate for connections to search engines. Feel free to share in the comments!