We use affiliate links. They let us sustain ourselves at no cost to you.
Proxy Market Research 2021: Key Findings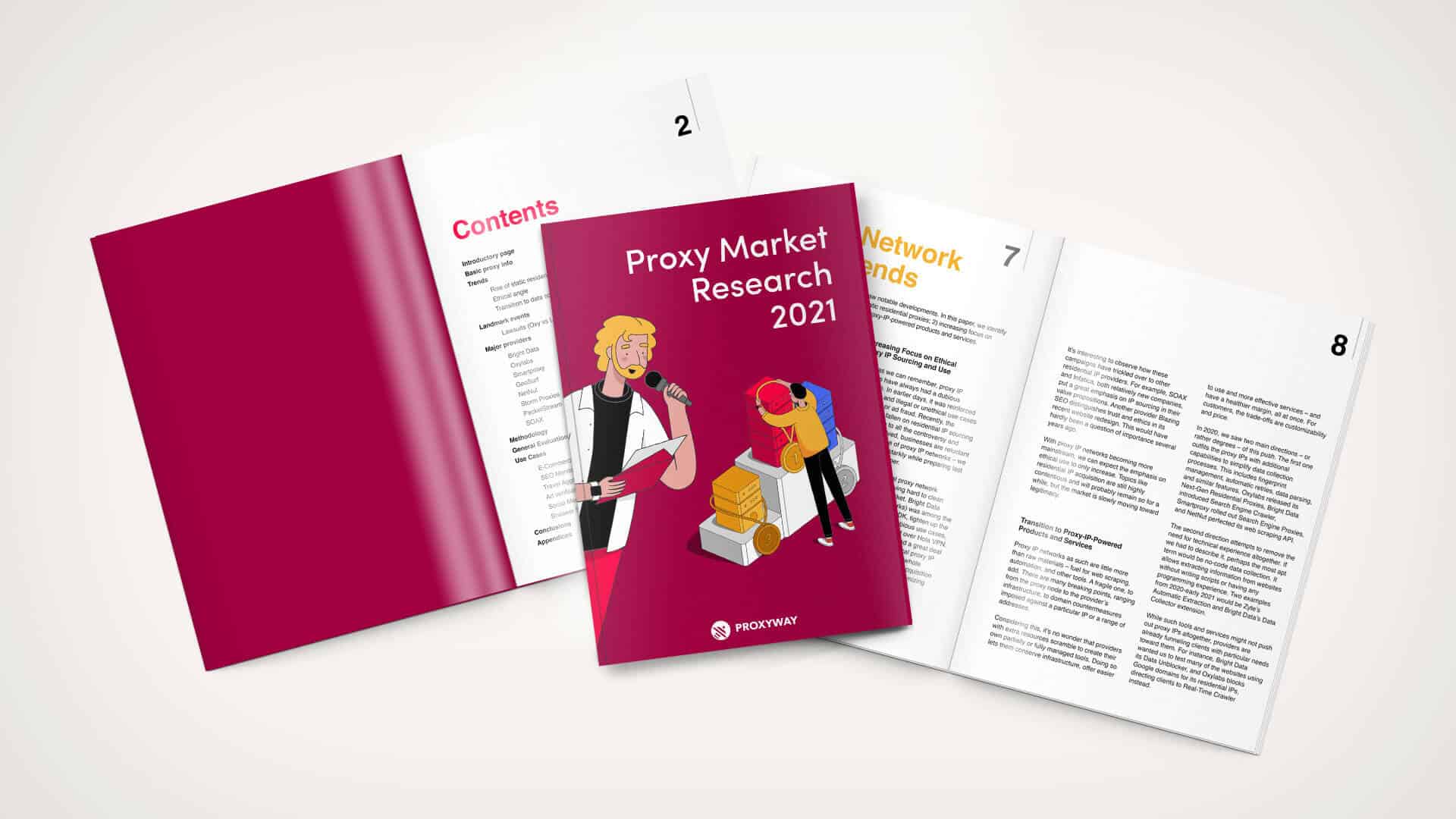 The proxy server industry lacks clarity. Individuals and businesses alike have to sift through marketing and affiliate websites, finding little real information on their way. Testing multiple providers on one's own is often prohibitive, both in cost and time. 
For the third time in a row, we released the Proxy Market Research. It's an extensive, illustrated, 47-page analysis of the leading residential proxy services. The research is based on comprehensive testing that involved making over 16 million connection requests to 8 major residential IP providers. To this day, it's the only research of its kind that is publicly available. 
Now, we would like to introduce you to the key findings our work has uncovered.
You can find the complete research here.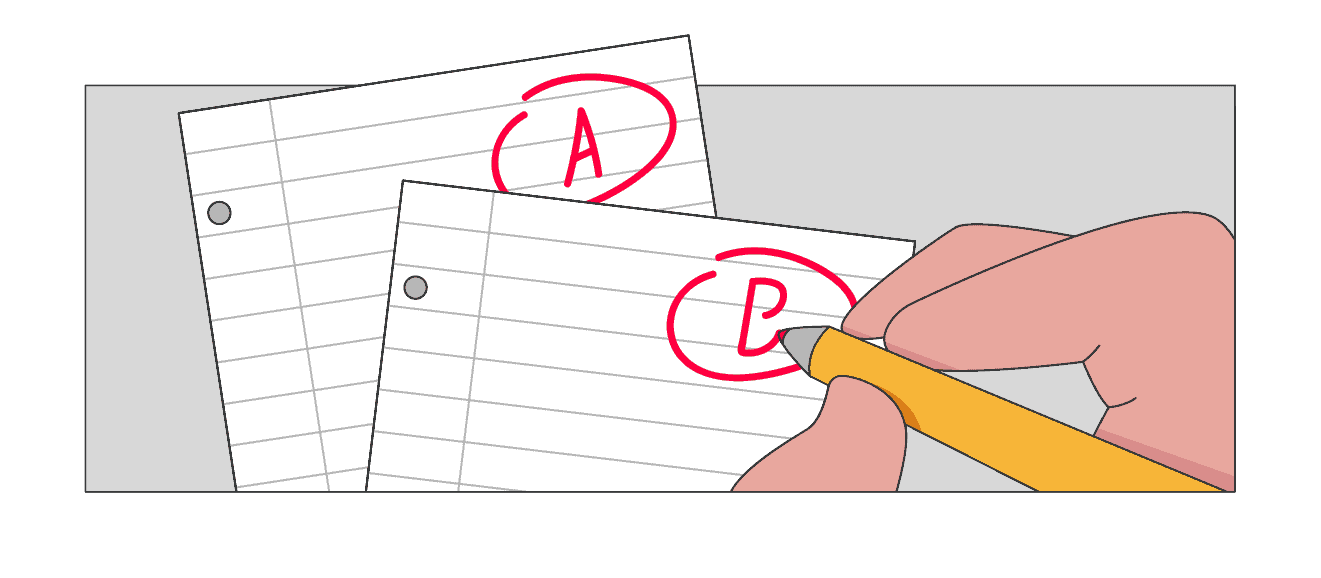 General Findings
Static residential proxies experienced a sharp rise in popularity last year. This was largely fueled by the sneaker reselling vertical.
Providers are starting to focus on the ethical aspect of residential IP sourcing and use. Bright Data and Oxylabs seem to be the champions of this iniative. Their efforts are trickling down to other providers, too.
The largest companies are transitioning from being proxy IP suppliers to data collection platforms. This is especially apparent looking at the recent developments of Zyte and Bright Data.
Provider Evaluation Findings
We tested the providers using our own adjusted web scraping script and several IP databases. We made over 2 million requests to each proxy network. We also did a manual analysis to extract relevant data about the providers' features, user experience, customer support, and pricing. 
The tests left us with a lot of data on our hands. To make sense of it, we assigned coefficients to relevant data points in eight major aspects of a proxy server and derived an alphabetical grade: A+, A, B, etc. While, in the research, we still include all the necessary numerical data, this grading system provides glanceable insights for easy comparison.
You can find the coefficients and full data in the research report.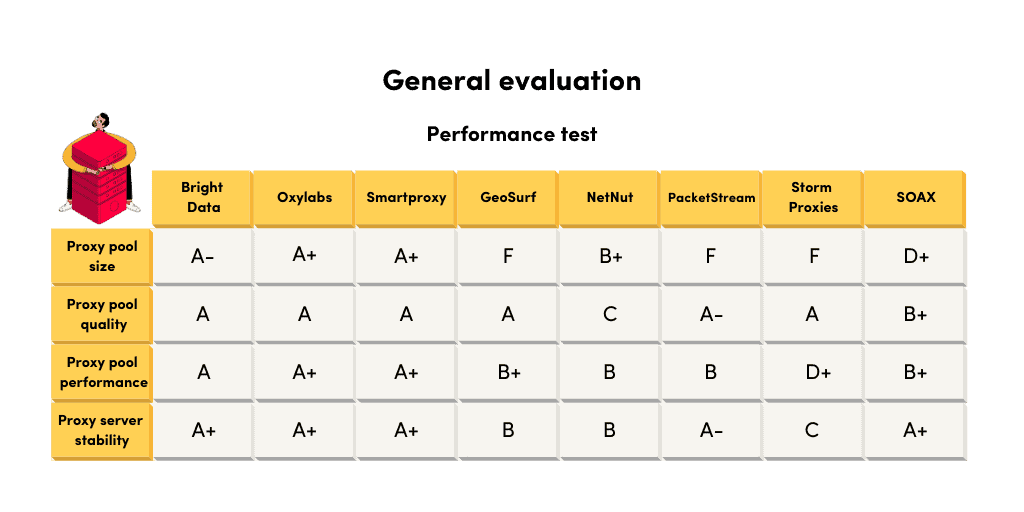 Most providers advertise millions of IPs, but you're unlikely to get that many in day-to-day use.

For example, PacketStream had only 83.5k unique IPs from 1.8M requests – less than 5%! The best in this regard were Smartproxy, Oxylabs, Bright Data, and NetNut, with 50% or more unique IPs.

While you're probably using residential proxies to avoid blacklists and bans, keep in mind that not all providers can guarantee that.

For example, NetNut had only 58.65% IPs from mobile or landline devices in the proxy pool we received. Meanwhile, the giants of the market – Oxylabs, Bright Data, and Smartproxy – offered over 90% of residential addresses. 

Oxylabs, Smartproxy, and Bright Data are clear leaders in performance.

The first two reached less than 1 second response time, and all three succeeded over 99% of the time. SOAX had a great success rate as well but very slow response times. Running 500 requests/second failed to meaningfully impact the results for 7 out of 8 providers (sorry, Storm Proxies!).

Some proxy IP servers are only stable in their instability. Storm Proxies was the worst off, with a 6% fluctuation of the success rate in general use. Champions of stability were Bright Data, Oxylabs, Smartproxy, and SOAX whose success rate fluctuated very little throughout the testing period.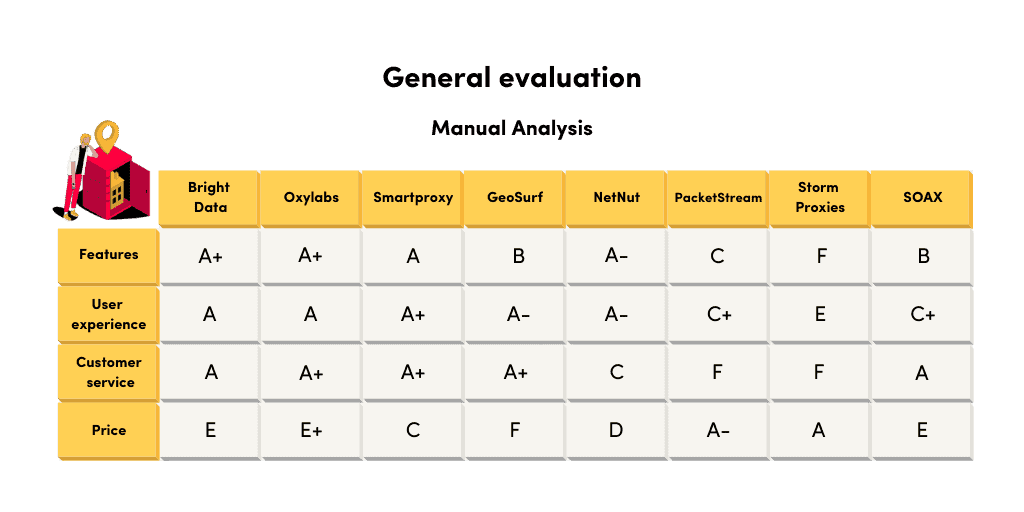 100+ locations, country targeting, and flexible rotation options are the standard.

Fewer companies allow targeting cities and fewer still ASNs – and these features tend to come as paid add-ons. SOAX has the most flexible targeting options out-of-the-box.

Excellent user experience is important to every business, and the proxy market is no exception.

Providers like Smartproxy, Oxylabs, Bright data, and GeoSurf strive for easy user flows, offer functional APIs, and additional tools to minimize workloads. Other providers set different priorities.

At some point, you're going to need help from customer support, but it won't always be readily available. While providers like Smartproxy respond almost instantly, others, such as PacketStream, may keep you waiting for as long as 12 hours with email-only communication.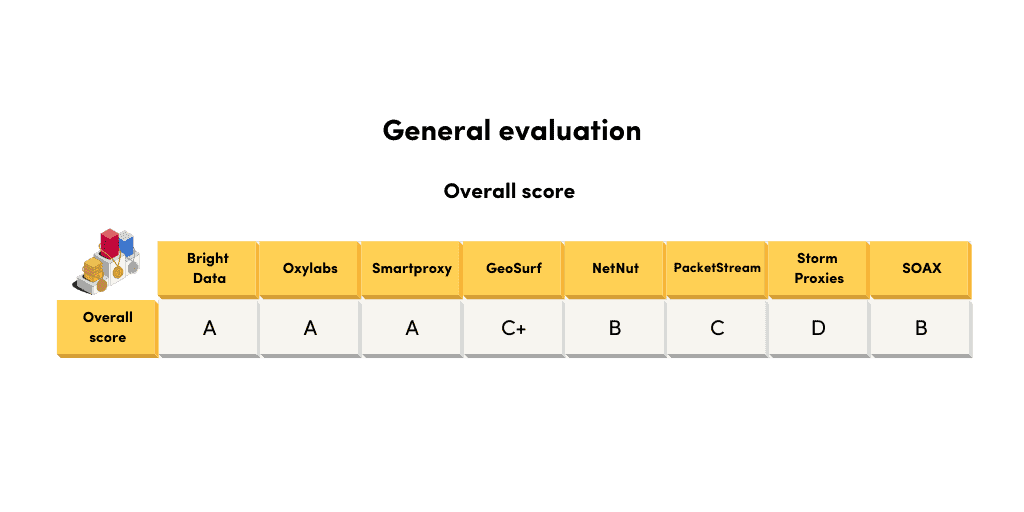 Oxylabs, Bright Data, and Smartproxy form the highest tier of residential proxy providers.

GeoSurf, NetNut, and SOAX have some flaws but otherwise offer stellar services. PacketStream and Storm Proxies are the most unbalanced but compensate with low prices.

You get what you pay for. While providers such as PacketStream and Storm proxies offer affordable pricing models, the features, and sometimes performance, of their proxies are average at best. Meanwhile, premium companies have both the necessary tools and excellent performance – naturally, for a larger price.
Use Case Findings
The research also describes six major residential proxy IP verticals and their needs. It thens recommends providers that meet those requirements and provide sample performance tests with major targets in each vertical.
Most Popular Verticals
E-commerce, ad verification, and SEO monitoring remain the favorite verticals for residential IPs. Social media marketing and sneaker shopping are also wildly popular, though some providers have started shying away from them publicly. Travel fare aggregation has seemingly fallen out of favor, while alternative data for finance is on the rise.
E-Commerce
In e-commerce, proxies are used in various ways, such as monitoring and comparing prices, keeping up with the product trends, or performing keyword research.
E-commerce scrapers value speed, scalability, and stability to retrieve high volumes of near real-time data. They sometimes combine datacenter and residential IPs to achieve their goals. Oxylabs, Smartproxy, Bright Data, and NetNut fit these requirements well.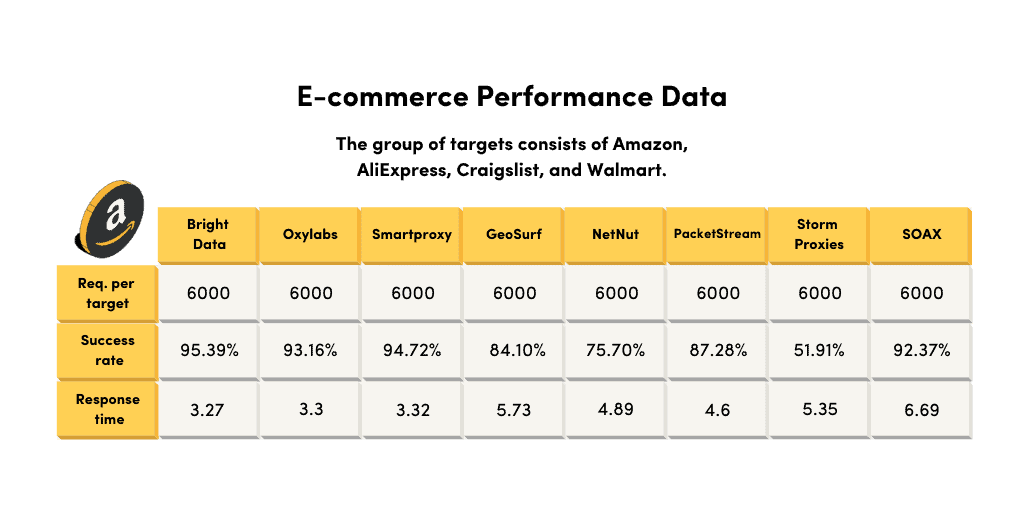 SEO Monitoring
Those who work in SEO use proxies for collecting keyword data, running technical audits, monitoring SERP positions, and the linking relations of the web.
SEO agencies require a large pool of quality (landline or mobile) IPs with granular location targeting.  Oxylabs, Smartproxy, Bright Data, SOAX, and NetNut all fit the bill.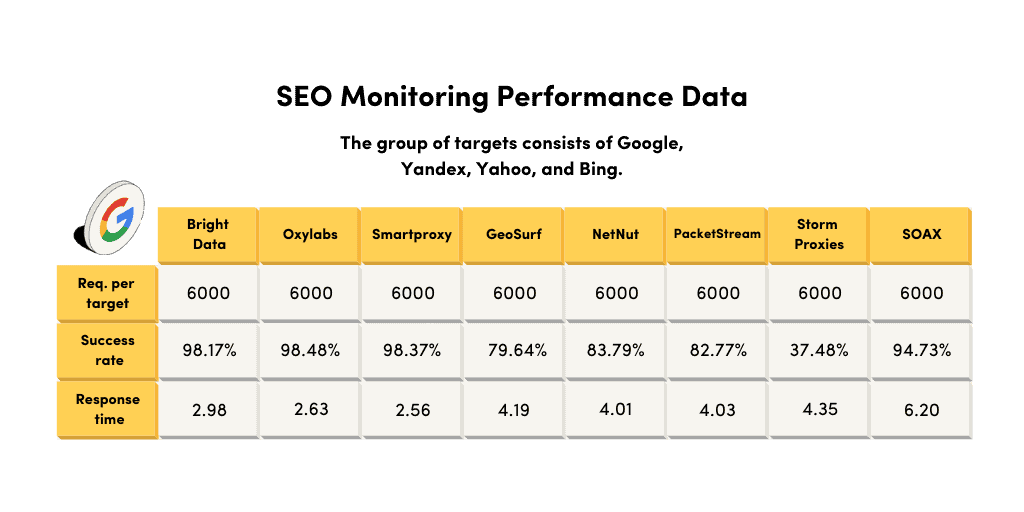 Travel Fare Aggregation
Travel fare aggregators scrape data from dozens of sources to

 provide the best deals for hotels, flights, and car rentals.

They rely on speed, scalability, and location coverage to provide a constant stream of fresh data. Most of the providers fit these criteria well, except for Storm Proxies. SOAX might lack the speed but it scales well.
Ad Verification
To prevent ad misplacement, ad verification companies use proxies to monitor, redirect ads and check how they appear in different locations.
These companies value location coverage and anonymity the most. Price is also a concern. SOAX, Oxylabs, Bright Data, Smartproxy, GeoSurf, and PacketStream are all able to provide this.
Social Media Management
Social media managers use proxies to automate the posting process, generate followers, create engagement, and influence wider audiences without getting blocked.
They rely on IP quality, together with country or city targeting, and long sticky sessions. Price is another concern. All of the providers, save for Storm Proxies, meet these criteria. The pool NetNut provided us was also not perfect for the task.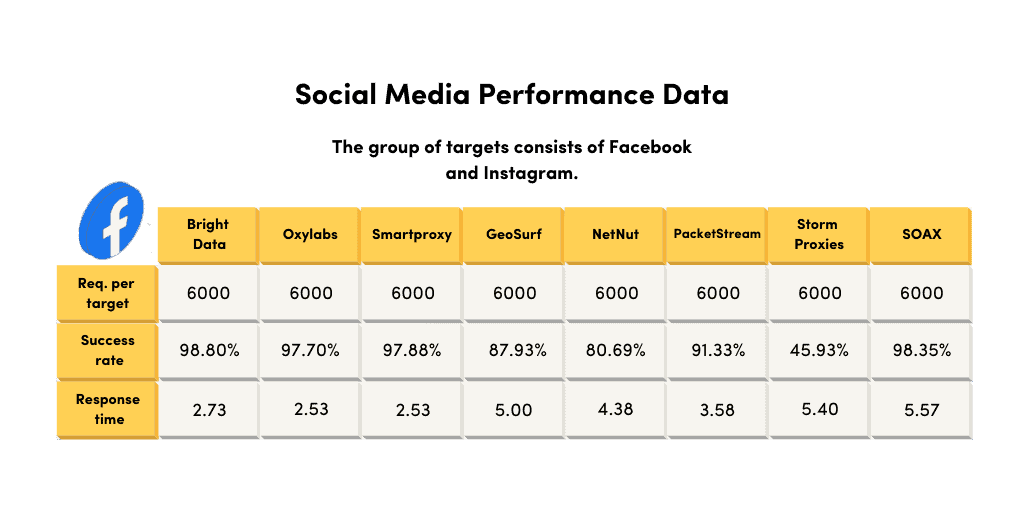 Sneaker Shopping
Sneakerheads use bots and proxies to automate the checkout process and buy multiple releases of limited-edition shoes during releases. 
Sneakers stores tend to have dynamic bot protection, so their requirements are hard to evaluate. In any case, the IPs must be fast, in close promixity to the store's server, and have good IP reputation (landline or mobile, no blacklists). Smartproxy, Bright Data, Oxylabs, and PackeStream meet these criteria. NetNut offers a specialized pool for sneaker releases, which we didn't have the opportunity to test.