Jarvee Review
We reviewed the once-famous bot to see if it's still can help you manage multiple accounts.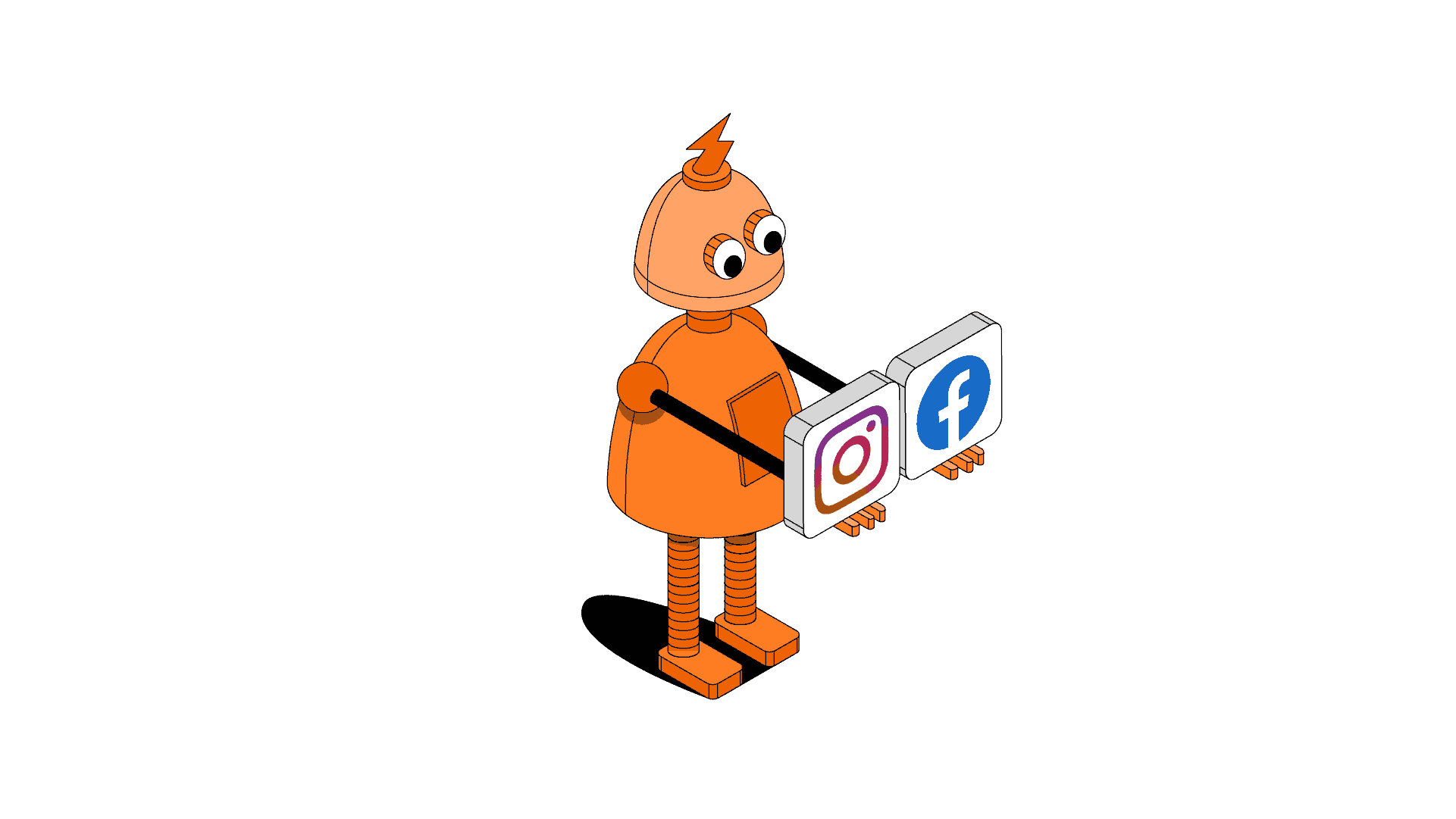 After Instagram stepped up its game, Jarvee began getting some really bad rep. But don't be fooled by what you read online: Jarvee, the popular social media bot, is up and running. But since most social media platforms are getting better at detecting automation, it takes a lot more skill to bypass restrictions. 
In this article, I'll discuss what makes Jarvee a great tool for social media and what aspects may make you consider other options. 
You can also watch this review in video format:
What Is Jarvee?
Jarvee is a social media bot that allows you to manage and automate multiple social media accounts. With this bot, you can schedule posts, reshare content, follow, like other users, and perform many other actions. Jarvee is most commonly used for Instagram. However, it works well with other popular social media platforms such as Twitter, Facebook, LinkedIn, Pinterest, Tumblr, and YouTube.
Pricing
If you're new to Jarvee, or any social media bot for that matter, it's a good idea to try it out first. That's why Jarvee offers a free 5-day trial. For those who are serious about using it, there are 3 pricing packages: Starter, Regular, and Professional. 
The starter package runs for $29.95 a month and allows you to manage 10 accounts. If you need 3 times as much, there's a regular package for that. It costs $49.95 a month for 30 accounts. With a professional package, you'll be able to manage 70 accounts for $69.95 a month. 
Each package includes scheduling and automation features for 7 social media platforms, together with access to customer support. So, the only difference between them is the number of accounts you can manage. If you need more accounts, you can contact Jarvee directly for a quote.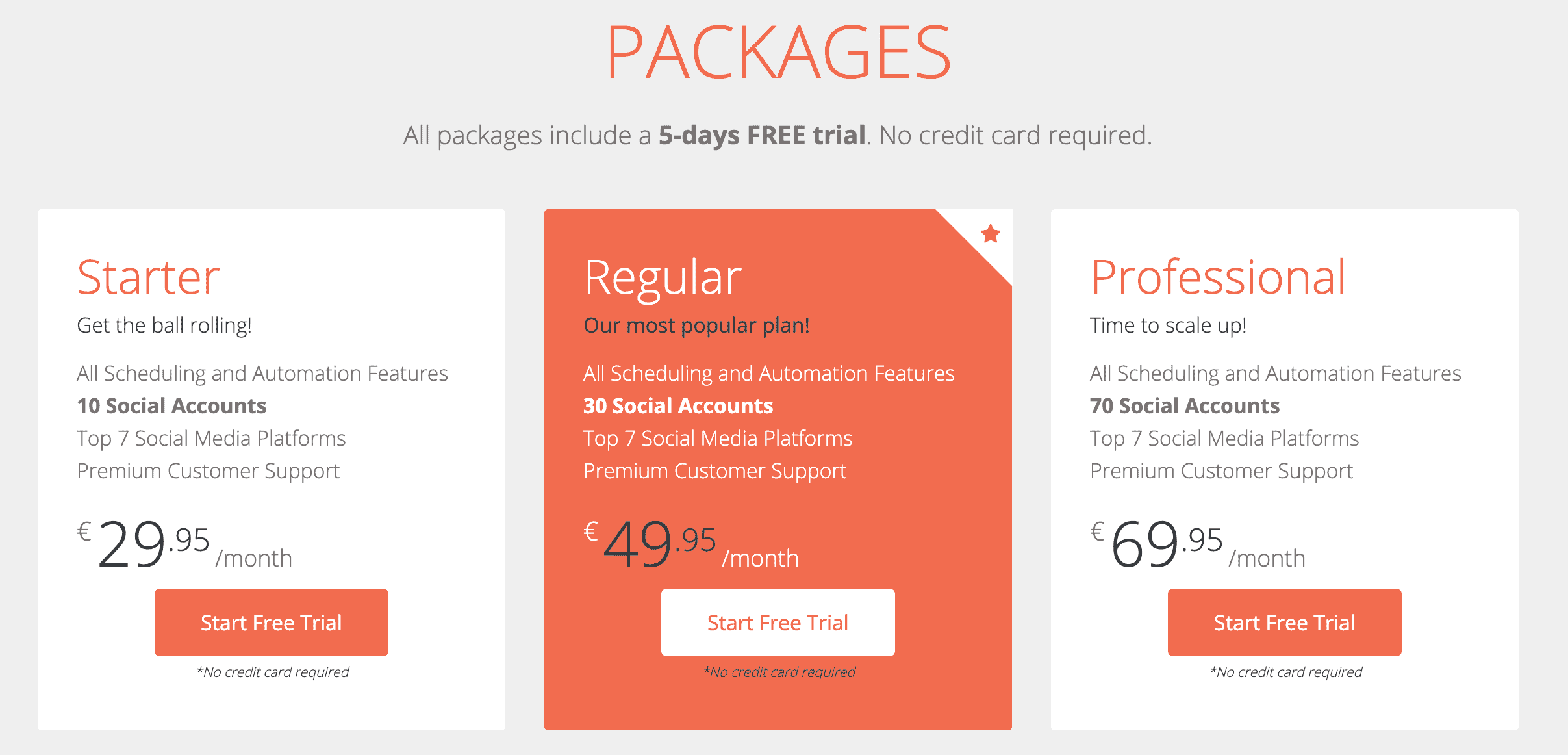 Interface and Features
When it comes to the interface, it's hard to call Jarvee an elegant and simplistic tool. After all, it has many features crammed into it, making user-friendliness the last concern. 
When using Jarvee for the first time, the vast number of settings can feel like a lot to handle. Setting up even the simplest actions will take more than a few clicks. For instance, if you're using Jarvee for Instagram and you want to set up unfollow actions, you will be asked to specify the number of days the bot should unfollow someone after following them, the time between each of these unfollows, days of operation, unfollow limits, and so on. 
So what exactly are the features mentioned in the pricing plans? Let's take a closer look at them, one platform at a time.
Instagram.

The platform Jarvee is famous for. Features include: post scheduling, auto re-post, auto-follow, like and comment, deleting posts and comments, send automated messages, block, follow and unfollow users, save posts, etc. One of the more unique features is the spin syntax which can replace words in your posts. 

Facebook.

Jarvee's features for Facebook include: post scheduling and auto-engagement, such as liking, commenting, writing birthday wishes on friends' walls, and sending friend requests. To improve your social media campaigns, Jarvee provides campaign insights and statistics. Nowadays, an important part of Facebook's growth strategy is groups, so Jarvee also lets you automatically join relevant groups or invite people into your group.

Twitter.

Jarvee allows you to auto-follow, unfollow, like, and retweet. Also, you can pull tweets from RSS, monitor results, and add hashtags automatically. 

Youtube.

Features for this platform are not much different from other platforms: you can auto-follow, like, comment, and watch videos with Jarvee. But one important feature that stands out is the ability to visit other random websites to collect cookies. This way, the bot can look like a real user.  

Pinterest.

Jarvee can help on Pinterest by scheduling your pins, automatically including URLs to them, and adding viral pins to your boards. In addition, Jarvee can also automatically engage with other users by following them or commenting.

LinkedIn.

Jarvee's features for Linkedin include scheduling posts and various ways of engagement: viewing others' profiles, joining groups, liking, commenting, sending messages, connection requests and endorsing other users for their skills. 

Tumblr.

Jarvee mainly helps to grow on Tumblr by following, liking, and reblogging popular posts.
As you can see, Jarvee can perform tasks like any regular user. However, it takes half the time to complete them. Also, Jarvee does not trigger spam and bot filters. How does it do it? 
The answer is simple: just like most social media bots, Jarvee allows you to add proxies to each of your accounts and fool social media platforms into thinking that they are run by real people. But more on that later. Now, let's look at whether Jarvee is eager to help its clients smoothly use its services. 
Customer Service & Tutorials
Let's be honest here: working with most bots requires at least some technical knowledge, and Jarvee is not an exception. However, the company provides extensive documentation. You'll find easy-to-digest tutorials for each of its tools and social media platforms. Whatever question or problem you may have, chances are, you'll find the answer there. If that's not enough, Jarvee offers social media courses for free, where they teach you how to get that sweet traffic to your product page and more.
Sounds great, doesn't it? Here's a thing: if you find yourself in need of customer support help, you might be disappointed. Jarvee encourages its clients to go through the documentation first before contacting them, because it may take some time to get a response from them. 
Can You Use Jarvee on Mac?
Jarvee has a significant downside: It only runs on Windows, completely ignoring a Mac client base. But don't run to buy a Windows computer just yet. There's a way around this problem. You can get a VPS (virtual proxy server), which is basically a computer on a cloud. Then, you need to set up a Windows computer on the VPS and install Jarvee into it. This way, you'll be able to run Jarvee even if you prefer using Mac over Windows.
This solution also works well if you don't want to keep your computer turned on the whole time. Jarvee needs to run continuously on your machine to work properly, so a VPS may be useful for both Mac and Windows users.
Why Do You Need Proxies for Jarvee?
Platforms like Facebook and Instagram don't like bots and monitor the number of accounts associated with a single IP address. For instance, Instagram allows you to use 5 different accounts with one IP. Anything more than that will trigger an algorithm that will most likely ban your accounts. 
However, if you add different proxies to each account and don't make any mistakes, you can have as many accounts as you'd like. 
Keep in mind that while Jarvee has a feature allowing you to add proxies, getting them is your responsibility. But since you're already here, we can help. Check out our residential proxy page for our best provider recommendations. 
Is Using Jarvee Risky?
Using any bot carries plenty of risk. While Jarvee is getting better at bypassing bot protection, it's still not perfect at doing so. Another issue is that inexperienced users often make mistakes, such as connecting to several different accounts with the same IP address. This mistake can lead to getting your account banned for up to 30 days. The ban can even be permanent, throwing all of your investments down the drain. 
Conclusion
Jarvee still is one of the most powerful and efficient social media management tools. One of the downsides is that the learning curve is pretty high when it comes to using it. Though, the company offers plenty of learning material. 
The pricing is affordable, plus you can try out a free 5-day trial. However, the cost will increase if you don't have a machine running Windows because in that case, you'll have to get a VPS.