According to their website, The Proxy Store has a residential proxy pool of IPs from all over the world. This provider also offers a free 1-hour trial and 24/7 customer support. All of their plans come with unlimited bandwidth, and you can expect 24 hours money back guarantee.
You can choose from eight different packages, and, in order to test The Proxy Store's residential proxies, we've purchased the Volume Plus plan with 1000 proxies included.
The Proxy Store Residential Proxies
General Review
Traffic
All pricing plans come with unlimited bandwidth.
Pricing
You can choose from eight different pricing plans. The price depends on how many endpoints, threads, and authorized IPs you want to have.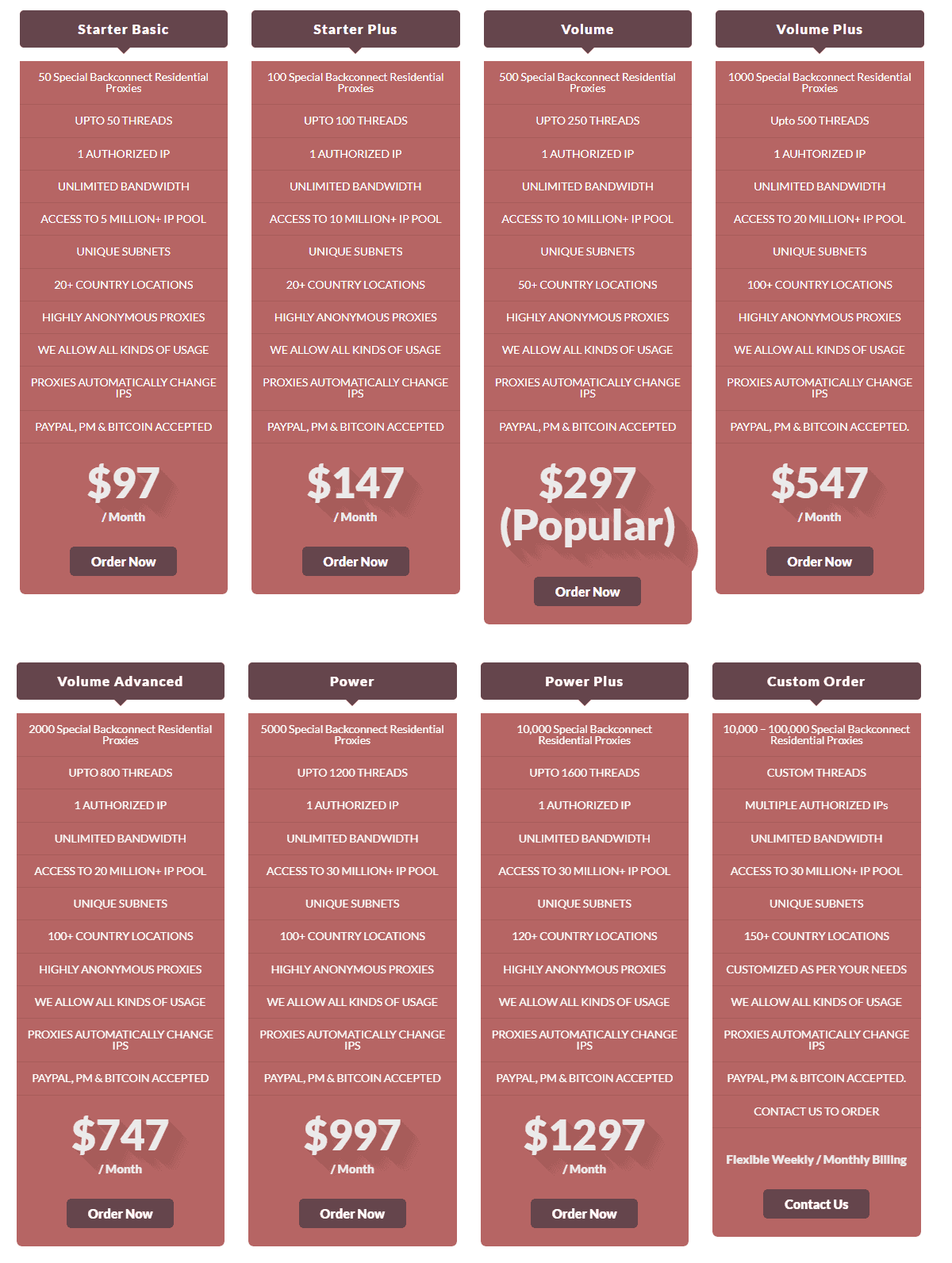 Pool size
According to their website, The Proxy Store has more than 30M IPs.
Locations
The Proxy Store claims that they have proxies from more than 100 different locations.
Setup
When you buy a proxy package from The Proxy Store, you get a certain number of endpoints that you can use to access residential IPs. These endpoints change IPs after a certain period and that is probably related to an IP's availability. When an IP becomes inactive, an endpoint replaces it with a new one.
With each proxy package, The Proxy Store gives you a suggestion on how many threads your purchased endpoints can hold.
Authorization method
Whitelisted IPs. You can whitelist only one IP unless you're buying the Custom Oder plan. With this plan, you can whitelist multiple IPs.
Whitelisted IPs can be changed in the dashboard.
Sub-users
Not available.
Filters
Location.  Not available
Proxy type. Not available
ASN/Provider/Carrier. Not available
Protocols
The Proxy Store proxies support HTTP, SOCKS5 protocols.
Dashboard
Usage statistics. Not available.
Credentials/Whitelist IP change. Yes.
Support tickets. Yes.
Renew plans. Yes.
Live chat.  Yes.
The Proxy Store has a dashboard where you can find information on your current plan and invoices. You can open a support ticket here and change whitelisted IPs. However, usage statistics are not available.
Customer support
As we've mentioned before, you can open a support ticket on The Proxy Store dashboard. Tickets are usually answered in 4-6 hours. You can also use their live chat where response time is a bit shorter – up to 30 minutes.
Performance Review
As per usual, we checked the proxy speed with Nike using the free FOGLDN Proxy Tester.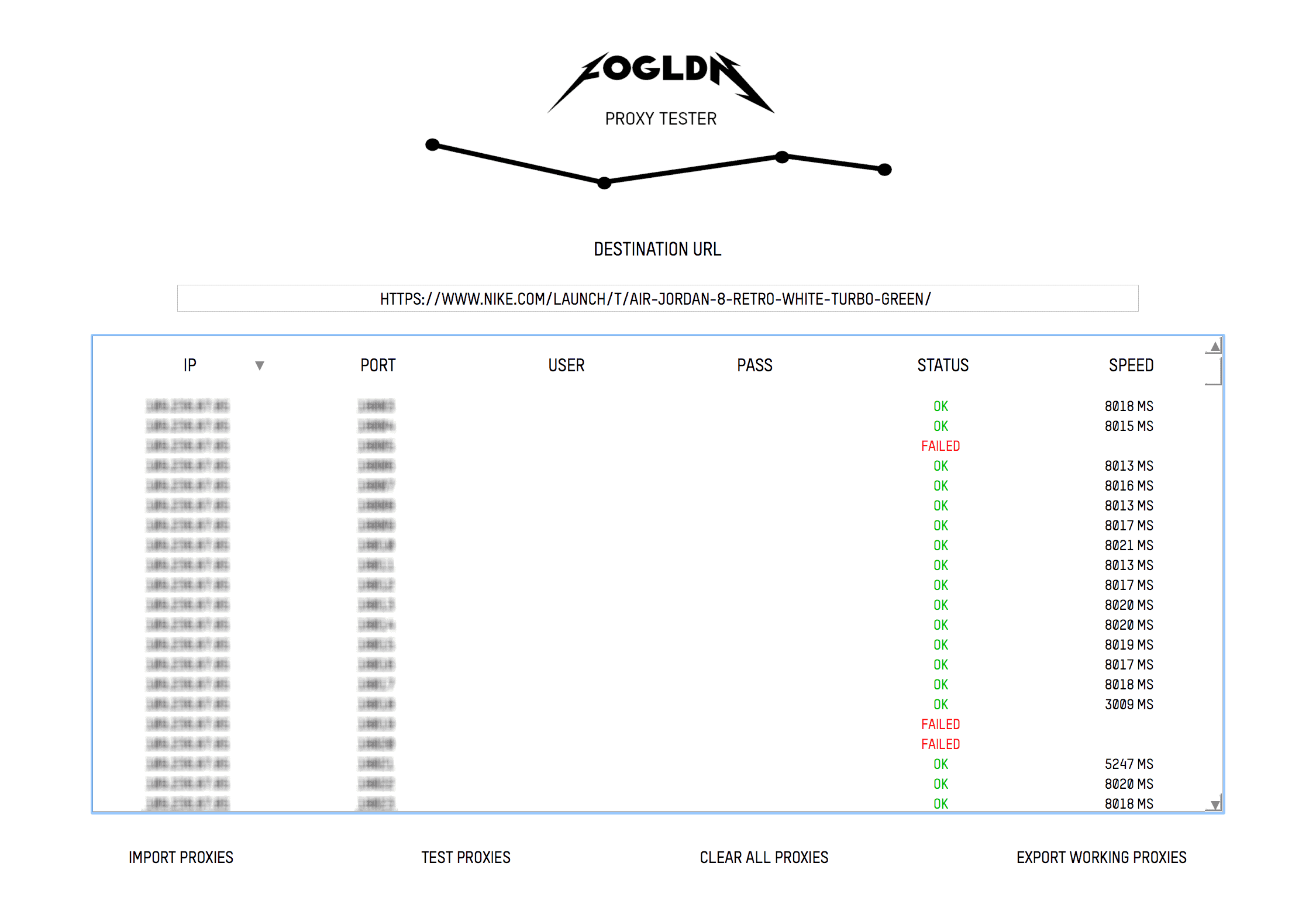 Avg. response time: 8 sec.
The speed test shows that The Proxy Store proxies are slow. The response time is mostly over eight seconds. Moreover, some of the proxies failed to reach the destination URL altogether. Since we were using the Nike.com website as our destination URL, it's safe to say that The Proxy Store proxies are not the right choice for sneaker copping here (however, you can choose from plenty other sneaker proxy providers).
Next, we test the overall performance of The Proxy Store proxies using our testing script. During this test, we gradually increase the number of concurrent connections and put proxies on a huge load.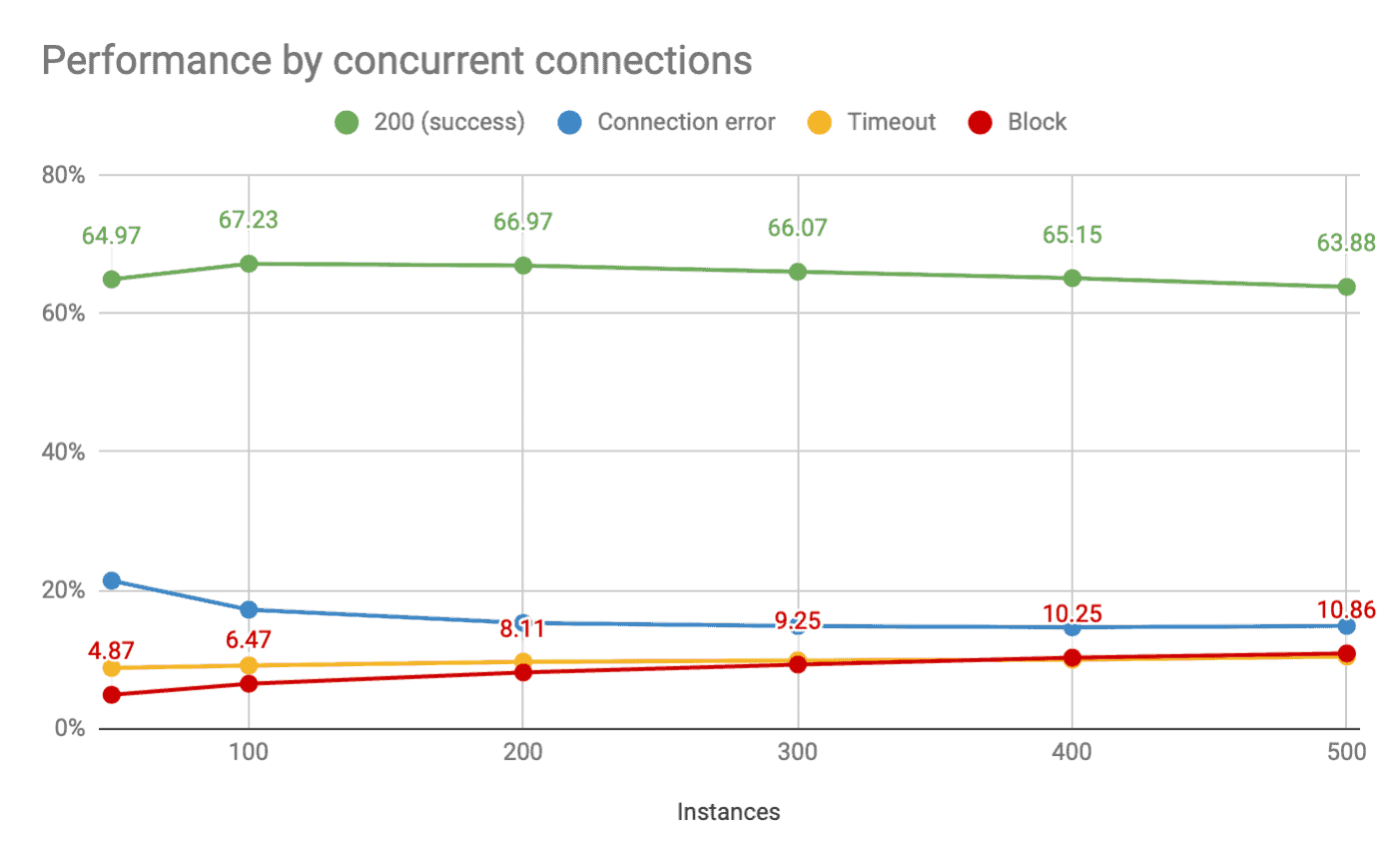 When we increased the number of concurrent connections, the number of timeouts and blocked IPs grew. At first, the connection error rate was gradually decreasing, but once we reached 200 concurrent connections, it stabilized and stayed pretty much the same through the rest of the test.
Below you can see a detailed breakdown of the performance test results. As with other residential proxy providers, we used a 300 concurrent connections' benchmark.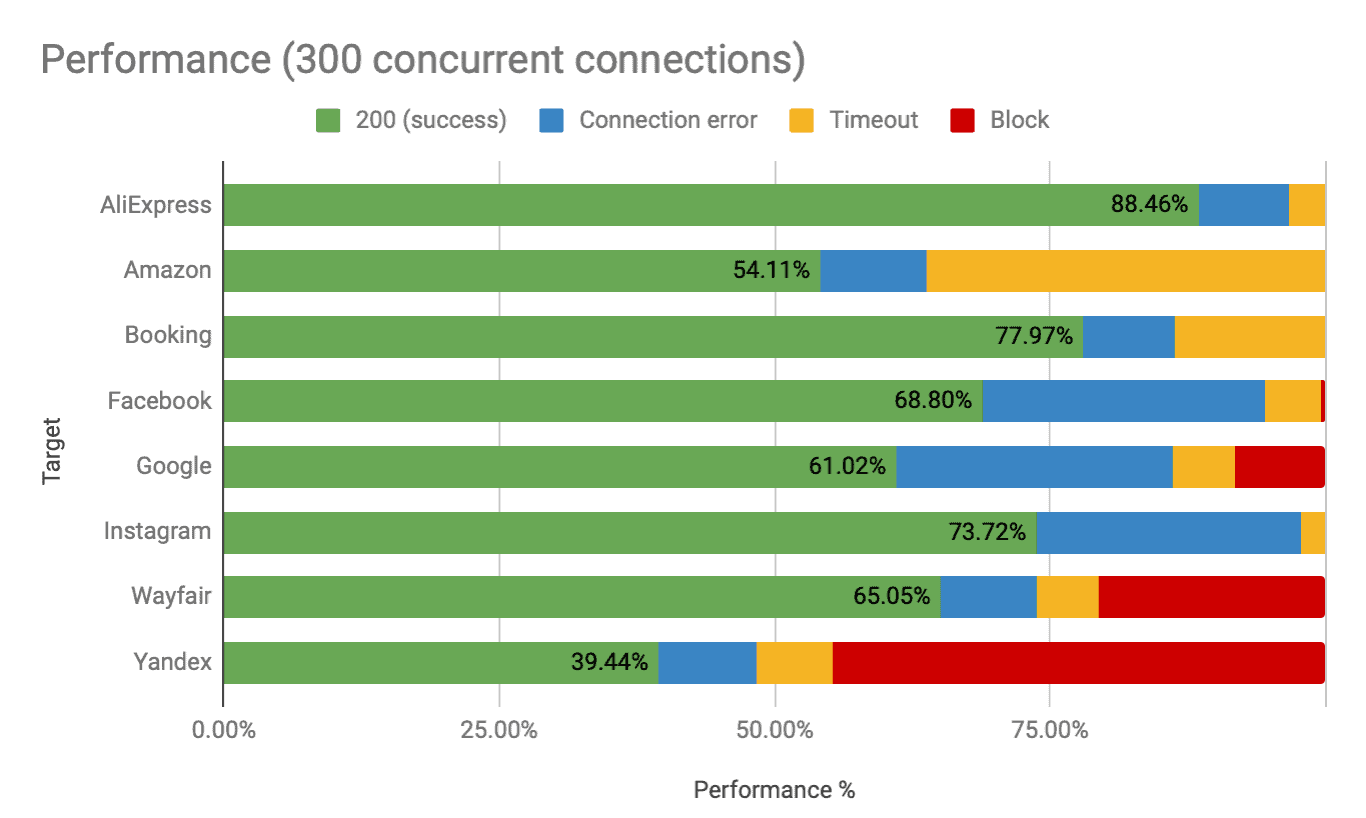 The Proxy Store has quite a high number of connection errors which is typical to providers that offer unlimited traffic. Also, with more difficult targets, such as Amazon or Booking.com, we get many timeouts, so if you want to extract data from complex websites, you might want to keep this in mind.
The Proxy Store IPs are heavily blocked with Yandex.com and Wayfair. However, not all blocks are the same. As you can see from the table below, while pinging Yandex.com, we mostly got the 200 error (captcha). With Wayfair, the 403 error was the most frequent. With Google, we got only recaptchas.
As to the average response time, compared with other proxy providers, The Proxy Store doesn't look that good.
During the test, the response times were quite stable and consistent. That's why the average response time and the median are almost the same. However, The Proxy Store proxies were kind of slow. It's especially evident with Amazon where the average response time is close to 20 seconds.
Amazon is a difficult target itself and one request to this site contains a lot of data. So, if proxies are slow with Amazon, you can expect that they will underperform with other targets too.
Conclusion
So, to sum up, the main advantages of The Proxy Store are their support, easy setup and unlimited traffic. If you can handle a high error rate and a significant number of timeouts, or if long response times are not something that's extremely important to you, then you can use The Proxy Store proxies to extract data from specific targets without spending too much money on it. The Proxy Store support works great too.
However, a lack of proxy filtering options, only a few dashboard features, and a low speed are things that can keep you from choosing The Proxy Store. You can't select a proxy type, provider or location. Usage statistics are also not available.
According to their website, The Proxy Store's IP pool covers more than 100 countries. However, since you can't select a location, we don't see the point of advertising this.
Still, this is not as bad as the extremely high connection error rate. Since IPs stay on the same endpoint as long as they are available, targets, and especially Google, start to get blocks after some time. With targets such as Amazon, you can expect a lot of timeouts and the average response time of close to 20 seconds. Unfortunately, The Proxy Store proxies are slow not only with Amazon but with all other targets too.